You may entirely be for wearing a helmet as you ride your motorcycle on a hot summer day for your safety. At the same time, a poorly ventilated helmet causes constant itchiness, sweat, and claustrophobic feeling. So you may be tempted to neglect safety precautions. However, there is no need to choose between your comfort and safety as you can get the best ventilated motorcycle helmet that would keep you cool and safe.
What to look for when choosing a helmet for hot weather?
Riding a motorcycle in a poorly ventilated helmet is not only uncomfortable but also dangerous. That is why it is essential to select a motorcycle helmet with a good ventilation system for hot summer days. Here is a list of key features to look for in a helmet suitable for hot weather:
A removable and washable lining for easy cleaning.
Adjustable entail and exhaust vents to promote better air calculation.
A peak, visor, and internal sun shield for enhanced sun protection.
Weight of the helmet – it should be light enough for comfy wearing.
What type of motorcycle helmet is the most ventilated?
While there are different helmet types, some designs are more suitable for hot summer days than others. So, let's take a look at cool motorcycle helmets for hot weather.
Half motorcycle helmets for hot weather
If you are a careful motorbike rider who is not crazy about the speed, you will find a half helmet a great option for your summer rides. These helmets cover the top area of your head, leaving your face and ears open. However, they offer less protection and may not even include a visor or face shield.
Open-face helmets for summer riding
Unlike a half motorcycle helmet that doesn't cover the ears, the open-face design delivers side protection leaving the face unobstructed. Because of an open construction, you get your face naturally blown by road wind. Mind that ¾ helmets (that's another name of this helmet model) come without a chin bar, which reduces their protective properties.
Full-face helmets for summer
The full-face helmets deliver the highest level of your head's coverage. Thus, they provide the utmost protection for a rider in the event of a crash. However, the level of natural ventilation is minimal. Therefore, manufacturers equip these helmets with vents that allow air in and out. Also, the interior of these items is made of sweat-wicking fabrics, which do not let you get too sweaty.
Modular motorcycle helmets for hot weather
If you tend to spend long hours in the saddle, a modular helmet is a good choice for you. It is a sort of a mix of an open-face and full-face helmet, meaning that you can open the front of your face by flipping up the visor and chin bar to let fresh air in.
Dual sport/ADV helmets for summer riding
Dual sport and ADV helmets are designed with an emphasis on airflow. They come with a larger visor and a more accentuated chin bar to promote ventilation. Just like in full-face helmets, air circulates through vents. Moreover, these great airflow motorcycle helmets boast a sweat-wicking lining to keep your face dry during hot days.
Best ventilated helmet for summer reviews
Bell Pit Boss – half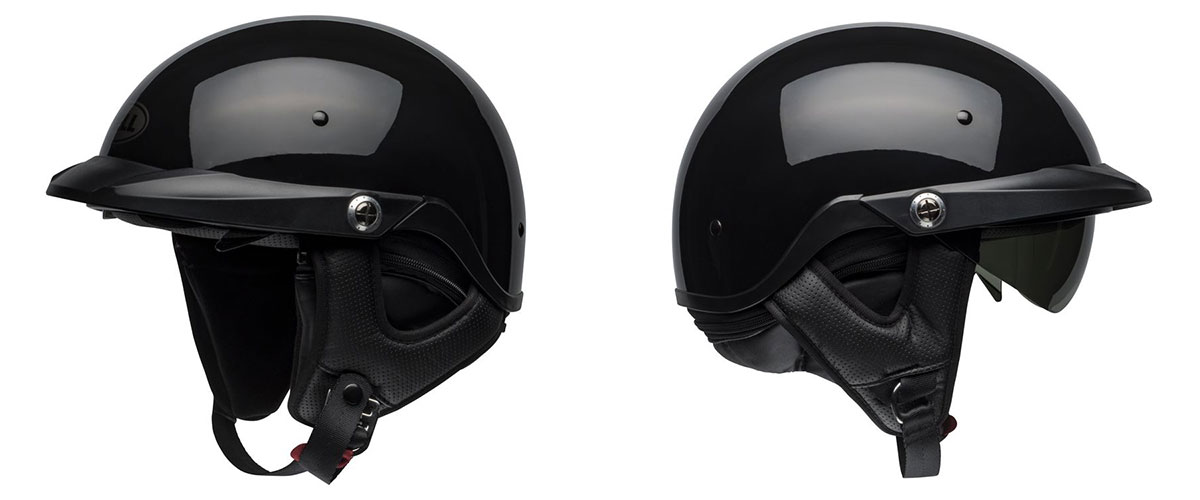 Urban and cruiser riders will appreciate this Bell Pit Boss half helmet that provides an excellent level of natural air ventilation.
The blend of kevlar, carbon, and fiberglass, known under the TriMatrix name, makes the helmet's shell sturdy and light (the helmet's weight is 2.44 lbs). Therefore, it delivers unparalleled protection yet remains comfortable to wear.
DOT qualifies not all half helmets, but this one has successfully undergone safety testing, meaning you can rely on it in critical situations.
As it is equipped with an innovative speed dial fit system, you can easily adjust the helmet straps for a perfect fit to avoid slipping. In addition, a removable neck curtain will keep you warmer during rides in cold weather, which sets this item apart from Shoei GT-Air II without this feature. However, you won't find a visor in this helmet to protect your face as you are on the road. The good news about this model is that it fits over the glasses perfectly, so you can compensate for the lack of the visor with the glasses. Besides, there is an internal sun shade to hide your eyes from direct sunlight.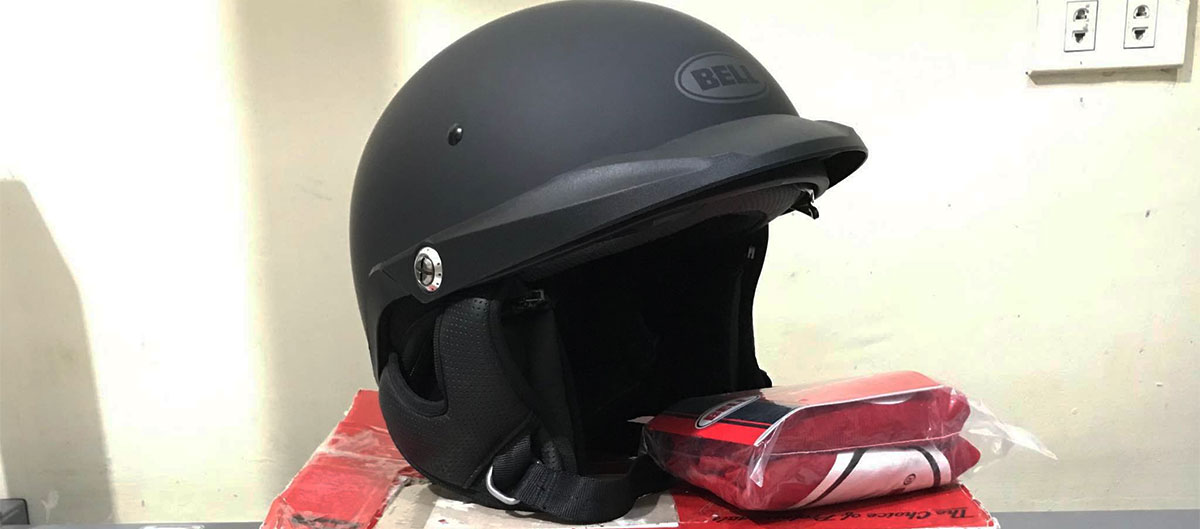 Another thing you may like in this helmet is the availability of speaker pockets. They allow you to add an audio enhancement to turn your rides into joyous events.
Generally, this is the best hot weather motorcycle helmet. This half helmet by Bell relies on natural airflow to keep you cool, so you will never get hot, even stuck in the stop-and-go traffic.
Key specs
Helmet type: half.
Head shape: intermediate oval.
Safety certification: DOT.
Shell sizes: SM, MD, LG, XL-2XL.
Shell material: TriMatrix (Kevlar/Carbon/Fiberglass blend).
Weight, g/lbs: 1106/2.44.
Pros
DOT certified to deliver the desired level of protection.
Half-helmet design to keep you cool.
A removable neck curtain for riding in cold weather.
Speaker pockets for attaching audio devices.
Cons
No visor to protect your eyes as you ride.
Shoei GT-Air II – full-face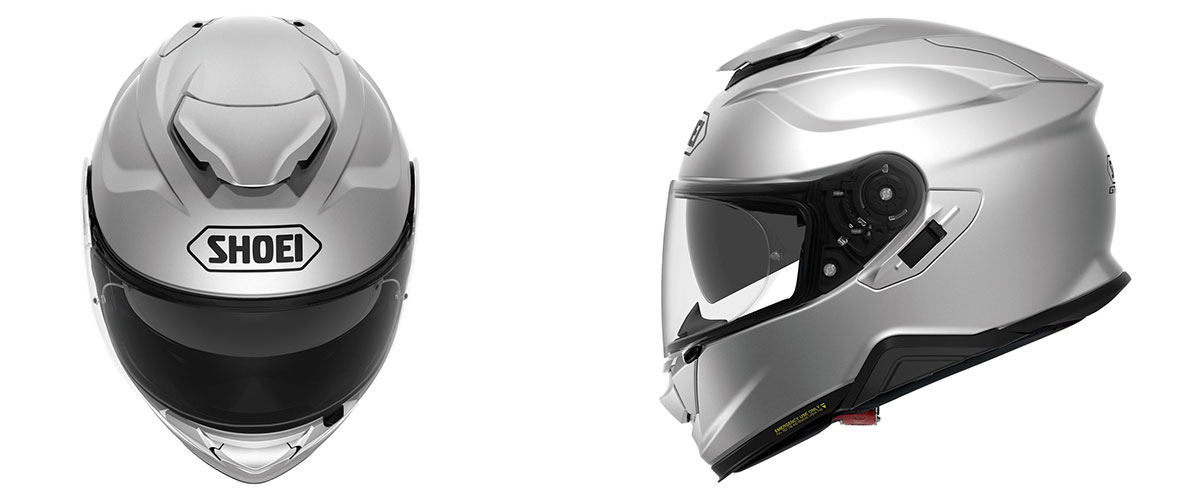 If you are a fan of full-face helmets, even for hot summer days, cast your glance at the Shoei GT-Air II item.
Regardless of the full-face design, this breathable motorcycle helmet delivers a decent level of ventilation. The redesigned upper air intake and enlarged lower intake vents let more air go through the holes. You can easily close or open these vents even with gloved hands. A breath guard and chin curtain also come in the box.
The interior of the Shoei GT-Air II helmet provides you with the comfort you would want to see in summer headgear. The 3-D Max-Dry center pad, multi-layered, polyurethane foam cheek pads, and the chin curtain reduce the wind entry to eliminate the noise.
You can easily operate an in-built curved sun shield with one hand. You will appreciate an included Pinlock anti-fog lens as well.
The emergency quick-release system enables medical personnel to remove the cheek pads quickly. This helmet is DOT-certified, so you can be sure that it will protect you in case of an accident.
The aerodynamic shell design ensures you ride your motorbike comfortably. The multi-piece EPS liner absorbs impacts and enhances ventilation. However, this helmet is somewhat heavy (3.79 lbs), so this may add a certain degree of discomfort.
The chin strap has a ratchet design. So, on the one hand, it facilitates adjustment and removal. But on the other hand, you can't lock the helmet to the bike like with a D-ring system.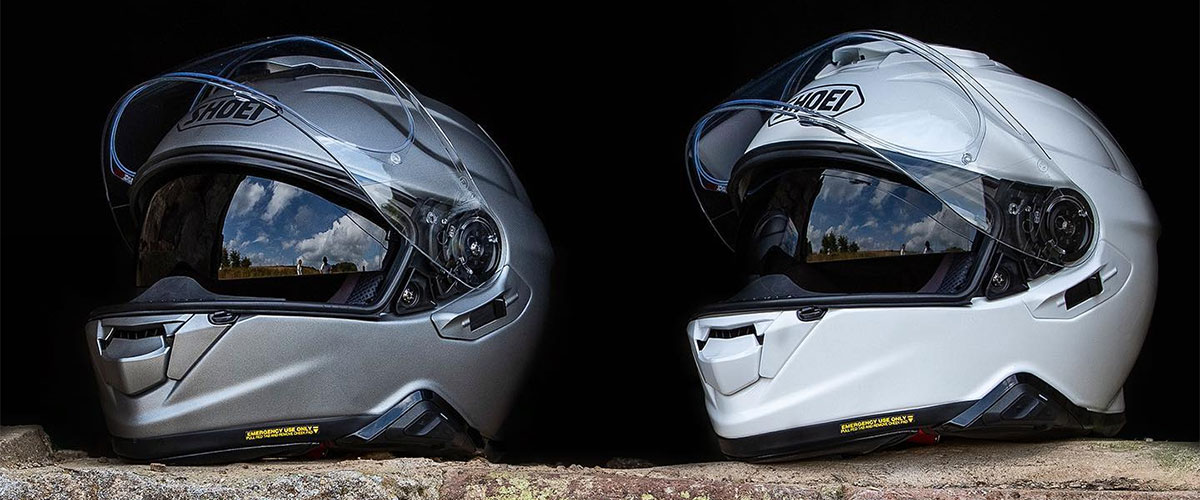 Thanks to the integrated SRL 2 Bluetooth communication system by Sena, you can pair this helmet with your Sena speakers to add some mood to your rides.
The GT-Air II by Shoei is a good choice if you are a fan of traditional full-face helmets but would like to get the model to make your summer rides more comfortable.
Key specs
Helmet type: full-face.
Head shape: intermediate oval.
Safety certification: DOT,ECE.
Shell sizes: XS-SM, MD, LG, XL-2XL.
Shell material: AIM (advanced integrated matrix).
Weight, g/lbs: 1719/3.79.
Pros
DOT-certified and features an emergency quick release system.
Features an SRL 2 Bluetooth communication system by Sena.
The interior with removable cheek pads.
Great ventilation through adjustable vents.
Cons
May be too heavy for long rides.
The ratchet fastening system doesn't let you secure the helmet to the bike.
Bell Mag 9 – open face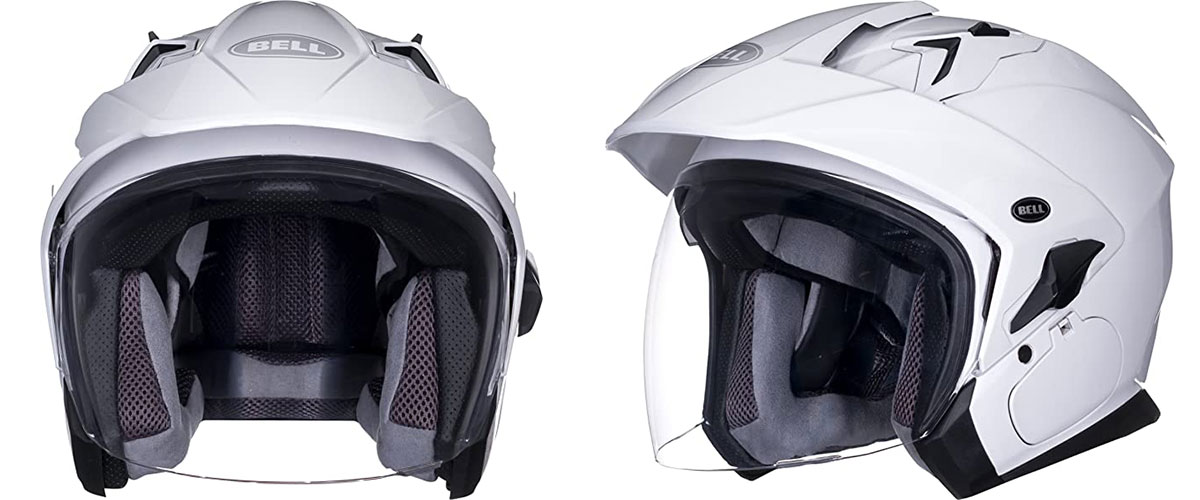 If you want to feel the wind blowing in your face as you take your bike for a ride, you can't miss this Bell Mag 9 helmet. This open-face helmet is packed with modern features that will ensure you enjoy catching the breeze.
The interior of this Bell Mag 9 helmet is removable and washable for easy cleaning. Moreover, you will get an extra level of comfort with the contoured cheek pads. By the way, they also help reduce the wind noise when you are on a ride.
The Bell Pit Boss helmet I list in this review comes without sun protection features. Bell Mag 9 eliminates this minor flaw. It comes with a face shield and peak visor to protect your face and eyes as you are on the road. Unfortunately, the face shield doesn't stay up in conditions of strong wind gusts. It will slowly make its way down until it starts interfering with your view.
The drop-down sun shield delivers protection from sunlight to ensure excellent vision on the road. But the greatest advantage of this unit is that it can be used in different modifications: with/without a shield and with/without a visor. You can replace the shield easily thanks to a tool-free replacement system.
The air ventilation works excellent in this item due to the velocity flow. No matter the temperature, you won't get too hot while wearing this helmet.
The polycarbonate shell is tough and moderately lightweight. The overall weight of this helmet is 3.38 lbs, which is optimal for a summer headgear. Mind that the sizing of the Bell Mag 9 helmets is slightly off. I would recommend getting the next size bigger to ensure a comfy fit.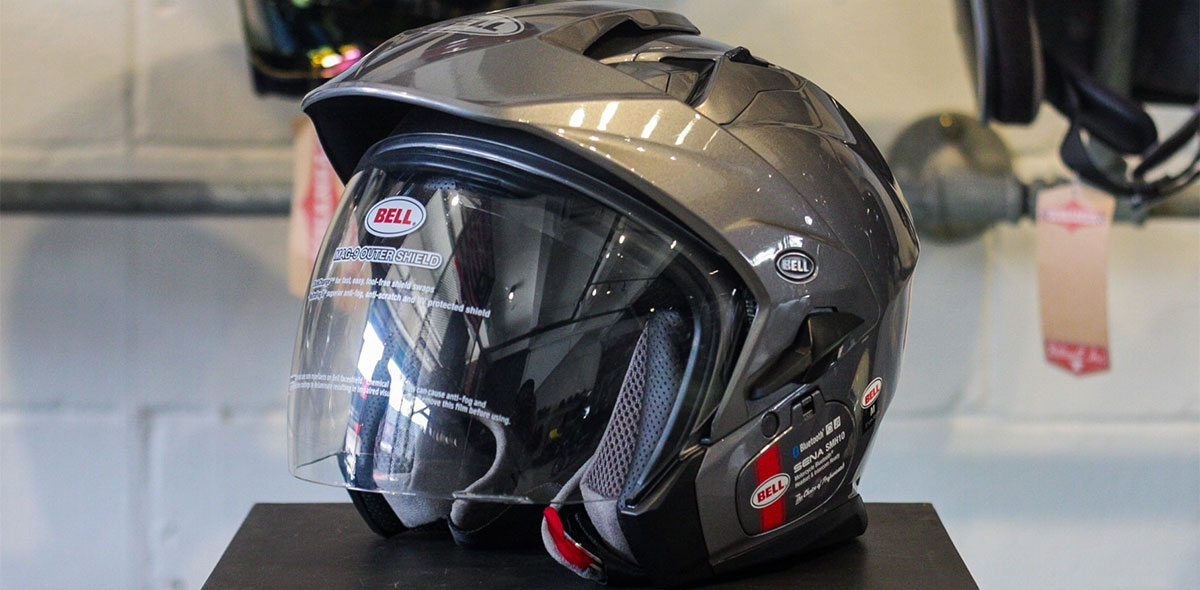 If you are keen on music as you saddle your motorbike, you will love that this helmet accommodates the Sena SMH10 Bluetooth stereo headset and intercom.
The Bell Mag 9 is the best summer motorcycle helmet in the open-face category. It is packed with many useful features for added comfort and improved ventilation to satisfy even the most demanding riders.
Key specs
Helmet type: open-face(3/4).
Head shape: intermediate oval.
Safety certification: DOT.
Shell sizes: XS-SM, MD, LG, XL-2XL.
Shell material: polycarbonate.
Weight, g/lbs: 1533/3.38.
Pros
The interior is removable and washable.
The polycarbonate shell is lightweight and tough.
Compatible with a Sena SMH10 Bluetooth stereo system.
Great velocity flow ventilation.
Cons
The sizing is slightly off.
The face shield doesn't stay in its upright position when the wind gust is strong.
Shark EVO One 2 – modular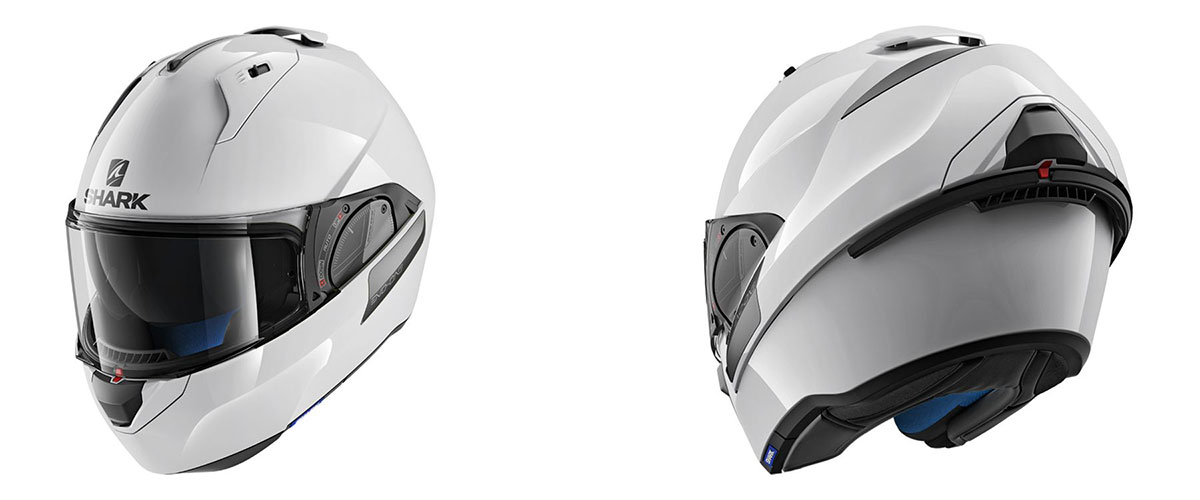 The EVO One 2 helmet by Shark is positioned as the most secure modular helmet on the market. The enhanced chin locking system and other improvements make this item a great safety solution for your summer trips on the motorbike. Besides, it is DOT and ECE approved, so you can wear it with confidence.
In contrast to the open-face Bell Mag 9, this helmet gives you a choice to operate it as a full-face or open-face one depending on your riding needs.
The injected thermoplastic resin shell is sturdy, but it may feel heavy as the helmet weighs 4.03 lbs. The CoolMax liner is pleasant to the skin, and it absorbs moisture to help you stay cool. You can remove it for maintenance procedures as well.
The auto up/down visor system allows you to raise the visor or lower the chin guard for better ventilation. You may also find vents that let air in and out as you ride. But it looks like a top vent is not fully attached, so it makes a clicking sound when you are on the road.
This helmet model is Pinlock ready, so you can add the included fog-free lens for safer rides in different weather conditions. In addition, you can drive comfortably under direct sunlight because of an inner anti-scratch sun shield.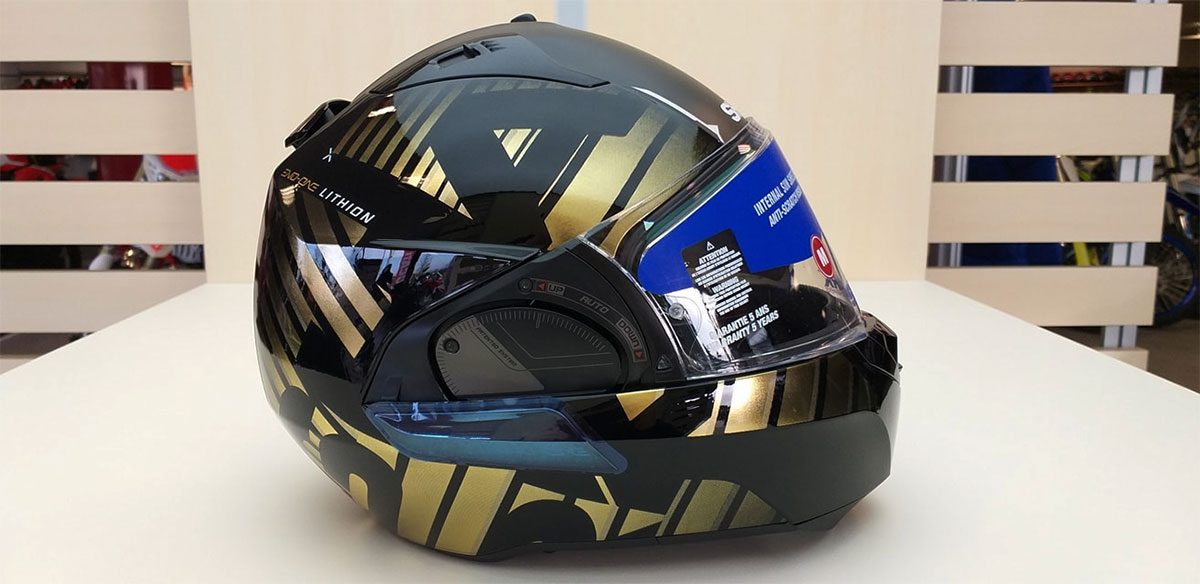 Thanks to the ​​new chin guard locking/unlocking system, you can secure the helmet more reliably. The double D-ring chin buckle works flawlessly and keeps the helmet in its place even when you ride at high speed.
You can easily add this Shark EVO One 2 product to the list of top vented motorcycle helmets. There is always an option of choosing a level of ventilation in this headgear as you may use it in full- and open-face modifications.
Key specs
Helmet type: modular.
Head shape: intermediate oval.
Safety certification: DOT, ECE.
Shell sizes: XS-MD, LG-XL.
Shell material: polycarbonate.
Weight, g/lbs: 1827/4.03.
Pros
DOT and ECE certified.
Quickly turns into an open- or full-face helmet.
A CoolMax liner absorbs moisture and enhances ventilation.
Pinlock friendly for safe rides in foggy weather.
Cons
May be heavier than you want it to be.
The top vent produces a clicking noise.
Arai XD4 – dual sport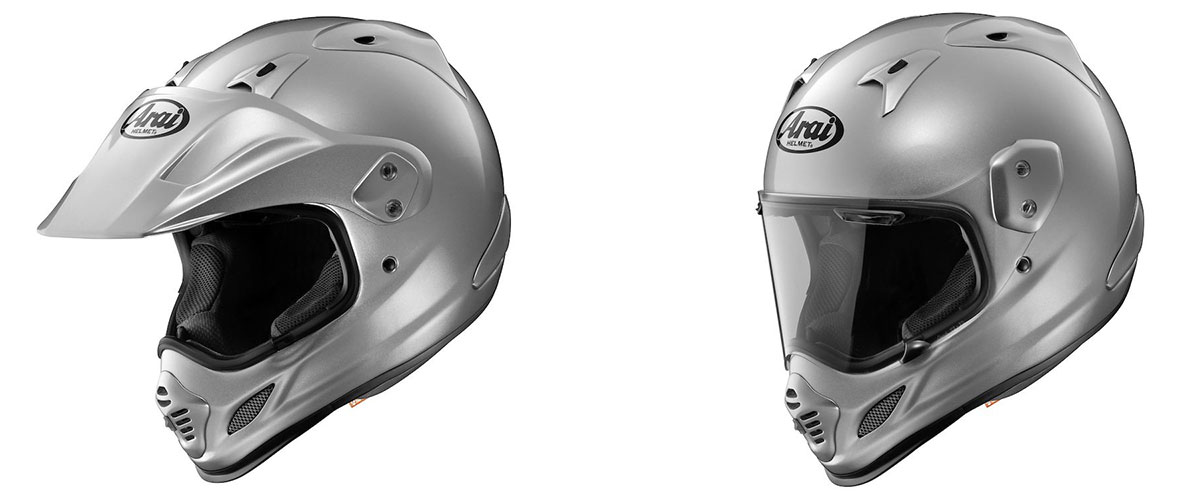 If you don't imagine your life without adventures or want to find a well-ventilated helmet for rides in summer, you can't pass by the Arai XD4 model.
This helmet achieved a Snell safety rating, known for its rigorous testing protocols. It is possible due to a well-thought-out design that delivers outstanding comfort and protection.
You can modify the configurations in three ways, depending on your ride type. Remove the floating peak, the visor, or both to comply with your riding needs. This can be a significant benefit over the Shark Evo One 2 helmet, which lacks this customization. Unfortunately, there is no Pinlock on the stock shield, which may affect your driving in foggy weather.
The shell of the Arai XD4 has been tuned to enhance aerodynamic properties. But mind that this product is on the heavy side (3.66 lbs) and may be unsuitable for long rides.
The manufacturers made a great ventilation system. They added the exhaust ports to the top diffuser vents to let warm air out from the helmet. The chin vent has more intake ports and large sculpted side cowl vents, which add to the level of airflow.
However, there is a minor drawback to the vent design. As vents have covers, you can accidentally open them. As a result, they may fly away when you ride your bike and you'll lose them forever.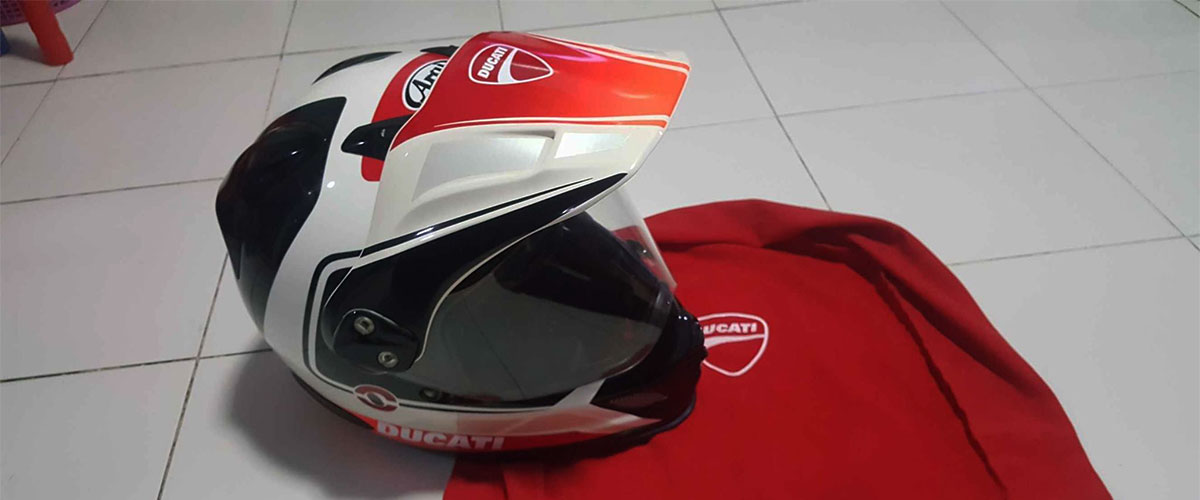 The interior part of the Arai XD4 is all about your comfort. A liner features a Dry-Cool technology that absorbs moisture, so you won't end up being sweaty as you take the helmet off. Thanks to the 5 mm peel-away pads, you can adjust the fit for greater comfort. All the elements are removable and washable.
As Arai XD4 is characterized not only by a high level of safety, comfort, and versatility but also by sufficient ventilation, it makes a good choice for summertime journeys on your motorcycle.
Key specs
Helmet type: modular.
Head shape: intermediate oval.
Safety certification: DOT, ECE.
Shell sizes: XS-MD, LG-XL.
Shell material: polycarbonate.
Weight, g/lbs: 1827/4.03.
Pros
You can configure it in three different ways.
Approved by Snell.
A vent-rich design with excellent ventilation.
The interior parts are removable and washable.
Cons
No option for attaching a Pinlock lens.
Is on the heavy side.
You can accidentally lose vent covers.
FAQ
Can I make my helmet more comfortable for riding in hot weather?
Yes, you can effortlessly upgrade your helmet to make summertime rides more comfortable. One of the easiest things you can do is replace the helmet's lining. A new one should have excellent breathability and moisture-wicking properties to promote your comfort during summer. Also, if you care about safety while riding, I recommend looking into a
carbon agv helmet
.
Can the ventilation of the helmet deteriorate over the years?
Sure, you may notice the deterioration of ventilation properties in your helmet if you fail to maintain it properly. First, over miles of use, the linen and pads have already absorbed a lot of sweat, inevitably resulting in human slime build-ups and clogs in the fabric. These clogs do not let the interior soak up moisture. In
this case
, washing or replacing linen will be a great idea.
Second, helmet's vents tend to clog up as well. As you ride, insects or debris stick up inside the vents and jam them. In this way, less air can pass through these holes, and you notice that the airflow has significantly decreased. Clean the vents, and you will bring back the previous level of ventilation.
How to stop helmet visor fogging?
Many helmets come with anti-fogging features that prevent moisture condensation. But if they are not enough, take notice of the following tricks.
Make sure you enable enough ventilation to let the mist that appears as the result of breathing go out. Open up all possible vents, and if that doesn't save the day, you can propr open the visor.
Check whether your helmet's visor has special pins for attaching Pinlock inserts. They seal a bubble of air and, in this way, keep the visor clear. If the model is compatible with this system, you can purchase the insert and use it to prevent fogging.
You can also try to use a face mask to avert fogging, but not all of them work.