Introduced as a successor to the popular CL-17, the HJC i10 is marketed as a helmet designed to enhance your riding experience without compromising safety and comfort. Boasting a modern, ergonomic design, the i10 offers features for both the daily commuter and the occasional joyrider. With improved ventilation, a friendly price point, and the convenience of Bluetooth compatibility, it is a worthy candidate for your next helmet purchase. But does it live up to its promises? Let's delve deeper into the HJC i10 review and see how it performs in real-world conditions.
Outer shell and design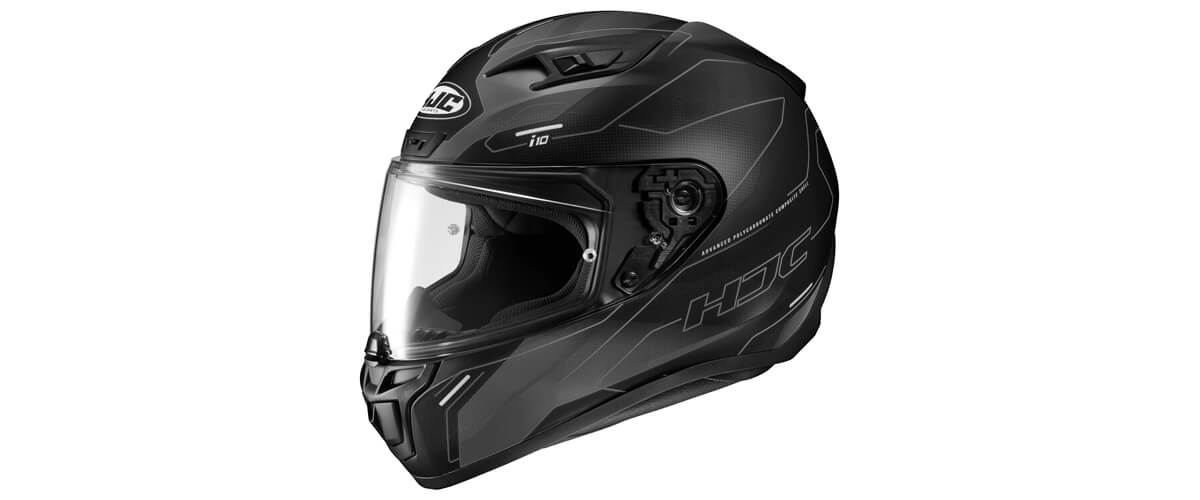 The i10 full-face helmet is made of a lightweight polycarbonate composite shell. It provides a superior fit and comfort using advanced CAD technology. Though the helmet weighs around 3.7 lbs (1.67 kg), which is slightly heavier than the average polycarbonate full-face helmet, I had no issues with that during my rides.
When it comes to build quality, it's pretty good. While it doesn't reach the levels of high-end brands like Arai, the HJC i10 helmet will not disappoint you in this aspect​​.
The size line of this product is vast. You can pick from 9 sizes — from XS to 5XL. You can opt for grey, blue, black, or white in semi-flat, as well as gloss black/white.
Safety
Regarding safety, the HJC i10 stands tall with its Snell M2020 and DOT certifications. Though, keep in mind that sizes 3XL and larger are DOT only. These certifications assure you of the helmet's reliability and quality in providing head protection.
The helmet's polycarbonate shell and multi-density EPS liner work together to provide a robust barrier to absorb impact effectively during a collision.
Lining
The lining of the HJC i10 helmet is designed for optimal comfort and hygiene. Inside, you'll find a SuperCool Moisture-Wicking interior that actively works to keep you dry and comfortable throughout your ride. The crown and cheek pads are removable and washable. Though this headwear fitted too tight around the cheeks at first, the situation changed after a few rides.
In addition, if you're a glasses wearer, you'll appreciate the special grooves along the temple that relieve pressure. It's a small detail that can significantly enhance comfort on the road.
Fastening method
The HJC i10 helmet uses a tried-and-true D-ring chin strap closure. It's worth noting that it might take a bit of practice if you're new to it, but once you've got the hang of it, it's quick and easy to use​, even with thick gloves.
Visors
The HJC i10 helmet features a visor designed for performance and convenience. It comes with an optically correct, three-dimensional face shield offering 95% UV protection, though it is easy to swap out for a tinted one if preferred.
The visor uses HJC's RapidFire shield replacement system, which is a quick-change mechanism that allows for easy removal and replacement of the shield.
The helmet is Pinlock-ready, but inserts are not included. Thus, you may need to invest in an additional Pinlock lens to keep the shield mist-free.​
One noteworthy attribute I want to point out is the i10's surprisingly wide field of view, which enhances safety and overall riding experience​​.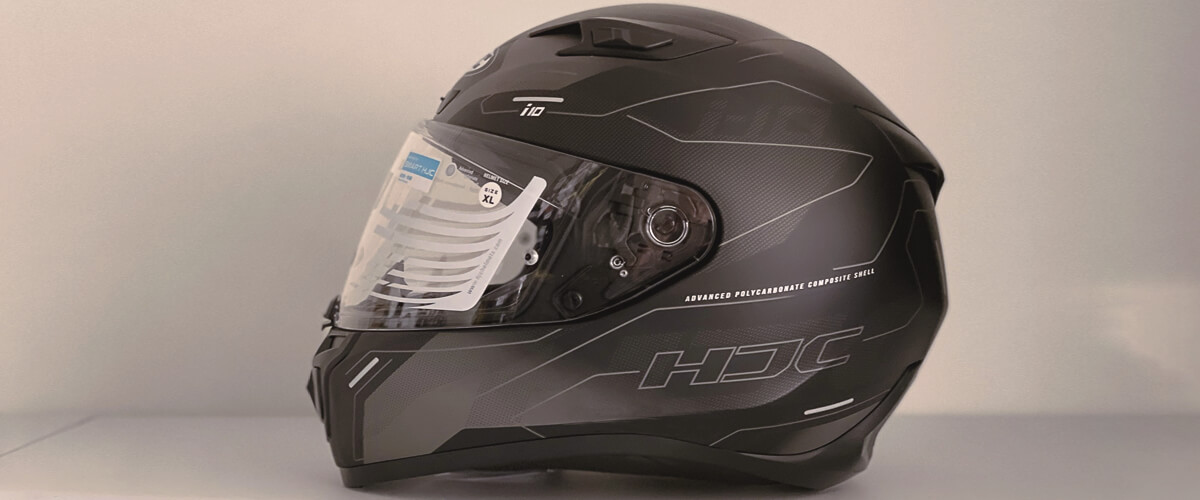 Ventilation
The helmet features improved ventilation over its predecessor, the CL-17, which was already praised for its good airflow. The i10 employs new intakes and exhausts that significantly increase airflow​​.
The top vents take air through the helmet shell and into fairly shallow venting channels molded into the EPS liner, which then vent out the back of the helmet through exhausts hidden behind the rear spoiler. To my mind, the i10 flows a significant amount of air — enough to keep you reasonably cool when on the move, even in summer. The helmet also includes an improved chin bar vent which adds to the overall ventilation effectiveness.
However, in certain conditions, such as cold, rainy, or humid weather, the vents alone might not be sufficient to keep the shield mist-free.
Noise
The i10 seems a bit noisy to me. But the noise level is a subjective thing, so perhaps you won't find this point disturbing at all.
Features
This helmet is ready to take the smart HJC Bluetooth communication system. This compatibility means that you can easily integrate communication devices into the helmet.
Key specs
Head shape: intermediate oval.
Safety certification: DOT and SNELL M2020 (size 3XL is DOT only).
Shell sizes: XS-MD, LG-3XL.
Shell material: polycarbonate.
Weight, kg/lbs: 1.6/3.7.
Pros
Great ventilation with new intakes and exhausts that increase airflow.
Ready to accept the SmartHJC 10B or 20B Bluetooth headsets.
Wide field of view and grooves for glasses for better visibility on the road.
Snell M2020 and DOT certifications.
Cons
Slightly heavier than the average polycarbonate full-face helmet.
There is a problem with fogging in cold, rainy, or humid conditions.
Can be a bit noisy.