When it comes to motorcycle cargo nets, finding the most efficient one is crucial for ensuring a safe and hassle-free ride. A reliable and well-designed net can provide peace of mind while transporting your belongings.
This article will explore the key features and benefits of the best motorcycle cargo net options available. From their durability and ease of use to their secure attachment and versatility, we will investigate the factors that make these cargo nets stand out. Whether you're a daily commuter or an avid adventurer searching for a cargo net for a motorcycle, join me as I explore the top contenders in the market and help you find the perfect motorcycle seat net for your needs. But first, a few words for a deeper subject understanding.
Our pick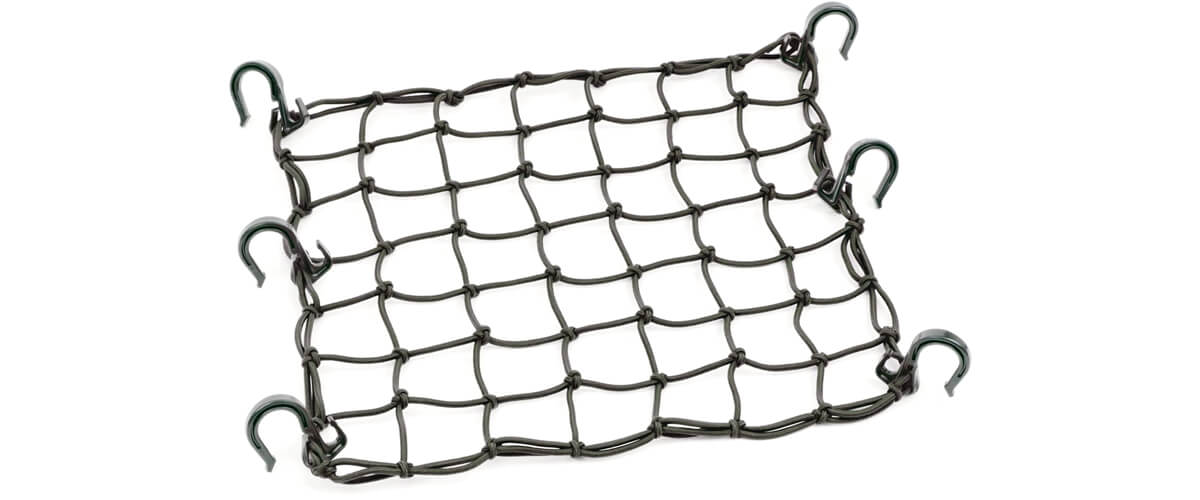 PowerTye 50152
PowerTye 50152 is a premium net that secures your cargo and helps eliminate "fall through" with unique hooks designed to reduce scratching and feature sub-hooks for quick tightening adjustments.
Read the full review
.
Key factors to consider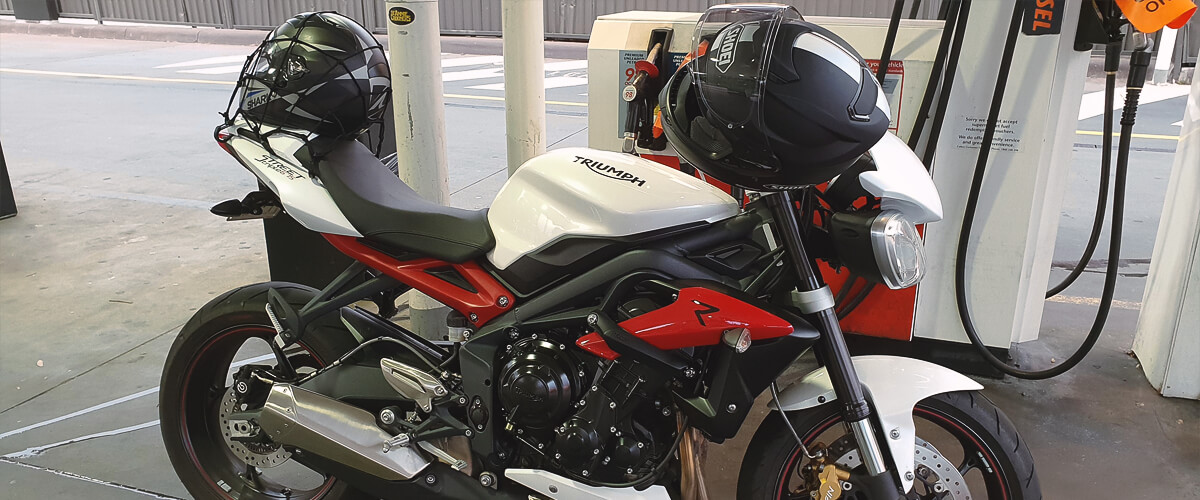 Materials
To make your choice easier, I've prepared a small table about the advantages and disadvantages of each material used in motorcycle cargo nets:
| Material | Advantages | Disadvantages |
| --- | --- | --- |
| Rubber bands | Superior elasticity, good durability | Limited weather resistance, prone to snapping |
| Elastic cords | Superb elasticity, enhanced weather resistance, easy handling | Moderate durability, higher cost |
| Nylon straps | Exceptional durability, superior weather resistance, adjustable length | Reduced elasticity, higher cost |
Installation method
Choosing the right installation method can significantly impact the usability and efficiency of your cargo net. To be able to ensure security and stability during the rides, you need to explore some key factors:
Attachment points. Every motorcycle has diverse attachment points, such as passenger handrails, luggage racks, or rear seat hooks. It's important to select a cargo net that can be securely attached to these points without causing any damage to your bike's paint or structure.
Compatibility with motorcycle type. Different motorcycles may have specific installation requirements. For instance, a sports motorcycle might have fewer mounting points compared to a touring model with specialized racks. You need to choose a cargo net that is compatible with your motorcycle type.
Security and stability. A well-installed cargo net should provide maximum security and stability for your gear during the ride. Look for an option that offers multiple attachment points, allowing for an even tension distribution. It helps to prevent shifting or displacement of objects while you're on the road.
Best motorcycle cargo net reviews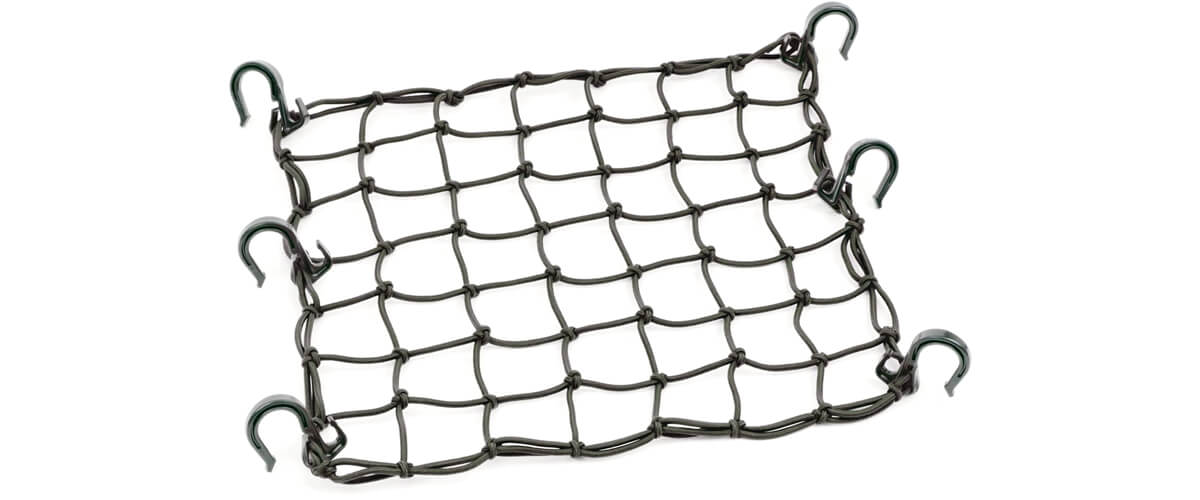 The first moment I unboxed the PowerTye 50152 cargo net for testing, it drew my attention with its high-quality construction, thoughtful design, and impressive versatility.
This motorcycle cargo net boasts a 15×15-inch size. I also stretched it to the promised by the manufacturer, 30 inches in all dimensions, and it felt as if there was still a little space for more.
Talking about mesh size, despite getting bigger when stretching the net, it still stays within reasonable shapes and holds even tiny cargo. I securely store different-sized items, maintaining stability even during bumpy rides.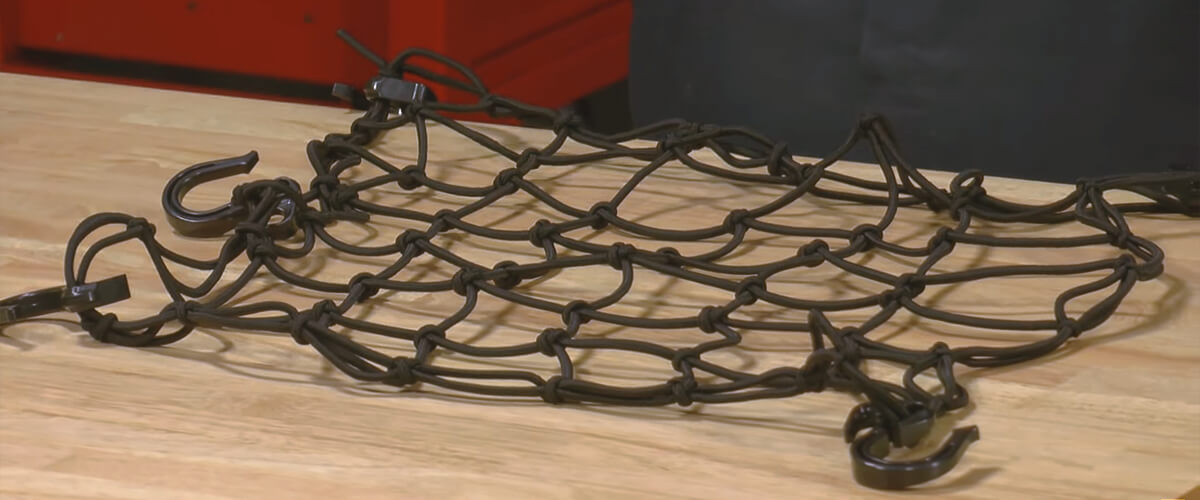 Typically, it comes square and is equipped with six plastic hooks. At first sight, I thought the plastic didn't look that good. But after testing, I can conclude the material is very durable, and what is no less important, it doesn't scratch the motorbike. Yet, it is only to be found how well it will resist the UV from the sun.
The PowerTye 50152 surpasses others in various aspects compared to other motorcycle cargo nets. The design made installing, adjusting, and removing the cargo net a breeze, and its durable construction and excellent stretchability make it stand out as the coolest motorcycle cargo net.
Key specs
Unstretched size, inches: 15×15.
Stretched size, inches: 30×30.
Material: stretch cord.
Fastener type: hooks.
Fastener material: plastic.
Pros
Incredibly strong and flexible.
Maximum ease of installation, adjustment, and removal.
Universal compatibility with various types of motorcycles.
Cons
UV resistance of plastic hooks has yet to be seen.
Zoe Sunny Cargo Net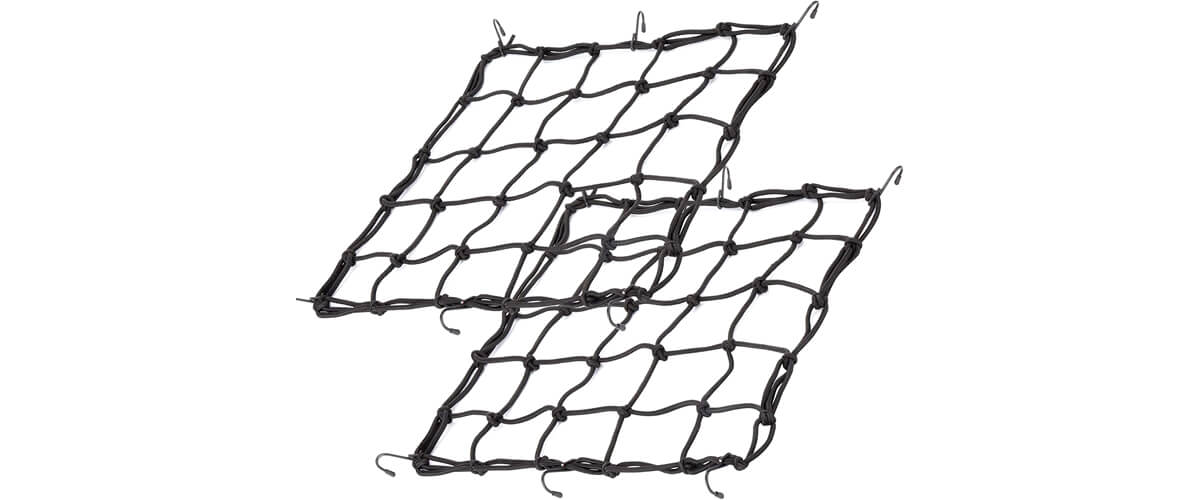 As the manufacturer says, Zoe Sunny Cargo Net offers a practical and versatile option to keep your belongings safe during rides, but that is something everyone promises, isn't it? In this part of the review, I will explore the main technical features, compare them with other models, and share my opinion.
This net is the same size (15×15-inch) as the PowerTye 50152. Both motorcycle bungee nets allow for easy attachment and securely holding cargo. Zoe Sunny Cargo Net also shares the same number of hooks with the PowerTye – 6. So, both nets are compatible with almost every motorcycle. Zoe Sunny has metal hooks that look more sturdy than plastic ones. At the same time, losing a non-scratch cap may damage the painting.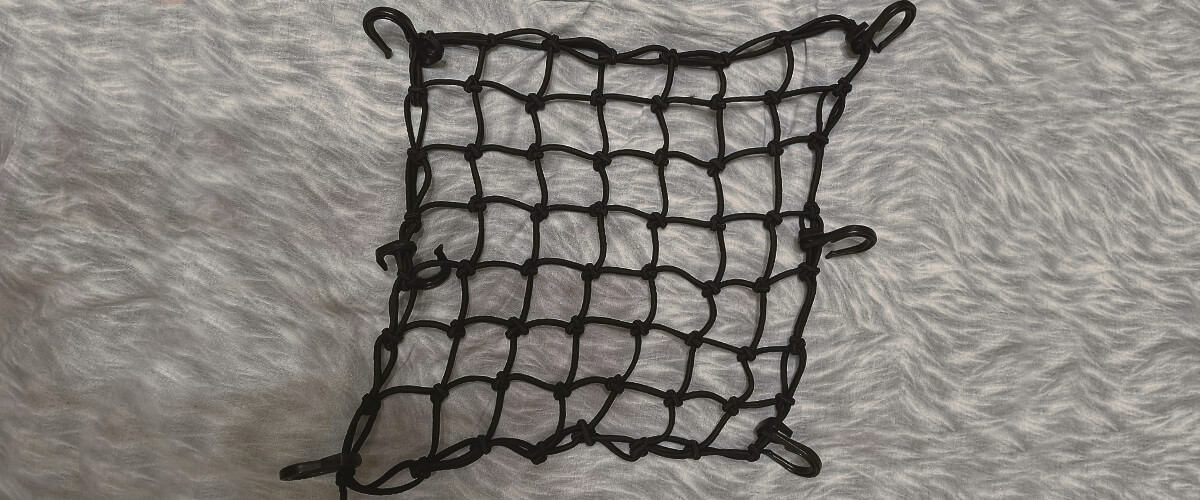 During my testing, the Zoe Sunny Cargo Net proved to be a dependable companion for securing motorcycle cargo. Its ease of installation, adjustment, and removal impressed me, saving time and effort. The net's stretchability allowed it to accommodate different loads, and I had no problems at all when driving, even on uneven and bumpy terrain.
Whether you carry groceries, backpacks, or other items, the Zoe Sunny Cargo Net can provide peace of mind, securing the cargo fastened throughout the ride.
Key specs
Unstretched size, inches: 15.7×15.7.
Stretched size, inches: 31×31.
Material: rubber.
Fastener type: hooks.
Fastener material: metal.
Pros
All six hooks are made of metal with a non-scratch cover.
Even the distribution of tension for a stable hold.
Durability and resistance to wear, tear, and weather conditions.
Cons
There are doubts about the reliability of the belts.
Trackside Super Cargo Net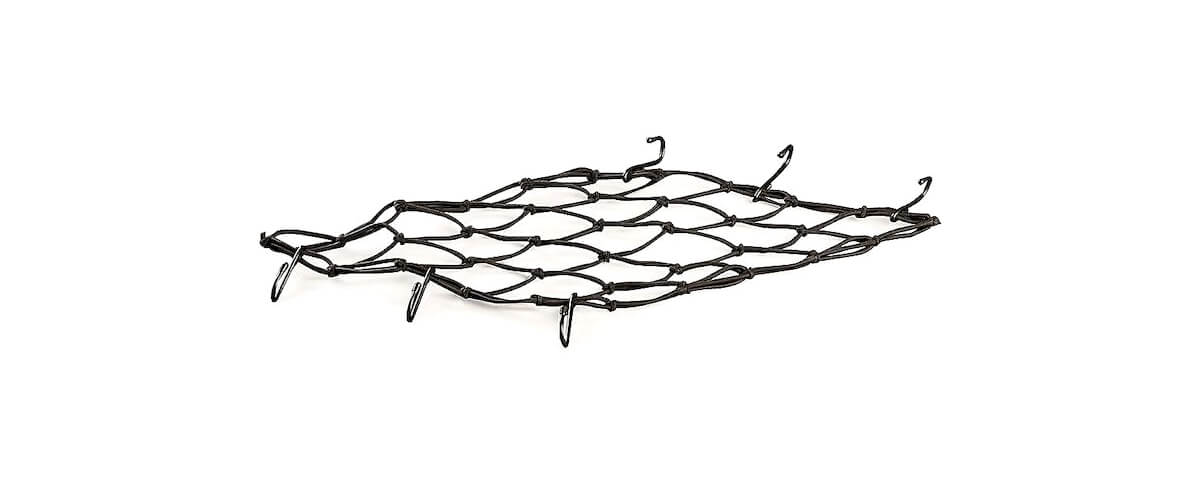 Now, let's turn our attention to the main technical details of the Trackside Super Cargo Net and see what makes it an exciting and valuable option. But believe me, there's a reason I added it to this list.
This net boasts a size of 15×15 inches and can stretch up to 30×30. Despite its excellent stretching capability, the squares become too big to hold small pieces of cargo. This definitely doesn't add convenience to riders.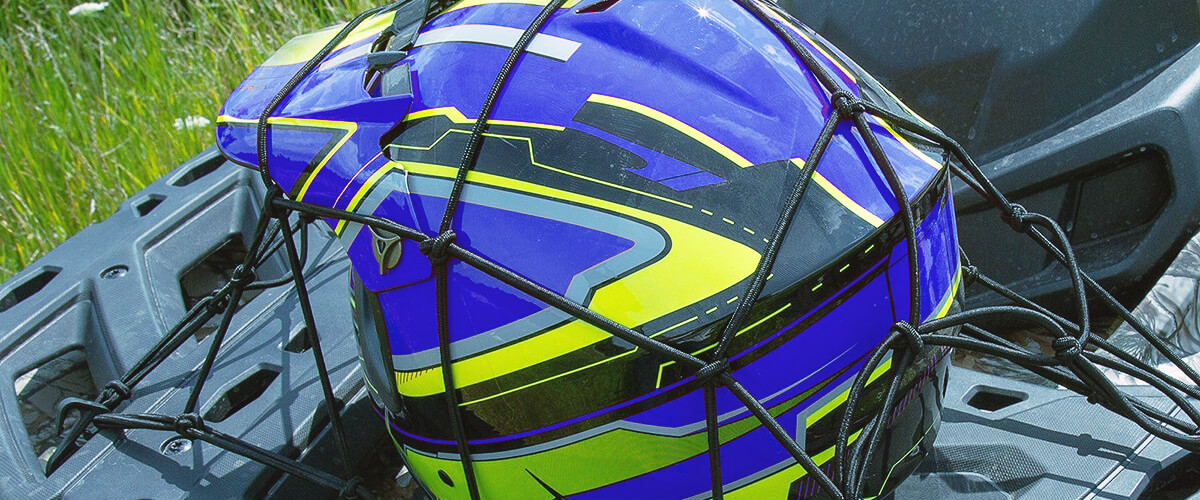 The Trackside Super Cargo Net comes with 6 ABS on the hook side. From my experience, plastic hooks are far safer, with no risk of accidentally scratching my bike. So I could use the motorcycle bungee cords with fewer worries. Note, after a specific time, ABS ones tend to wear off faster and may break because of UV rays. Despite this, during my tests, I had no problems with the durability of this net, while plastic hooks and a 4.5mm stretch cord were convenient to use and reliable.
While not offering anything super-special or unusual, the Trackside Super Cargo Net is a solid choice, allowing you to conveniently carry ample cargo on a motorbike without worrying about scratching or something would fall. It is a reliable and convenient product whose durability is yet to be found.
Key specs
Unstretched size, inches: 2×2.
Stretched size, inches: 30×30.
Material: stretch cord.
Fastener type: hooks.
Fastener material: plastic.
Pros
Easily adjustable but sturdy ABS plastic hooks.
Retains its elasticity even the largest cargo.
Cons
The grid size becomes too big when stretched to the maximum.
It looks too tiny and fragile when overextended.
SARDVISA Cargo Net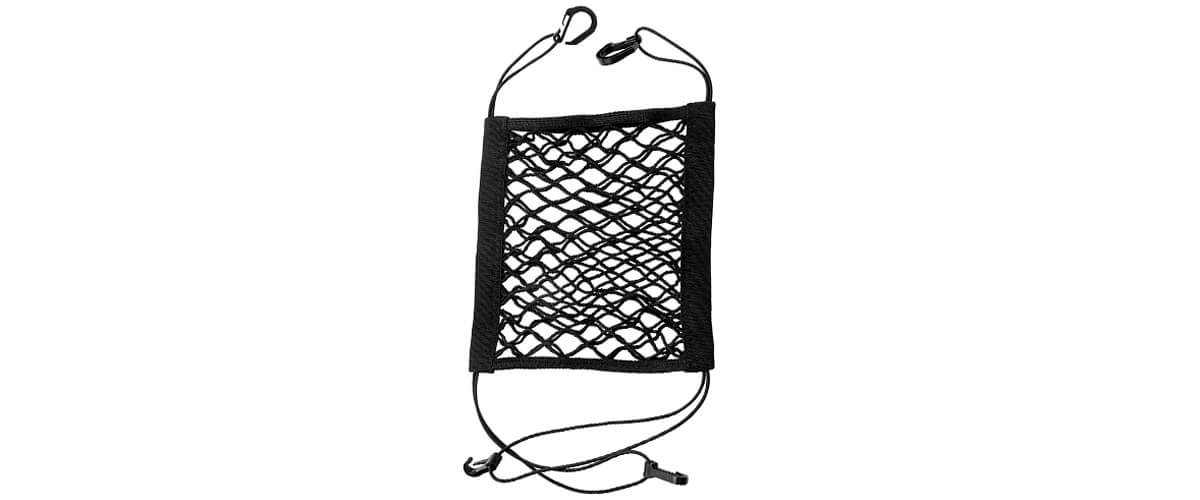 Finally, last but not least – SARDVISA Cargo Net. The moment I got the chance to test it, I knew that it would have a place in my review. And here is why.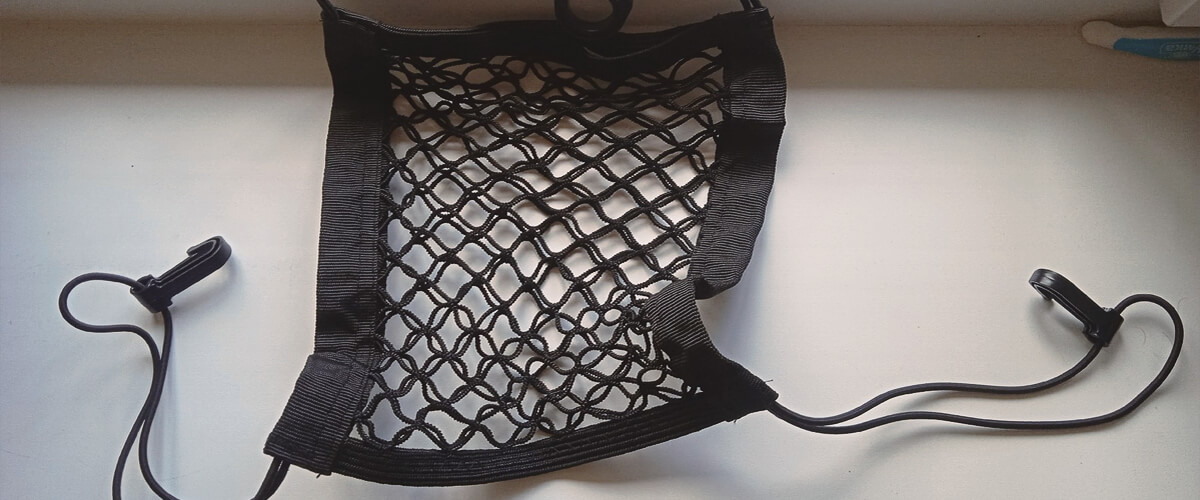 The SARDVISA Cargo Net is designed with a size of 15.7 х 15.7, which is almost an inch more than other nets in this review, but it still stretches approximately to the same size. The mesh is 2×2, and the net comes with 6 metal hooks. Compared to other products in my review, the SARDVISA Cargo Net is more durable thanks to its metal hooks and unique material. At the same time, it lacks the stretching capability a bit. At some point, to hold my helmet along with other cargo, I had to give it a hell of a force to stretch it to be large enough for that.
My test showed that this net is an excellent choice for those who are searching for a reliable and unfussy net to carry relatively large and heavy cargo. Its reliability and payload are truly amazing! Though, securing smaller items may take a lot of work.
Key specs
Unstretched size, inches: 1.4×1.4.
Stretched size, inches: 11×10.
Material: rubber.
Fastener type: hooks.
Fastener material: plastic.
Pros
Uniquely durable mesh and hook materials.
Securely holds even larger items. I never caught myself thinking that something was too much for this net.
Cons
Mesh size doesn't allow for conveniently holding smaller cargo.
Hooks lack aesthetics and look very simple.
Other considerations choosing a motorcycle cargo net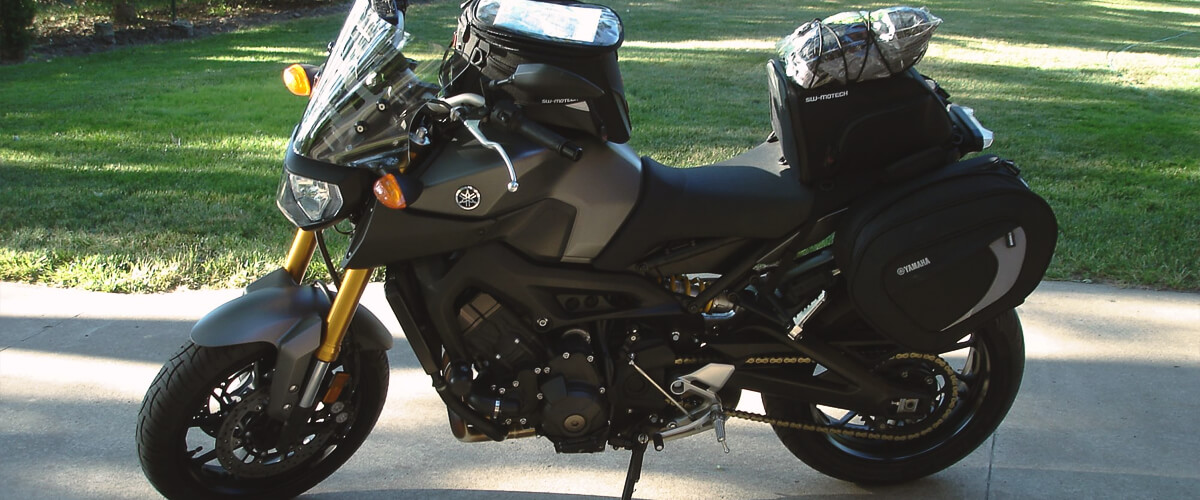 Motorcycle type
Sport bikes. Based on my experience, I advise buying a sportbike-specific net designed to fit snugly on the smaller tail section of your bike. Look for adjustable hooks or attachment points that can be securely fastened to the rear subframe or passenger grab handles.
Cruisers. Consider a cargo net for a luggage rack. These nets are often larger and feature straps or hooks that can be securely fastened.
Adventure bikes. Choose a luggage net or bungee cord net constructed specifically for adventure bikes. Also, consider using cargo nets in combination with dedicated mounting systems or racks.
Touring bikes. Opt for products that offer a combination of elastic netting for storage, and sturdy straps, ensuring a secure fit and peace of mind during your long-distance adventures.
Ride duration
When it comes to extended rides, endurance becomes a top priority. Think about it: the longer you're on the road, the more your cargo net will face challenges like vibrations from the road, strong winds, and unpredictable weather conditions. That's where durability comes into play. After long years of extended rides, I realized that it is always a good idea to choose a motorcycle bungee netting that endures prolonged exposure to road challenges.
Durable materials like nylon straps or reinforced elastic cords provide the resilience needed for enduring trips. For added safety, I recommend buying a cargo net with extra hooks, buckles, or adjustable straps. Also, look for weather-resistant features like UV resistance, moisture repellency, and waterproof capabilities to protect your belongings from scorching heat, heavy rain, or unexpected snow.
And the most important moment: have backup options at your disposal. Think about carrying extra bungee cords or additional straps that can serve as a secondary line of defense, ensuring your belongings stay firmly in place even if unforeseen circumstances arise.
The "bigger is better" dilemma
When securing our cargo, we often assume that a larger cargo net offers better coverage and security. However, this can be misleading. Proper tensioning is one of the most important moments. Using a too-large net can lead to under-tensioning, resulting in unstable cargo and potential risks during the ride.
For optimal stability and safety, select a luggage net that fits snugly around your load. It ensures the necessary tension to securely hold your cargo in place. To determine the right size, consider the dimensions and shape of your load. Measure carefully and choose a net slightly smaller than your cargo's size.
FAQ
Can I use a cargo net in conjunction with other luggage or storage options?
​​Absolutely! Motorcycle cargo nets are designed to work seamlessly with other luggage or storage options. You can combine them with saddlebags,
tank bags
, or bungee cords to maximize your carrying capacity. Just ensure that everything is securely fastened to prevent shifting during your ride.
How to prolong the lifespan of a motorcycle cargo net?
Stick to the recommended weight limit specified by the manufacturer to prevent unnecessary strain on the net. Check the net for any signs of wear, such as frayed edges or loose strands, and replace it if you notice significant damage. When not in use, store your cargo net in a cool, dry place away from direct sunlight to prevent material degradation.
Can a cargo net damage the paint or finish of my motorcycle?
When used correctly, a motorcycle cargo net should not damage the paint or finish of your bike. However, to be on the safe side, you can place a soft cloth or a protective layer (like a towel or a piece of foam) between the cargo net and your motorcycle's surfaces. It will provide an added layer of protection against any potential scratches or marks.
What are some common mistakes to avoid when using a motorcycle cargo net?
Make sure to anchor the cargo net to sturdy and secure points on your motorcycle to prevent it from coming loose during your ride. Distribute the weight evenly and avoid placing heavy items in a way that compromises the balance of your bike. Always double-check that the cargo net is properly tensioned, ensuring a tight and secure hold on your luggage. Plus, periodically inspect the cargo net during your journey to ensure it remains secure and hasn't come loose due to road vibrations.