A motorcycle tail bag can be a great solution if your motorbike doesn't have designated storage space. So, for example, in case you want to have an overnight trip or arrange a picnic with your soulmate, a tail bag will add extra layers to let you carry bottles, bagged lunch, or other possessions. But how do you pick that perfect one among a gazillion of the best motorcycle tail bags?
When you browse the market, you may reveal that some tail bags perform better than others. For example, a motorcycle tail bag with a backrest will let your companion enjoy the ride with the added comfort of back support. Others are waterproof and do not get wet even under the rain.
I've checked some of the most popular tail bags to help you avoid the necessity of spending several days picking an optimal product. So, here are the reviews of items I find appropriate for different situations.
Our pick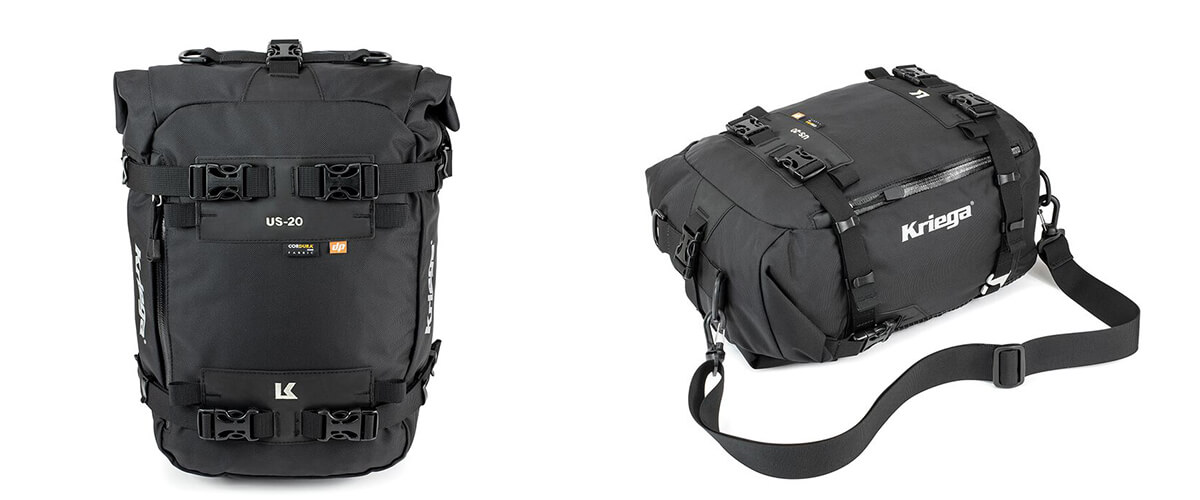 Kriega US-20
Best motorcycle tail bag
The US-20 Drypack is a bag that can carry up to 20 liters of things. This is perfect for when you need to take a lot with you on a bike ride or for an overnight trip.
Read the full review
.
Best tail bag for motorcycle reviews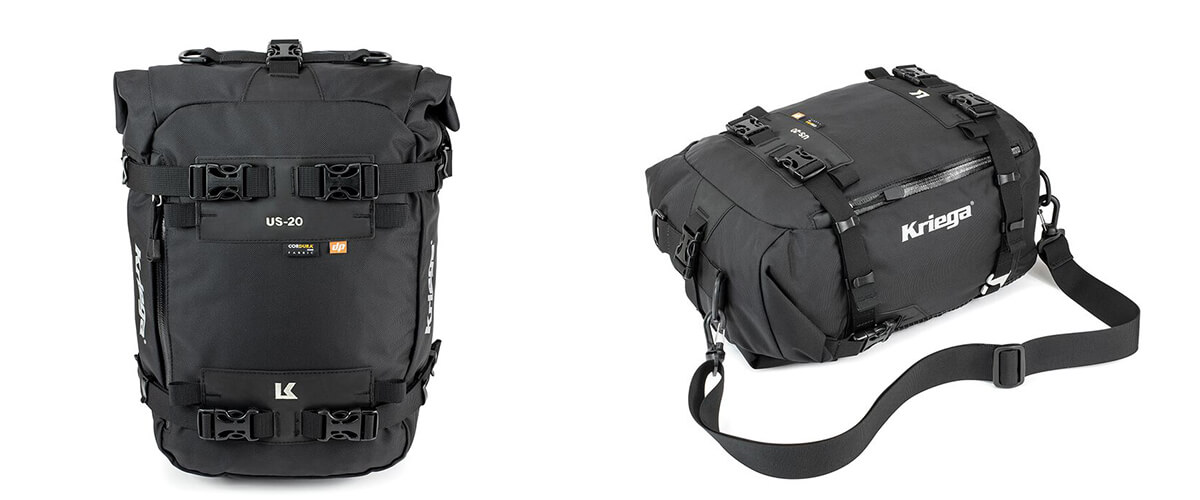 If you dream about neatly packing your belongings and setting out for a motorbike trip, the Kriega US-20, the best motorcycle luggage rack bag, will help you bring your fantasy to reality. No matter the weather, your stuff will always stay dry thanks to the water-repelling Cordura fabric construction with carefully sealed zips. Moreover, a versatile US-Drypack system enhances these properties.
This tail bag measures 1220 cubic inches (20 liters), but it expands a lot so that you can fit even more possessions. In addition, you can use the US-20 Drypack to create a luggage system of 4271 cubic inches (70 liters) to be ready for any situation.
Kriega US-20 is easy to install on any bike with included alloy hook straps and Acetal ITW Airloc quick-release buckles. However, it sometimes slides forward when I ride and rubs my back, but this is a minor downside you may not even encounter.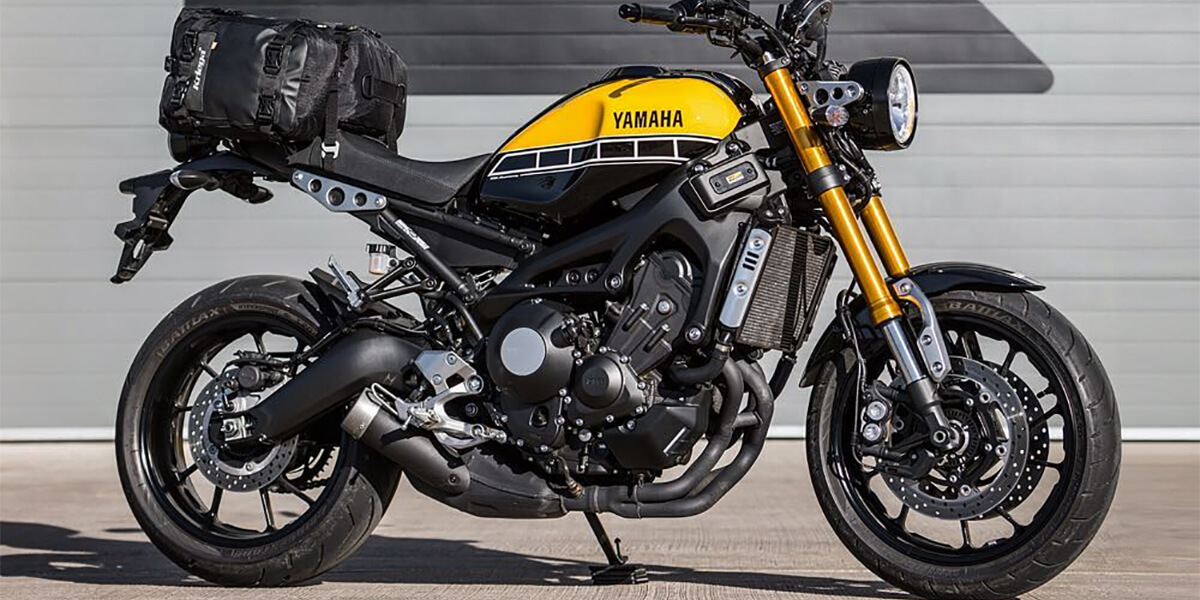 My favorite thing about this tail bag is the availability of removable shoulder and waist straps, which give this product a competitive advantage over Saddlemen TS3200DE. These straps allow me to carry the bag while not on my motorcycle.
When you look for the best motorcycle tail bag, you should consider Kriega US-20 in the first turn. My possessions are always dry in this item, and I have no hassle mounting it.
Key specs
Capacity, l: 20.
Material: 420D Cordura.
Dimensions, inch/cm: 15.7×10.2×7.5/40x26x19.
Weight, lbs/kg: Capacity, l.
Pros
A capacious bag with an option to expand it up to 4271 cubic inches.
A US-Drypack system will keep your stuff dry.
A quick and easy installation.
Includes waist and shoulder straps.
Cons
It may slide down a little bit when you ride.
Saddlemen TS3200DE – the biggest bag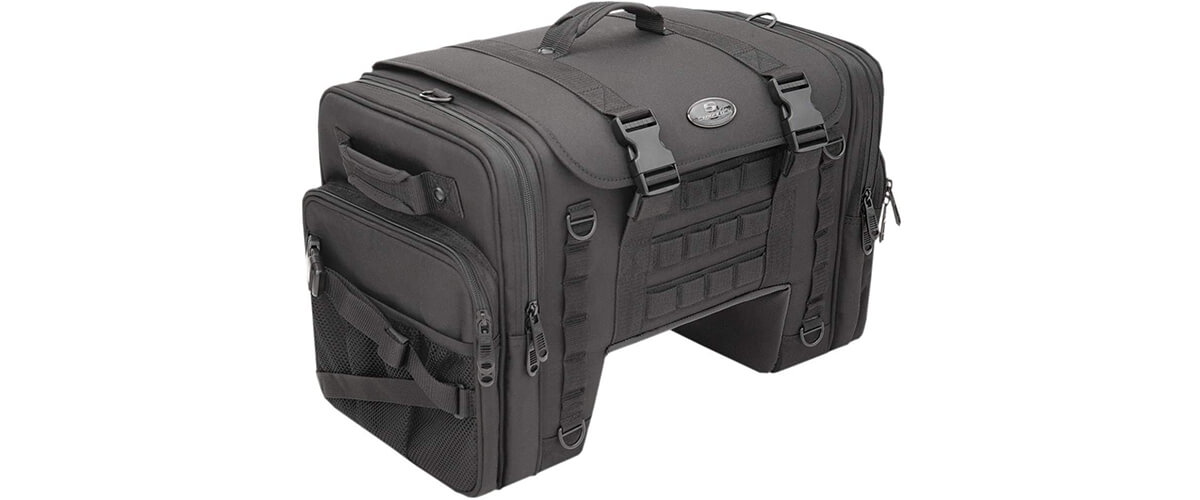 If you plan a long-term ride or arrange a picnic with numerous dishes to treat your kids or friends, you will love Saddlemen TS3200DE for its luggage capacity. It holds up to 3200 cubic inches (around 53 liters) to allow you to take the most essential things with you.
The most remarkable peculiarity of this tail bag is its irregular shape. Unlike Kriega US-20, which looks like an ordinary bag, this item has an ergonomic construction that perfectly sits on the passenger section. Moreover, it's rigid, so it will hold in place and maintain its shape even when empty.
The 1200-denier SaddleTuff material is sturdy, but it is not entirely waterproof. Furthermore, I am not enthusiastic about using a rain fly as mine was blown off in just a few miles.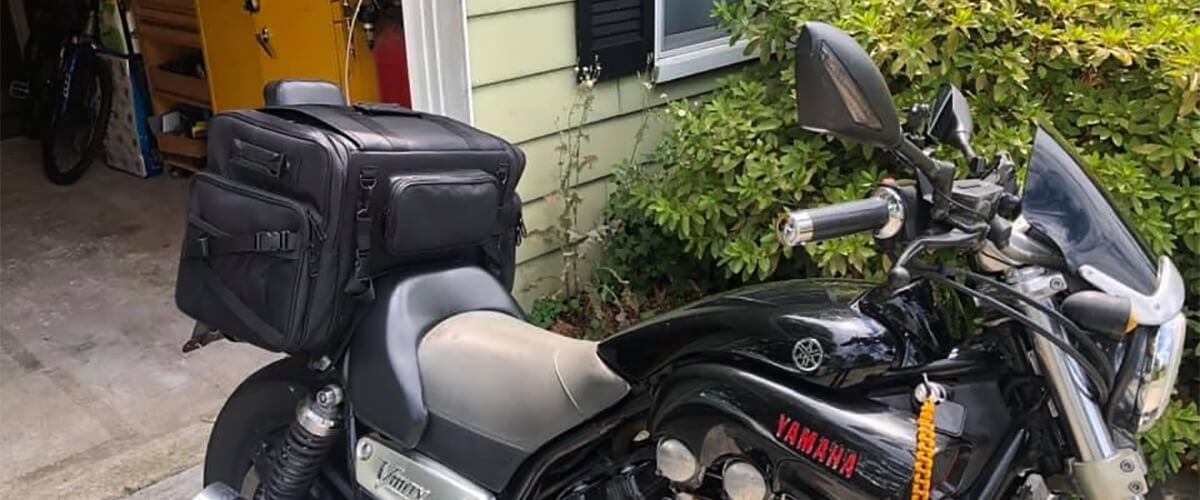 I have no complaints about the mounting system – it securely holds the bag in its place. Molle loops are handy, while a top handle works great for easy toting off the bike.
If you need a spacious tail bag for motorcycles, you've found it. It has a large top opening for easy packing and lets you fill it with plenty of stuff in numerous compartments.
Key specs
Capacity, l: 52.
Material: 1200D fabric.
Dimensions, inch/cm: 13.5x25x11/34.3×63.5×28.
Weight, lbs/kg: 10/22.
Pros
It's big enough to let you fill up a variety of things.
A rigid construction that stays firm even when empty.
A unique design to fit the passenger section.
The fastening system is secure and easy to use.
Cons
A rain cover doesn't hold in its place.
Kriega OS-6 – best small bag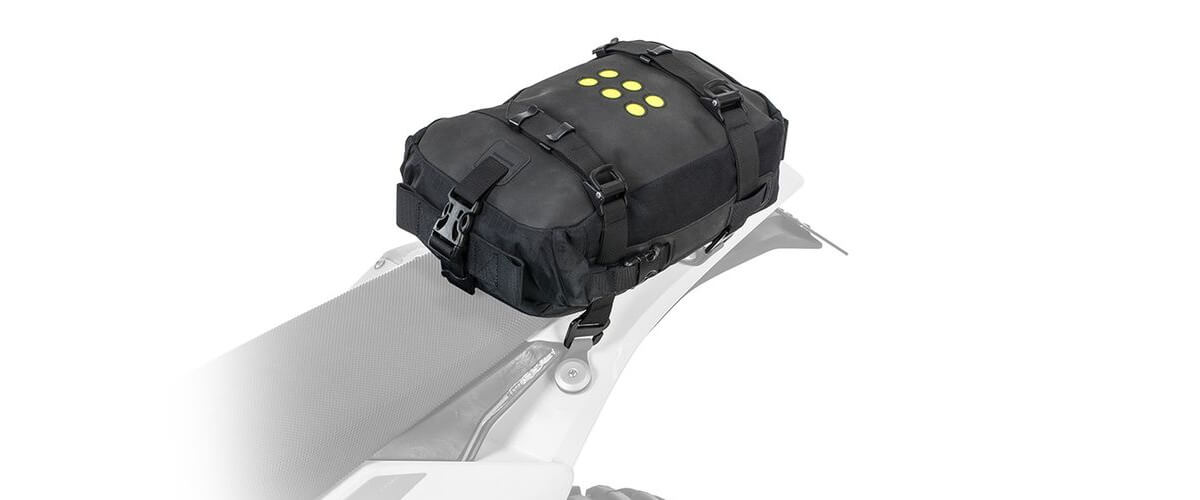 The Kriega OS-6 tail bag will give you a little extra storage you may need for essentials like an emergency kit, cleaning towels, a water bottle, and other stuff. It can hold as many as 366 cubic inches (6 liters), but its walls will remain rigid even when this bag is nearly empty.
The bag is made of Hypalon 1000D Cordura material, which is sturdy and water resistant. In addition, a roll-top closure protects the bag content from rain or other elements, which works better than a removable rain cover in Nelson Rigg Commuter Sport. So you can be confident that everything will get to the destination in pristine condition no matter what you carry.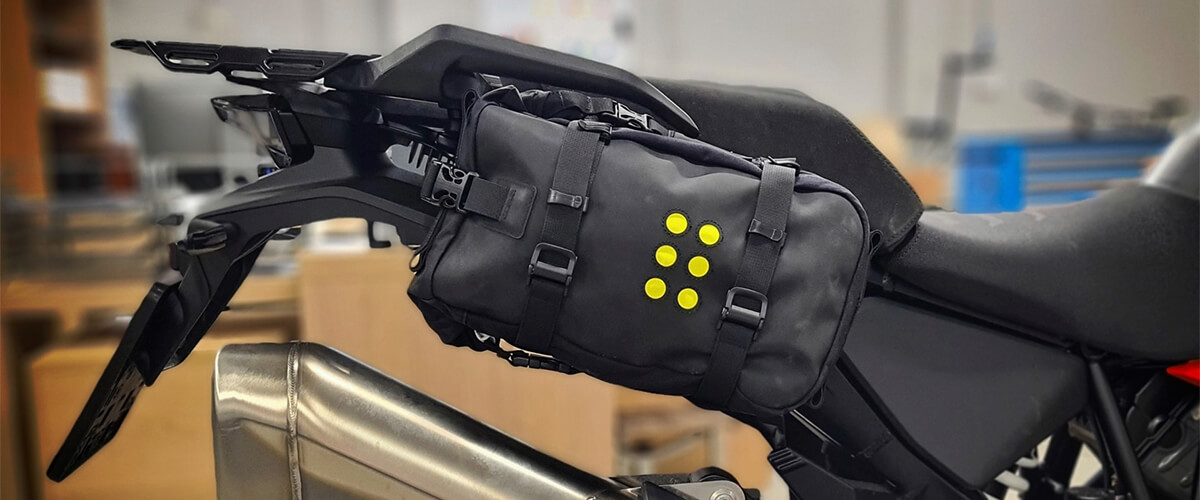 You can mount Kriega OS-6 on the most popular racks or crash bars using integrated hook loops and straps. Nevertheless, I believe that the fastening system requires extra straps for more secure attachment.
In case you do not plan to carry tons of stuff with you, you will love Kriega OS-6, the best tail bag with a moderate luggage capacity. It won't take much space in the back seat of your motorbike but will let you carry the essentials with you.
Key specs
Capacity, l: 6.
Material: 1000D Cordura, HYPALON fabric.
Dimensions, inch/cm: 12.5×7.9×3.5/32x20x9.
Weight, lbs/kg: 1.21/0.55.
Pros
A great choice when you do not need much storage space.
Made of wear-proof material that repels water.
Roll-top closure keeps water away.
Compatible with popular racks or crash bars.
Cons
Will require extra straps for more secure mounting.
Nelson Rigg Commuter Sport – great for sport bikes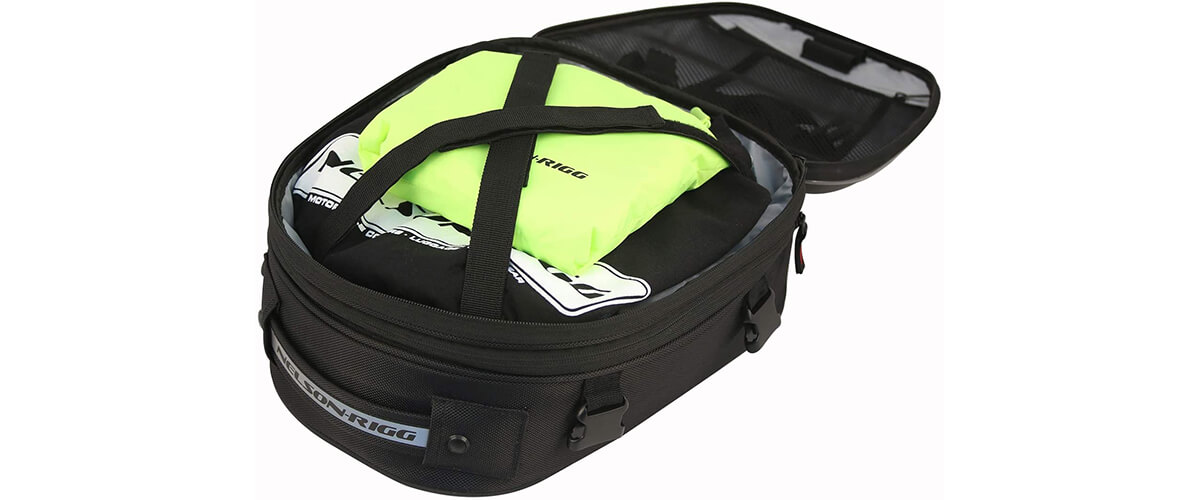 Speed, mud, dust, and bumps are all part of the active pastime on your sports motorbike. So if you are searching for an adventure motorcycle tail bag that won't budge even at high speeds, let me introduce Nelson Rigg Commuter Sport. It mounts to most tail sections and seats with four quick-release straps that reliably keep the bag.
This item is made of UltraMax fabric that resists UV rays and retains its color even after intense use. The lid is semi-rigid, so it curves nicely if you zip the overstuffed bag. It holds 1000 cubic inches (16.41 liters), but you can expand it slightly to the 2358 cubic inches (22.26 liters) capacity. However, since Nelson Rigg Commuter is more spacious than Kriega OS-6, it may be too large for smaller sports bikes.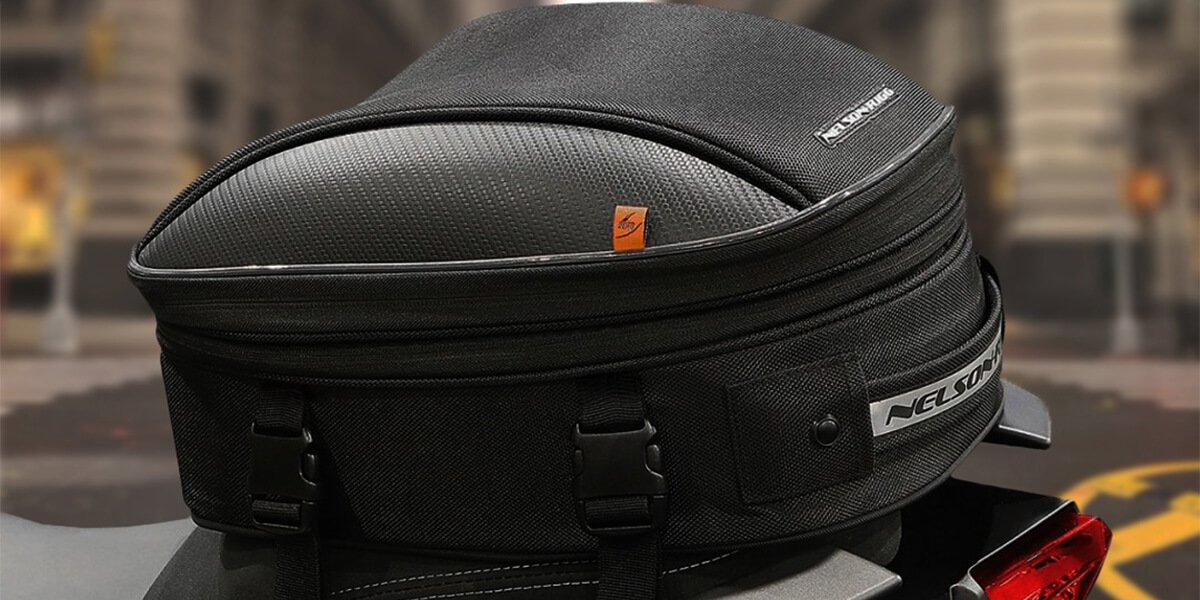 It has inner fastening straps (which you won't find in the Kriega's model) to hold your possessions better. Unfortunately, it is not entirely waterproof, so you will have to use an included rain cover. I also do not like the quality of the D-rings. They look fragile, so be careful not to break them.
This tail bag for sport bikes will help you store your important stuff when you take your motorbike for a stroll. It has inner straps to ensure everything stays in its place even when you ride in rugged terrain and bump a lot.
Key specs
Capacity, l: 22.2.
Material: UltraMax fabric.
Dimensions, inch/cm: 7x11x13/17.8x28x33.
Weight, lbs/kg: 2.3/1.
Pros
Compatible with most sports motorbikes.
Holds up to 2358 cubic inches in an extended form.
Comes with an inner fastening strap to keep things in their places.
Cons
You will have to use a rain cover in bad weather.
The D-rings look flimsy.
Cortech Super 2.0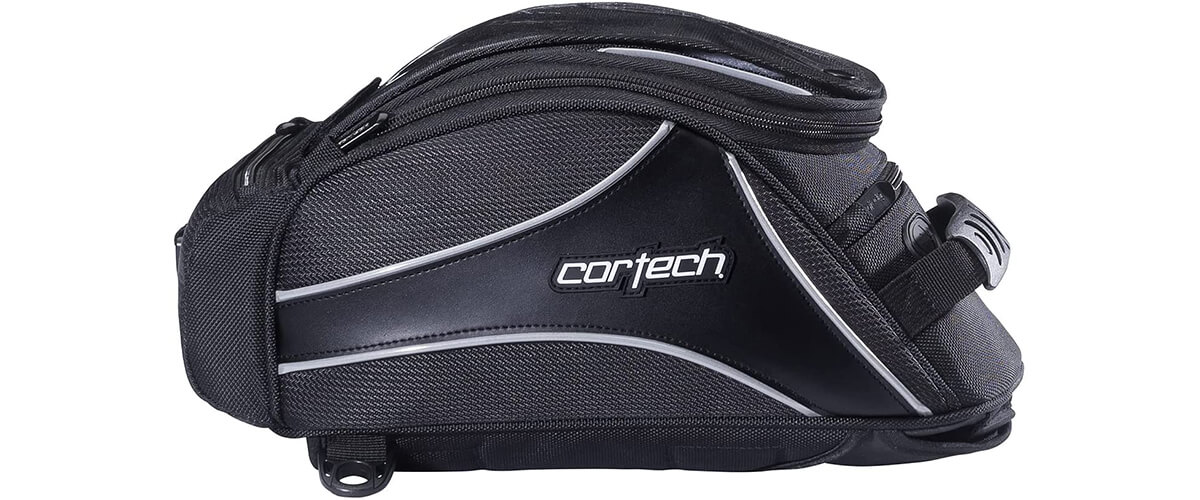 When you want to carry some stuff without mounting a massive bag to your motorcycle, Cortech Super 2.0 will save the day. First, let me give credit to the main compartment with a big opening that allows you to pack some reasonably large things. Besides, smaller side pockets are great for trifles, but, in total, you can fit around 854 cubic inches (14 liters) or 1464 cubic inches (24 liters), depending on the chosen size. The whole construction is made of durable 1680D ballistic polyester, which, alas, will fade and fray over time.
I like the robust handle on the top of the bag, which looks much better than in Nelson Rigg Commuter Sport. But I have minor complaints I wish the manufacturer could have worked on.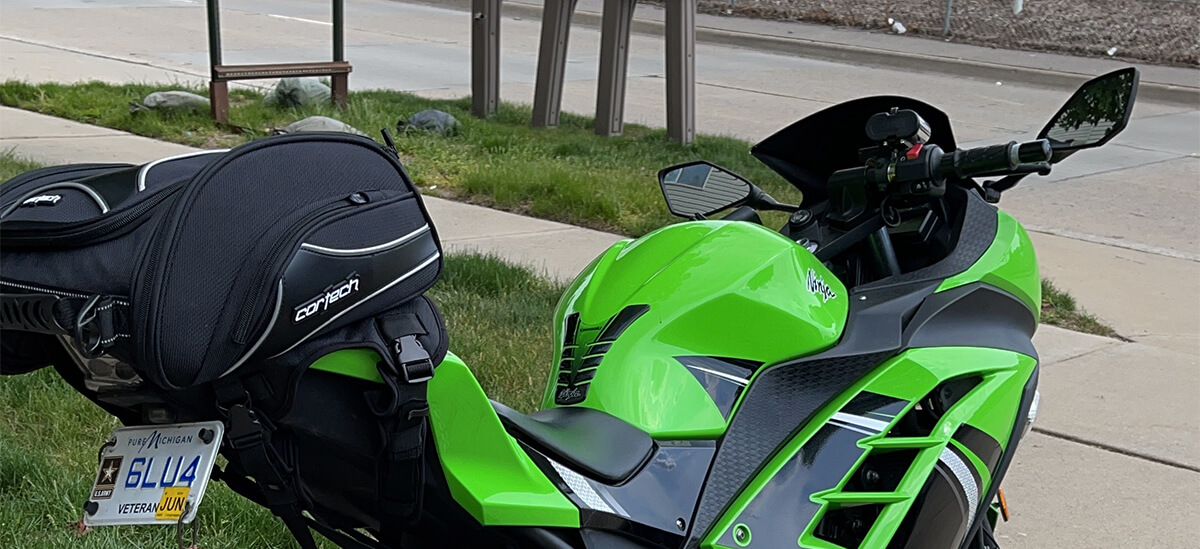 First, I am totally against rain covers which you may not have at hand when the rain starts, or it may be blown away by the wind. Second, I do believe that the attachment system could be improved. I have to remove everything, including the base and the straps, to take the bag off. It can be disturbing, especially when you are in a hurry.
If you need a basic tail bag for carrying around your essentials, Cortech Super 2.0 is a perfect match for you. It is spacious enough to let you fit some minor stuff and has a convenient handle to grab when you get the bag off your motorcycle.
Key specs
Capacity, l: 24.
Material: 1680D fabric.
Dimensions, inch/cm: 13.5x11x6.5/34.3x28x16.5.
Weight, lbs/kg: 4/1.8.
Pros
A strong and rubber-covered handle.
Comes in two sizes with 854 cubic inches (14 liters) or 1464 cubic inches (24 liters) capacities.
A large opening in the main compartment.
Cons
The nylon material will fade and fray quickly.
It is not waterproof and requires the use of a rain cover.
A poorly thought-out attachment system.
Motorcycle tail bags buying guide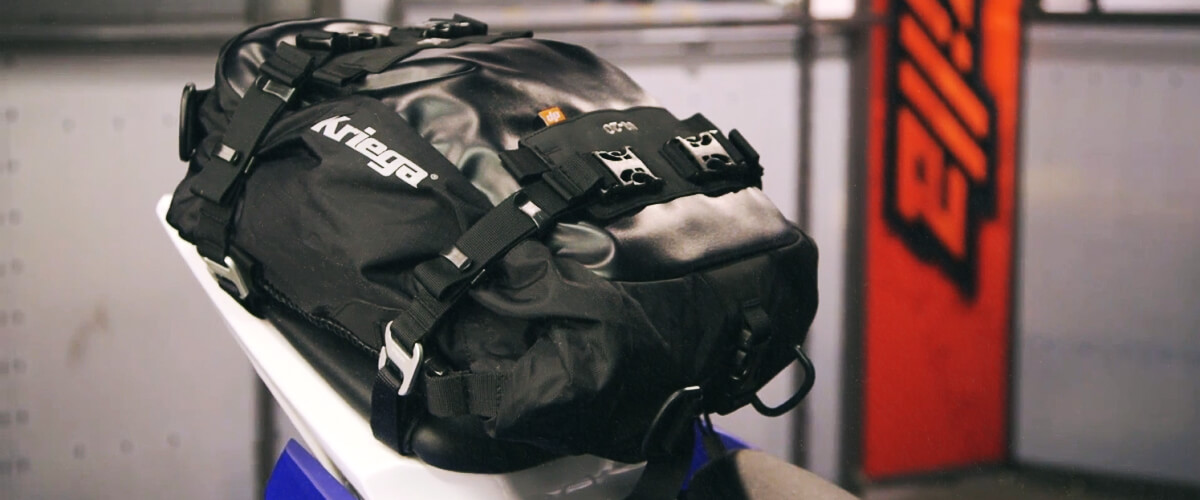 You may have your own criteria for picking motorcycle tail bags for luggage, but here are the core parameters I recommend you carefully study to ensure this item doesn't hinder your rides and lasts long.
Bag size
Whether you need a suitcase-size or a small motorcycle tail bag, there is always something for you to choose from. However, approach the size selection responsively. Consider what and how much you expect to carry with you to pick the tail bag with optimal gear-carrying capabilities.
Bag materials and waterproof
When it comes to the choice of material, you will frequently encounter bags made of various types of soft nylon and other synthetic fibers. These are great options because they are durable, washable, and tearproof. Leather and artificial leather bags are also available but require more maintenance.
Some bags may have water-repellent properties or come with rain covers, so your possessions do not get wet quickly when caught in the rain. But mind that it doesn't mean that they are 100% waterproof motorcycle tail bags, so some water will get through the material and may spoil your belongings. If protection from water is critical for you, you'd better consider sealed shut products as they keep water away in most cases.
Convenient fastening
If you would like to avoid the negative experience of owning a tail bag that is a hassle to use, then take a deep look into the fastening system. First, pay attention to how easy and fast you can attach the bag to your motorbike. Second, ensure that the fastening securely holds the bag and prevents swinging and moving around while riding, especially at high speeds. This is not only inconvenient but is also dangerous as your vehicle may lose balance, and you may fall.
FAQ
How do you secure a motorcycle tail bag?
To secure a motorcycle tail bag, you can use a cable or lock to attach it to the bike. You can also use velcro straps to keep it in place. Make sure the bag is not blocking your view or your ability to operate the motorcycle safely.
How do you mount a motorcycle with a tail bag?
A tail bag can be attached to a motorcycle in a number of ways. One way is to use a strap that goes around the seat and attaches to the bag. Another way is to use two straps, one that goes around the seat and one that goes underneath it and attaches to the bag. There are also special motorcycle racks that can be used to hold the bag in place. Whichever method you choose, make sure that the bag is securely attached so that it doesn't come loose while you're riding.
How to hide tail lights in a motorcycle bag?
There are a few ways to hide tail lights in a motorcycle bag. One way is to buy a cover for the light. Another way is to use black electrical tape to cover the light. Finally, you can use a small piece of cloth to cover the light.
Can I use a tail bag in conjunction with other motorcycle luggage like saddlebags?
Yes, tail bags, including motorcycle backrest bags, are often designed to be used alongside saddlebags on motorcycles. They can seamlessly provide additional storage space without interfering with the functionality of saddlebags. This means that you can confidently embark on any journey with the assurance of ample space for your gear using both tail bags and saddlebags or other luggage carriers.
How to prevent the tail bag from scratching the motorcycle's paint or finish?
Place a soft cloth or a protective layer, like a tank pad or transparent paint protection film, to prevent scratching between the tail bag and the motorcycle's surface. Regularly check and clean the contact points to ensure no debris or dirt causes abrasions. This advice is helpful whether you're using tail bags or motorcycle backrest bags. Even the best motorcycle trunks require additional care to protect your bike's finish.
Can I use a tail bag on a sports bike with a high tail section?
Yes, you can use a tail bag on a sports bike with a high tail section. To ensure compatibility and convenience, look for tail bags designed to accommodate various bike types and adjust the straps or mounting system to secure them properly. Thus, it will ensure that the tail bag doesn't interfere with the bike's design or functionality. I also reconnect to check the straps from time to time to ensure the reliable attachment.