Picture this: you're embarking on an exhilarating journey, wind rushing through your hair, and the freedom of the open road stretching out before you. But wait, where do you stash your essentials? That's where backpacks come roaring into the scene – not just as storage solutions but as true riding companions that blend style, functionality, and convenience into one sleek package.
That is why I analyzed dozens of different models and chose the best motorcycle backpacks for you. I will not only tell you about the features, advantages, and disadvantages of each backpack but also share my personal experience of using it. Let's not waste time and move on to the most interesting ones!
Our pick
OGIO No Drag Mach 5
Best motorcycle backpack
The OGIO No Drag Mach 5 is a water-resistant motorcycle bag that will not deform from wind shear and has a 360-degree reflective logo and safety piping.
Read the full review
.
Best motorcycle backpacks reviews
Today's testing journey begins with the OGIO No Drag Mach 5 Motorcycle Backpack – a remarkable fusion of innovation and comfort designed to elevate every ride. With the combination of its user qualities, this backpack redefines the concept of convenience and functionality, making it undoubtedly the best motorcycle backpack.
The Mach 5 backpack boasts a streamlined molded exterior that resists water and stands resolute against the relentless wind shear, maintaining its sleek form even at high speeds. As I embarked on my journeys, the shoulder gasket proved its mettle, snugly conforming to my body and enhancing aerodynamics, a critical factor for any rider.
Now, let's talk about capacity – a rider's constant concern. The spacious main compartment has adjustable load dividers, allowing me to arrange the gear. This organizational prowess extends to the deluxe organizer panel adorned with zippered security pockets and stretch mesh dividers. It's like the backpack has a hidden art of compartmentalization that ensures the essentials find their perfect places.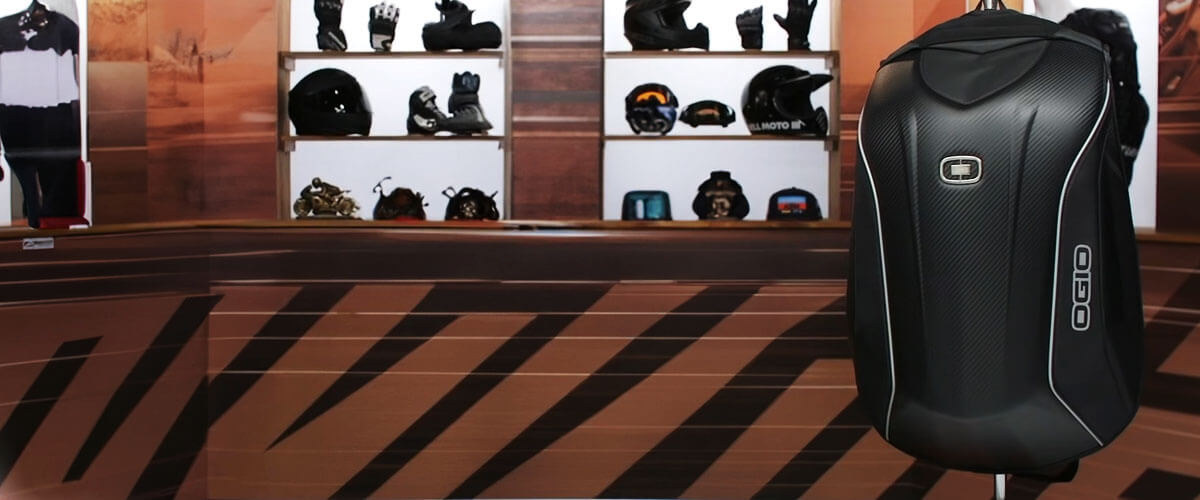 Speaking of essentials, the removable fleece-lined hip accessory pouch is a godsend. I effortlessly expanded my carry room by utilizing this clever addition, which also doubles as a cozy resting place for my helmet visor. Not to forget the dedicated shoe storage – an absolute blessing for professionals like me who transition seamlessly from riding to office mode.
Let's address the elephant in the room – water resistance. Whether it was unexpected drizzles or splashes from the road, the Mach 5 stood resilient, shielding my valuables from moisture. Yet, I don't recommend hanging around under heavy showers – water resistance has its limits.
The OGIO No Drag Mach 5 Motorcycle Backpack has effortlessly earned its title as one of the coolest products. A harmonious blend of materials, capacity, water resistance, and innovative compartments elevates riding experiences to a new level. Trust me, this backpack is an investment that amplifies every adventure.
Key specs
Material: carbon weave PU shell, 840D Jr. ballistic nylon, 420D poly.
Capacity, L: 22-24.
Weight, lbs/kg: 3.7/1.6.
Dimensions LxWxH, inches/cm: 20.5×14.5×7/52×36.8×17.7.
Pros
Mach 5 adds vast storage with a hip pouch and expandable gusset.
Conforming gasket and soft straps for comfortable riding.
Streamlined, water-resistant, wind-shear-resistant exterior.
Multiple compartments, deluxe panels, and shoe storage are of top quality.
Cons
Weights a bit too much(3.5 lbs) when empty.
There are models in this review with better water resistance.
GIVI EA104B – budget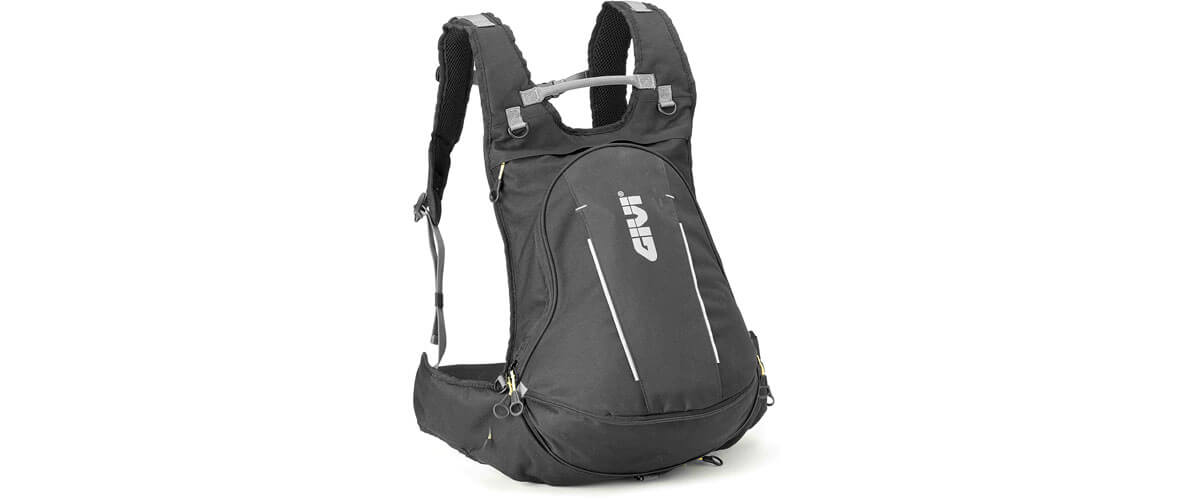 Here, our journey takes an exciting turn as I delve into the GIVI EA104B Expandable Backpack. Pursuing the perfect blend of versatility and capacity at a fair price, I discovered that this backpack is a compelling contender. Stay tuned as I unravel the expandable wonders of this GIVI creation, exploring its features and evaluating its potential to cater to the diverse needs of riders.
The backpack is created with a 600D PU material and feels like it's built to take on the road's challenges. The extractable rain cover is a thoughtful addition. At the same time, it still leaves a gap between you and the backpack, so riding in windy showers is not advised.
The EA104B's 22-liter capacity might seem compact, but trust me, it's the perfect blend of spacious and manageable. It effortlessly accommodates my riding essentials – a change of clothes, documents, and even a spare helmet when needed. What truly sets this backpack apart is its expandability feature, a quick zip, and it transforms from day-pack mode to adventure mode.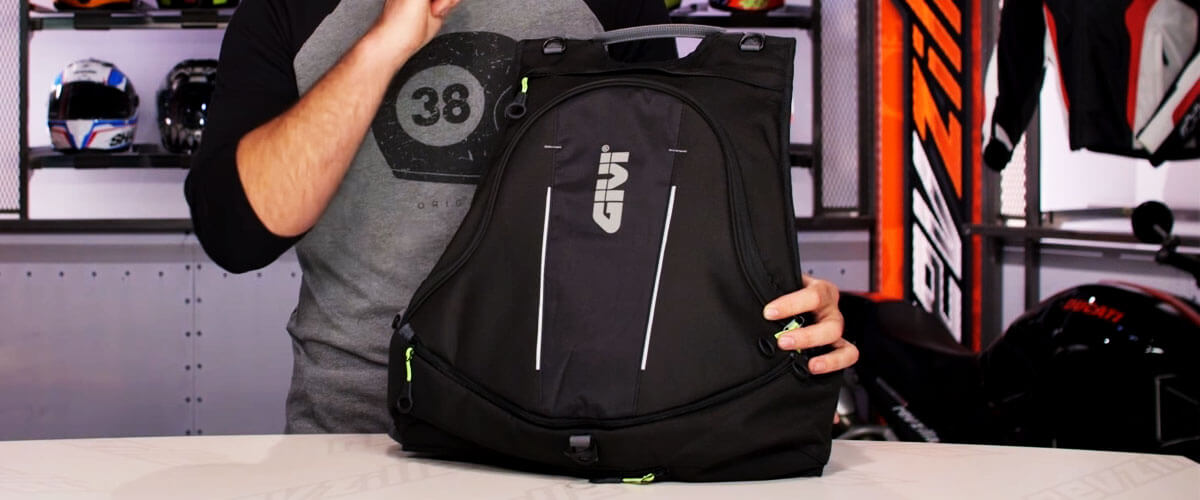 Water resistance isn't just a buzzword here. The polyester material and its well-designed zippers form a formidable barrier against rain and splashes. As someone who's been caught in unexpected downpours, I can say that having this level of protection is a game-changer.
Let's dive into the compartments – an organized rider's dream. Inner pockets for documents and my mobile phone keep everything at arm's reach. The extractable helmet holder is nothing short of genius, offering a secure spot to stow away your helmet when off the bike. The backpack provides added protection with a plastic spine structure, which maintains its shape even when I push its limits.
To sum it up, the GIVI EA104B isn't just a backpack; it's a reliable companion ready to tackle your next adventure head-on. From its rugged materials and clever compartments to its versatile expandability, it's got everything a rider like me needs. It's not premium, but it gets the job done with the ease and comfort you expect from its budget.
Key specs
Material: 100% polyester.
Capacity, L: 17-24.
Weight, lbs/kg: 1.6/0.7.
Dimensions LxWxH, inches/cm: 16.9×16.5×5.5/43x42x14.
Pros
Durable 600D PU polyester material for rugged adventures.
Clever expandable design from day-pack to adventure mode.
Thoughtful inner pockets for documents and mobile phone.
Cons
Max load capacity not specified but is limited.
Lacks back ventilation.
Kriega R20 – also great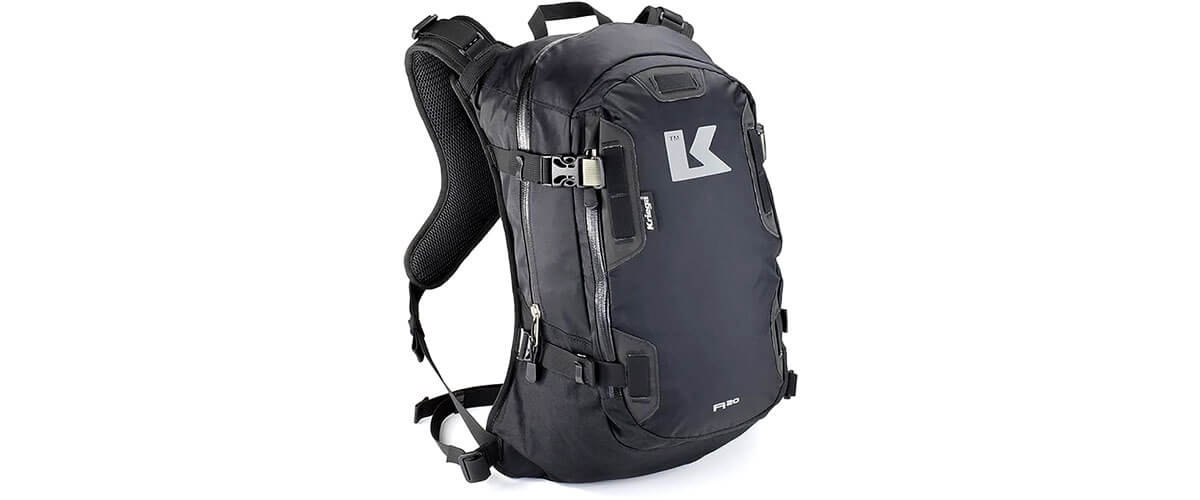 I must confess that picking between the OGIO No Drag Mach 5 and the Kriega R20 Backpack was not easy. The former model scored higher on today's review, but the latter is also a strong choice.
The R20 boasts a robust construction. The blend of 1000D Cordura on the base and harness, along with 420D nylon rip-stop fabric, means this backpack can handle the rigors of daily commuting without a sweat. Damaging this backpack during daily usage is pretty hard.
Don't let its compact appearance fool you; the R20 offers a whopping 20-liters (1200cu in) capacity. It might seem modest, but the clever design ensures you can pack in more than you'd think. The ergonomically adjustable harness system also ensures a snug fit of all the items.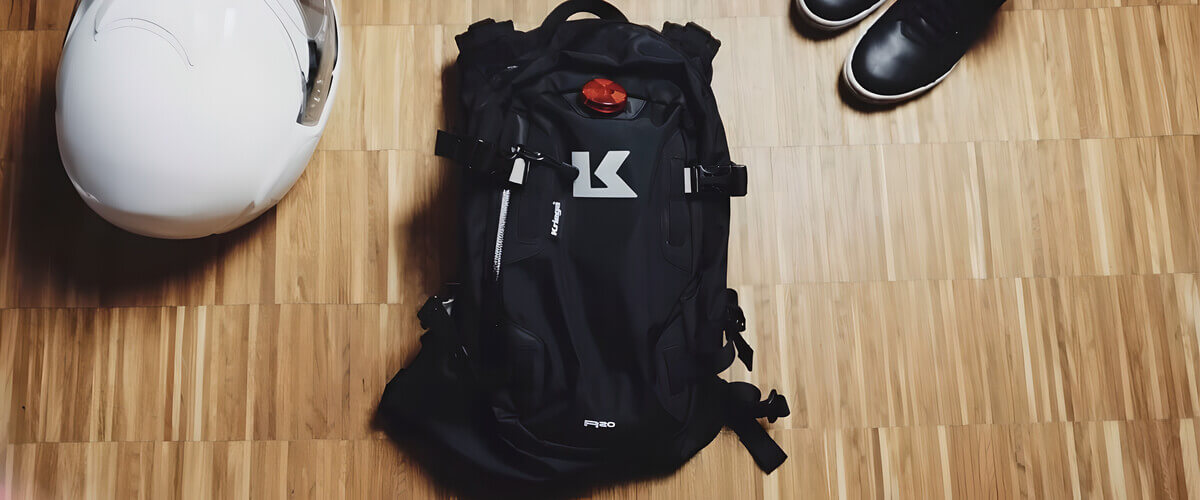 Unpredictable weather? No problem. The R20 has a side pocket with a water-resistant YKK zip and a reflective harness panel for extra visibility during those damp rides. Still, OGIO No Drag Mach 5 offers far better rain protection.
The main compartment is spacious, featuring an inner sleeve laptop pocket. The organization continues; the R20 is compatible with a CE-Level 2 back protector for added safety and even accommodates a hydration reservoir. Also, I truly enjoyed the specially designed harness that offers stunning freedom of movement and convenience.
To sum it up, the Kriega R20 Backpack has won me over with its rugged durability, ample storage, and thoughtful features. Whether you're a seasoned rider or a daily commuter, this product is very close to being the best backpack for motorcycle commuting choice for motorcycle commuting.
Key specs
Material: 420D nylon ripstop.
Capacity, L: 20.
Weight, lbs/kg: 2.4/1.1.
Dimensions LxWxH, inches/cm: 18.5x11x5.9/47x28x15.
Pros
Durable and quality materials.
Hydration compatible design.
Comfortable and offers amazing flexibility.
Cons
Limited color options.
Lacks the built-in rain cover.
Alpinestars Tech Aero – small option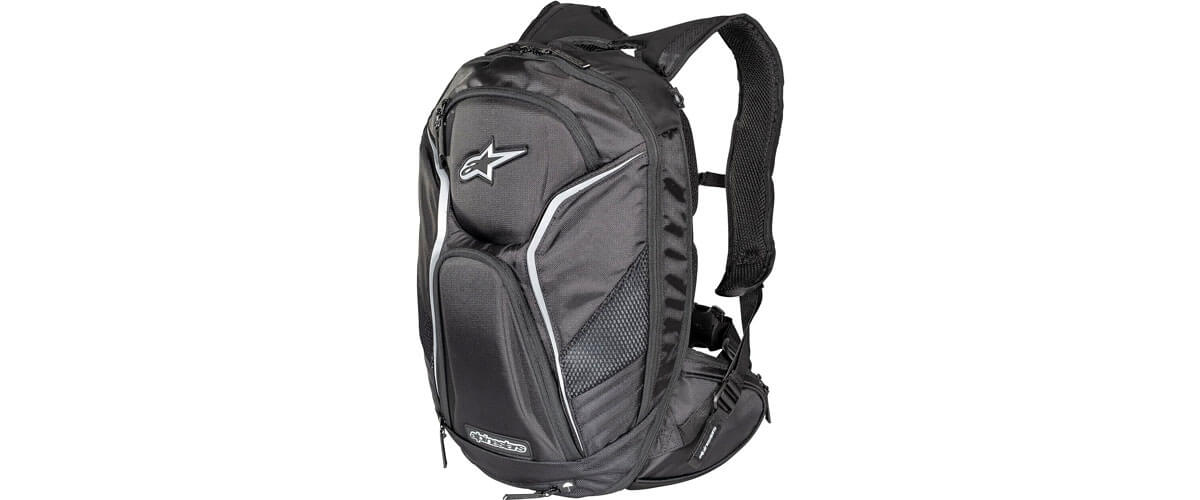 Considering the number of offers and models available in today's market, it is hard to choose them properly. And in this review, I decided to cover different aspects of motorcycle backpacks. You don't always need a lot of space in a large backpack all the time. What about those comfy rides with little accessories one needs? This is when a small motorcycle backpack comes to the rescue. Today's pick, the Alpinestars Tech Aero Backpack, shines like a diamond in this aspect.
I could feel the quality from the moment I held the Tech Aero in my hands. The durable materials used in its construction are rugged and lightweight, ensuring that the backpack doesn't weigh me down during long rides. The attention to detail is another aspect to praise this brand for.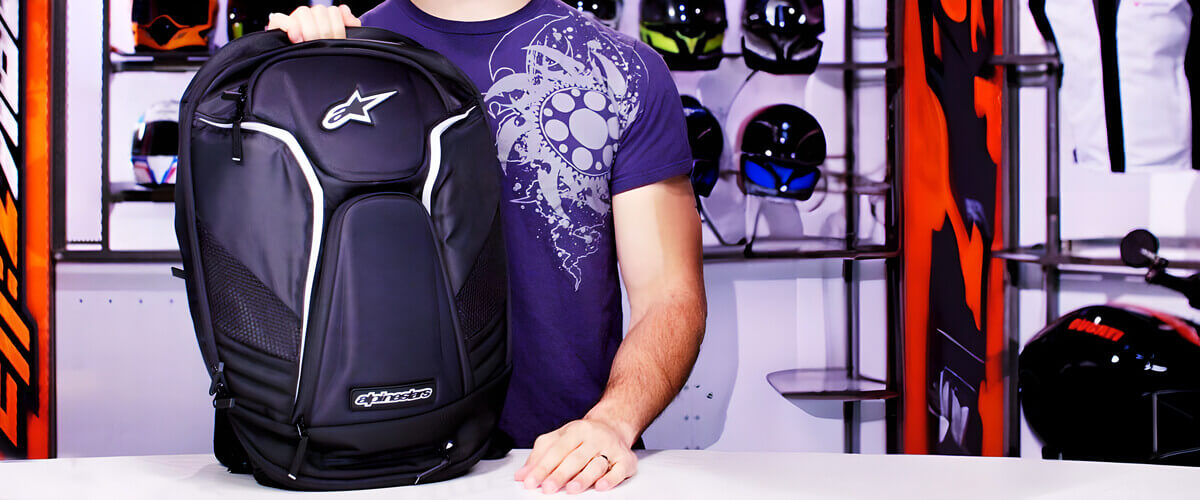 Despite its small size, the Tech Aero Backpack offers an ingenious use of space. With a starting capacity of 16 liters, it can expand up to 26 liters when needed, providing ample room for all my essentials. This backpack swallows up my gear from my tablet to my smartphone while maintaining a low profile for excellent aerodynamic performance. Additionally, the anatomically designed shoulder strap system enhances comfort and features adjustable locking closures that offer a personalized fit. The fleece-lined top pocket cradles my eyewear. Its hard shell offers added protection, and the kidney belt pockets, which can expand as needed, store larger items without compromising comfort.
The water-resistant design ensures that one's belongings remain safe and dry even during unexpected downpours. Including a fully enveloping rain cover adds an extra layer of protection. Its quality also makes me believe it would withstand heavy rain with no issues whatsoever.
The Alpinestars Tech Aero Backpack effortlessly combines form and function, elevating my riding experience to new heights. Its smart capacity, durable materials, and thoughtful pocket design showcase make it a great choice for anyone seeking a small motorcycle backpack that punches well above its weight.
Key specs
Material: 100% polyester.
Capacity, L: 16-26.
Weight, lbs/kg: 1.2/0.5.
Dimensions LxWxH, inches/cm: 16.5×9.5×5.7/41.9×24.1×14.4.
Pros
Streamlined silhouette offers optimal riding performance.
Versatile 16-26L for gear customization while still being light and handy.
Comfortable fit with customizable chest connections.
Includes helmet carrier, rain cover, and hydro pack compatibility.
Cons
Available in Black/White only.
Additional accessories may require purchasing.
Dainese D-Gambit – large option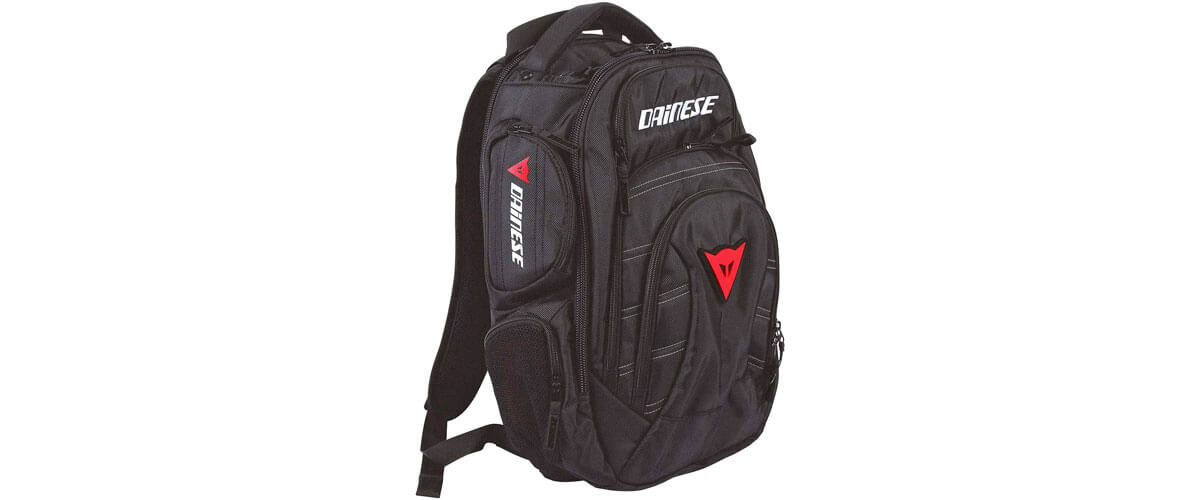 And now, we will look at the complete opposite of the previous model. I sometimes carry a lot of stuff to my ride, and it would be a wise idea to pick something that would suit this use case, too. So, the next category in my review covers the large motorcycle backpack, and D-Gambit is today's winner.
Crafted with precision and attention to detail, the materials used in this backpack radiate durability and style. It offers a generous 33.6L capacity, providing ample space for all my essentials, whether it's a weekend getaway or a daily commute. What truly caught my attention was the intelligent design of its compartments.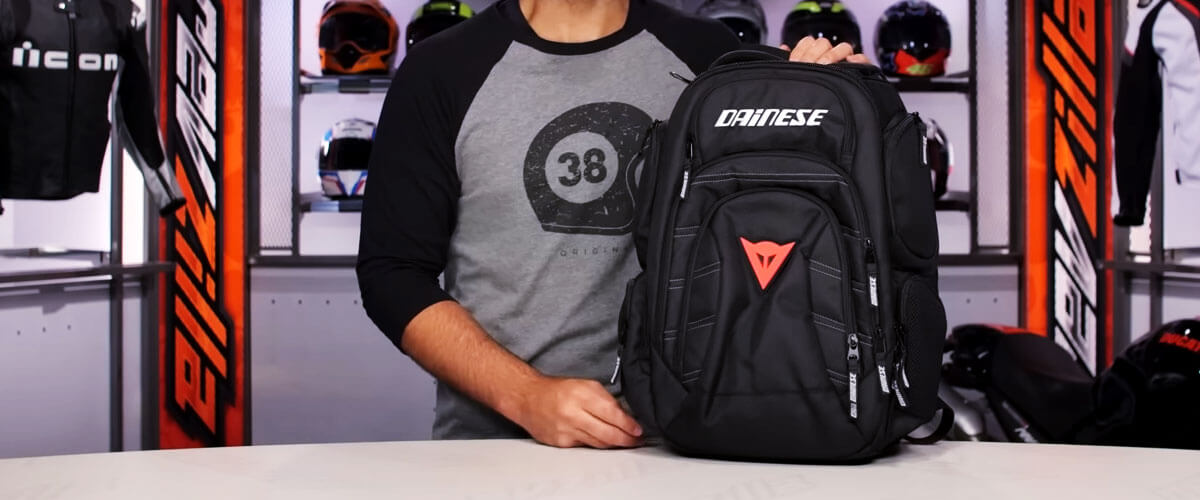 The D-Gambit doesn't just store belongings; it organizes them. The Crush Proof Tech Vault pocket with a soft tricot liner ensures my fragile items are shielded from impact, a feature I've come to rely on for my electronic gadgets. The dedicated top-loading laptop compartment snugly accommodates my 15″ laptop, ensuring its safety even during bumpy rides. Additionally, with an extensive organization panel and a zippered stash pocket, locating smaller items like keys, chargers, or pens is a breeze.
The fully adjustable ergonomic shoulder straps with molded protection zones ensure a comfortable fit, reducing strain on my back from the extensive weight. The increased shoulder strap foam padding creates a sweet spot comfort zone, a true blessing during extended rides. And let's remember the weather-resistant aspect. While I haven't encountered a heavy downpour yet, the backpack's water-resistant design gives me confidence.
As a rider who values form and function, the Dainese D-Gambit Backpack has become a pleasant companion for my journeys. Its well-thought-out compartments, durability, and comfort features make it a fantastic choice in its category.
Key specs
Material: 420D polyester oxford.
Capacity, L: 33.6.
Weight, lbs/kg: 7/3.1.
Dimensions LxWxH, inches/cm: 8.2×13.7×18.5/10.8×34.7×46.9.
Pros
Convenient internal design l keeps belongings in order.
Spacious 33.6L capacity for essentials on rides.
Crush-proof Tech Vault pocket safeguards delicate items.
Ergonomic shoulder straps with molded protection enhance comfort.
Cons
Limited color option (Stealth-Black).
Klim Nac Pak Hydrapak – dual-sport backpack with hydration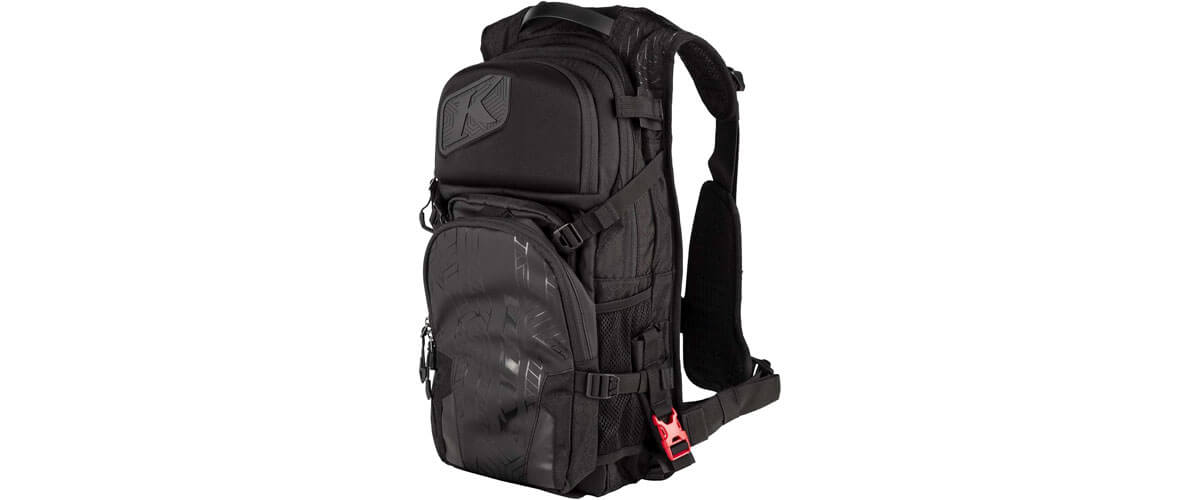 I am not all into sports, but sometimes I do some. Surely, this is reflected in my review, as the next backpack I selected for this review delivers in terms of sport. Let me share my thoughts on the Klim Nac Pak Hydrapadual-sport backpack with hydration that has left a lasting impression.
When it comes to adventure gear, materials matter, and the Nac Pak doesn't disappoint. Klim has used top-notch materials to ensure durability and longevity. From the robust zippers to the reinforced stitching, every detail exudes quality. With this backpack, I utilized too much courage and fell on the dusty road. The speed was low and my luck high; the only damaged thing was my self easteamю. Talking about the back, I only had to shake off the dust from it.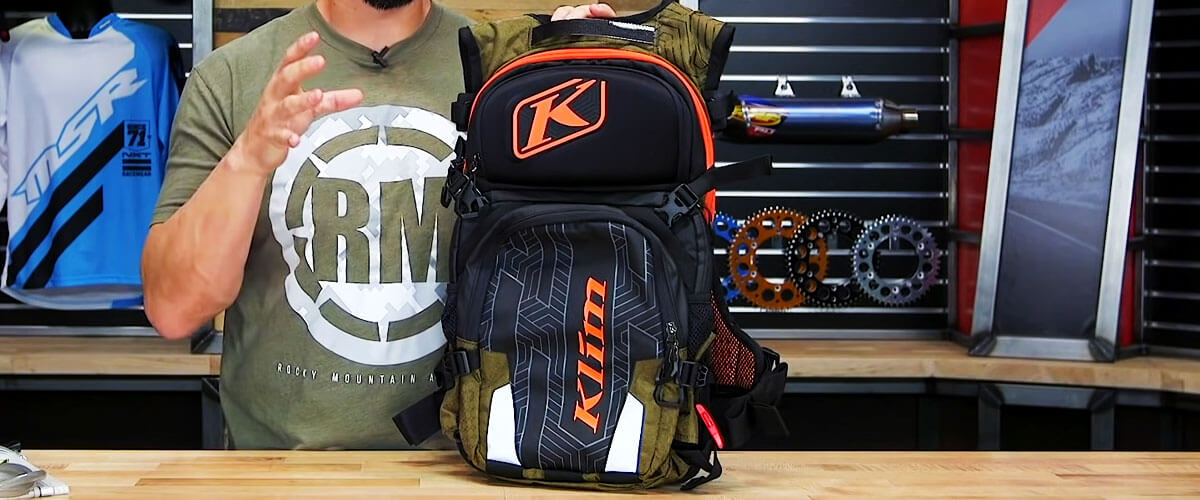 Capacity is critical to any riding backpack, and the Nac Pak strikes an ideal balance. Its well-designed layout offers ample room for essentials without feeling bulky. With a total capacity of 3 liters, it's perfect for carrying tools, spare goggles, and even a compact rain jacket. While not large, the main compartment is spacious for daily riding essentials. The adjustable shoulder and chest straps allow you to find that sweet spot, while the lack of a waist belt doesn't compromise stability.
The Nac Pak Hydrapak boasts a water-resistant exterior that safeguards your gear against unexpected showers or puddle splashes. During a recent adventure, I was caught in an unexpected rainstorm, and my belongings remained dry and protected inside the pack.
The Klim Nac Pak Hydrapak is a good pick for riders in love with sports. Its durability, intelligent compartmentalization, and water resistance make it a reliable companion for short and extended journeys. It is well-suitable for conquering off-road trails and navigating urban streets.
Key specs
Material: thermoplastic polyurethane, HDPE, silicone.
Capacity, L: 3.
Weight, lbs/kg: 7/3.1.
Dimensions LxWxH, inches/cm: one size.
Pros
Well-organized compartments for gear and tools.
Included 3L HydraPak for on-the-go hydration.
Quality materials and robust stitching for longevity.
Cons
Lack of waist strap for added stability.
Storage is not designed for larger laptops.
Only compatible with included HydraPak.
Alpinestars City Hunter – great for commute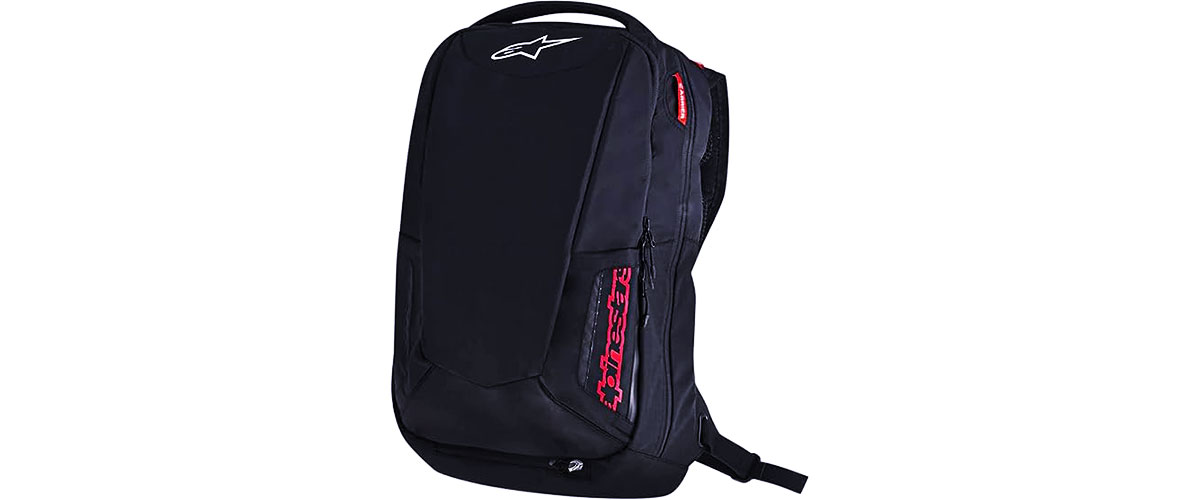 Embarking on countless rides requires more than just convenient storage and quality materials. Comfort is the key aspect here, and for this review, I have chosen the backpack that harmonizes practicality and style – the Alpinestars City Hunter Backpack.
The City Hunter Backpack embodies durability. Its robust construction boasts premium materials that ensure longevity, surviving the wear and tear of the road. The blend of sturdy fabrics and reinforced stitching reassures you that this backpack can handle any road challenge.
The deceptive spaciousness of the City Hunter truly surprises. Its thoughtfully designed interior swallows your essentials – from laptops to riding gear. The ingeniously built-in helmet carrier eliminates the need for additional straps or clunky attachments. The ergonomic layout ensures seamless organization.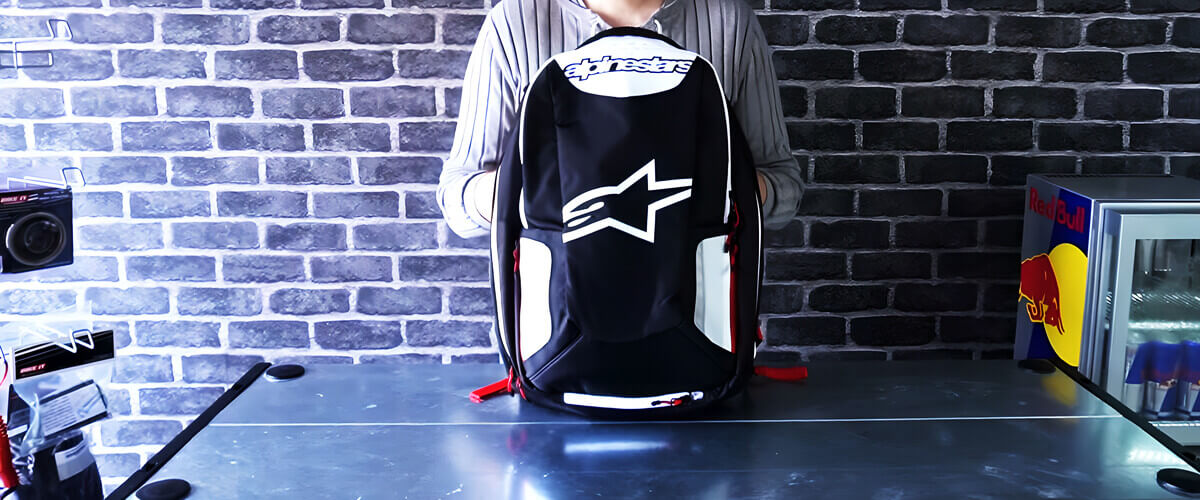 During my testing, the backpack's rain cover was tucked within the main compartment, keeping my items dry. However, be aware that winds may blow water under the cover. There are also built-into back padding ventilation channels that provide a comfortable airflow.
The devil is in the details, they say. The Alpinestars quick-release system secures adjustments swiftly, while perforated foam padding and mesh panels keep your comfort intact. The removable waist strap further prevents unnecessary flapping, keeping your ride aerodynamic.
The Alpinestars City Hunter Backpack is the true hunter in the concrete jungle. It captures innovation, durability, and style in its ergonomic embrace. I've been taken aback by its seamless fusion of practicality and aesthetics, making it an irreplaceable companion for every rider who yearns for the perfect blend of form and function.
Key specs
Material: lightweight 420D ripstop nylon.
Capacity, L: 25.
Weight, lbs/kg: 2/0.9.
Dimensions LxWxH, inches/cm: 18x12x4/45.7×30.4×10.1.
Pros
Even weight distribution for comfortable long rides.
Conveniently built-in carrier for the helmet.
Ventilated padding and adjustable straps enhance comfort.
Cons
Available only in one size.
Black/Red is the primary color choice.
The used material gets dirty easily.
Key features to consider when buying a motorcycle backpack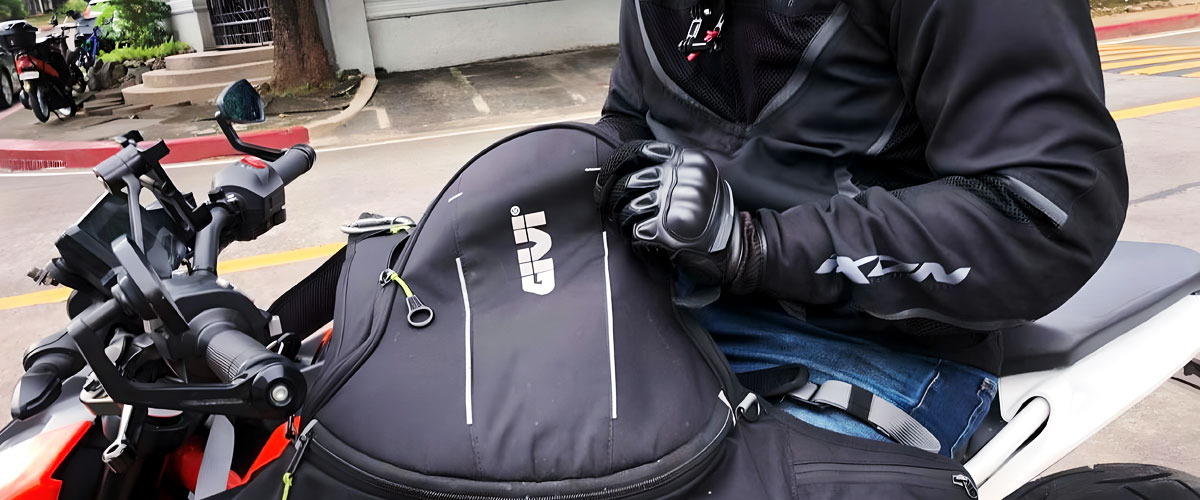 Material and durability
Among all the available materials, nylon is my favorite choice, as it offers excellent water resistance and is lightweight, perfect for daily commuting. Polyester, another popular option, provides greater abrasion resistance, making it a solid choice for those who hit the off-road trails.
For classic and timeless appeal, a leather backpack for motorcycle riders steals the show, adding a touch of style and durability to your ride. Please note that leather products need more upkeep and may not be as resistant to weather conditions as synthetic materials.
Now, let's talk about durability! This factor is crucial, especially for bikers who frequently ride long distances. Only the best backpack for a motorcycle can withstand rough weather conditions, accidental drops, and constant use. But the thing is that you can rest easy knowing that your possessions will remain safe and protected during your travels, giving you peace of mind as you embark on your adventures.
Size and capacity
Firstly, think about what you plan to carry on your rides. If you need space for your laptop and work supplies, opt for a backpack with dedicated compartments for gadgets. For those seeking a backpack for daily commuting, a medium-sized pack with practical storage options is a great choice. Meanwhile, if you're an adventurous soul planning weekend getaways, consider a larger backpack with expandable capacity to accommodate all your essentials.
Remember, the right size ensures comfort and safety during your rides. A too-small backpack might leave you struggling to fit everything in, while an oversized one could hinder your balance and maneuverability.
Comfort and ergonomics
A well-designed motorcycle backpack can make all the difference during those long rides. Look for padded shoulder straps that distribute the weight evenly, preventing strain on your shoulders. Additionally, back padding is essential to reduce discomfort and pressure points, ensuring you can focus on the road ahead, not your sore back.
Don't overlook chest and waist straps! These help stabilize the backpack, preventing unwanted movement that could throw off your balance. You want a secure fit so the pack doesn't shift when you lean into those curves.
Moreover, a backpack with a thoughtful airflow design is a game-changer! It minimizes sweaty back situations, keeping you cool and dry on hot days.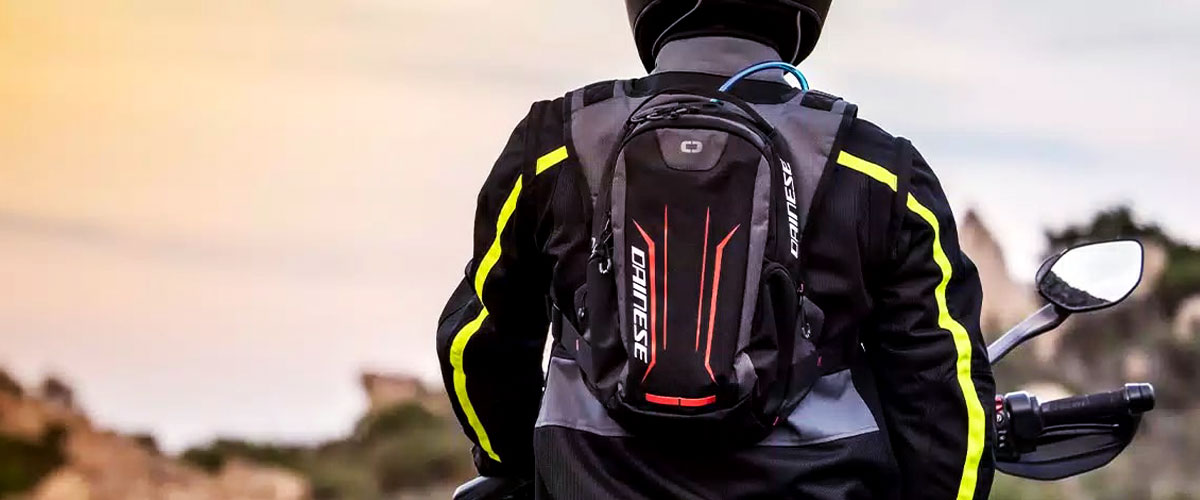 Waterproofing
Picture this: you're on an epic biking adventure, cruising through scenic routes, when suddenly dark clouds gather and rain starts pouring down. That's where a waterproof backpack becomes your trusty sidekick! Not only does it keep your belongings dry and safe from the elements, but it also ensures you can focus on the joy of riding without worrying about water damage.
When it comes to water resistance, there are varying levels. Some models offer basic water repellency, while a specialized waterproof motorcycle backpack boasts fully water-resistant materials and zippers. Additionally, look out for options with an extra layer of rain protection.
The best choice depends on your environment and climate. If you often ride in rainy regions, a fully waterproof sportbike backpack is a must-have. However, if you encounter occasional showers, a water-resistant one should suffice.
Security features
Look for motorcycle rucksacks with robust locking mechanisms or secure pockets to keep your valuables safe while you focus on the ride. Trust me; it's a lifesaver during pit stops and crowded areas.
But that's not all – visibility is equally important, especially during those adventurous nighttime rides. Cool motorcycle backpacks have reflective materials or built-in LED lights, so other drivers easily spot you.
Additional features
Besides comfort and durability, keep an eye out for those awesome additional perks. Imagine having a built-in USB port to charge your gadgets on the go – no more battery anxiety! And how about a convenient helmet holder, freeing up your hands when you're off the bike? These extras make all the difference, so consider your unique needs before making your decision.
FAQ
Do I need a special backpack for my motorcycle?
Of course! Regular backpacks might be convenient off the bike, but they lack crucial features for riding. Backpacks for motorcycle riding are purpose-built to enhance safety, balance, and convenience on two wheels. They offer proper strapping systems and secure compartments to keep your belongings safe during the ride.
Are motorcycle backpacks safe to use, or can they cause accidents?
Motorcycle backpacks are safe and won't cause accidents when chosen and used correctly. Opt for backpacks designed for motorcycle use, with chest and waist straps for stability. Ensure it fits snugly to prevent unwanted movement during the ride. Keep the load balanced and avoid overpacking, which could affect your balance.
What is the best material for a motorcycle backpack?
Look for durable and weather-resistant materials like nylon or polyester. These fabrics can withstand the elements and offer excellent protection for your belongings. Some backpacks may also have reinforced panels for added durability.
Can I carry my laptop securely in a motorcycle backpack?
Yes, you can! Choose a biker backpack with a padded laptop compartment and a secure closure system. Ensure the laptop fits snugly and doesn't move around during the ride. Additionally, avoid overpacking to prevent unnecessary pressure on the laptop.
How does the weight of the motorcycle backpack affect riding?
The weight distribution of your motorcycle backpack is critical for a smooth and safe ride. A well-balanced load won't significantly impact your riding experience. However, always pack smartly and distribute weight evenly to ensure a comfortable and stable ride.