Riding a motorbike is undoubtedly exciting. However, if you've ever been on long rides, you may have realized that you often lack extra room for personal items. Besides, if your riding outfit doesn't have pockets for storing your phone, headset, or other stuff, this can add a certain degree of discomfort even to short trips. So I have prepared this review so that you can choose the best motorcycle tank bags and not only travel light but with a certain set of necessary things.
These bags are attached directly to your motorcycle tank, so there is always space left for a passenger in the back seat. Besides, you will get quick access to the items like a set of speakers or a phone if you carry them in the tank bag. Finally, when you make an overnight trip, the bag will enable you to take changing clothes, a towel, or other essentials.
Since there is an ample amount of tank bags on the market, let me show you how to pick the most suitable one. You came here for the best tank bags for motorcycle, right? So let's not waste any time!
Our pick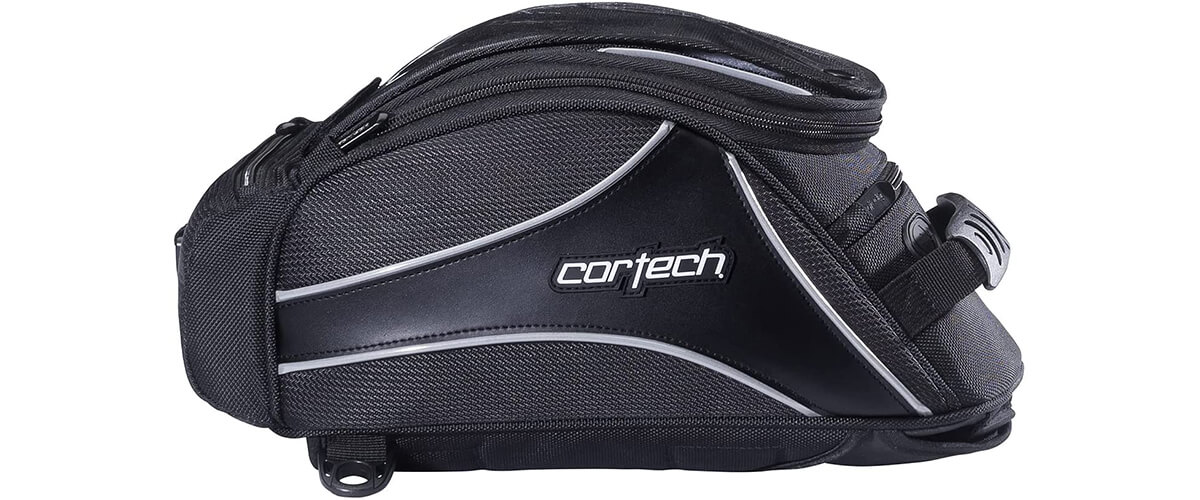 Cortech Super 2.0
Best motorcycle tank bag
The Cortech Super 2.0 10L Tank Bag is perfect when you need to take a small amount of items with you on your ride.
Read the full review
Best motorcycle tank bags review
Cortech Super 2.0 – best overall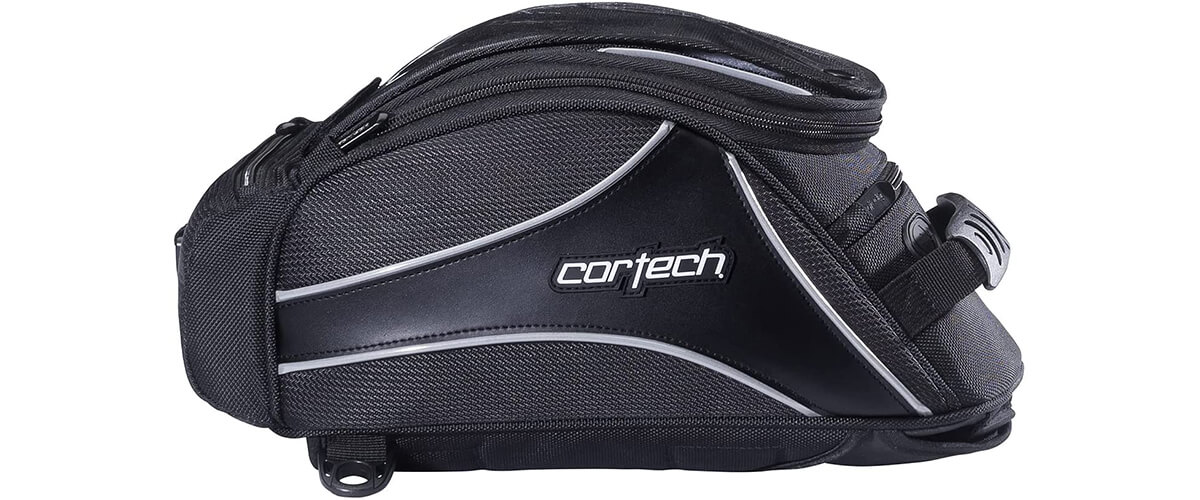 The magnetic Cortech Super 2.0 is a breeze to install on your steel gas tank. This is a nice solution for commuting or trips outside the city because of a quick mounting system and other features, on which I will dwell further.
The construction of Cortech Super 2.0 is sturdy owing to 1680D and 1800D fabrics. The 18-liter (1092-cubic inches) bag capacity lets you pack a lot of stuff. By the way, you can extend it to fill even more belongings. As you know, luggage is not always a gadget and charger. That's why I was personally very pleased with this option.
Other handy design features of this item include headphone exit ports, an external pocket for eyeglasses, a reflective trim for safe night rides, a sturdy rain cover, and more.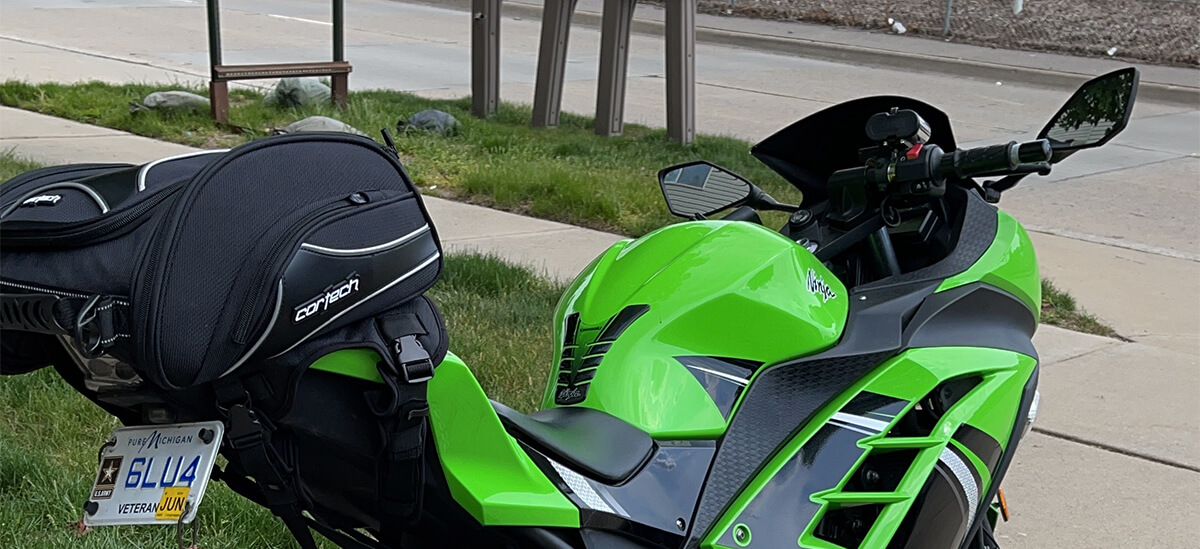 My favorite thing about this bag (and that's why I give extra points to this one rather than Oxford F1 Mini) is that it is a motorcycle tank bag with backpack concealed straps and a comfy handle. So, you can use this product as a backpack off the bike.
A removable map pocket sits in the right position to let you glance down at the map while riding. But I find its opening is too small, so getting the map in and out is slightly awkward.
Without exaggeration, Super 2.0 by Cortech is the best motorcycle tank bag as it delivers a lot of storage space even for long-term trips and makes your rides more enjoyable with extra features like ports for headphones, spacious pockets, and more.
Key specs
Capacity, l: 24.
Material: 1680D fabric.
Dimensions, inch/cm: 13.5x11x6.5/34.3x28x16.5.
Weight, lbs/kg: 4/1.8.
Pros
The well-made construction with the 18-liter capacity.
Ports for headphones and a special pocket for glasses.
It can be used as a backpack.
A conveniently located map pocket.
Cons
A map pocket opening is too small for effortless use.
Oxford F1 Mini – budget choice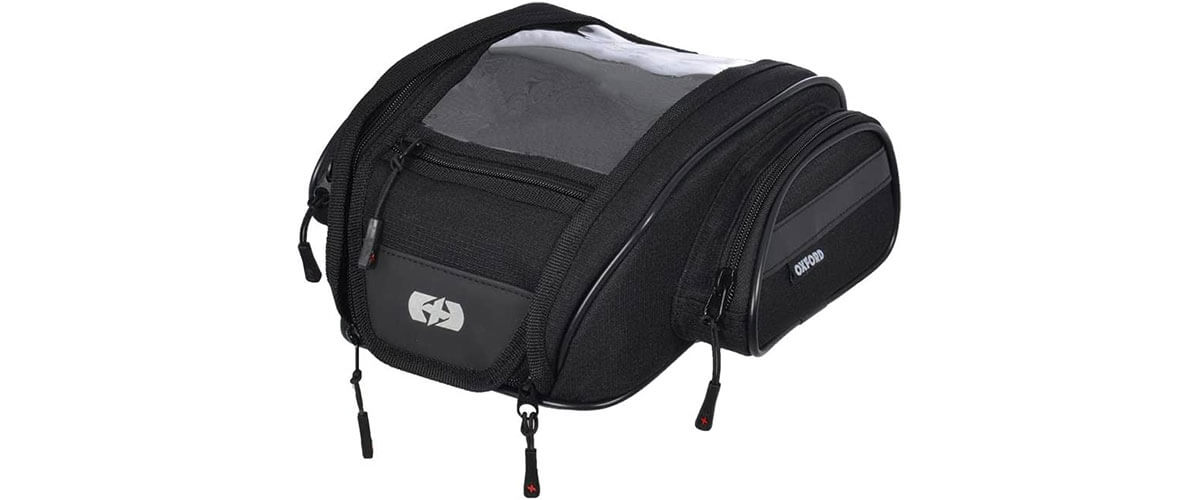 When the price of the tank bag is an important criterion, Oxford F1 Mini becomes an appealing solution to many riders. So let's see why this budget-friendly product appears on my list of top tank bags.
First, Oxford F1 Mini has a durable construction because of the correctly chosen material – thick ripstop nylon. It's rigid, so even if it is not fully filled, the bag won't flop from side to side during the ride. As this is a 7-liter (427-cubic inches) tank bag, you can bring only the most essential items. There are spacious side pockets larger than in Cortech Super 2.0. But I do not get the design decision of placing the handle opposite from the rider and closer to the windscreen – this doesn't let you remove the bag while sitting on your motorcycle.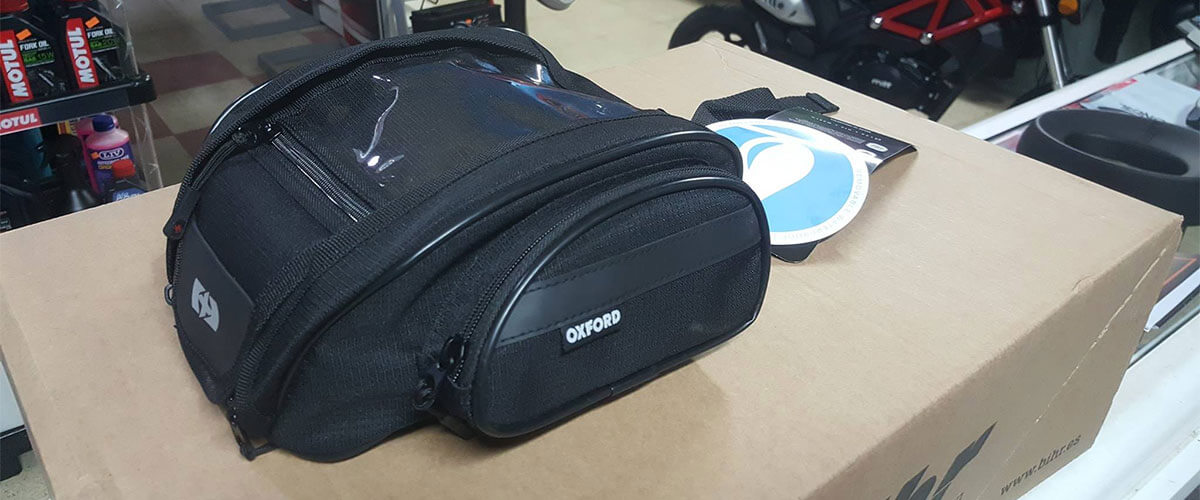 Second, this is a magnetic quick-release tank bag with a removable base. You can leave the base on the bike by unzipping the bag from it. You can also secure Oxford F1 Mini with straps. While the straps are not heavy-duty, they are reliably stitched to the bag for additional security during the ride.
Despite Oxford F1 Mini being a cost-effective tank bag, it has basic features to let you securely carry a limited amount of belongings. It's sturdy and won't bother you during the ride.
Key specs
Capacity, l: 7.
Material: Durable ripstop nylon.
Dimensions, inch/cm: 10.2x41x11.8/26x16x30.
Weight, lbs/kg: 0.66/0.3.
Pros
A rigid nylon construction prevents flopping.
Large side pockets for quick access to essential things.
A solid magnetic mounting system with a removable base.
Cons
It may be too small to let you bring everything you need at hand.
An inconvenient position of the handle.
Givi ST605B – for sport bikes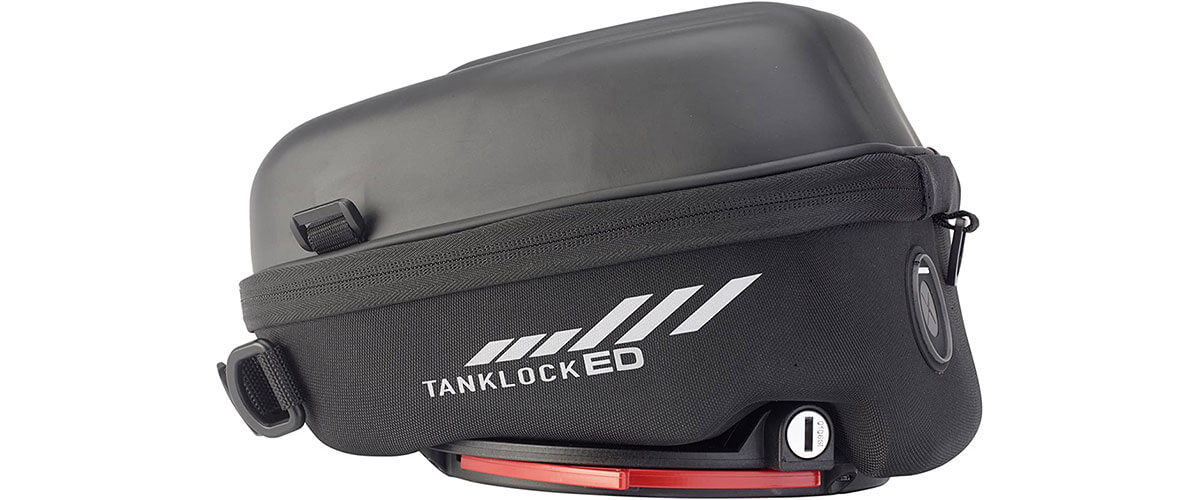 If you are looking for a tank bag that will hold everything you need without being too large, Givi ST605B is a product to consider. Because of its compact design, it is suitable for sports motorbikes. Wisely use the 5-liter space (305 cubic inches) to carry essentials you may need on the track. Looking at its unique ergonomic design and looking a little ahead, I personally consider this model the best tank bag for sportbike.
As you put Givi ST605B and Nelson Rigg RG-1045 side by side, you will notice that the Givi's tank bag has a plastic lid, which makes this product IPX5 waterproof. A rain cover is also included to protect your possessions from water or other impacts.
The ring-based mounting system in Givi ST605B eliminates the need for straps and magnets, but you will need to purchase a flange to mount this tail bag to the gas cap. If you are concerned about leaving the bag unattained, you will be glad to know that it has a padlock-ready zipper.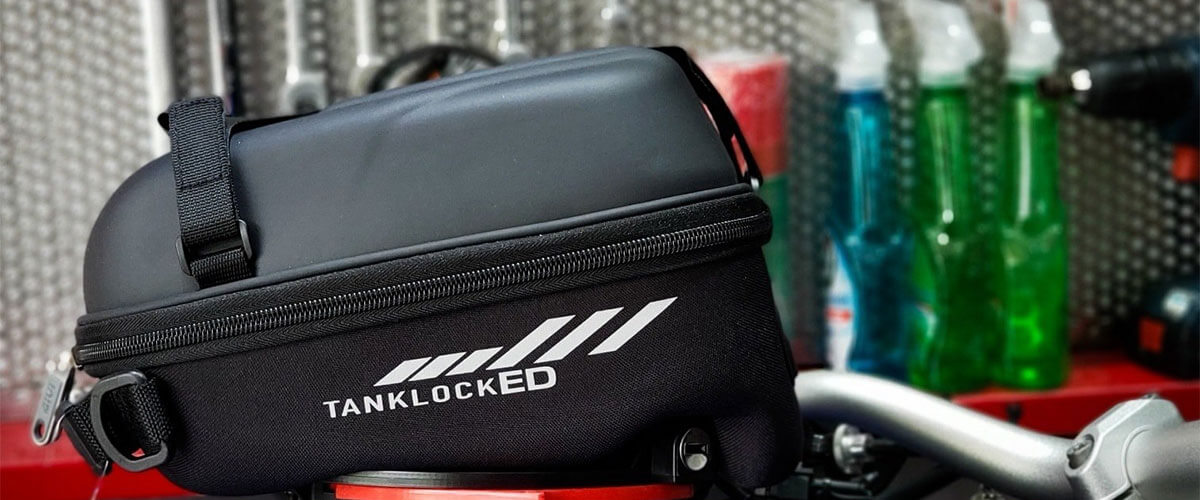 You can remove a transparent smartphone holder if you do not plan to use a digital map. But when you use one, you will have to lean forward a little to see the bottom of the screen. I like that there is a power hub pocket, but the power hub is sold separately.
So, what makes the Givi ST605B a great tank bag for sportbike? It's sturdy, waterproof, and conveniently sits on a gas tank so as not to distract you during the ride.
Key specs
Capacity, l: 5.
Material: 600D PU polyester.
Dimensions, inch/cm: 9.4×10.6×7/24x27x17.6.
Weight, lbs/kg: 2.2/1.
Pros
A plastic lid for better sturdiness and moisture protection.
A removable phone holder for customized use.
A dependable ring-based fastening mechanism.
Cons
It may require additional accessories (a power hub and a flange).
Inconvenient placement of the phone holder.
Nelson Rigg RG-1045 – for adventure bikes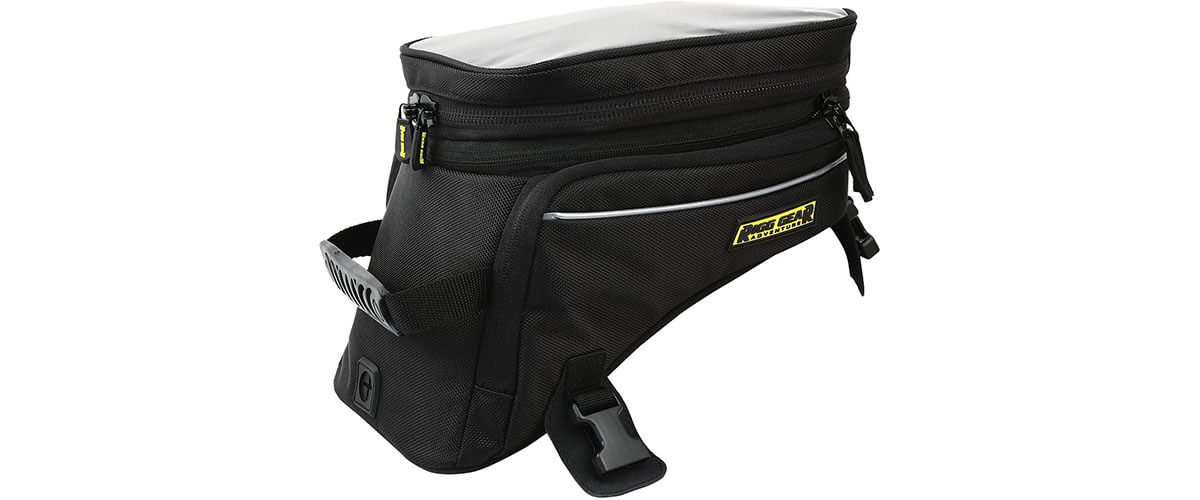 When you set out for adventures, pack Nelson Rigg RG-1045 and enjoy your ride. This practical motorcycle accessory will let you hold 12 liters (732 cubic inches) of stuff and, if necessary, 16.5 liters (1007 cubic inches) to grab some extra things.
If you have a sharply sloping tank, you should prefer this Nelson's model to Givi ST605B due to its exclusive V-shaped base. Mounting this bag can be slightly cumbersome because you will have to reattach the straps all the time, but quick-release buckles significantly simplify this process. Moreover, you get easy access to the fuel cap when you release the front buckles.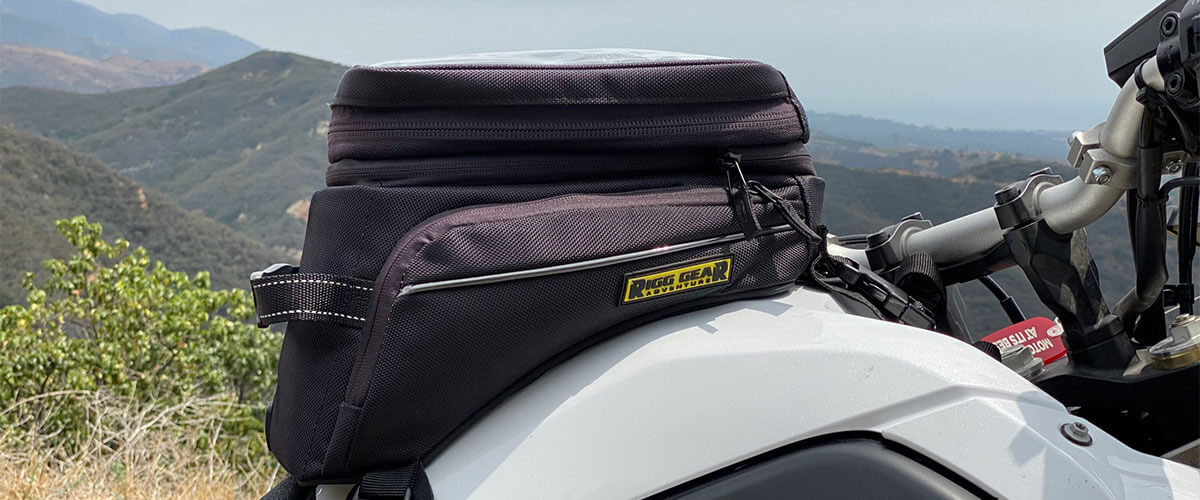 UltraMax polyester is a material the manufacturer uses to produce this tank bag. It is not waterproof, so there is an included rain cover that will help this item stand the rain. However, when using a rain fly, ensure it is down over the edges. Otherwise, it may fly away at high speeds.
I have no serious complaints about this adventure motorcycle tank bag. It is spacious enough to hold everything I need for my long rides. Besides, it maintains its form when not fully packed, which is good for balance on the road.
Key specs
Capacity, l: 12.
Material: UltraMax fabric.
Dimensions, inch/cm: 12x7x9/30.5×17.8×23.
Weight, lbs/kg: 2/0.9.
Pros
Great capacity for carrying things you will need no your adventures.
Highly compatible with sharply sloping tanks.
Stays rigid even when not filled.
Cons
Using straps for mounting the bag can be tiresome.
The rain cover can fly away if you do not put it on properly.
Oxford Q4R – small bag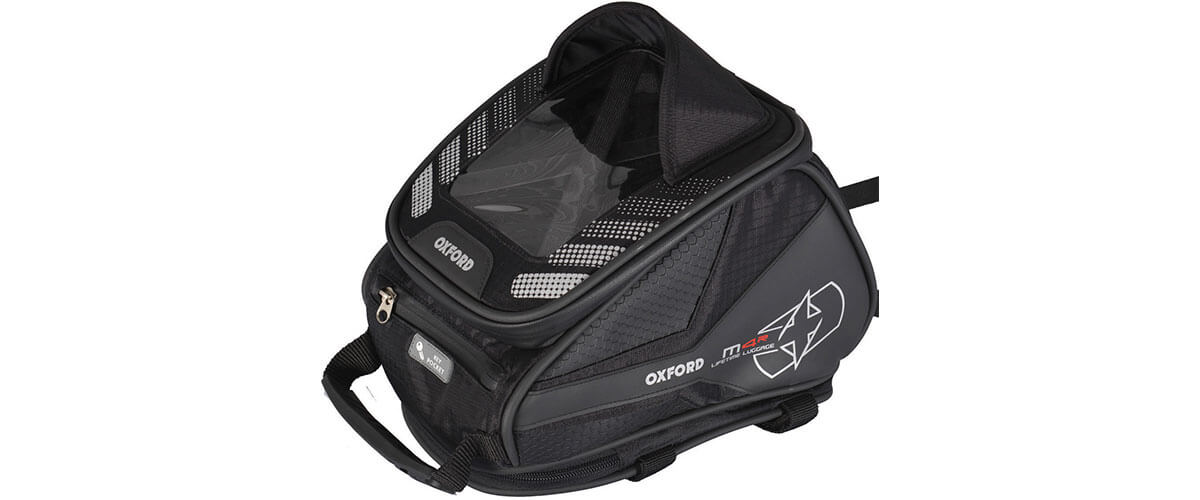 When you require minimal extra space on your motorbike, you will find Oxford Q4R more than appealing. It provides ample room (4 liters – 244 cubic inches) for a phone, wallet, drink, or things you won't do without during your journey.
This bag boasts a rigid 420D ripstop nylon construction, which won't flop down even when empty. However, it is not waterproof, so you will need to use a rain cover, which, unfortunately, doesn't come in the pack. The top of the bag has a touchscreen-friendly pocket for a GPS device or a smartphone.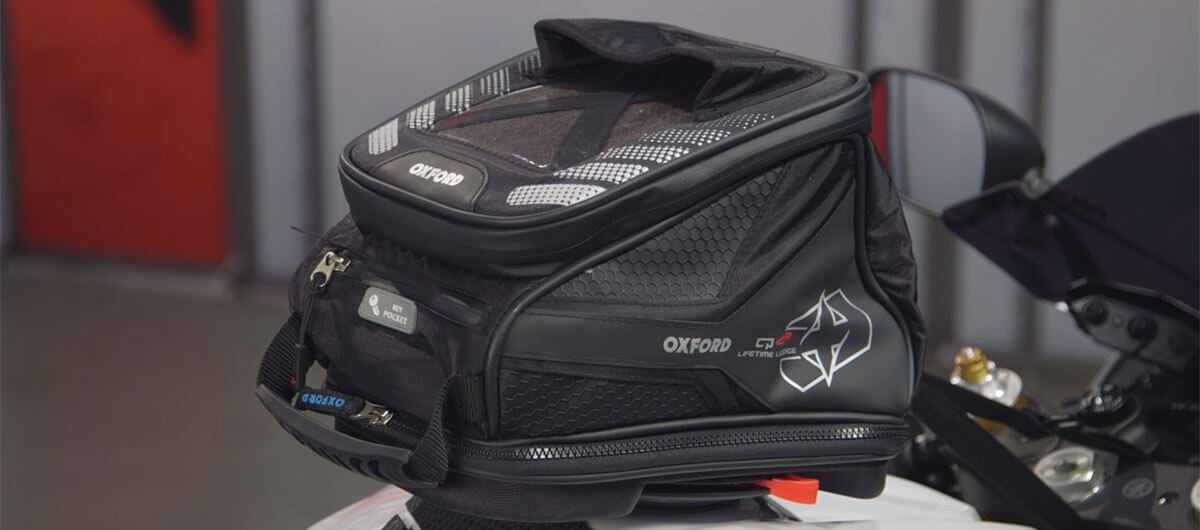 Similar to the Givi ST605B, this is a ring-based tank bag. Again, you will have to purchase a bike-specific tank bag adapter separately. But I should admit this system is one of the easiest for quick on and off on all surfaces, even non-magnetic ones.
This small tank bag for a motorcycle is a well-built accessory that will hold the most vital items. Oxford Q4R securely attaches to the gas tank cap and doesn't bother you during your trips.
Key specs
Capacity, l: 4.
Material: 420D ripstop nylon.
Dimensions, inch/cm: 11×5.5×7.9/28x14x20.
Weight, lbs/kg: 2.3/1.
Pros
A sturdy ergonomic design for holding 4 liters.
A touchscreen-friendly pocket for gadgets.
Securely rests on the gas tank.
Cons
The rain cover is not included.
You will have to buy a bike-specific adapter separately.
Giant Loop Diablo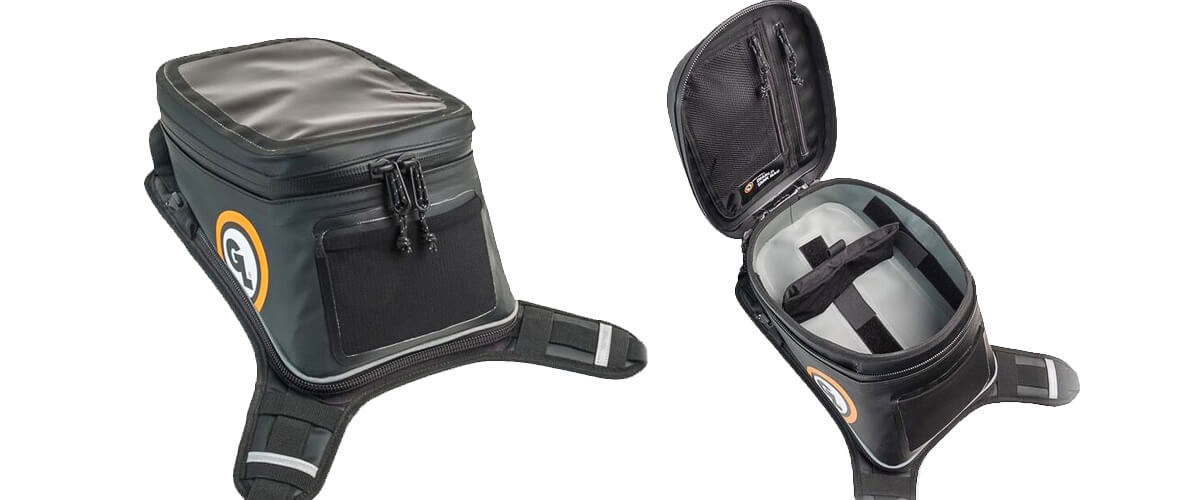 This model is a perfect example of an organic combination of functionality and style. Crafted from high-quality materials, this product is built to withstand the rigors of off-road adventures. The bag's main body is constructed from rugged and water-resistant ballistic nylon, ensuring your belongings stay safe and dry even in the harshest conditions. The YKK zippers are sturdy and durable, capable of enduring repeated use without compromising their integrity.
When it comes to carrying capacity, the Diablo doesn't disappoint. With a generous volume of 6 liters (or 370 cubic inches), this bag offers ample space for your essentials, including spare clothes, camping gear, and other necessities. It also features an adjustable mounting system allowing easy attachment to most motorcycles.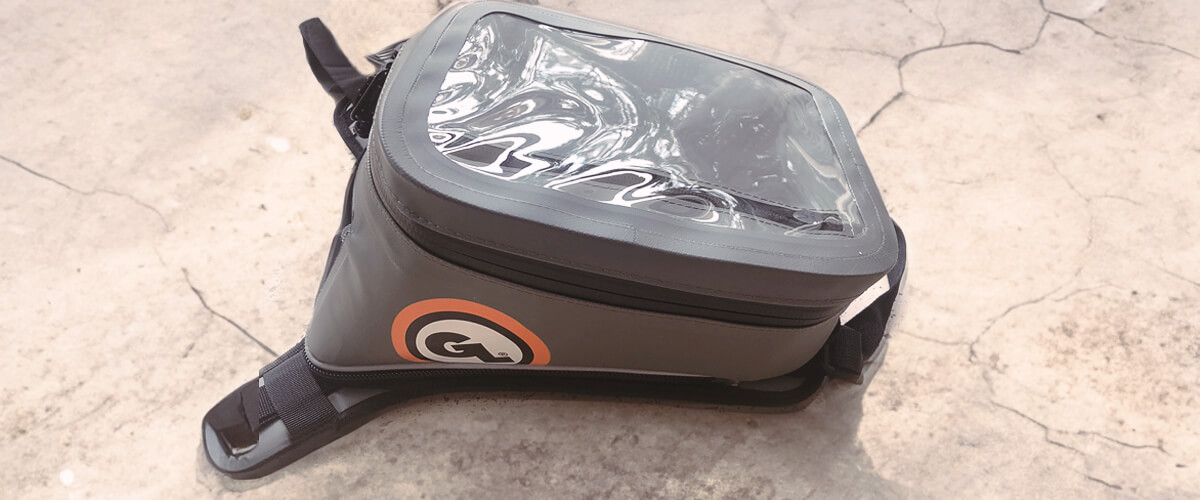 What I really like about this model is its intelligent design that emphasizes organization and accessibility. The bag includes multiple compartments, pockets, and MOLLE (Modular Lightweight Load-carrying Equipment) panels, providing convenient storage options for your gear.
Compared to other products on the market, the Giant Loop Diablo stands out for its lightweight design and durability. It strikes a great balance between capacity and compactness, making it suitable for riders who prefer nimble handling on challenging terrain.
Whether you're embarking on a weekend camping trip or tackling a challenging enduro race, Diablo's lightweight and secure storage solution will ensure you're prepared for anything!
Key specs
Capacity, l: 6.
Material: Rugged Bomb Shell coated fabric.
Dimensions, inch/cm: 6.5×3.5×8.2/16.5×8.8×20.8.
Weight, lbs/kg: 2.3/1.
Pros
Versatile mounting system compatible with various bikes.
Zippered pockets for convenient access to smaller items.
Integrated heat shield for protection against exhaust heat.
Cons
May not offer as much storage capacity as some competitors (although this is balanced by increased maneuverability and weight distribution).
How to choose a tank bag for a motorcycle?
Every rider has their own preferences and needs, so the market responds to this demand with oodles of tank bags for motorcycles. Let's see how not to get wrong and select the bag that will thoroughly meet your requirements and storage goals.
Mounting options
Some tanks have a sophisticated mounting system, while others are easy to put on and take off. Tank bags can use magnets, clamp rings, or straps to connect to the motorbike. Tank ring mounted is quite an important aspect, and therefore pay extra attention to it so that your belongings remain safe and nothing gets in your way during the trip.
Magnets
A magnetic tank bag has several magnets that secure it to the gas tank. The greatest thing about this mounting system is that it ensures quick on and off. However, mind that it won't work for aluminum, plastic, or fiberglass tanks – it is compatible only with steel or other magnetic surfaces.
Straps
Many tank bags come with three or four straps to hold the bag on the tank. Some models have a quick release mechanism, while others may be hard to reattach.
Clamp rings
Tank bags that use clamp rings are attached directly to the motorcycle's gas caps. They stay one inch above the tank so they do not damage the painting. This is a secure connection type as the bag snaps into the ring and stays firmly in place.
Tank bag size and shape
You will find tank bags in different shapes, designs, and sizes. But how do you choose the one that will meet your needs? First, define how you will use the tank bag. Second, think of what items you will carry with you.
Some gas tank bags for motorcycles are suitable for day-to-day use. Others are qualified for sportbikes or touring. The difference between these bags lies in their shape. So, mind in what circumstances you will use this accessory before settling on a particular model.
Also, consider whether you need storage space for daily commuting or extended touring. The answer will define what storage capacity you will need.
Bag materials and waterproof
Nylon is the most common material for a tank bag. But it comes in different sturdiness levels, so I recommend considering the bag made of 600 – 1680 denier nylon. In this way, you will get an accessory resistant to tear and wear.
If you are looking for a waterproof tank bag, nylon won't ensure 100% water protection. While some models have water repelling properties and sealed zippers, that won't save the day during the storm. That is why most products come with a rain cover to keep water away from the stuff you carry in the bag. Remember that a dry bag is the key to the safety of your belongings and gadgets.
FAQ
What are the advantages of motorcycle tank bags?
There are many advantages to using motorcycle tank bags. They are convenient, they keep your belongings safe and secure, and they can help you save fuel. These bags are very convenient. You can access your belongings easily while you are riding. No more stopping to rummage through your backpack!
What are the disadvantages of motorcycle tank bags?
There are a few disadvantages of motorcycle tank bags. But, we promise they're not deal breakers! Let's take a look at the cons:
They can be a pain to put on and take off.
They can interfere with your gas cap.
They can block your view of the road.
They can make it difficult to reach your controls.
They can add weight and bulk to your motorcycle.
Despite these disadvantages, tank bags are still a popular choice for many motorcyclists. If you're willing to put up with a few minor inconveniences, a tank bag can be a great way to carry your stuff on your motorcycle.
What can I put in a motorcycle tank bag?
You can put just about anything you want in a motorcycle tank bag, as long as it fits and doesn't weigh too much, but here are some ideas to get you started:
A map, for planning your route or finding your way if you get lost.
A snacks and a water bottle, to keep you fueled up on long rides.
A first-aid kit, in case of emergencies.
A multi-tool, for making quick repairs on the road.
A small flashlight, for nighttime riding or fixing a flat tire.
Will a tank bag scratch my tank?
No, because tank bags are specifically designed to minimize the risk of scratching your tank. They usually come with soft, non-abrasive materials on the bottom and have secure attachment systems to prevent movement. However, I recommend ensuring the bag is clean and debris-free before installation. I would also like to remind you that regular maintenance and proper usage will help minimize the chances of any scratches occurring on your tank.