Hitting the open road on your motorcycle is an unparalleled buzz, but where to stash your gear can often be a dilemma. This is where the best motorcycle saddlebags come into play. They can be a game-changer, significantly improving your riding experience by offering increased capacity, comfort, and better weight distribution.
Saddlebags are a practical solution for various motorcycles and driving styles, from cruisers to sport bikes, touring to off-road adventures. They not only provide ample space for essentials but also help balance the weight, ensuring a smoother ride. Moreover, this gear saves you the discomfort of carrying a heavy backpack, letting you focus more on the joy of riding.
With a plethora of options on the market, choosing the right saddlebag can be overwhelming. So, whether you're planning a weekend getaway, a long-distance tour, or just need extra storage for your daily commute, I've tested and rounded up top-notch options to suit your needs. Let's dive in!
Our pick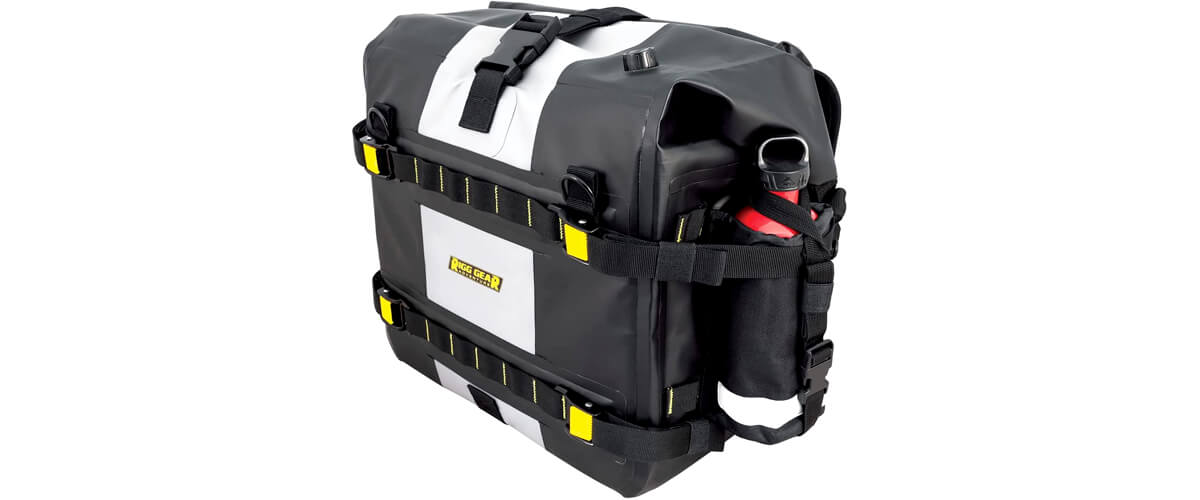 Nelson Rigg Hurricane Saddlebags
Best motorcycle saddlebags
Nelson Rigg Hurricane Saddlebags are 100% waterproof lightweight saddlebags that mount to most adventure and dual sport motorcycle racks and have 28 liters per side.
Read the full review
.
Types of motorcycle saddlebags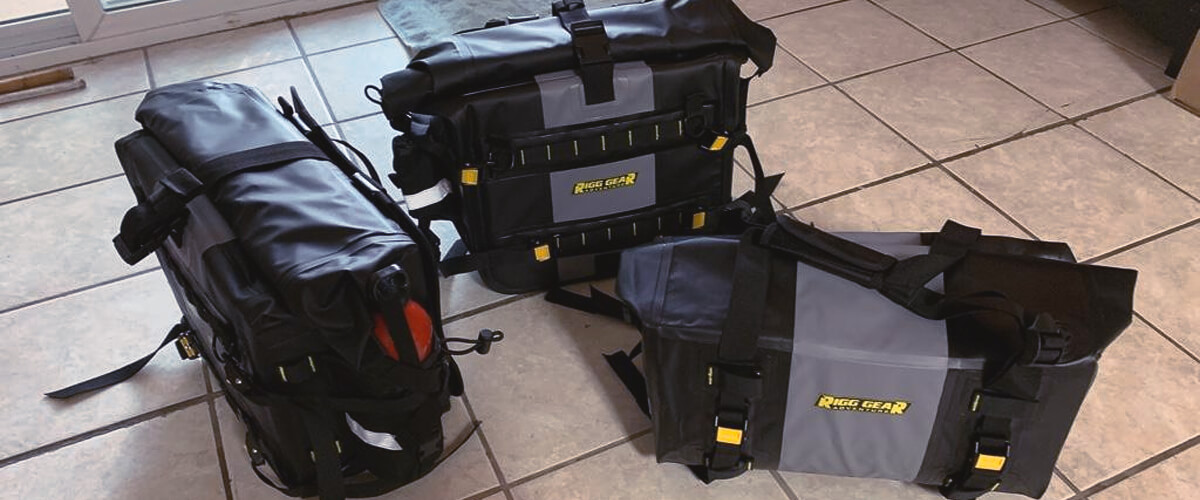 First, I'll explore the different types of motorcycle saddlebags available, their features, and how they can enhance your riding experience.
Hard saddlebags
Motorcycle hard saddlebags are commonly crafted from durable materials like ABS or fiberglass, offering excellent protection and security for your belongings against impact, weather conditions, and potential theft. These hard bags for motorcycles are often equipped with lockable features, providing an extra layer of peace of mind. Additionally, they are available in various sizes and shapes, ensuring ample capacity for extended journeys. To ensure a secure attachment to your motorcycle, hard case mounting systems can be either bolt-on or quick-release.
Throw-over saddlebags
Flip-over saddlebags offer versatility and ease of setup. They provide two installation options: slinging over the rear seat or attaching to the passenger's footpegs using straps or attachment systems. These bags are adjustable to fit various motorcycle styles and sizes, ensuring a perfect fit. Not only do they provide fast and convenient installation, but they can also be easily removed when not in use. However, I should note that they may require additional support to prevent sagging or interference with moving parts.
Leather saddlebags
Leather saddle luggage is a popular choice among cruising motorcycle riders due to its classic and timeless appeal. Renowned for their durability and aesthetic charm, these saddlebags can be crafted from either genuine leather or synthetic leather materials. With their distinctive appearance, such models can endure various weather conditions when handled correctly and develop a unique patina over time. When it comes to mounting options, traditional saddlebags offer a range of choices, including flip-over, bolt-on, or custom options.
Bolt-on saddlebags
Bolt-on panniers offer a permanent attachment to your motorcycle through the use of brackets or mounting hardware. This secure and stable fit ensures that the bags remain firmly in place, even during high-speed travel. Designed specifically for certain motorcycle models, bolt-on saddlebags provide a precise fit and seamless integration with the bike's overall aesthetic. Another advantage of these panniers is that they don't require frequent removal and reinstallation, making them a hassle-free option.
Best motorcycle saddlebags reviews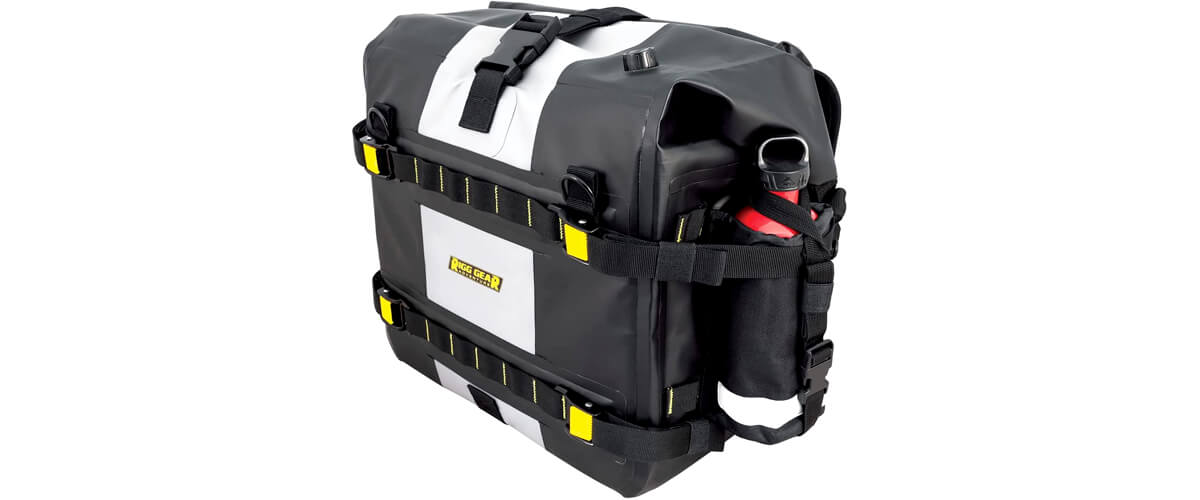 Nelson Rigg has knocked competitors out of the park with the Hurricane Saddlebags. Built from durable Tarpaulin PVC with electronically heat-welded seams, these saddlebags make your gear invincible against the elements. That's right, you won't leave any essential items behind due to rain or dust. Yes, when you look at the Nelson Rigg Hurricane, you immediately realize that the best motorcycle panniers should look like this!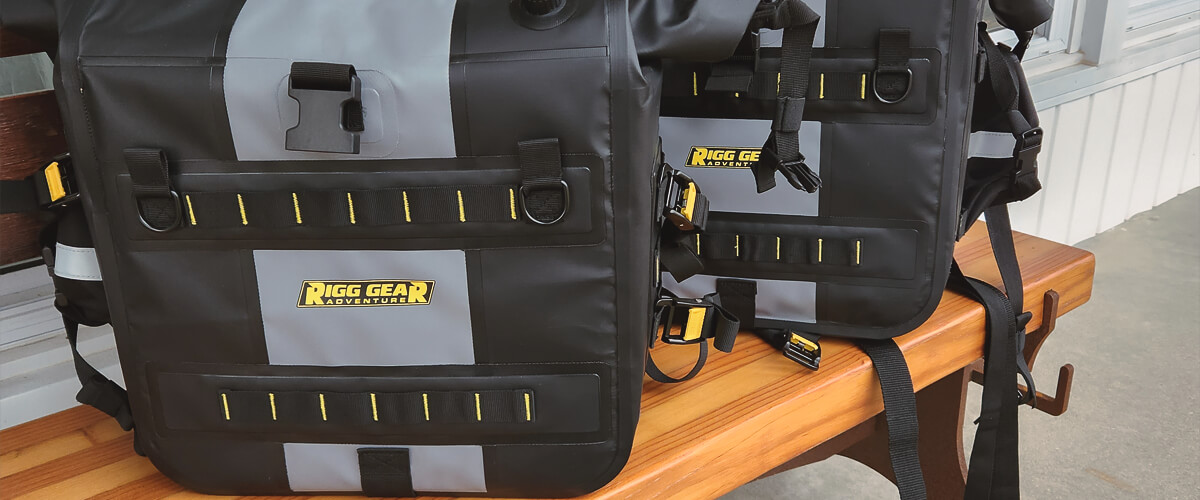 The removable liners are also a blessing in disguise, allowing for easy organization of your belongings. Plus, the purge valve offers convenient compression. These bags boast 28 liters of space each, making them your ideal companion for long-haul journeys. While they lack external pockets, the massive internal space makes up for it. And let's not forget about that lifetime warranty, a testament to the manufacturer's unbeatable quality.
If you're all about embracing the open road, regardless of weather, the Nelson Rigg Hurricane Saddlebags are your match made in biker heaven!
Key specs
Size: one size, 28 liters.
Material: polyvinyl chloride (PVC), metal, tarpaulin.
Vehicle service type: motorcycle.
Dimensions LxWxH, inches/cm: 16x8x12/40.6×20.3×30.4.
Pros
Look stylish.
Hold the shape.
Easy to install.
Optimal price/quality ratio.
Cons
May not stand up to heavy use.
Milwaukee Leather SH66602 – pvc saddlebags
The Milwaukee Leather SH66602 is where rugged functionality meets classic aesthetics. Made of durable man-made PVC, these saddlebags can easily handle the rough and tumble of road trips. Moreover, the chrome-plated studs and buckles add a distinctive charm, and the reflective piping on the outer edges provides an essential safety feature for those nocturnal rides.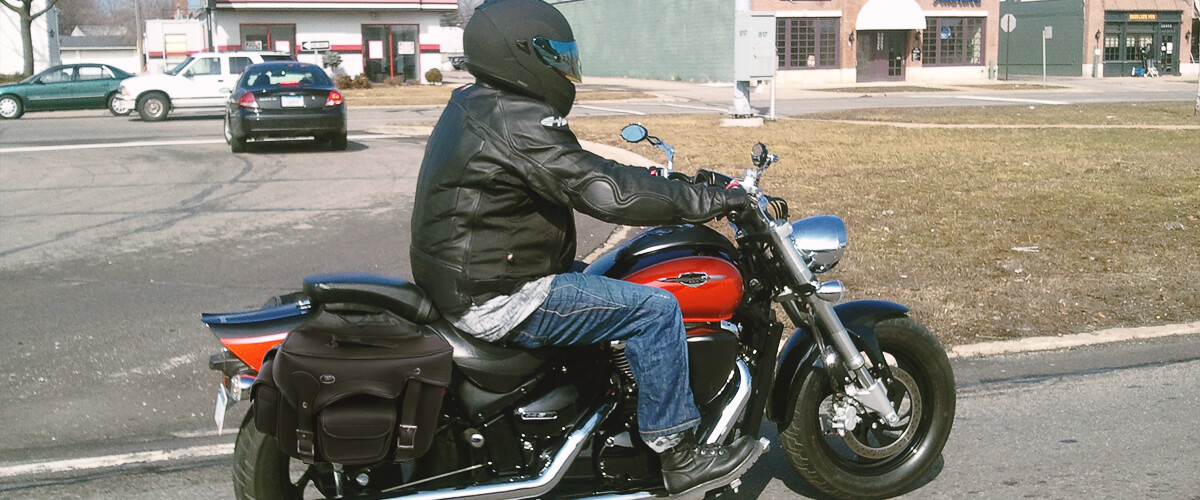 I was particularly impressed with the quick-release double strap front – it's perfect for grab-and-go situations. The bonus velcro lock pockets are a smart addition, providing effortless access to small items. The only slight disadvantage might be their size – they're a bit on the smaller side, so be prepared to pack smartly.
For the rider who wants to blend style with practicality, the Milwaukee Leather SH66602 saddlebags won't disappoint.
Key specs
Size: one size.
Material: faux leather.
Vehicle service type: cruiser/touring, street bike, adventure touring.
Dimensions LxWxH, inches/cm: 17x11x12/43.16×27.9×30.4.
Pros
Look classy.
Durable.
Straightforward to clean.
Easy click-in straps.
Cons
The laces to mount the panniers could be a bit longer.
Insufficient grip beneath the lace area results in the bags slipping.
The lengths of the straps to the buckles may seem too long for some users.
Givi EA100B – for sportbike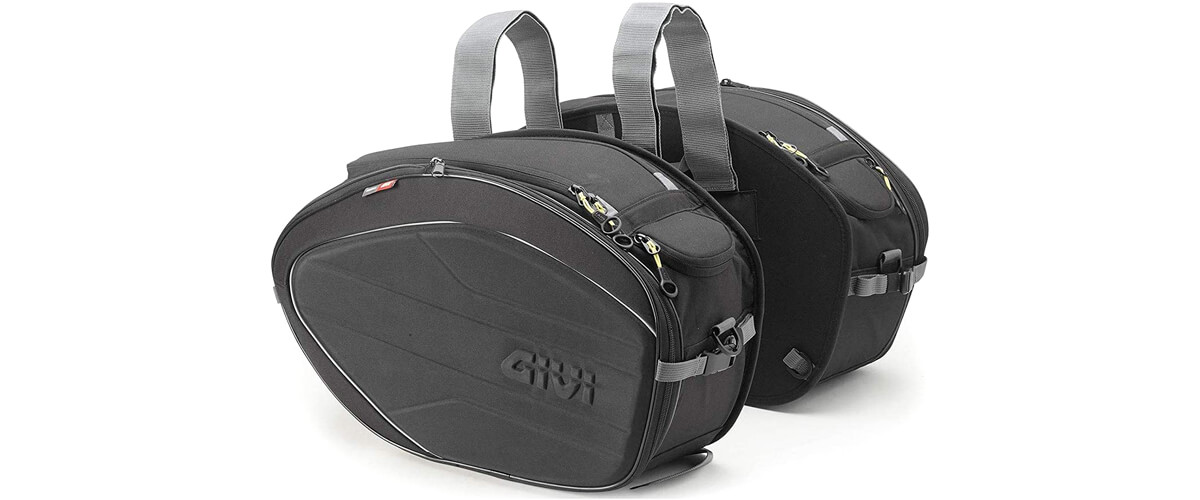 Tailored for sportbike enthusiasts, the Givi EA100B saddlebags bring functionality and style to the forefront. Despite being lightweight, these saddlebags don't compromise durability or space, offering a generous 40-liter capacity to accommodate all your gear for an exciting day on the track.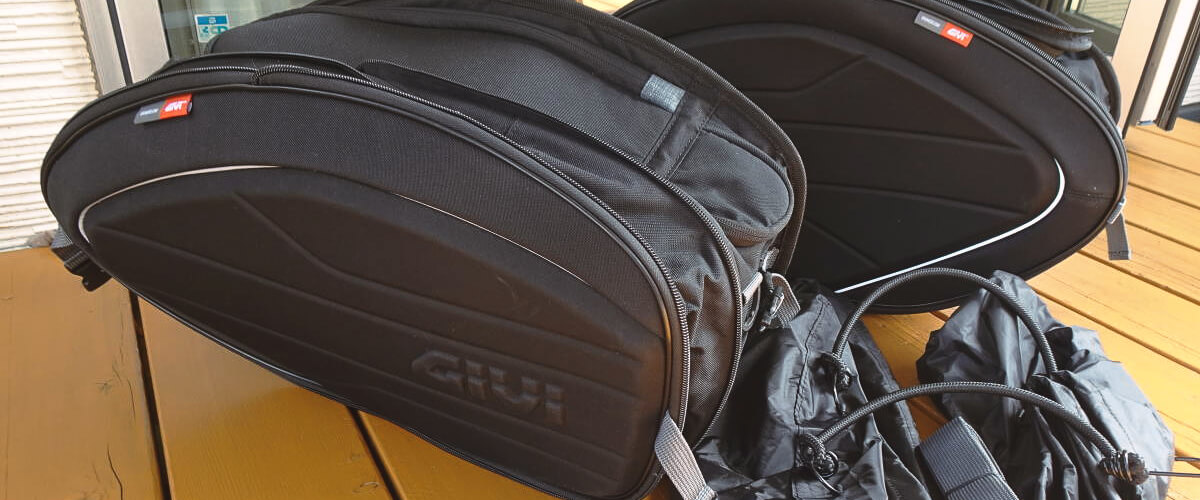 The reflective accents caught my eye – they are stylishly integrated and enhance visibility for safer rides. Their size might seem a tad bit large for city commuting, but on open roads and tracks, it's not a problem at all. Plus, you'll definitely appreciate the extra space for those adrenaline-filled track days.
If you're all about speed and love spending your time on a track, the Givi EA100B saddlebags are a must-have for you.
Key specs
Size: one size, 40 liters.
Material: polyester, ethylene vinyl acetate (EVA).
Vehicle service type: cruiser/touring.
Dimensions LxWxH, inches/cm: 20.8x11x12.6/52.8×27.9×32.
Pros
Roomy and versatile.
Comes with extra straps and bungee cords.
Don't slip thanks to 3 straps – 2 of them sit on top of the passenger seat, and 1 goes underneath the seat.
Keep the shape.
Cons
Some customers complained that they needed to buy an additional metallic frame to attach the bags to the bike firmly; however, I found included straps totally enough for me..
Giant Loop Coyote – for dirtbike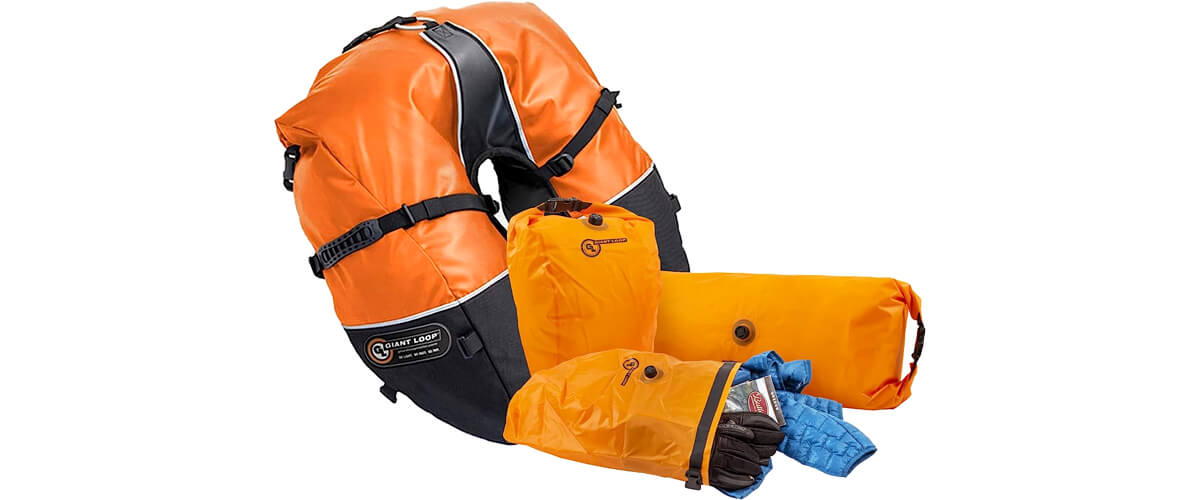 The Giant Loop Coyote saddlebags for motorcycles are designed with the off-road adventurer in mind. These rackless saddlebags can comfortably pack up to 39 liters of gear, ensuring you're well-equipped for multi-day rides in the wild. What's impressive is their ability to maintain the bike's balance, ensuring your ride is smooth and comfortable, even on challenging terrain.
With Bomb Shell construction, they can resist the onslaught of water, mud, and dust effectively. Furthermore, the included set of three waterproof saddlebag dry pods ensures your stuff stays dry no matter what Mother Nature throws your way. The only caveat might be the slightly time-consuming installation, but it's rock solid once you've got it down.
If you're an off-road junkie and relish those multi-day adventures in the wilderness, the Giant Loop Coyote saddlebags are tailor-made for you.
Key specs
Size: one size, 68 liters.
Material: Rugged Bomb Shell materials, beefy water-resistant YKK zippers, and military-spec fasteners.
Vehicle service type: adventure, street motorcycle, dirt bike, enduro, dual sport.
Dimensions LxWxH, inches/cm: 22×12.5×7/55.8×31.7×17.7.
Pros
Durable – will last you forever.
Adventure-proof.
Amazing expandability.
Straps do not loosen.
Cons
A bit expensive, however well worth the money.
EGO BIKE GA-B-F001 – motorcycle hard saddlebags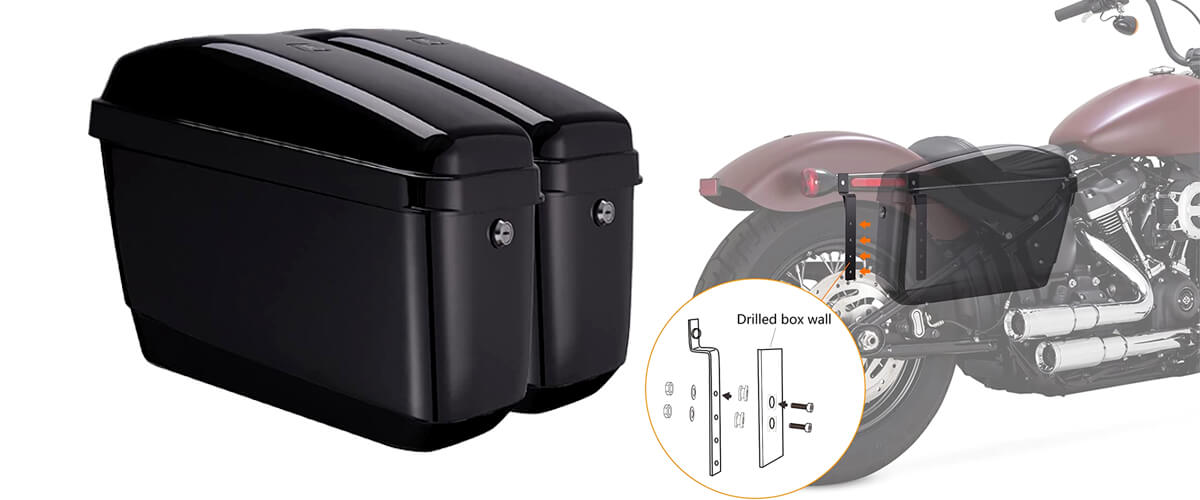 Are you a fan of hard motorcycle saddlebags? The EGO BIKE GA-B-F001 could be the right fit for you. Made from durable, high-quality ABS plastic, these saddlebags are compatible with various motorcycles.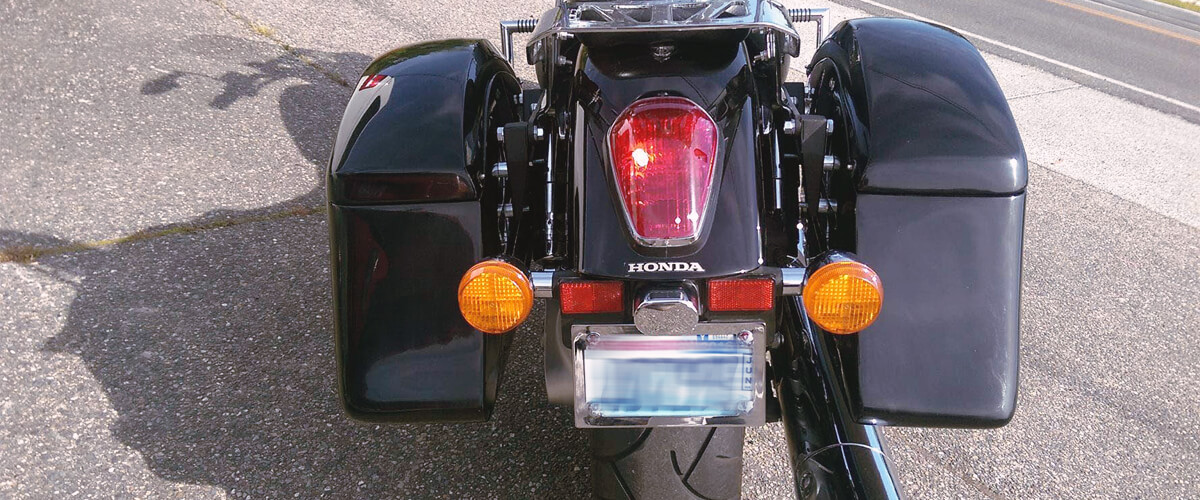 What makes these saddlebags unique is the absence of pre-drilled holes, allowing for customized installation. The package includes keys and latches, ensuring your belongings are secure. A slight downside might be the wiggle on irregular roads, but the included rubber spacers help to minimize this effect.
If you prefer hard motorcycle side cases and enjoy the freedom of customizing the installation, the EGO BIKE GA-B-F001 will be your best choice.
Key specs
Size: medium, 15.7 liters.
Material: plastic.
Vehicle service type: motorcycle.
Dimensions LxWxH, inches/cm: 19.9×16.2×13.4/50.5×41.1×34.
Pros
Minimalistic yet attractive design.
Well-built.
Keep things dry.
Affordable.
Cons
Can't carry much weight.
May be difficult to install.
Maintenance and care
Proper maintenance and care of your motorcycle saddlebags can prolong their life, ensure optimal performance and keep them looking great. Here are some important tips to keep in mind:
Leather saddlebags
Clean leather saddlebags with a damp cloth and mild leather cleaner or saddle soap. Gently wipe the surface to remove any dirt or stains. Avoid excessive water or soaking the leather, which may cause discoloration or damage.
Periodically treat the leather with leather conditioner or leather cream to keep it supple and prevent cracking. Apply the conditioner following the manufacturer's instructions and wipe it off with a clean cloth.
Avoid prolonged exposure to direct sunlight, as this may cause the material to fade or dry out. When parking your motorcycle, consider using a cover to protect the saddleback from UV rays.
If your leather saddlebags get wet, let them dry naturally at room temperature. Avoid using heat sources to speed up the drying process, as this can damage the leather.
Synthetic fabric saddlebags
Many synthetic models, including pvc saddlebags, can be cleaned by wiping them with a mild detergent and water solution using a soft cloth or sponge. Rub the surface gently to remove any dirt or stains. Rinse with clean water and let them air dry.
Avoid using harsh chemicals or bleaches that can damage the fabric or discolor it.
If the synthetic fabric is water-repellent or waterproof, ensure the seams and zippers are properly closed to prevent water from entering the interior compartments.
Storage recommendations
| Step | Description |
| --- | --- |
| Clean and let dry | Before storing your bags, make sure they are clean and completely dry. Moisture can cause mold, mildew, or material deterioration during storage. |
| Empty contents | Remove all items and items from saddlebags before storing them. This prevents any potential damage or odors from developing over time. |
| Stuffing and shape retention | Consider filling them with soft materials such as towels or clothing to help keep their shape and prevent them from sagging or creasing during storage. |
| Avoid compression | Avoid stacking heavy items or excessive weight on top of panniers during storage. Compression can deform the material and affect the shape of the saddlebags. |
| Store in a cool, dry place | Choose a storage location away from direct sunlight, extreme temperatures, or high humidity. A closet, a garage, or a special storage box can be suitable options. |
| Covering | If possible, cover the panniers with a breathable cloth or use panniers to protect them from dust, debris, or scratches during storage. Make sure the lid is clean and free of moisture before use. |
FAQ
How do I choose the right size of saddlebags for my needs?
I highly recommend considering your needs and the amount of storage space required. Think about what items you typically carry on your rides. If you're a light packer, smaller motorcycle pouches might suffice. If you like to bring along larger items, you'll want to opt for larger saddlebags with more capacity.
Are saddlebags universal?
Saddlebags come in various shapes and sizes and are not universally compatible with all motorcycles. Check the compatibility of the saddlebags with your specific make and model. Some manufacturers produce universal options that can fit multiple bike types, but it's always a good idea to double-check the compatibility before purchasing.
How do I ensure the security of my belongings inside the saddlebags?
Look for models with reliable locking mechanisms, such as built-in locks or options to use padlocks. You can also enhance security by using a cable lock to secure the saddlebags to your motorcycle frame or utilizing anti-theft alarm systems. Remember to keep valuables out of sight or use hidden compartments for added peace of mind.
How much weight can saddlebags typically hold?
The weight capacity can vary depending on the specific model and design. Generally, most saddlebags can handle a weight range of 10 to 30 pounds (4.5 to 13.6 kilograms) per bag. You should also consult the manufacturer's guidelines or product specifications to ensure you don't exceed the recommended weight limit.
Can any motorcycle have saddlebags?
No, not all bikes are designed with side bag compatibility in mind. Cruiser-style motorcycles, touring bikes, and adventure bikes often have mounting points or brackets designed to attach saddlebags. However, some motorcycles may require additional modifications or aftermarket support to install these items properly.
Do saddlebags affect handling?
Yes, they do, primarily due to the added weight and the change in aerodynamics. When properly loaded and balanced, the effect on handling is usually minimal and can be compensated for by adjusting your riding technique. Be mindful of the weight distribution and not overload one side more than the other, as this can affect stability.