Motorbikes are great in many ways. Some love them for the sense of freedom, others for practical objectives like easier commuting in high-traffic areas. However, when it comes to the maintenance or repair of the two-wheeled friend, you may find yourself in a tight spot if you do not have special equipment like a motorbike stand at hand. Luckily, picking a suitable one won't be an issue as there is a myriad of the best motorcycle stands out there.
Nevertheless, do not take the choice of the stand lightly. There are some considerations you've got to keep in mind to settle on the most optimal item available on the market. So, today you will learn how to get the right stand for your motorcycle. I also put out detailed product reviews that will help you make an informed decision and get the product that will cover all your needs.
Our pick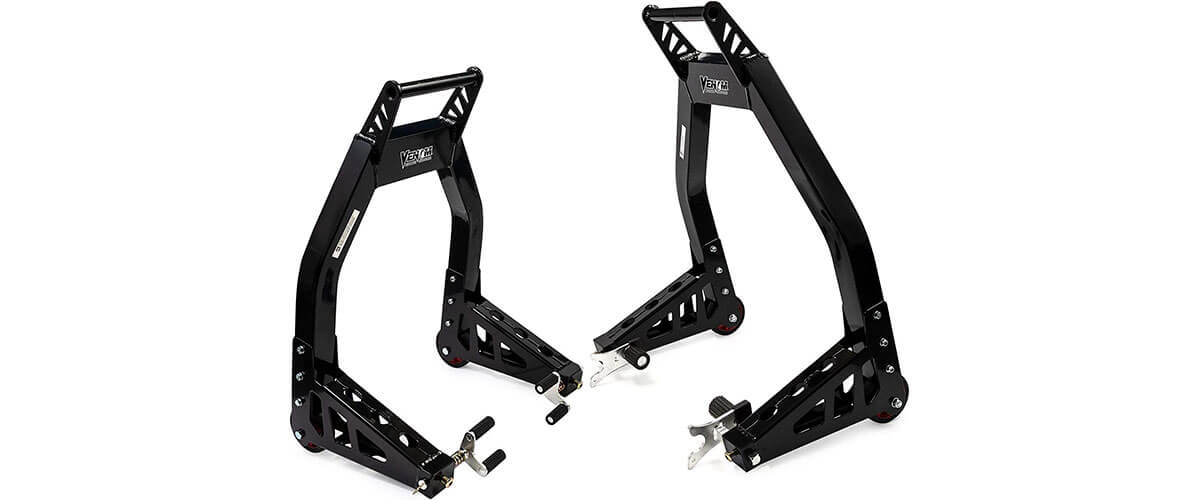 Venom
Best motorcycle stand
Professionally designed combo motorcycle lift stands are made with a specialized heavy duty weld that provides maximum stability.
Read the full review
.
Advantages of bike stands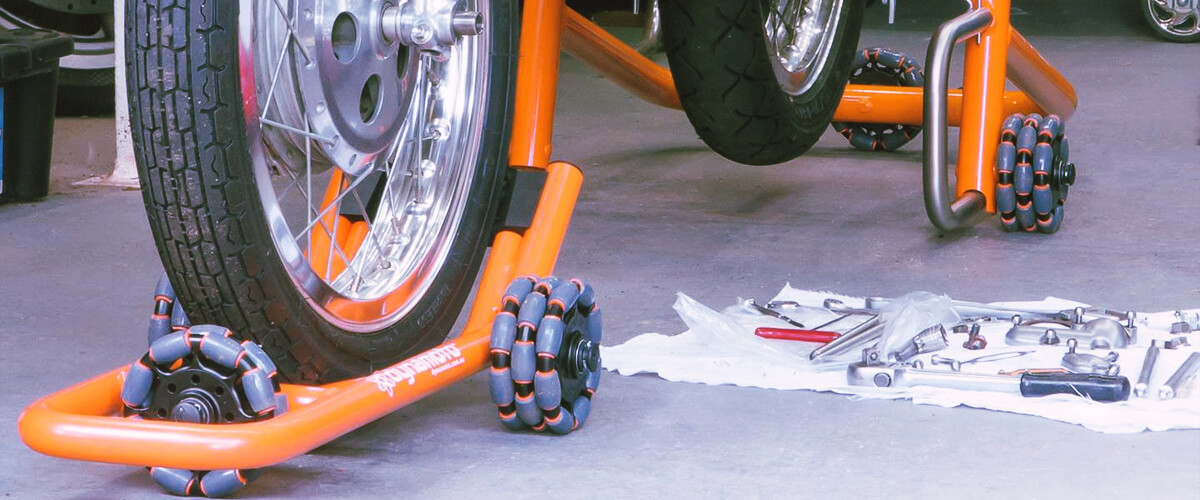 Adding a motorcycle stand to your collection of equipment is a good idea. It will provide flexibility, maneuverability, convenience, and reliability when repairing, parking, or maintaining your motorbike.
So, when you need to take the wheels of your two-wheeler off the ground or secure it in a vertical position, an adjustable motorcycle stand will become indispensable. For example, you will need this item when you have to:
Change the wheels or tires.
Maintain the chain.
Change oil.
Move the motorcycle around your garage or sidewalk.
Park your vehicle more securely.
However, I would like to emphasize the idea that motorcycle stands are different. For example, some allow you to lift one wheel, while others will take both tires off the ground. Also, there are sports bike stands for smoother motorcycle storage and track days. Of course, the choice of the stand will affect the range of activities you can perform. That is why knowing what type of stand you are purchasing will give you a better sense of what benefits you get from this lifting equipment.
Best motorcycle stands review
Venom – front and rear combo stands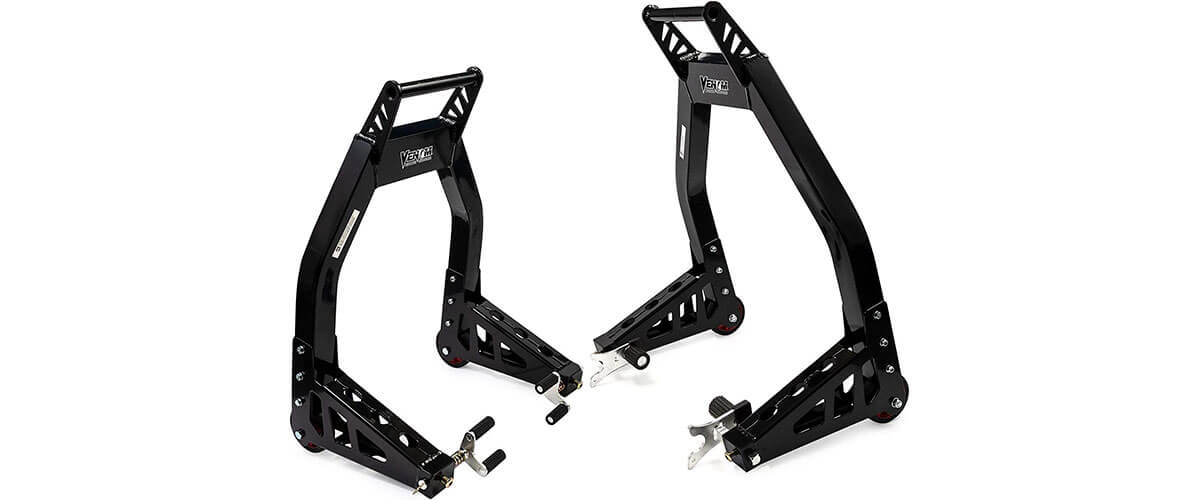 When versatility is in priority, I recommend taking a closer look at Venom multi-directional motorcycle stands. While Oxford SP821 allows you to lift only the rear wheel, Venom includes front and rear stands to enable you to take both tires off the ground. This way, you get a wider range of equipment to repair, maintain, or store your motorcycle safely.
The Venom construction is lightweight due to high-grade aluminum, which is not as sturdy as steel. So, perhaps, you should use these stands with light and midsized motorbikes for guaranteed stability. In my opinion, such a stand is optimal for cruisers. Also, keep in mind that the welds are not too deep, so be careful when using these stands for long periods.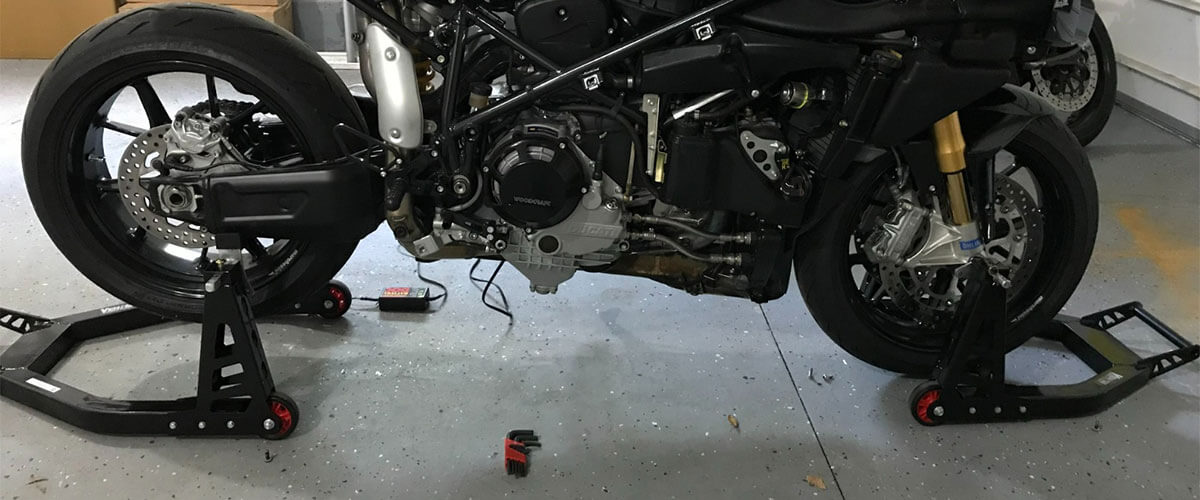 I assembled the stands fairly quickly, and they perfectly fit my motorcycle. I should admit that they are compatible with most vehicles owing to two pairs of replaceable front and rear attachments.
With the Venom set, you will easily lift and maneuver your motorcycle. I like its safe, quick, and easy single-person operation. No swinging or rotation – these stands securely hold the motorcycle and let you do the maintenance job without any risks. Its sturdy construction, ease of assembly, and reliable holding capability make it the best motorcycle stand for cruisers!
Key specs
Material: high grade aluminum.
Weight, lbs/kg: 20/9.
Dimensions, inch/cm: 25.9x20x5.9/65.7×50.8×14.9.
Pros
A set of both front and rear stands.
Comes with two pairs of attachments for both stands to fit different bikes.
Easy to assemble and move around.
Cons
Aluminum construction is not as sturdy as steel.
The welds are not too deep.
Trackside – rear stand with spools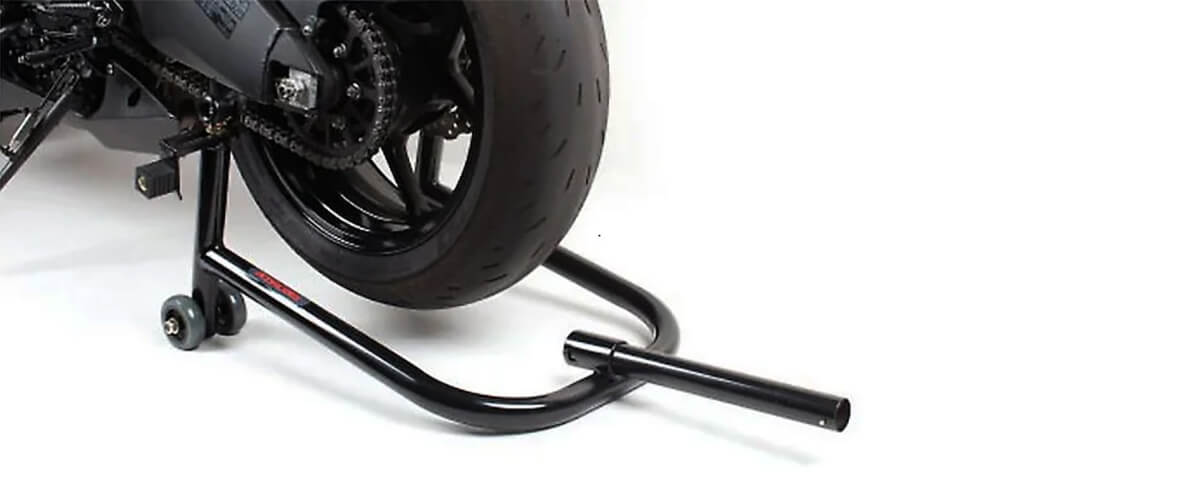 hether you want to change oil or make general maintenance to your motorbike, you will do it much easier with Trackside. This stand is made of 1,5 inch (38 mm) steel with a powder coat finish to ensure years of use.
If you are looking for a stand with spools to hold the motorcycle more securely, you should prefer Trackside to Oxford SP821. Thanks to the spools, lifting a bike is a breeze. Besides, an adjustable spindle holder allows you to regulate the stand to different sizes of motorbikes. In addition, this is a stand with wheels, so you can smoothly lift the bike.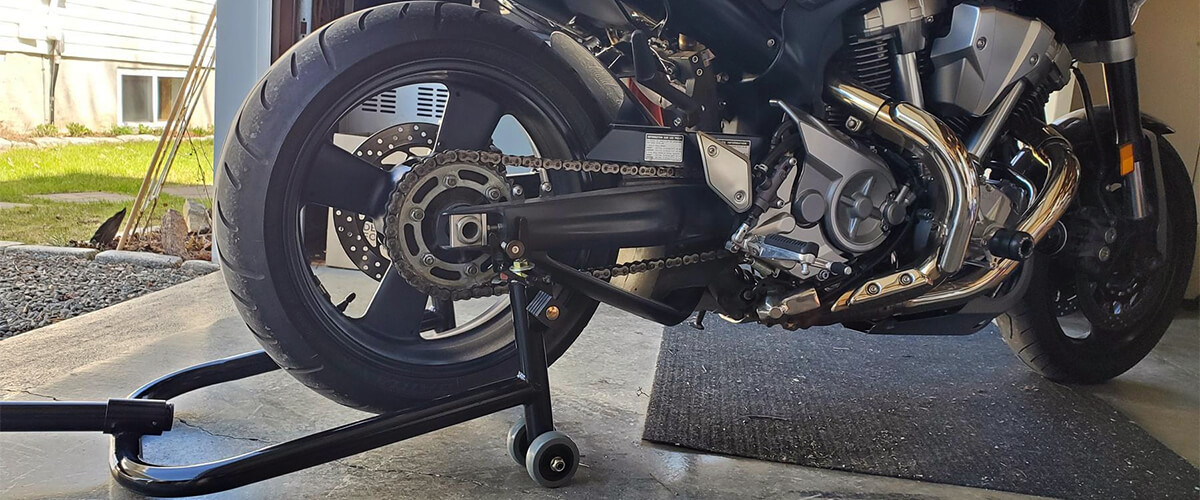 In general, the build quality is solid. The Trackside works as I expected, except for the handle. It is supposed to ensure easier storage, but, in fact, it is very loose when you get the bike up.
The Trackside motorcycle rear stand with spools ensures a secure bike position when it is up. Also, it saves time. For example, regular chain maintenance took me around 15 minutes, as this item makes lifting a motorcycle a cakewalk.
Key specs
Material: 38mm steel.
Weight, lbs/kg: 9.5/4.3.
Dimensions, inch/cm: 13×2.9×23/33x53x58.4.
Pros
Solid steel construction with a powder coat finish.
Spools hold the bike more securely.
Adjustable multi-fit support arms for different sizes of the vehicles.
Cons
The handle may collapse when you lift the motorcycle.
Oxford SP821 – rear stand without spools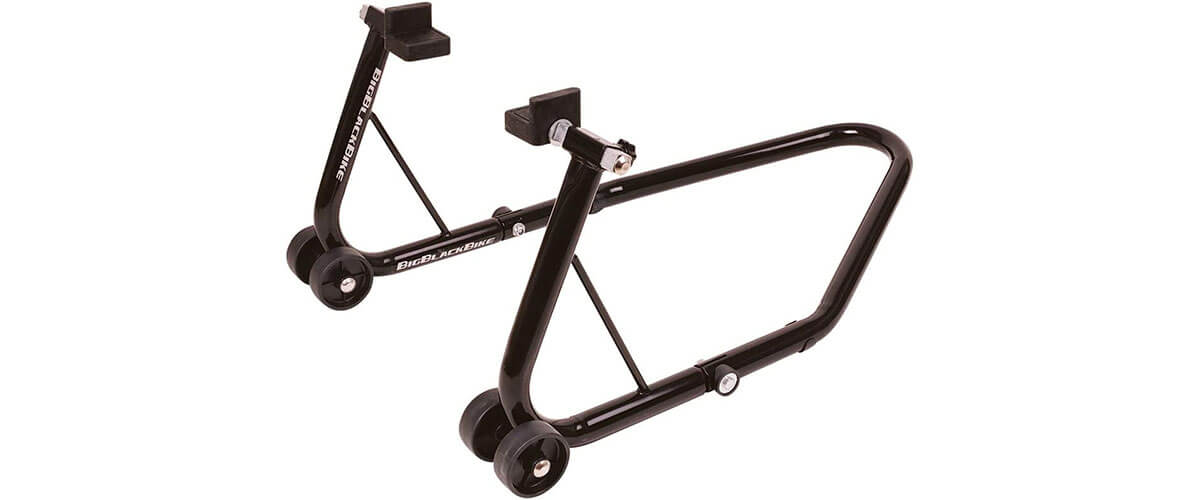 If you are not ready to invest all the money in the world in the motorcycle stand, look at Oxford SP821. This budget motorcycle stand is quite suitablefor maintenance work or other activities.
Even though the stand's gauge may look too thin (1.2″ in diameter), it does its job with motorcycles under 440 lbs. In my case, this stand allowed me to do maintenance on my bike without breaking a sweat.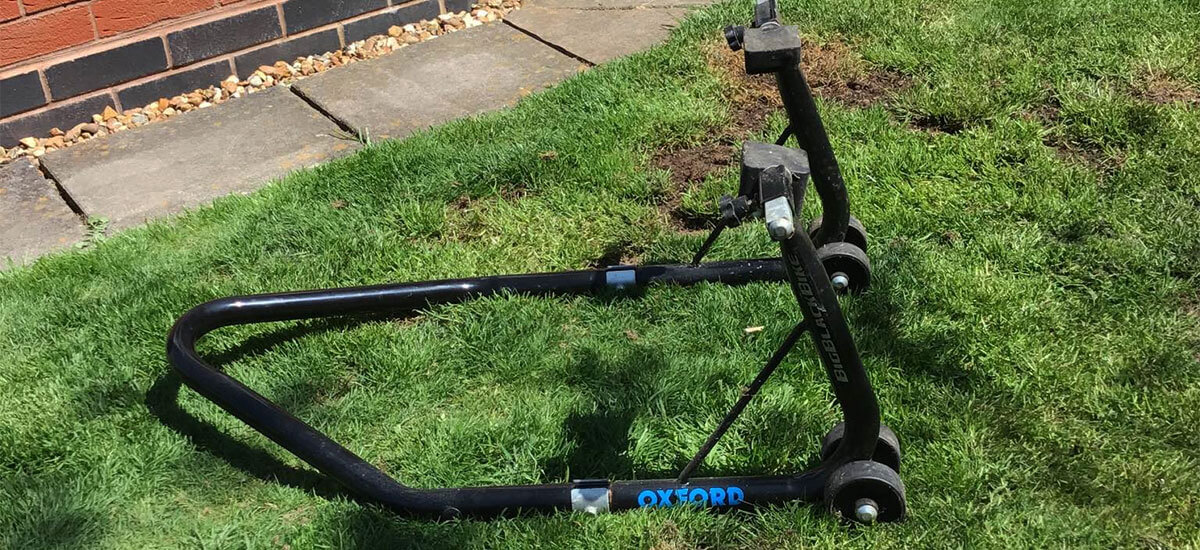 However, adjustable swingarm rests in Oxford SP821 spin a bit, which may make you think the construction is not as stable as you want. Luckily, four wheels compensate for this flaw and add rigidity and maneuverability. Also, if you want to upgrade this stand to the one with spools like Trackside, you can purchase those spools separately.
I had no issues lifting the wheel with this motorcycle rear stand. Oxford SP821 works like a charm for light motorbikes. I can't call this model the best motorcycle rear stand, but it is definitely worthy of consideration. After all, what else do you expect from an item that is almost half the price of others?
Key specs
Material: 32mm steel.
Weight, lbs/kg: 10.4/4.7.
Dimensions, inch/cm: 22.4×5.9×19.6/57x15x19.6.
Pros
Makes lifting a light motorbike much easier.
Four wheels add stability to the construction.
You can purchase the spools separately.
Cons
It may not be suitable for heavy bikes.
Swingarm rests are a little bit flimsy.
Vortex ST943 – head lift front stand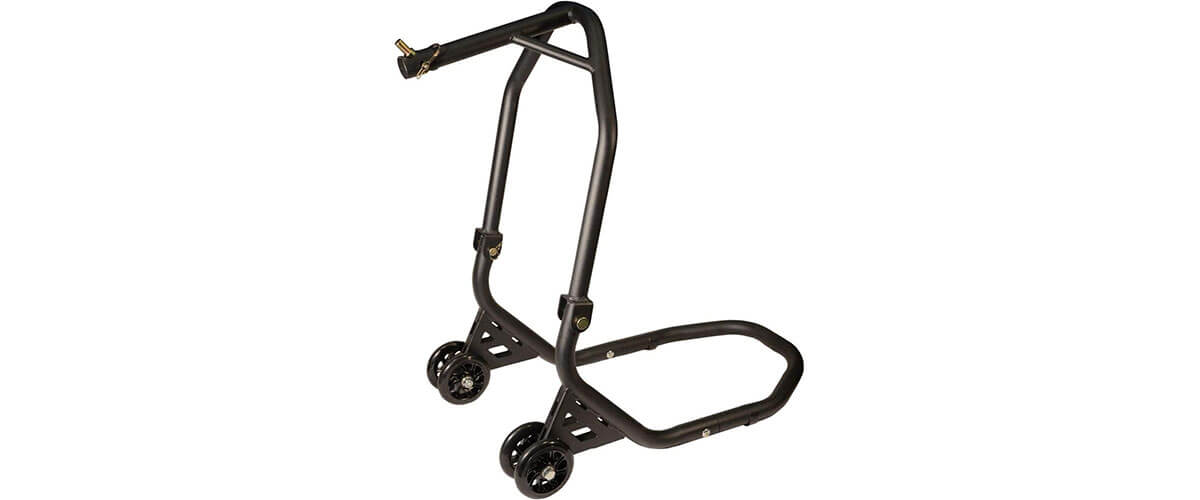 When the front wheel of your motorcycle requires a lift, Vortex ST943 will come to the rescue. This equipment boasts a heavy-duty construction similar to Trackside, so it will securely hold your motorcycle to let you do your maintenance job.
This stand won't take up much space when not in use due to a break-down design. A pivot angle makes lifting easy for everyone, while 4,25-inch quad wheels enhance the stand's ability to hold the vehicle and move around.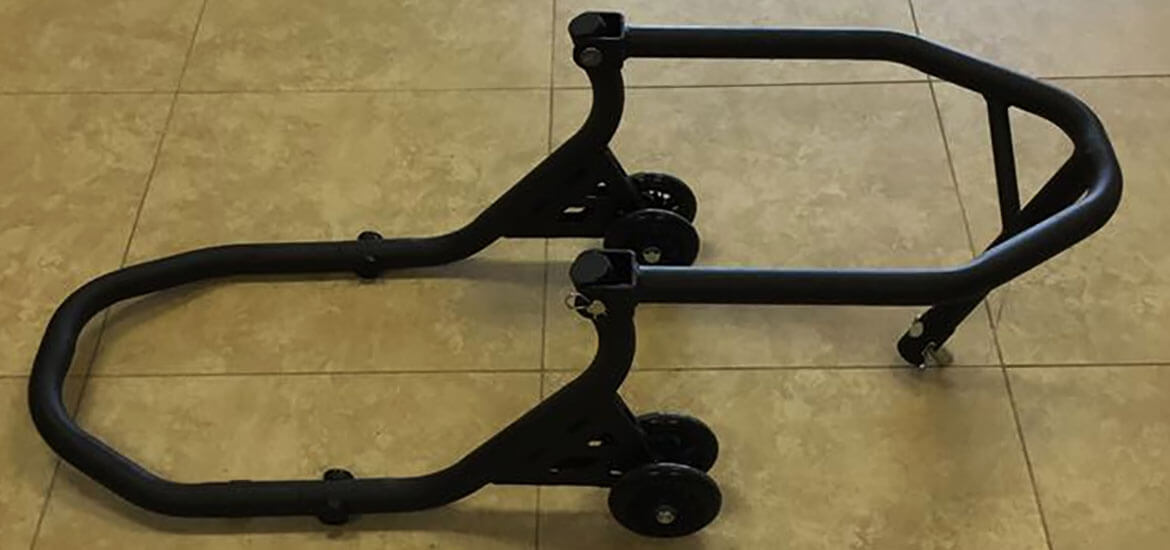 I was surprised to see five included pins. These accessories let you use the stand with many extraordinary bikes. However, there is a trick. Those pins do not cover all motorcycle models, so you may need to purchase compatible ones separately.
This motorcycle front wheel stand is quite reliable and does not take up much space, but remember that it will not work with all models of motorcycles.
Key specs
Material: steel.
Weight, lbs/kg: 21/9.5.
Dimensions, inch/cm: 1x1x1/2.5×2.5×2.5.
Pros
Solid steel tubes for a reliable construction.
A break-down design lets you save storage space.
Oversized wheels add to the stability of the stand.
Cons
It may not be compatible with some motorcycles out of the box.
MaxxHaul 70271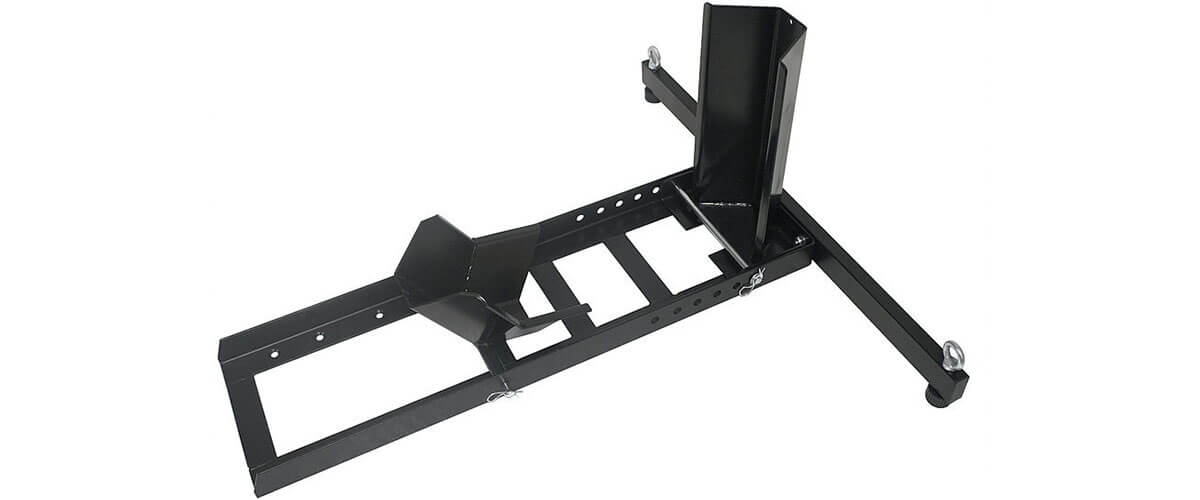 Whether you need to transport your motorcycle in a trailer or do some maintenance work, the MaxxHaul 70271 wheel chock will securely hold your vehicle to let you do the job easily.
The steel construction of this stand makes it applicable for motorbikes of around 1,800 pounds, while a powder coat finish protects the steel from corrosion and rust to prolong the lifespan of this item. In addition, it has a solid base, which you won't find in While Vortex ST943, to improve stability and allow you to use this item even for transportation. This stand is a little bit bulky, so it will take more space than others, but it is a minor flaw compared to the stability it delivers.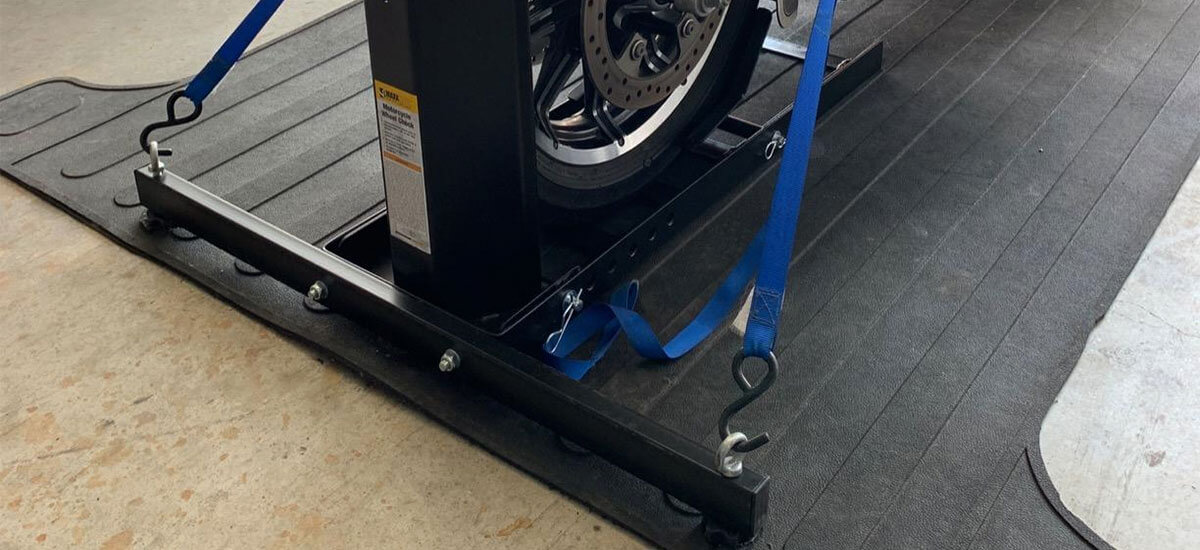 What makes this stand great is a self-locking wheel bracket that reliably holds the wheel and eliminates any wobbling. Also, it is adjustable to accommodate different wheel sizes. However, I found it challenging to get the bike off. I figured out that it will require bouncing the bike back, which may be pretty hard if you have a heavy motorcycle.
MaxxHaul 70271 is a solid stand that accommodates different size tires and flawlessly works in different situations, be it repair, maintenance, storage, or transportation.
Key specs
Material: steel.
Weight, lbs/kg: 25/11.3.
Dimensions, inch/cm: 36x35x16/91.4×88.9×40.6.
Pros
Steel construction can hold up to 1,800 pounds.
A powder coat finish makes the stand corrosion-resistant.
A self-locking wheel bracket dependably holds the tire.
Cons
You may find it too bulky for the space with limited storage room.
It may require some effort to take the heavy bike off.
Specstar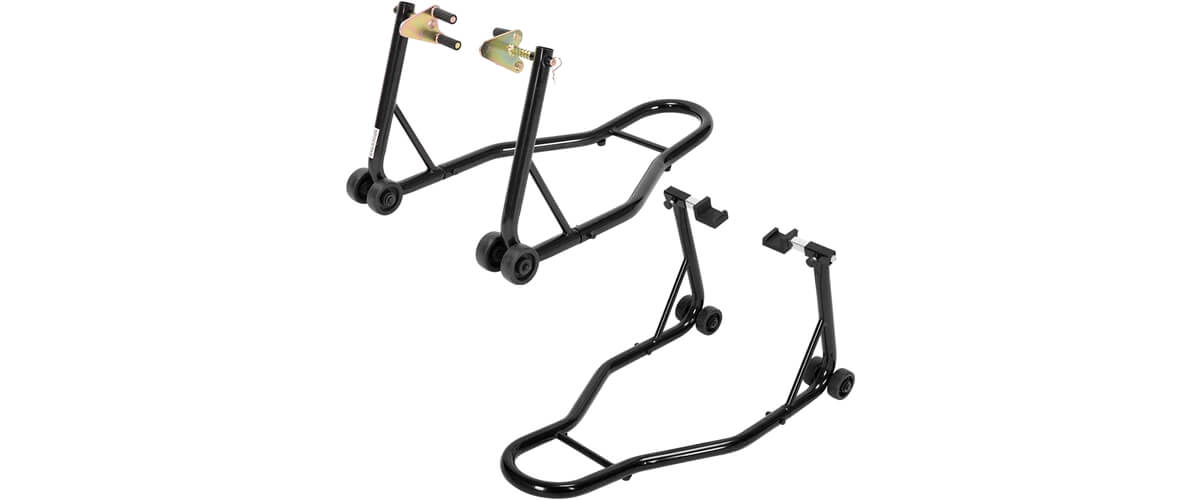 The Specstar is an interesting model that I included in my review for a reason. The stand's frame is made of sturdy metal, which provides excellent resistance against wear and tear. It can support a maximum weight of 440 lbs (200 kg), making it suitable for relatively lightweight motorcycle models.
The components fit together seamlessly, and the instructions are clear and concise. Within minutes, you'll have your stand ready for use. With 4 roll wheels, moving the vehicle becomes easier and saves unnecessary effort. Additionally, the stand is well-designed, with a solid base and strategically placed grips that firmly hold onto your motorcycle.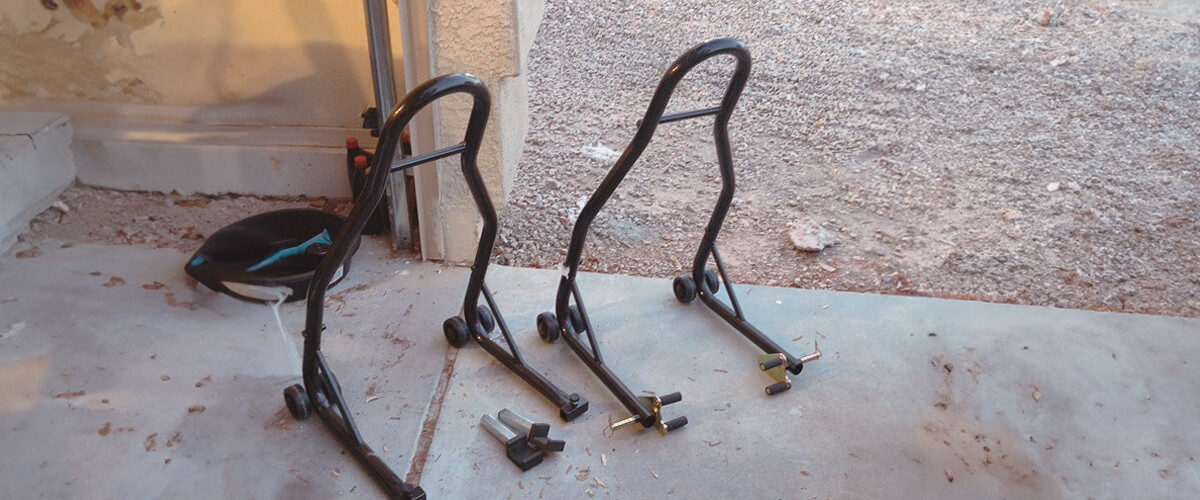 Compared to other motorcycle stands in a similar price range, the Specstar stand performs exceptionally well. While some stands may require additional tools or have complicated assembly processes, the Specstar stand offers a hassle-free experience without compromising on quality.
If you're searching for a motorcycle stand that combines durability, ease of use, and exceptional stability, the Specstar motorcycle stand is a fantastic choice. The combination of metal and stainless steel, good weight capacity, and straightforward assembly process prove this is an excellent investment for motorcycle owners.
Key specs
Material: steel.
Weight, lbs/kg: 19.8/8.9.
Dimensions, inch/cm: 31.1×18.8×15.7/79×47.7×39.8.
Pros
User-friendly assembly process.
Excellent stability with a wide base and rubberized pads.
Cons
No integrated wheel-locking mechanism (optional accessory).
Bike stands buying guide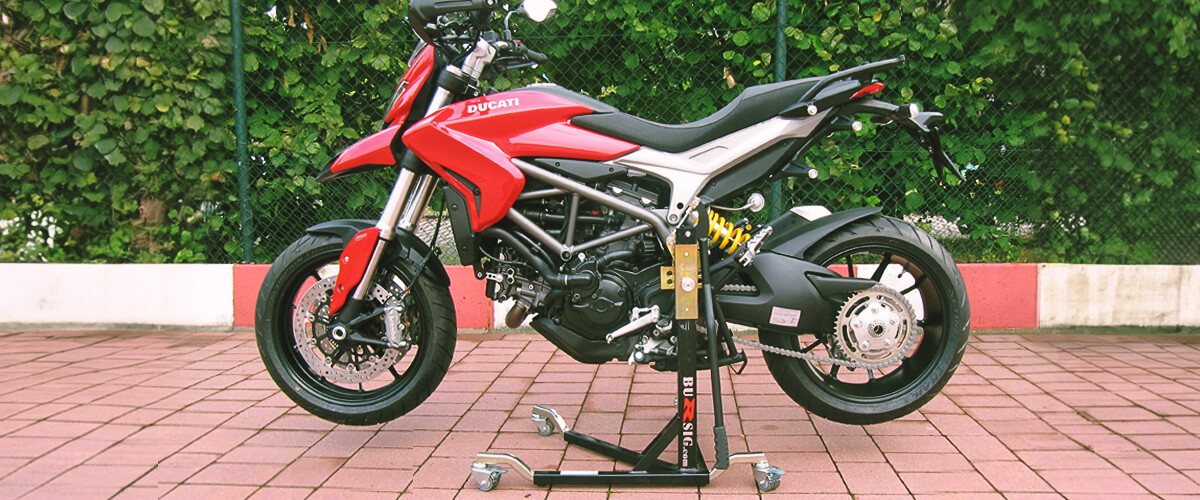 You may assume that a motorcycle stand for maintenance is an easy catch. But there are some critical aspects you've got to consider in order to purchase the best motorcycle stand.
Stand type: front or rear
The most important thing to consider when purchasing a motorcycle stand is its type. Generally speaking, front and rear stands are the most popular types of motorcycle stands. Rear wheel stands are suitable for chain maintenance or removing the rear wheel. A front stand is a good solution when you must take both wheels off the ground. Note that it can be used when you lift the rear wheel, so you will have to get a rear stand first to use the front stand.
Stand materials safety
Look for the stands made of durable and corrosion-resistant materials that will stand the heavy weight of the motorcycle. In this way, you ensure that the stand will serve you for many years. If the motorcycle lift is constructed from unsound materials, there is a high risk of not only damage to the motorcycle but also injury. Therefore, the quality and reliability of the materials in this equipment must come first.
Stable wheels
Make sure your paddock stand has stable wheels. This will help maintain balance after you lift the motorcycle. Besides, I recommend considering stands that will work on all terrain types to ensure you can use them in different situations.
FAQ
How do you use a motorcycle stand?
There are two ways to use a motorcycle stand. The first is to use it as a support while working on your motorcycle. It comes in handy when removing the wheels, changing the oil, or performing other maintenance tasks.
The second way to use a motorcycle stand is to park your motorcycle on it. The stand keeps your motorcycle off the ground and makes it easier to move around. It is helpful for storing your motorcycle in a garage or shed. Also, you can combine a stand with the best motorcycle covers.
Can I leave my motorcycle at the stand?
Yes, you can leave your motorcycle at the stand. I suggest that you put something under the stand to keep it from scratching your floor, but it is unnecessary.
Are motorcycle stands necessary?
Some might say that motorcycle stands are unnecessary, but I wholeheartedly disagree! Here are 4 reasons why you need a motorcycle stand:
To keep your bike steady when you're not riding it.
To make cleaning and maintenance easier.
To protect your bike from weather damage.
To deter thieves (since they'll have a harder time stealing a bike that's on a stand).
What is a spool stand?
A motorcycle spool stand is a device used for lifting and supporting the rear end of a motorcycle. It consists of two spools or bobbins attached to the swingarm of the bike, which then fit into corresponding slots on the stand. Using a spool stand, you can easily lift your motorcycles off the ground, allowing for maintenance tasks like chain lubrication, wheel removal, or general repairs.