If you are here, you know as well as I do that there is nothing like riding a bike; nothing gives so many emotions and freedom! Well, if we are talking about good feelings, of course. But with a motorcycle, as with any other vehicle, sometimes troubles happen. You must always be prepared for them. That's why in the case of a specific problem, a motorcycle jack can be the critical aspect of fixing it.
Whether you're a seasoned motorcyclist or just starting, picking the proper riding gear is the key to getting joy from riding. Unlike other motorcycle jack reviews, this review explores every model's top qualities, highlighting their impressive lift capacities, lifting ranges, and automatic safety locks. Join me on this journey to find the best motorcycle jack to safely hold your bike and simplify maintenance!
Our pick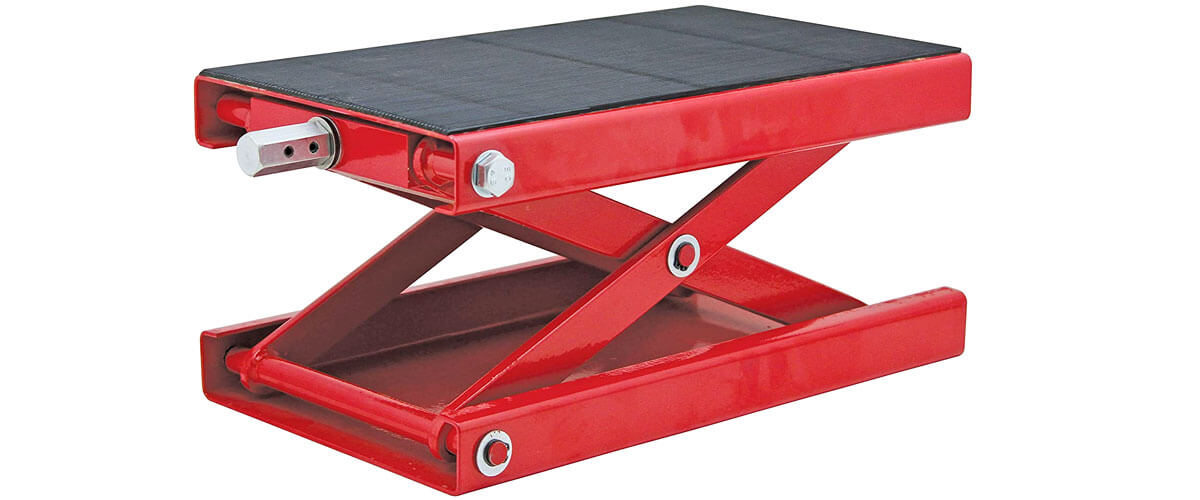 Extreme Max 5001.5044
Best motorcycle jack
The Extreme Max 5001.5044 is high-strength worm drive, and heavy-duty steel construction combine to lift nearly any road bike, touring bike, or cruiser to 1,100 lbs.
Read the full review
.
Difference between jack and lift
Jacks are compact tools used for lifting a vehicle or small loads. They're perfect for quick tire changes and minor repairs at home or on the road. They require manual effort to pump or crank the handle, making them portable and easy to use.
On the other hand, lifts are heavy-duty machines commonly found in professional garages. They can handle larger vehicles and loads and usually have hydraulic systems for effortless lifting.
Best motorcycle jack and lift reviews
Best motorcycle jacks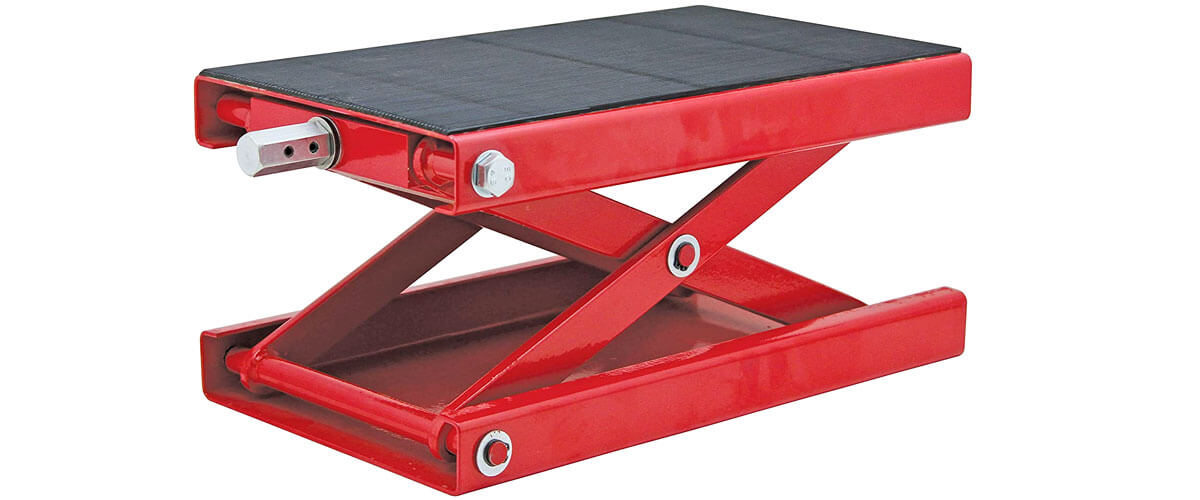 So, among the hundreds of motorcycle jacks available in the market, the Extreme Max 5001.5044 stands out as a true gem! And now I'm going to tell you what makes it so good.
From the moment I unboxed the Extreme Max 5001.5044, I could feel the sturdiness of its construction. With heavy-duty steel framing, this jack exudes a sense of robustness. The platform is thoughtfully designed with a generous size of 15-1/8″ x 9″.
The Extreme Max 5001.5044 boasts of sufficient lift capacity of 1000 lbs, making it suitable for a wide range of motorcycle models. With a maximum lifting height of 14″, the Extreme Max 5001.5044 provides ample clearance for most maintenance needs. Though it may lack an automatic safety lock, its steady and secure platform, combined with the reliability of manual operation, ensures that I have complete control throughout the lifting process. Overall, it's easy to transport and set up.
If you are searching for a top-quality jack to aid you in maintaining your beloved motorcycle, the Extreme Max 5001.5044 is undoubtedly the best motorcycle scissor jack lift available. Its good lift capacity, incredible durability, and excellent lifting height range make it a must-have tool for any rider serious about their motorcycle's care.
Key specs
Material: steel.
Load capacity lbs/kg: 1100/498.9.
Minimum height inches/cm: 3.3/8.5.
Maximum height inches/cm: 14/35.5.
Platform dimensions inches/cm: 18×10/45.7×25.4.
Weight lbs/kg: 27.1/12.3.
Pros
Versatile lifting height and durable built.
The ease of use allows me to adjust the positioning of the bike effortlessly.
Space-efficient and suits any garage.
Comes with a solid warranty.
Cons
Lacks an automatic safety lock.
Not designed for trikes.
LiftMaster DL3501 – wide deck floor jack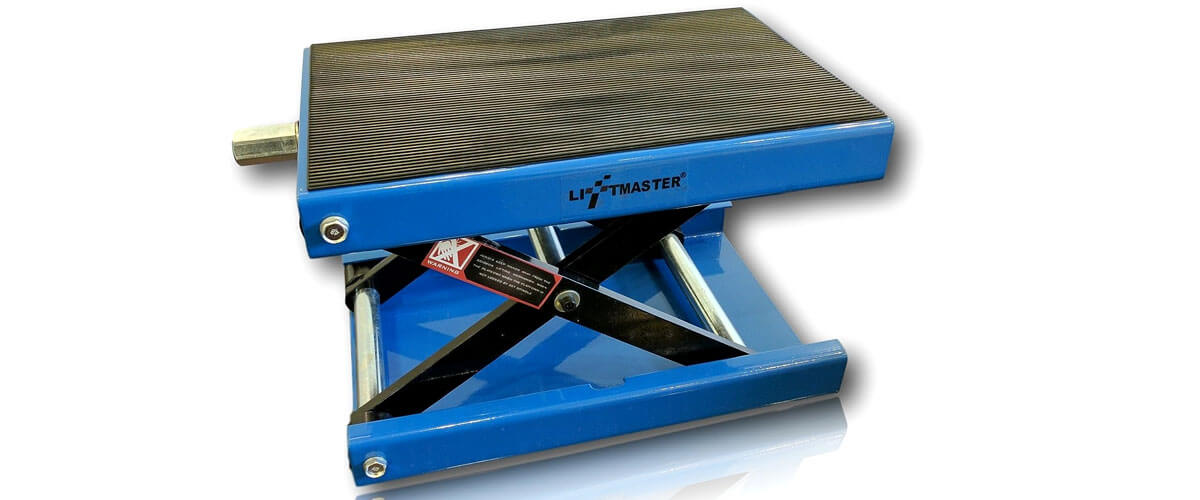 The next model on my list is LiftMaster DL3501, a heavy-duty motorcycle jack that can be a real game changer. The jack's solid steel construction with a blue and black powder-coated finish exudes sturdiness and durability. LiftMaster prioritizes quality, making this an investment that will last.
With a pretty impressive weight capacity of 1100 pounds, the DL3501 easily handles a wide range of motorcycles, securely holding bikes regardless of their size and weight. The simple crank operation makes me effortlessly raise my motorcycle to a comfortable working height. The well-calibrated lifting mechanism instills confidence during use, eliminating fear of sudden drops or instability.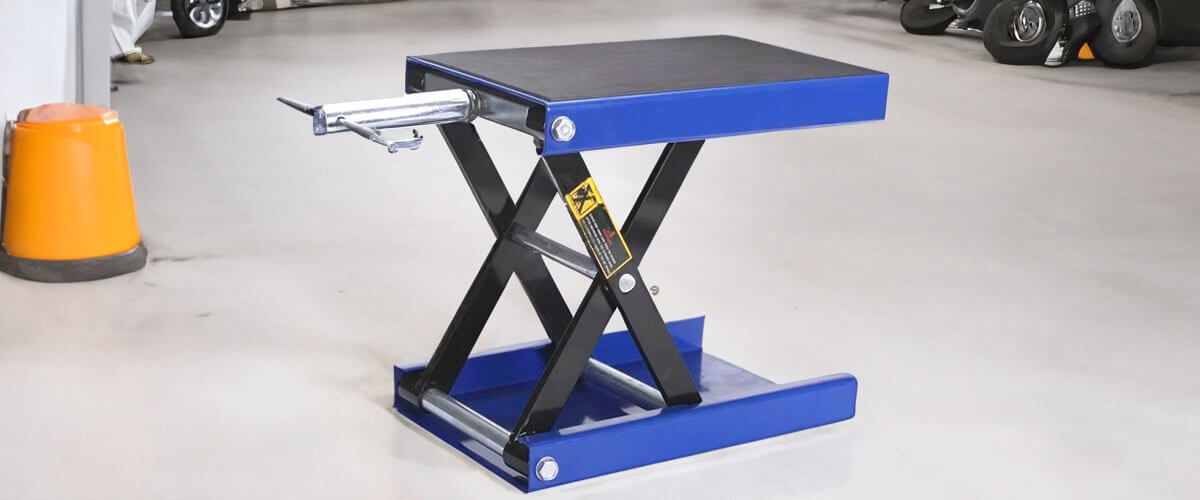 The lifting height ranges from 3.25 to 13.25 inches, accommodating various tasks and providing easy access to hard-to-reach areas. Equipped with an automatic safety lock, the DL3501 securely holds the motorcycle at the desired height, preventing accidental drops or collapses. Despite its robust build, the DL3501 remains surprisingly portable at 29.1 pounds, and its compact design makes storage easy.
The LiftMaster DL3501 is a quality jack that lives up to its heavy-duty reputation. This LiftMaster heavy-duty motorcycle jack offers impressive weight capacity, a smooth lifting mechanism, and safety features that make it an invaluable tool in motorcycle maintenance.
Key specs
Material: steel.
Load capacity lbs/kg: 1100/498.9.
Minimum height inches/cm: 3.2/8.2.
Maximum height inches/cm: 13.2/33.5.
Platform dimensions inches/cm: 14.4×9/36.5×22.8.
Weight lbs/kg: 29.1/13.2.
Pros
Features solid steel construction, ensuring durability and longevity.
Stunning weight capacity.
The easy-to-use crank operation doesn't require much strength.
Cons
Limited lifting height range (up to 13.25 inches).
The scissor mechanism feels a bit wonky when raised.
Pyle PLMOTJC11 – jack with dolly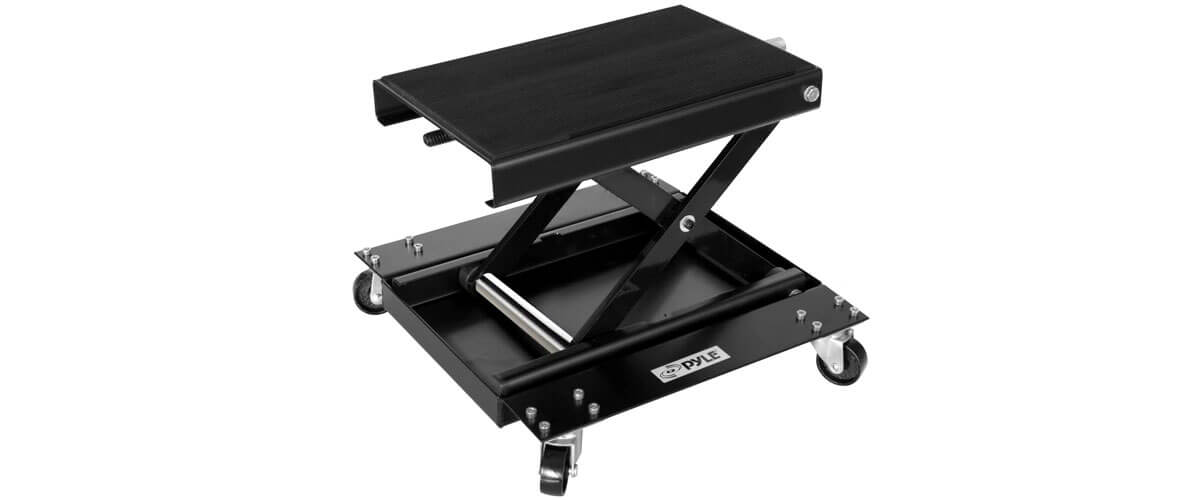 So, moving through the review, I paid attention to jack with dollies that offer more flexibility for DIY enthusiasts or just riders. Let's see what Dolly PLMOTJC11 has to offer.
Crafted from heavy-duty steel with a black powder coat finish, the PLMOTJC11 impresses with its durability and visual appeal. The 1/4-inch thick rubber mat on the platform enhances grip and stability during maintenance tasks.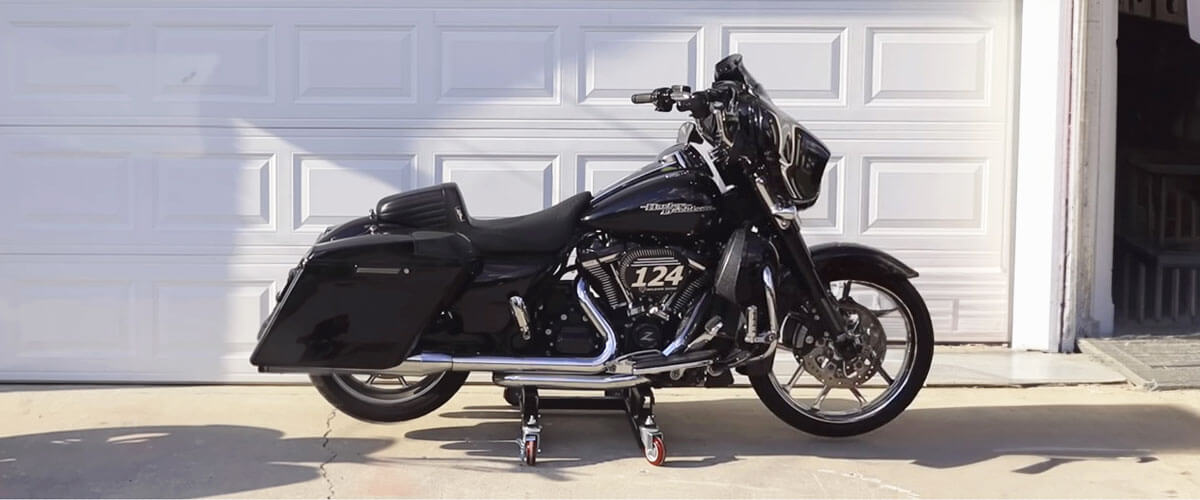 With a loading capacity of 1100 lbs, this scissor flat jack lift can handle most motorcycles, from cruisers to sports bikes. Using a 7/8-inch socket wrench, I conveniently raised my bike to a comfortable height for any operations. The jack offers ample clearance for various maintenance tasks, making it practical for routine work.
Featuring a 1/4-inch thick anti-skid rubber padding and an automatic safety lock, the PLMOTJC11 ensures your bike stays securely in place during lifting, providing peace of mind.
In conclusion, the Pyle PLMOTJC11 Motorcycle Jack with Dolly is among the best motorcycle jacks I've encountered. Its durable construction, impressive weight capacity, smooth lifting mechanism, and safety features make it a top-notch choice for any motorcycle enthusiast.
Key specs
Material: reinforced steel alloy.
Load capacity lbs/kg: 1100/498.9.
Minimum height inches/cm: 3/7.6.
Maximum height inches/cm: 16/40.6.
Platform dimensions inches/cm: 14.6×9/37×22.8.
Weight lbs/kg: 43.5/19.7.
Pros
Good lifting range from 3.0 to 16.0 inches.
Great mobility with a dolly tray.
Features a reliable automatic safety lock.
Cons
Anti-skid rubber padding is prone to damaging.
Requires minimal assembly, which may be unexpected for some buyers.
Best motorcycle lifts
BIG RED T64017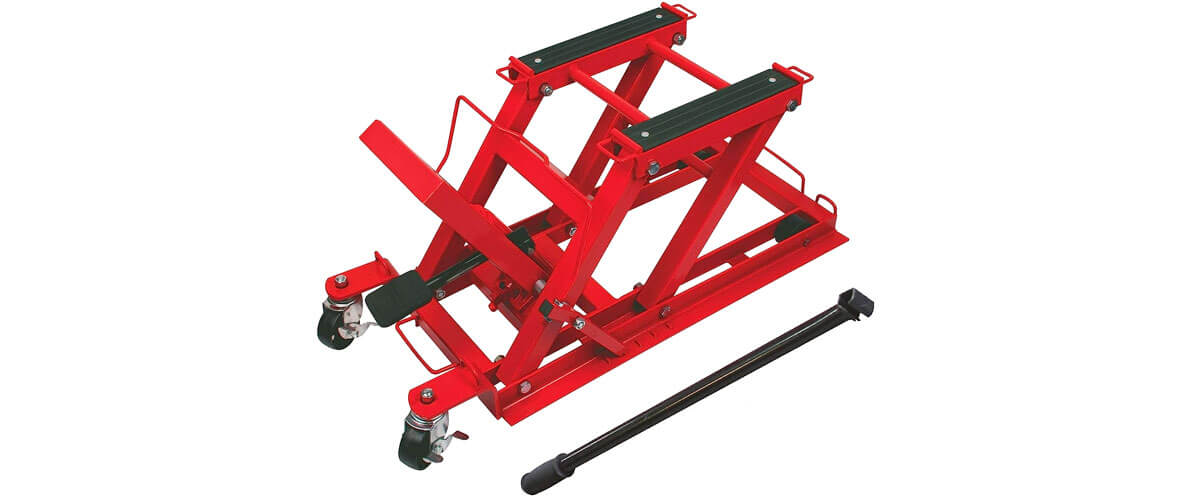 Next in my review comes the BIG RED T64017 Hydraulic Motorcycle Lift Jack – a fascinating solution for all motorcycle enthusiasts and DIY fans! This robust lift table offers a load capacity of 1,500 pounds and a lifting range of 5-1/8″ to 16-1/8″, making it ideal for various power sports vehicles.
Crafted with high-quality alloy steel, this jack guarantees durability for years of reliability. Its powder-coated finish adds a touch of elegance while ensuring it can withstand the rigors of frequent maintenance. The 6 locking positions and 2 locking swivel casters provide stability and easy positioning.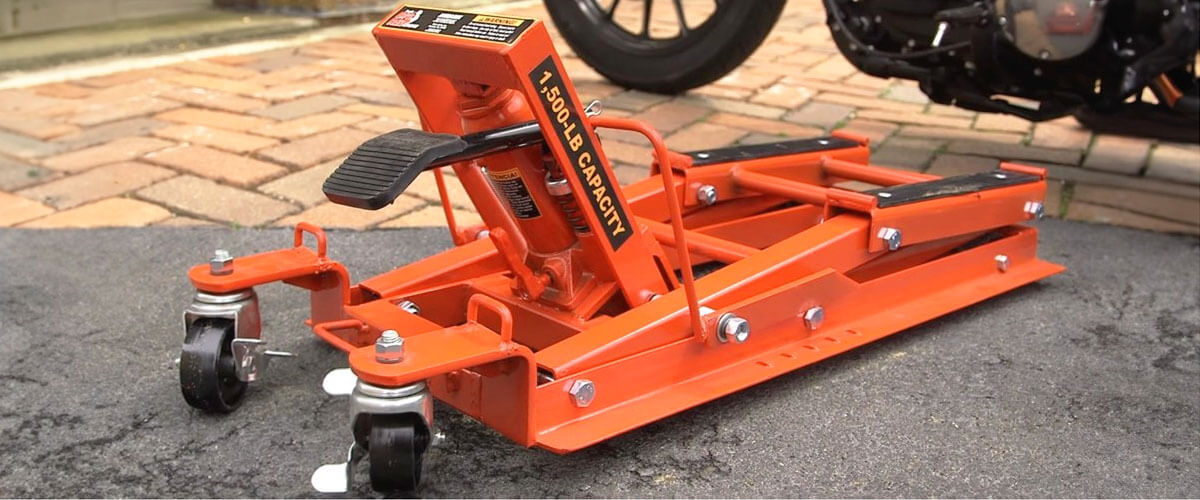 The hydraulic lifting mechanism operates smoothly, and the automatic safety lock keeps your bike secure during maintenance. The wide-load bearing platform provides stability, whether changing tires or cleaning the underside.
Despite its sturdiness, the BIG RED T64017 is reasonably portable with its well-designed wheels, and it doesn't take up much storage space when not in use. In addition, this motorcycle lift table is backed by Torin's professional after-sales service and a 1-year limited warranty.
In summary, the BIG RED T64017 is the best motorcycle lift table I've encountered. Its solid build, smooth lifting mechanism, and thoughtful safety features make maintenance tasks a breeze. I highly recommend it for all motorcycle owners seeking a quality jack to lift and hold their prized rides securely.
Key specs
Material: alloy steel.
Load capacity lbs/kg: 1500/680.3.
Minimum height inches/cm: 5.1/13.
Maximum height inches/cm: 16.1/40.9.
Platform dimensions inches/cm: N/A.
Weight lbs/kg: 71.2/32.3.
Pros
High load capacity.
Adjustable lifting range: 5-1/8″ to 16-1/8″.
Durable alloy steel construction with a powder-coat finish.
Equipped with 6 locking positions for stability.
Cons
Unclear assembly instructions.
Availability of replacement parts may be a concern.
Matrix Concepts LS1 Lift Stand – for dirt bike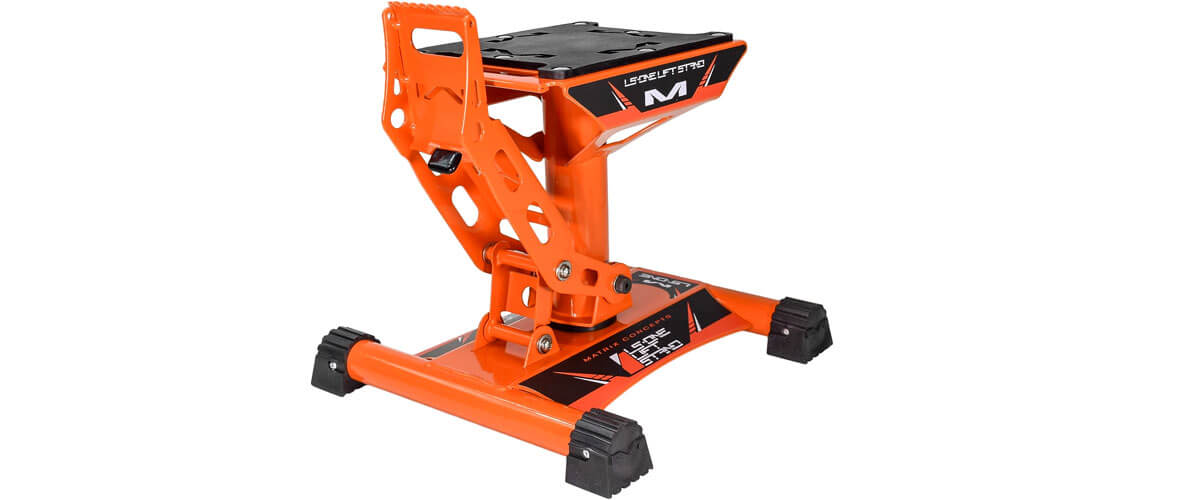 Next, I am introducing the Matrix Concepts LS1 Lift Stand, the ultimate motorcycle lift stand designed to meet the needs of dirt bike riders. It consists of light but strong carbon. So, this stand should offer unparalleled durability and stability.
With its easy-to-use 2-point POWER PEDAL mechanism, lifting a bike becomes a cakewalk. The stand's height ranges from 12″ in the down position to 15.5″ in the up position. Yeah, not the most flexible range, but it still covers 95% of the potential needs. The 8″ long X 11″ wide top platform with replaceable anti-slip rubber top and feet ensures a secure grip, while the slotted top allows easy handling.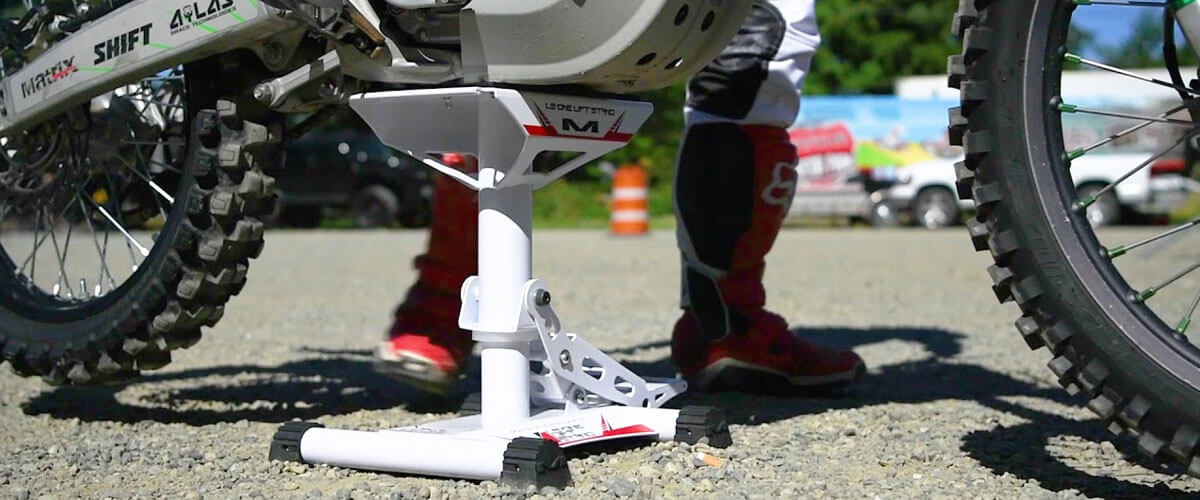 The "self-locking" feature in the "up position" is pretty common in this price range, and it does what it promises — allows to elevate the bike securely. The stand boasts a remarkable lift capacity of 500 lbs+, making it suitable for all off-road bikes.
Moving the item is not a problem, thanks to its lightweight and collapsible design. If you want to add a personal touch, you can customize the stand by giving it a name or choose from eight team graphics.
In conclusion, the Matrix Concepts LS1 Lift Stand is a must-have for every dirt bike enjoyer. Whether you're a mini rider, everyday semi-profession rider, or professional racer, this stand caters to all. Its exceptional build quality, lifting mechanism, safety features, and portability surpasses expectations.
Key specs
Material: thin wall lightweight super strong carbon steel.
Load capacity lbs/kg: 500/226.7.
Minimum height inches/cm: 12/30.4.
Maximum height inches/cm: 15.5/39.3.
Platform dimensions inches/cm: 11×8/27.9×20.3.
Weight lbs/kg: 20.4/9.2.
Pros
Stable center post design.
Secure grip with anti-slip rubber top & feet.
The self-locking pedal stands for added safety.
Cons
Additional cost for bolt-on wedge kit.
The paint is easily rubbed off.
Titan Ramps Hydraulic Motorcycle Lift Table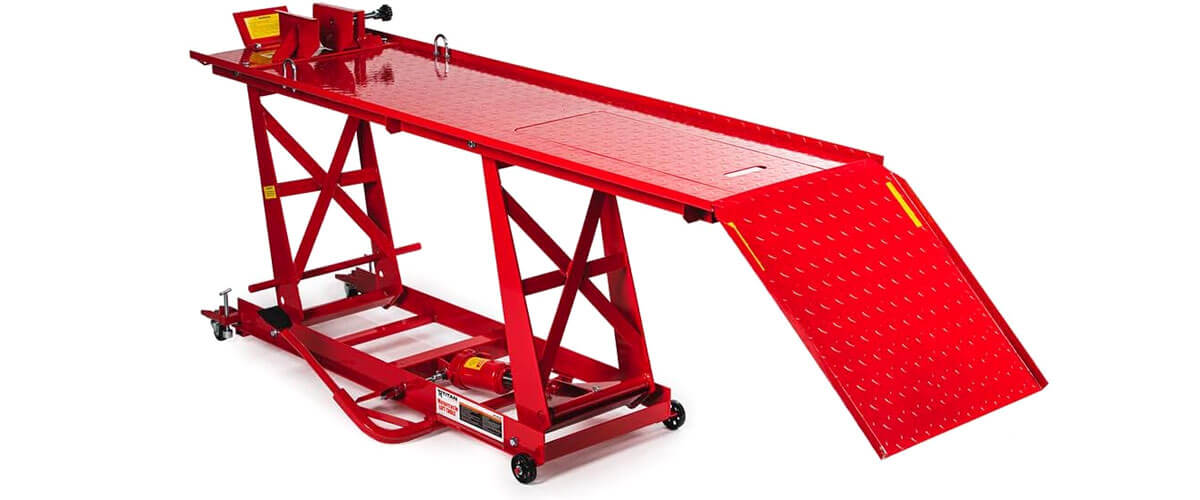 So, finally comes the last but not least — Titan Ramps Hydraulic Motorcycle Lift Table. It can be a true lifesaver for motorcycle and DIY lovers like me. By the way, It is also widely acknowledged as a reliable motorcycle lift stand for Harley Davidson. With its outstanding build quality and durability, this heavy-duty 11-Ga steel lift can effortlessly handle motorcycles weighing up to 1,000 lb.
Its two-pedal hydraulic system makes operation smooth and efficient, allowing easy raising and lowering of the table. The diamond plate surface confirms a secure grip on my bike, while the front-wheel clamp, safety lock bar, and rear drop panel provide extra safety during maintenance and repairs.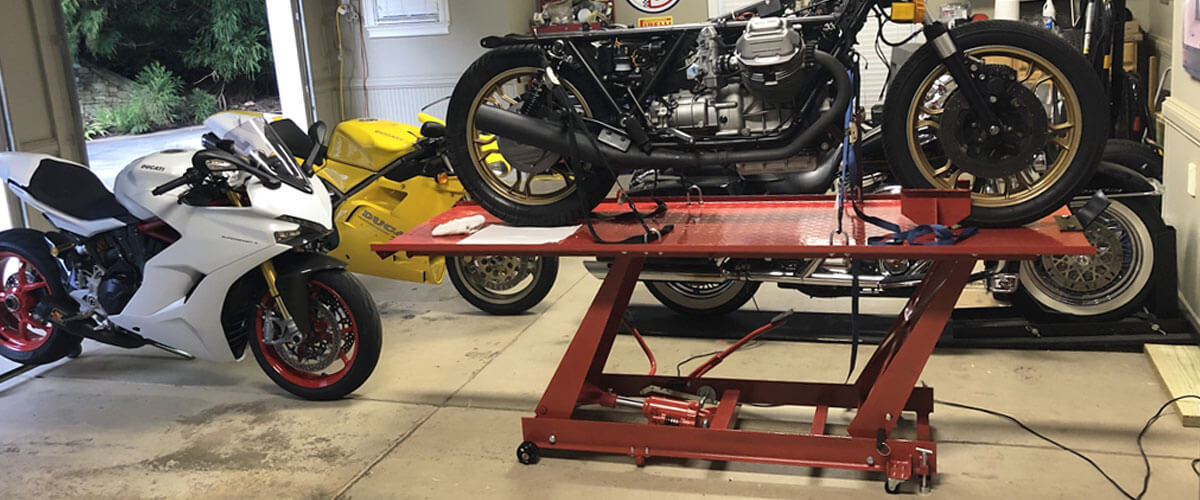 One aspect to note is the lifting height range, which spans 8.5 inches to 34 inches, making it perfect for various repair tasks. However, the narrow design may be challenging for bigger bikes. I addressed this issue by purchasing extension panels to widen the lift, providing a stable platform to hold my touring bike securely.
The Titan Ramps Motorcycle Lift Table is undoubtedly a great investment. Its excellent value for money and the convenience of hydraulic operation make it a must-have for motorcycle owners who prefer to handle their own maintenance. Just be prepared to make some adjustments, and you'll have a reliable motorcycle lift stand that simplifies your repair tasks for years.
Key specs
Material: heavy-duty 11-Ga steel.
Load capacity lbs/kg: 1000/453.5.
Minimum height inches/cm: 8.5/21.5.
Maximum height inches/cm: 34/86.3.
Platform dimensions inches/cm: 81.2×21.7/206,2×55.1.
Weight lbs/kg: 244/110.6.
Pros
Heavy-duty 11-Ga steel construction for durability.
Awesome lifting capability to 34 inches.
Built-in front-wheel clamp, safety lock bar, and rear drop panel for safety.
Cons
A narrow design may not accommodate larger or heavier bikes.
Requires adjustments to achieve proper results.
Types of motorcycle jacks and lifts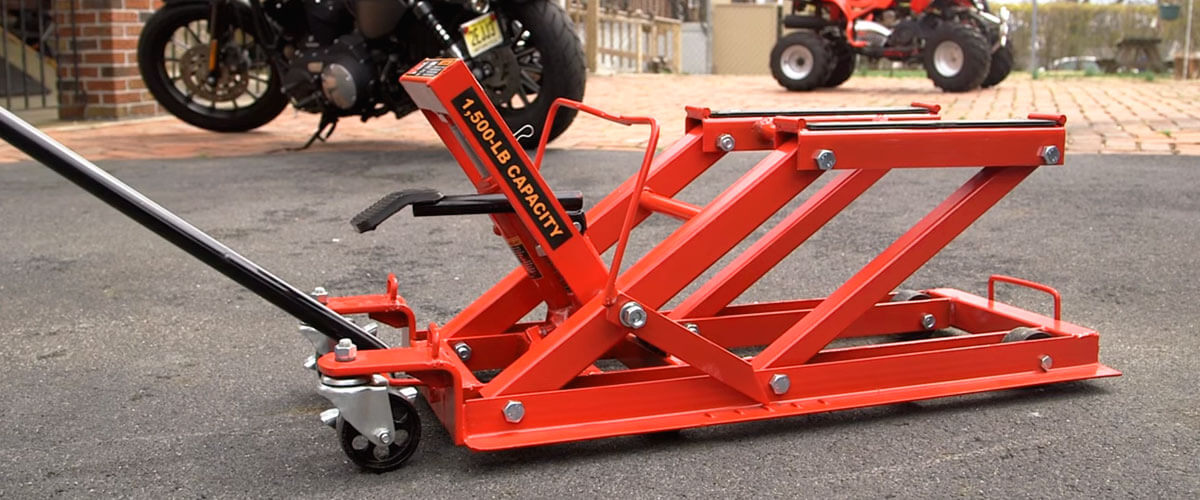 Regarding motorcycle maintenance, having the right jack or lift can make all the difference. Several types are available on the market, each with its own pros and cons.
Scissor jacks
Scissor jacks are simple and budget-friendly options. They're typically compact and lightweight, making them easy to store and carry around. They work by using a mechanical scissor mechanism to lift the motorcycle. However, they do have limitations in terms of load capacity and may not be suitable for heavier bikes. If you have a smaller motorcycle and want a cost-effective and portable solution, a scissor jack could be a good choice.
Pros
Affordable.
Portable and easy to store.
Suitable for smaller bikes.
Cons
Limited load capacity.
May require more effort to use.
Hydraulic jacks
Hydraulic jacks offer greater lifting capacity and are well-suited for heavier motorcycles. They use hydraulic fluid and a pump system to raise and lower the bike with minimal effort from the user. This type of jack provides excellent stability and control while working on your bike. However, they can be bulkier and heavier compared to scissor jacks, which might be a concern if you have limited storage space or need to transport the jack frequently.
Pros
Higher load capacity.
Easy to use with minimal effort.
Provides stability during maintenance.
Cons
Bulkier and heavier.
Might be pricier than scissor jacks.
Pneumatic lifts
Pneumatic lifts are the heavy-duty champions of motorcycle jacks. They use compressed air to raise and lower your bike, making them incredibly effortless and efficient. Pneumatic lifts often come with additional features like adjustable height settings and better stability, ensuring a secure working platform. However, their robust capabilities come at a cost – they tend to be more expensive and require an air compressor to operate.
Pros
High load capacity.
Effortless lifting and lowering.
Enhanced stability and features.
Cons
Expensive.
Requires an air compressor.
Comparison table
| Type of motorcycle jack/lift | Load capacity | Portability | Ease of use |
| --- | --- | --- | --- |
| Scissor jack | Moderate | High | Easy |
| Hydraulic jack | High | Medium | Moderate |
| Pneumatic lift | Very high | Low | Easy |
Motorcycle enthusiasts have various other options. The motorcycle center jack provides stability for easy maintenance, while the compact motorbike floor jack saves space without compromising lifting power. For effortless lifting, the motorbike hydraulic jack uses hydraulic fluid, and the motorcycle screw jack offers a mechanical solution. Sportbike owners can benefit from a specialized sportbike jack designed for their needs. Lastly, a small motorcycle jack suits lighter bikes, making it a convenient and cost-effective choice. Whatever your ride, there's a perfect jack or lift to elevate your motorcycle maintenance experience!
Factors to consider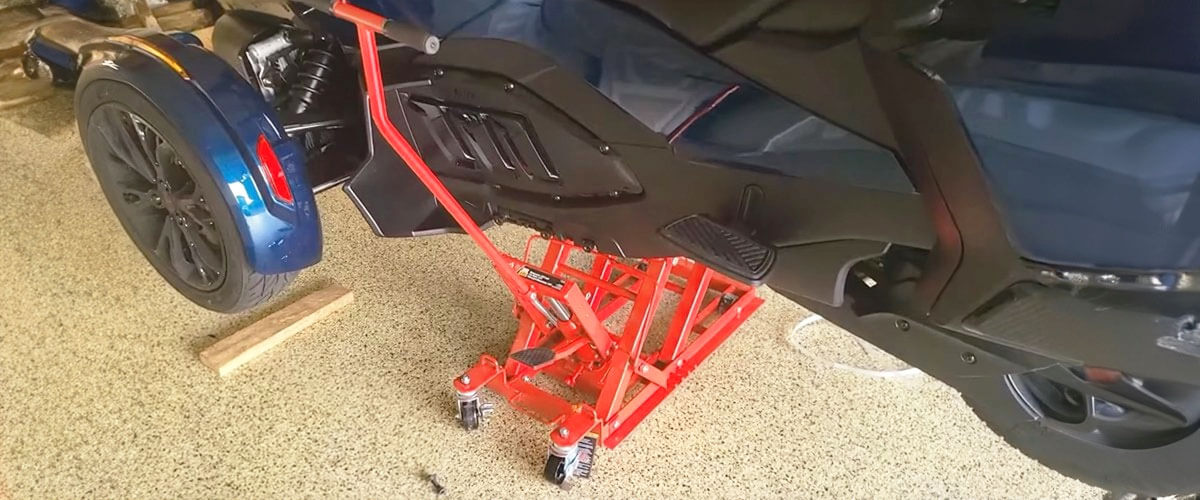 With so many options, how do you choose the right one for your beloved two-wheeled companion? Don't worry, I've got you covered! Let's dive into the factors you should consider when picking the perfect motorcycle jack or lift:
Load capacity: First, always check the load capacity of the jack or lift. It's vital to ensure it can handle the weight of your specific motorcycle. Exceeding the load capacity could lead to a dangerous accident, so make sure you get this right.
Construction and materials: Safety should always come first, so opt for a jack or lift made from high-quality materials with robust construction. Durability is key here, as you want your jack to stand the test of time and provide reliable performance throughout its life.
Height and lift range: Having a suitable lift height is essential for easy access to various parts of your motorcycle during maintenance or repairs. Check the lift range to ensure it meets your needs, especially if you have a taller bike. And if you own a low-profile motorcycle, consider using a specialized low-profile motorcycle jack.
Security features: Safety should never be compromised when working with heavy machinery like motorcycles. Look for features like locking mechanisms, safety bars, and anti-slip pads. These additions will prevent accidents and provide peace of mind while lifting your bike.
Portability and storage: A compact and lightweight design is a game-changer when it comes to storage and transport. A jack or lift that can be easily stored when not in use and carried with you on your adventures is a definite plus.
Compatible with motorcycle types: Keep in mind that not all jacks and lifts are created equal. Some may be better suited to certain types or sizes of motorcycles. Research the product specifications and read reviews to find one that suits your specific bike.
There you have it! With these factors in mind, you can confidently lift your ride and take care of your motorcycle like a pro!
FAQ
Are motorcycle jacks and lifts safe to use?
Yes! They are safe to use when used correctly and within their load capacity limits. Prioritize high-quality, sturdy models with safety features like locking mechanisms and anti-slip pads. Always follow the manufacturer's instructions and use appropriate safety precautions to ensure accident-free and successful lifting.
Are motorcycle lifts suitable for heavy motorcycles?
Yes, many motorcycle lifts are designed to handle heavy motorcycles. However, I advise checking the lift's load capacity and ensuring it can handle the weight of your specific heavy bike. Look for lifts with higher weight ratings and sturdy construction to provide the necessary support for your motorcycle.
Can I use a motorcycle jack or lift for other vehicles, such as ATVs or dirt bikes?
It's important to verify the compatibility and load capacity of any motorcycle jacks or lifts before using them for other vehicles, such as ATVs or dirt bikes. These lifts are created specifically for motorcycles, and using them on other vehicles may compromise their stability or safety. For ideal results and safety, it's recommended to use a lift or jack that's designed for the exact type of vehicle you're lifting.