A motorcycle cover is indispensable if you want to preserve the pristine look of your two-wheeled friend when you store it outdoors or indoors for extended periods. Also, this type of accessory will be handy when you take a trip in the mountains or elsewhere and want to protect your bike from the impacts when you stop by to take a rest. Luckily, there is a myriad of the best motorcycle covers available to choose from. If you hesitate about what product to select, I am here to help you make an educated decision.
Even though you may assume that all motorcycle covers are the same, there are still some things you've got to consider before you make a final decision about this or that model. So today, I will share hints on how not to get wrong with this product type and lay down motorcycle cover reviews to help you make your choice.
Why do you need a motorcycle cover?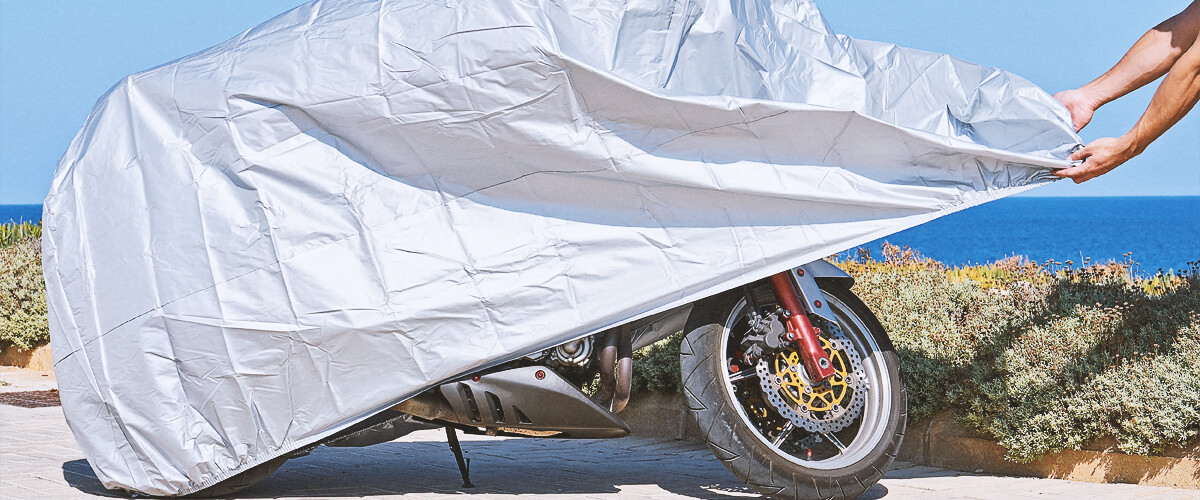 Motorcycle covers are essential for all riders, whether you store your bike in a garage or on the street. Motorcycle covers for outdoors provide crucial weather protection, shielding your motorcycle from rain, snow, UV rays, and extreme temperatures, preventing rust, fading, and electrical damage.
These accessories also act as a physical damage barrier, guarding against scratches, dings, and falling debris like leaves, tree sap, and bird droppings. Additionally, storage covers deter theft by concealing your bike's identity and, in some cases, come with built-in locks.
All-weather motorcycle covers ultimately save costs by reducing maintenance expenses like paint touch-ups and part replacements while preserving the appearance and extending your bike's lifespan. Plus, they enhance resale value, ensuring you maximize your investment when selling or upgrading your motorcycle.
Our pick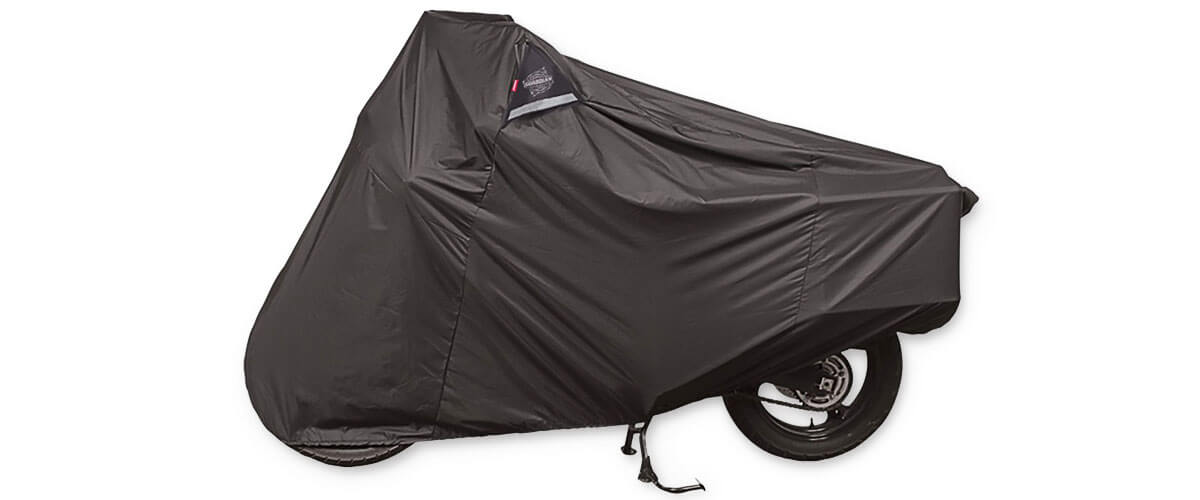 Dowco Guardian WeatherAll Plus
Best motorcycle cover
The Dowco WeatherAll Plus Motorcycle Cover is the industry-leading, full-size motorcycle cover, constructed to prevent fading, heat-sealed, taped seams, and reflective Moisture Guard vent system.
Read the full review.
Best motorcycle cover reviews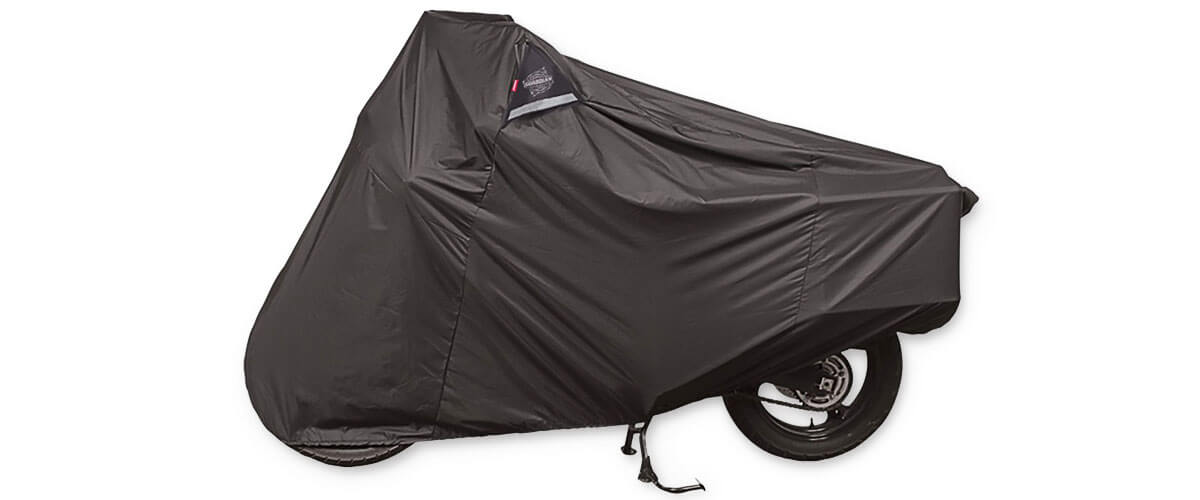 If you have a habit of parking your motorbike somewhere outdoors, you will be happy purchasing Dowco Guardian WeatherAll Plus. This cover boasts great features that enhance the properties of protecting the bike from severe weather or other impacts. Most importantly, it is available in around eight sizes to be compatible with any bike.
This outdoor motorcycle cover is made of ClimaShield Plus 300D polyester, with plenty of handy advantages like durability, resistance to fading, water, and weather fluctuations. The GuardVent system lets moisture escape from the inside of the cover through vents. A pleasant bonus you may enjoy in this cover is the availability of the sewn-in pocket for a guard alarm system, which may add some rating to this item compared to the Nelson-Rigg Deluxe.
The heat shield at the bottom of the cover doesn't trap hot air inside, but it has a downside. This part is not waterproof, so the Dowco motorcycle cover and your bike will get wet in the rain.
The Dowco Guardian WeatherAll Plus is well-built and doesn't have weak seams or rips even after a year of use. Its liner is soft, which is great as I do not worry about scratching my bike. Overall, this is the best motorcycle cover that is versatile and will last a long time.
Key specs
Size: L, XL, 2XL, 3XL, Sport Bike, Cruiser, Goldwing.
Material: 300D Solution Dyed Polyester.
Waterproof: yes.
Storage bag: yes.
Weight, lbs/kg: 7 / 3.17.
Pros
A sturdy, waterproof ClimaShield Plus 300D polyester.
Carefully sewn and well-made without losing its look and properties even after a year.
Features vents that keep water away.
Come with a pocket for a guard alarm.
Cons
The heat-resistant bottom is not waterproof.
Nelson-Rigg Deluxe – budget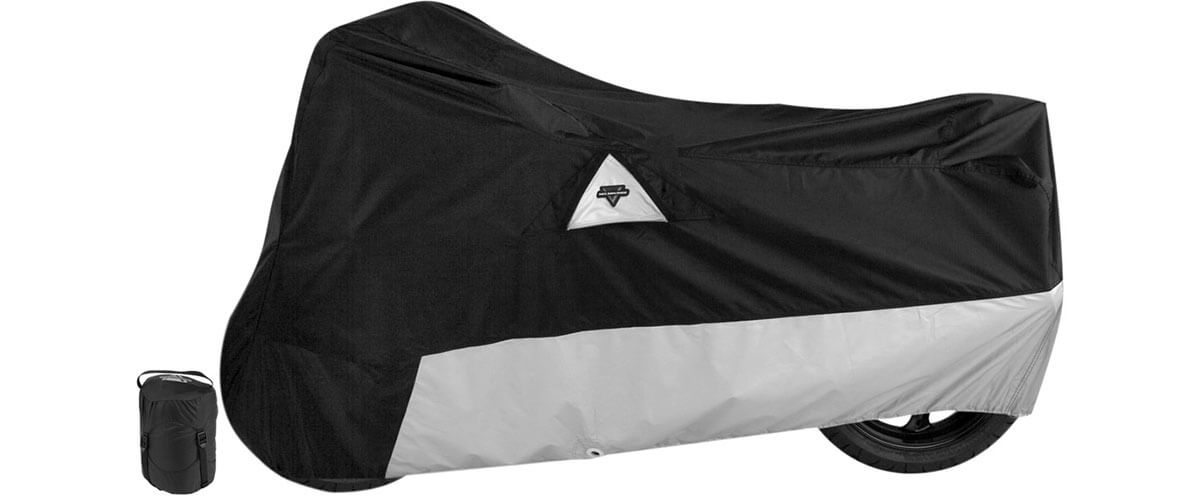 Take proper care of your bike while keeping it outdoors with the Nelson Rigg motorcycle cover. This is an indispensable accessory for your two-wheeled fellow that will repel water and protect it from direct UV rays. Moreover, it looks brighter than Dowco Guardian WeatherAll Plus if you choose yellow, blue, or red color options.
There are four sizes to fit different-sized motorcycles. From sport bikes and small cruisers to full-dress tourers, this cover is most likely to work. However, I had an issue with fitment. The cover I ordered was too tight over pointy parts, so I assume it will tear apart over less than six months, considering the quality of the material.
A few words about the material. It's not the best motorbike cover. However, it's still water-resistant and delivers UV protection to the bike. A ventilation system of the item allows air circulation, while heat-resistant lower panels prevent the fabric from melting or burning.
Nelson-Rigg Deluxe will perfectly meet your demand when you need an all-weather motorcycle cover without giving away all the money in the world.It will shield your bike from harsh weather, UV rays, scratches, or other impacts.
Key specs
Size: M, L, XL, 2XL, Sport Bike, Cruiser, Goldwing.
Material: UV-treated Tri-Max polyester.
Waterproof: yes.
Storage bag: yes.
Weight, lbs/kg: 1.6 / 0.72.
Pros
Available in several color options.
The cover keeps water away from the bike.
There is a ventilation system not to trap heat.
Cons
The material is not sturdy, so it won't last long.
The sizing is slightly off.
Nelson-Rigg UV-2000-LG – half cover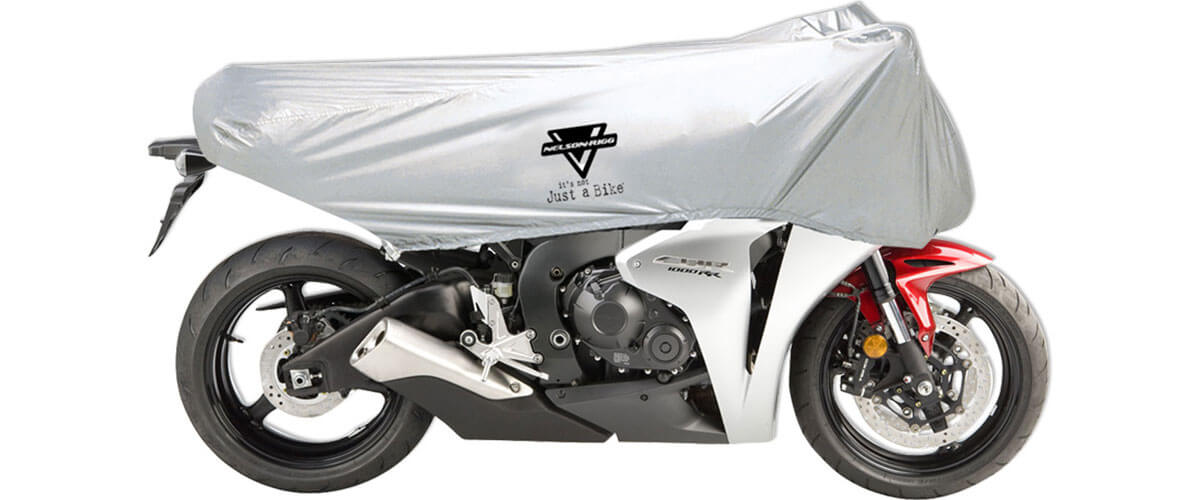 If you frequently cover the motorbike while the engine is hot, here is a bargain for you – Nelson-Rigg UV-2000-LG. Unlike Dowco Guardian Ultralite Plus, this model covers only the upper part of the bike, leaving the bottom completely unobstructed.
It's made of UV-protective nylon that blocks 99% of harmful sun rays and other natural impacts. The bottom of UV-2000-LG by Nelson-Rigg is elastic, so it fits fine. However, I am afraid this accessory won't stay on the leg fairing if it gets windy.
I have no complaints about the seams – I've been using this cover for my Harley Davidson for a few months already and haven't noticed any leaks. But because this product is waterproof and the engine heat can't escape, you may have some condensation when you leave the bike covered and the temperature drops.
So, this is a great solution when you have to leave your bike outdoors and would like to protect its leather parts and dash from impacts or direct sunlight. It covers only the upper part of the bike, just where sensitive and damage-prone parts are located.
Key specs
Size: M, L, XL, Sport Bike, Cruiser, Goldwing.
Material: UV Protected nylon.
Waterproof: yes.
Storage bag: yes.
Weight, lbs/kg: 1.1 / 0.49.
Pros
Protects the upper part of the bike from impacts.
Made of nylon that protects from sun rays and water.
Has an elastic bottom for an easier fit.
Cons
Won't stay on the leg fairing in windy weather.
Condensation under the cover may occur.
Dowco Guardian Ultralite Plus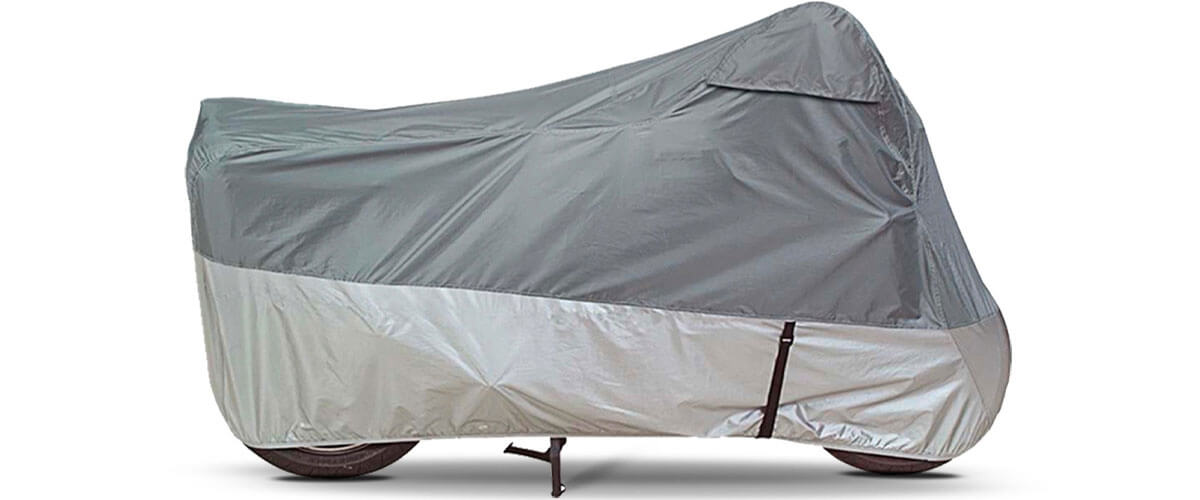 If you store your bike in a garage and want to find a lightweight motorcycle cover to protect it from scratches or dust, look no further than Dowco Guardian Ultralite Plus. As it's made of 75D nylon (compared to 300D nylon in the WeatherAll Plus model by the same brand), it makes a lighter option for bike owners who do not need severe protection from natural impacts. Despite its light weight, it doesn't get blown away by high winds, as there is a polyester webbing belly strap sewn into the cover.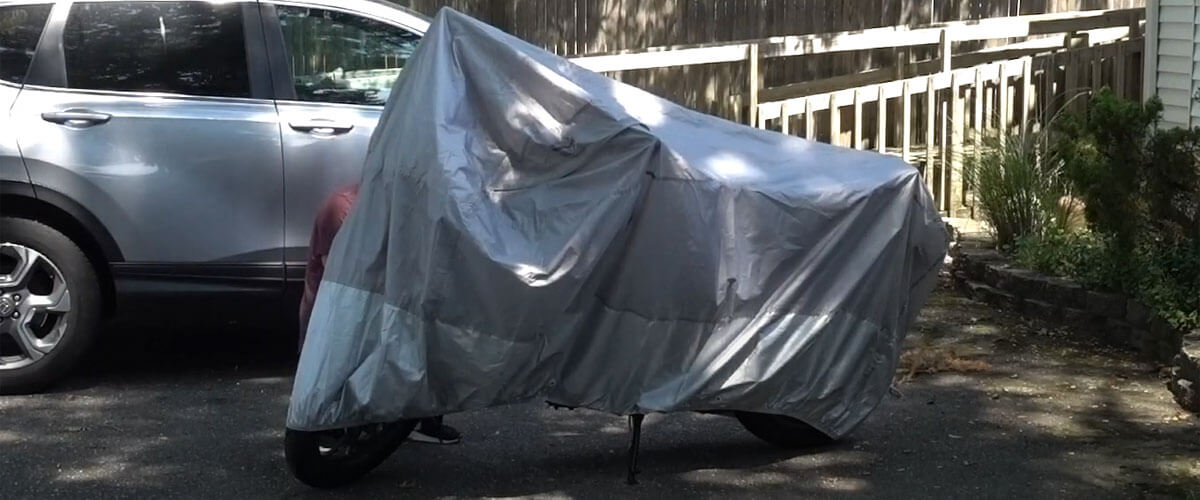 This is not a waterproof motorcycle cover, but if water gets on it, it dries quickly when you shake it off. The cover's interior has a soft cotton layer to protect the windshield from scratches. In addition, an elastic shock cord ensures a snug fit. By the way, I purchased a large size with the intent to cover my entire bike. So it was a surprise to see that it covered the hardtail bag.
If you choose Dowco Guardian Ultralite Plus as a cover for your motorcycle, you settle on lightness and ease of use. It's easy to clean and will easily fit your bike when you select the proper size out of the four available.
Key specs
Size: M, L, XL, Sport Bike, Cruiser, Goldwing.
Material: 75D Rip-stop Polyester.
Waterproof: yes.
Storage bag: yes.
Weight, lbs/kg: 2 / 0.90.
Pros
Dries quickly and is easy to clean.
Incorporates a polyester webbing belly strap to keep the cover in place.
A snug fit, while allowing to cover the bike with a tail bag.
Cons
Does not keep water away.
Mostly suitable for indoor bike storage.
Oxford Aquatex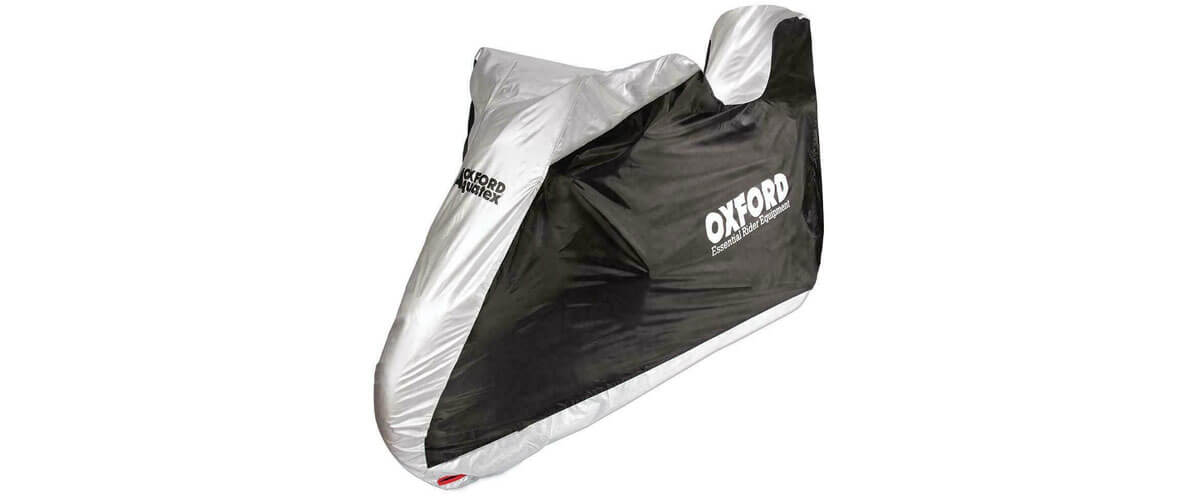 If your bike requires protection against dust, Oxford Aquatex heavy duty motorcycle cover will ensure it remains clean. It is more suitable for long-term storage when you do not need to hide your vehicle away from rain or snow.
This cover is made of double-stitched polyester, which is not very thick. As a result, this accessory won't boast extended longevity. I assume it will last for one season if you use it heavily.
Also, it is not water resistant, similar to Dowco Guardian Ultralite Plus, so if you leave your bike outdoors in rainy weather covered with this item, you will find your seat, dash, and other elements wet.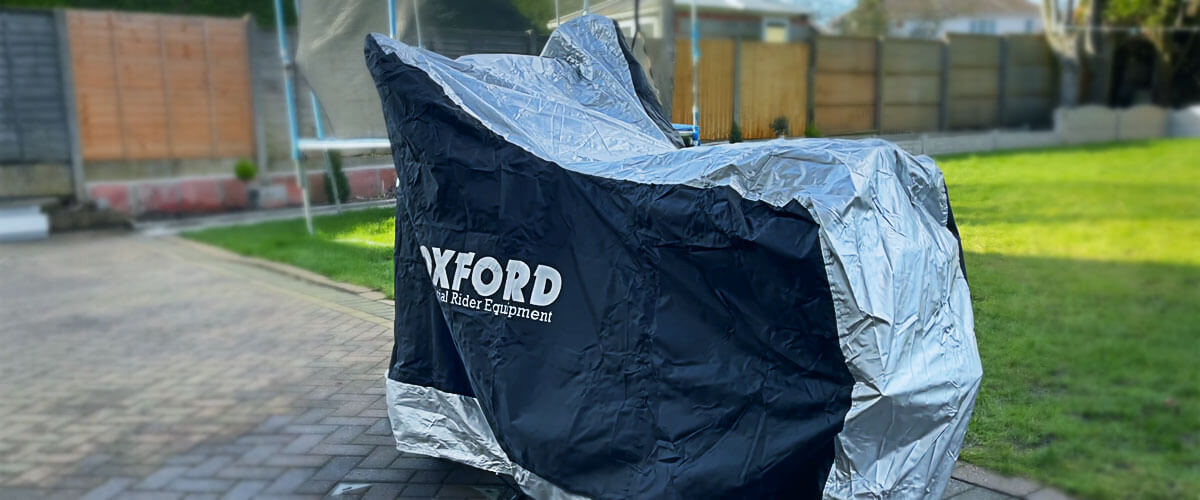 Let's move on to the advantages of this case. I like a strap and buckle in the middle that allows securing the cover so that it doesn't get blown away by the wind. Another advantage is the sizing. There are six sizes for you to choose from, so it can easily become your scooter or sport bike cover, depending on what type of bike you have.
The Oxford Aquatex is an average-quality cover that will deliver dust protection to your motorcycle if you plan to put it in storage.
Key specs
Size: M, L, XL, Sport Bike, Scooter, Cruiser, Goldwing.
Material: Double-stitched polyester.
Waterproof: yes.
Storage bag: yes.
Weight, lbs/kg: 1.15 / 0.52.
Pros
Provides a good level of dust protection.
Comes with a buckle and strap to prevent the cover from being blown away by the wind.
Different sizes for you to choose from.
Cons
Polyester is not thick enough to last long.
It is not a water-resistant cover.
VELMIA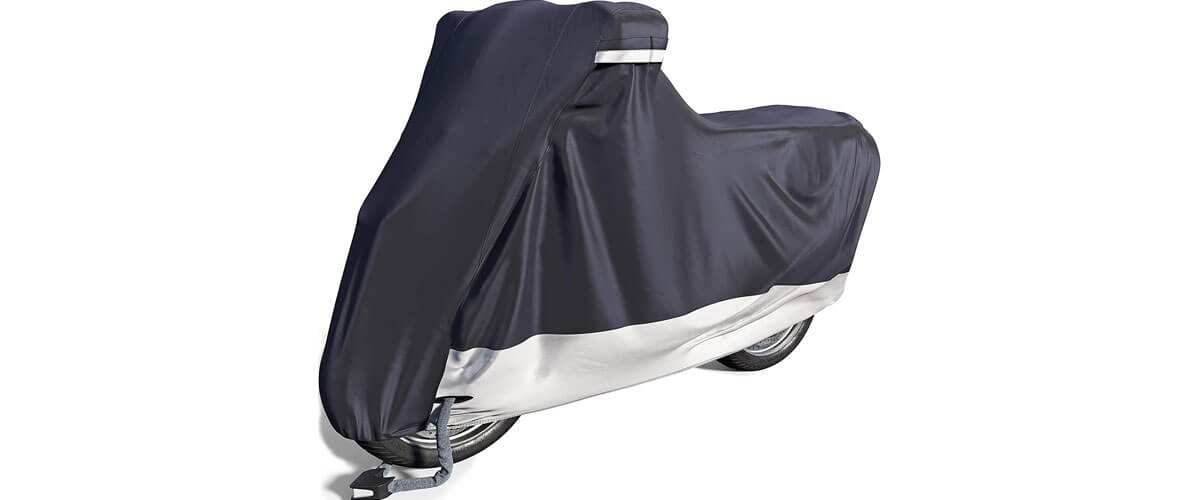 Get your motorbike properly stored with a VELMIA cover. It feels more durable than Oxford Aquatex, so it will protect your two-wheeler from rain, dust, wind, snow, birds, leaves, and whatnot.
This heat-resistant motorcycle cover features a bottom made of material that won't melt under the impact of the heated engine. The other part of the cover is made of polyester, which works great for protecting your bike from light rain, but may not be suitable for situations when it's pouring.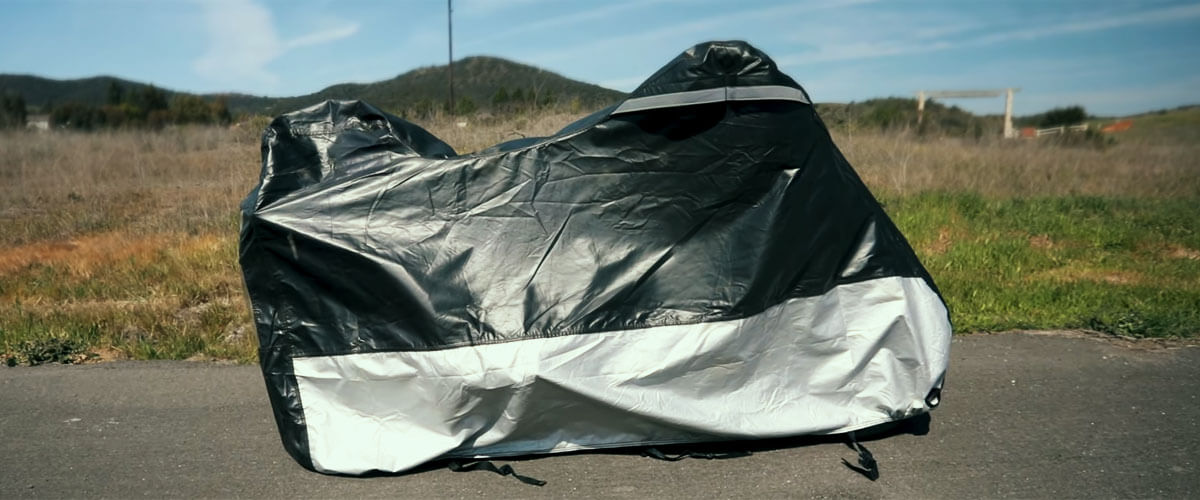 It has aluminum stitched parts on the bottom to secure the cover in place even in windy weather. I like the interior fleece part that protects the bike's paint from scratching. What surprised me was the clear window that shows your license plate.
The cover's sizing may have some deviations. I usually purchase a Large one, and most models fit perfectly. However, this one is too tight and doesn't cover the wheels, as shown in the picture.
As I weigh the pros and cons of the VELMIA cover, I see more positive things in this product. It will provide basic protection to your motorbike from most impacts, which is all you need from a cover.
Key specs
Size: XXL.
Material: Heat-resistant, Waterproof, UV-stabilized, Durable, Frost-resistant, Soft inner material, Tear-resistant, Breathable.
Waterproof: yes.
Storage bag: no.
Weight, lbs/kg: 4.5 / 2.04.
Pros
A sturdy polyester that protects from most impacts.
Comes with a heat-resistant bottom.
Include fleece padding to prevent bike scratches.
Features a window for a license plate.
Cons
It may not entirely protect the motorcycle from rain.
You should be careful with sizing – it can be too small.
Motorcycle covers buying guide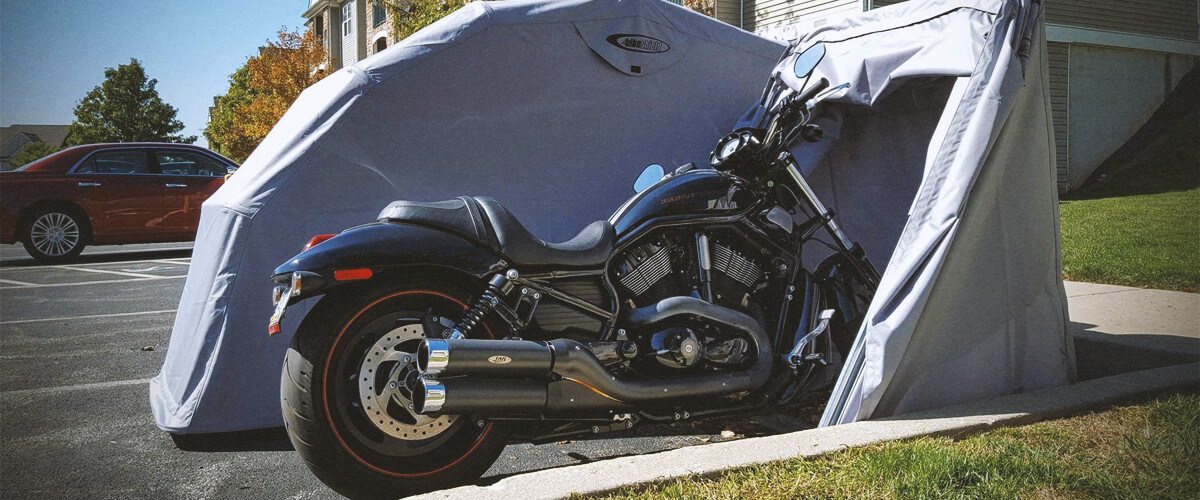 The market is overflooded with covers for motorbikes, so it may be challenging to pick the one that will meet your criteria. Should you pick a cheap motorcycle cover or spend some extra bucks to purchase a more durable and long-lasting item? In addition, motorcycle half covers aim to protect only the upper part of the bike, but are they any good? Is it necessary for the cover to be waterproof? These and other questions may pop up in your mind, but no worries. I compiled a list of features to consider so you can make your own judgments about what product will match your needs better.
Cover size
There are different types of bikes like touring or sports, which vary in their dimensions. That is why it is essential to compare the size of your motorbike to the dimensions of the cover to make sure it will fit. A bigger cover will do no harm, but a small one will be completely useless.
Waterproofing
Let's remember what motorbike covers are made for – they aim to protect the vehicle from harsh weather conditions or other impacts. That is why I recommend looking for a cover made of waterproof fabric to make sure you are ready for any challenge.
Heat resistant
Suppose you habitually put the cover on your motorbike right after you finish your ride. In that case, it's better to consider a model made of a heat-resistant material or featuring a heat shield. This way, the cover becomes resistant to melting even if it gets in contact with a heated exhaust pipe or engine.
UV protection
Those bike owners who frequently leave their two-wheelers outdoors should mind an option of UV protection in the cover. This will ensure the cover won't let harmful UV rays get to the motorcycle surface and prolong the accessory's lifespan.
Inner lining
Some covers come with a soft interior padding, which will protect the motorcycle surface from scratching. It will be good to know that more affordable models may feature the fleece lining right around sensitive areas like the windshield, while more advanced products will cover the entire bike.
Additional features
Some storage covers boast additional features that enhance the motorcycle storage experience. For example, you may find covers with breathable vents to keep moisture away from your vehicle and avoid mold spread. In addition, an elastic hem will ensure a snug cover fit, while belly straps will keep it in place. Finally, when you park outdoors, especially at night, you will benefit from the reflective trim that will make it visible from a distance.
FAQ
Do motorcycle covers cause rust?
There is no definitive answer to this question, as the effects of using a motorcycle cover can vary depending on the bike's model and the type of cover used. In some cases, using a motorcycle cover can help protect the bike from moisture and rust, while in other cases, using a cover can accelerate the process of rusting. Ultimately, it is up to the individual rider to decide whether or not using a motorcycle cover is worth the risk of causing rust.
Can I use a tarp to cover my motorcycle?
Yes, you can. A motorcycle tarp is one of the most hard-wearing materials among all textiles. Moreover, it is hardly the only one used to protect against fire, moisture, and stormy weather in general.
Should I cover my motorcycle in the garage?
Some experts believe that covering a motorcycle in the garage will extend its life, while others claim that this will actually do more harm than good. But I believe that if you cover your motorcycle in the garage, it certainly won't get worse.
Is it OK to leave the motorcycle outside?
The answer to this question depends on various factors, such as the location of the motorcycle, weather conditions, and the area's security. In general, it is usually not advisable to leave a motorcycle outside overnight, as it can be susceptible to theft or damage. However, if you can securely lock your motorcycle in a well-lit and populated area, it may be OK to leave it outside for short periods of time.
Should I cover my motorcycle every day?
Whether or not to cover a motorcycle is a personal preference. Some experts feel that it's necessary to keep the bike protected from the elements, while others believe that leaving it uncovered allows it to "breathe" and stay in better condition. But I believe that if there is such a choice, it is better to cover the motorcycle daily.
Should I cover my motorcycle when it rains?
I recommend
covering your bike in bad weather with a specialized motorcycle rain cover, but if you happen to get your steel friend in the rain, nothing wrong will happen. However, if your bike is exposed to water regularly, the brake discs may start to rust.
What size motorcycle cover do I need?
A motorcycle cover typically comes in different sizes, so you will need to measure your bike and find the right size cover.