Roaring down the open road on your motorcycle, the wind in your face, and the engine's growl under your control is an experience that defies comparison! Yet, even during this exhilarating journey, there are moments when you crave more than just the rumble of the engine and the rush of air. This is where the best motorcycle helmet speakers come into play, seamlessly merging your love for riding with your passion for music, communication, and navigation.
In the dynamic world of motorcycling gear, these helmet speakers have emerged as a game-changer, allowing riders to stay connected and entertained while staying focused on the road ahead. In this review, we embark on a journey of our own, delving into the realm of auditory companions for riders as we explore and evaluate the top 5 motorcycle helmet speakers of the 2023 season.
Our pick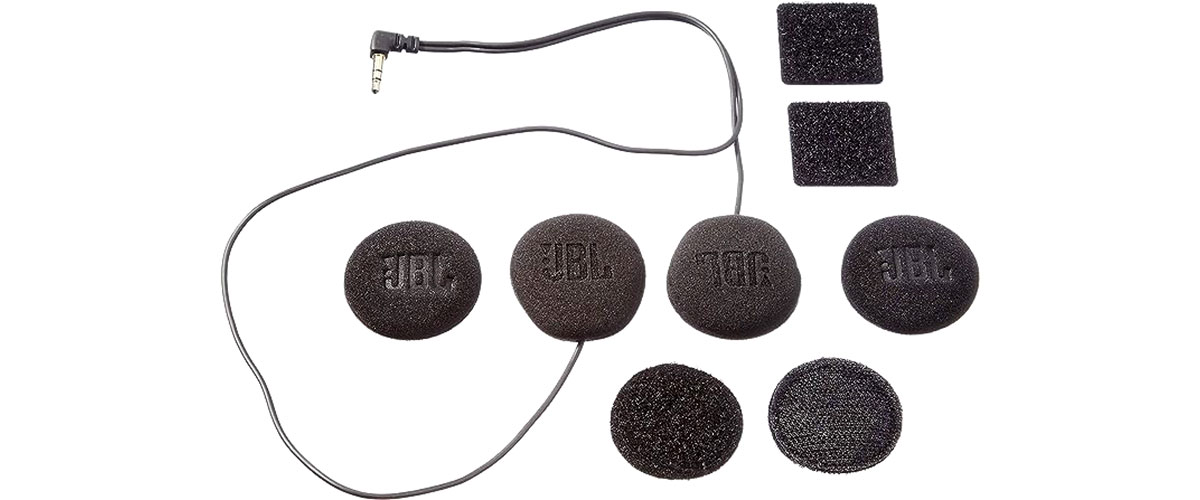 Cardo 45mm HD Audio Set
Best motorcycle helmet speakers
The Cardo 45mm JBL Audio Speaker Set boosts bass, amplifies treble and heightens your Bluetooth audio experience with a premium JBL-powered, 3.5mm headphone jack speaker set.
Read the full review
.
Are motorcycle helmet speakers really worth it?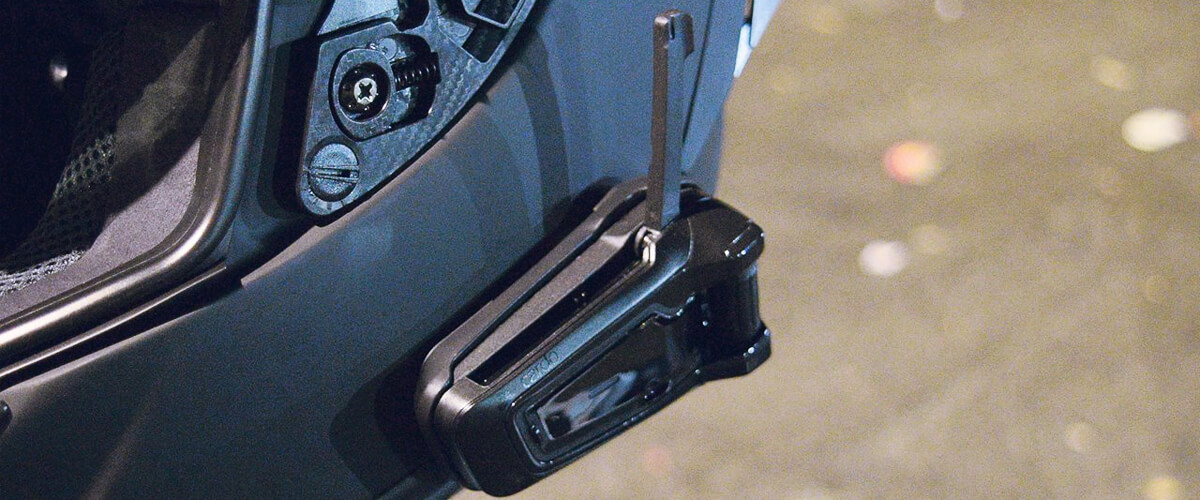 We continue to dive into the hot topic of motorcycle helmet speakers and whether they're truly worth the investment. Just a quick reminder, everyone has different preferences regarding what they consider "worth it". But, in my opinion, helmet speakers can really enhance your riding experience! And now I'm going to tell you exactly how.
Enhanced riding experience
You might have noticed that the standard built-in speakers in most helmets or communicators don't quite cut it for music lovers like us. The sound quality can be disappointing, leaving us longing for that perfect blend of engine rumble and soul-stirring tunes. That's where high-quality helmet speakers come in! Trust me, they are totally worth it.
Not only do the Bluetooth helmet speakers provide good sound, but they also offer a safer option for enjoying music. With proper helmet speakers, you won't have to fumble with earphones or risk distractions while riding. Safety first, right?
Hands-free communication
Many modern motorbike helmet speakers have built-in microphones that support hands-free calls. This fantastic feature allows you to connect to your smartphone and motorcycle intercoms effortlessly. You can now stay in touch with friends and family or even handle work calls without compromising your safety by fumbling with your phone while riding.
Imagine the convenience of communicating seamlessly without having to stop and take off your helmet or lose focus on the road. Hands-free communication lets you maintain full control over your bike and stay aware of your surroundings, ensuring a safer and more enjoyable riding experience.
Navigation aid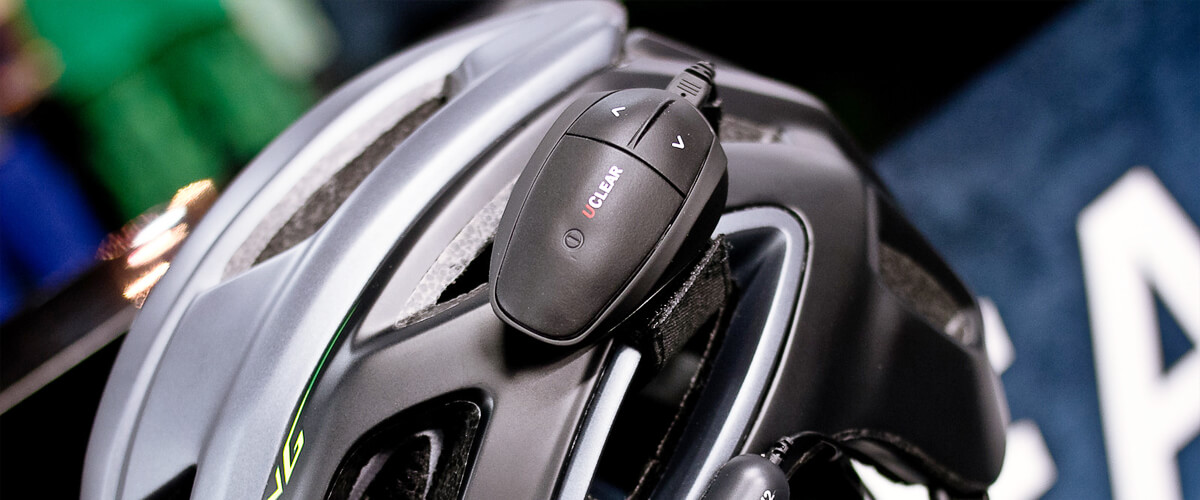 One of the coolest features of such motorcycle headsets is their ability to pair with your smartphone and play audio guidance from GPS navigation apps. With them, you can focus entirely on the ride, keeping your eyes where they belong – on the road. The convenience and safety benefits are undeniable. Plus, it's like having your personal guide accompany you on every adventure.
I've tried different brands and found some top-notch and best in-helmet speakers that offer excellent sound quality, long battery life, and easy installation. All of them are featured in my review, and I think you've already met some of them. You won't want to go back once you experience the freedom and peace of mind these helmet speakers bring.
Ease of use
Let's talk about ease of use! Unlike regular headphones that shuffle around or become bothersome under your helmet, motorcycle helmet speakers are tailor-made for this environment, offering unrivaled comfort and stability. They are ingeniously designed to fit seamlessly within your helmet, ensuring a snug and hassle-free experience.
In addition to their secure fit, these specialized speakers also boast user-friendly controls. With easily accessible buttons on the helmet's exterior, you can effortlessly adjust the volume, skip tracks, and even answer calls if your helmet speakers have a built-in microphone.
Best motorcycle helmet speakers reviews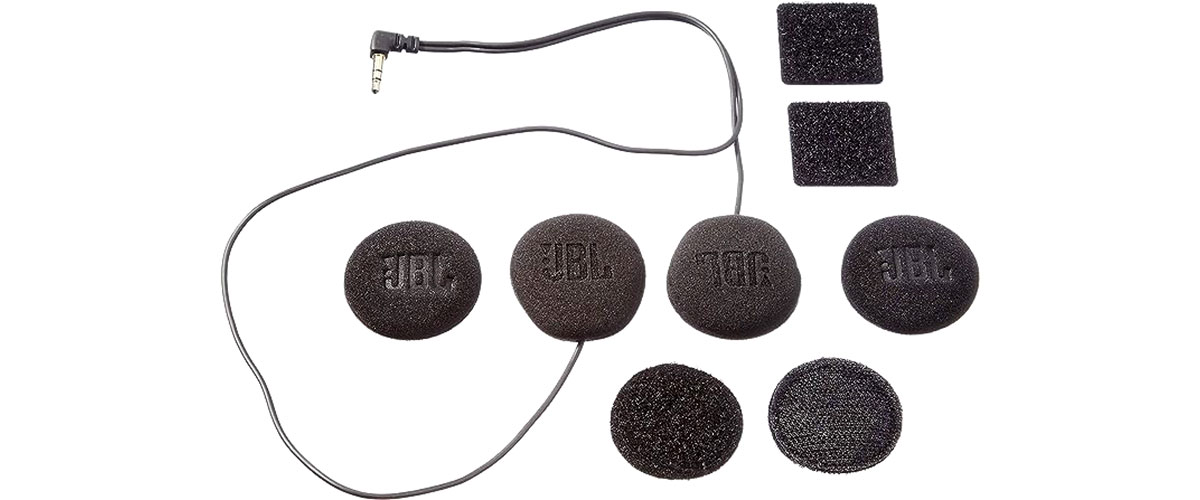 When I search for the most efficient solutions, whether a jacket, helmet, or speakers, I begin my reviews with the coolest product. So, I am introducing the Cardo 45mm HD Audio Set — the best helmet speakers in today's review. JBL is a trustworthy brand in terms of audio quality and precision. These helmet speakers redefine auditory excellence on the open road.
With over 70 years of audio expertise, JBL has fine-tuned Cardo's intercom systems, birthing a revolutionary 45mm speaker set. It is engineered to elevate the riding experience. This kit includes two sets of speakers, pads, and velcros for easy installation.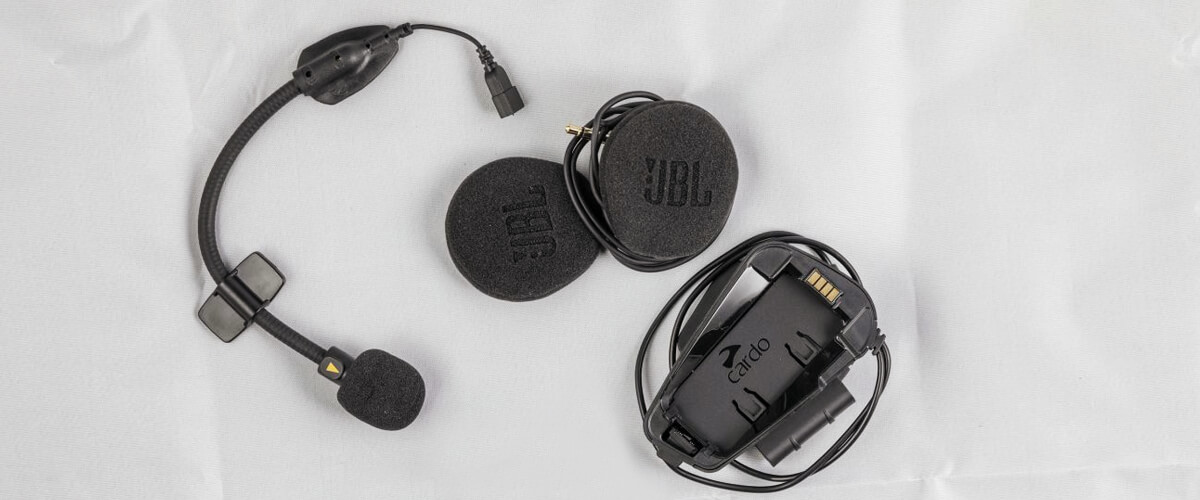 This model boasts a large-diameter driver for rich sound and a slim 42mm base to fit virtually any modern helmet. Talking about the sound quality, I tried these speakers in several helmets, and in every case, they delivered unparalleled sound quality with my Sena motorcycle communication system.
The speakers come equipped with a standard 3.5mm jack and harmonize with all communicators, regardless of brand. And if you're a Cardo FREECOM or PACKTALK owner, brace for an audio enhancement, thanks to the new JBL sound processor and firmware. Even if you're not, the power-packed hardware promises an auditory journey like no other model from the review.
Altogether, JBL's sound processing, equalizer sound profiles, and pristine 45mm speakers. This model offers a very nice way to enhance any helmet's audio system, allowing for quality music and clear GPS guidance.
Key specs
Connection: Bluetooth, 3.5mm headphone jack.
Weight, lbs/kg: 0.2/0.1.
Dimensions LxWxH, inches/cm: 7×5.5×2/17.7×13.9×5.
Pros
The speakers combine a large-diameter driver with a narrow base, ensuring a snug fit in almost any modern helmet.
Come with a standard 3.5mm jack.
The integrated JBL sound processor and equalizer sound profiles deliver pristine audio.
Cons
Non-standard systems might require adapters to connect.
Proper installation requires careful placement and alignment.
IASUS XSound 3 – also great
The next product on my list is the XSound 3 Helmet Speakers. The manufacturer promises the ultimate sonic journey, and I partly agree with them – the product may be unable to redefine the audio. Still, it offers genuinely quality motorcycle helmet speakers for music.
Swapping out my standard speakers for these beauties was like stepping into a concert hall on two wheels. The difference is astonishing – vocals are crisp, music notes are distinct, and the bass… oh, the bass! With up to 50% higher audio clarity, every beat resonates deep within, adding a new dimension to my riding playlist. The slim profile effortlessly fits into any helmet, boasting solid bass and crisp highs that rival full-sized headphones.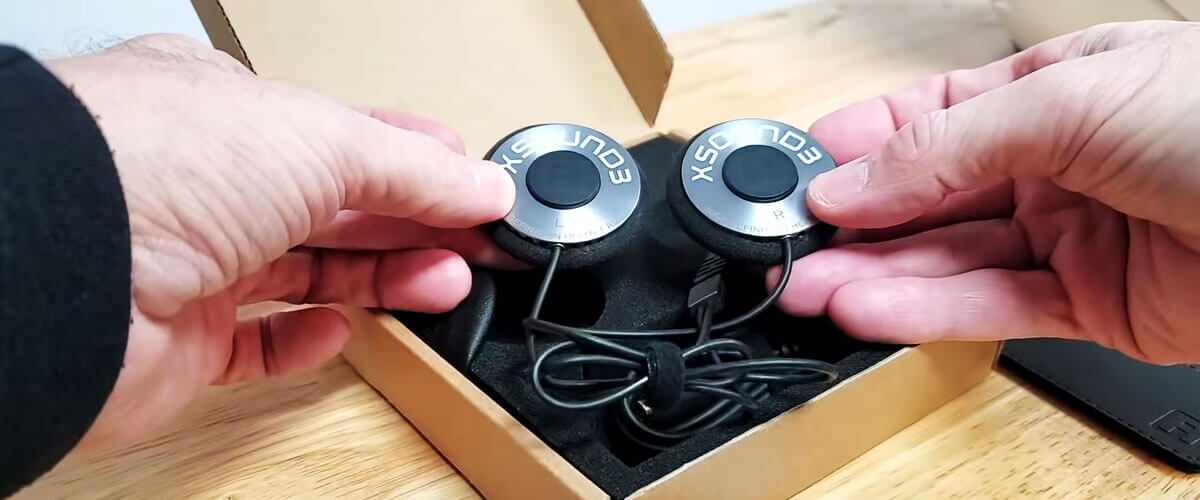 These speakers seamlessly integrate with popular Bluetooth systems like Cardo and Sena, enhancing the ride with rich, immersive music. The gold-plated connectors ensure premium audio quality. Durability is a given, designed to withstand extreme sports like skydiving and paragliding. Installing these speakers is a breeze, and the Kevlar-reinforced cables stay neatly tucked under the helmet lining.
IASUS offers personalization with different spacing pads for optimal speaker placement. A unique tool that optimizes ear positioning, transforming the ride into an exceptional auditory experience. The XSound 3 Helmet Speakers, crowned, represent the pinnacle of helmet speaker design. These third-generation speakers redefine audio for motorcyclists, turning each ride into a symphony of sound!
This product takes sound quality too far to be suitable for GPS guidance. I recommend picking the Sound 3 Helmet Speakers with music in mind. Because music is what makes these speakers shine!
Key specs
Connection: Bluetooth, 3.5mm headphone jack.
Weight, lbs/kg: 0.2/0.1.
Dimensions LxWxH, inches/cm: 0.3×1.7/0.9×4.5.
Pros
Ultra-thin aluminum design for superior acoustics.
High-quality bass and crisp audio performance.
Fits inside most helmets easily.
Durable for extreme sports activities.
Cons
Wired configuration limits wireless convenience.
Offers poor price/quality balance only if used for GPS guidance and calls.
Sena HD Speakers (Type A) – best for Sena systems
Going through the review, let me share my thoughts on the following speakers that are worth your attention. Can Sena HD Speakers (Type A) redefine your listening experience? Not really, but can they bring joy and make them more exciting and convenient—absolutely!
On the sound quality, the Sena HD Speakers don't offer exceptional crisps or clearness. Still, those are sufficient for calls, GPS guidance, and listening to music unless you are an audiophile with exceptional taste. But what makes these speakers a perfect pick for helmets with poor aerodynamics is that they are the loudest motorcycle helmet speakers in this review.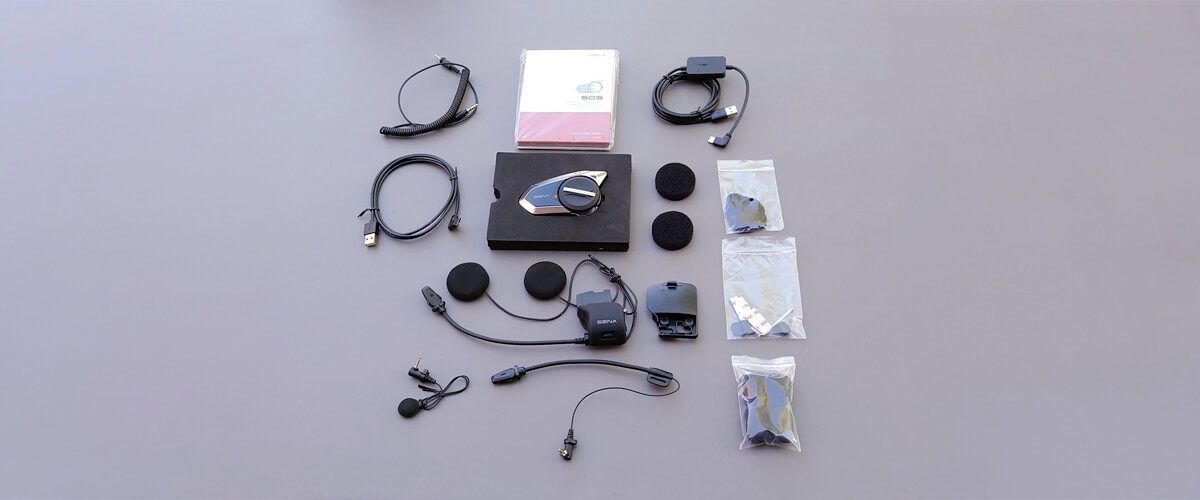 These speakers have no problems integrating with Sena and do it most efficiently among other products. And they also support Cardo units. It takes little time for them to sync up and become fully functional. The low-profile bevel design minimizes discomfort around the ears, even during long rides. They also fit snugly into existing helmet speaker pockets of the majority of popular helmets, ensuring a hassle-free installation process.
The connector cord accompanying the HD Speakers looks and feels quality. However, I still recommend using it cautiously because, from my experience, these cables get internal breaks at the least expected moment.
Sena HD Speakers (Type A) are a quality product for riders who want to enhance their sound systems and love Sena products. They are built with quality and comfort in mind, suit the majority of popular helmets, and are widely compatible with modern devices. This combination of factors won this product's place in today's review for these speakers.
Key specs
Connection: 3.5mm headphone jack.
Weight, lbs/kg: 0.1/0.04.
Dimensions LxWxH, inches/cm: 2.1×1.3×0.5/5.3×3.3×1.2.
Pros
The low-profile bevel design enhances comfort and aesthetics.
Optimized for Sena Bluetooth systems, but limited compatibility with other brands.
Cons
Cord management can be challenging and requires caution.
Limited visual design changes for an aesthetic upgrade.
JZAQ Ultra-Thin – budget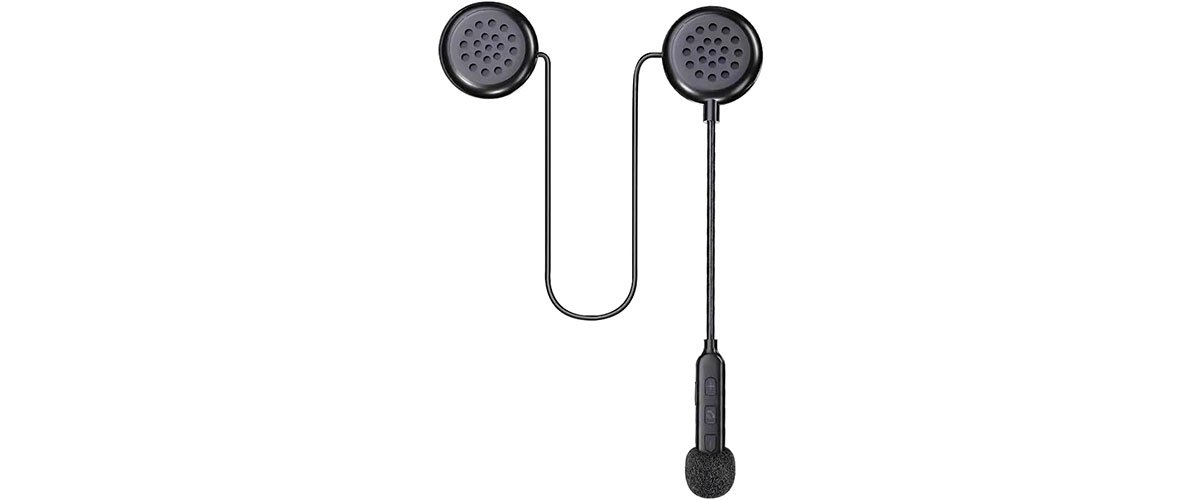 I recently tested the JZAQ Ultra-Thin Helmet Speakers. These budget-friendly speakers pretty impressed me with their performance, especially considering their price. That's why I added them to my review.
The most significant improvement I noticed was the remarkable enhancement in sound quality compared to the standard speakers that came with my helmet. The Ultra-Thin Helmet Speakers from JZAQ delivered enhanced clarity and depth. They are also loud enough to let me hear GPS guidance, voice notes, and music even at higher speeds.
Although JZAQ can't deliver the same sound quality as Cardo 45mm HD Audio Set, they are still very convenient. And again, no problems with Cardo and Sena. As someone who values staying connected while on the road, this was a crucial aspect for me, and JZAQ didn't disappoint.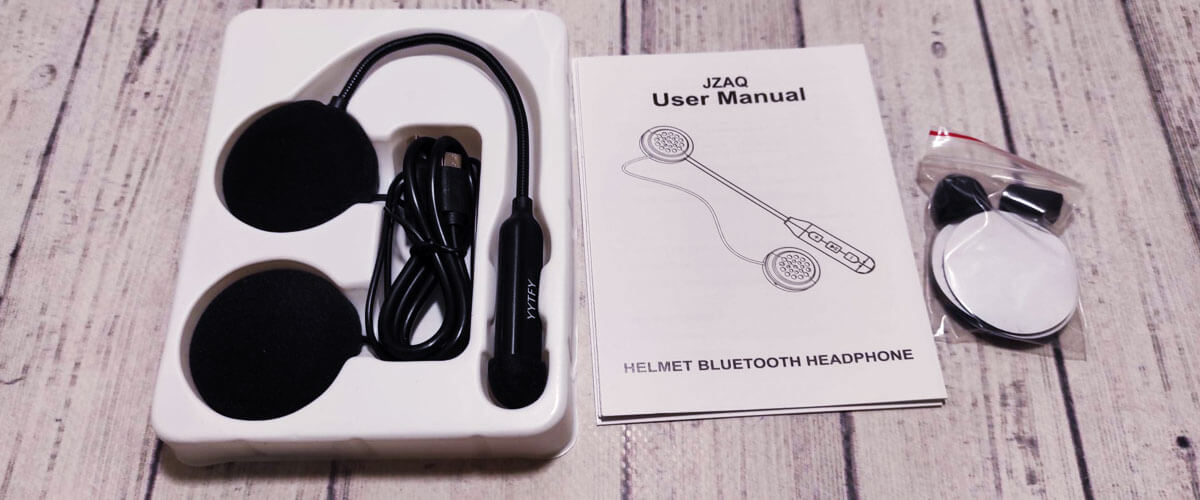 Furthermore, the speakers' compatibility extended beyond communication systems; they worked effortlessly with my smartphone and MP3 player, allowing me to enjoy music from various sources.
As for the practicalities, the connector cord's length was adequate, but still, I would prefer a longer one. The cable showed no signs of wear or fraying after my complex testing. However, I always recommend being cautious with wires, and this is not the exception. It is better to treat any wire as if it is fragile and weak. In this case, they will never disappoint or let you down.
In conclusion, the JZAQ Ultra-Thin Helmet Speakers have undeniably elevated my riding experience. The improved sound quality compared with the standard ones, seamless compatibility, affordable price, and practical design elements make them a fantastic investment for riders looking to add a touch of music and connectivity to their journeys.
Key specs
Connection: Bluetooth, 3.5mm headphone jack.
Weight, lbs/kg: 0.2/0.1.
Dimensions LxWxH, inches/cm: 5.7×4.4×0.9/14.4×11.1×2.2.
Pros
The clear and immersive audio experience.
Great value for their money.
Cons
Poor microphone performance.
Not loud enough at higher speeds combined with strong winds.
Pale bass compared to other models in the review.
UCLEAR Pulse Plus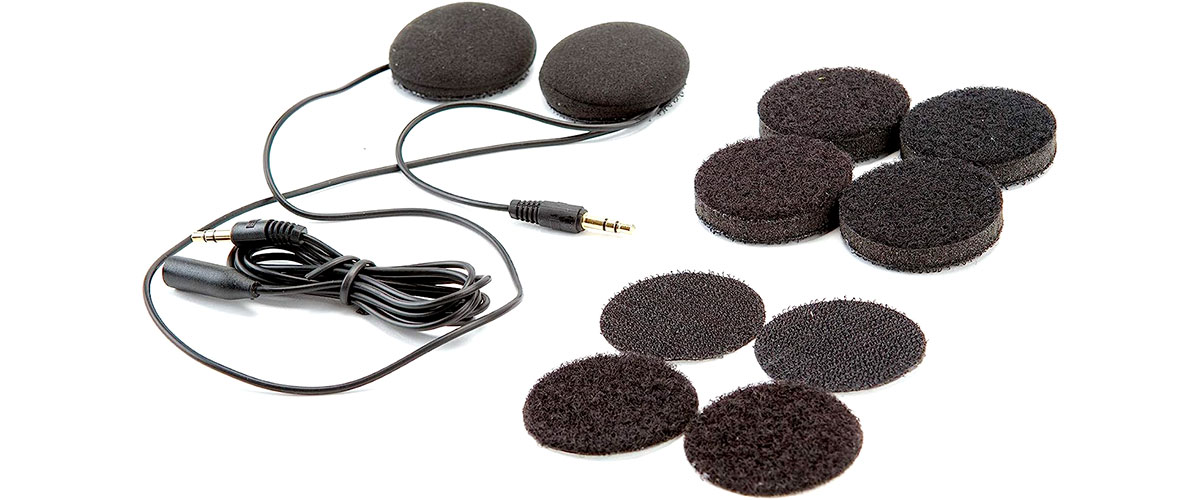 So here we are at the end of my review. Last but not least are the UCLEAR Pulse Plus helmet speakers, which are of no less quality or interest for riders. Let's dive into why these speakers stand out from the crowd.
Swapping out the standard speakers in my Bluetooth system (I use Cardo) for the Pulse Plus was like upgrading from a regular stereo to a concert hall experience. The audio quality is rich, delivering both extreme bass and crisp sound. I can even compare it to IASUS XSound 3, but the UCLEAR sometimes loses clearness with heights.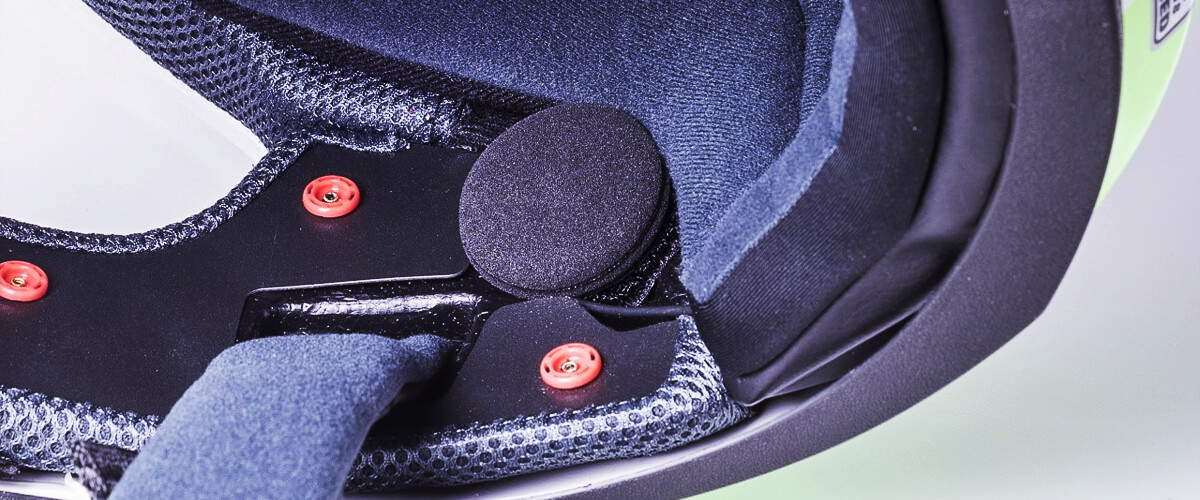 Talking about my setup, the Pulse Plus speakers are easily integrated with my Cardo Bluetooth system, demonstrating UCLEAR's commitment to versatility. Pairing them with my smartphone was easy, allowing me to take calls and control playback without any hitches. The thoughtful design lets me quickly transition from my full-face helmet during longer rides to a more open-faced one for short city commutes.
The UCLEAR Pulse Plus look and feel sturdy enough to withstand the demands of the open road. The speakers feature a gold-plated, standard 3.5mm stereo audio jack of exceptional quality. The cord is long enough for comfortable maneuvering and doesn't feel flimsy. It would be perfect if they also covered them in fabric, but I have nothing to say about their quality, even with what we have.
I believe that the UCLEAR Pulse Plus Helmet Speakers can truly elevate one's riding experience. The hi-fi sound, seamless compatibility, and sturdy build have all combined to provide an unmatched audio journey.
Key specs
Connection: 3.5mm headphone jack.
Weight, lbs/kg: 0.1/0.04.
Dimensions LxWxH, inches/cm: 6.5x3x1/16.5×7.6×2.5.
Pros
Hi-fi sound, extreme bass.
Easy in-line control.
Durable connector cord.
Simple helmet-to-helmet transfer.
Cons
Limited non-Android compatibility.
No noise cancellation for calls.
FAQ
Are helmet speakers legal?
Yes, motorcycle helmet speakers are legal to use in most places as long as they don't obstruct your hearing or violate any specific local laws. However, you must check your local regulations to ensure compliance and safe usage on the road.
Are motorcycle helmet speakers safe to use?
When used responsibly and at moderate volumes, motorcycle helmet speakers are generally safe. Nevertheless, it is important to prioritize road awareness and avoid playing music too loudly to remain aware of surrounding traffic and potential hazards.
Can I still hear traffic and other important sounds while using helmet speakers?
Absolutely! High-quality helmet speakers are designed with audio transparency in mind. You can listen to your favorite music inside of your helmet while being aware of traffic noise and other crucial sounds for your safety on the road.
Are motorcycle helmet speakers compatible with all types of helmets?
When looking for motorcycle helmet speakers, it's important to make sure they are compatible with your helmet. While most speakers are designed to fit various helmet types, it's still important to check the specifications beforehand. Luckily, many helmet speakers have a universal fit and can be quickly and easily installed in full-face, open-face, and modular helmets. I personally recommend looking for 40 mm speakers, which tend to provide a balanced audio experience with better sound quality.
Can I make phone calls using motorcycle helmet speakers?
Many helmet speakers on the market feature built-in microphones, allowing you to make and receive phone calls hands-free while riding. With this feature, you can stay connected and communicate with others while keeping your helmet on. This ensures a safer and more convenient riding experience.