Embarking on the open road, the wind in your hair, and the adrenaline coursing through your veins – riding a motorcycle is undeniably liberating. So, why search for the best motorcycle GPS tracker? However, amidst the thrill of the journey, a rider's worst nightmare looms in the shadows: motorcycle theft. Protecting your cherished two-wheeled companion is paramount, and that's where the revolutionary technology of motorcycle GPS (the Global Positioning System) trackers comes into play.
These cutting-edge devices offer real-time monitoring, turning your bike into an intelligent sentinel that never sleeps. With features like advanced satellite positioning, phone alarms, and seamless international coverage, these trackers ensure your precious ride remains safe and secure, even in the face of potential thieves.
In the dynamic world of motorcycling, where freedom and adventure are cherished values, security and comfort should never be compromised. In this article, I will explore the definition, purpose, and workings of motorcycle GPS trackers, uncovering the invaluable benefits they bring to riders across the globe. So, buckle up, and let's delve into motorcycle security like never before!
Our pick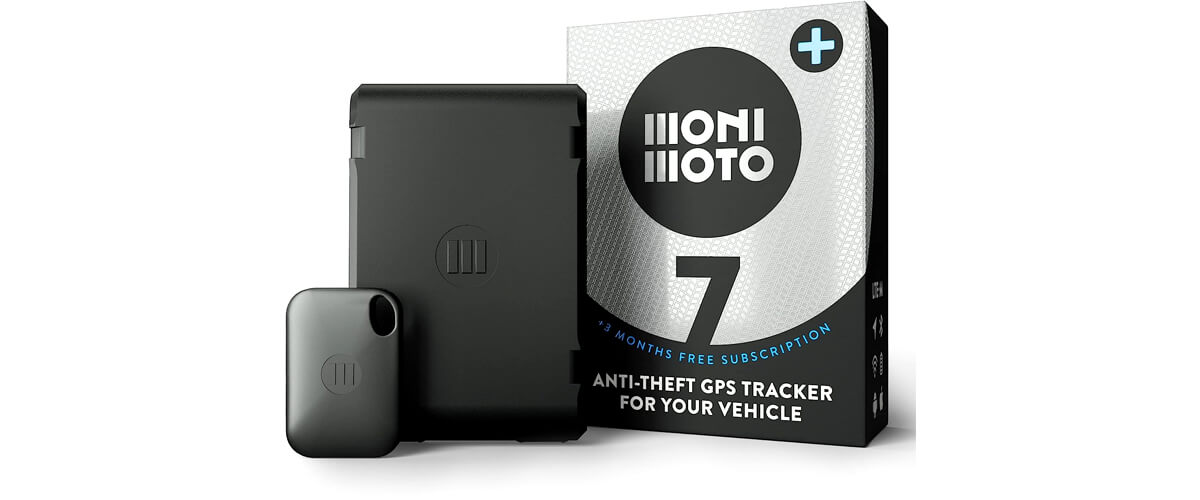 MoniMoto 7
Best motorcycle GPS tracker
The MoniMoto 7 Plus 3 Edition is a motorcycle GPS tracker and alarm for vehicles, scooters, and quad bike ATVs with DIY installation with no wiring required.
Read the full review
.
Best motorcycle GPS tracker reviews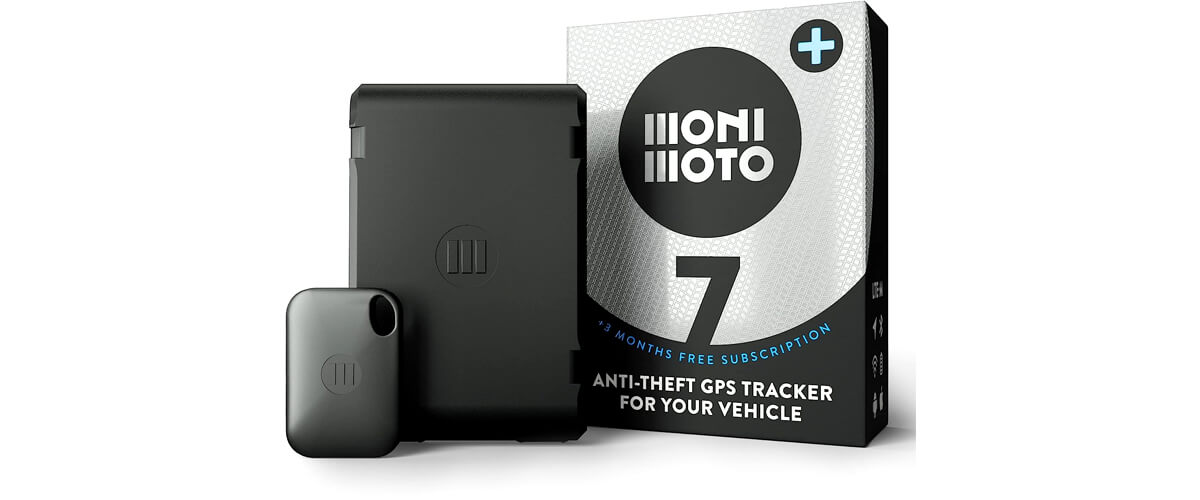 Safeguarding my cherished motorcycle has been my top priority when going on countless rides. My quest to find the ultimate motorcycle tracker has been nothing short of exhilarating, and amidst the sea of options, one device stands head and shoulders above the rest — the MoniMoto 7 GPS tracker. Allow me to take you on an enthralling journey as I recount my remarkable experience in this MoniMoto 7 review.
The MoniMoto 7 impresses right out of the box with its elegant and compact design. The build quality feels sturdy and durable, ensuring it can withstand the rigors of the road. The tracker is designed to be water-resistant, ensuring it remains functional and reliable in all weather conditions.
Installing the MoniMoto 7 was straightforward and didn't require one to be a tech-savvy expert. I loved their user-friendly manual and the accompanying iOS or Android app. The entire setup took me only about 10 minutes. No complex wiring or technical expertise is required.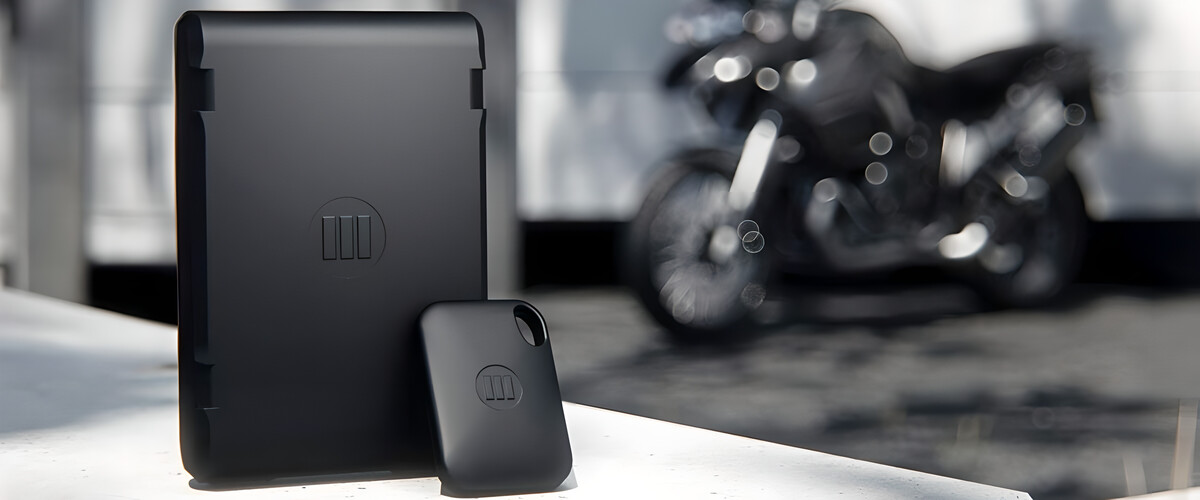 The GPS tracking performance of this device is nothing short of impressive. Utilizing advanced satellite positioning, it provides real-time updates on my motorcycle's location with pinpoint accuracy. Having tested it on various terrains and places, I can confidently say that this tracker's GPS accuracy and reliability are top-notch. It operates flawlessly, even in areas with poor cell service.
The tracker automatically arms itself when I'm away from the bike and disarms when I return, all thanks to the smart Key Fob. If anyone tries to tamper with my bike, the tracker sends an immediate alarm call to my phone.
Returning to the MoniMoto app, it is intuitive and user-friendly, offering a seamless experience. I can effortlessly monitor my motorcycle's location, battery status and receive daily updates on its whereabouts. The device runs on two long-life batteries lasting up to 12 months. So, no maintenance worries whatsoever.
In conclusion, the MoniMoto 7 stands tall as the best motorcycle tracker of 2023. Its outstanding design, top-notch performance, and comprehensive security features have set it apart. As an experienced motorcyclist, I can't help but recommend it to those who prioritize the safety of their solid investment.
Key specs
Connectivity: cellular, international E-SIM.
Batteries: 2 AA batteries required.
Dimensions LxWxH, inches/cm: 3.7×2.4×0.5/9.4×6.1×1.9.
Pros
Simple installation without hard wiring required.
Provides reliable and accurate location updates.
Tracker and key fob batteries last up to a year.
Comes with a tamper-proof sticker for added security.
Cons
App settings offer limited customization options.
Amcrest GPS Tracker GL300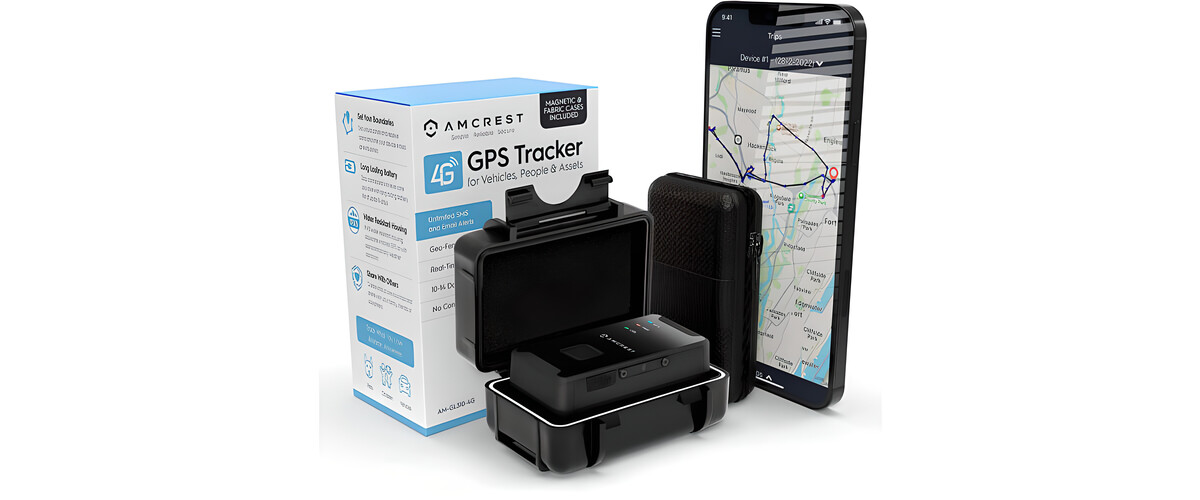 Amcrest GPS Tracker GL300 is another interesting model from my review that you should pay attention to. Let me take you on a journey through its remarkable features and why it stands out as a top-notch choice for motorcyclists.
The Amcrest GL300 boasts a sleek and packed design, barely larger than a matchbox, making it inconspicuous when mounted on my bike. The GL300's IPX5 weather resistance protects it from the elements, making it an ideal tracking device for motorcycle use. Rain or shine, this tracker delivers consistent performance.
The magnetic casing allowed me to attach the device securely to my motorcycle without complicated tools or wiring. Within minutes, it was ready to begin tracking my journeys. The GL300 operates on a 4G network, offering impressive coverage and accuracy. Its quad-band transmission ensures uninterrupted real-time tracking, providing me with precise location updates every 60 seconds.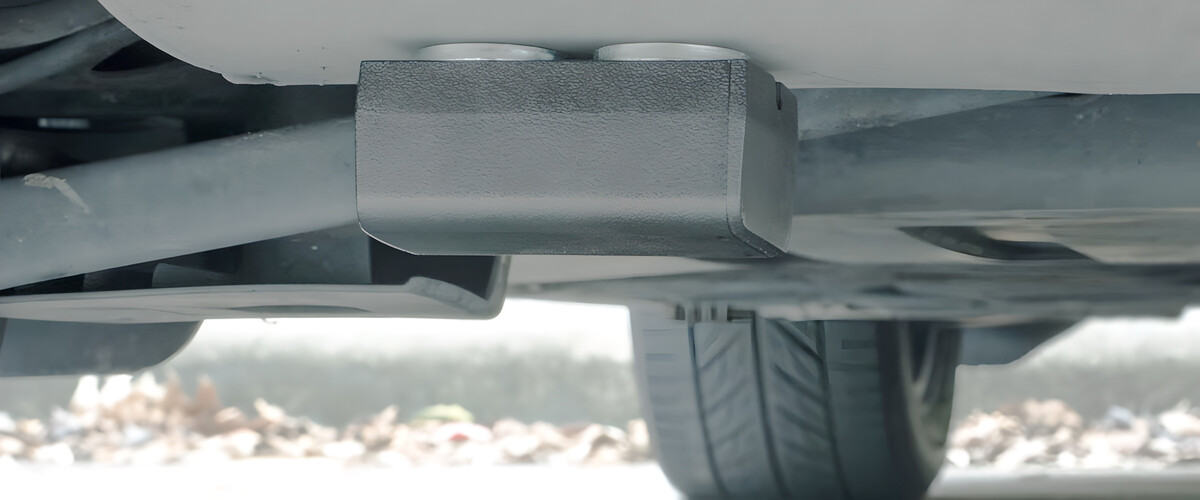 The GL300 has demonstrated exceptional GPS accuracy throughout my rides, providing reliable data on my motorcycle's location. Its intelligent battery alerts also ensure I'm always aware of low battery levels.
The GPS tracker has the SOS alarm function, easily activated by pressing the Function button. Additionally, the device alerts me when powered on or off, ensuring I stay informed about any unexpected activity.
In conclusion, if you're looking for the best motorcycle tracking device, the Amcrest GPS Tracker GL300 is one of the closest competitors to the winner of this review – MoniMoto 7. Its superior design, easy installation, reliable tracking performance, and features make it an awesome companion for any motorcycle enthusiast.
Key specs
Connectivity: cellular.
Batteries: li-polymer 2600mAh.
Dimensions LxWxH, inches/cm: 3×1.6×1/7.6x4x2.5.
Pros
Ultra-sensitive 3-way accelerometer grants it impressive conserving power capabilities.
Provides fast and secure real-time tracking.
Durable and suitable for use in different weather conditions.
Cons
The battery life varies based on the chosen tracking update frequency.
The device's tracking range may be constrained in areas with poor 4G LTE.
Brickhouse Security Spark Nano 7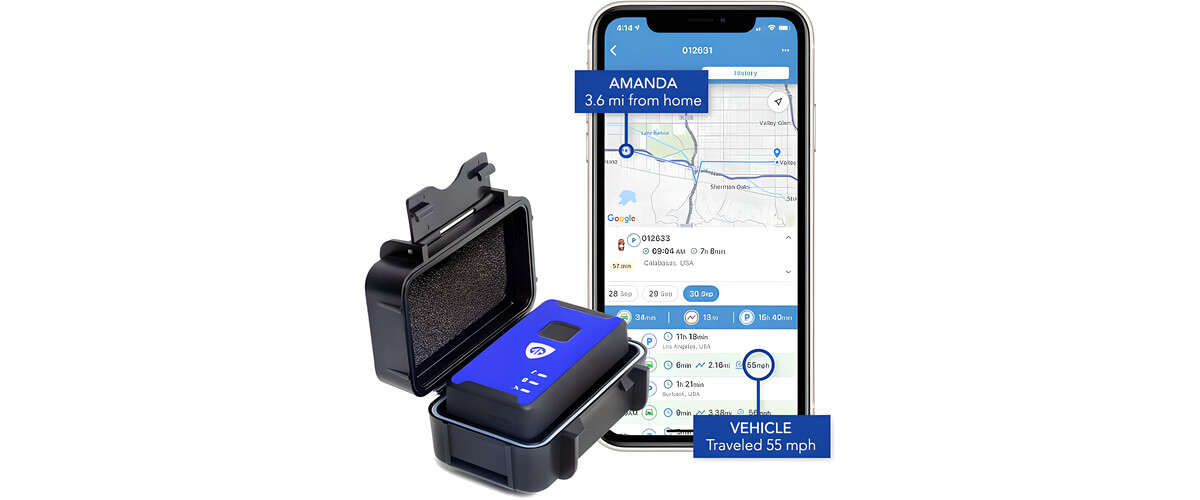 As an avid motorcyclist, always looking for the best GPS tracker for a motorcycle, I recently came across the Brickhouse Security Spark Nano 7, a micro GPS tracking device that promises real-time monitoring. Intrigued by its potential, I decided to put it to the test on my thrilling rides.
The Spark Nano 7 has a convenient design, perfectly complementing the aesthetics of my motorcycle. Moreover, the case is waterproof, and the sturdy build quality assured me of its durability even on rough terrains and resilience against the elements. However, the case of the device is slightly bigger than the Amcrest GPS Tracker GL300.
The installation process was surprisingly effortless. With its small form factor, I discreetly placed it on my bike without compromising the overall look, as it happens with others devices.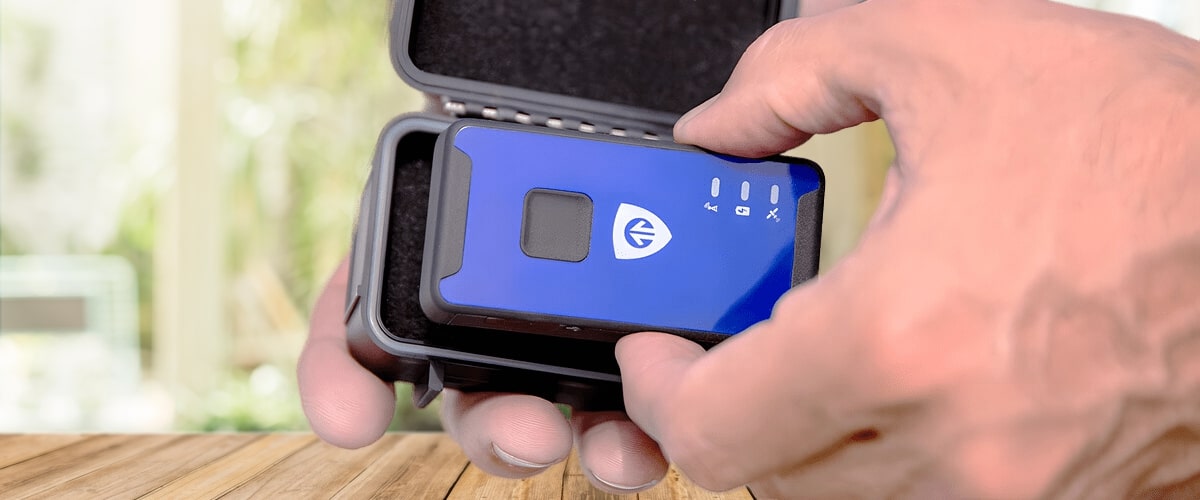 During my rides, the Spark Nano 7 provided accurate real-time location updates. Like the Amcrest GPS Tracker GL300, the Spark Nano 7 delivered uninterrupted tracking when navigating through bustling city streets or exploring remote routes. Altogether, both devices demonstrated outstanding GPS accuracy.
The tracker offers customizable geofences and speed alerts, promptly informing me of any unexpected activities and enabling me to react proactively. The real-time tracking capabilities of the Spark Nano 7 were awe-inspiring. The instant alerts on my smartphone app informed me of my motorcycle's movements, ensuring I remained in control.
The user-friendly smartphone app allowed me to monitor my motorcycle's location from anywhere without problems. The GPS tracker's battery life exceeded my expectations, as in battery-saving mode, this model can last longer than the GL300. With the option to switch to a rapid track mode for more frequent updates, I never had to worry about losing sight of my bike. The Spark Nano 7 also offers an emergency panic button.
The Brickhouse Security Spark Nano 7 stands out as a great product. Its exceptional tracking performance, security features, and user-friendly app make it a must-have for riders seeking real-time monitoring and peace of mind.
Key specs
Connectivity: cellular, SIM card.
Batteries: lithium-ion 2600mAh.
Device dimensions LxWxH, inches/cm: 3×1.5×1/7.6×3.8×2.5.
Pros
The device offers a rapid track mode for more accurate real-time tracking.
Has comprehensive geofencing capabilities.
Includes a panic button that can be pressed to send an alert to the connected app.
It comes in a compact and discrete design.
Supplied with an optional magnetic case.
Cons
The battery life in full tracking mode is limited (around 15 hours).
The tracker requires a 4G connection for live tracking.
The device's SOS alert button sends alerts to the connected app but is not directly connected to emergency services.
Tracki GPS Tracker – budget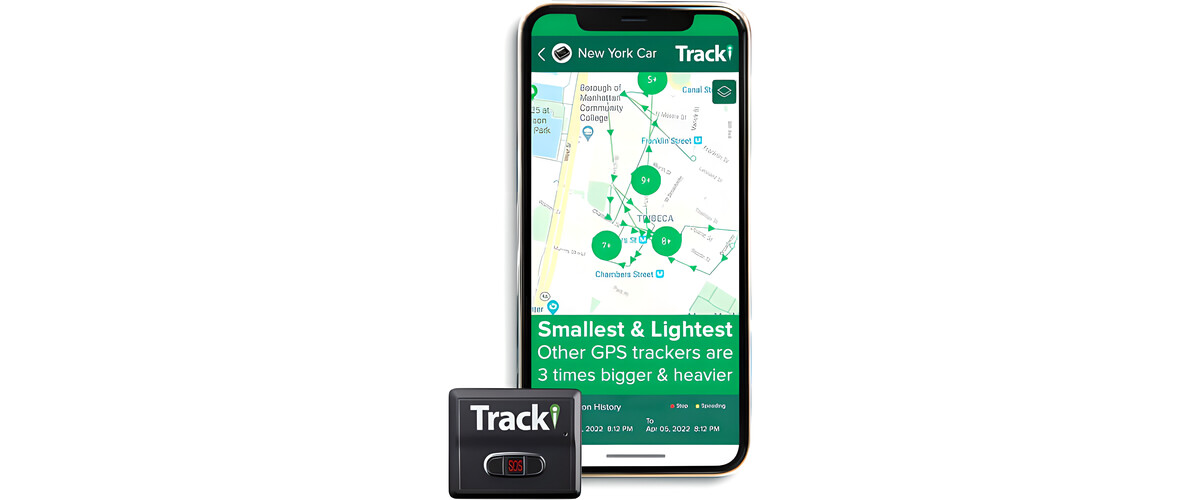 When one has cash, purchasing anything becomes pretty straightforward—you buy, use, and either keep it if the device is suitable or throw it away and repeat the process. But what if you want to do as much as possible for your limited money? Fear not, for I've uncovered a true gem in the sea of budget options—the Tracki GPS Tracker.
Its intelligent and discreet design effortlessly blends with a motorcycle, offering secure and careful positioning. Installing the Tracki GPS Tracker didn't take much effort; within minutes, I had it perfectly attached and ready to embark on thrilling adventures.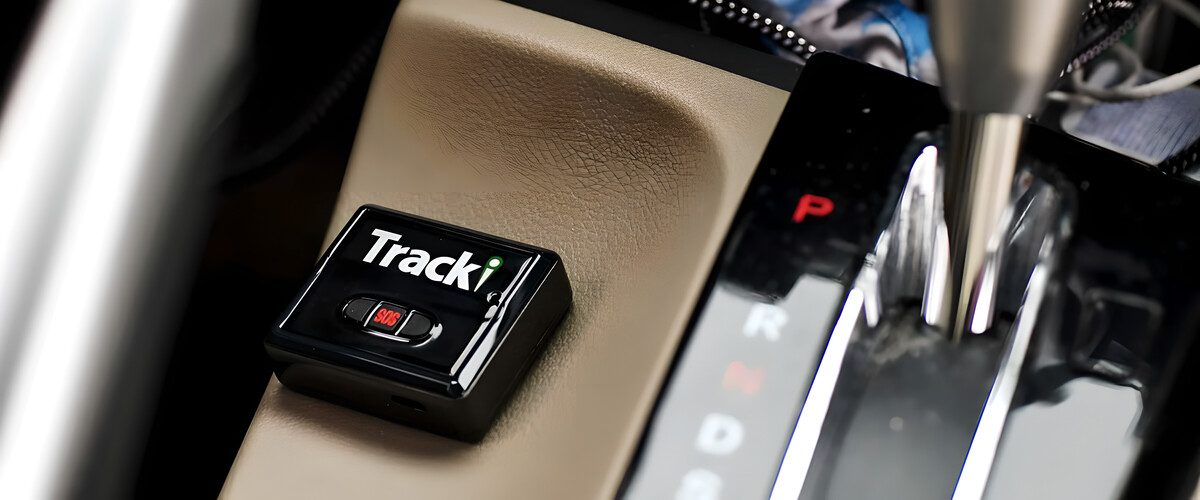 But what truly makes Tracki shine brighter than the other budget devices is its unparalleled tracking performance. Regardless of your location, this device keeps you constantly updated on your motorcycle's location. And the icing on the cake? The app's interface is so intuitive and user-friendly that it's like having a personal motorcycle detective at your fingertips, providing valuable insights into your bike's movements and history.
The tracker promptly alerts you when any unauthorized movement is detected, safeguarding your bike from potential theft. The alerts are typically sent to your smartphone. It is also great to know that the device operates worldwide.
So, if you're searching for the crème de la crème of motorcycle tracking devices but on a budget, your search ends with Tracki GPS Tracker. Indeed, it is not the best motorcycle tracking device in this world, but sometimes you may even forget that this is a budget product because of how well it functions.
Key specs
Connectivity: cellular, SIM card.
Batteries: magnetic battery 3500mAh.
Dimensions LxWxH, inches/cm: 1.7×1.5×0.5/4.4×3.8×1.3.
Pros
The device provides accurate location tracking.
Customer service is beneficial and responsive.
Cons
The device's waterproofing might not be sufficient for specific environments.
The frequent update mode drains the battery in no time.
Apple AirTag – worthy of mentioning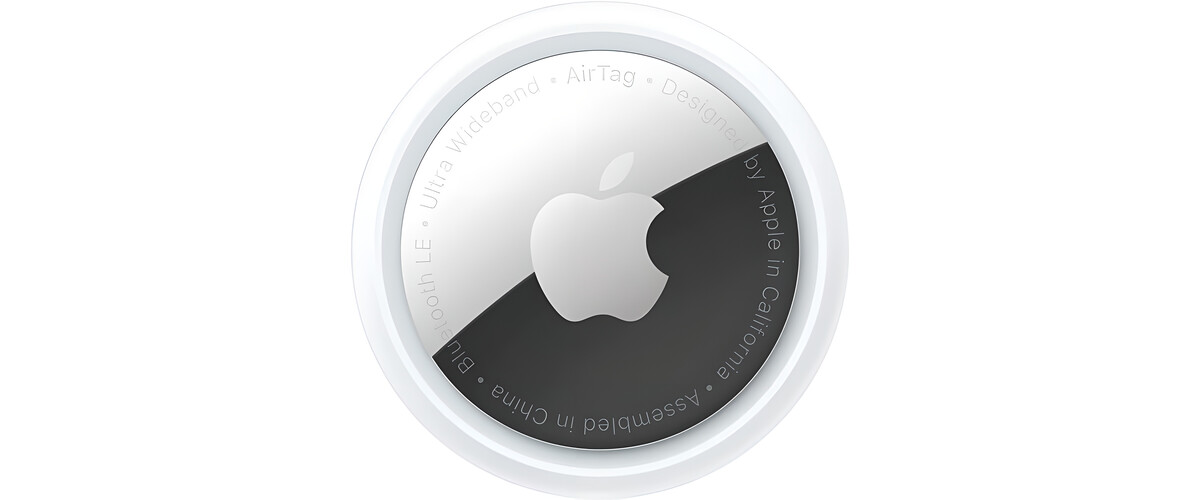 While doing this review, I also enjoyed testing and experiencing the Apple AirTag. It's a worthy investment for anyone searching for the best anti-theft GPS tracker for a motorcycle. The AirTag excels in various aspects that ensure real-time monitoring and added security for your beloved ride.
The Apple AirTag is stunning in its simple design. Also, it is one of the most compact devices in the review. Apple's famous sturdy build quality ensures it can withstand the rigors of the road while maintaining a low profile.
Setting up the AirTag is typically for Apple's product—quick and straightforward. With a one-tap setup on your iPhone or iPad, it quickly pairs with your device and is ready to attach to your motorcycle securely. Also, it works well in the Apple ecosystem and can be personalized with your initials or an emoji, adding a touch of personality to your gear.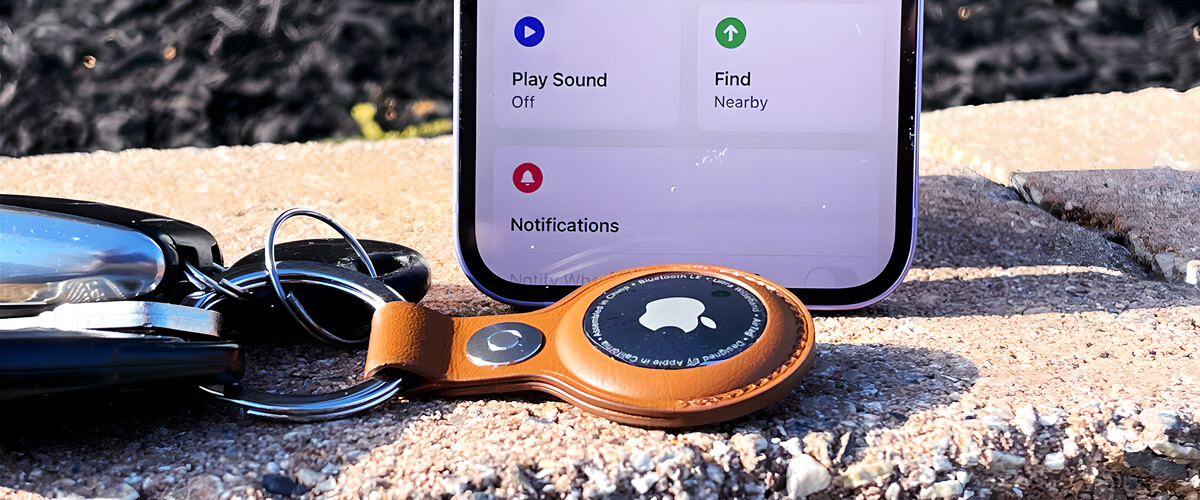 The AirTag's tracking performance is good. Thanks to Ultra Wideband technology and the extensive Find My network, it provides precise and accurate location data, even in crowded areas.
The AirTag has everything one needs in terms of security. It offers a Lost Mode, which notifies you when any device detects your motorcycle in the Find My network. Additionally, it employs encrypted and anonymous location data, ensuring your privacy is safeguarded.
The AirTag's long-lasting battery promises a year of usage. Yet, it strongly depends on the usage scenario. I wonder if it would last so long if you used the device to the fullest extent.
Finally, the Apple AirTag is an excellent tool for motorcycle riders searching for a reliable, accurate, and secure anti-theft GPS tracker. Its seamless integration with Apple devices, and reliable tracking performance, make it an exciting choice for riders who love Apple products.
Key specs
Connectivity: bluetooth, U1 chip.
Batteries: CR2032 coin cell battery.
Dimensions LxW, inches/cm: 1.2×0.3/3.2×0.7.
Pros
Effortless setup and installation process.
The Precision Finding feature works awesomely.
Beautiful, compact, and reliable design.
Cons
Signal strength affects accuracy.
Accessories can be costly.
Lacks Android support.
Factors to consider when buying a motorcycle GPS tracker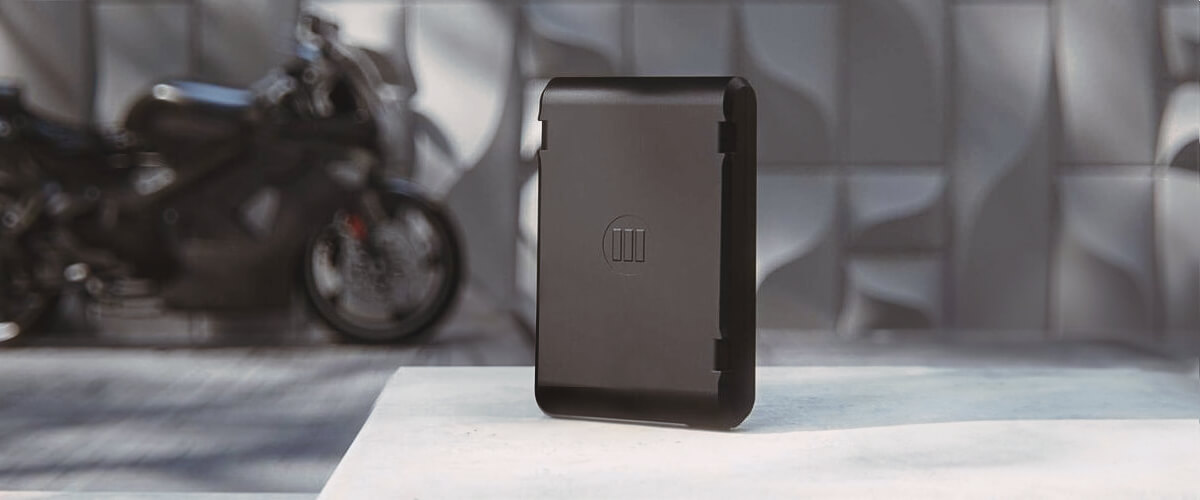 With so many options of motorcycle trackers available on the market, you should consider several aspects to choose the best one. Let's dive into what you should keep in mind when buying this device.
Compatibility and mounting options
When choosing a motorbike tracker, ensure it is compatible with your motorcycle model and electrical system. Different models offer various mounting options, including wired or wireless installations. Wired GPS trackers for dirt bikes provide a stable power connection but require more installation effort, while wireless options are easier to install but may have limited battery life.
GPS accuracy and coverage
A precise motorcycle tracking system is important for motorcycle security. Look for a tracker that offers high accuracy and provides real-time location updates. Additionally, consider the coverage area and signal strength. If you frequently travel internationally, choose a tracker with global coverage to ensure uninterrupted tracking wherever you go.
Battery life and power options
This indicator directly affects the tracking capabilities of your device. Check the expected battery life of the GPS locator and evaluate if it aligns with your requirements. Some trackers offer additional power options, such as hardwiring to the motorcycle's electrical system.
Real-time tracking and alerts
Real-time tracking is a key feature for immediate response in case of theft or emergencies. Look for a tracker that provides real-time updates on your motorcycle's location. Additionally, features like geofencing, movement alerts, and tamper alerts can enhance the security of your bike and provide timely notifications when unauthorized activity is detected.
Subscription plans and costs
Most satellite trackers for motorcycles require a subscription plan to access their full range of features. Explore the different subscription plans available and compare their features and costs. Consider what features are essential for your needs and choose a plan that offers the best value for your money.
Additional features
Theft recovery assistance: In the unfortunate event of your motorcycle being stolen, integration with law enforcement agencies and recovery services can significantly increase the chances of recovery. Research whether the GPS tracker you are considering has partnerships or a system in place to assist in theft recovery.
Waterproof and durable design: Riders often face various weather conditions, so choosing a GPS tracker with a waterproof and durable design is crucial. Ensure that the tracker can withstand rain, dust, and vibrations associated with motorcycle usage. Also, do not forget about the durability of the construction, for only high-quality workmanship will ensure the reliable operation of the tracker in any conditions.
Remote control and immobilization: Some GPS trackers offer remote control capabilities, allowing you to immobilize your motorcycle remotely. This feature can be useful in preventing unauthorized usage or tampering with your bike. Consider whether this feature aligns with your security needs.
Data storage and history: Evaluate the capacity of the GPS tracker to store historical tracking data. This will enable you to access and analyze past routes and data, which can be helpful for monitoring your riding habits or reviewing trip details.
Assessing your motorcycle's security needs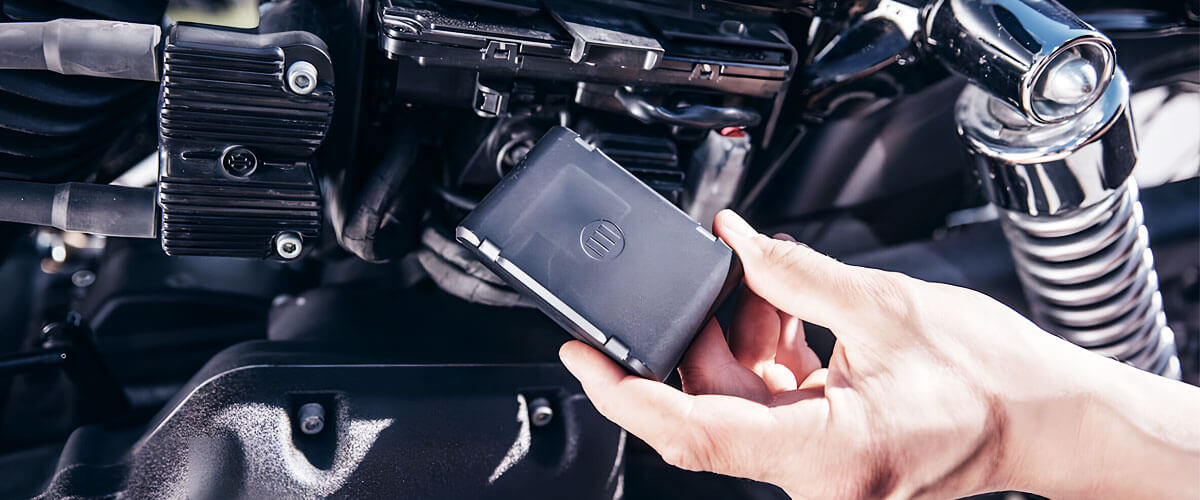 For any motorcycle owner, one of the most important aspects is the safety of their property. Now I'll explore various factors to help you assess your motorcycle's security needs and make informed decisions.
Motorcycle types and their vulnerability to theft
Sport bikes: Such models, with their high-performance features and sleek designs, are often targeted by thieves due to their desirability. They are typically more at risk and require robust security measures.
Cruisers: They are known for their classic and laid-back style. While they may be less attractive to thieves compared to sports bikes, it's still essential to ensure adequate security for your cruiser.
Adventure bikes: Such models are designed for off-road excursions and long-distance travel. Their versatility can make them attractive to thieves, especially if equipped with expensive accessories.
Scooters: A great option for urban commuting and economical transportation. Although they may be less targeted by thieves due to their lower value, you must take precautions and protect your scooter.
Analyzing your parking and storage situation
Outdoor parking: If you primarily park your motorcycle outdoors, it's essential to take extra precautions. Look for well-lit areas with good visibility and consider using secure motorcycle covers or locks to deter potential thieves.
Garage or secure storage: If you have access to a garage or secure storage facility, you already have an advantage in terms of security. However, don't become complacent. Make sure your garage or storage area is properly secured with strong locks and possibly an alarm system.
High-risk areas vs. low-risk areas: The location where you park your motorcycle can significantly impact its security. Assess the crime rates and theft statistics of your area to determine whether it's considered a high-risk or low-risk location. High-risk areas may require additional security measures like wheel locks or ground anchors.
Duration of parking: The duration for which you leave your motorcycle unattended also plays a role in assessing security needs. If you frequently leave your bike parked for extended periods, consider investing in more advanced security systems, such as GPS tracking devices or immobilizers.
Where to hide a GPS tracker on a motorcycle?
To make this question clearer, I've prepared a small table:
| Location | Pros | Cons |
| --- | --- | --- |
| Under the seat | Concealed, protected, difficult to detect | Limited accessibility, potential discomfort |
| Inside the fairing | Excellent camouflage, protected, neat wiring | Limited space, difficult accessibility |
| Within the tail | Larger area, concealed, hides behind components | Limited weather protection, difficult accessibility |
| Inside the frame | Highest concealment, weather protection | Limited space, professional installation may be required |
| Beneath bodywork | Ample space, decent protection, minimal mods | Detectable upon close inspection, difficult accessibility |
Remember, no location is entirely foolproof, but these suggestions should help deter potential thieves and increase your chances of recovering your motorcycle if the worst should happen. Each option has its own trade-offs, so choose the one that suits your comfort level and motorcycle design.
FAQ
Can a motorcycle GPS tracker be used worldwide?
Yes, most modern motorcycle GPS security systems are designed to work globally. They utilize GPS satellite signals to determine the location and transmit that data to the tracking system. The tracker will function effectively as long as there is GPS coverage in the area. However, I recommend checking the specifications of the tracker and ensuring it supports the necessary frequency bands for the countries you plan to use it in.
How accurate is the GPS tracking of a motorcycle GPS tracker?
The accuracy of location in real-time tracking varies depending on several factors. In my experience, a motorcycle GPS tracker provides reasonably accurate location information. However, factors like signal strength, weather conditions, and urban environments with tall buildings can affect accuracy. Generally, you can expect the tracker to provide location updates within a few meters or yards of the actual position.
Does the GPS tracker drain the motorcycle battery?
The impact on the motorcycle battery depends on the specific tracker and its power consumption. Some trackers are designed to have minimal power draw and use efficient power management techniques to ensure they do not significantly drain the battery.