As a rider who cherishes the freedom of the open road, you understand the thrill of owning a motorcycle. However, with the rise in motorcycle theft cases, ensuring the security of your prized possession has become more critical than ever before. In this article, I delve into the world of motorcycle security and will help you pick the best motorcycle lock that can reliably protect your two-wheeled friend.
Imagine cruising along winding roads, feeling the adrenaline rush as you lean into every corner. Amidst such exhilarating moments, the last thing you want is to worry about your bike's safety. That's where a secure motorcycle lock plays a pivotal role. Beyond its primary function of deterring thieves, a reliable lock ensures peace of mind, allowing you to enjoy the ride to the fullest.
Throughout this review, we'll explore various types of motorcycle locks, each designed to provide exceptional security for your bike. We'll discuss their features, pros, and cons, empowering you to make an informed choice that suits your needs. Let's embark on this journey together and discover the best motorcycle locks that will safeguard your cherished ride, giving you the freedom to explore the world without worry. So, tighten your helmet straps and get ready for an exciting acquaintance with these anti-theft devices, which, like Cerberus or Argus, will reliably protect your property.
Our pick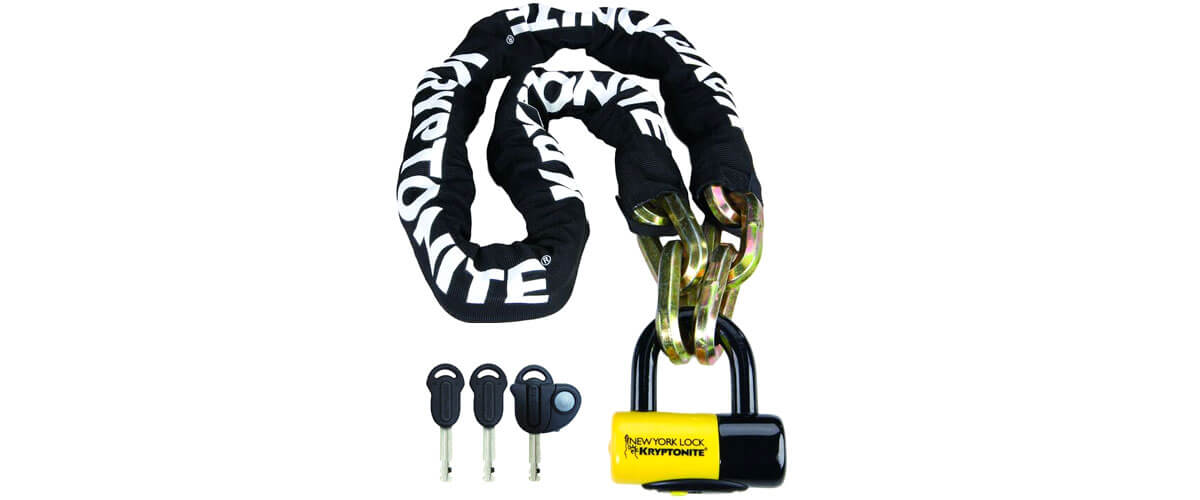 Kryptonite New York FAHGETTABOUDIT 1410
Best motorcycle lock
Kryptonite New York Fahgettaboudit Chain Disc Lock has a disc-style cylinder with a reinforced anti-drill/pull protection system and three stainless steel keys to maximize your motorcycle's safety.
Read the full review
.
Best motorcycle lock reviews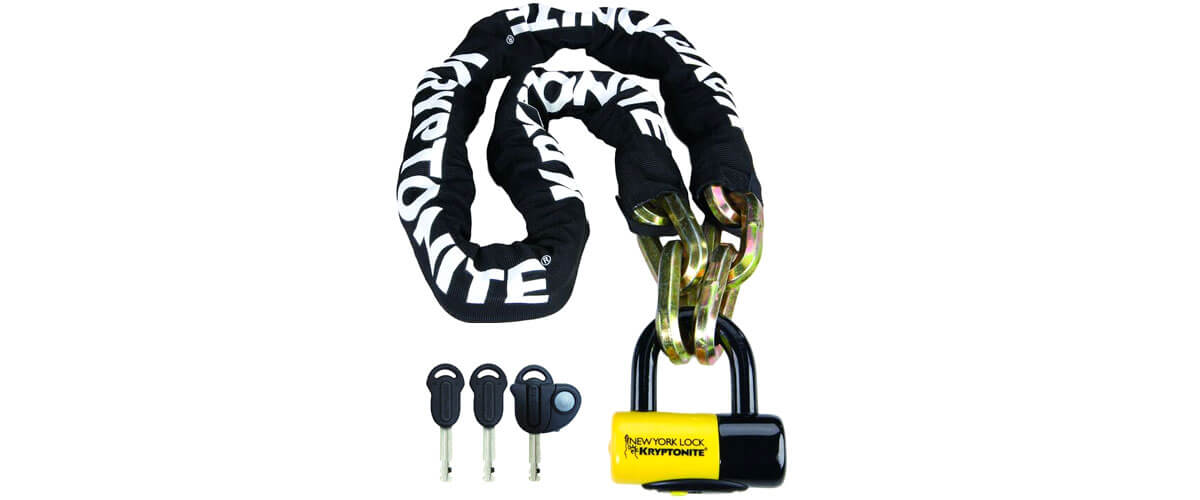 The Kryptonite New York FAHGETTABOUDIT 1410 took the highest place in my review because of its stunning qualities. The main reason is that this product offers top-level security and confidence levels for riders who value the safety of their prized possessions, especially in high-theft areas.
This model feels very robust, with 0.55 inches of six-sided chain links made of 3t hardened manganese steel. This material ensures ultimate strength suitable for protecting large motorcycles against theft. I am sure thieves will have difficulty trying to break through, as it is almost impossible. It withstood my 18-inch bolt cutter.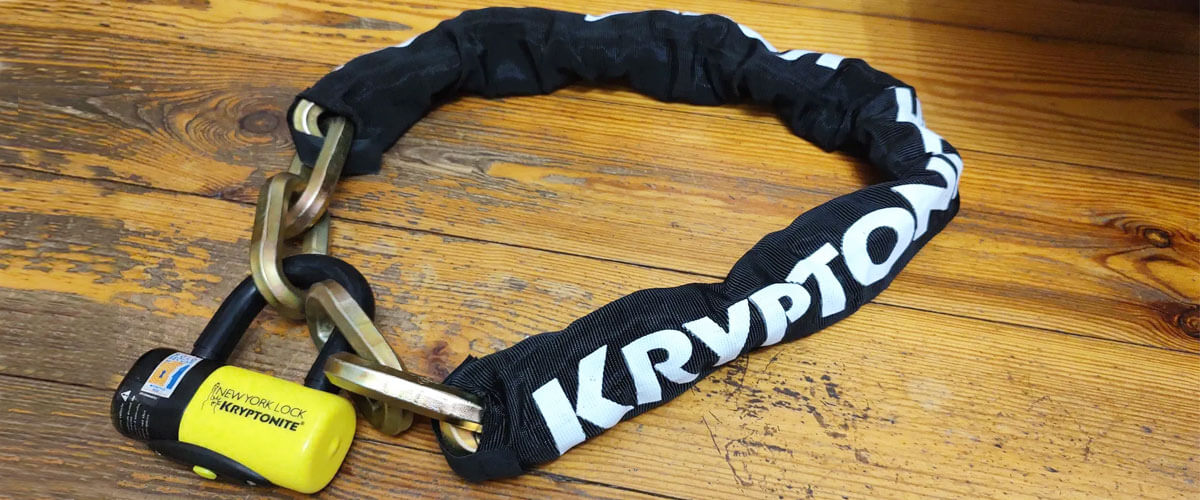 This doesn't stop there; the lock comes with anti-scratch nylon protection. The FAHGETTABOUDIT 1410 has a convenient fastener that allows for quick and easy installation. A 15mm steel shackle makes this lock stand out because of its material and protection level.
The lock has a steel crossbar and a double deadbolt to enhance its attack resistance and provide extensive holding power against prying attempts. The disc-style cylinder incorporates specially designed anti-drill protection. It is also pull-resistant and withstood all my attempts. The lock comes with 3 keys, one with a light bulb.
In conclusion, the Kryptonite New York FAHGETTABOUDIT 1410 is undoubtedly the best motorcycle chain lock available. It withstood all my tests with honor and dignity! This heavy-duty chain lock is invaluable for riders looking to protect their large and expensive motorcycle from theft. Though it is slightly heavy and may not fit all motorcycle models, its unbeatable security is worth the investment.
Key specs
Lenght, inches/cm: 5/12.7.
Type: chain lock with disc-style cylinder.
Material: stainless steel, alloy steel.
Weight, lbs/kg: 10.8/4.9.
Dimensions LxWxH, inches/cm: 39.4×0.5×0.5/100×1.3×1.3.
Pros
The hardened manganese steel construction and double deadbolt locking.
Suitable for various motorcycle models.
A sliding dust cover protects the cylinder, increasing its resistance to tampering.
Cons
The lock's heavy-duty construction comes at the cost of weight.
I would enjoy having a longer chain.
XENA XX15 – alarm disc lock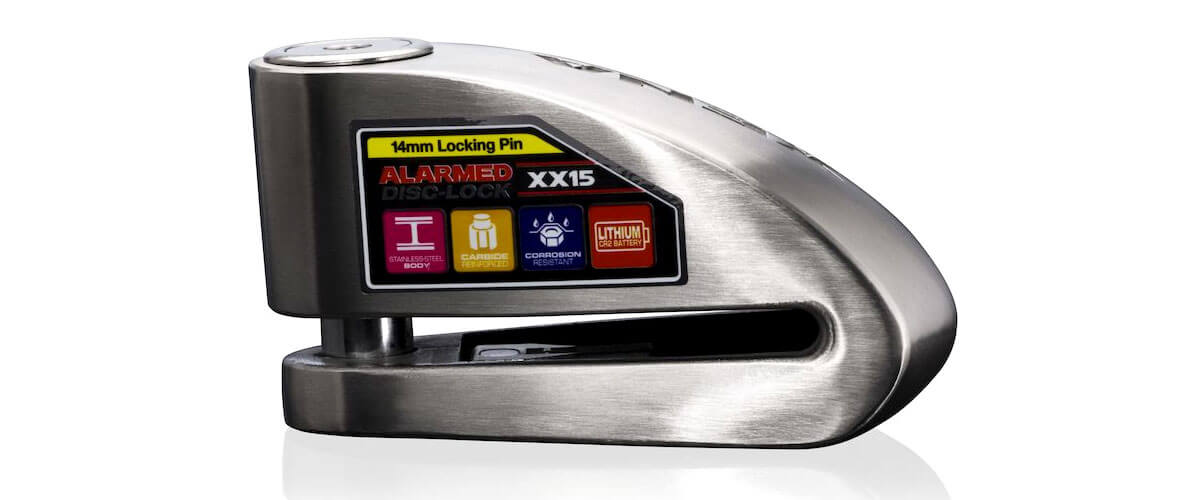 In my quest to uncover the most reliable lock for motorcycles, I stumbled upon the XENA XX15 BLE Disc-Lock Alarm. So here I am, gathering insights from extensive tests and personal usage of this lock. I can confidently assert that it stands as the pinnacle of motorcycle security and can well compete with my today's leader.
Crafted with precision and expertise, the XX15 flaunts a mono-bloc 304 stainless-steel body, ensuring unrivaled durability and resistance to corrosion, keeping our bikes safeguarded in all weather conditions.
Central to its impenetrable design is a 0.55 inches carbide-reinforced pin, backed by a double-locking system, rendering any tampering or picking attempts virtually futile. As a result, it delivers maximum protection, instilling peace of mind in every rider.
The integrated Bluetooth Module seamlessly connected to my smartphone through the dedicated XENA app. The good news, it is available for both iOS and Android. This connectivity allowed me to personalize alarm settings and monitor battery levels.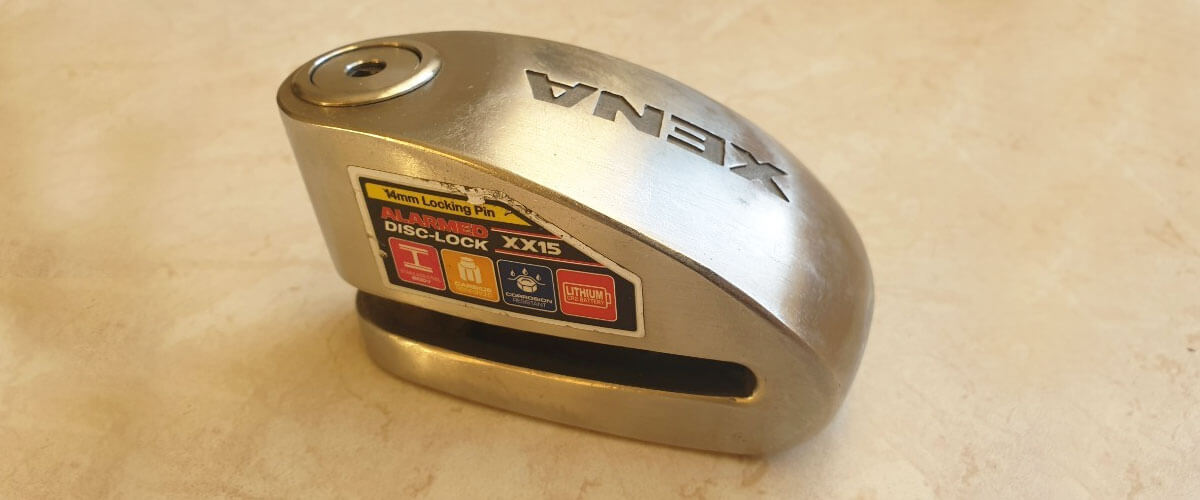 A defining feature of the XX15 is its ear-piercing 120 dB alarm, equipped with shock and movement sensors. Any unauthorized attempt to interfere with our motorcycles triggers an immediate, attention-grabbing alert. Plus, its sound is far too loud to comfortably hang out around the bike. So, it is useful.
For those seeking a more straightforward and simple option, the XX6 model, also known as the "dirt bike lock," is also an amazing solution. The XX6 is perfect for use with dirt bikes, offering the same level of security and convenience as its counterparts. Whether you opt for the XX15 or the XX6, XENA provides unparalleled protection, ensuring your prized possession stays safe and secure in all circumstances.
In conclusion, based on my tests, experiences, and usage of the XENA XX15 BLE Disc-Lock Alarm, it indisputably stands out as a cutting-edge, reliable, and user-friendly motorcycle security solution. It's worth noting that the XENA XX15 BLE Disc-Lock Alarm comes with a wide lock pin, which may not be compatible with all models of brake discs. However, I highly recommend this lock for its exceptional reliability and performance. Yes, the Kryptonite motorcycle lock surpasses it in sturdiness, but XENA is also very reliable, making it the best motorcycle brake disc lock.
Key specs
Lenght, inches/cm: 1.6/4.2.
Type: disc.
Material: steel.
Weight, lbs/kg: 1.6/0.7.
Dimensions LxWxH, inches/cm: 4.1×2.3×2.3/10.4×5.9×5.9.
Pros
Top-tier construction using high-grade stainless steel.
Unique XENA key and barrel, highly resistant to pick attacks.
BLE Smart Module for smartphone connectivity and alarm customization.
Corrosion resistance ensures durability over time.
Cons
A loud 120dB alarm with shock and movement sensors acts as a strong deterrent.
Not equipped with GPS tracking for real-time location monitoring.
Kryptonite Evolution Mini-7 – cable lock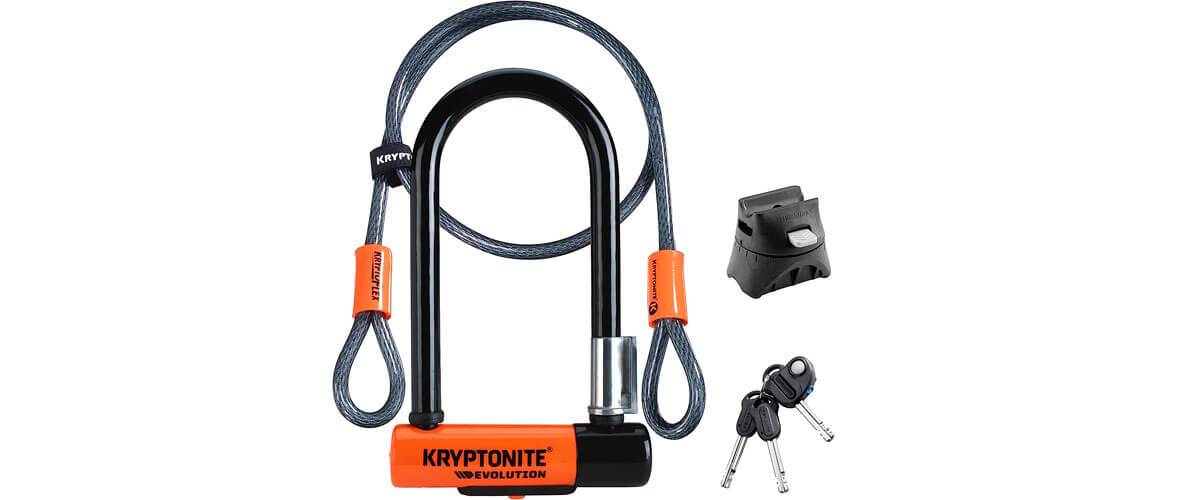 Among the various products available on the market, the Kryptonite Evolution Mini-7 with Flex Cable Lock stands out as an interesting but unusual option. You see, unlike bigger cable lock for motorcycle, this modelit is primarily designed for bicycles and lighter vehicles like scooters. This lock can also come in handy for briefly fastening your motorcycle in crowded places when carrying a heavier lock isn't practical.
The 0.51-inch thick, hardened steel shackle resists bolt cutters and leverage attacks, while the patent-pending double deadbolt design adds extra protection against twist attacks. The disc-style cylinder is pick and drill-resistant, ensuring security. The lock includes a FlexFrame-U bracket for easy transportation, and its compact size and vinyl coating enhance portability and durability.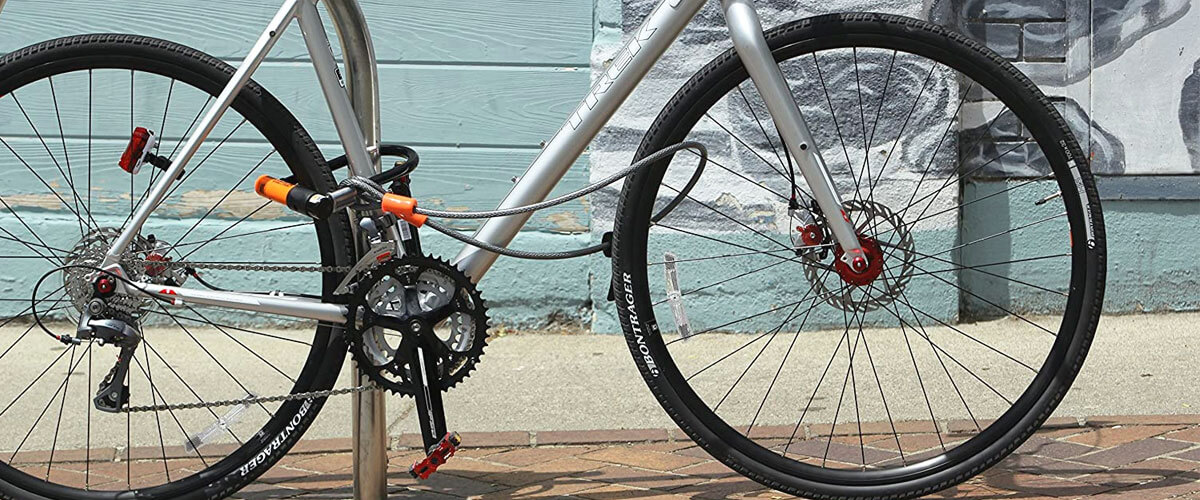 Though lacking built-in alarms, it remains a reliable choice for low-risk situations. Suitable for various two-wheeled vehicles, this universal lock is easy to install with clear instructions included.
The Kryptonite Evolution Mini-7 with Flex Cable Lock offers a versatile and practical solution for motorcycle security during quick stops in crowded places. While it may not have all the advanced features found in some dedicated motorcycle-specific locks, its durable build and pick-resistant design make it a worthy addition to your motorcycle security arsenal.
Key specs
Lenght, inches/cm: 4/10.1.
Type: combination lock.
Material: aluminum.
Weight, lbs/kg: 2.2/1.
Dimensions LxWxH, inches/cm: 3.2×1.1×7/8.1×2.7×17.7.
Pros
The versatile design is suitable for bicycles, scooters, and light vehicles.
Robust materials and construction resist cutting, drilling, and leverage attacks.
Convenient FlexFrame-U bracket for easy transport and mounting options.
Pick and drill resistant, providing enhanced security.
Cons
Lacks advanced features like built-in alarms and GPS tracking.
Not specifically designed for motorcycles, limiting its application to low-risk situations.
KAYCENTOP Steering Wheel Lock – tire lock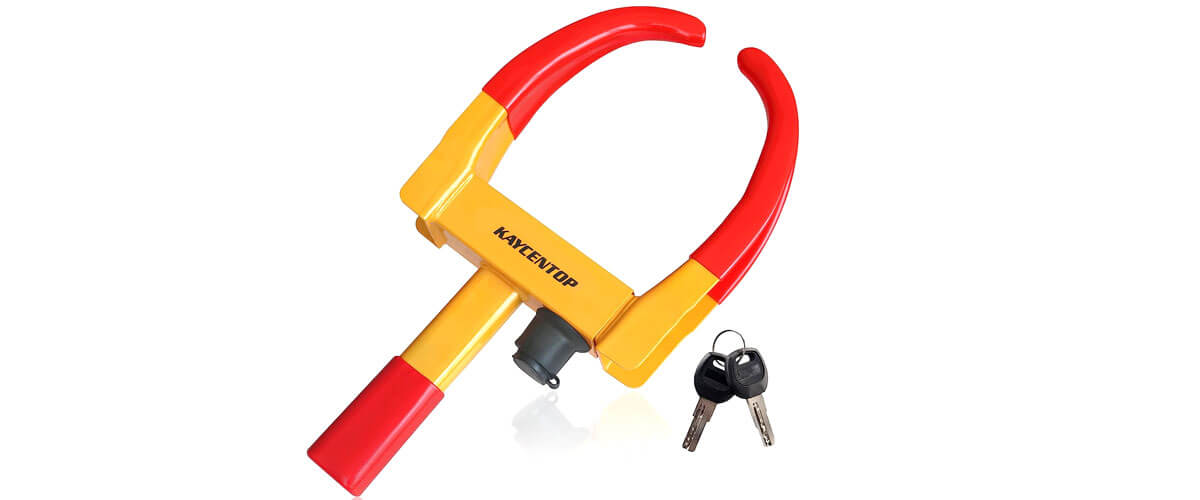 The KAYCENTOP Motorcycle Tire Lock has everything a motorcycle front wheel lock needs to be a top-notch security solution for motorcycle owners seeking robust protection against theft. Made with high-quality steel and reinforced with polyvinyl chloride, this tire lock offers exceptional durability and tamper resistance.
One of its standout features is its resistance to cutting and drilling, making it a formidable deterrent to potential thieves. My bolt cutters scratched it, but no more. Despite its sturdy construction, the lock remains lightweight and compact, allowing for easy portability during rides.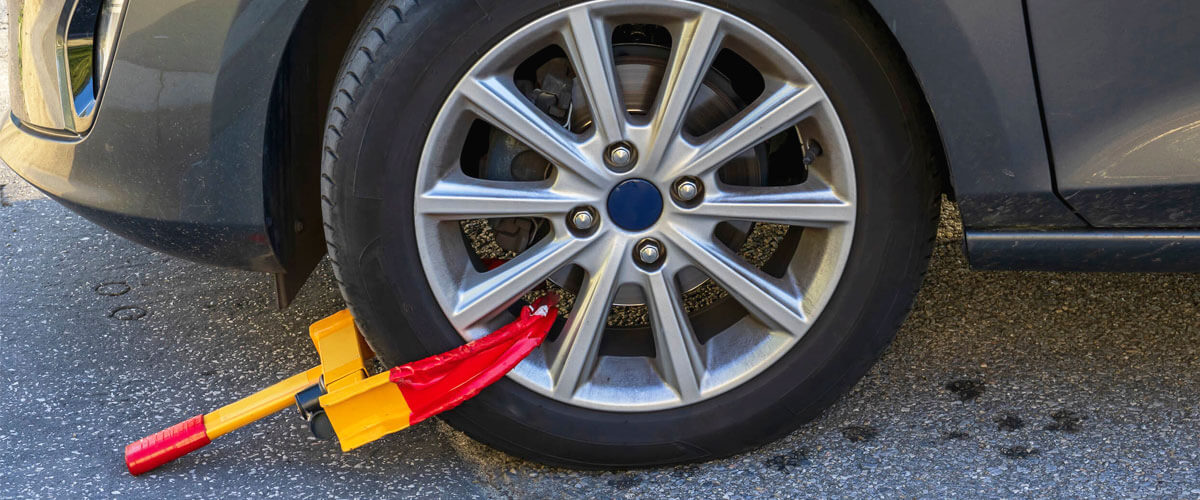 Versatility is another advantage of the KAYCENTOP, as it fits most motorcycles effortlessly and comes with a convenient carrying accessory. For enhanced security, some models feature built-in alarms and sensors that alert the owner when tampering is detected.
The tire lock also boasts anti-tamper mechanisms designed to foil any attempts at manipulation. For tech-savvy users, a GPS tracking option is available, ensuring you can always keep an eye on your bike's location.
The KAYCENTOP Motorcycle Tire Lock is a highly visible, durable, and versatile anti-theft device. Additionally, it can be a very strong competitor to the best motorcycle chain locks because of its use qualities and convenience.
Key specs
Lenght, inches/cm: 16.5/41.9.
Type: tire lock.
Material: steel.
Weight, lbs/kg: 4.6/2.
Dimensions LxWxH, inches/cm: 16.5×9.1×2.4/41.9×23.1×6.
Pros
High-quality steel and PVC construction ensure durability.
Excellent resistance against cutting and drilling.
Lightweight and easy to carry.
Built-in alarms and anti-tamper mechanisms for added security.
Optional GPS tracking for advanced protection.
Cons
Negotiable pick-resistant key lock system.
Prone to rust.
Titanker Bike Lock – budget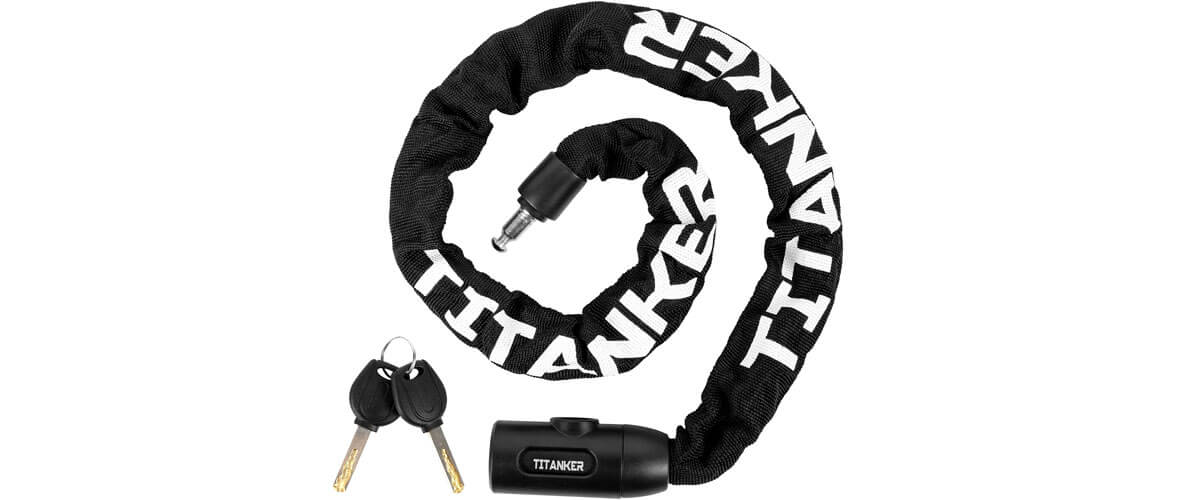 The Titanker Bike Lock defends the realm of cable locks for motorcycles in my review. This is the perfect budget option for riders of all sorts and kinds, and here is why.
This lock is made with heavy-duty steel and features 0.23 inches-thick security chain links. It offers exceptional class cut resistance. The reinforced steel composition also makes it highly resistant to cutting attempts and discourages drilling. The Titanker Bike Lock provides ample coverage, weighing just 1.4 pounds and about 3 feet long.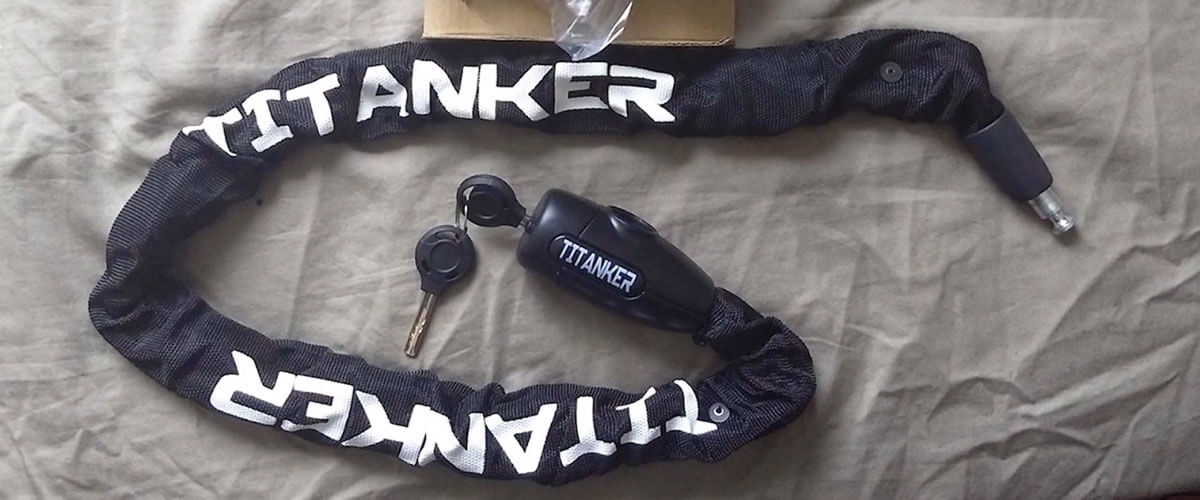 With its user-friendly locking mechanism, I could easily snap it together without needing the keys. The manufacturer promises a reliable pick-resistant design. But the truth is that there are no unpickable locks, so will a specialist be able to lockpick it? Yes, but it will take a lot of time for them to do it.
The protective cloth sleeve and dust cover shield the chain from rust and scratches, ensuring the longevity of the lock. Also, the Titanker Bike Lock is compatible not only with different types of motorcycles but also with equipment like bicycles and lawnmowers.
So considering all the factors, and easy installation, the Titanker Bike Lock is the best budget bike lock, offering great value per money.
Key specs
Lenght, inches/cm: 1.9/5.
Type: key lock.
Material: steel.
Weight, lbs/kg: 1.4/0.6.
Dimensions LxWxH, inches/cm: 1.9×0.2×0.2/5×0.6×0.6.
Pros
Lightweight and portable design for easy transport.
Versatile usage for various applications beyond motorcycles.
Straightforward locking mechanism for user convenience.
Cons
It may not be ideal for high-crime areas without additional security measures.
Different types of motorcycle anti-theft locks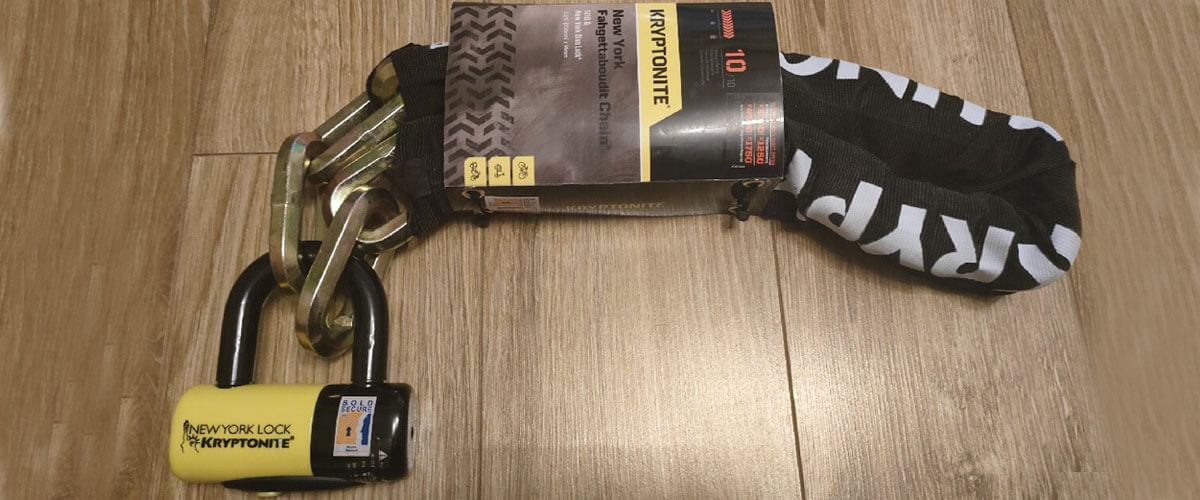 Now, it's time to explore the different types of motorcycle theft prevention devices, their level of security, and additional features that can enhance your bike's protection. Let's get started!
Disc Locks
Disc motorcycle anti-theft locks are compact, lightweight models designed to secure your motorcycle's brake disc. They are easy to use and portable, and that's why I use them more often than other options. Some disc locks have built-in alarm systems that trigger if the bike is tampered with. This additional feature acts as a deterrent, alerting you and those nearby to potential theft attempts.
| Pros | Cons |
| --- | --- |
| Highly portable and convenient to carry. | They only secure the brake disc, leaving other parts vulnerable. |
| Quick and easy to use. | If not used in combination with another lock, the thief can still lift and transport your bike. |
| Alarmed disc locks provide an extra layer of security. | Limited options for attaching your bike to immovable objects. |
| Some models have sensors that detect motion or vibrations. | |
Alarmed disc locks for motorbikes are ideal for short stops or when you need a lightweight lock for convenience. They provide an additional layer of motorcycle security when combined with other locks or security measures.
Chain Locks
Chain locks are heavy-duty and robust locks consisting of a chain and padlock. These anti-theft devices offer versatility in securing your motorcycle to various fixed objects, such as lampposts, railings, or ground anchors. They come in different lengths and thicknesses, providing options for customization based on your needs.
| Pros | Cons |
| --- | --- |
| Highly versatile and can be used in various situations. | Heavier and bulkier compared to other lock types. |
| Can secure your bike to immovable objects, making theft difficult. | The length and weight may limit portability. |
| Some chain locks have protective sleeves to prevent scratching the bike's paint. | Requires additional time and effort to secure properly. |
Such models are the best locks for motorcycles in case of longer stops or overnight parking, where you can secure your bike to a fixed object. They offer maximum security and act as a strong visual deterrent to potential thieves.
U-Locks
U-locks, also known as D-locks, are solid and robust locks in the shape of a "U." They are made of hardened steel, making them resistant to cutting and tampering. U-locks are popular for their maximum security level and ease of use.
| Pros | Cons |
| --- | --- |
| Extremely resistant to cutting and prying attacks. | Limited options for attaching to larger fixed objects. |
| Relatively lightweight compared to chain locks. | Some models may lack portability due to their size and weight. |
| Can be attached to various parts of your motorcycle for added security. | |
U-locks are excellent for securing your bike in areas with available anchor points, such as dedicated motorcycle parking or secured locations. They offer robust protection and are ideal for high-risk areas prone to theft.
Remember, for maximum security, always lock your bike to something immovable, and consider using multiple locks or combining them with other anti-theft devices.
Assessing your motorcycle's security needs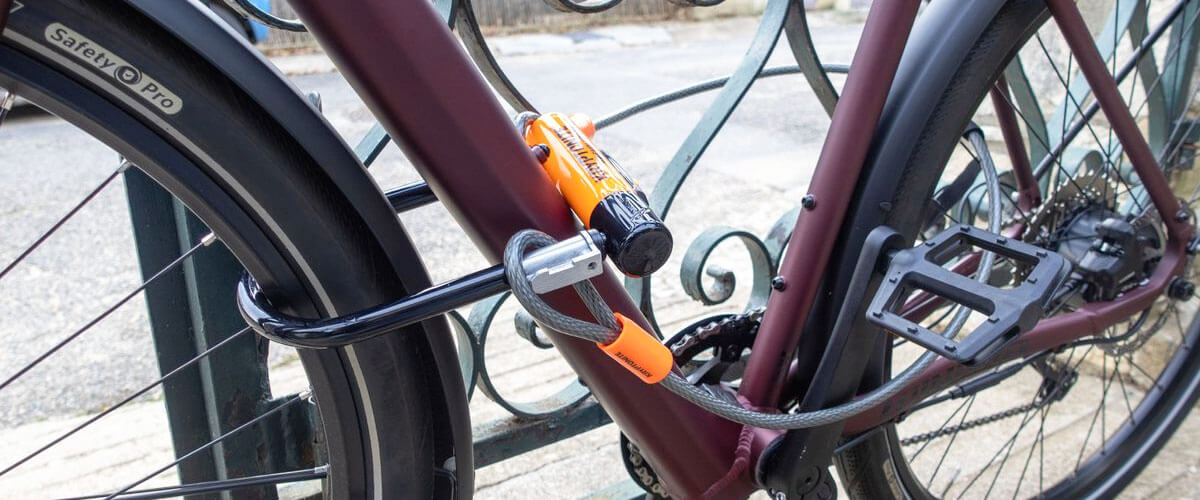 As much as we love hitting the open road and feeling the wind in our faces, it's important to ensure our beloved rides are adequately protected from potential theft. So, we will explore some key factors to consider when evaluating your motorcycle's security requirements.
Motorcycle types and their vulnerability to theft
Sport bikes: Thieves often target sports bikes due to their high performance and resale value. Their lightweight construction and sleek design make them appealing to potential thieves.
Cruisers: With larger frames and lower profiles, cruisers are generally less attractive to thieves. However, taking security precautions to protect your investment is still crucial.
Adventure bikes: Such models also need additional protection as they are quite attractive to thieves.
Scooters: Scooters are popular for urban commuting due to their efficiency and maneuverability. Though they may not have the same value as other motorcycle types, they can still be targets for theft.
Analyzing your parking and storage situation
Once you understand the vulnerability of your motorcycle type, it's time to evaluate your parking and storage situation. Consider the following factors:
Outdoor parking
If you park your motorcycle outdoors, it is exposed to higher theft risk. Consider investing in a high-quality motorcycle cover to keep it out of sight and protected from the elements.
Look for well-lit and populated areas to park your bike. Thieves are less likely to attempt theft in such locations.
Utilize sturdy and reliable locks, such as disc locks or heavy-duty chains, to secure your motorcycle to fixed objects like lampposts or bike racks.
Garage or secure storage
Parking your motorcycle in a garage or secure storage area significantly reduces the theft risk. If you have access to a garage, take advantage of it.
Ensure the garage or storage area has adequate security measures, such as robust locks, alarms, and surveillance cameras.
If you share a communal garage, consider additional security measures like installing a ground anchor or a motorcycle lockable shed.
High-risk areas vs. low-risk areas
Research and identify high-risk areas where motorcycle theft is more prevalent in your locality. Avoid parking your motorcycle in these areas whenever possible.
Low-risk areas, such as monitored parking lots or designated motorcycle parking zones, offer greater security. Opt for these areas whenever available.
Duration of parking
The time you leave your motorcycle parked in a particular area can impact its security needs. For short stops, consider using a quick-release lock for added convenience.
If you plan to leave your motorcycle parked for an extended period, invest in more robust security measures, such as a high-quality chain and lock combination.
Do not forget that no security measure is foolproof, but with the right combination of precautions, you can significantly reduce the risk of theft and enjoy your motorcycle with peace of mind.
FAQ
Can any lock completely prevent motorcycle theft?
No lock can guarantee 100% protection, but using high-quality locks significantly reduces the risk of theft. Invest in reputable brands and choose locks specifically designed for motorcycles, such as heavy-duty chains or disc locks with hardened steel.
Is it worth investing in an expensive lock?
Yes, it is worth investing in a high-quality lock. Remember, the cost of a lock is usually much lower than the potential loss of your motorcycle. Spending a bit more on a reliable lock offers better security and peace of mind.
Can motorcycle locks damage the bike?
Properly used, motorcycle locks should not cause damage to your bike. However, be cautious and avoid scratching delicate surfaces. Position the lock securely without putting excessive pressure on the bike's components.
Are motorcycle locks universal?
Motorcycle locks are not universal. Different locks are designed for specific purposes and may have different sizes or mechanisms. Ensure you choose a lock that fits your motorcycle's requirements and consult the manufacturer's guidelines.
How do I maintain and care for my motorcycle lock?
To maintain your motorcycle lock's effectiveness, keep it clean and free from dirt and debris. Lubricate moving parts regularly with a suitable lubricant. Inspect the lock for any signs of wear or damage and replace it if necessary. Store the lock in a dry place when not in use to prevent rust or corrosion.