Long journeys can be exhilarating, but the discomfort accompanying them can quickly dampen the joy. Luckily, there is a solution that can transform your riding adventures into pure bliss. That's why I decided to start working on the review of the best motorcycle seat pad for long rides.
As an experienced motorcyclist, I understand the importance of comfort during extended journeys. Picture yourself cruising down endless highways, surrounded by breathtaking landscapes, while sitting on a cloud of plush comfort. A well-designed motorcycle seat cushion becomes your mythical Aegis, absorbing vibrations and impacts, leaving fatigue and soreness behind.
Finding the right motorcycle seat cushion is an art tailored to individual preferences and body types. Whether you prioritize gel-infused memory foam, airflow technology, or pressure relief zones, there's a perfect match waiting for you. The only trick is to find it, and this is where this review comes in — analyzing their features, pros, and cons, I'll help you make an informed decision that aligns with your riding style and finally find the best motorcycle seat pad that would 100% suit you.
Our pick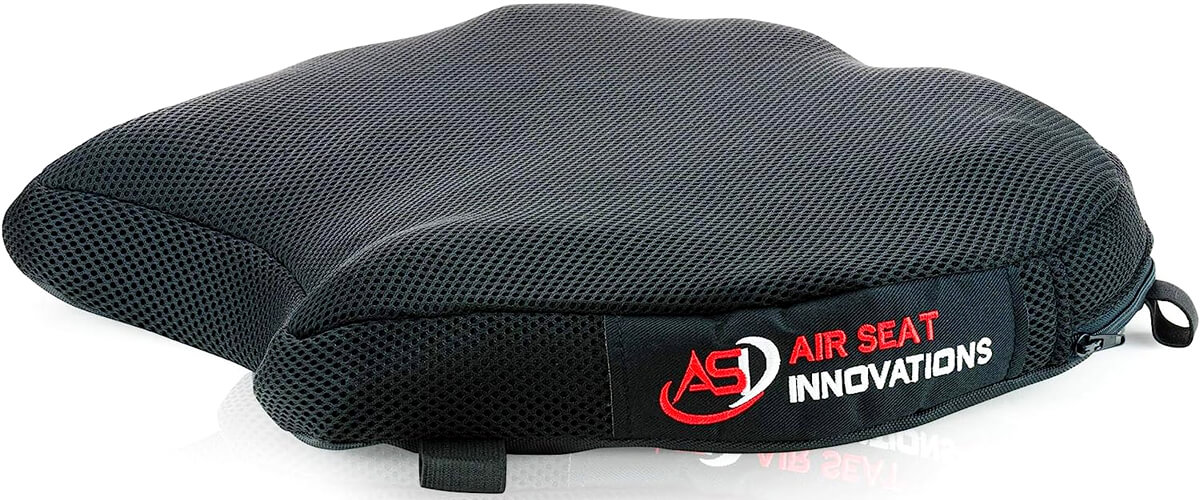 ASI Air Seat Innovations Motorcycle Air Seat Cushion
Best motorcycle seat cushion
The ASI Air Seat Innovations Motorcycle Air Seat Cushion is a large touring saddle that reduces vibration, adjusts to your shape for a custom fit, and you can focus on the road and enjoy the ride.
Read the full review
.
Best motorcycle seat cushion reviews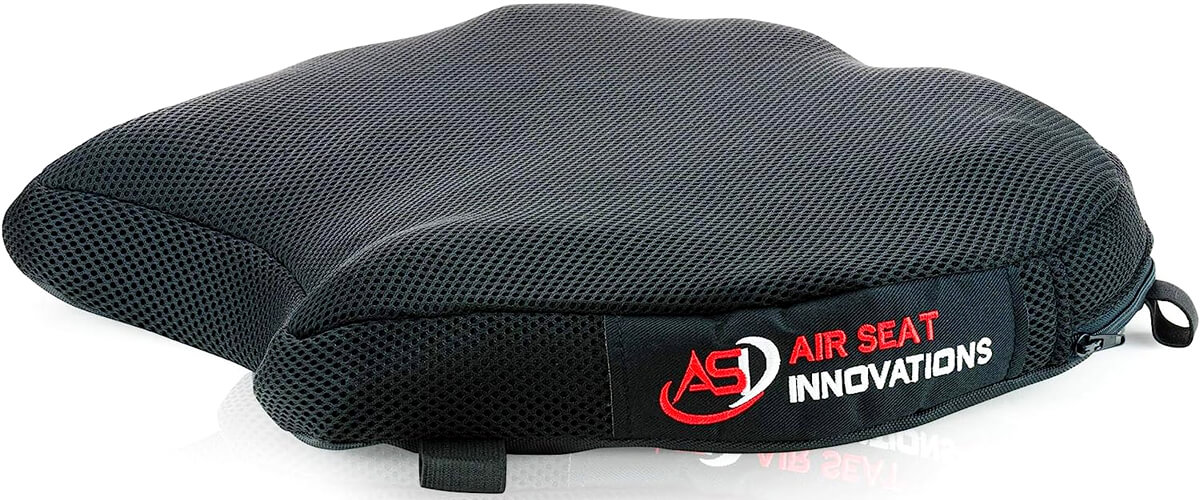 Being a passionate motorcycle enthusiast, I'm constantly seeking ways to elevate my riding experience with a motorcycle seat cushion for long rides. So, I got the ASI Air Seat Innovations Motorcycle Air Seat Cushion for testing, and I must say, it has revolutionized my rides!
The cushion's construction is top-notch, and it has an ergonomic shape. Crafted from high-quality neoprene rubber, it offers excellent durability. Its innovative design effectively reduces pressure points, providing superior comfort throughout the ride.
The breathable stretch material on its surface effectively reduces humidity and sweating, preventing hot spots and moisture patches from forming. So, I enjoyed a cool and comfortable ride even on scorching summer days, thanks to efficient heat dissipation.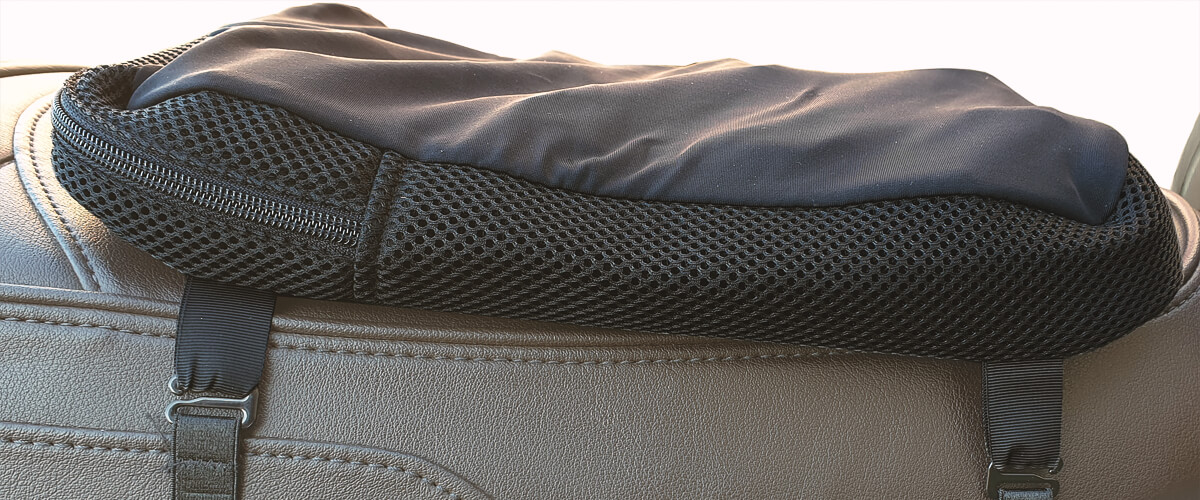 It's incredibly easy to install with the two straps that connect under the seat. It's a simple process requiring no specialized tools or expertise. Plus, the cushion comes with a full Owner's Manual with clear instructions, though I did everything myself with no problems.
In terms of size and fit, this medium-sized cushion is just right. With its 13″ x 12.5″ x 2.4″ size, the cushion easily adjusts, providing a custom fit. It perfectly balances providing ample support and not being too bulky.
Overall, the ASI Air Seat is the best motorcycle seat cushion and a real game-changer in terms of comfort. Its high-quality materials, ergonomic design, excellent heat dissipation, easy installation, adjustability, and positive user feedback make it a must-have accessory for any motorcycle enthusiast. Trust me, once you try this cushion, you'll never want to hit the road without it.
Key specs
Material: fiber.
Dimensions LxWxH,inches/cm: 15×13.5×2/38.1×34.2×5.
Item weight, lbs/kg: 1.7/0.7.
Pros
Provides exceptional comfort during long rides, reducing fatigue and discomfort.
It effectively reduces vibrations and shocks from the engine, road, and terrain, resulting in a smoother riding experience.
The adjustable shape allows for a personalized fit, accommodating different body shapes and sizes.
The inclusion of breathable stretch material aids in minimizing humidity and perspiration.
Cons
The larger seat can cause challenges with securing the cushion properly due to the length of the elastic straps.
The cushion's performance on rough terrains leaves room for improvement.
Wild Ass Sport – Classic Motorcycle Cushion – also a great choice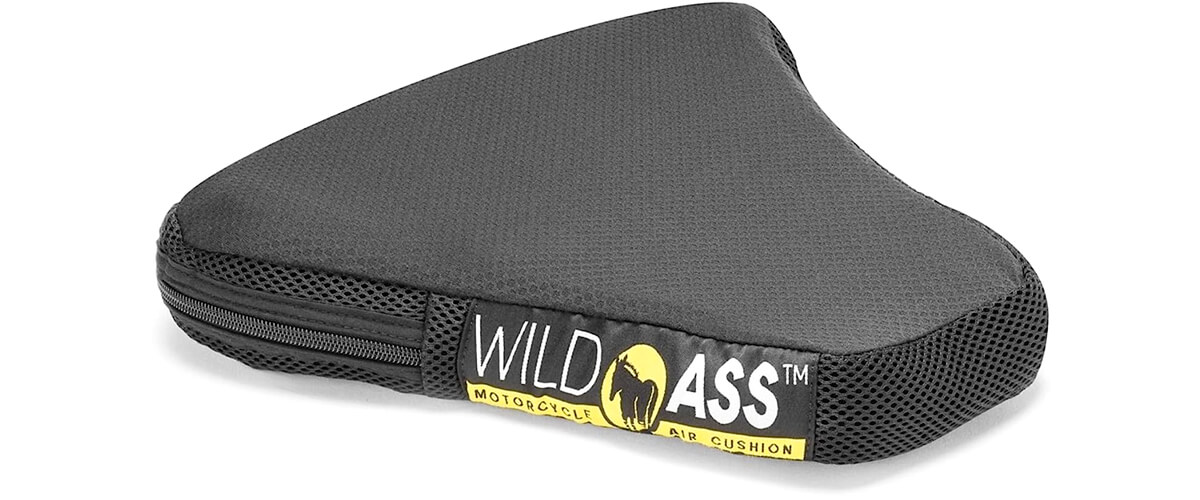 Wild Ass Sport-Classic Motorcycle Cushion is another interesting model in my review. The manufacturer has made bold claims, and now it's time to put their promises to the test. Let's find out if they live up to their claims.
Crafted with medical-grade neoprene rubber, this cushion really reduces painful pressure points that can make long rides unbearable. Additionally, the attention to detail and quality construction of the Wild Ass Sport cushion is awe-inspiring! The medical-grade neoprene rubber offers exceptional elasticity and durability, ensuring that it can endure the demanding conditions of the road. The cushion, bladder, and cover work seamlessly to provide optimal support and comfort.
One size does not fit all when it comes to motorcycle seats, and the Wild Ass Sport cushion understands that. Its ergonomic design contours to the body shape, providing customized support exactly where I needed it most.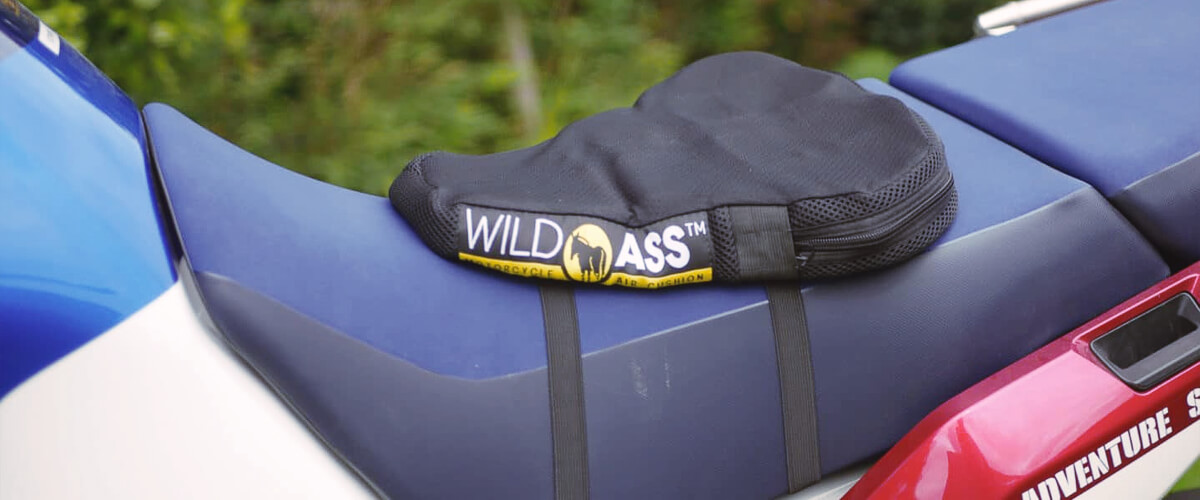 Another feature that made this product shine is its ability to dissipate heat and provide excellent ventilation. The neoprene material allows air to circulate, preventing heat and sweat buildup. Indeed, hot summer days require proper helmets, gloves, and other equipment, but this cushion ensures that the riding is bliss, even if other equipment doesn't match its quality.
The included Wild Ass Sport straps secure the cushion, ensuring it stays put throughout your ride. Furthermore, its universal design makes it compatible with many motorcycle seats. The cushion's inflation valve allows adjustment of the firmness level to suit preference, ensuring a tailored fit that provides maximum support and comfort.
The dimensions of the Wild Ass Sport cushion (12.5″ x 12.5″) are carefully chosen to provide optimal coverage and support. It is big enough to be comfortable but still portable without being too bulky. So, I could quickly transfer it between bikes and even use it as a passenger cushion without any hassle.
In conclusion, the Wild Ass Sport – Classic Motorcycle Cushion is my review's second-best motorcycle seat cushion. The manufacturer really backed up their claims and created a great model. Its ergonomic design, heat dissipation, ventilation capabilities, and hassle-free installation and adjustability make it a must-have accessory for any rider seeking comfort!
Key specs
Material: medical grade neoprene rubber.
Dimensions LxWxH,inches/cm: 12x12x2/30.4×30.4×5.
Item weight, lbs/kg: 1.7/0.7.
Pros
Perfectly fits for long-distance riding.
The cushion ensures a seamless transition from one bike to another.
Its robust construction, heavy-duty chamber material, and included patches enhance durability.
The slightly elevated height from the seat to the pegs provides an extended stretch, albeit a minor drawback.
Cons
The cover may be susceptible to wear.
Requires periodic maintenance and adjustment.
SKYJDM SC012210 – budget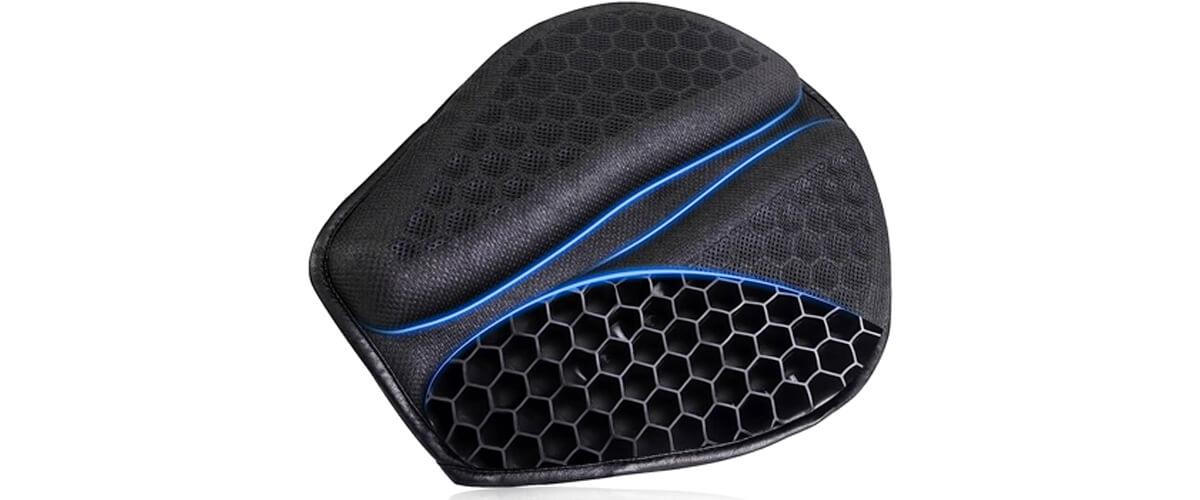 I'll share my experience with the SKYJDM SC012210 motorcycle seat cushion in this part. This budget-friendly gem has enhanced my riding experience, providing good comfort and support throughout my journeys. So, fasten your helmet and hop on as I take you through the features of this remarkable seat cushion.
The SKYJDM SC012210 has truly exceeded my expectations in comfort. Its ergonomic design, with a petal-shaped structure, allows for optimal weight distribution, alleviating discomfort or soreness in the buttocks during long rides. The cushion boasts good materials and construction. The interior is composed of a highly-elastic gel material, decreasing vibrations. The cushion's 3D honeycomb structure ensures flawless airflow. It's as if the cushion was breathing along with me.
The SC012210's petal-shaped design and honeycomb support structure effectively disperse pressure on the hips and coccyx, preventing discomfort or strain on these areas. The cushion also features a groove in the middle, increasing breathability and preventing stickiness. Every aspect of the cushion's design is made to provide maximum ergonomic support.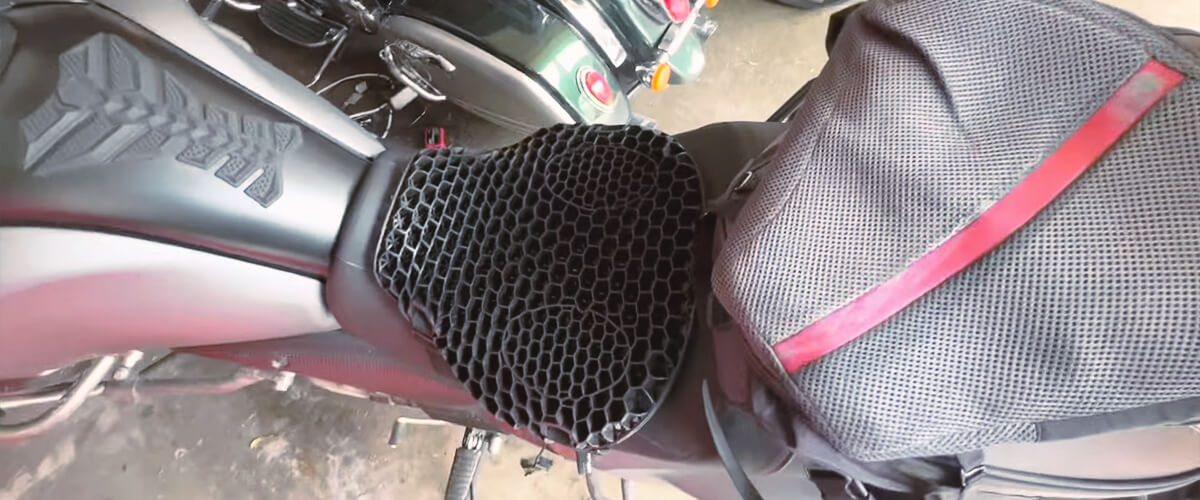 Riding in hot weather can be challenging, but the SKYJDM SC012210 helps. Thanks to its 3D honeycomb structure and ventilation system, you can enjoy a cool and refreshing ride even in scorching temperatures. The cushion's breathability keeps air circulating, preventing excessive heat buildup and ensuring a comfortable journey.
This model comes in two sizes, ensuring the perfect fit for your needs. The large size measures 15.15 x 14.05 x 1.53 inches, while the small size measures 15.74 x 13.77 x 1.18 inches. The cushion's foldable design makes it easy to carry and store when not in use.
Its universal design makes it compatible with most motorcycles on the market. The cushion also has bottom anti-slip pads. So, I managed to fit it securely in place without needing future adjustments.
The SKYJDM SC012210 is not the best seat cushion for a motorcycle but definitely a worthy one! While not perfect, it still gets the job done, enhancing comfort and joy from rides.
Key specs
Material: highly-elastic gel.
Dimensions LxWxH,inches/cm: 15.7×7.2×3/39.8×18.2×7.6.
Item weight, lbs/kg: 2.1/0.9.
Pros
Its petal-shaped structure and high-elastic gel material allow for comfortable riding.
Very well designed, dispersing pressure on your hips and coccyx like a pro.
The 3D honeycomb structure and ventilation system offer good ventilation.
Cons
Although it comes in two sizes, it might not provide a custom fit for all riders.
The cushion cover is prone to wearing out prematurely.
The gel material may lose its elasticity over time.
Saddlemen X Large Tech Comfort Gel Pad – memory foam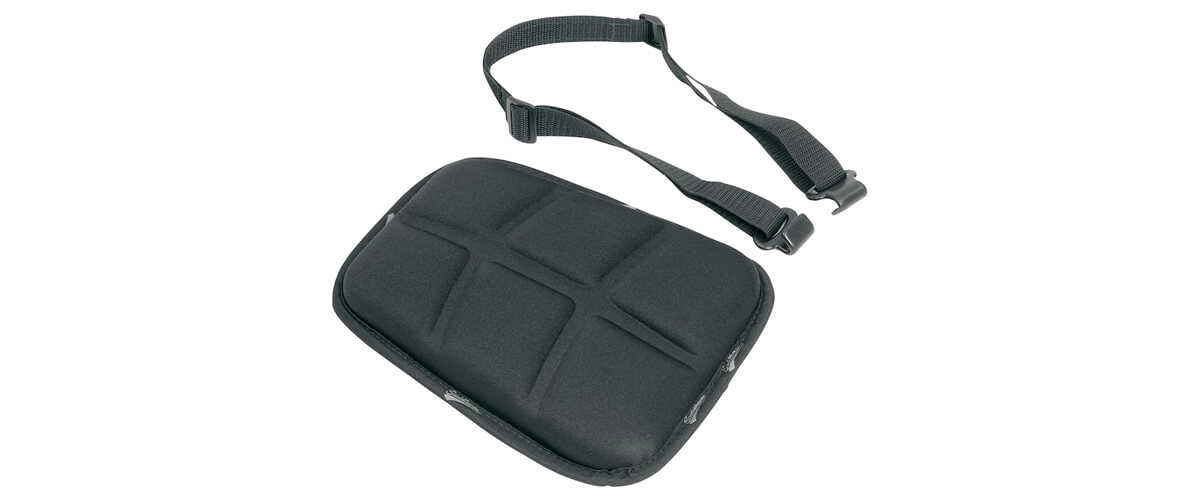 Slowly moving to the end of my review, let me share my encounter with the Saddlemen X Large Tech Comfort Gel Pad – a memory foam motorcycle seat cushion.
The SaddleGel technology within this cushion absorbed and dampened vibrations caused by the road and engine, leaving me feeling refreshed and energized throughout my testing rides. I have been hitting the road for several hours with no fatigue or stress.
The X Large Tech Comfort Gel Pad brags a 3-D molded surface that not only caters to the posterior but also provides excellent air channel cooling. The molded memory foam pads conform to the unique contours of my body, allowing for optimal air circulation and ensuring a tailored fit. Despite being highly breathable, the material was water-resistant even under rain.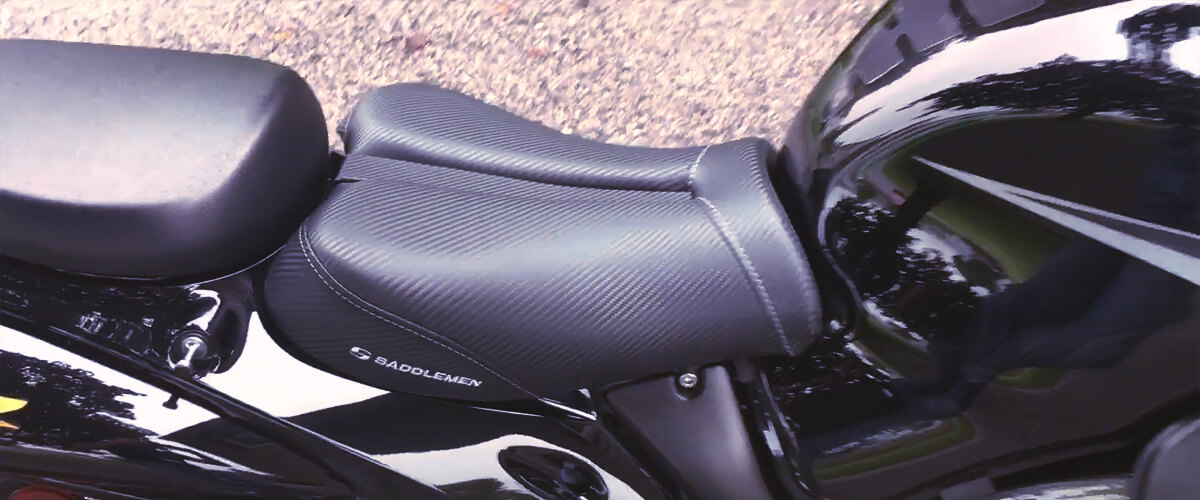 The X Large Tech Comfort Gel Pad doesn't disillusion when the sun scorches and the temperatures rise. Its design allows for superior heat dissipation, keeping me cool and comfortable even on the hottest of days of my testing.
It is in the manufacturer's interest to ensure that the pillow fits the maximum number of motorcycles. So, The X Large Tech Comfort Gel Pad caters to a range of riders, fitting many larger cruisers and most touring bikes, including HD Baggers, Goldwings, Voyager, Royal Star, and Victory, as well as larger adventure bikes.
Finally, my journey with the Saddlemen X Large Tech Comfort Gel Pad has been nothing short of extraordinary! If you're seeking motorcycle seat padding that delivers unparalleled comfort, durability, and customization, look no further than the X Large Tech Comfort Gel Pad. Trust me, it's a game-changer that will revolutionize your riding experience.
Key specs
Material: foam.
Dimensions LxWxH,inches/cm: 12.5×15.5×8.5/31.7×39.3×21.5.
Item weight, lbs/kg: 4/1.8.
Pros
Vibration-absorbing SaddleGel technology provides a refreshing and stress-free riding experience.
3-D molded surface and memory foam pads offer comfort, tailored fit, and excellent air circulation.
Superior heat dissipation keeps the rider cool and comfortable even in hot weather conditions.
Cons
Limited compatibility with specific motorcycle models may restrict proper fitment options.
Requires periodic maintenance, such as cleaning or reconditioning, to maintain its optimal performance and longevity.
Airhawk Cruiser R Large – passenger seat cushion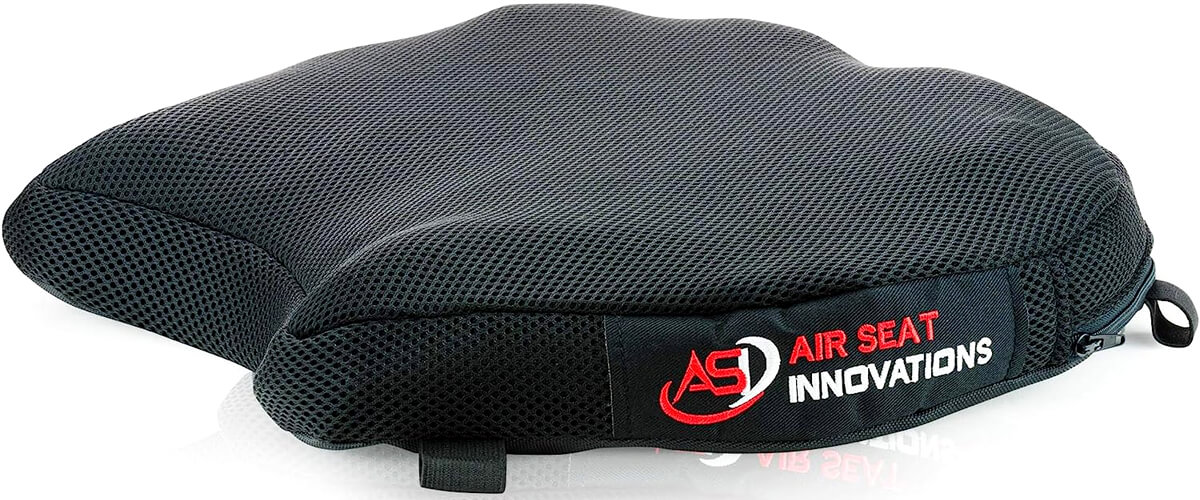 Recently I have already mentioned that Wild Ass Sport was suitable for passengers. So, this gave me an Idea to find the best motorcycle passenger seat cushion. The final choice I settled on was the Airhawk Cruiser R Large passenger seat cushion.
Airhawk Cruiser R Large cushion delivers on its promise in terms of comfort. Its innovative design incorporates built-in stress relief features that reduce pressure points on the tailbone, scrotum, and prostate. Trust me, after hours on the road, your body will thank you for this thoughtful design.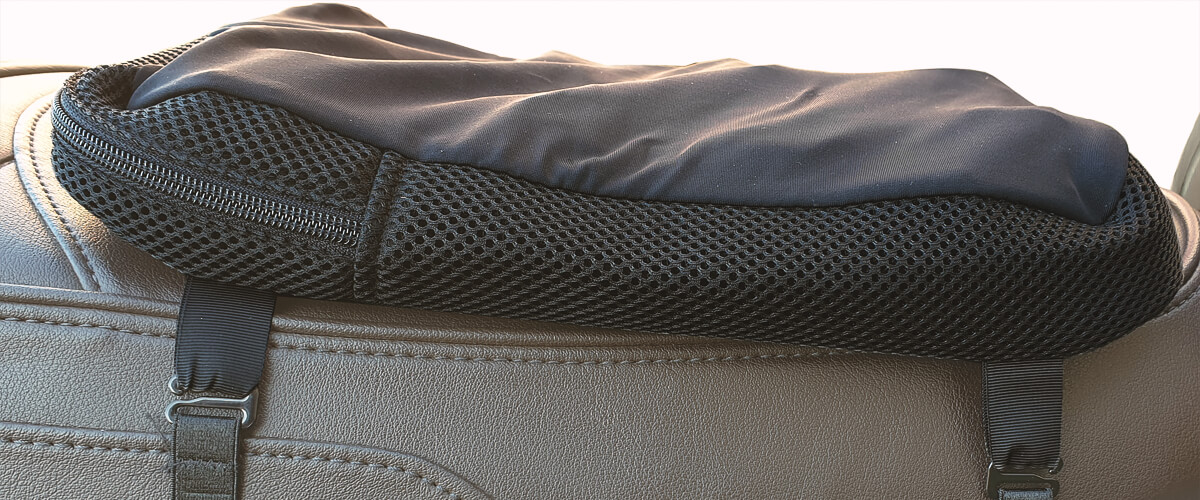 The cushion has a durable polyurethane cover with breathable spacer mesh and red vinyl accents. Not only does this combination provide excellent ventilation and heat dissipation, but it also adds a touch of style to your ride. The non-skid bottom ensures a secure grip, even during spirited cornering.
With dimensions of 14″ L x 14.5″ W, the cushion offers ample room for comfort without compromising on leg passage. The universal fit of Airhawk Cruiser R Large makes it compatible with most motorcycle seats. Once in place, the cushion stays put thanks to the included cruiser straps. It is also easy to adjust it on the go. Sadly, I had to do it several times after the most active riding.
The Airhawk Cruiser R Large padding for motorcycle seat brings much into one's riding experience with passengers. It offers a high level of comfort, high-quality materials, and ergonomic design. Its effective heat dissipation, easy installation, and adjustable fit make it the ultimate choice for any motorcycle enthusiast.
Key specs
Material: polyurethane.
Dimensions LxWxH,inches/cm: 13.8×8.1×4.3/35×20.5×10.9.
Item weight, lbs/kg: 0.8/0.3.
Pros
Good support thanks to the individual air cells.
The ability to adjust the air pressure in the cushion enables personalized comfort.
The cushion helps to reduce pressure on sensitive areas.
Made with high-quality materials, ensuring its longevity and resistance to wear and tear.
Cons
Straps are not sturdy enough, raising the need to make adjustments.
Finding the optimal air pressure and positioning for maximum comfort may take some time, requiring a bit of trial and error.
Manually inflating the cushion may be inconvenient for some users, especially when precise pressure adjustments are required.
The advantages of motorcycle seat pad for long rides
First and foremost, let's address the elephant in the room: rider comfort. Long journeys can be brutal on our bums, but motorcycle touring seats act as a knight in shining armor. They ease pressure points, ensuring you don't feel like sitting on a bed of nails. Say goodbye to that numbing sensation!
But that's not all. These seat pads distribute your weight evenly across the seat, preventing discomfort and pain. No more sore spots or achy muscles! Plus, they provide extra cushioning, turning even the bumpiest roads into a smooth joyride. Who doesn't want that?
Reducing fatigue is another huge advantage. By absorbing vibrations and shocks, seating systems minimize the impact on your body. It's like having a personal shock absorber. You'll feel fresher, more focused, and less tired, ensuring a safer and more enjoyable journey.
Types of motorcycle seat pads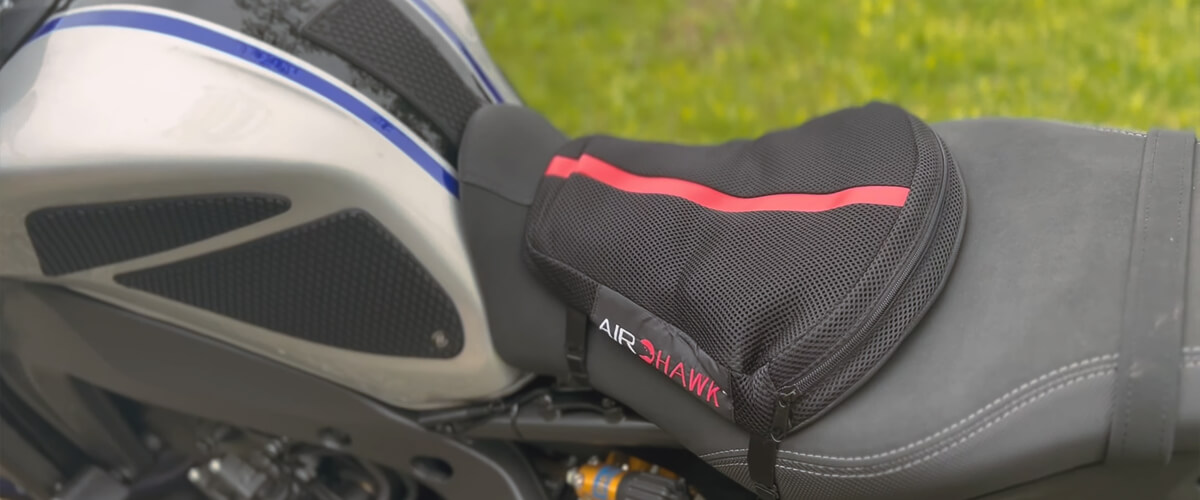 Gel seat pads
Gel seat covers are designed with the rider's comfort in mind. They consist of a gel-like substance encased in a durable and flexible material. What sets them apart is their ability to conform to the shape of your body, providing a custom fit that reduces pressure points and enhances overall comfort during long rides.
One of the biggest advantages of motorcycle gel seat pads is their excellent vibration absorption properties. Moreover, they are known for their ability to dissipate heat. They minimize the build-up of heat and moisture between your body and the seat, keeping you cool and comfortable even on hot summer days.
Now, let's discuss gel-based seat cushions' pros and cons. They are relatively durable, withstanding regular use without losing shape or functionality. Maintenance is a breeze, usually requiring just a wipe-down with a damp cloth. But such models are often pricier than other seat cushions. While they provide excellent comfort, the investment may not suit every rider's budget.
Air seat pads
How do these inflatable seat cushions work? Well, imagine having an airbag underneath you while you ride. That's essentially what an air seat pad is. By using air-filled chambers, these cushions provide adjustable cushioning tailored to your liking. With just a few squeezes of the integrated hand pump, you can easily customize the firmness or softness of your seat.
Now, let's talk about the benefits of these pneumatic wonders. Firstly, customization is key. With an air seat pad, you can fine-tune the level of support to suit your unique preferences and body type.
Secondly, comfortable pneumatic seat cushions excel at pressure relief. Long rides can take a toll on your backside, but with air-filled chambers, the cushion evenly distributes your weight, reducing pressure points and promoting better blood circulation.
Lastly, improved ventilation is a major advantage. The air chambers allow air to circulate beneath you, preventing excessive heat and moisture buildup.
Foam seat pads
First up, we have memory foam, a popular choice among riders. This type molds itself to the shape of your body, providing personalized support and comfort. It remembers your contours, so every ride feels tailored to you. Next, we have high-density foam, known for its durability and firmness. It offers excellent support and helps distribute your weight evenly, reducing pressure points and ensuring a smooth ride.
Lastly, we have viscoelastic foam, often called visco or gel foam. This foam combines the best of both worlds, blending the contouring properties of memory foam with a cooling gel infusion for added comfort.
Regardless of the type, quality seat pad excels at providing exceptional support and comfort and conforming to the contours of your body. They alleviate discomfort by relieving pressure points, making those long rides more enjoyable.
Factors to consider when choosing a motorcycle seat pad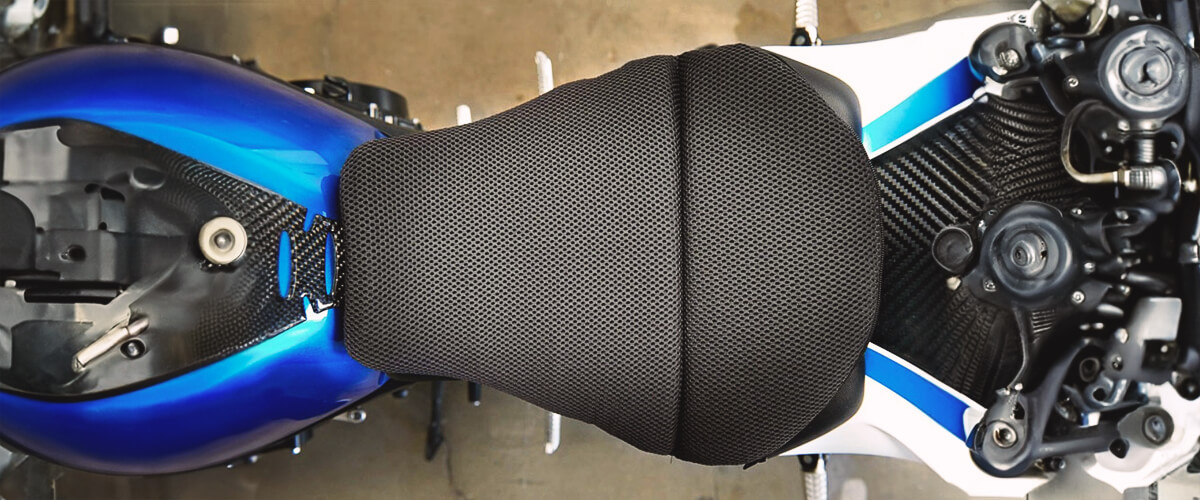 Comfort
Comfort, my friends, is paramount for cruiser motorcycle seats. We all know that long rides can be tough on our backsides, but the comfort level varies from rider to rider.
Pay attention to seat cushion thickness. A thicker pad provides more cushioning and can alleviate pressure points. Contoured seat pads are also worth considering, as they offer better support and alignment for your body. Look for models made from breathable fabrics or those designed with ventilation channels.
So, here's my advice on evaluating comfort before making a purchase. First, read expert reviews (by the way, your humble servant also belongs to them) to gain insights into other riders' experiences. Second, consider using different seat pads if possible, as comfort can be subjective. And finally, don't forget to check the return policy to ensure you can exchange or return the pad if it doesn't meet your expectations.
Fit and сompatibility
Why is it so important? Well, imagine this: You find a fantastic seat cushion, but it doesn't match the shape and size of your motorcycle seat. Ouch! It could lead to discomfort and even affect your balance and control.
To ensure compatibility, take some time to measure your seat accurately. Grab a tape measure and note down the dimensions, including length, width, and thickness.
Now, let's talk about attachment options. Seat pads come with various methods, like straps, suction cups, and adhesive backing. Straps offer a secure and adjustable fit, while suction cups provide a temporary attachment for easy removal. Adhesive backing offers a permanent solution but requires careful installation.
Durability and maintenance
You definitely want a seat cushion that can handle the demands of prolonged use and ever-changing weather conditions. So, look for options crafted from high-quality fabrics or materials that resist wear and tear.
Regular cleaning is a must, especially after long rides or exposure to dirt and grime. Use mild soap or specialized cleaners recommended by the manufacturer, and avoid harsh chemicals that could damage the material.
Lastly, here's a tip to extend the life of your seat cushion: whenever possible, avoid leaving it exposed to prolonged sunlight. UV rays can cause fading and weakening of the material. If parking in direct sunlight is unavoidable, consider using a reflective or UV-resistant cover to reduce the impact.
FAQ
Are air seat pads suitable for all types of motorcycles?
Air seat pads are a universal option that can work well for most motorcycle types. They provide excellent comfort by distributing pressure evenly. However, ensuring the seat pad is compatible with your bike model and seat design is still important.
Are there specific seat pad options available for passengers or pillion riders?
Absolutely! Seat pad choices are specifically created for them. These options typically come in various shapes and sizes, offering the best possible comfort and support for those accompanying you on the ride.
Do motorcycle seat pads provide any insulation or temperature regulation for hot or cold weather riding?
Some motorcycle seat pads do offer insulation and temperature regulation features. Look for pads with materials that provide heat dissipation during hot weather and insulation during colder rides. These pads can help keep you comfortable in various weather conditions.
Are there any weight limitations or restrictions when using a seat pad?
Yes, weight limitations can vary depending on the specific seat pad. I always recommend checking the manufacturer's guidelines to ensure you stay within the recommended weight range. Exceeding the weight limit can compromise the performance and durability of the seat pad.