You know full well that the quality headgear is crucial when you're roaring down the road. First and foremost, you've got to ensure the utmost protection for your head. At the same time, even the most secure helmet should not decrease your comfort and, thus, impact your rides. Taking these things into account, what head accessory should you get? I believe that the best carbon fiber motorcycle helmets serve this mission perfectly.
Carbon fiber is a well-known material that is five times stronger than steel. Its incredibly high tensile strength delivers superior protection for your head in case of an accident. Besides, it is pretty flexible because of the material structure (the combination of carbon threads and other additives like resin, kevlar, or fiberglass woven into fabric). Thanks to this, the carbon fiber helmet shell distributes the energy upon impact and transfers it across the fiber liner.
Strength and flexibility are not the only advantages of carbon fiber helmets. On top of these features, they are lightweight. The lightness is a significant benefit for a rider as it ensures a more pleasant and comfortable wearing experience compared to most standard motorcycle helmets.
Check out this guide with reviews of the top picks on the market to make an educated decision about the helmet that will satisfy your needs to the fullest.
Our pick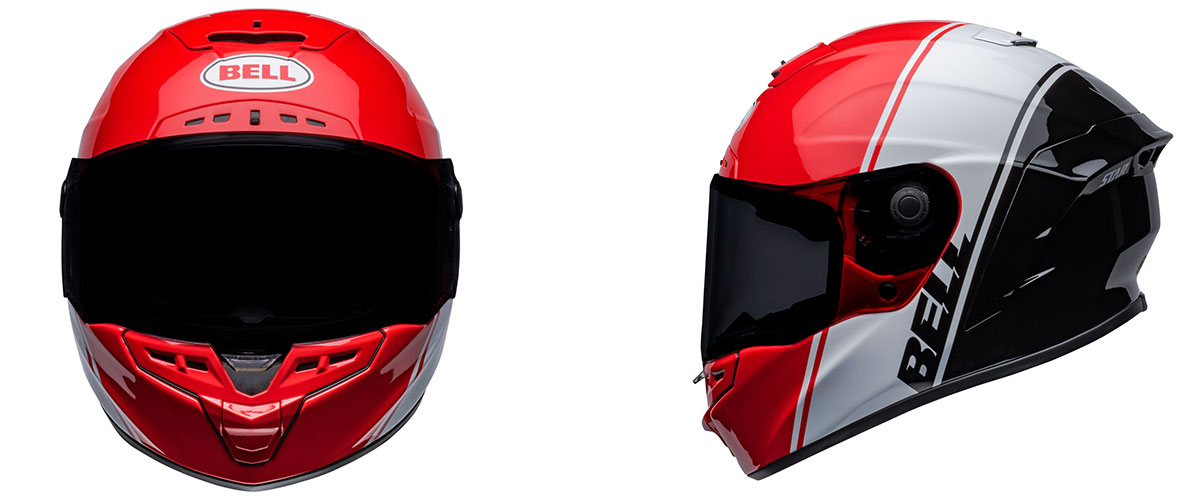 Bell Star DLX MIPS
Best carbon fiber motorcycle helmet
The latest, extremely aggressive generation of a helmet that started a safety revolution in motorsports, the Bell Star Helmet, now with MIPS!
Best carbon fiber motorcycle helmet reviews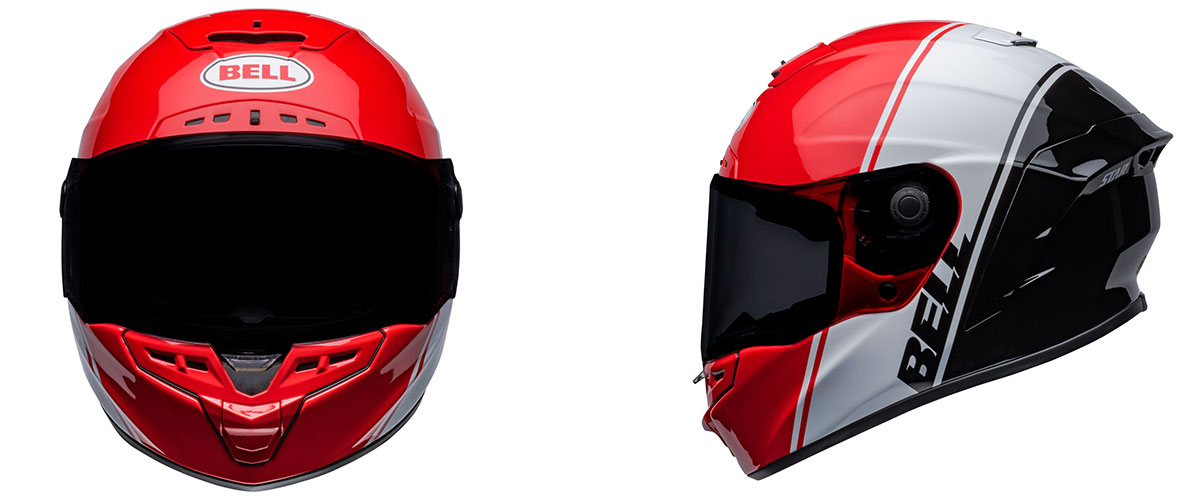 Bell Star DLX MIPS is the latest modification of the Bell Star helmet, which was introduced in 1963 and since then became the standard in head protection. Let's see what the manufacturers prepared for us in this new model.
The Tri-Matrix composite shell of this headgear combines Aramid, carbon fiber, and fiberglass. This mix delivers sturdiness, optimal flexibility, and robust performance. Moreover, the EPS liner absorbs the impact force in case of a crash; thus, it enhances the protective properties of the shell.
As I put this helmet on for the first time, it was slightly tight on my cheeks. But this is a small drawback as the helmet's interior parts squished down after several uses. This minor inconvenience is nothing compared to the advantages the lining has.
First, it is of high quality and pleasant to the skin. Second, the X-Static liner material has a layer of 99.9% pure metallic silver, which has clinically proven antimicrobial properties. It repels bacteria and provides odor control, so you always feel comfortable when you have this helmet on. Finally, the lining is removable and washable, allowing you to maintain it in good condition.
If you are a fan of light helmets, you may find AGV Pista GP RR headwear a more appealing solution as the Bell Star DLX MIPS is on the heavier side (it weighs 4.07 lbs).
This helmet has an included Panovision ProTint Photochromatic shield. It works fantastic. As I took a ride in the daytime, the visor darkened. At night it enabled me to see clearly in conditions of insufficient light. This peculiarity reduces the need to switch between tinted and clear visors. Furthermore, this headgear is compatible with prescription glasses, thanks to the pockets woven into the lining. But mind that you will have to purchase a Pinlick anti-fog insert separately as it is not included in the box.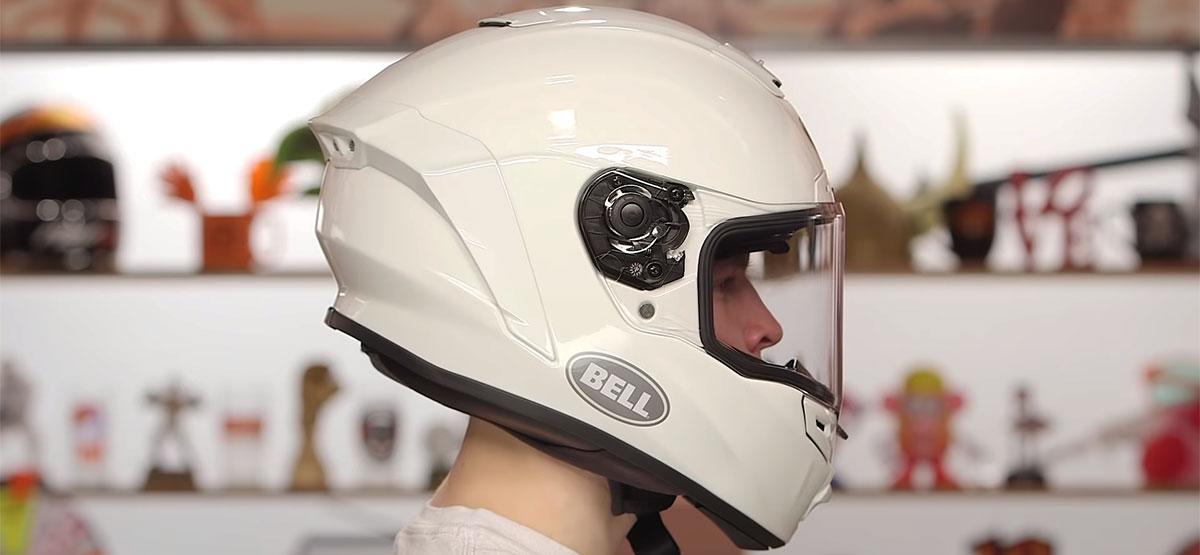 Regarding security ratings, it is worth mentioning that the Bell Star DLX MIPS model boasts DOT, ECE, and SNELL certifications. In addition, the multi-directional impact protection system also enhances your safety in case of an accident. This slip-plane technology reduces rotational forces inside the helmet that certain impacts can trigger.
As this is a full-face sports helmet, ventilation is only possible through vents. I should admit that this model's vents flow a good amount of air. However, you may find it too hot for urban rides, especially when your route has plenty of traffic lights.
If you've been looking for the best carbon fiber motorcycle helmet, the Bell Star DLX MIPS is the perfect match. It provides a high level of protection, unparalleled comfort, and clear vision even in the dark.
Key specs
Helmet type: full-face.
Head shape: intermediate oval.
Safety certification: Snell M2020, DOT.
Shell sizes: XS, SM, MD, LG, XL, 2XL.
Shell material: carbon fiber, fiberglass.
Weight, g/lbs: 1860/4.1.
Pros
Approved by DOT, ECE, and SNELL.
Sturdy shell with the desired level of flexibility.
The Panovision ProTint Photochromatic shield adjusts to the light levels.
The lining has a silver layer for antibacterial properties.
Cons
It may be too heavy for light helmets fans.
No Pinlock anti-fog lens included.
Scorpion EXO-ST1400 – budget helmet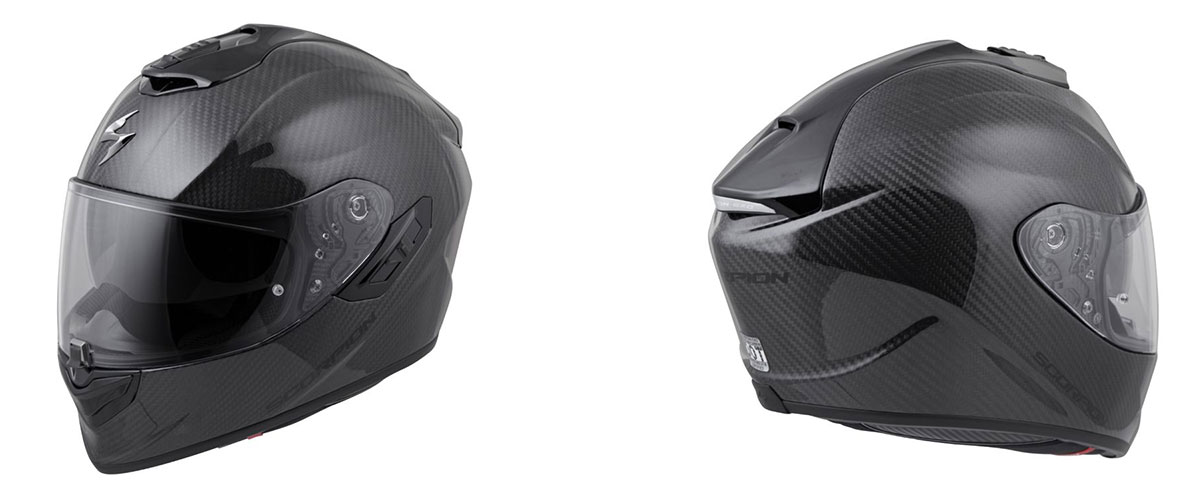 When looking for reliable headwear in a budget segment, your attention should undoubtedly go to Scorpion EXO-ST1400. Despite being one of the lightest helmets in the class (only 3.05 lbs), it delivers a high level of comfort and protection to a rider.
Since its shell is made of carbon fiber with infused resin, the helmet gets aircraft-grade dispersal properties. It means that the shell provides superior impact energy protection. This way, the helmet will protect your head as much as possible. If you need more arguments that will prove the reliability of this product, let me say the final word – it's DOT- and ECE-certified, meaning it has successfully passed rigorous tests of organizations specializing in head protection matters.
Similar to Bell Star DLX MIPS, the Scorpion helmet has a removable, washable, and replaceable interior. It absorbs moisture and dissipates humidity, so you always stay comfy and dry with this headgear. In addition, the helmet has other useful features inside, like the KwikFit 3D sculpted cheek pads compatible with eyeglasses and the comm-ready speaker pockets for connecting your BlueTooth communication system.
The Scorpion EXO-ST1400 helmet will gladden you with its ventilation properties. It features a venturi-effect channeling system connected via adjustable dual ram-air intakes and spoiler integrated exhaust. Thanks to this, your skin stays dry and cool as humid and dry air gets easily pulled out from the helmet's interior.
Regarding visual parameters, this helmet model is far from being an underdog. The large eye port design with a distortion-free SpeedView sun visor provides a fantastic horizontal and vertical visual field. The visor blocks up to 95% of UV rays, so your eyes are always protected, even in direct sunlight. Additionally, you won't lose your vision in foggy weather as this headwear comes with an EverClear and Pinlock no-fog shield.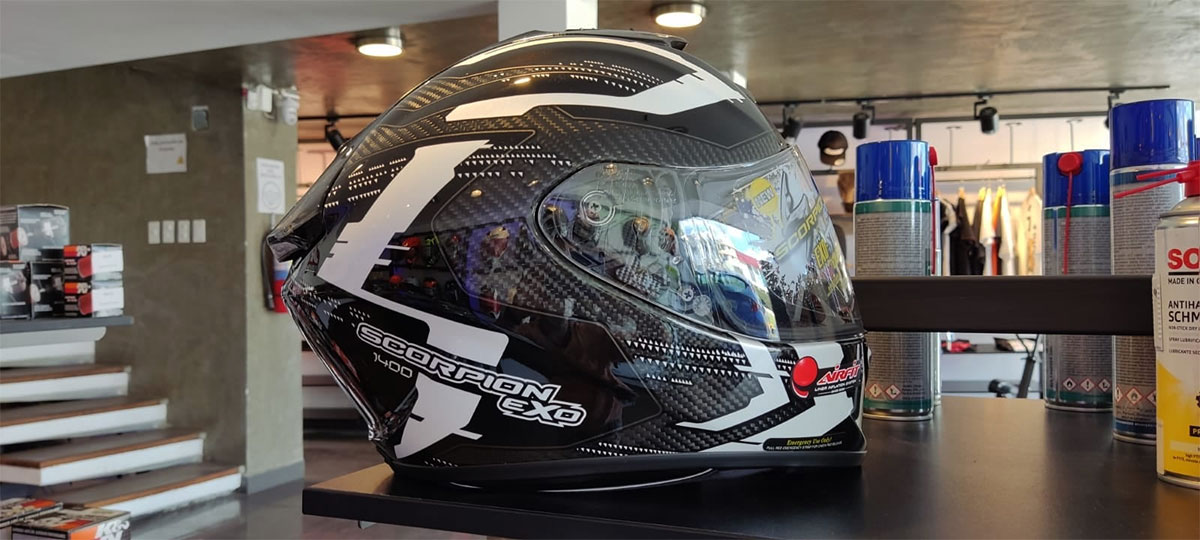 While this helmet has many useful features, let me warn you about some of its flaws. First, the sizing is slightly off. I usually buy a specific size of Scorpion headwear, but this turned out to be very small. Second, it's noisy. Third, a drop-down shield locking mechanism is hard to operate, especially with gloves.
Scorpion EXO-ST1400 is the best carbon fiber helmet you will ever find if the price plays a critical role. It keeps your vision clear and your head securely protected in accidents while ensuring you stay comfy during every minute of your ride.
Key specs
Helmet type: full-face.
Head shape: intermediate oval.
Safety certification: DOT, ECE.
Shell sizes: XS, SM, MD, LG, XL-3XL.
Shell material: carbon fiber.
Weight, g/lbs: 1497/3.3.
Pros
A large eye port with distortion-free and no-fog visors.
Compatible with glasses.
No ventilation issues – the system works great.
Holds certificates from DOT and ECE.
Cons
Deviations from standard sizing.
Noise reduction does not work great.
A shield locking mechanism is hard to operate.
AGV Pista GP RR – premium choice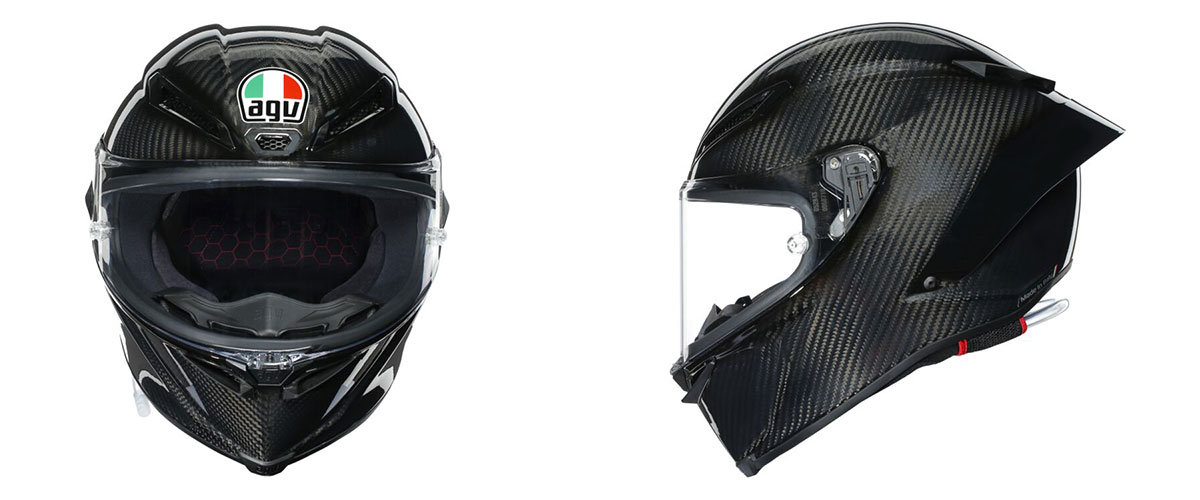 If you want to experience what world championship racers feel, you can start with getting the headgear of the same quality. The AGV Pista GP RR replicates professional sports helmets, so it will take you one step closer to your racing dream.
When it comes to the helmet's shell, it is worth noticing that it is made of 100% carbon fiber. Thanks to this, it's pretty light (3.36 lbs) and durable. At the same time, it provides superior protection in a crash.
The ventilation is pretty typical in this AGV Pista GP RR helmet: 5 front air vents and 2 rear extractors in the shell. However, you may want to get better-ventilated headwear if you are a frequent urban rider.
One of the upsides of this helmet is its cheek pads. While the Bell Star DLX MIPS model has removable cheek pads, the AGV company went further. You can inflate or deflate them to adjust how tight you want the helmet to be in the cheek area.
The crown lining is made of elastic microfiber that boasts sanitized antibacterial protection. It also wicks moisture, so you won't have your face all wet as you take the helmet off. Moreover, a patented crown structure enables you to customize the fit by giving an option to select a proper positioning on the top of your head. By the way, you can remove and wash the interior padding to get rid of dirt or odor.
As this helmet has successfully passed homologation tests by FIM, it provides the highest level of protection against impacts that may cause rotational motion.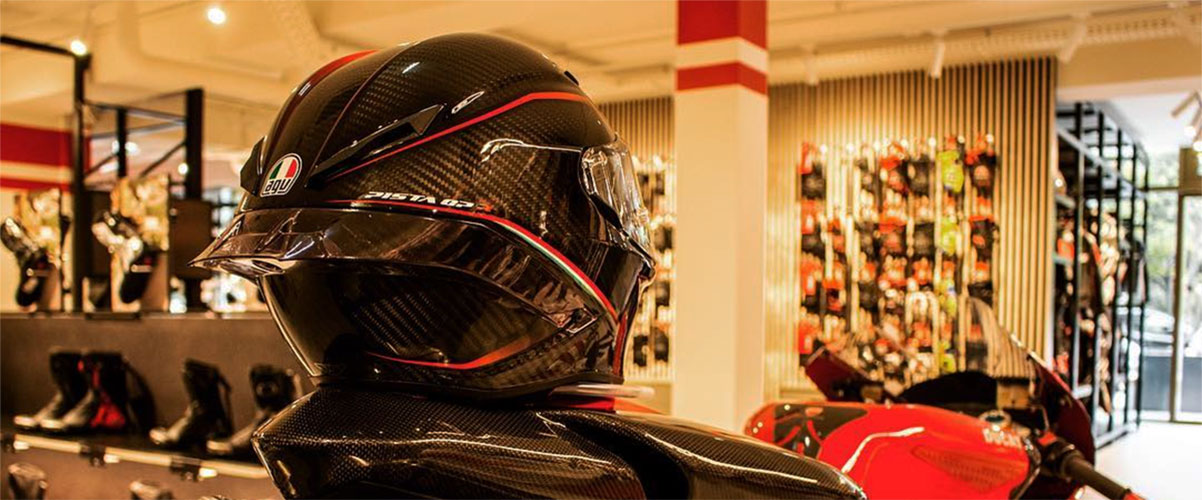 Noise isolation is by far the biggest weakness of this helmet. But this model has a significant benefit that may encourage you to overlook this minor flaw – an integrated hydration system with internal channels. I connected a helmet and a water bottle with a tube and had a chance to drink water through the valve whenever I was thirsty.
An anti-scratch, tear-off-ready Race 3 face shield promotes excellent eye protection. Thanks to the class 1 optic visor and included Pinlock lens, you will see clearly even in foggy weather. A lock securely holds a visor in its place and prevents accidental opening.
This carbon fiber full-face motorcycle helmet by AGV is a premium headwear that boasts plenty of useful features to enhance your safety and comfort. An excellent vision system, well-thought-out interior, and other perks will make you feel at ease during your journey.
Key specs
Helmet type: full-face.
Head shape: intermediate oval.
Safety certification: DOT, ECE, FIM.
Shell sizes: XS, SM, MD, LG, XL, 2XL.
Shell material: carbon fiber.
Weight, g/lbs: 1542/3.4.
Pros
An integrated hydration system lets you drink water on the go.
A class 1 optic visor and Pinlock lens enable clear vision in any condition.
Microfiber lining and inflatable cheek pads ensure comfy wear.
FIM-certified to withstand impacts.
Cons
Average ventilation may not be enough for urban rides or hot days.
Poor noise isolation.
KLIM Krios Pro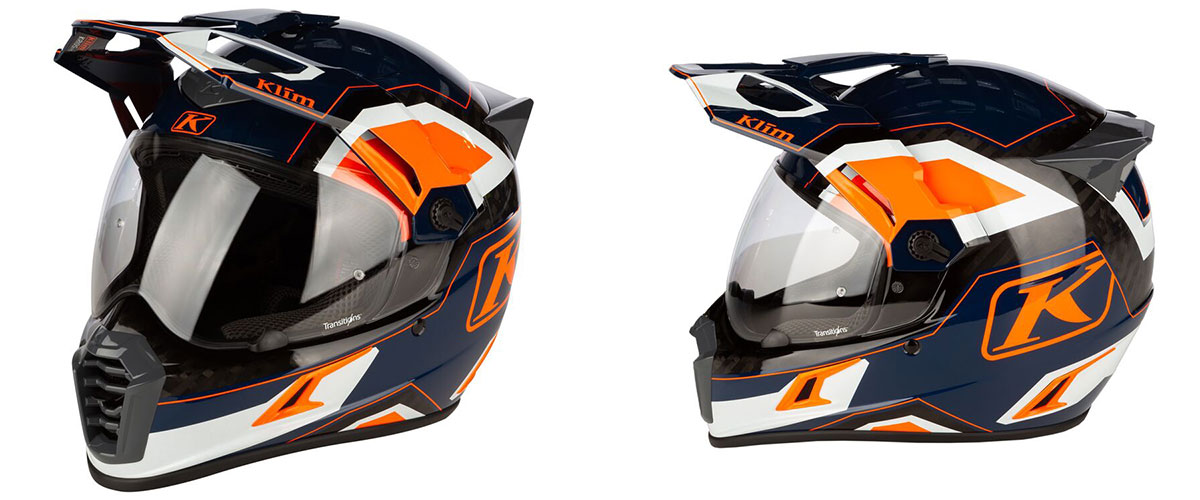 Consider the KLIM Krios Pro helmet to make your street or trail rides much safer. This DOT-approved carbon fiber helmet also boasts ECE certification, so it's recognized both in the USA and Europe. The shell material also enhances the protection properties. The mix of hand-laid carbon with resin cuts the stiffness of pure carbon and delivers superior shock absorption properties to protect your head in life-threatening situations. In addition, this material contributes to the helmet's lightness (3.4 lbs). As you wear this light helmet, you feel less fatigue, which allows you to stay more concentrated on the road.
The KLIM Krios Pro helmet has four riding modes that allow you to adjust it according to your needs. This distinctive feature makes this model different from AGV Sportmodular Carbon.
As for the product's interior, the manufacturer uses the Klimatek liner system. It is known for its adaptive foam technology that conforms to your head shape. Despite this lining peculiarity, I find this helmet uncomfortable in the forehead area. Even over time, I still feel how the lining presses on the top of my head. Setting this flaw aside, I would like to emphasize lining textiles' antimicrobial/bacterial fast-wicking properties. In most cases, my face was completely dry, even during trips on hot days.
If you frequently use accessories like Klim Radius Goggles and Sena 10U BlueTooth communication system, you will be glad to know that the KLIM Krios Pro helmet is compatible with them.
The polycarbonate anti-scratch face shield does a good job of protecting your face from wind and other external impacts. The Transitions photochromic lens is light-intelligent, accommodating to the level of light outdoors. Whether it's dark or sunny, you will have a clear vision of things around you. This helmet is Pinlock-ready, so you can improve your ability to see when it's foggy. With a quick-release system, you will have no issues locking or unlocking the shield and visor.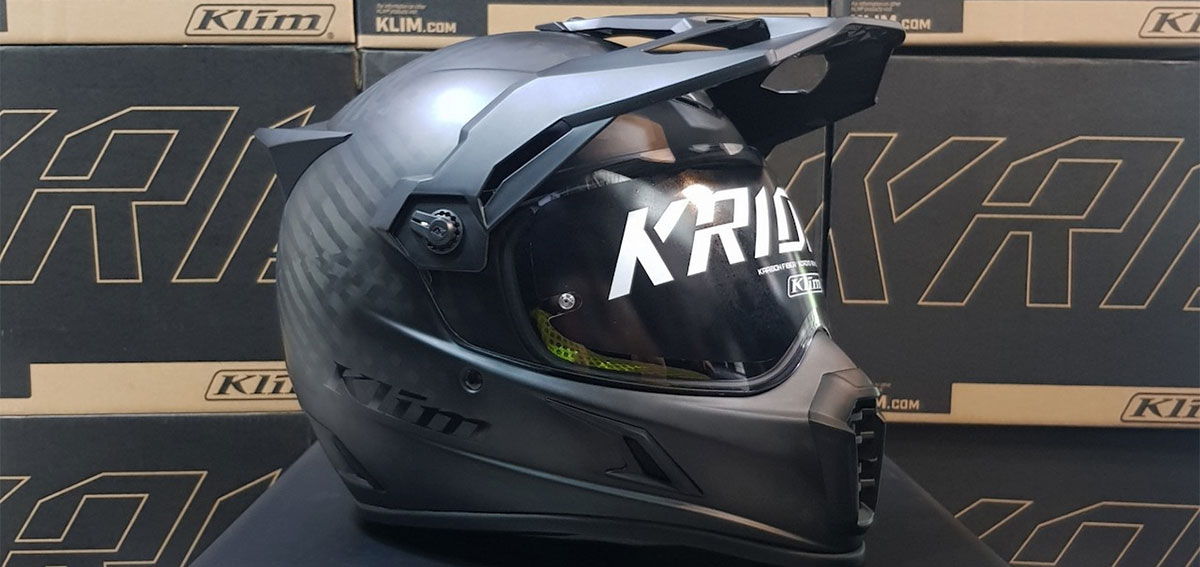 With regard to the sound insulation of the helmet, I would say that it's not perfect. The noise level is higher than average, which may not be comfortable when riding at high speeds. The ventilation system also received a relatively low rating from me. It still keeps you cool, but it is not as good as in Scorpion EXO-ST1400.
Choosing the KLIM Krios Pro helmet, you agree on great visibility, an option of adjusting the headwear according to your needs, and unparalleled comfort.
Key specs
Helmet type: adventure.
Head shape: intermediate oval.
Safety certification: DOT, ECE.
Shell sizes: XS, SM, MD, LG, XL-3XL.
Shell material: carbon fiber.
Weight, g/lbs: 1542/3.4.
Pros
Light-intelligent Transitions photochromic lens improves visibility.
DOT and ECE ratings prove protection capabilities.
Great moisture-wicking properties of the lining.
Lightweight and sturdy shell for your security and comfort.
Cons
Uncomfortable in the forehead area.
No way to conveniently attach a communication system.
Too noisy, especially at high speeds.
AGV Sportmodular Carbon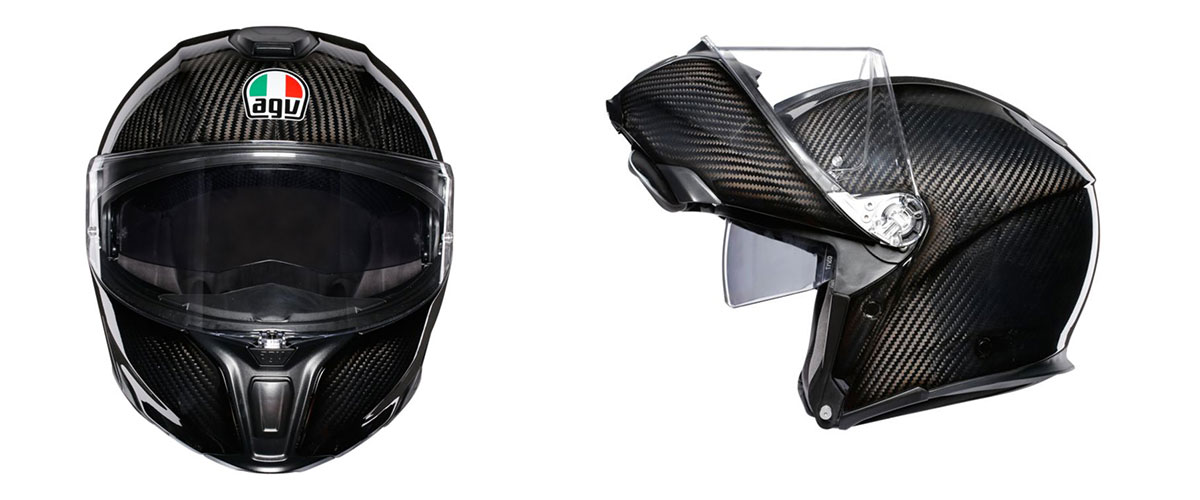 The Sport Modular carbon fiber helmet by AGV is headwear that will easily fit into your active lifestyle due to its versatility. As it has a modular design, you can transform it into a full-face and open-face headgear to fulfill your needs.
Since it is entirely built from carbon fiber, this product delivers a high level of protection in lightweight construction (3.2 lbs). In addition, DOT/ECE certifications testify to the great capabilities of the helmet to protect you in dangerous situations. Besides, the 100% carbon fiber chin bar with a reliable fastening system ensures balance even in an open configuration.
The fit of the helmet is fine. I can't complain about the tightness of the construction in general, but there is one thing I do not like about how the helmet sits. As the chin strap attaches a bit further back, it may press on your Adam's apple.
The well-thought-out interior of the AGV Sportmodular Carbon helmet deserves high praise. The cheek pads are made of fluid Ritmo fabric, which is pleasant to the skin and quickly absorbs moisture. But the most surprising thing about the AGV Sportmodular Carbon is its crown lining. While AGV Pista GP RR has a microfiber crown lining, this product has a reversible one. It means that the pad has two sides: a warmer side for winter (made of Shalimar fabric) and a cooler side for summer (made of Ritmo fabric).
A carbon chin guard is meant to reduce the amount of airflow, but it doesn't save the day – the helmet is extremely noisy. The wind noise overpowers my headphones, making it unbearable to drive at high speeds.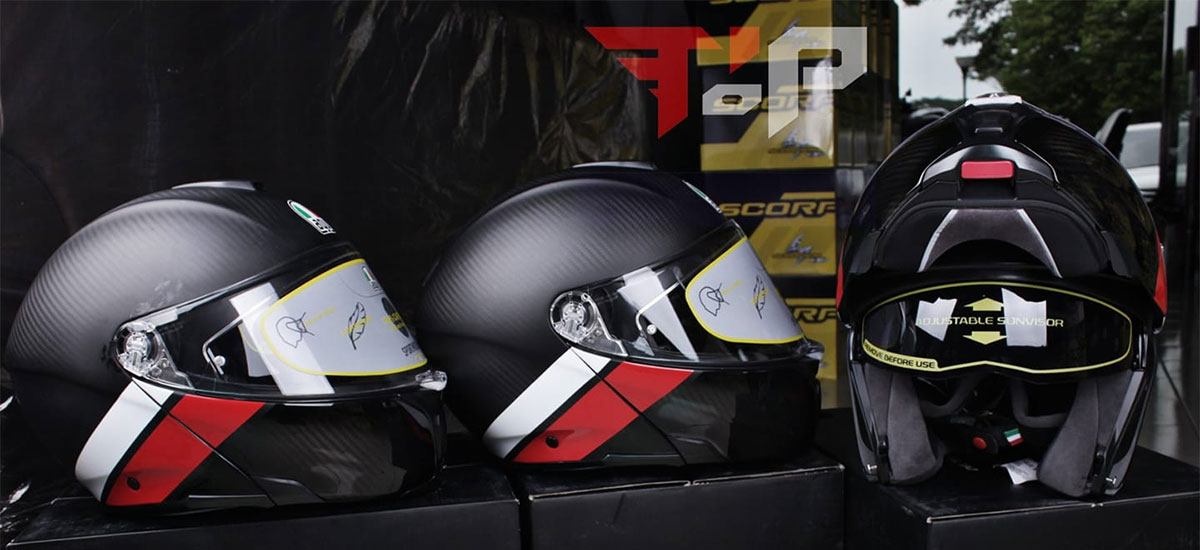 There is nothing special about the ventilation in this helmet. You will find 2 front vents and a rear extractor to provide air circulation. The rear vent comes with a cover. I might add that, its arm is very brittle and broke after a few days.
The AGV Sportmodular Carbon helmet has a sophisticated visor system. It delivers 190° horizontal and 85° vertical field of view through an anti-scratch GT3 face shield. In addition, the included Max Vision Pinlock lens and integrated sun visor enable you to see in any weather conditions.
If you can't decide whether you need a full-face or open-face helmet, you should settle on AGV Sportmodular Carbon. Also, enjoy the comfort of the reversible lining throughout the whole year by staying warm in winter and cool in summer.
Key specs
Helmet type: adventure.
Head shape: intermediate oval.
Safety certification: DOT, ECE.
Shell sizes: XS, SM, MD, LG, XL-3XL.
Shell material: carbon fiber.
Weight, g/lbs: 1542/3.4.
Pros
A modular design gives you more customization.
DOT/ECE certifications to testify its reliability.
Comes with a Max Vision Pinlock lens.
A reversible crown pad for hot and cool weather.
Cons
The noise isolation is minimal.
The chin strap may be too tight on your Adam's apple.
The vent cover is too brittle.
What to look for when choosing a carbon fiber helmet?
If you are wondering how to pick an ultra-lightweight motorcycle helmet made of carbon fiber, I suggest you consider these recommendations.
The first thing you should ponder upon is a helmet type. There are various types of helmets (full-face, half-face, modular, open-face, dual-sport, and others), and each differs in design and features. So, think about what headgear type will fully meet your needs.
Then, carefully consider the helmet size and shape. To get a product with the most suitable parameters, you need to measure your head and compare the measurements with the manufacturer's information.
One more aspect you must pay attention to is how the helmet fits. Lining plays a crucial role in this matter, so go for the product that offers a removable, washable, and pleasant-to-the-skin interior.
Finally, you should consider a helmet as not just a fancy accessory that will add some vibe to your rides. First and foremost, it should protect you from sustaining injuries to your head if you get in an accident. As you purchase a helmet that has successfully undergone DOT, SNELL, and other certifications, you obtain confidence in your safety on the road.
Is a carbon motorcycle helmet safe?
Before giving you an answer to this question, let's consider the facts.
Carbon fiber is one of the strongest materials used for manufacturing helmets due to its bonded structure. More specifically, carbon atoms bond together in a chain-like pattern. Thanks to this, the material is more resistant to breaking. This way, the helmet won't crack or get broken even under the impact.
Some people may say that carbon fiber helmets are stiff. This point of view has some grounds when this material is used in a pure state. But manufacturers overcame this drawback by adding other materials like plastic, kevlar, and fiberglass to gain the optimal shell performance and flexibility. Due to this combination, the shell will absorb energy from impacts, so even a lot of force will do little to no harm to your head or skull.
Moreover, carbon fiber helmets are lightweight. This feature has an implicit impact on the rider's safety. The thing is that lightweight helmets are more comfortable. Thus, they reduce fatigue and help the riders save energy, allowing them to concentrate on the ride solely.
FAQ
How long do carbon fiber helmets last?
Carbon fiber helmets are designed to last for several years, provided that they are properly cared for and maintained. However, the lifespan of a carbon fiber helmet can be reduced if it is frequently exposed to sunlight or extreme temperatures, or if it sustains damage from impact.
Is a carbon fiber helmet worth it?
Carbon fiber helmets are generally more expensive than traditional helmets made from
materials
such as kevlar or ABS plastic. However, carbon fiber helmets offer a number of advantages in terms of weight, comfort, and safety.
Are carbon fiber helmets louder?
Carbon fiber helmets are not necessarily louder than other types of helmets. However, some riders find that carbon fiber helmets amplify noise more than other types of helmets, making it difficult to hear traffic or other sounds while riding.
What are the disadvantages of carbon fiber helmets?
The main disadvantage of carbon fiber helmets is their cost. Carbon fiber helmets are also more fragile than other types of helmets and can be damaged more easily. Additionally, carbon fiber helmets provide less protection against cold weather and high winds than some other types of helmets.