Suppose you value versatility and security that work in tandem with comfort and practicality during the rides on your motorbike. In that case, you won't go wrong considering the best modular motorcycle helmets I have collected in this review. Since you can pop up the chin bar and face shield in this helmet type, you gain superior functionality and utmost security. This way, you do not neglect your head protection while on the road. At the same time, you can grab a breath of fresh air when you stop at the traffic light. Furthermore, if you need to have a quick conversation with someone (for example, your fellow or a client you are delivering a package to), there is no better solution than a modular helmet.
Because of the design peculiarity, modular helmets have endured immense popularity, leading to a great variety of models on the market. I have studied and personally tested quite a lot of modular helmets and will help you make the right choice.
Our pick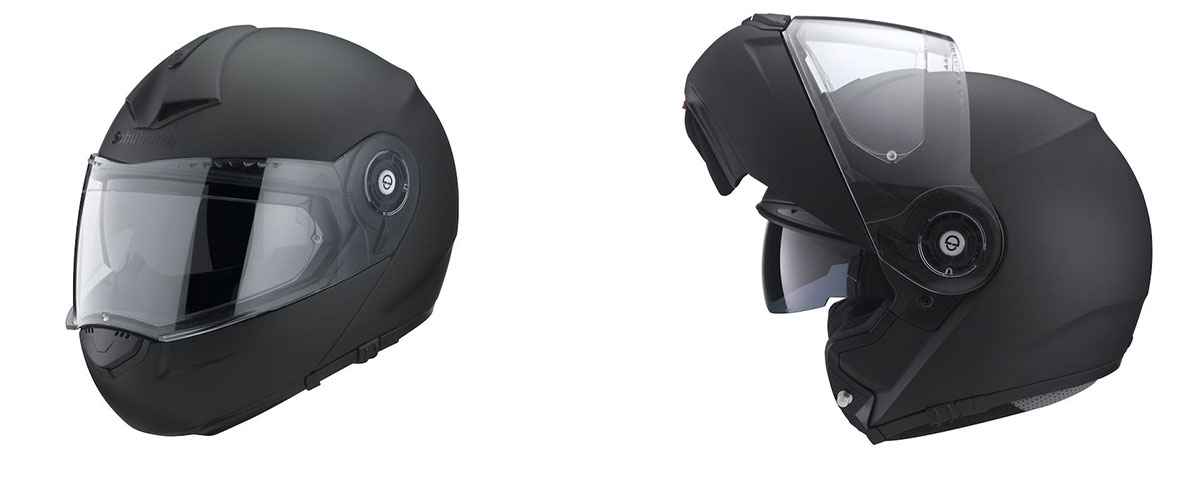 Schuberth C3 Pro
Best modular motorcycle helmet
Technical in-depth knowledge and years of experience turn the C3 Pro into the functional wonder that it is.
Read the full review
.
Best modular motorcycle helmet reviews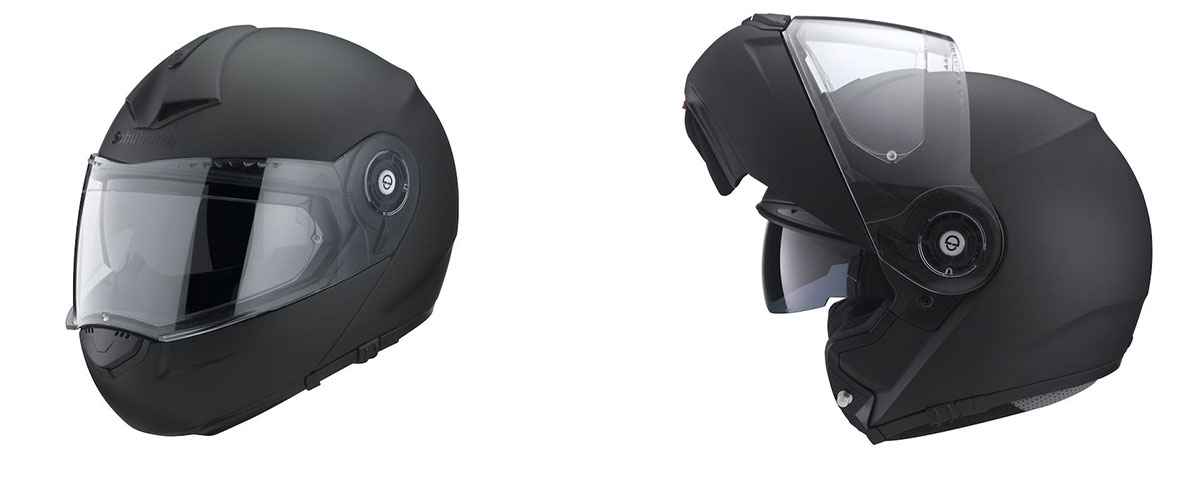 The Schuberth C3 Pro is a modified Schuberth C3 helmet known for its noise isolation, functionality, and aerodynamic properties. Schuberth C3 Pro will surprise you with some features as one of the most technologically advanced headgear. Let's see what makes this model stand out among its rivals.
The helmet's shell offers high-tech protection to your head due to SCHUBERTH's proprietary outer shell technology. It involves pressing fiberglass with a special resin into a shape under high temperature, resulting in a sturdy shell. This material also contributes to the helmet's light weight – only 3.53 lbs. In addition, the inner shell incorporates multiple pieces of EPS foam to provide the rider with great impact reduction.
The Schuberth C3 Pro has several advantages over the Simpson Mod Bandit, which is actively competing with it. For example, the optimized rear spoiler of Schuberth C3 Pro delivers better aerodynamic properties at high speeds compared to Simpson Mod Bandit. In addition, the Schuberth manufacturer reduced the noise level to 82 dB(A) at 60 mph, making it the quietest modular helmet. Finally, the C3 Pro integrates the Schuberth SRC system and features two antennas to increase Bluetooth range or accept FM radio better.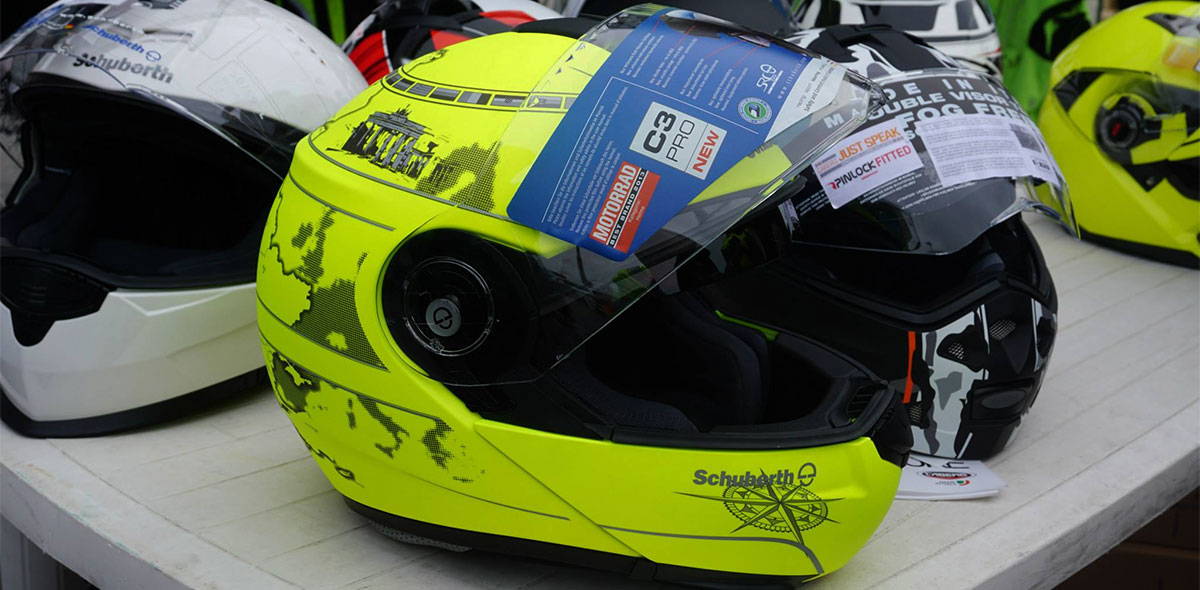 As of safety, this headgear is approved by DOT. Compliance with the DOT 218 testing standard means you can legally use the Schuberth C3 Pro on the roads in North America.
Looking inside the helmet, I want to accentuate that there is a CoolMax textile inside to maintain an optimal climate. As its name suggests, it keeps you cool while riding. Thanks to the liner that works in combination with the ventilation system, you are unlikely to feel as if you are trapped in a heated box. Additionally, the liner wicks moisture well, and you can always remove it for replacement or cleaning.
Let me say a few words about the vision system. The external shield is made of scratch-proof polycarbonate. It passes the optical class 1 standard, meaning you will have a distortion-free clear view. Changing the tinted or anti-fog pin lock lens takes seconds, so you can easily protect your eyes from the sun or enhance your vision in mist conditions.
I am thrilled about permanent air circulation in Schuberth C3 Pro. I feel how fresh air replaces the hot breathed-out air during the ride. But I am not enthusiastic about vents – they are hard to operate with gloves.
Considering excellent ventilation, a clear vision system, a well-thought-out shell design, and decent noise isolation, I believe that Schuberth C3 Pro is the best modular motorcycle helmet for those who would like to get reliable and comfortable headgear.
Key specs
Head shape: intermediate oval.
Safety certification: DOT, ECE.
Shell sizes: 2XS, XS, SM, MD, LG, XL-3XL.
Shell material: S.T.R.O.N.G. fiber.
Weight, g/lbs: 1601/3.53.
Pros
Sturdy yet lightweight shell construction due to the mix of fiberglass and resin.
Very quiet – the sound level is 82 dB(A) at 60 mph.
The lining keeps you cool and wicks moisture.
Perfect air ventilation to keep you refreshed.
Cons
Vents are hard to operate with gloved hands.
Scorpion EXO-AT950 – budget helmet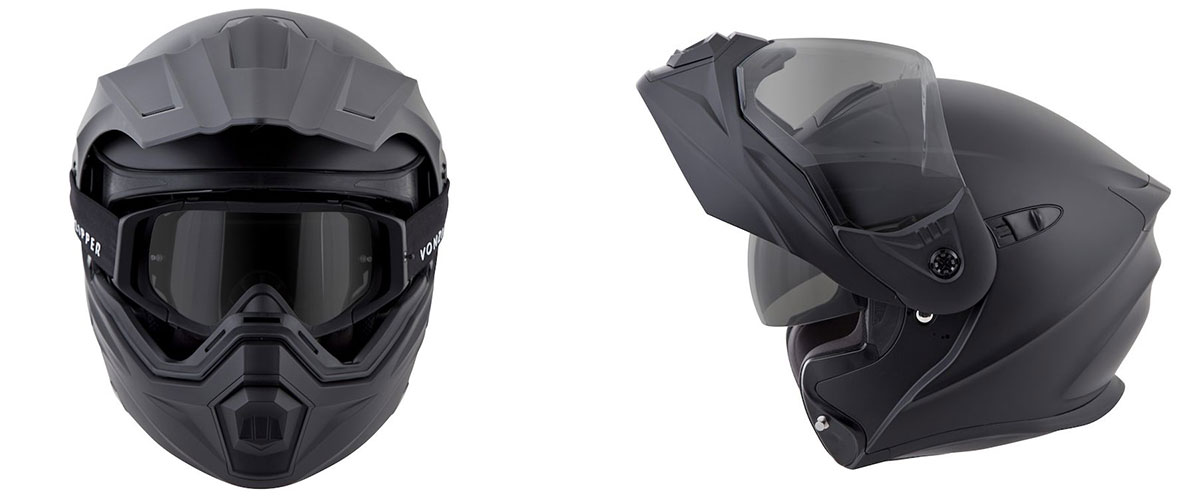 When you search for a cheap modular motorcycle helmet that will surpass your expectations in terms of comfort and versatility, you should consider Scorpion EXO-AT950 in the first turn.
The distinctive feature of this model is an off-road style peak that blocks the sun and lets you see clearly when you rush along the road. Since it is a modular helmet, EXO-AT950 by Scorpion allows you to open the chin bar to relieve your claustrophobia, grasp fresh air, or have a quick talk.
The shell of the Scorpion EXO-AT950 is made of advanced polycarbonate. Compared to the fiberglass and resin shell as in the Schuberth C3 Pro, polycarbonate may contribute to a slightly heavier helmet weight (3.77 lbs, which is not a dramatic difference from the Schuberth C3 Pro) yet will increase impact absorption at lower speeds. This model has a dual-density EPS that delivers energy displacement in case of an accident. Moreover, DOT certification proves the protection properties of this helmet.
Scorpion EXO-AT950 comes with a KwikWick II antimicrobial liner that keeps you cool in summer and warm in winter. I tested its properties on hot days – no complaints. It absorbs sweat fast, and, most importantly, I easily removed the lining and other interior parts for washing. The Kwikfit cheek pads do not press on your cheeks hard, though there is a certain degree of discomfort during the first use. Another perk inside this best budget modular helmet is communication system speaker pockets for connecting your audio system.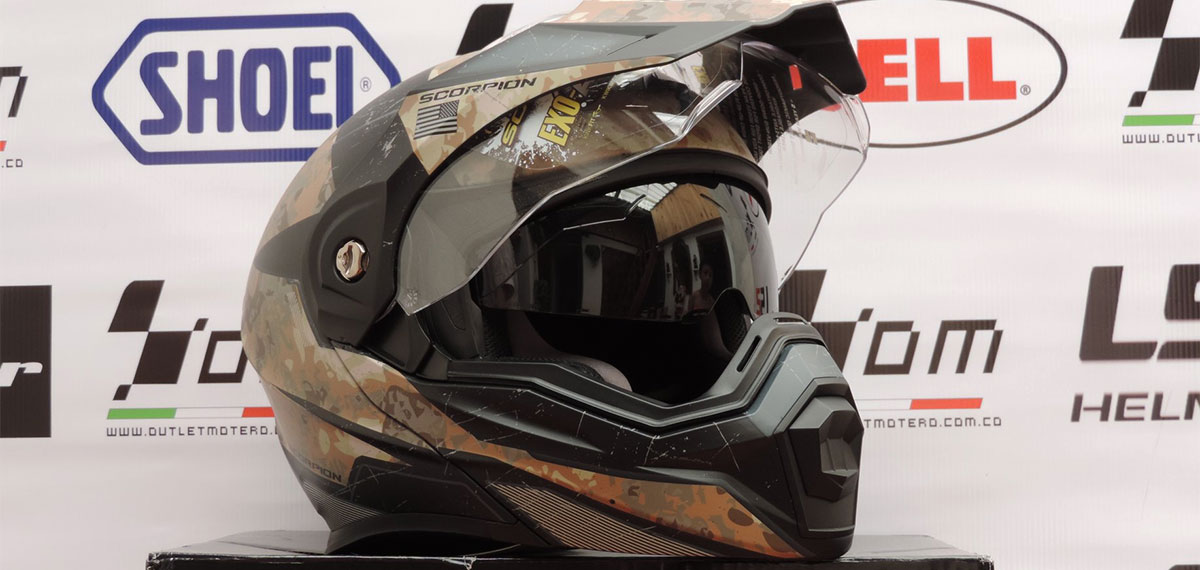 When you want to get a bit of fresh air, you can open a flip-up chin bar to maximize airflow. Ergonomic intake vents let cool air in, while exhaust vents ensure hot air gets out of the helmet. One of my favorite features in Scorpion EXO-AT950 is the mouth vent that supports dual positions. The first position works as a defroster, and the second – as a defroster and ventilator.
This helmet delivers great peripheral vision thanks to an oversized eye-port. The Scorpion EXO-AT950 features a SpeedView drop-down sun visor, which you can easily put up and down owing to the sliding mechanism. You can mix the sun shield with an EverClear no-fog shield for better visibility in foggy weather.
Scorpion EXO-AT950 is the best modular helmet from an affordable segment. It is reliable, with the original visor, good noise insulation, and ventilation. Ideal for everyday travel.
Key specs
Head shape: intermediate oval.
Safety certification: DOT, ECE.
Shell sizes: XS, SM, MD, LG, XL-3XL.
Shell material: EPS, polycarbonate.
Weight, g/lbs: 1710/3.77.
Pros
A polycarbonate shell makes the helmet relatively lightweight and reliable.
A large eye port for a great peripheral vision.
Simple mechanism for opening/closing the chin bar and shield.
DOT certificate testifying to the quality and protection.
Cons
It may be too tight on your cheeks for the first time.
Shoei Neotec 2 – premium pick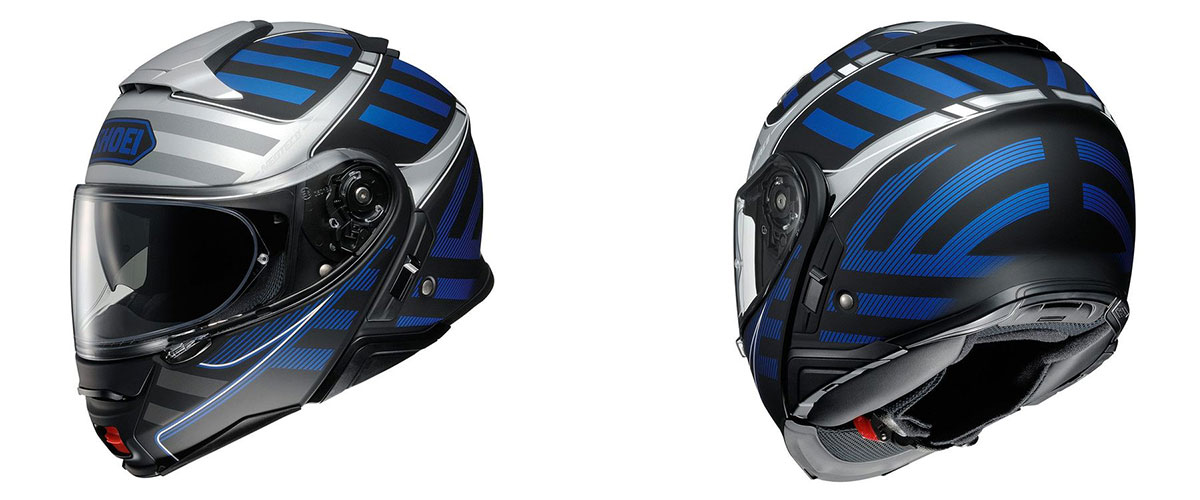 No matter where you go and what type of ride you prefer, you will appreciate the reliability and comfort of the Shoei Neotec 2 helmet.
The helmet's shell is made of Shoei's Advanced Integrated Matrix material, a fiberglass composite with organic fibers and resin. Because of this material, the shell proves to be sturdy yet heavy (4.12 lbs). Besides, a dual-layer EPS liner delivers enhanced impact absorption by utilizing varying densities of foam, making it one of the safest modular helmets on the market.
The design of this helmet promotes great aerodynamics. There is no buffering even at high speeds. It becomes possible thanks to an innovative shell-forming technology, which integrates a spoiler right into the shell. Besides, Vortex Generator on the visor and face cover reduces the noise and controls airflow around the helmet. When it comes to noise isolation, it's similar to Schuberth C3 Pro, though I do hear minor wind noise at high speeds.
The flip-up functionality of Shoei Neotec 2 flip front helmet lets you quickly switch between full-face and open-face modes of the helmet. Locking system components are made of stainless steel to ensure secure and safe closure. An enlarged button for releasing a chin bar is one of my favorite things in this helmet. Just one click and the chin bar is open.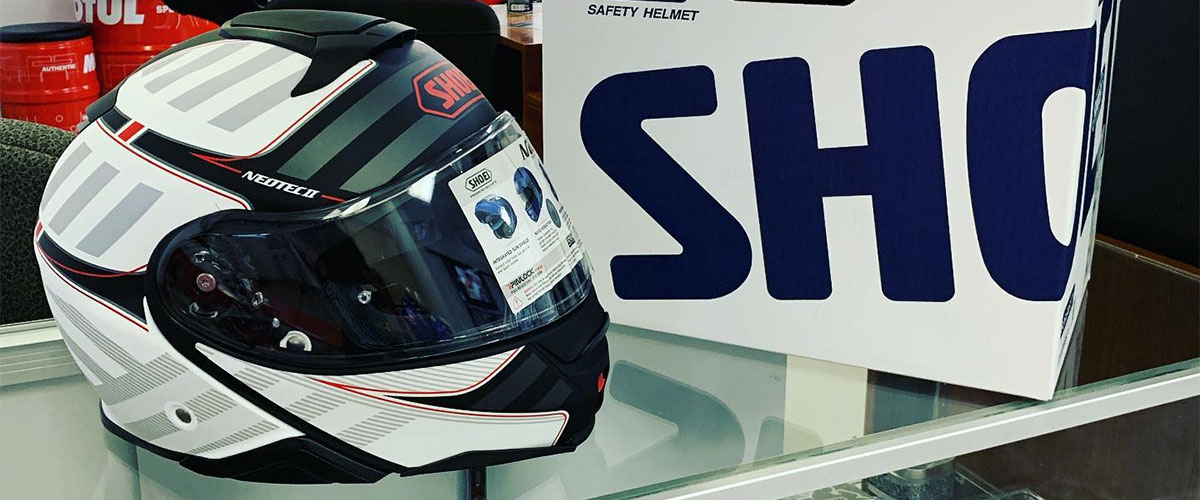 The interior of Shoei Neotec 2 won't disappoint you. The 3D liner system delivers superior fit, safety, and comfort. Every piece of the system (cheek pads, chin strap covers, and upper liner) is removable for cleaning and replacement. If you worry about the liner's properties to absorb moisture, you shouldn't – it wicks sweat like a sponge. The interior is also compatible with eyeglasses of different sizes and a SENA SRL/SRL2 communication system.
The shield system of this helmet provides a distortion-free view through a large eye-port. Thanks to the CNS-3 shield, the helmet wins a high level of air/water sealing and noise reduction. It also protects your eyes from damaging UV rays, while the in-built sun shield relieves you from sun glare. If you ride in foggy conditions from time to time, you will be thrilled to know that Shoei Neotec 2 has a ​​Pinlock EVO fog-resistant system that enhances your vision.
The Shoei Neotec 2 is truly a premium among modular helmets. Yes, you have to pay a substantial amount of money for it, but you get a reliable "friend".
Key specs
Head shape: intermediate oval.
Safety certification: DOT, ECE.
Shell sizes: XS, SM, MD, LG, XL-3XL.
Shell material: fiberglass.
Weight, g/lbs: 1869/4.12.
Pros
An innovative Advanced Integrated Matrix material for extra protection.
A great vision system with a sun shield and Pinlock EVO system.
Advanced aerodynamics due to a well-thought-out design.
Comfy and functional interior compatible with sunglasses and Sena communication systems.
Cons
You will hear some wind noise at high speeds.
You may find it heavy – 4.12 lbs.
Simpson Mod Bandit – also a great choice
A one-hand modular system, Pinlock compatibility, DOT/ECE certifications – that's what the Simpson Mod Bandit helmet is notable for. It is one of the lightest modular helmets on the market. But let's take a closer look at this headgear to reveal other features that might encourage you to consider this product.
This modular helmet can easily turn into a full-face or open-face modification in one simple motion. The chin bar locking components are made of metal to ensure strength and durability. You may lock the chin bar in an open position, which significantly simplifies the process of helmet customization according to your riding preferences. However, ​​fastening this flip up motorcycle helmet can be a problem for people with large fingers as the D-ring is too small, and you may find it unbearable to manage.
The Simpson Mod Bandit shell is made of tri-composite carbon fiber. As a result, this lightweight modular helmet weighs 3.73 lbs, so you won't suffer from the burden on your head. Aside from light weight, this material also contributes to the durability of the shell construction. It's good to know that DOT/ECE tests prove its sturdiness.
When you pick the shell size, let me give a piece of advice – make sure you have studied the sizing scale. Follow the sizing (which is pretty accurate) rather than a standard size chart. Otherwise, you risk purchasing a helmet that won't fit right.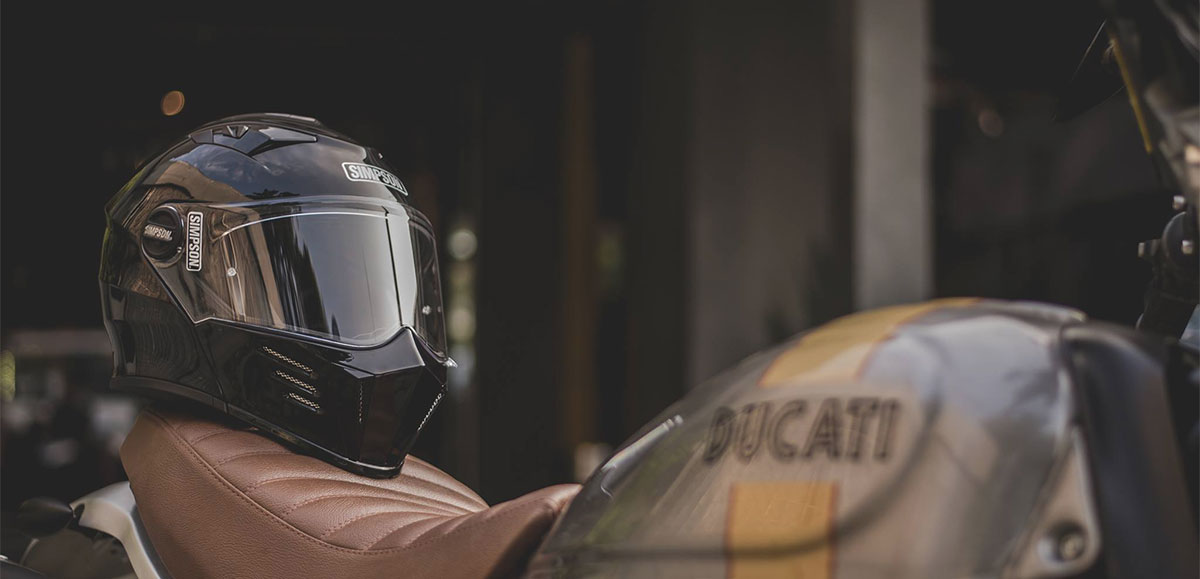 There is nothing extraordinary about the lining in this model. Like Schuberth C3 Pro lining, you can remove it along with other interior elements. Cheek pads have hypoallergenic and antimicrobial properties, slowing down the spread of fungi or odors. If you are looking for a helmet compatible with communication systems, you will be satisfied with the pockets for speakers and a microphone in this product.
The ventilation in this Simpson modular helmet is average in a closed mode. You let air in and out through adjustable vents under the chin. There is also an option for ​​top and rear ventilation.
An internal sun shield and Pinlock-ready system in this helmet prepare you for any challenges the weather has prepared for you. However, the face shield is a bit hard to close.
The Simpson Mod Bandit flip-up helmet will deliver everything you might expect from functional headgear. It doesn't feel heavy on your head, provides a vast area of vision, and enables an easy switch between the helmet modifications.
Key specs
Head shape: intermediate oval.
Safety certification: DOT, ECE.
Shell sizes: XS, SM, MD, LG, XL-3XL.
Shell material: lightweight composite shell.
Weight, g/lbs: 1692/3.73.
Pros
One-hand control of a chin bar and a shield.
Compatible with communication systems.
Ready for use with a Pinlock anti-fog lens.
A good level of ventilation through adjustable vents.
Cons
A small D-ring can be hard to handle.
Sizing is different from a standard size chart – so be attentive.
The face shield is a little hard to close.
LS2 Valiant 2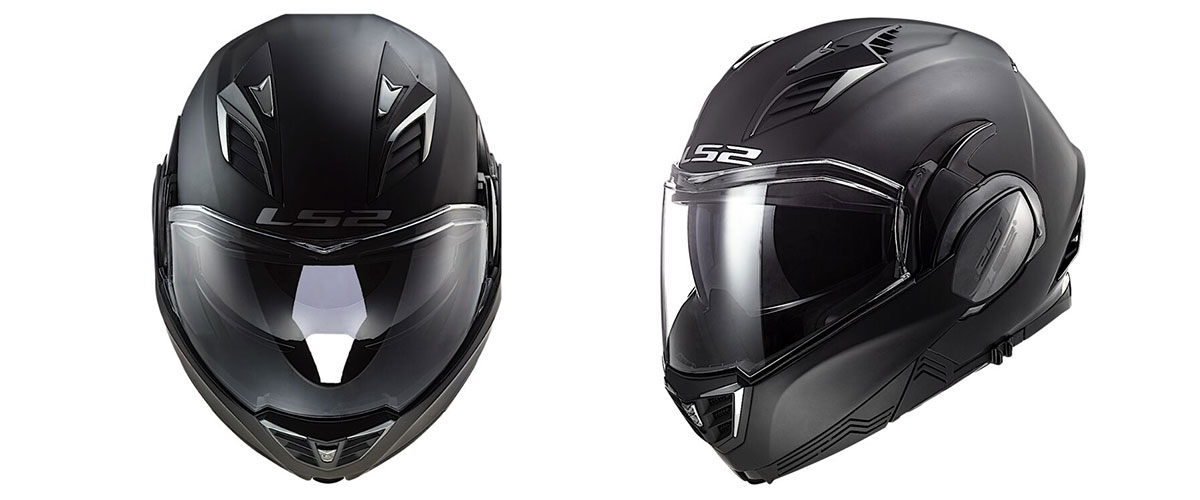 The LS2 Valiant 2 is a more tech-advanced modification of the Valiant helmet, which won the hearts of motorbike riders with its versatility, comfort, and bold design. An upgraded helmet features a slimmer chin bar, enhancing the aerodynamic properties of the shell.
The helmet's shell is made of ​​kinetic polymer alloy (KPA), an ultra-lightweight material that delivers excellent impact absorption and penetration resistance. It's heavier than Simpson Mod Bandit (this helmet weighs almost 4 lbs) but gains more flexibility under the force of an impact. Additionally, DOT certification testifies to its capability to protect your head in case of an accident.
The interior liner of LS2 Valiant 2 uses a high-tech fabric, which is pleasant to the skin. It dries quickly, wicks moisture easily, and doesn't provoke skin irritation even after prolonged wear. By the way, it is also fully removable and washable. Thermo-foamed cheek pads are breathable because there is no layer of glue between the foam and the liner. They are curved with a laser to ensure a perfect fit and eliminate hot spots. There are compartments for connecting your Sena communication system, but I believe they should have been placed further back to ensure better access to the internal visor slide.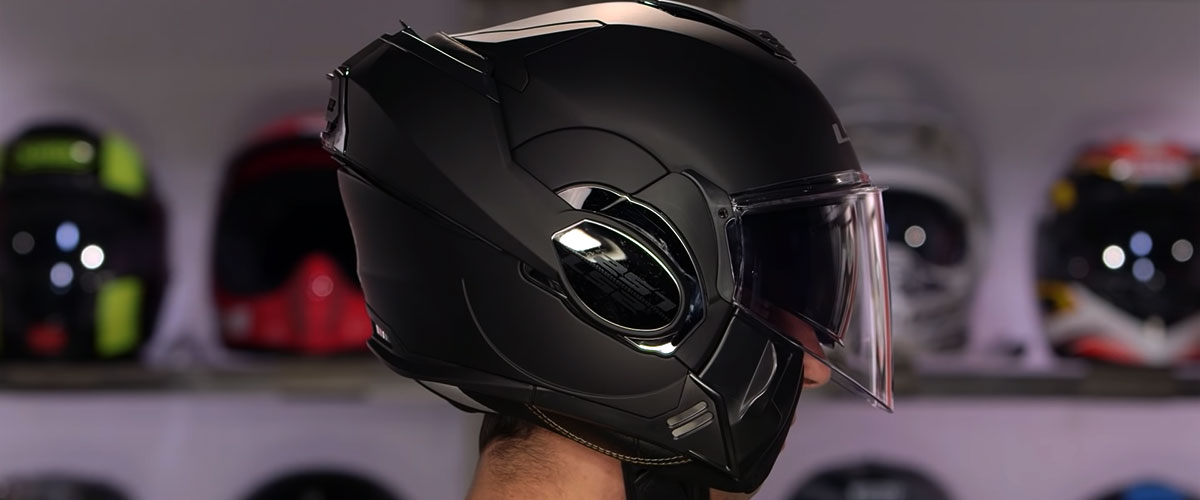 Regardless of a metal latch that is supposed to keep the chin bar where it should be when closed and an ergonomic design for securing it in an open position, there is a minor issue. The chin bar flops back when open, so it can drop the face shield.
An optically-correct A-class polycarbonate face shield is resistant to UV rays. Furthermore, an internal sun shield protects your eyes from sun glares. You may be glad that this helmet is ready for use with a Pinlock Max system to increase your visibility when it's foggy.
LS2 Valiant 2 relies on multi-port and fully adjustable ventilation to keep you cool. The vents on top and in the chin area ensure airflow, so you do not feel too hot with this helmet on.
This modular helmet with Bluetooth communication system compatibility is a really good middle class. It's reliable enough, not lacking in comfort, and won't cost you a fortune.
Key specs
Head shape: intermediate oval.
Safety certification: DOT, ECE.
Shell sizes: XS, SM, MD, LG, XL-3XL.
Shell material: lightweight composite shell.
Weight, g/lbs: 1692/3.73.
Pros
Good ventilation through multiple adjustable vents.
A high-tech fabric lining that wicks moisture and dries quickly.
An ergonomic shell keeps you comfy and secure.
An optically-accurate optical system with a Pinlock-ready mechanism.
Cons
The chin bar doesn't stay in its place when open.
The pockets for the communication system are not ergonomically located.
When to choose a modular motorcycle helmet?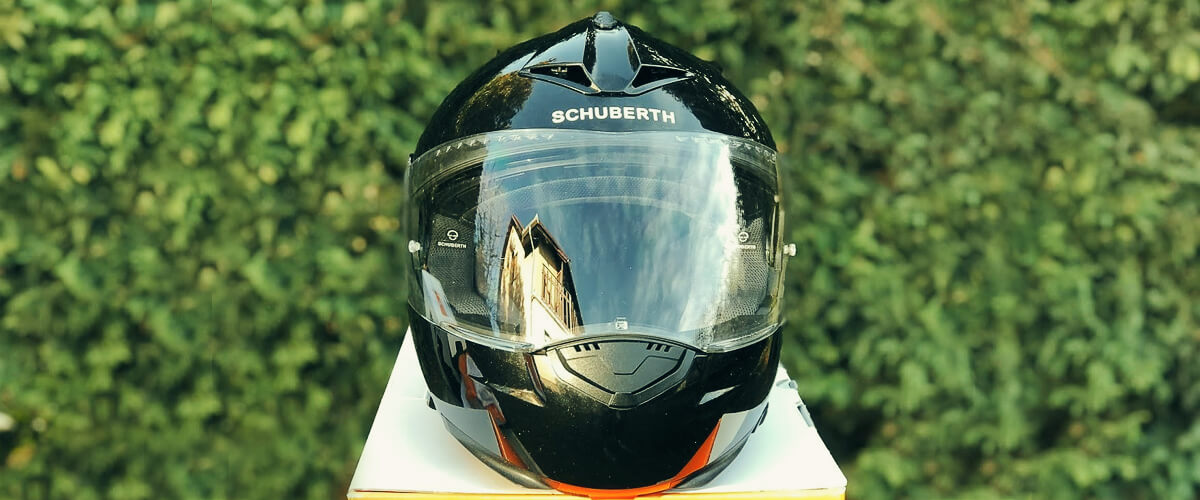 A modular motorcycle helmet is like the Swiss Army knife of headgear for riders, offering versatility and adaptability. Imagine being on a several-day road trip, riding down an open highway, the sun beating down on your face and the wind beckoning you to feel its embrace. You decide it's time for a pit stop to grab a quick bite. This is where the modular helmet shines.
Ideal for touring and commuting, the modular helmet allows you to switch from a full-face fortress of safety to an open-face oasis of comfort with a simple flip of the chin bar. It's perfect for those who value convenience during their rides, providing easy access to the world outside without removing the entire helmet.
Whether touring across state lines, exploring urban jungles, or running errands, the modular helmet keeps you adaptable to changing conditions and preferences. This is the optimal choice when you want a full-face helmet's protection and an open-face's freedom. So, if your ride includes frequent stops for a chat or a quick snack, a modular helmet might be your perfect riding companion.
Modular motorcycle helmet buying guide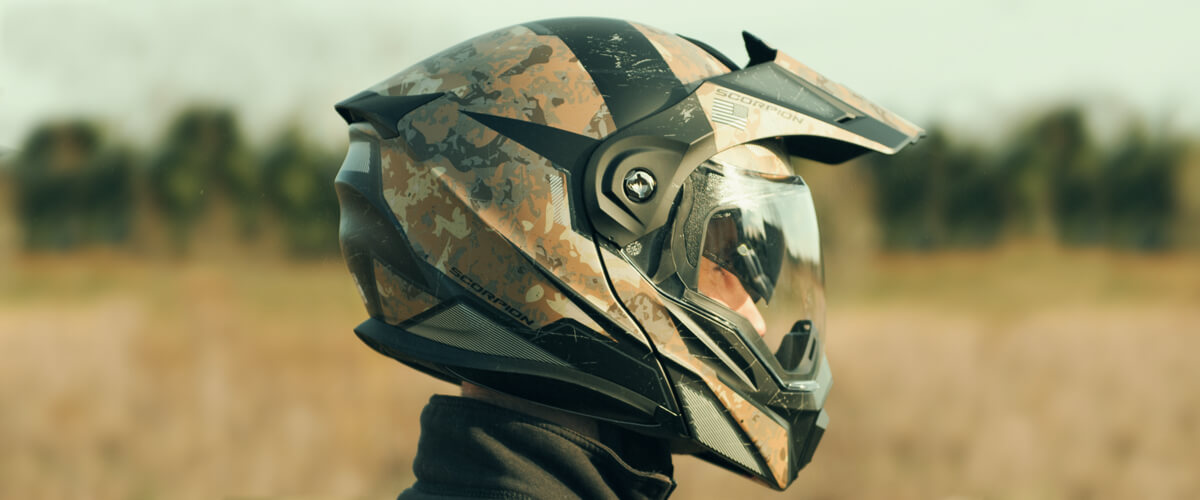 Do not take the process of picking the motorcycle helmet lightly since your protection and comfort depend on your choice.
As you look through top modular helmets, the first thing you should be mindful of is the size. Helmets come in different sizing options, so you should measure your head to be able to define the suitable size. However, note that sizes may vary depending on the brand or the model, so it is better to check the measurements rather than rely on standard size charts.
When you put the helmet on, it should fit right. It mustn't be too tight or press on your head or forehead. For this purpose, consider the interior material and design. The lining should be pleasant to the skin and be able to absorb moisture. I recommend picking a helmet with removable and washable interior parts so you can clean or replace them when they get dirty.
The helmet's shell material is also crucial. It will define how sturdy, lightweight, and secure the headgear is. You may find helmets made of pure carbon fiber or the ones that also have additives like fiberglass, kevlar, or resin to enhance shock absorption properties. You can also find polycarbonate plastic or pure fiberglass models.
Finally, pick the helmet with DOT, ECE, or SNELL certifications testifying to the reliability of headgear. Study, analyze and choose the modular motorcycle helmet that will reveal all the beauty of speed and protect you, if necessary.
FAQ
Are modular helmets noisier?
Some people say that modular helmets are noisier than traditional helmets, but there is no definitive answer. It really depends on the design of the helmet and how it fits your head. Many factors can affect noise levels, so it's tough to make a generalization.
Are full-face motorcycle helmets safer?
Full-face motorcycle helmets are generally considered to be the safest type of helmet because they protect both your head and your face.
Budget full-face helmets
offer similar protection, but some people believe that they are not as safe because the chin bar can come loose in a crash. Again, there is no definitive answer, and it really depends on the design of the helmet and how it fits your head.
Are modular helmets DOT approved?
Yes, modular helmets are DOT approved. However, it is important to check the certification of any helmet you purchase.
Can you ride with a flip-up helmet open?
It is not advisable to ride with a flip-up helmet open because it significantly reduces the amount of protection the helmet offers. If you do choose to ride with the chin bar up, be sure to go slowly and be aware of your surroundings.
Can I ride with the chin bar up on a modular helmet?
It's not recommended to ride with the chin bar up on a modular helmet. Even DOT helmets require a chin bar for additional protection. While you can lift the chin bar for added convenience when stationary, it should be secured in a closed position while riding to ensure proper safety and protection. Riding with the chin bar up may expose your face to increased risk in case of an accident.
Are modular helmets heavier than other helmet types?
Generally, modular helmets can be slightly heavier than their full-face counterparts due to the added mechanism for the flip-up chin bar. However, the weight difference is usually minimal and varies among brands and models. Modern materials and design innovations have made modular helmets increasingly lightweight, making them a practical choice for riders who prioritize versatility without compromising comfort.