Bluetooth motorcycle helmets have gained significant popularity in recent years, transforming the riding experience for motorcycle lovers. These helmets offer numerous benefits that enhance not only safety but also convenience on the road, and picking the best Bluetooth motorcycle helmets to create this review took a lot of work.
Hardly one can overestimate the importance of Bluetooth connectivity, as it allows riders to stay connected to other bikers, stream their favorite music, enjoy noise cancellation, and even integrate GPS navigation seamlessly. These technologies add an incredible amount of convenience and comfort while also enhancing safety when used right.
Whether embarking on a solo adventure or riding in a group, Bluetooth helmets have become an indispensable accessory for modern riders, providing convenience, comfort, and versatility. Today, I am looking at the most valuable options for experienced riders and those who only plan to ride their first miles.
Our pick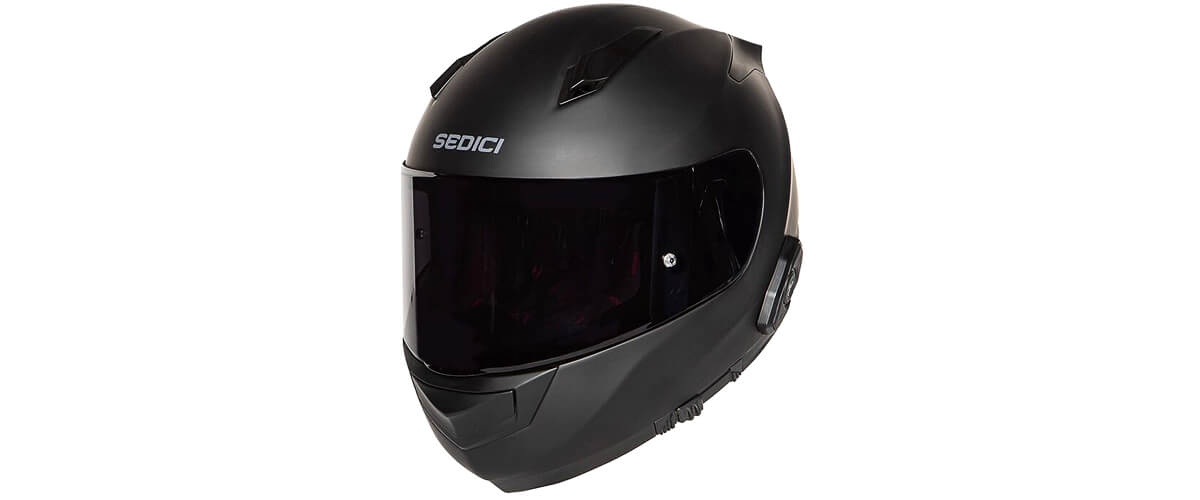 Sedici Strada II Parlare
Best Bluetooth motorcycle helmet
The Sedici Strada II Parlare is a Bluetooth helmet that blends fiberglass and aramid fiber, creating a strong, lightweight shell and reducing lift and turbulence at speed so you can focus on the road.
Read the full review
.
Integrated vs Bluetooth ready helmets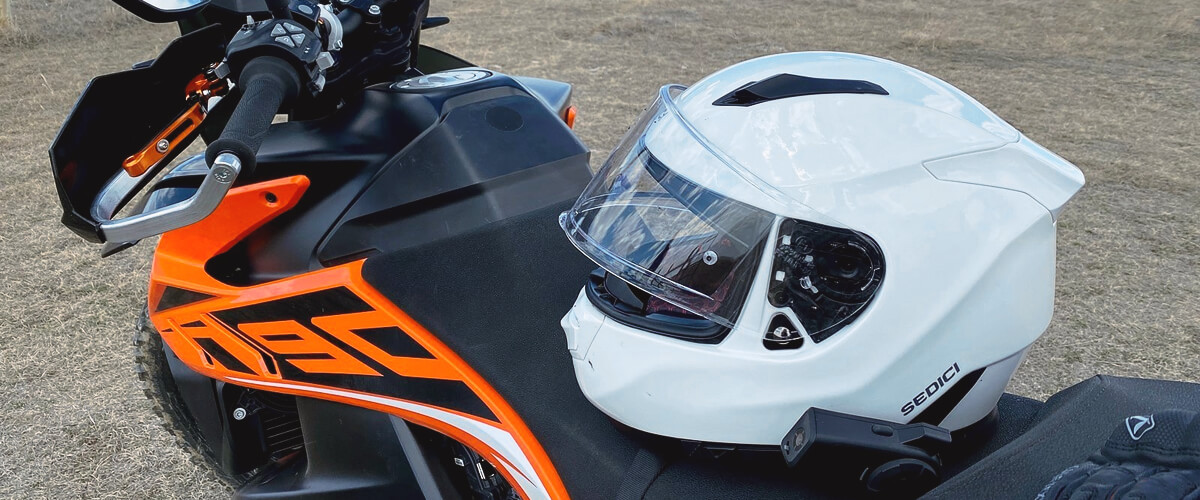 Integrated Bluetooth helmets
As it obviously comes from their names, integrated or Bluetooth-integrated or Bluetooth-enabled helmets come with built-in Bluetooth communications systems. These helmets have typical Bluetooth components like speakers, microphones, and control units already integrated into the design. Implementing all this technology is about providing uninterrupted connectivity and communication right out of the box.
The best motorcycle helmets with Bluetooth allow riders to pair their helmet with Bluetooth-enabled devices and enjoy full functionality without additional installations or accessories. I don't recommend saving money on these helmets because it's not just about comfort but also about your safety — laggy Bluetooth is livable, but cheap materials are not.
Bluetooth-ready helmets
Before picking the best Bluetooth helmet, let's first see what Bluetooth-Ready Helmets are. So, these are the ones for which you must separately purchase a Bluetooth system. Bluetooth-enabled helmets usually have special places for speakers and microphones and channels for routing cables of the communication system.
In this case, riders must purchase a separate Bluetooth communication system, such as a headset, intercom, or communication module, and install it in designated areas on the helmet. It allows drivers to customize their Bluetooth system to personal preference and choose from various third-party options available on the market.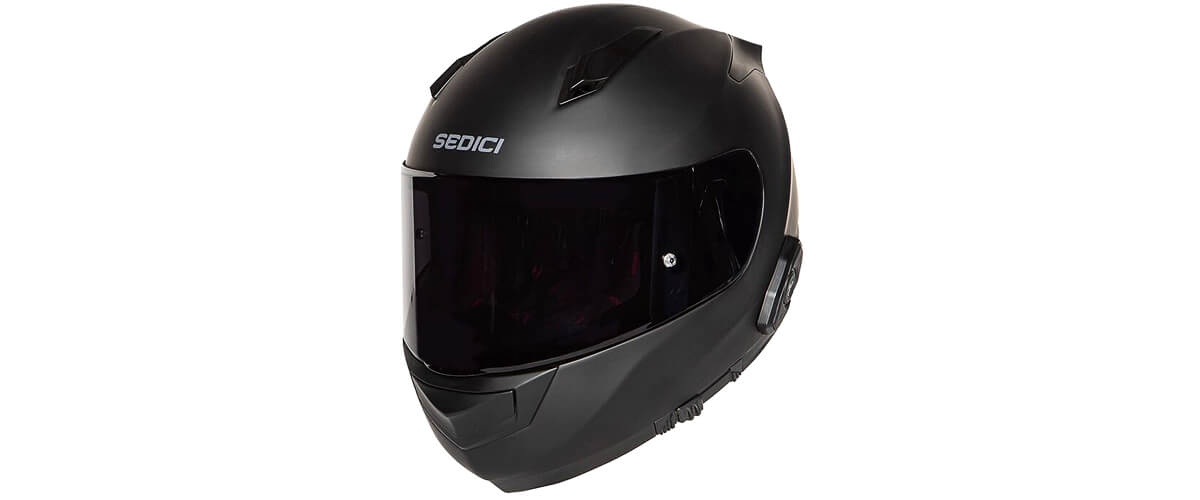 The Sedici Strada II Parlare is the number one Bluetooth helmet that can redefine your journey on two wheels and bring comfort while keeping the rides emotional. At least, this happened to me, as this helmet has left me in awe of its outstanding features!
Let's start with the battery life, an important aspect of any Bluetooth helmet. Fear not! The Sedici Strada II Parlare boasts an impressive battery life. It lasted 20 hours of talk time when I was testing, and a company says it can hold for 600 hours of standby time. The included USB cable is nothing special, but it is far from one of those dirt-cheap Chinese ones.
Now, let's talk about its impressive range and helmet-to-helmet communication capabilities. Equipped with a Bluetooth 4.1 system, the Sedici Strada II Parlare offers a range of half a mile. It works excellently on open roads, but remember that this range will significantly drop inside the city. The same goes for signal quality. The first problems begin to appear if you exceed the range.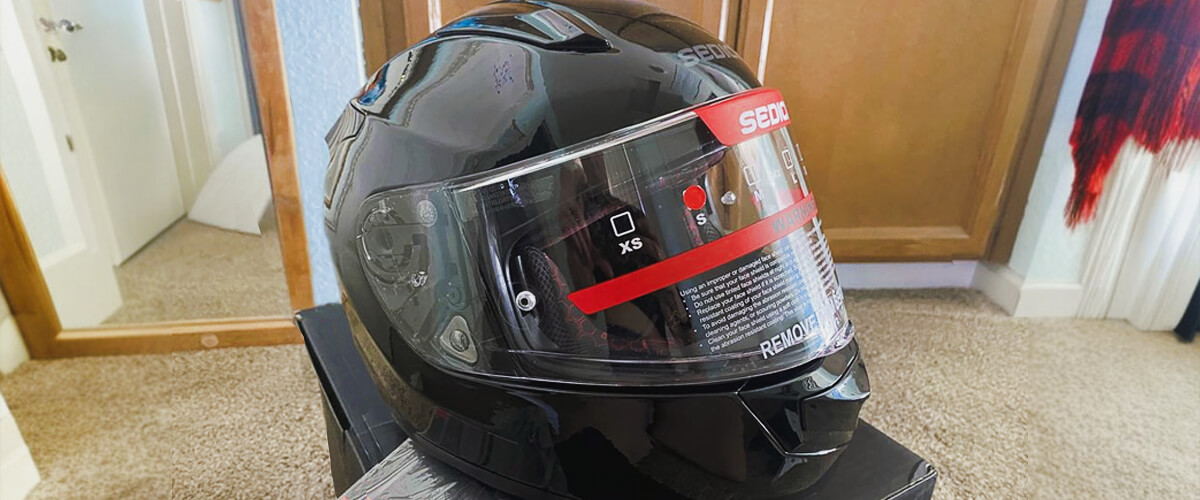 This helmet has blown me away with the audio quality. The Sedici Strada II Parlare features premium dual stereo speakers that deliver a rich, immersive sound experience. GPS guidance is clear, music tracks sound juicy, and voices are easily readable.
I also tested its intelligent voice control system. Simple commands work without issues—managing calls and controlling music works perfectly fine. Though I had to play a bit with navigation, despite this minor inconvenience, I kept my hands firmly on the handlebars resolving the issues purely with voice commands.
With both DOT and ECE certifications, this helmet meets rigorous safety standards. I also want to admit well-made ventilation. Regardless of the weather, it has always kept me cool and comfy. It is also lightweight, sparing me from fatigue during long journeys.
In conclusion, the Sedici Strada II Parlare sets a new standard in Bluetooth helmets. Its impressive battery life, exceptional range, immersive audio quality, intuitive voice control, and top-notch safety features make it the best Bluetooth motorcycle helmet.
Key specs
Head shape: intermediate oval.
Safety certification: DOT and ECE 22.05.
Shell sizes: XS-SM, MD-LG, XL-3XL.
Shell material: fiberglass and DuPont kevlar fiber.
Weight, kg/lbs: 1.4/3.3.
Bluetooth: version 4.1, 1000m range, up to 8 hour talk time.
Pros
Comfortable & reasonably lightweight.
The battery is almost impossible to drain. At least I didn't manage to do it during the tests.
Excellent ventilation.
ECE and DOT Approved.
Cons
Microphone placement sometimes messes with voice commands.
Pinlock not included.
Sena Outrush R – also a great choice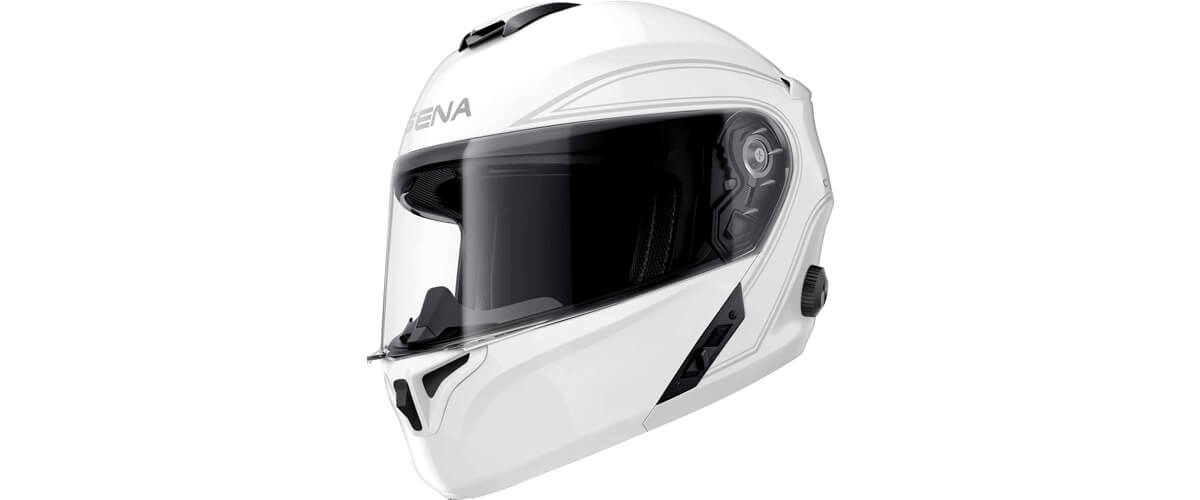 The Sena Outrush R can also be called the best modular motorcycle helmet with Bluetooth connectivity, but I am getting ahead of myself. As a passionate rider, I had the privilege of testing this helmet, and I can confidently say that it exceeded all my expectations, and definitely keeps up with the leader of my top.
Let's start with an essential aspect: battery life. The Sena Outrush R showed impressive timing. Like with the Sedici Strada II Parlare, I didn't worry about charging it. Thelmet charges very fast, even from an aged moderate power bank. Considering low power consumption, the Sena Outrush R stands out with its remarkable range and helmet-to-helmet communication capabilities.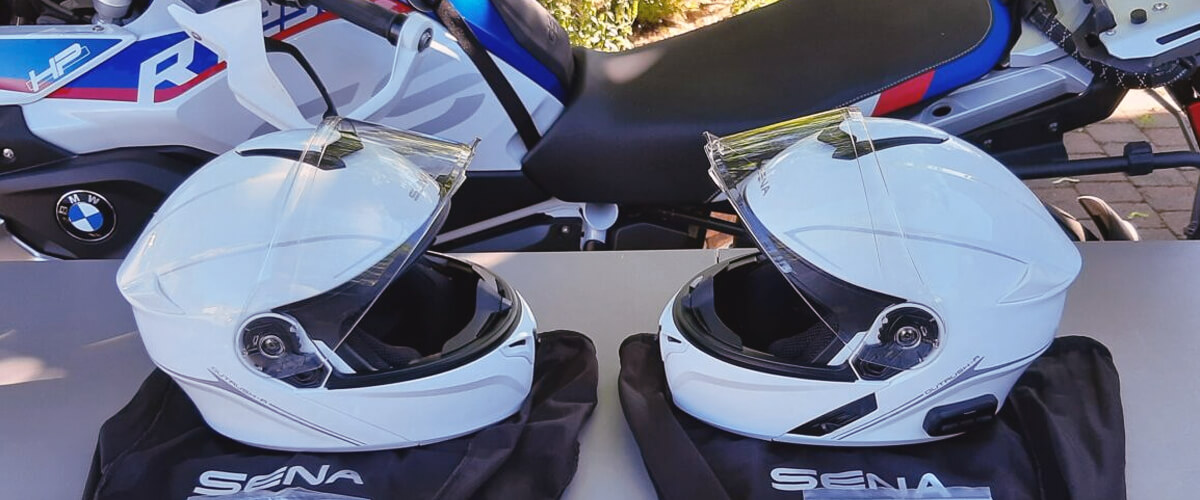 Now, let's talk about Sena Outrush R's audio quality. As I hit the road with my favorite tunes playing or receiving precise GPS directions, every moment was enhanced by exceptional audio clarity like Sedici Strada II Parlare. One of the things that impressed me the most was the helmet's noise-cancellation technology, which works exceptionally well, but when getting out of range in helmet-to-helmet communication and the signal decays, bringing more noise.
The helmet must meet DOT and ECE certifications, guaranteeing reliable protection. Luckily my riding skills kept me from testing its impact resistance. Its ventilation system made me happy. For the worst cases, the built-in emergency contact system lets you contact designated contacts in unforeseen emergencies.
Finally, its modular design allows for effortless conversion between full-face and open-face configurations, allowing you to adapt to your riding preferences. Also, I enjoyed its balanced weight and aerodynamic shape resulting in lower wind resistance and allowing me to glide through the air effortlessly.
The Sena Outrush R is a new benchmark for modular motorcycle helmets with Bluetooth connectivity. From its impressive battery life and extensive range to its immersive audio quality, noise cancellation technology, superior safety features, and thoughtful design.
Key specs
Head shape: intermediate oval.
Safety certification: DOT.
Shell sizes: XS-SM, MD-LG, XL-3XL.
Shell material: polycarbonate ABS, multi density EPS liner.
Weight, kg/lbs: 1.7/3.8.
Bluetooth: version 5.0, 900m range, up to 12 hour talk time.
Pros
Highly effective front & top intake and functional rear exhaust ports provided me with optimum airflow.
Smooth and well-balanced chin bar operation really add to the comfort.
Easy-to-use and effective sun visor with excellent sun protection.
Cons
Some minor squeaking in the plastic shell and chin bar sections.
Sedici Viaggio Parlare – adventure helmet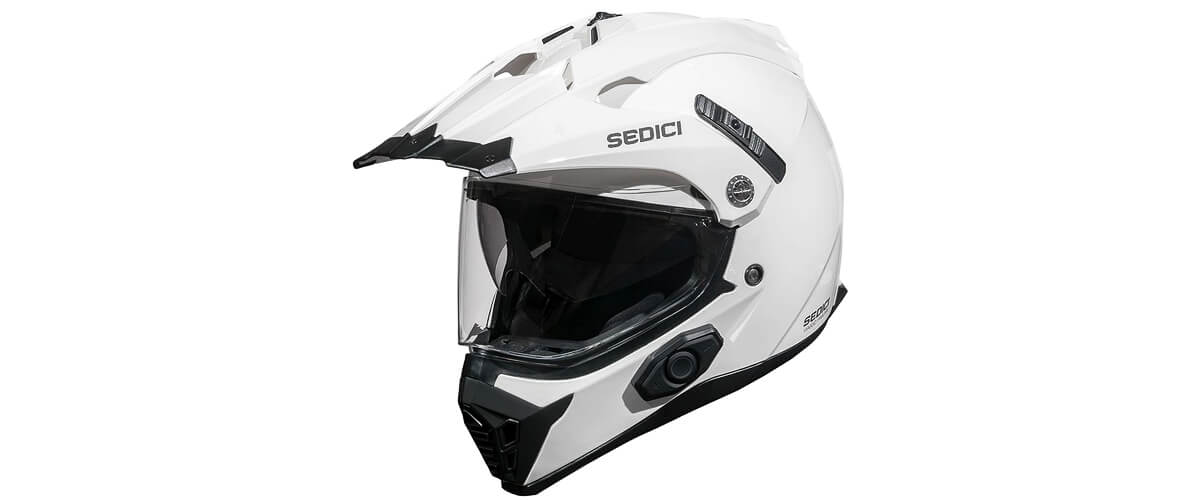 As an avid rider, I was eager to start testing Sedici Viaggio Parlare. I heard a lot of different reviews about this model, and I wanted to test this helmet myself. So, without further ado, let's get to it.
Let's start this part of the review with battery life. The manufacturer has a battery life of up to 20 hours of talk time and 600 hours of standby time. I don't know if anyone has the time and dedication to test its standby time, but in my usage, the helmet lasted the whole weekend without charging it.
The helmet offers a range of up to 1,000 yards for helmet-to-helmet communication. During my tests, I never exceeded this range by much, and the helmet showed itself well, starting to bring noises only on the edge of its maximum range. Its quality speakers provide impeccable audio clarity in music, GPS guidance, and voice communication. Even though the Viaggio Parlare features a less efficient noise cancellation technology than Sedici Strada II Parlare, it is still sufficient to bring ride comfort.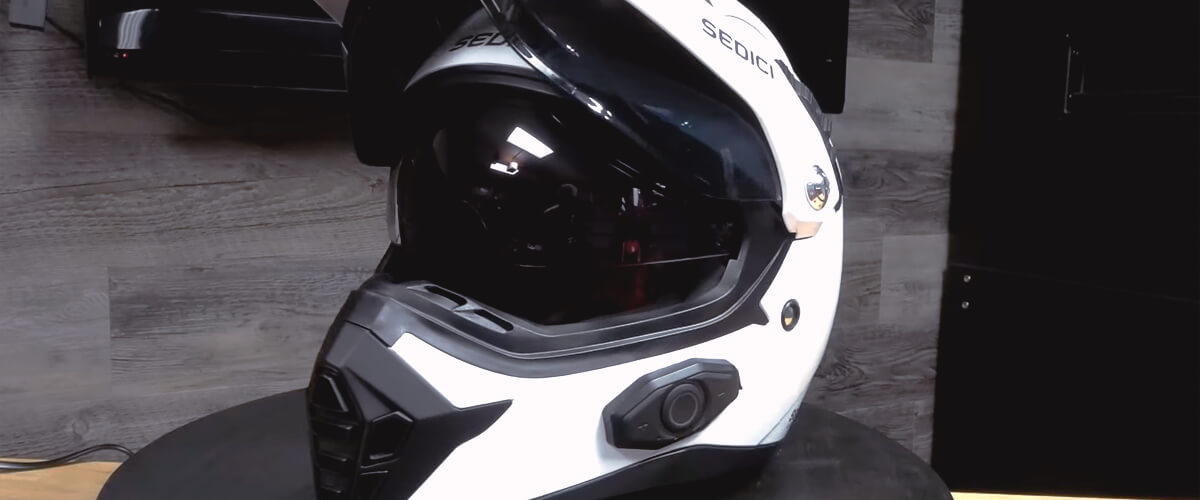 With the Viaggio Parlare, managing calls, controlling music playback, and navigating my route has become effortless tasks. Using voice commands, I could keep my hands securely on the handlebars and focus on the road ahead.
Safety is a top priority, and the Viaggio Parlare doesn't disappoint, meeting both DOT and ECE certifications. The helmet looks truly beautiful standing from the crowd. Typically, the helmet features LED light and an emergency contact system.
The Sedici Viaggio Parlare is the coolest Bluetooth-enabled adventure helmet. It is a dependable companion for off-road adventures because of its excellent battery life, increased range, intuitive voice control, excellent audio quality, top-tier safety certifications, intelligent design, and additional safety features.
Key specs
Head shape: intermediate oval.
Safety certification: DOT.
Shell sizes: XS-SM, MD-LG, XL-3XL.
Shell material: ABS.
Weight, kg/lbs: 1.4/3.1.
Bluetooth: version 3.0, 393m range, up to 8 hour talk time.
Pros
BT Intercom surpasses the promised manufacturer range in open terrain.
Quality air management and water resistance.
Cons
Some users may feel uncomfortable in the jaw area due to the narrow shape of the lower front of the helmet.
Lacks adjustments for face shield positioning.
ILM 953PRO – budget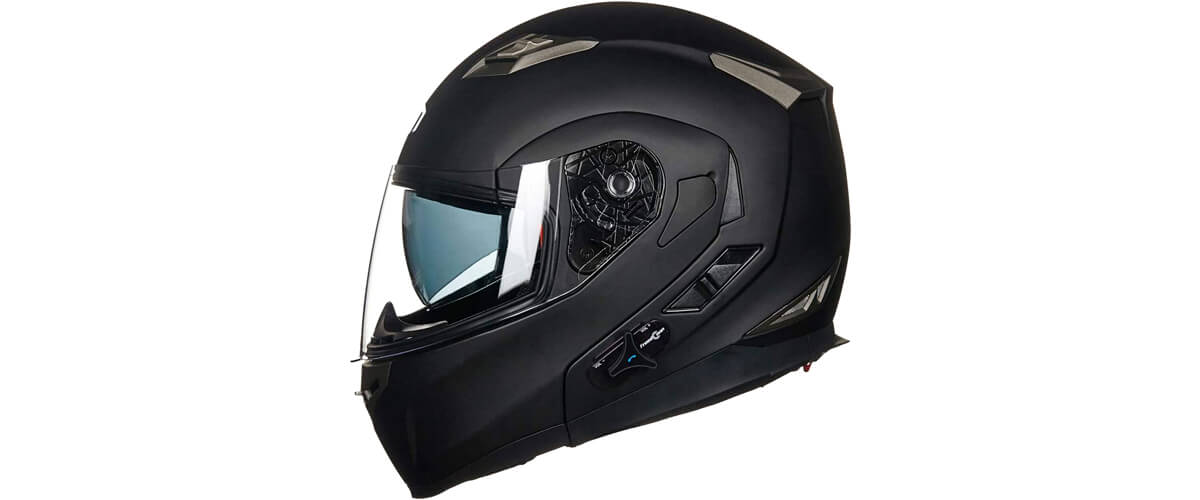 The ILM 953PRO is an interesting option if you're looking for an affordable full-face motorcycle helmet with Bluetooth. So, I had the chance to test this helmet for myself, and I shall say it clearly has a place in this review.
First, let's talk about battery life. The manufacturer offers 12 hours of talk time and 240 hours of standby. While that may sound good, I still had to charge it once when riding for a weekend. The good news is that charging time is neglectable because the helmet charges very quickly.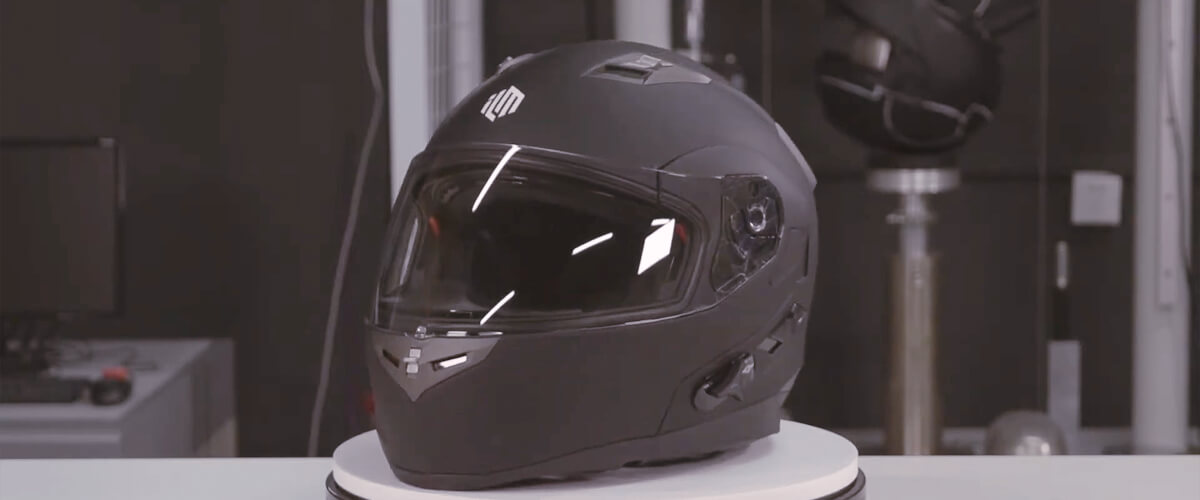 Regarding sound quality, the ILM 953PRO performs well in terms of good quality and range. Helmet-to-helmet communication was clear, and I never had problems listening to my friends and GPS guidelines. As to my taste, the music needs to have height, but still, the overall quality is good.
As you can see, I always pay attention to safety, and ILM 953PRO wouldn't be in this review if not for its compliance with DOT and ECE. Another aspect that indirectly affects safety is the comfort of wearing and riding this helmet. The ILM 953PRO delivers on that front, too, as it offers an excellent ventilation capability and relatively low aerodynamic resistance. The former could be better, but the problem begins to appear only at higher speeds. And, of course, this helmet has an LED light and emergency system.
The ILM 953PRO is an affordable full-face motorcycle helmet. It keeps you connected while driving thanks to its dependable battery life, wide communication range, and helmet-to-helmet communication features. The ILM 953PRO is the best full-face motorcycle helmet with Bluetooth for motorcyclists searching for a reasonably priced model.
Key specs
Head shape: intermediate oval.
Safety certification: FMVSS-218 and DOT.
Shell sizes: S, M, L, XL, XXL.
Shell material: fiberglass, expanded polystyrene (EPS).
Weight, kg/lbs: 2.3/5.2.
Bluetooth: version 3.0, 1000m range, up to 9 hour talk time.
Pros
An integrated sun visor is a nice feature since it eliminates the need to switch out the front shield depending on the weather.
Convenient strap connectors made putting on and removing the helmet very simple and convenient.
I liked its really efficient airflow system. It's a rarity for budget models.
Cons
Limited options for size and fit.
The face shield does not have antifog properties.
Noticeable air resistance and noise at higher speeds.
BILT Techno 3.0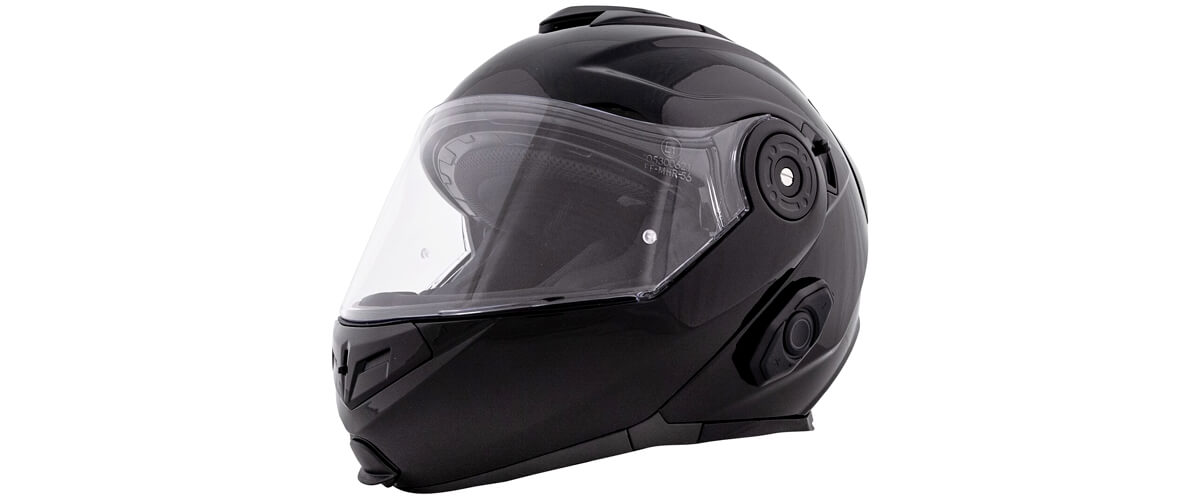 To be honest, I have long wanted to test the BILT Techno 3.0 helmet and am very happy to share my impressions with you.
BILT Techno 3.0 doesn't shock with its battery and lasts only 8 hours of active usage. So, as you have already guessed, I had to charge it during my weekend test. On the good side, the same old power bank charged this helmet just fine while we had our coffee at the roadside cafe. Interestingly, you can use this helmet while charging it, but I am an old-schooler who prefers not to. But the possibility is here.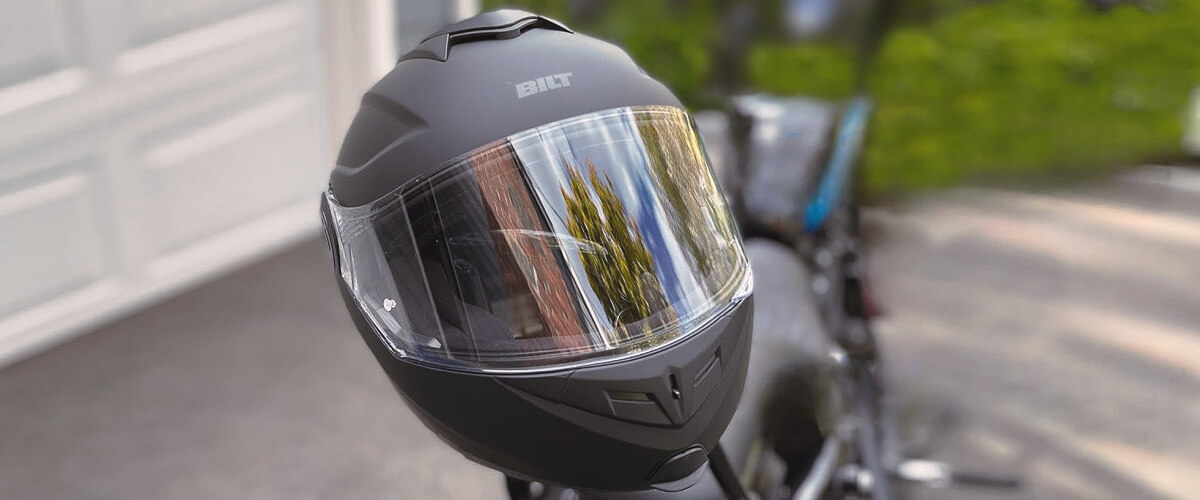 The helmet shows itself well on the speaker sides because it can deliver a clear and crisp sound without issues. The same can be said about noise cancellation. At the same time, the BILT Techno uses a relatively old Bluetooth 4.1, which results in a lesser radius and is more prone to interference.
Talking about safety, yep, it is another DOT and ECE meeting helmet. It also performs well on the ventilation side. It kept me comfy and cool during the beginning of this summer, just as you would expect. I also enjoyed its lightweight construction and variety of available shell sizes—finding the one that would match great is not a problem.
Overall, the BILT Techno 3.0 is not a revolutionary product, but clearly, a solid one offering comfy wear, reliable helmet-to-helmet communication, and media features.
Key specs
Head shape: intermediate oval.
Safety certification: DOT.
Shell sizes: XS-2XL, XL-5XL.
Shell material: Pinlock-ready face shield.
Weight, kg/lbs: 1.5/3.4.
Bluetooth: version 4.1, 1000m range, up to 8 hour talk time.
Pros
Optimal comfort in hot weather thanks to efficient ventilation.
Customizable fit options with a lightweight design and various shell sizes.
Cons
Limited battery life necessitating frequent recharging.
Has a shorter range and occasional signal interference.
How to choose the best Bluetooth motorcycle helmet?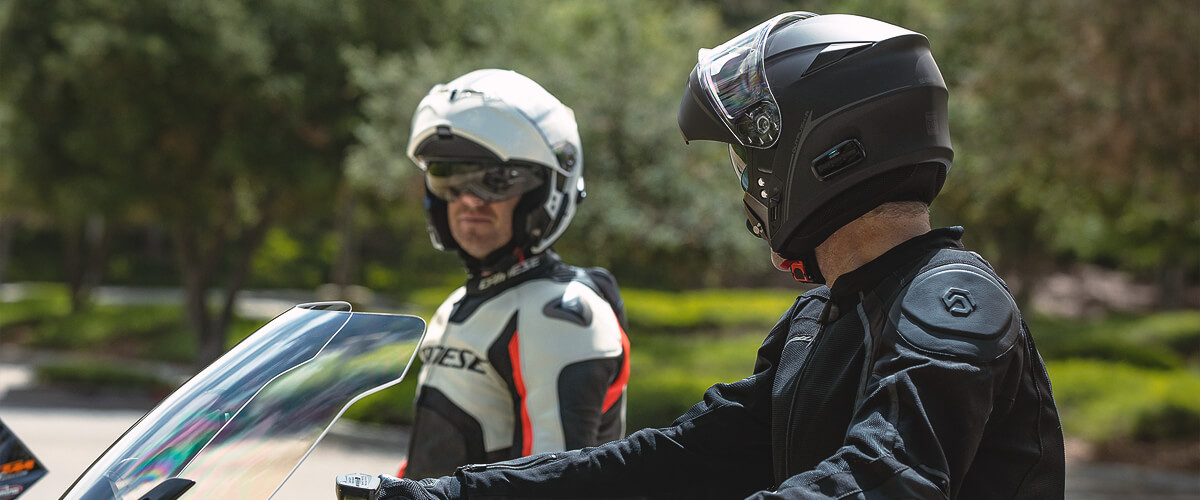 Now, I think it's time to talk about choosing the number one Bluetooth helmet and the key points to pay attention to when making your decision.
Bluetooth connection: Look for protective headwear that boasts the latest built-in Bluetooth system and offers an excellent wireless range. This way, you can seamlessly connect your helmet to your smartphone, GPS, or other devices for a hassle-free riding experience.
Sound quality: Seek out helmets that prioritize sound quality, ensuring you can enjoy your favorite music or hear GPS directions without compromise. After all, your ride should be accompanied by immersive, high-quality audio.
Battery life: Based on my riding experience, I highly recommend opting for a safety cap with extended battery life, allowing you to enjoy uninterrupted connectivity and audio throughout your planned rides.
Range and intercom compatibility: Buy only those products that support long-distance intercom communication, enabling seamless communication with fellow riders.
Noise-canceling: Prioritize models with effective noise-canceling technology to reduce ambient noise and ensure clear communication.
Security certifications: Ensure your lid meets stringent safety standards. Look for helmets with necessary certifications, such as DOT (Department of Transport) or ECE (Economic Commission for Europe). They guarantee that your helmet provides optimal protection in case of an accident.
Helmet fit and comfort: Choose a helmet that sits securely on your head, providing a snug yet comfortable fit. Think about adjustable padding and ventilation systems that allow you to personalize the comfort level according to your preference.
Ease of use: Riding should be a pleasurable experience without unnecessary distractions. I advise buying protective covering with user-friendly controls and interfaces, ensuring you can easily access various features without diverting your attention from the road. Intuitive controls make your ride safer and more enjoyable.
Design and style: Express your style with a helmet design that matches your aesthetic preferences. Whether you prefer a closed, modular, or open design, make sure the helmet's style aligns with your taste.
Remember, your helmet is not just a piece of equipment; it's your trusted companion that enhances your riding experience while keeping you safe. So take my advice and then your choice will be optimal.
FAQ
Is it legal to use a Bluetooth helmet while riding?
The legality of using a helmet with integrated Bluetooth features depends on the specific regulations in your jurisdiction. In many countries, using a Bluetooth helmet is permitted as long as it doesn't impede your ability to hear surrounding traffic or violate any other laws regarding helmet usage. The top tip I can offer is to get to know the local laws and regulations in your area to ensure compliance and safe riding.
Can I use a Bluetooth helmet in inclement weather conditions?
Absolutely! Helmets with Bluetooth technology are designed to endure different weather conditions, such as rain and snow. However, I always recommend checking the manufacturer's specifications and ensuring that the helmet is certified as waterproof or water-resistant.
Can I use a Bluetooth helmet for GPS navigation while riding?
Yes, you can. Many models with Bluetooth communication systems come equipped with built-in speakers and microphone systems that allow for seamless integration with your smartphone or GPS device. Just set up and configure the Bluetooth communications system properly before hitting the road.
What is the difference between Bluetooth 4.0, 4.1, and 5.0 in terms of helmet connectivity?
With Bluetooth 4.0 and 4.1, you can still enjoy reliable connectivity for communication and audio streaming, but the 5.0 version provides a more seamless and robust connection. However, I should note that the connectivity also depends on the helmet's internal components and the quality of the Bluetooth implementation. Consider both the Bluetooth version and the helmet's overall connectivity features for the best experience.