When the budget sets the rules for what headgear to pick for motorcycle rides, you may give up on the idea of getting a comfortable and secure one. But let me cheer you up – you stopped searching too early. The best motorcycle helmets under $300 are just around the corner. More specifically, they are listed further in this review.
The products from this price range may not be the lightest or the most ventilated helmets in the world, but you should still expect a decent level of protection and an optimal level of comfort from them.
Since your riding styles may vary, I prepared a comprehensive list that includes different types of helmets. So, read on, and you will find headgear that will work for you.
Our pick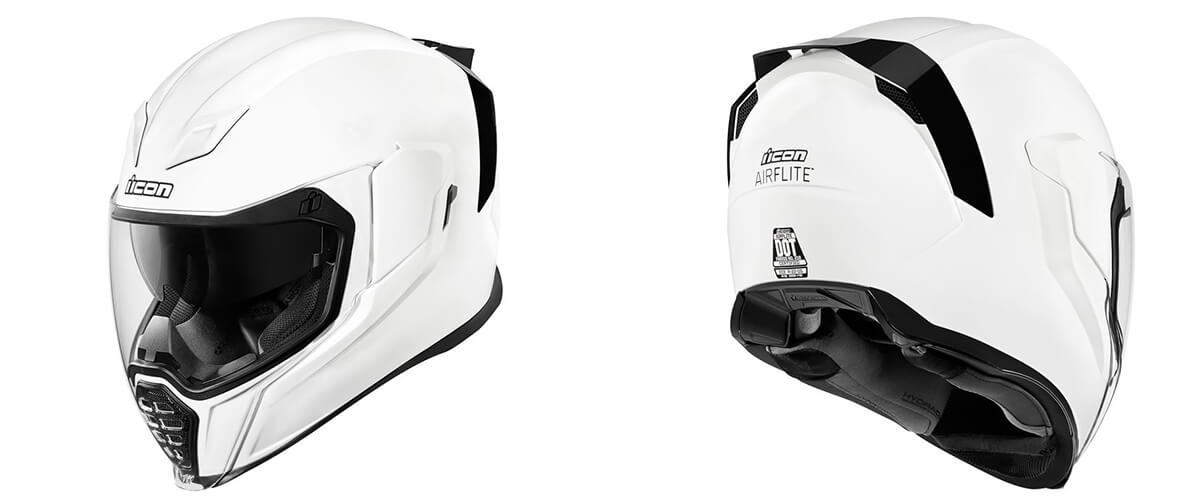 Icon Airflite
Best motorcycle helmet under $300
The ProTint photochromic face shield adjusts to any light conditions you'll encounter, plus integrated audio compartments give your electronics a tidy hideout.
Read the full review
.
What to expect from a helmet under 300?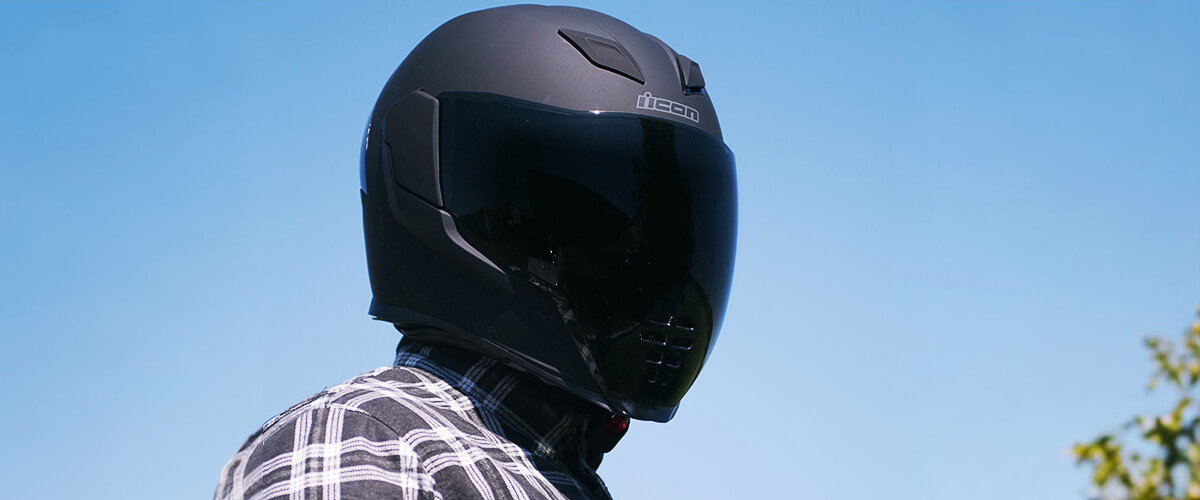 When purchasing a street motorcycle helmet under $300, there are several crucial aspects that require close attention. Firstly, ensure it holds a reputable safety certification, such as DOT or ECE, indicating it meets industry-standard safety requirements. Adequate impact protection is paramount, so look for helmets with advanced materials like multi-density EPS foam.
Comfortable padding is one more key for long rides, so opt for removable, washable liners and adjustable cheek pads. While noise reduction may not be as effective as in higher-end models, seek helmets with aerodynamic designs and snug fits to minimize wind noise. Additionally, I always prioritize proper fit and ventilation to enhance the overall riding experience.
Best motorcycle helmets under $300 review
Icon Airflite – best overall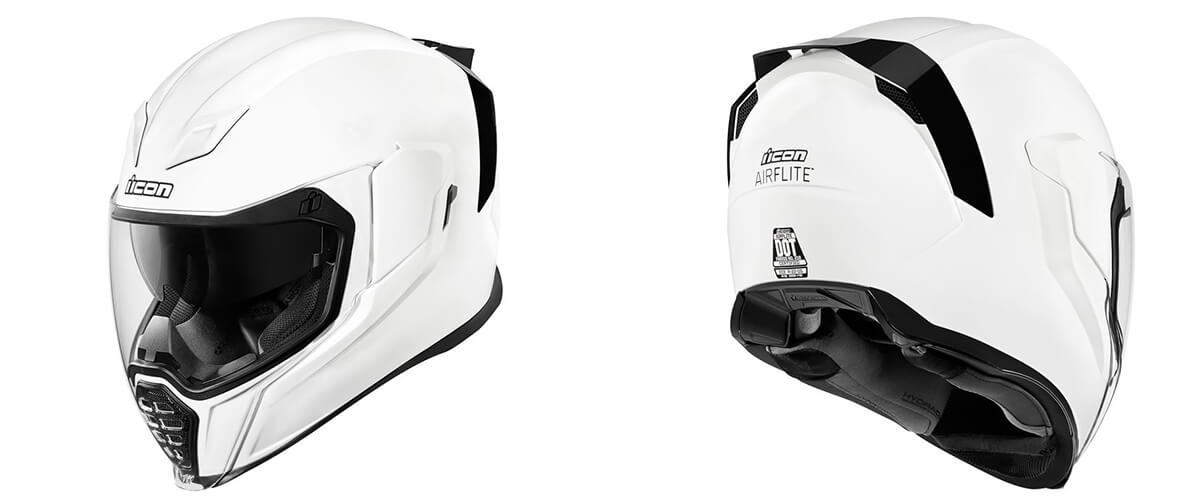 Looking for an all-around helmet that will accompany you on different types of motorcycle adventures? Whether you struggle with the traffic on your way home or roar down the highway, Icon Airflite boasts the features that make it suitable for any purpose (except maybe the track). So, let's see what is packed in this headgear.
I hope you won't mind if I start with the most remarkable peculiarity of this helmet – its shield setup. It's twice as deep as in Sedici Strada II or any other average helmet, giving you a wider range of vision. However, it looks like the shield sealing is not the strongest point of this product – a lot of air comes through the shield. So, on the one hand, it's good in summer as air circulates inside the helmet much better. But on the other hand, the wind noise gets unbearable, even with earplugs. Finally, the sun visor drops smoothly, so you won't have any issues. However, it's not mist-free, so it can fog up when you drop it down in cold weather.
The helmet's injection-molded polycarbonate shell is strong and, most importantly, it absorbs energy and remains intact if you get into an accident. Moreover, the helmet complies with world security standards like DOT (America), ECE (Europe), SAI (Australia), and SG (Japan) to give you peace of mind. However, protection comes at a cost – Icon Airflite can hardly be the lightest headgear, even though it doesn't exceed the average helmet weight (it's 3.79 lbs).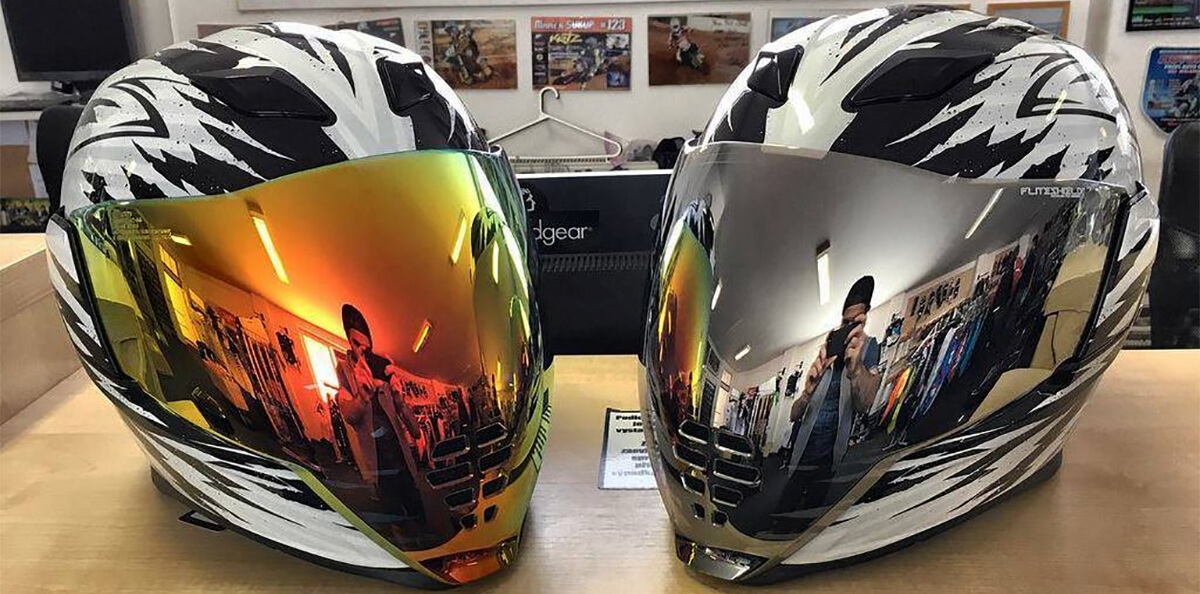 A removable and washable lining is made of Icon's regular Hydradry material. It's moisture-wicking and breathable, so it is unlikely that you will get hot even in summer. In addition, a twin-channel supervent cooling system helps maintain an optimal temperature inside. But that's not all regarding ventilation. Icon Airflite mimics motocross helmets, so it has a large front vent. You will also find a couple of adjustable, glove-friendly forehead and chin vents.
Icon Airflite is the best motorcycle helmet under $300 for a good reason – it's well-ventilated, reliable, and comfortable. Besides, an enlarged face shield and front top vents will give you an edge you can find only in helmets with a higher price tag. The icing on the cake is the fact that this is the quietest motorcycle helmet among the other models in my review.
Key specs
Helmet type: full-face.
Head shape: long oval.
Safety certification: DOT, ECE.
Shell sizes: XS-SM, MD-LG, XL-3XL.
Shell material: polycarbonate.
Weight, g/lbs: 1719/3.79.
Pros
A larger-than-average face shield for a broader vision range.
Approved by DOT, ECE, SAI, SG – legitimate to use in various countries.
A well-thought-out ventilation system with adjustable vents.
A convenient sun visor.
Cons
Poor sealing between the visor and the helmet body, resulting in intense wind noise.
No anti-fog layer – the visor can fog up in cold weather.
Sedici Strada II – also a great choice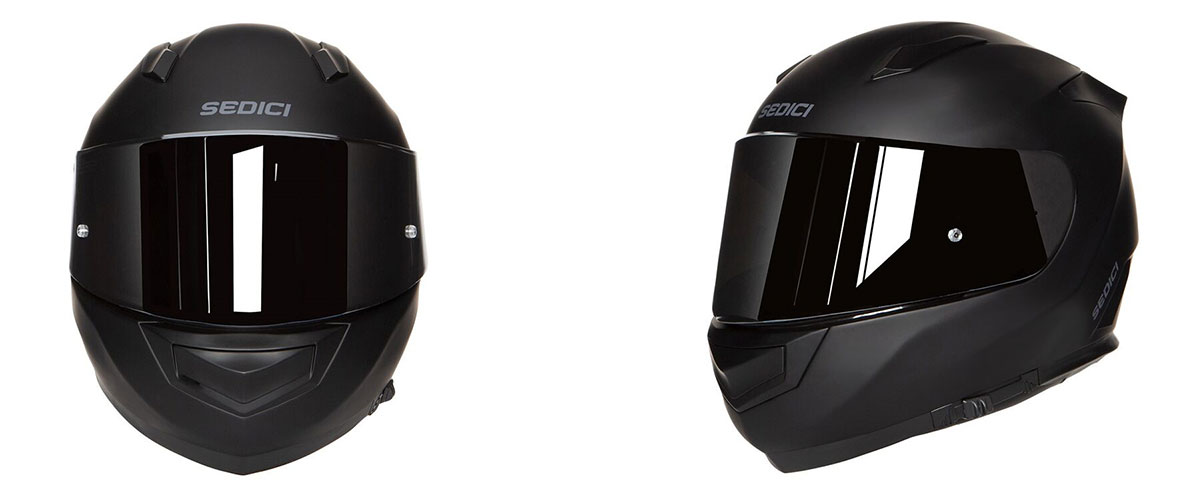 When you study the list of Sedici Strada II features, you may think it is too affordable for the value it brings. However, there is no point in trying to find a fly in the ointment. So, let me show you why.
In terms of material, this helmet puts Icon Airflite in the shade. When we set polycarbonate and composite fiberglass materials side by side, it's easy to say which of them performs better – it's undoubtedly fiberglass. So, thanks to this material, the helmet is lightweight (only 3.3 lbs) and durable. Besides, Sedici Strada II gets ratings from DOT and ECE to prove its protection properties.
What I like most about the interior of this helmet is that you can remove adjustable 0.2-inch pads at the forehead and temples. The only thing I wish the Sedici could fix in this product is the chin protection. It comes off every time I put the helmet on.
A 2D racing-style shield is Pinlock-ready, but you must purchase the insert separately. It delivers a larger than average downward view, so you can better see the situation on the road and the panel on your motorcycle. In addition, the sun visor is dark enough to protect your eyes from the sun. However, mind that when you use a Bluetooth controller, it may be hard to use the slider that makes the visor pop up or down.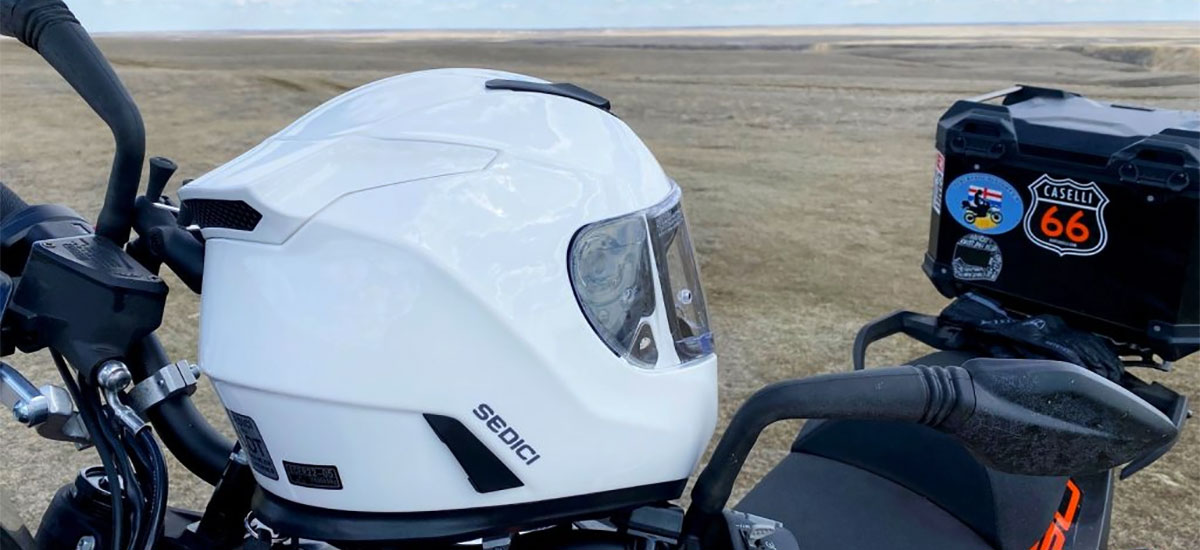 There are a couple of vents in the chin and crown areas. They are adjustable to let you regulate how much air you want to blow on your face. In addition, a dual-density EPS liner with cut-out channels helps distribute air through the helmet to keep an optimal climate inside.
You win in many ways when you buy Sedici Strada II. First, regardless of its affordable price, it can compete with high-end helmets in terms of material quality. Second, it gives you an option to regulate the interior padding, a feature that you will rarely find in headgear for this money.
Key specs
Helmet type: full-face.
Head shape: intermediate oval.
Safety certification: DOT, ECE.
Shell sizes: XS-SM, MD-LG, XL-3XL.
Shell material: DuPont Kevlar® fiber, fiberglass.
Weight, g/lbs: 1497/3.3.
Pros
A composite fiberglass and kevlar shell makes this helmet lightweight and durable.
Adjustable forehead and temples areas.
A dual-density EPS liner for better protection.
Cut-out channels inside the liner and adjustable vents for utmost ventilation.
Cons
The chin bar comes off every time you put the helmet on.
You've got to buy a Pinlock lens separately.
The visor slider may interfere with the mounted Bluetooth controller.
Bell Broozer – open-face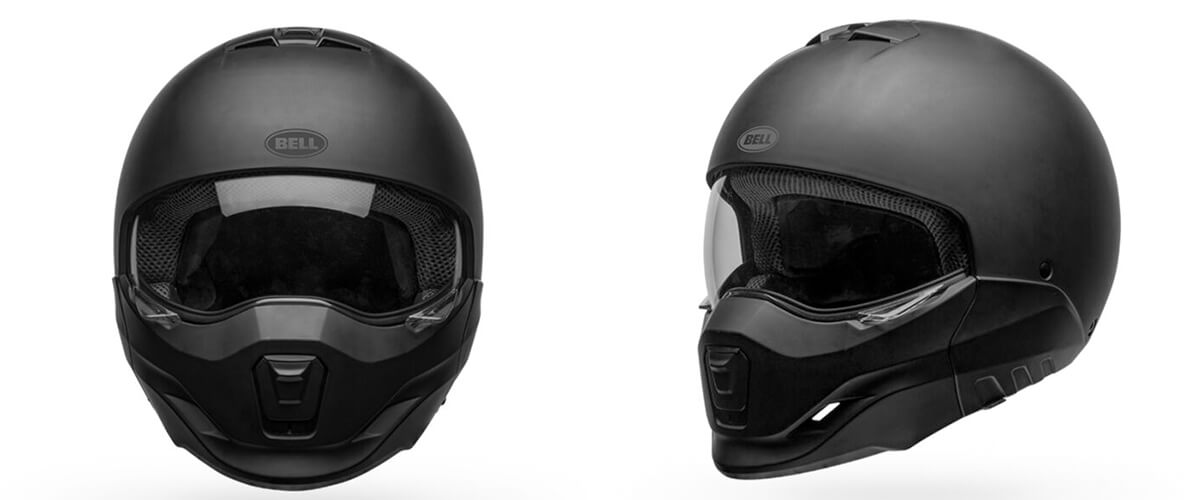 Is the Bell Broozer helmet an open-face or full-face helmet? It's both! It gives you a cool look when you use it in a full modification and lets you catch the breeze in 3/4 mode. This already sounds interesting, but wait – other perks of this helmet will blow your mind.
The polycarbonate shell offers nice impact protection at a minimal helmet weight – only 3.2 lbs. Moreover, the manufacturer added a dual-density EPS liner, dissipating energy in a crash. Given this, Bell Broozer is dual-certified by DOT and ECE for full-face and open-face riding. Speaking of design, I find it fancy. However, there may be some lift at higher speeds, which is still much less than in LS2 Valiant.
A removable chin bar is a deal-breaker. You can easily add or remove it, depending on what adventure you are embarking on. Moreover, a padded chin strap with a quick-release ratchet buckle ensures the helmet stays on your head. But I wish it were a little bit longer for easier access.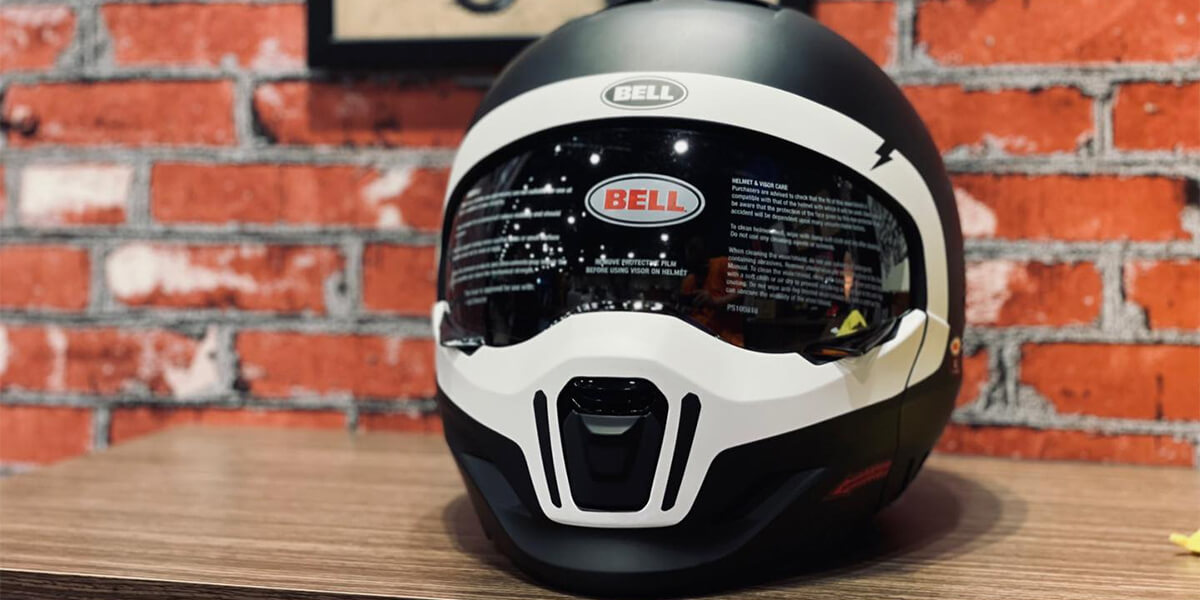 There are both clear and tinted shields in the box. The good thing is that both pieces have a NutraFog II anti-fog coating. You will also find an integrated sun visor, which requires both hands to drop it up or down. I tested this helmet in my prescription glasses – had no issues due to the eyewear arm pockets integrated into the liner.
If you look at the Bell Broozer, you will see the central chin and top vents. You can adjust them using vent sliders with your gloved hand, which is great. But, unfortunately, Bell also adds always-open vents in the chin bar, so there is no way to close them, for example, when it's cold. Because of these peculiarities, this helmet is not super quiet.
Bell Broozer will give you the balance you want from a versatile full-face and cool open-face helmet. It is equally secure in both modifications, so even a ¾ mode will ensure the protection you expect. Besides, it's glasses-friendly and has a padded chin strap to secure the helmet.
Key specs
Helmet type: full-face.
Head shape: intermediate oval.
Safety certification: DOT, ECE.
Shell sizes: XS-SM, MD-LG, XL-2XL.
Shell material: polycarbonate, ABS.
Weight, g/lbs: 1452/3.2.
Pros
A composite fiberglass and kevlar shell makes this helmet lightweight and durable.
Adjustable forehead and temples areas.
A dual-density EPS liner for better protection.
Cut-out channels inside the liner and adjustable vents for utmost ventilation.
Cons
The chin strap ratchet is too short.
The sun visor will require both hands to drop it up and down.
You can't close the chin bar vent.
LS2 Valiant – modular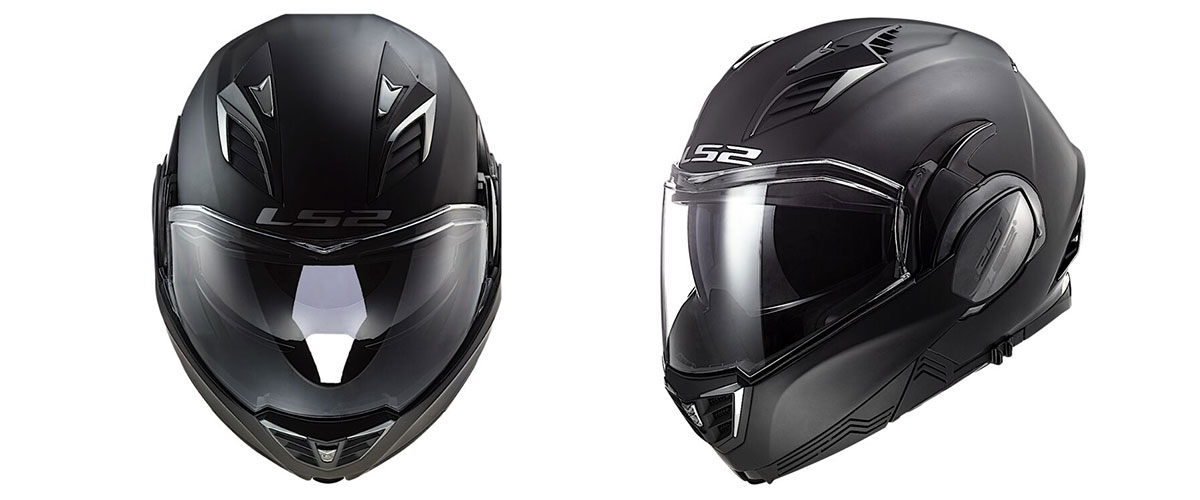 If a full-face helmet like Icon Airlite doesn't give you the desired versatility, just stack it up against LS2 Valiant. This modular helmet has a 180-degree flip bar, which allows you to swap between the full-face and open-face modes. But I saved the most fantastic advantage of the chin bar system for last. You can keep the shield down when you raise the chin bar, a rear feature in modular helmets.
Now let's get back to ordinary things. The shell is made of KPA (Kinetic Polymer Alloy) material, which blends aramid fibers into a high-end polymer. It allows the shell to disperse energy and sturdiness to stand even a powerful hit. That is why DOT and ECE approve it. By the way, LS2 Valiant is a dual-homologation helmet, meaning that ECE certified it as both a full-face and open-face helmet.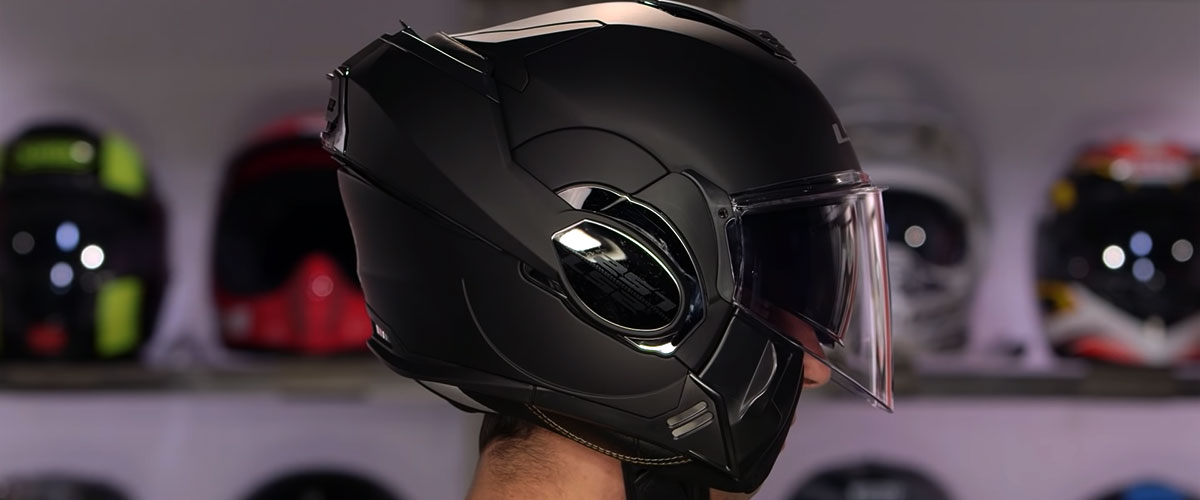 This headgear gets a little heavy during long rides as it weighs around 3.79 lbs, but here is what has been done to improve your wearing experience. First, they use a technical fabric that wicks moisture to keep you cool to produce the lining. Second, 3D laser-cut cheek pads ensure a sleek fit and eliminate hot spots for all-day comfort. However, let me warn you – this helmet runs small, so go one size bigger. Finally, a Pinlock-ready face shield and in-built sun visor ensure clear vision in any weather.
I can feel the air flowing through my face as I ride, so the LS2 Valiant ventilation is pretty good. But I thoroughly dislike noise isolation. My ears ring even when I wear earplugs and ride at highway speeds. As a matter of fact, you can connect to a Bluetooth system for communication or listening to music, but not all speakers fit. So I had to customize the pockets and alternate the microphone mount to make it work properly.
Finding the best modular helmet under 300 dollars is not a problem anymore. LS2 Valiant is a brilliant example of a functional modular headgear that will protect your head in any mode. Its 180-degree chin flip system makes the helmet easy to use and lets you turn it into an open-face one in seconds.
Key specs
Helmet type: full-face.
Head shape: intermediate oval.
Safety certification: DOT, ECE.
Shell sizes: XS, SM, MD, LG, XL-3XL.
Shell material: kinetic polymer alloy.
Weight, g/lbs: 1796/3.96.
Pros
A scratch-resistant face shield with a Pinlock insert and integrated sun visor.
A 180-degree chin flip system for ease of use.
Moisture-wicking lining and 3D laser-cut cheek pads for comfort.
DOT and ECE certificates.
Cons
You may need to get one size bigger than your regular size.
Not all Bluetooth systems fit the helmet perfectly.
Poor noise isolation.
Scorpion EXO Covert X – half helmet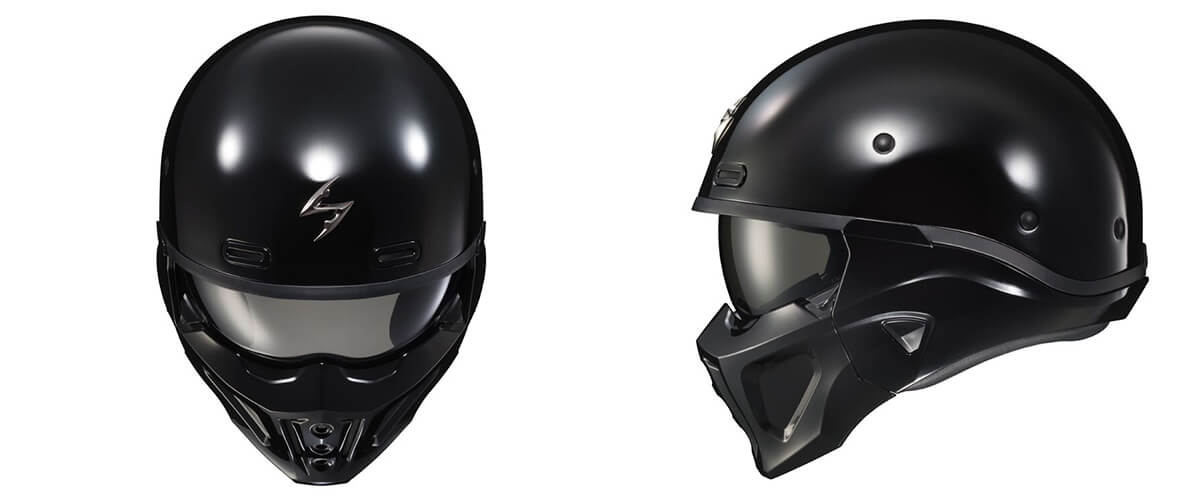 Scorpion Exo Covert promises to be a secure helmet, giving you a stormtrooper look with a refined ½ profile, all for not very much dollar. Sounds enticing, so jump into this review to uncover more details.
Regardless of its simple look, Scorpion Exo Covert will give you an optimal level of protection inherent to open-face helmets. Its multi-layered Ultra-TCT shell blends fiberglass, aramid, and poly-resin fibers to improve impact dispersal, diminish its weight (3.31 lbs, by the way), and enhance durability. A dual-density EPS liner also adds to the security properties of this product. In combination, these features make a DOT- and ECE-approved helmet that does its primary job. But be mindful that this is still an open-face helmet. A removable polycarbonate mask may give you an illusion of a full-face helmet, which is not. So ride responsibly.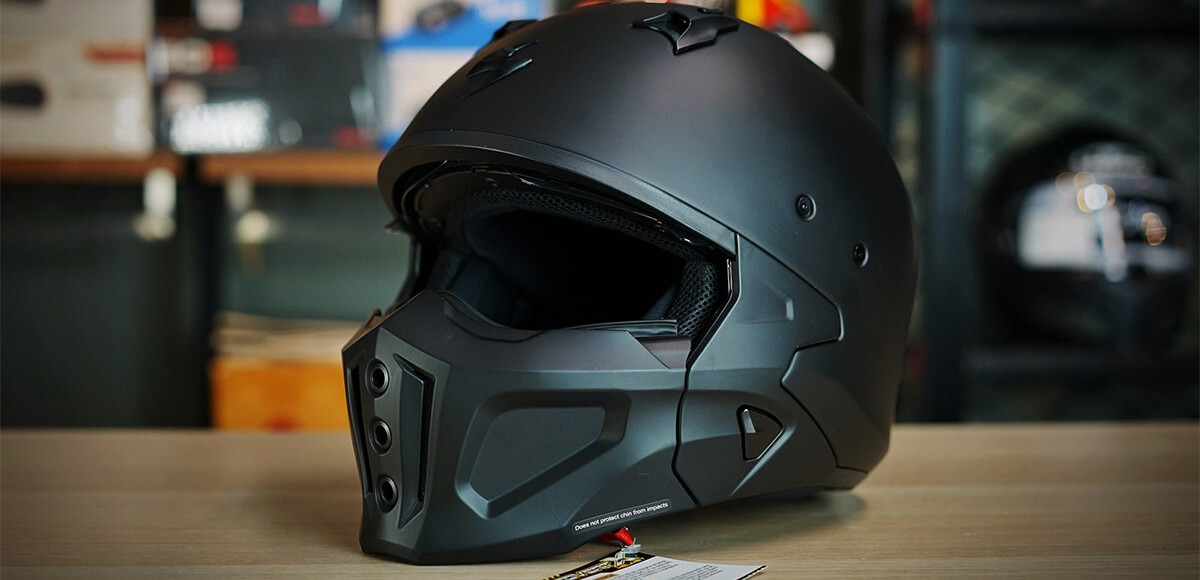 You can change eye protection from tint to clear, but you've got to carry both shields when you plan to ride during the daytime and night. Otherwise, you will struggle with one visor mounted.
The KwikWick2 lining is antiallergenic and moisture-wicking. In addition, the cheek pads are velcroed, so you can remove them if needed. This helmet is generally comfortable and brings no issues, except that it may be hard to fit your Bluetooth communication system inside.
There is no surprise about ventilation in this helmet – it's good. You fully expose your face to the wind as you pull off the shield and push up the sun visor. Moreover, there are always-open vents in the chin bar to ensure proper air circulation in a fully assembled mode. At the same time, since tons of air get into the helmet, noise is significant. If you want a quiet helmet, you probably better steer with Icon Airflite.
You can use Scorpion Exo Covert in three different modifications, so you can keep the mask and visor or remove them both. This helmet is a good choice for calm urban rides when you do not challenge your motorbike to high speeds.
Key specs
Helmet type: half.
Head shape: intermediate oval.
Safety certification: DOT
Shell sizes: SM, MD, LG, XL-2XL.
Shell material: Ultra-TCT (fiberglass, aramid ,poly-resin).
Weight, g/lbs: 1501/3.31.
Pros
A multi-layered Ultra-TCT shell brings great sturdiness, light weight, and protection.
A removable mask with always-open vents.
Two shields: tinted and clear.
Three modifications in one minimalistic package.
Cons
It gets too noisy.
You may find it hard to mount your Bluetooth speaking system.
You've got to carry both shields with you if you plan a long trip.
Motorcycle helmets under $300 buying guide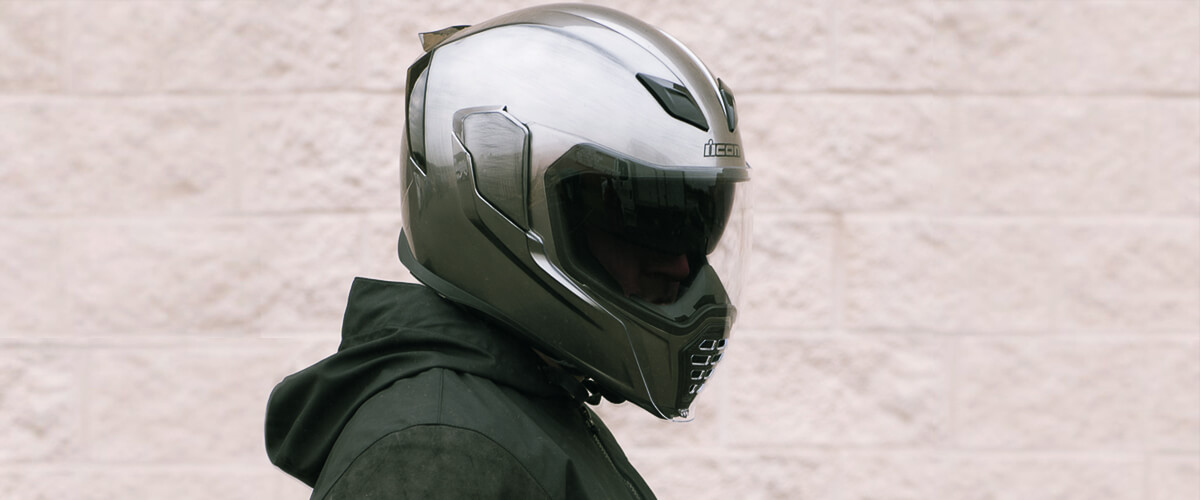 Let's clear it up. The low-price motorcycle helmet can hardly give you premium merits like advanced ventilation, high-quality materials, sophisticated design, or interior customization. But it doesn't mean that these products are trashy. On the contrary, they are better than the cheapest helmets and, if chosen correctly, can surprise you with their functionality, comfort, and security. So if you do not want to go wrong as you pick headgear for your motorcycle adventures, here are the things you should never compromise.
Helmet type
When shopping for a motorcycle helmet under $300, it is crucial to understand what types and forms are available and when to choose them. Each type offers a different balance of protection, comfort, and style, so your choice must fit your riding needs within the helmet price below the 300 budget. So, let's delve deeper into each category:
Full-face helmets:
This type provides complete head and face coverage, including the chin and jawline. It has a reliable visor, offering high eye protection and reduced wind noise.
These helmets offer maximum impact protection and come with advanced safety features. They excel in high-speed riding scenarios, protecting your face from debris, wind, and potential accidents.
Ideal for:
Prioritizing safety.
Covering enormous distances, focusing on comfort and protection.
Any riding situation where maximum coverage is desired.
Modular helmets:
In my opinion, this is a very good compromise between full-face and open-face helmets. They feature a movable chin bar that can be raised to alternate between full face protection and comfort. In addition, these models are quite often equipped with a sun visor.
These helmets offer versatility, making them suitable for various riding conditions. You can quickly access your face without removing the entire helmet, making them optimal for touring, commuting, and riders who wear eyeglasses.
Ideal for:
Touring and commuting where adaptability is valuable.
Riders who enjoy the convenience of an open-face option without compromising on safety.
Those desiring balanced protection and comfort.
Open-face helmets:
This type of headgear covers the head's top, sides, and rear. At the same time, it keeps the face exposed, and to give protection from the elements, these helmets usually come with visors.
Most importantly, these models offer freedom and comfort, making them popular for urban and cruiser riding. Unlike full-face helmets, they provide decent protection while allowing for more airflow and visibility.
Ideal for:
For those who prefer the wind in their face and a wider field of vision.
Urban commuting and shorter rides.
Warmer climates where ventilation is crucial.
Half-helmets:
This type offers a minimalistic cover. It protects only the top part of the head. At the same time, these helmets are very light and usually have less padding.
These models are favored for their minimalist style and reduced weight, making them suitable for short trips and quick urban commutes. They provide essential head protection while allowing for ample airflow.
Ideal for:
Riders who prioritize style and minimalism.
Short rides in warm weather.
Situations where legal requirements permit half-helmets.
Helmet safety standards
Safety standards are critical to ensure that motorcycle helmets adequately protect riders. Let's look at the 3 most widely recognized safety certifications:
DOT: This U.S. standard ensures that helmets meet specific safety criteria, such as impact attenuation and effectiveness of the retention system. DOT-certified helmets are commonly found in the United States.
ECE: these standards are widely accepted in Europe and many other countries. Helmets meeting ECE regulations undergo rigorous testing for various safety aspects, including impact absorption and peripheral vision.
SNELL: this one is known for its rigorous testing procedures. Helmets bearing the SNELL label have met even stricter safety criteria than DOT or ECE helmets, making them popular among enthusiasts and racers.
These 3 safety standards are essential because they assure riders that their chosen helmet has undergone rigorous testing to protect against impacts. They help reduce the risk of head injuries, concussions, and fatalities in motorcycle accidents.
Shell size and shape
When selecting a motorcycle helmet, it's crucial to consider both the shell size and shape to get the most comfort from the purchase. Helmets generally come in various shell sizes to accommodate different head sizes. A well-fit helmet enhances safety and also reduces discomfort. The latter is especially true for long rides.
Moreover, helmets are categorized based on head shape, primarily into Round and Oval. Sometimes, they are further divided into Intermediate and Long Oval to provide a more precise fit.
To determine your head shape, follow these 3 recommendations:
Measure your head: Use a soft tape measure and wrap it around the top of your head.
Try helmets: Visit a local motorcycle gear store and try on helmets of various shapes and sizes. Pay attention to any pressure points or gaps.
Ask for assistance: Seek assistance from knowledgeable staff who can help assess your head shape and guide you to models that match your shape.
FAQ
What is the difference between expensive and affordable motorcycle helmets?
Expensive helmets
are typically made with higher quality materials and construction, which can provide better protection in the event of an accident. They also often include features like ventilation and anti-fog systems that can make riding more comfortable. Affordable helmets may not offer the same level of protection or comfort, but they can still be a good option for budget-conscious riders.
Do motorcycle helmets expire if not used?
It's a common myth that motorcycle helmets have an expiration date. However, this is not the case! Motorcycle helmets are designed to protect your head in the event of an accident, and as long as they're in good condition, they will do their job just fine.
What type of helmet to choose?
The type of helmet you choose should be based on your personality, riding style, and comfort requirements. Safety comes first and foremost! There is no one-size-fits-all model that will fit all riders. That is why I have answered this question in detail in the buying guide section. Read it and make an informed choice of the right type of helmet for you.
What to do with expired helmets?
It's a question that we've all asked ourselves at one point or another: what do I do with my expired helmet? Here are a few ideas:
Use it as a planter.
Turn it into a birdhouse.
Repurpose it as a Halloween decoration.
Donate it to your local police or fire department for use in training exercises.
Create a work of art.
Put it on display as a reminder of the importance of always wearing a helmet when riding your bike, skateboarding, etc.
Recycle it! Most helmets can be recycled at your local recycling center.