Every person whose life is all about the motorcycle, freedom, and adventures will understand this feeling – every now and then, you have an irresistible urge to ride a bike just for the sake of enjoying the time spent on the road. But even when you take your two-wheeler for a ride, you should not forget about your safety. That's where the best cruiser motorcycle helmets come in handy.
Our pick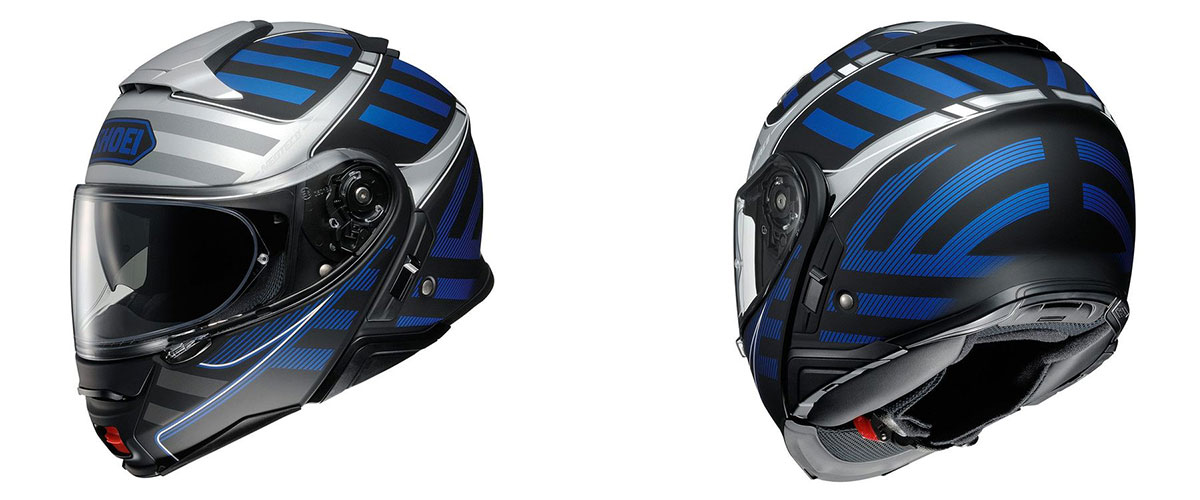 Shoei Neotec 2
Best motorcycle helmet for cruiser riders
The NEOTEC II's modular "flip up" functionality offers the convenience and versatility of a full-face helmet that converts seamlessly into an open-face configuration for a true two-in-one design.
Read the full review
.
What motorcycle helmets are called cruiser helmets?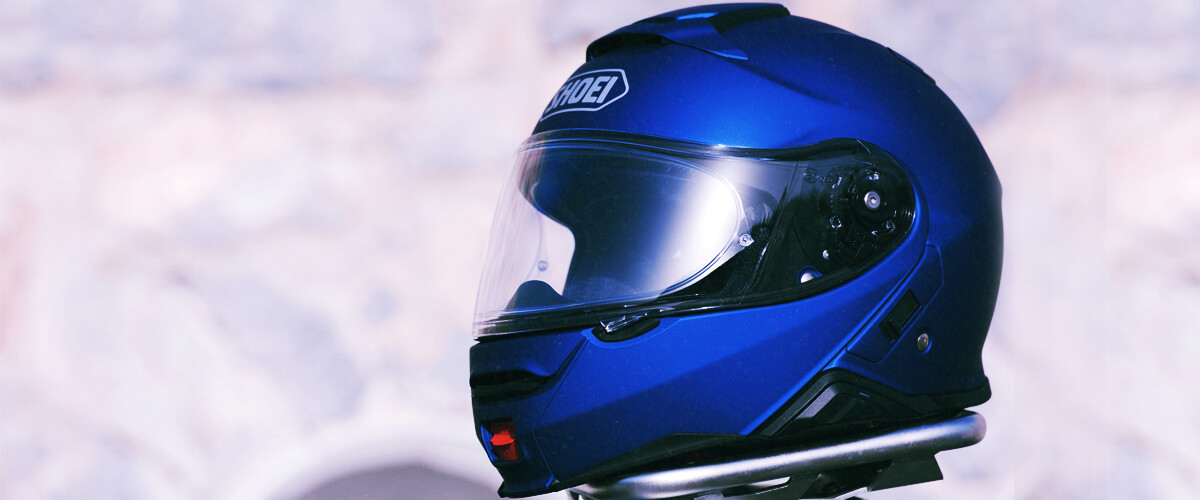 When cruising on your motorbike, you do not have another goal but satisfaction and enjoyment. You just take it easy and get a thrill out of the scenery around you. However, even when you take a short drive in a rural area, you and your back rider should wear cruiser headgear.
A cruiser helmet looks pretty much the same as most helmets and serves the same mission – to keep the rider safe in case of accidents. But a great helmet for cruiser should not only protect your head from possible traumas. Importantly, it should not interfere with your comfort or restrict your vision. In view of that, a cruiser helmet should be comfortable, lightweight, and well-ventilated without compromising your safety.
Best cruiser motorcycle helmets review
Shoei Neotec 2 – modular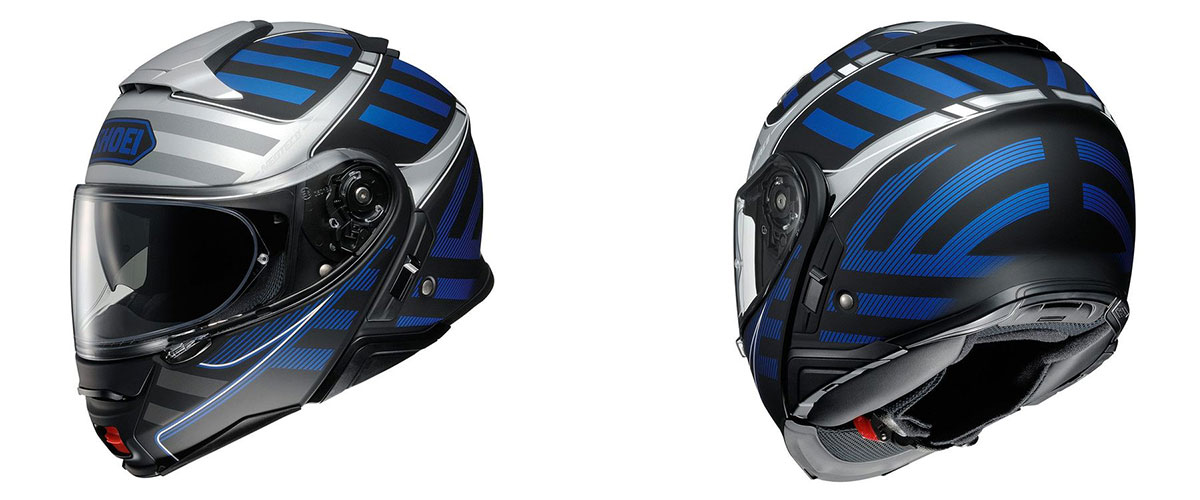 If you can't decide on a particular helmet type or you believe that a little bit more of fresh air will do no harm at a stoplight, you will love this Shoei Neotec 2 model.
The peculiarity of this headgear is that it has a modular design. It means that it looks like a full-face helmet, but you can easily flip it up to be open-faced. So, in fact, the Shoei Neotec 2 helmet provides a better level of ventilation compared to Bell Qualifier DLX MIPS. Besides, wind tunnels and large exhaust outlets with adjustable inner intake add to the better airflow.
If you use a SENA SRL communication system, you can seamlessly integrate it with this cruiser helmet with Bluetooth. Listening to music, directions on the GPS, or talking on the phone is now easier with Shoei Neotec 2.
The shell is made of Advanced Integrated Matrix, which stands for fiberglass composite. It's heavier than the Bell's helmet (it's around 4.12 lbs), so it may be a little bit hefty for long-term use.
The Shoei Neotec 2 helmet has a micro-ratchet mechanism, which is secure and makes removing the item quick and easy. In addition, a 360 pivot locking system keeps the chin bar in a locked position.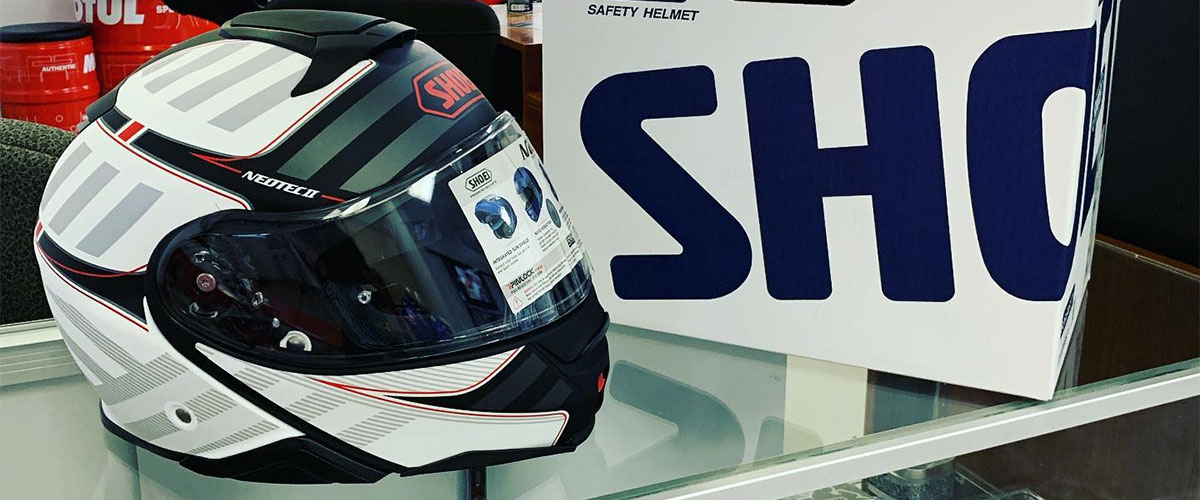 The liner is made of multi-piece EPS of different densities. In this way, the foam absorbs impact energy more effectively and prevents your head from possible injuries. All interior parts can be removed so you can clean or replace them. Cheek pads, upper liner, and chin strap covers have been ergonomically designed, but I personally find the side pads tight on my cheeks.
The Shoei Neotec 2 headgear will provide you with a wide vision range. 3D injection-molding lets you clearly see through the visor, while a protective UV layer keeps 99% of harmful rays away from your eyes. It is also equipped with a Pinlock EVO fog-insert lens to improve visibility even when it's foggy around. With the CNS-3 base plate system, you can easily change the shield.
Even though this item is better than others in terms of noise isolation, you can still hear a decent amount of wind noise on the road.
This is a top modular helmet for cruiser that would provide you with enough air when you are not riding. Furthermore, it ensures excellent vision and has proved to be a secure solution for head protection for bike riders.
Key specs
Helmet type: modular.
Head shape: intermediate oval.
Safety certification: DOT, ECE.
Shell sizes: XS-SM, MD-LG, XL-2XL.
Shell material: fiberglass with organic fibers and resin.
Weight, kg/lbs: 1.87/4.12.
Pros
A modular design lets more air.
The sturdy shell build ensures enhanced protection.
Flawlessly pairs with a SENA SRL communication system.
The visor protects from UV rays and provides visibility even when it's foggy.
Cons
Interior side pads are slightly tight.
It is quite heavy – 4.12 lbs.
The noise isolation is not perfect.
Bell Qualifier DLX MIPS – full-face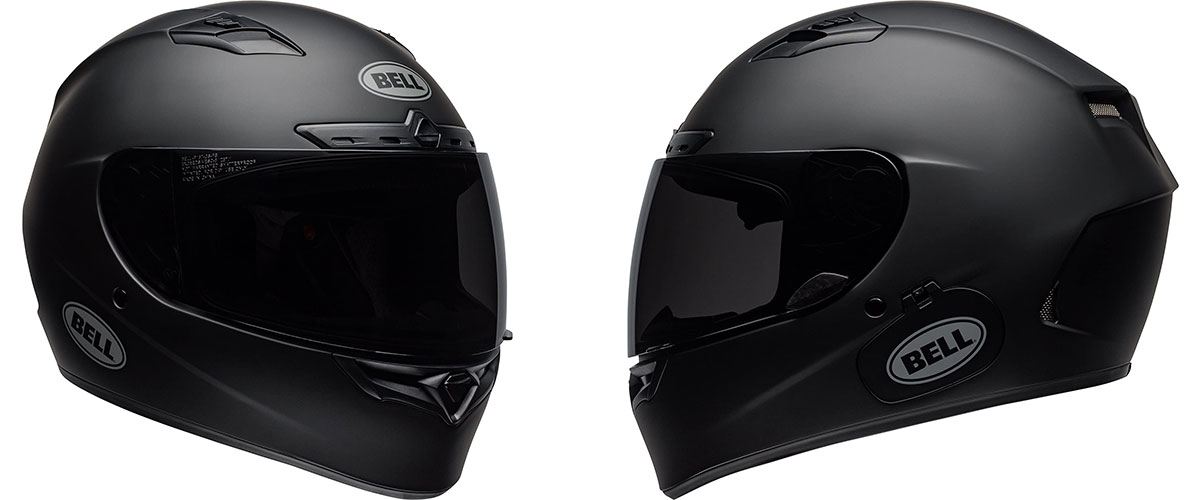 This DOT- and ECE-approved Qualifier DLX MIPS helmet is a lightweight and comfortable full-face solution for your adventures on your motorbike.
The shell construction is made of a blend of polycarbonate and ABS, making it relatively lightweight (3.57 lbs) and responsive to the impacts in case of an accident. Thanks to MIPS (Multi-Directional Impact Protection System), this item delivers enhanced rotational impact energy displacement to make you feel safer on the road.
The interior of this Bell's helmet is moisture-wicking. Even though the lining inhibits the growth of fungi and odor-causing bacteria, you may want to remove it to wash or replace it. The contoured cheek pads sit where they should be and do not cause any discomfort. You will also find a breath deflector and chin curtain to ensure you stay cool as you wear the helmet. The chin strap features a D-ring closure to allow you quickly put the helmet on and off.
There is a NutraFog II anti-fog and anti-scratch Photochromic face shield that enhances your vision even when you encounter the mist over the road. Unlike the Shoei Neotec 2 helmet that comes with the QSV-1 inner sun shield, the Bell Qualifier DLX MIPS boasts transitions photochromatic face shield included for free. It works like a charm in sunny weather, enabling you to see clearly in any light condition. In addition, the quick-release mechanism allows you to remove the shield without any additional tools.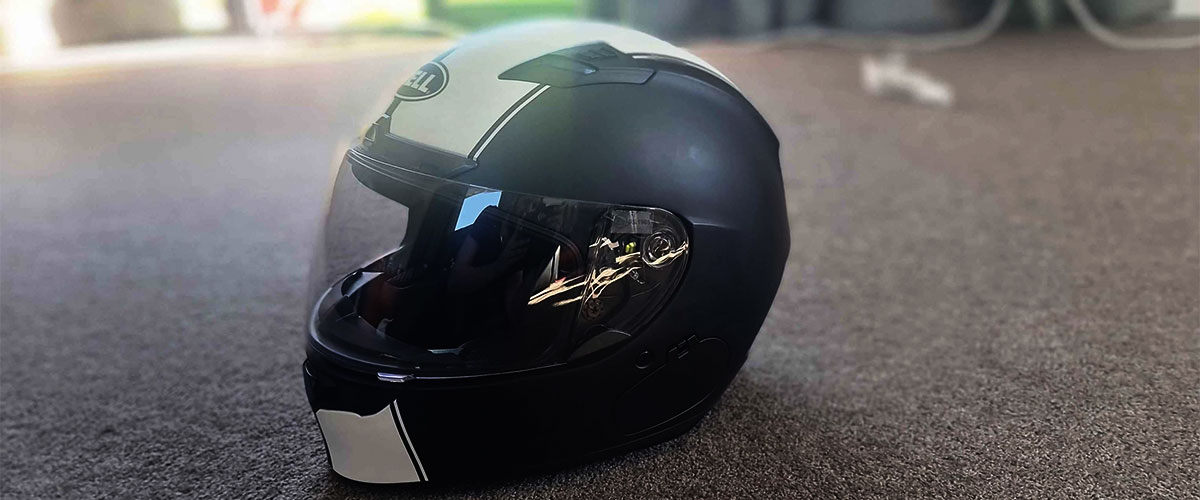 The airflow in this product is good due to the adjustable ventilation system, but not perfect. The air circulates through vents as you move, but you may get really hot when caught in the stop-and-go traffic.
The wind noise is somewhat irritating in this helmet. It goes especially annoying at high speed, even though a wind collar is supposed to reduce road noise.
Overall, the Bell Pit Boss offers a mix of convenience and features that are difficult to pass up. So, if you're looking for the best motorcycle half helmet that is durable, quality, has a stark appearance, and doesn't cost a fortune, look no further!
Key specs
Helmet type: full-face.
Head shape: intermediate oval.
Safety certification: DOT, ECE.
Shell sizes: XS-SM, MD-LG, XL-2XL.
Shell material: polycarbonate.
Weight, kg/lbs: 1.62/3.57.
Pros
DOT- and ECE-approved.
Lightweight enough to be pleasant to wear.
Removable and anti-bacterial lining.
Anti-fog and transitions photochromatic face shield for clear visibility.
Cons
The wind noise is high.
May be hot when you are caught in a traffic.
Scorpion EXO Covert – open-face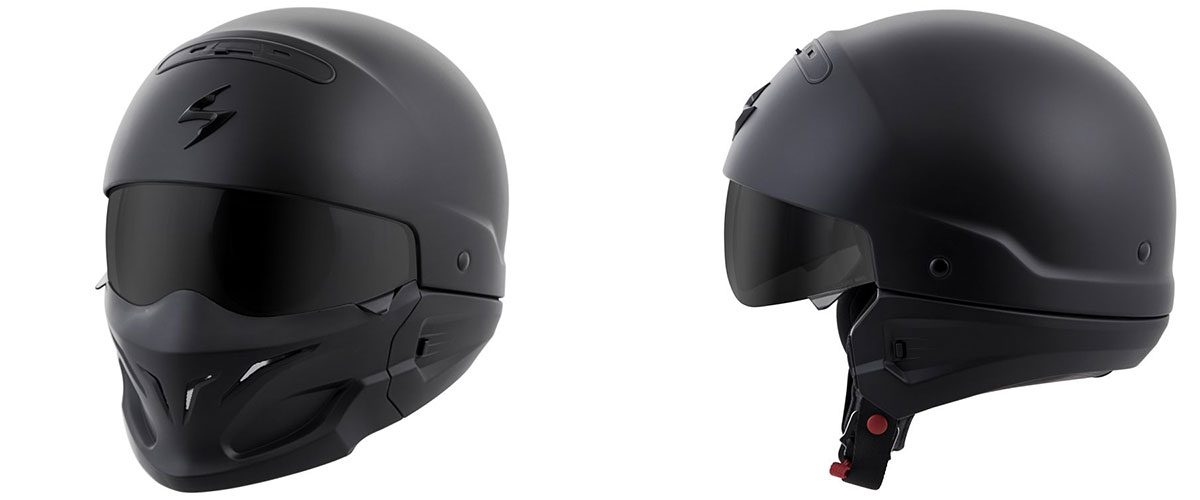 If you chase down the aggressively styled helmet that would provide you with exceptional comfort, the Scorpion EXO Covert is what may serve your needs. Because of the open-face design with a removable muzzle, you will feel the breeze of the road.
This helmet model may not be the best solution for long rides or highways /freeways, but it will definitely serve you well during the rides over city landscapes or at moderate speeds. If you try to track down the helmet for hot summer days, this one won't disappoint you either. Apart from an open-face design, there is an aero-tuned ventilation system that keeps hot air away as you attach the mask to the helmet's body.
The shell of this helmet is made of polycarbonate. It's a light headgear that weighs as much as 2.95 lbs. The polycarbonate material minimizes the weight, making the helmet comfortable to wear, but effectively disperses impact in case of a crash. Besides, this product is DOT FMVSS No. 218 certified, so you can be certain that it will withstand most impacts.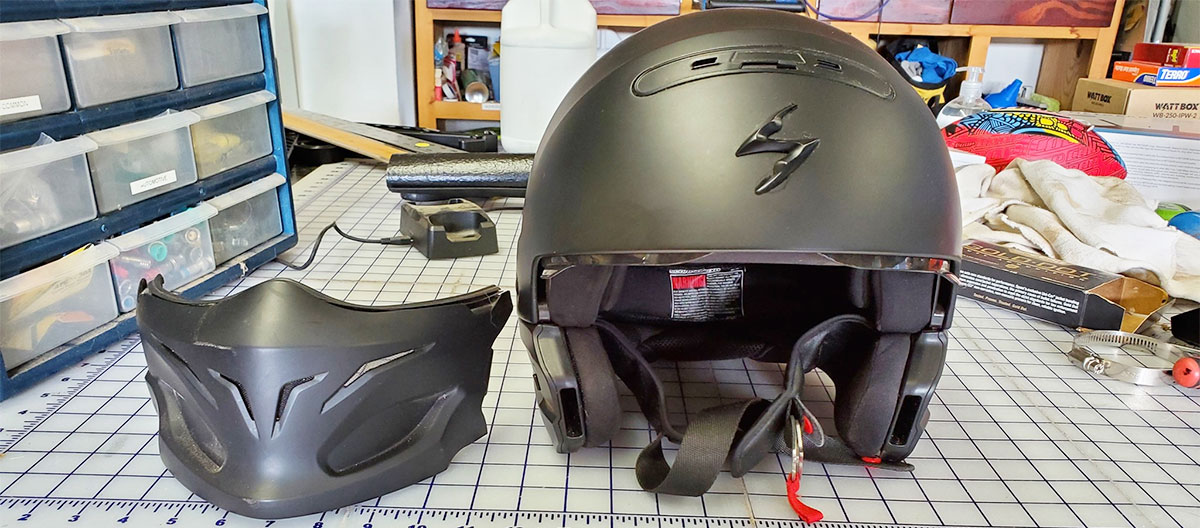 A KwikWick® II comfort liner is of good quality as it is pleasant to the skin and keeps you cool in hot weather. If the liner gets dirty or you have a desire to change it with a new one, you can easily do it as the interior is removable and washable. However, there may be issues with helmet fitting. As I put it on, my ears get pushed down. This causes discomfort, so I have to stuff my hand in the helmet and put my ears back in the natural position.
You can secure the helmet with the double D-ring chin strap system, which works flawlessly.
The Scorpion EXO Covert helmet has a retractable tinted sun-visor that enables you to see clearly in different light conditions. There is also an anti-fog coating for safe fog-free rides. What sets this helmet model apart from Bell Pit Boss is that there is a smoke sun-visor and an additional clear visor for worry-free riding at night. The only drawback to the shield system is that it doesn't drop down easily. You have got to apply both your hands to make the visor down.
This open-face cruiser helmet by Scorpion is one of the best on the market these days. It is well-built, so you will feel confident, safe, and comfortable when you take your motorcycle for a ride.
Key specs
Helmet type: open face (3/4).
Head shape: intermediate oval.
Safety certification: DOT.
Shell sizes: XS-SM, MD, LG, XL-3XL.
Shell material: polycarbonate.
Weight, kg/lbs: 1.34/2.41.
Pros
The open-face design for better ventilation with an attachable mask.
Minimal weight to keep you comfy.
DOT-certified for safe use.
The visor protects from sun, fog, smoke, and improves vision at night.
Cons
The liner pushes ears down.
The visor doesn't go down easily.
Bell Pit Boss – half-face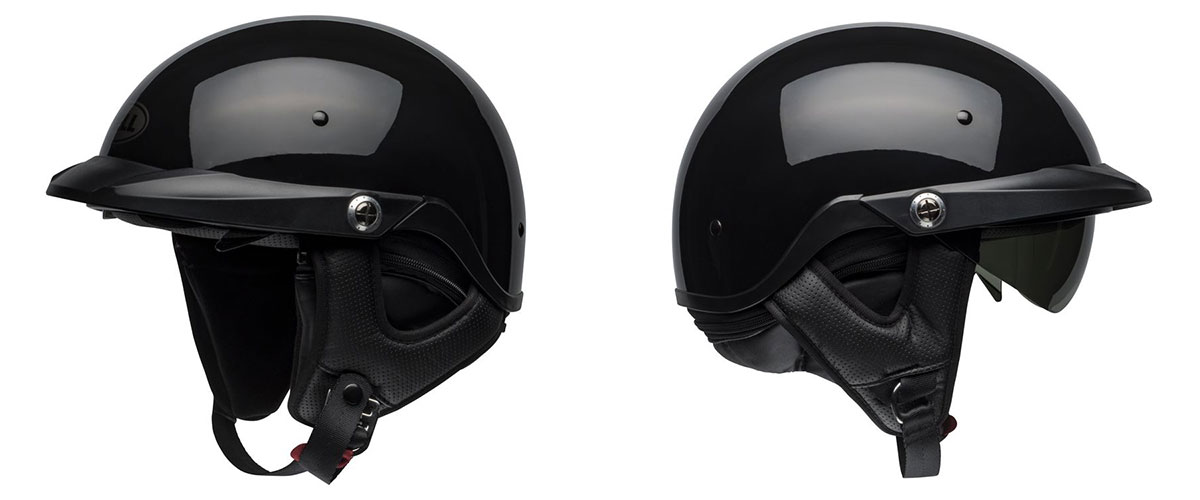 Careful motorbike riders should take a huge interest in the Bell Pit Boss. This half-helmet delivers unparalleled ventilation and is best suited for hot summer days when it gets unbearable to wear a full-face helmet.
This helmet may look awkward compared to the brutal Scorpion EXO Covert, but you will enjoy the comfort of the Bell Pit Boss headgear without any doubt.
The design and the material make this helmet lightweight (it is only 2.44 lbs). A TriMatrix composite shell presents a blend of kevlar, carbon, and fiberglass to deliver an optimal level of protection for your head. There is a DOT certificate proving that, regardless of an open design, this helmet does its job perfectly.
Wind and road noise isolation is not a strong point in this model, but you can use your communication devices by putting them in convenient speaker pockets to listen to music, talk on the phone, or get the GPS directions.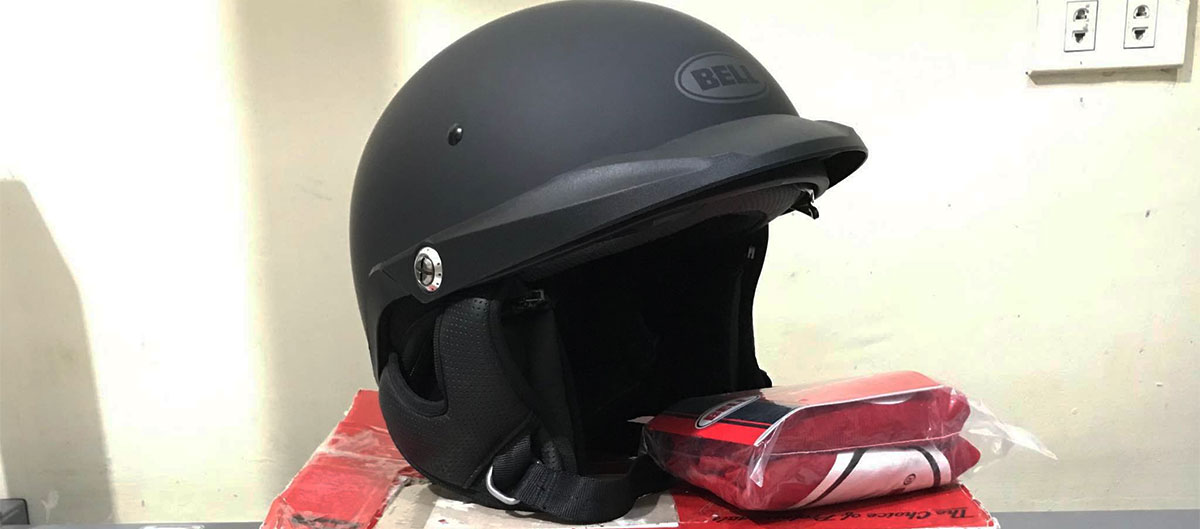 This Bell Pit Boss helmet is available in two sizes, but even the large size seems too tight for me.
There is a sun shade that offers protection from UV rays and ensures safe rides in sunny weather. Since you will find no visor in this helmet model, you've got to get a pair of glasses to protect your eyes from various impacts. It is perfect motorcycle helmet for glasses wearers.
Thanks to the speed dial fit system, you can fasten the helmet as tight as you want. A removable neck curtain is designed for cold weather rides, so you are welcome to unfasten it during the summer season.
Simple design, DOT approval, and slots for using speakers make this product the best cruiser helmet with a simplified design. A half-helmet style lets the natural flow of air, so you won't get too hot.
Key specs
Helmet type: half.
Head shape: intermediate oval.
Safety certification: DOT.
Shell sizes: SM, MD, LG, XL-2XL.
Shell material: TriMatrix (Kevlar/Carbon/Fiberglass blend).
Weight, kg/lbs: 1.1/2.44.
Pros
The TriMatrix composite shell proves to be sturdy.
A sun shade to protect your eyes from direct sunlight.
A dial fit system allows you to adjust the fastening tightness.
A perfect choice for summer days.
Cons
A small size selection – only two sizes available.
No shield to protect your eyes during the ride.
GLX M14 – lightweight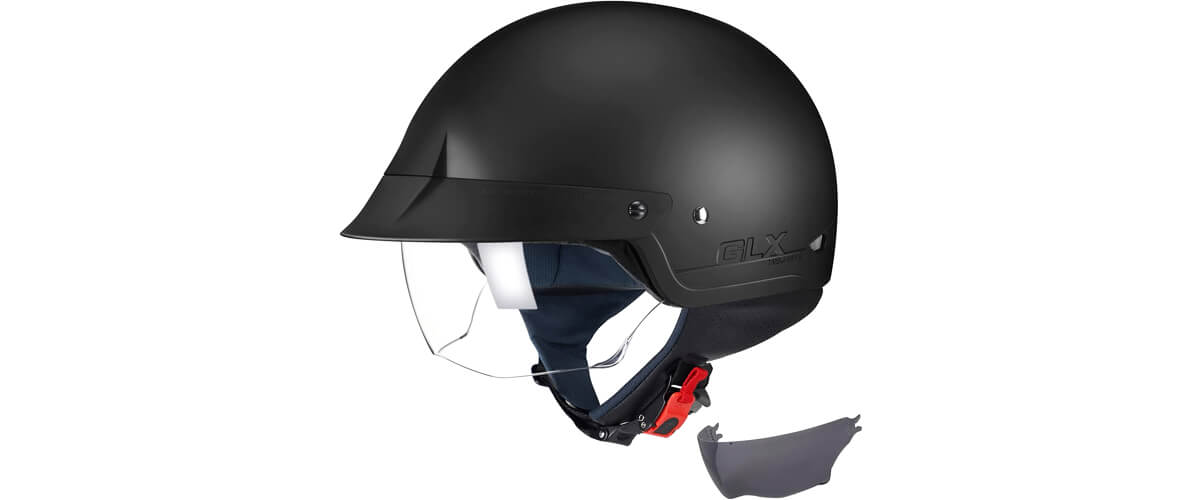 Finally, I came to share my insights and thoughts on the GLX M14, a helmet that has piqued my interest recently. This model is a worthwhile investment for motorcycle enthusiasts, and here is why.
The GLX M14 is a prime example of well-crafted helmets for cruiser bikes. It features an advanced fiberglass composite shell, providing durability and a lightweight feel. Also, it's DOT-approved, assuring you of its protective capabilities.
Typically, the helmet is equipped with a tinted retractable visor for this segment and offers convenience and versatility. Whether riding in bright sunlight or overcast conditions, you can adjust the visor to suit your needs.
I found a plush inner liner inside the helmet that coddles and provides a snug and comfortable fit. The GLX M14 suits well for long rides not just because of the aspects mentioned above but also because it incorporates effective ventilation channels that keep the air circulating, reducing the chances of fogging and ensuring a fresh feeling inside.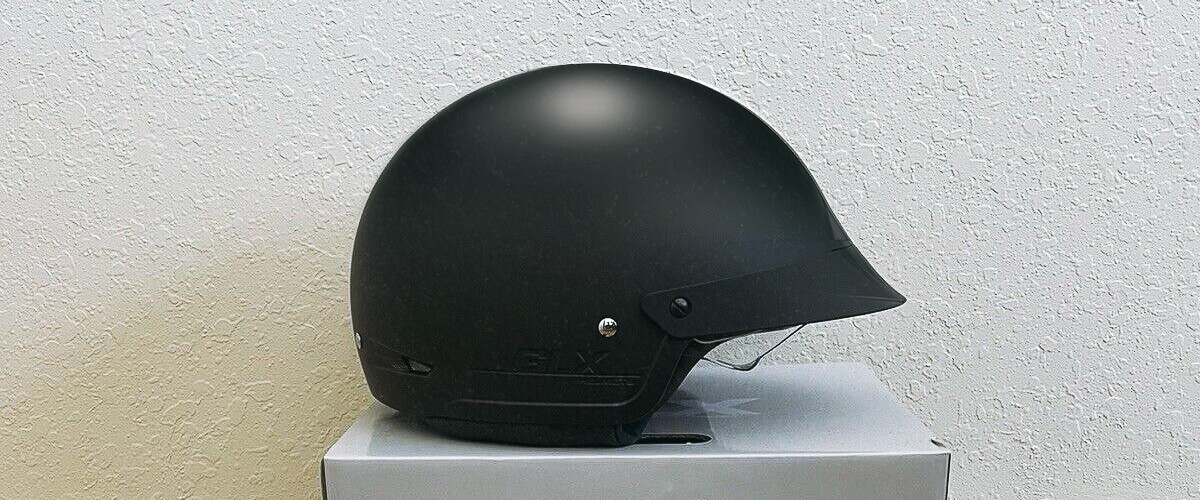 In comparing the GLX M14 Matte Black to other helmets in its class, it stands out for its blend of style, functionality, and affordability. Compared to Bell Pit Boss, the M14 offers a budget-friendly alternative without sacrificing safety and comfort.
Now, let's talk about my impressions after wearing the GLX M14 Matte Black helmet on the road. First and foremost, the lightweight design made it a breeze to wear, even during long rides. The retractable visor is a fantastic feature, allowing me to adapt quickly to changing light conditions without swapping out visors manually.
One of the standout aspects of this helmet is its comfort. The plush inner liner felt like a soft embrace for my head, and the ventilation kept me cool even on hot summer days. The helmet's aerodynamic design also helped reduce wind resistance, providing a more stable and enjoyable ride.
The GLX M14 Matte Black helmet strikes an impressive balance between style, functionality, and affordability. Its lightweight yet sturdy construction, combined with the convenience of a tinted retractable visor and plush inner liner, makes it an excellent choice for riders seeking quality at a fair price.
Key specs
Helmet type: half.
Head shape: intermediate oval.
Safety certification: DOT.
Shell sizes: SM, MD, LG, XL-2XL.
Shell material: polypropylene.
Weight, kg/lbs: 1/2.1.
Pros
Lightweight and durable fiberglass composite shell.
Tinted retractable visor for versatile visibility.
The plush inner liner ensures a comfortable fit.
Effective ventilation system for airflow.
Budget-friendly without compromising safety and style.
Cons
Limited color options for those seeking more variety.
Visor replacement may require additional cost if damaged.
What to look for when choosing a cruiser motorcycle helmet?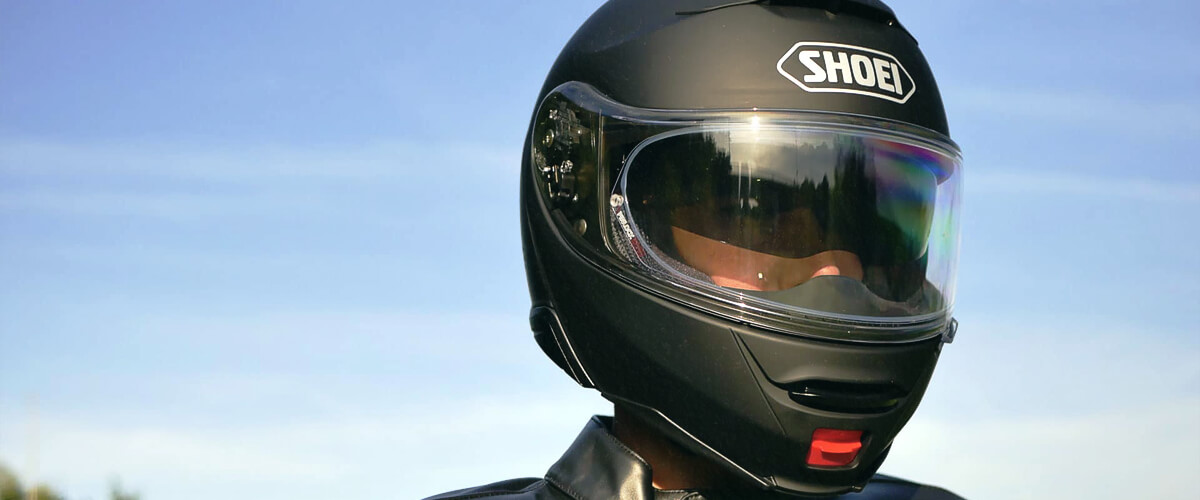 Determine what type of helmet you need
Not all cruiser-style motorcycle helmets are created equal. There are open-face, full-face, and modular helmets (find more details about the helmet types here). Each of them has its own strong and weak points, so I've deliberately picked various types for this review to help you make a more educated decision.
Determine the correct motorcycle helmet size
The correct size of the helmet is the key. Choose a larger size than you need, and the helmet will do more harm than good if you are caught in an accident. A smaller size will cause headaches or muscle fatigue. Learn how to pick the perfect size of the helmet in this article.
A security certificate is essential
A helmet for cruiser motorcycle with security certificates like DOT, SNELL, and ECE testify to the fact that it has successfully undergone crash tests. That is why I recommend giving preference to the headgear qualified to do what it is supposed to do – to save your life in emergency situations.
Replaceable inner lining is required
For the sake of your comfort and health, it is better to purchase cool cruiser helmets with replaceable lining. Cheap models do not provide you with this option. In this way, you lose a chance to replace the lining that has accumulated bacteria and started stinking.
Common misconceptions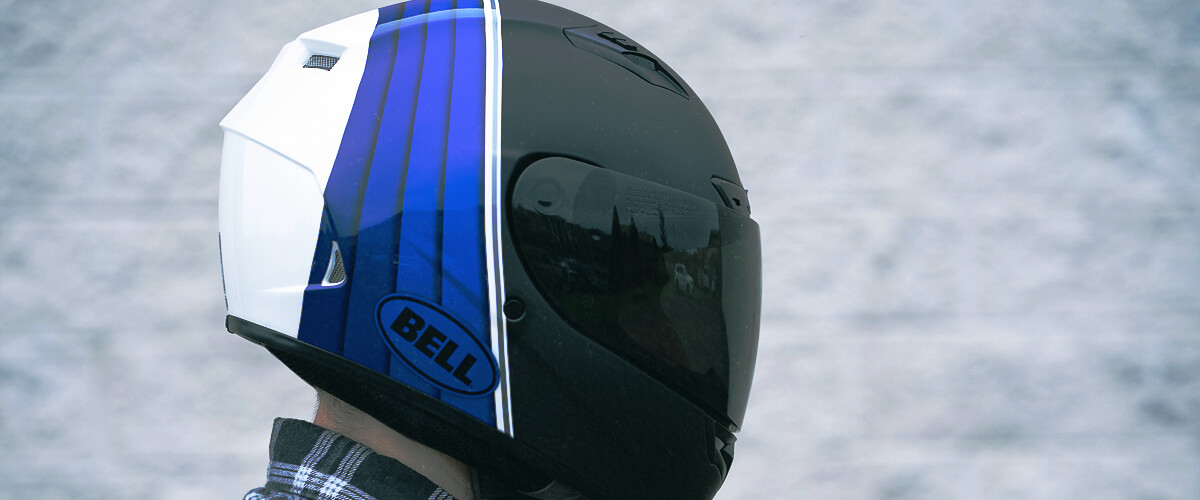 There are several misconceptions surrounding motorcycle helmets that need to be addressed.
Cruiser helmets prioritize style over safety
It's a widespread misconception that cruiser-style helmets prioritize style over safety. While it's true that they often boast classic and stylish designs, this aesthetic appeal doesn't come at the cost of safety. Many cruising helmets are rigorously tested and meet stringent safety standards. They offer excellent protection for riders, combining both style and safety seamlessly.
Full-face helmets are uncomfortable for cruiser riders
Another common misconception is that full-face helmets are uncomfortable for cruiser riders. Contrary to this belief, full-face helmets are designed with comfort and protection in mind. Many cruiser enthusiasts find them both protective and comfortable during long rides. The key is to select a model that fits well and aligns with your specific riding style and preferences.
More expensive helmets are always better
Price is not always an accurate indicator of a helmet's quality or safety. While expensive helmets may come with additional features or brand prestige, a lower-priced helmet that fits properly and is safety-certified can also offer good protection. It's essential to prioritize fit and safety certifications over price tags when choosing the right helmet for your needs.
FAQ
Can I use a cruiser helmet for other types of riding?
Cruiser helmets are primarily designed for cruising and offer a specific style and level of protection suited for this riding style. While you can use them for other types of riding, like commuting or touring, it's essential to consider your safety needs. For off-roading or high-speed sport riding, you should opt for helmets designed explicitly for those purposes, as they provide specialized features and enhanced protection.
Can I wear eyeglasses with a cruiser helmet comfortably?
Many cruiser helmets are designed with eyeglass wearers in mind. They often feature accommodation for eyeglass temples, making wearing glasses under the helmet comfortable. However, it's crucial to try on different helmets to ensure a good fit with your glasses, as comfort can vary depending on the helmet's shape and size.
Do higher-weight helmets provide better protection?
The helmet's weight doesn't necessarily correlate with its level of protection. Safety standards determine a helmet's protective capabilities; lighter and heavier helmets can meet these standards. The key is to choose a helmet that fits properly, is certified for safety, and aligns with your riding style and preferences. Comfort and correct fit are more critical factors in choosing the best chopper helmet than its weight.