For anyone who's on the fence about buying a motorcycle helmet and looking for answers to the question of "what to look for when choosing a motorcycle helmet", this short article has you covered.
Here, I'll briefly review the main features of each type of helmet available on the market as well as take a look at some other important elements to consider that may affect your decision and help pick the most suitable gear for you. However, before we move on, let's first emphasize the importance of safety: it doesn't matter whether you're just getting into riding or you already have years of experience, safety should be your priority, full stop.
What to Look for When Choosing a Motorcycle Helmet?
When picking a motorcycle helmet, the most important things to consider usually include the material and quality of a motorcycle helmet. Besides that, it's often price. Of course, your purchase decision should not be based on this factor only because it's the protection of your head we're talking about here, yet, in most cases, it will dictate what kind of helmet you can afford. As a rule, the price of a helmet is influenced by a few things – its type, certificates, safety ratings, materials, and comfort features. So let's take a closer look at each of them.
Motorcycle Helmet Types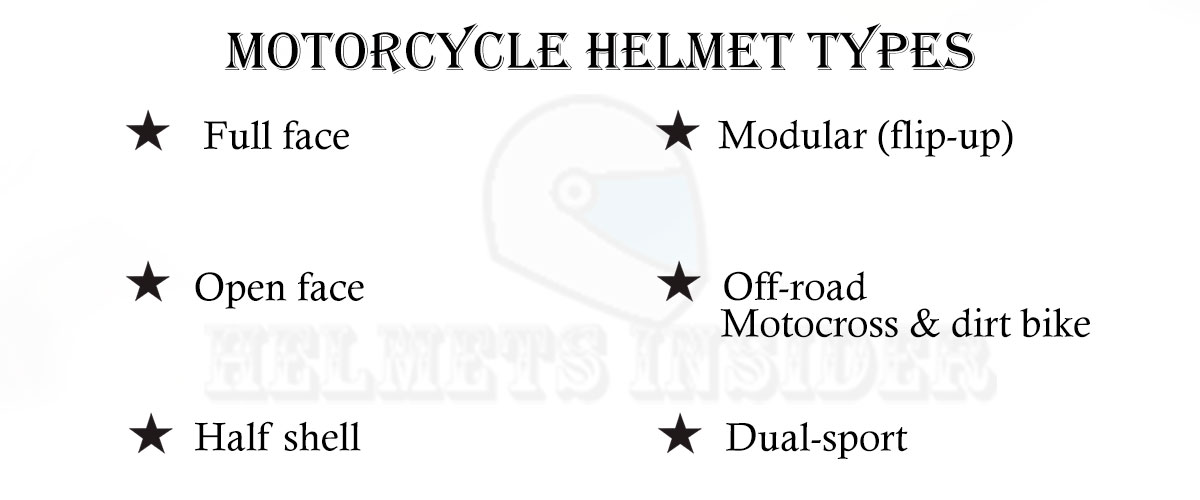 To start off, you can find a number of helmet types. They come in different sizes, shapes, and styles, so depending on the purpose of use, you should be able to find one to provide you with the comfort and protection features you need. Find the list of the most common types of helmets available below:
Full face helmets
As it can be easily guessed from the name, these helmets cover most of your face and provide the most protection.
Open face (¾) helmets
The distinctive feature of this helmet is that it has no chin guard. It leaves a lower part of your face exposed, while still offering you the needed protection.
Half shell helmets
Compared to the other types of helmets, a half shell helmet offers the least protection. Basically, it covers only the top part of your head, leaving the rest of it exposed. This makes it ill-suitable for new riders.
Modular (flip-up) helmets
What we have here is a hybrid between a full-face helmet and an open-face one. The strength of the modular helmet is that it gives you both a high level of protection and breathability, making it easy to just flip up its lower section to grab some air or to enter the shop when you don't want to take the helmet off.
Off-road (motocross, dirt bike)
As the name implies, off-road or motocross helmets are designed specifically for dirt bikers and offer a lot of advantages, making them particularly suitable for off-road riding. These advantages include additional venting ensuring increased interior airflow and preventing fogging, and the availability of a sun visor, even though some helmets come without it.
Dual-sport helmets
Dual-sport helmets are a kind of compromise between each style. They can be worn off-road and on-road and most of them come with large sun visors, making it possible to use them with goggles. More to that, they give a better field of view, something that may come in particularly handy when going a long way on the road.
Safety Features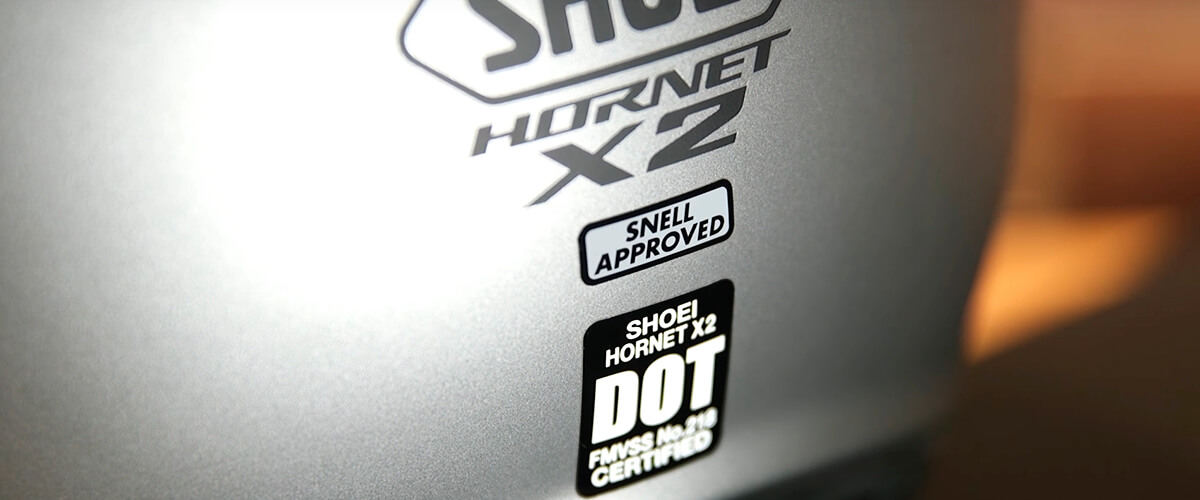 Speaking of safety features, at a minimum, your helmet must be approved by local regulations. At a maximum, it should also be comfortable to wear, offer a good fit, and provide some safety pad mechanism systems. Further down, I'll outline the most important aspects that should be taken into consideration when looking for a motorcycle helmet.
Helmet Safety Ratings
DOT certification, which is recognized in the USA, sets a minimum level of safety standards and tests helmets on a moderate crash impact. In general, helmets with DOT certification do not resist impact but rather absorb it.
When it comes to ECE, it sets a standard level of protection. This certification is used in more than 50 countries in Europe, and any helmet that has the ECE label on it is supposed to be ECE-certified.
Snell stands out from the rest due to its non-profit nature. After the death of Pete Snell, a famous car racer who died from head injuries, the Snell Foundation made sure that helmets with Snell certification would be tested under the most rigorous conditions before they hit the shelves. So, it's not surprising that for many riders today, Snell helmets have become synonymous with high quality.
Helmet Shell Materials
Most motorcycle helmets are made from either Polycarbonate, Fiberglass, or Carbon Fiber. The least expensive among them is polycarbonate, which flexes when absorbing the impact.
Fiberglass helmets, in turn, not only flex but also crush and split, while helmets composed of carbon fiber, despite their lightweight, also distribute the energy upon impact, which makes them the safest yet also the most expensive helmets out there.
Compressed into the inner shell comes EPS, a foam material used by helmet manufacturers for added protection.
Additional Safety Features
What differs today's helmets from old models is that most of them, on top of a standard set of safety features, come packed with advancements, making them more comfortable, lighter, and more feature-rich. This way, you can find helmets with improved optics in the face shields as well as many new safety mechanisms like the emergency cheek (or similar) pad system, meant to provide quick access to your face in the event of an accident. If these features are important to you, make sure your helmet has them.
Fit and Comfort Features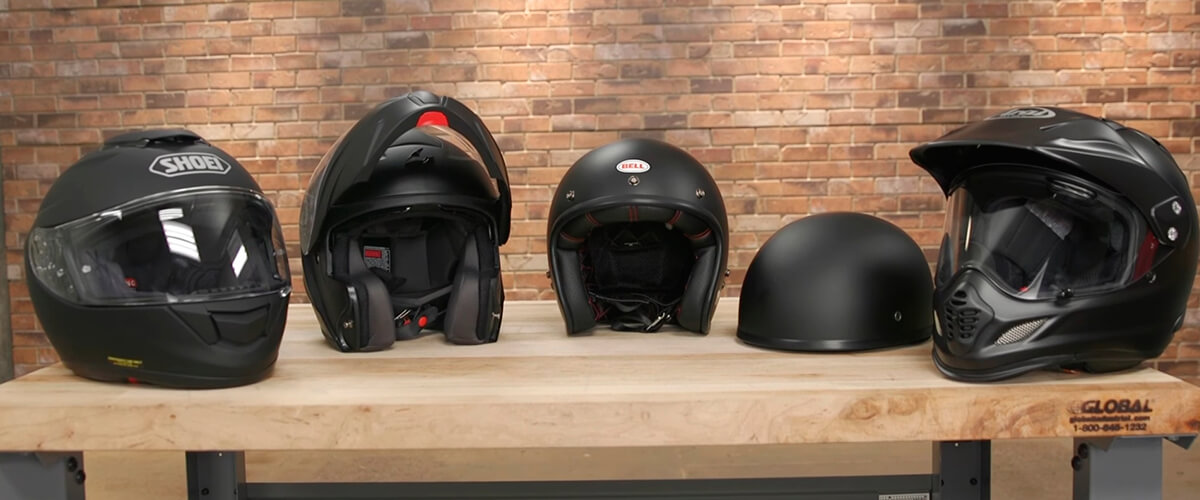 A helmet should be safe and, what's no less important, comfortable for a wearer, otherwise, your rides won't bring the expected joy. Therefore, the first step in finding a motorcycle helmet would be finding a proper fit.
Head Size and Shape
It goes without saying that we are all different, and so are our head shapes. Therefore, you should measure your head size first and determine what kind of head shape you have. This will help find a helmet that will be comfortable to wear for a long time.
Inner Lining Material
Although you can't see it, the inner lining plays an important role in reducing serious head injuries too. Composed of layers of soft foam rubber, it sits inside the shell and helps absorb the energy of impact. In some modern helmets, the inner lining can also be made using moisture-wicking materials to help keep the sweat at bay.
Helmet Weight
Depending on the material a helmet is made of, its weight may vary in a range from 3 to 4 lb. (1400 up to 1800 grams). The heaviest of them are usually modular helmets as they come with a flip-up mechanism. That said, though weight is certainly important, what matters most when it comes to comfort is whether the center of gravity of a helmet is properly distributed around your head and shoulders. If it is not, the helmet is likely to cause strains in your neck.
Helmets ventilation
Further on, you want to make sure that your helmet has a proper ventilation system, which will be particularly important for those who ride in a hot climate. A good quality helmet should have inlet and outlet vents on the sides, back, top, and chin area. Not only will this keep you comfortable on the road, but also it will prevent sweating and keep the visor from fogging.
Vision and Noise of Helmets
Finally, noise levels. Unfortunately, this variable can't be predicted because it largely depends on a few things: weather, wearer, and your vehicle. In general, the better the helmet fits you and the less air it allows in, the quieter it will be.
When it comes to vision, look for a visor that has an opening and a wider aperture to not block your vision. If you live in an area with changeable conditions, you may also want to check if it's got UV and anti-glare protection. Besides that, you should have an option to easily open and close it.
How Much Money Should I Spend on a Motorcycle Helmet?
It's a difficult question because there's no real answer and in most cases, it will come down to your needs – what type of climate you live in, your location, where you plan to ride (on-road or off-road), and what features are of importance to you.
If you're just getting into riding, I'd recommend you invest only in those features that really matter and get you a comfortable fit. Usually, spending ~ 300 bucks will be enough. Surely, if you're a more demanding rider looking for premium features, you may want to spend more. A helmet is an essential piece of your riding gear that can serve for ages.
That said, it doesn't mean that the more expensive the helmet is, the safer it is. While you don't want to buy cheap stuff, any model that has certification meets safety standards and will provide a high level of protection on the road.