Women's helmets for motorcycles are not just about flower or butterfly-printed designs. True, some models may use this trick to attract ladies' attention. But in fact, design is not as critical as other parameters that deliver safety and comfort to all female motorbike riders. That is why the best women's motorcycle helmets boast features that make them more applicable for ladies than others. In this article, I will explain how to choose this type of headgear. You will also find detailed reviews of the most winning offers on the market.
Our pick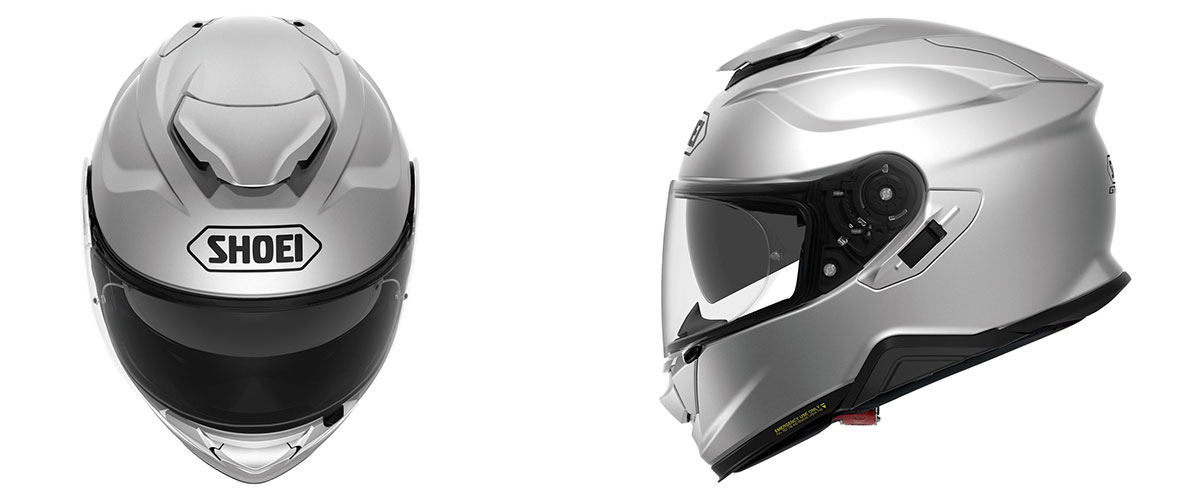 Shoei GT-Air II
Best motorcycle helmet for women
The GT-Air II is the perfect answer to any condition, with its enhanced aerodynamics, noise-reduction technology, and ability to integrate with the SENA SRL2 communication system seamlessly.
Read the full review
.
Is there a difference between men's and women's helmets?
There is no such thing as an exclusive women's or men's helmet, excluding the ones with peculiar girlish designs. In most cases, the helmets are unisex, meaning they are suitable for both male and female riders. However, what sets ladies' motorcycle helmets from others is the sizing.
It's clear that there are some minor anatomical differences between men's and women's heads, but they are insufficient for producing different helmet models for both genders. Usually, ladies require smaller helmet sizes due to their head circumference, while men find it nearly impossible to fit their larger heads into women's motorcycle accessories.
Best women's motorcycle helmets review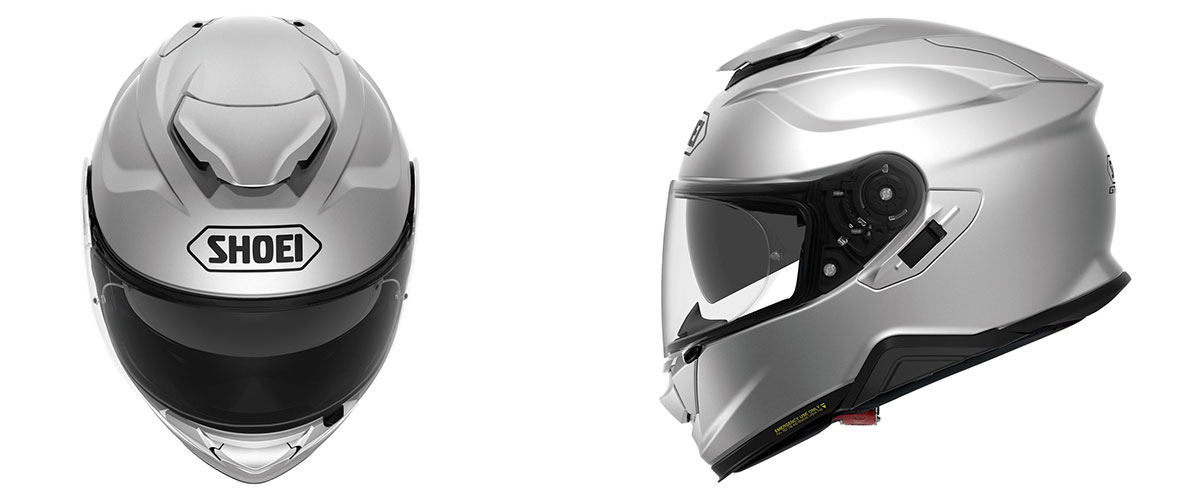 This all-rounder helmet brings premiere characteristics that will let you adapt to ever-changing conditions on the road. And yes, I am talking about Shoei GT-Air II.
High-performance fiberglass is mixed with elastic organic fibers to create a shell that feels more comfortable on your head than Icon Airflite. Moreover, a multi-density polystyrene liner does an excellent job of absorbing impacts. So, by combining multiple heavy-duty protective layers, this Shoei model weighs 3.79 lbs, which doesn't make it one of the most lightweight motorcycle helmets for women. But when you rate your security higher than everything, you can put up with some extra weight. Especially knowing that this product meets rigorous DOT safety standards.
The shell has large vents to promote better air circulation. It's also wind-tunnel optimized to keep you cool during your rides without causing too much wind noise. I do not get hot when I ride my motorbike on the highway. The same goes for city riding – I just put the visor in the 'cracked open' position to stay cool in mega hot weather.
The great thing about this headgear is that you can customize how it fits. I purchased optional interior components for more comfortable wear. I feel this helmet is slightly tight when I get it off, so changeable parts work fine for me. In general, I like the fully removable, washable, replaceable, and adjustable lining, which, in addition, absorbs and dissipates sweat twice faster than nylon. You will also find a cheek pad panel for glasses to let you comfortably wear your spectacles.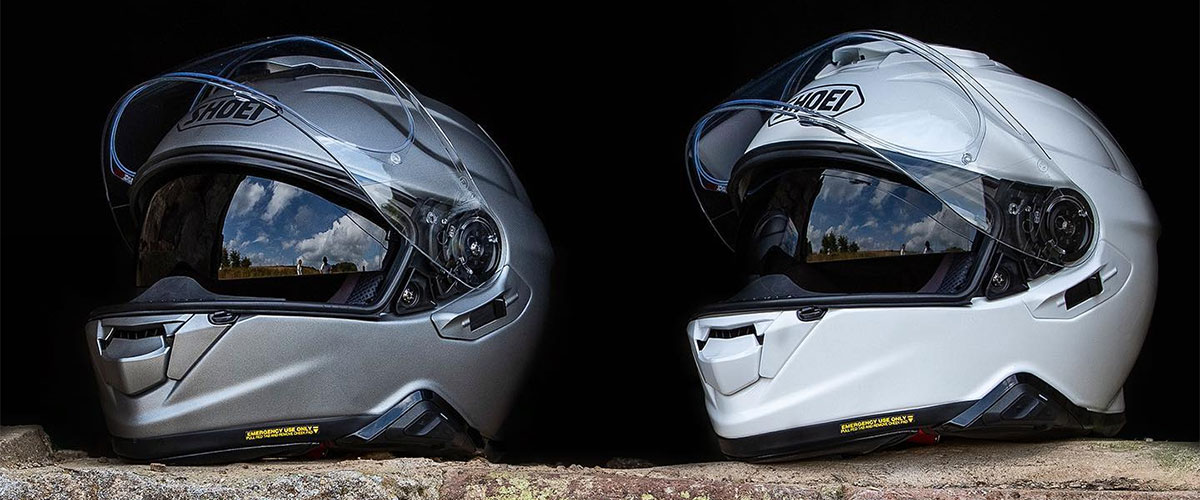 Shoei GT-Air II boasts a stainless steel interlocking mechanism, ensuring a secure fit as well as smooth closure and opening. But I wish the straps were a little bit longer. I also won't mind if they add padding to the chin strap.
An advanced shield system in GT-Air II by Shoei is wide enough to aid peripheral vision. But, perhaps, a "first position" shield opening is its strongest benefit because it ensures better venting and defogging. In addition, the shield comes with a Pinlock EVO fog-resistant system and an internal sun visor.
Shoei GT-Air II should be the first product on your list when you do not want to compromise quality. This is the best motorcycle helmet for women that will make you fall in love with it after the first wear – it's well-ventilated, comfortable, customizable, and glasses-friendly, just what ladies need.
Key specs
Helmet type: full-face.
Head shape: intermediate oval.
Safety certification: DOT,ECE.
Shell sizes: XS-SM, MD, LG, XL-2XL.
Shell material: AIM (advanced integrated matrix).
Weight, g/lbs: 1719/3.79.
Pros
A multiply matrix shell design with a multi-density EPS liner for your security.
Approved by DOT.
Advanced ventilation system with larger vents, internal channels, and a 'cracked open' visor.
A soft, breathable, removable lining with optionally customizable interior components.
Cons
A little bit tough when you take the helmet off.
The chin strap is too short and not padded enough.
Icon Airflite – also a great choice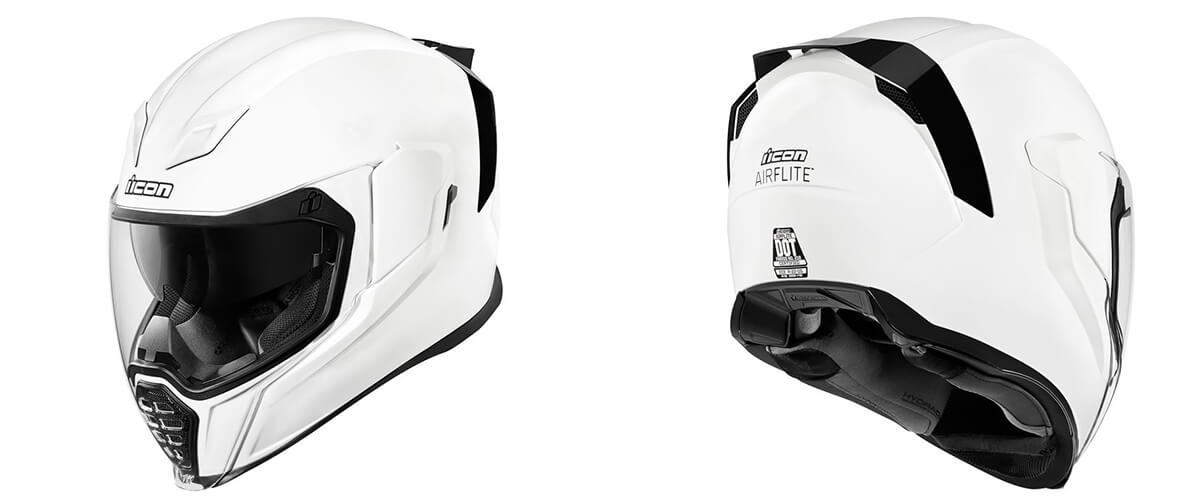 Are you searching for cool women's motorcycle helmets to get plenty of compliments? Then, no doubt, you should settle on Icon Airflite. Its futuristic design, accompanied by fancy bright prints, will melt your heart. However, design is not the only strong point of this helmet. So, let's see what else may excite you in this beauty.
One of the most attention-grabbing things in Icon Airflite is its shield. Unlike Shoei GT-Air II, which features a standard shield, this model has an extended one that goes down really deep, right to the bottom of your chin. This peculiarity gives the helmet a ritzy look. In addition, the shields are available in different colors (dark, yellow, light, and RST) for various light conditions.
Airflite by Icon is not light (it weighs 3.79 lbs), which is a common problem for polycarbonate helmets. However, despite this minor inconvenience, Airflite has an excuse. It is durable and reliable, which is proved by DOT and ECE security tests.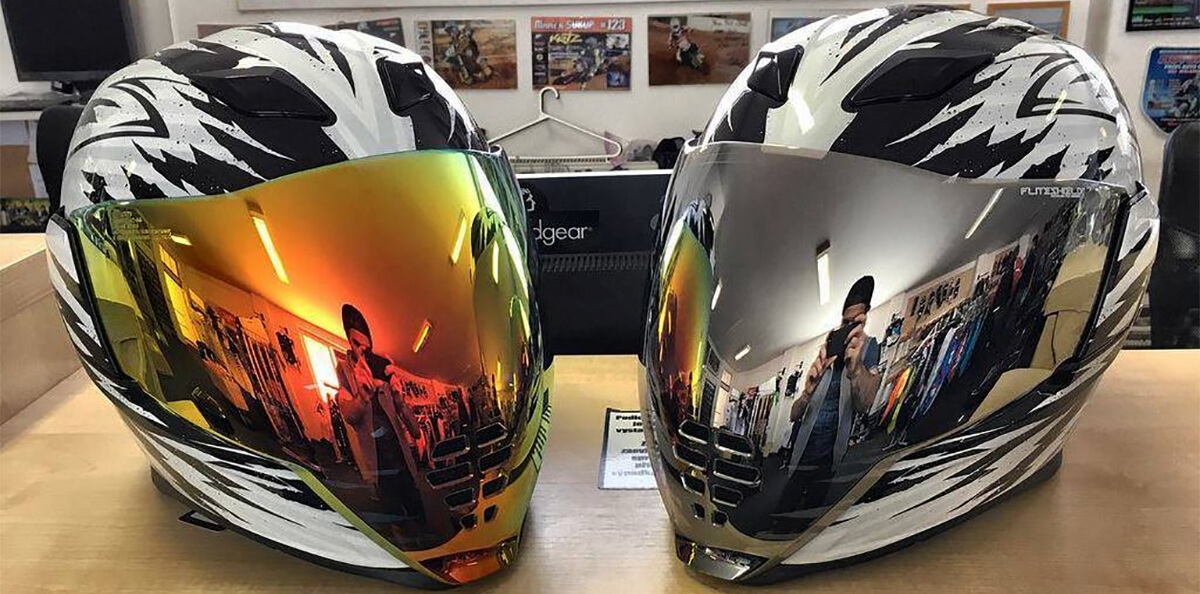 And now, let's talk about how this helmet fits. I should admit that it suits people with medium oval head shapes. I learned this the hard way – it's too tight, so taking this headgear off is a real pain. But, frankly, things are not that bad. I like the Hydradry lining, which is super soft, pleasant to the skin, and keeps your face dry even when it's hot.
Icon Airflite turned out to be noisier than I thought. It's hard to ride without earplugs or headphones. I didn't use them during my first trip, so I had a headache from the noise. However, the airflow overshadows the noise issue, so I have no complaints about ventilation. A lot of fresh air gets inside through the front mouth vent in the chin guard. There are also several large vents on the top and an integrated twin-channel super-vent cooling system to direct air through the helmet shell and create a favorable climate inside.
Due to various fancy designs and a unique shield system, you will easily find that perfectly cute female motorcycle helmet in the Icon Airflite collection.
Key specs
Helmet type: full-face.
Head shape: long oval.
Safety certification: DOT, ECE.
Shell sizes: XS-SM, MD-LG, XL-3XL.
Shell material: polycarbonate.
Weight, g/lbs: 1719/3.79.
Pros
Sturdy polycarbonate shell that stands DOT and ECE tests.
A variety of bright designs for an eye-catching look.
Great ventilation through large vents.
A soft lining that also dries quickly.
Cons
Not light enough for ladies.
It can be too tight for some riders.
Unbearably noisy, so you may need to wear earplugs or headphones.
Arai XD4 – great for adventure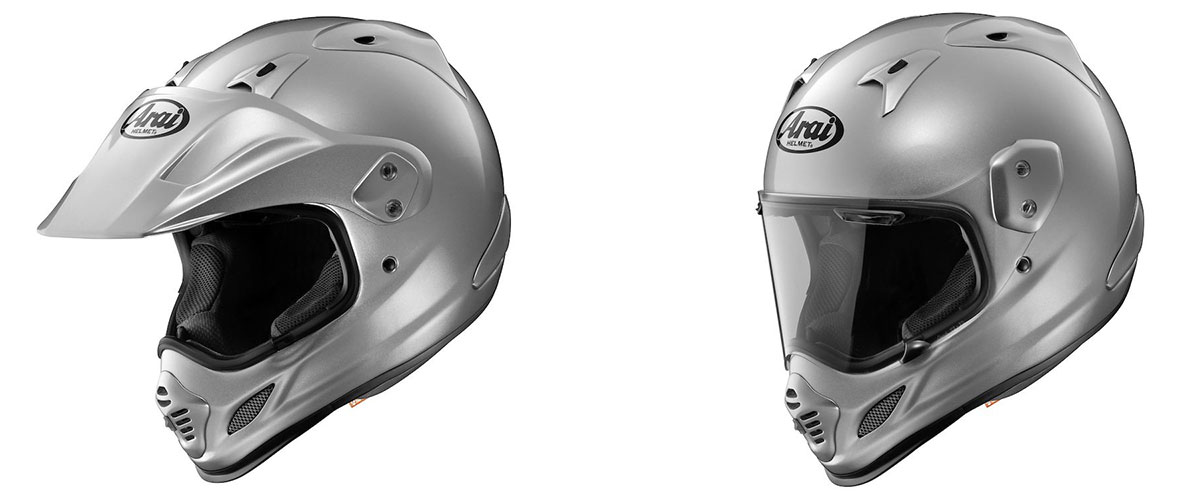 The Arai company produced XD4 as one of the most versatile models in its product lineup. Does this helmet stand up to this claim? I've checked this out, so I must share my impressions and thoughts about Arai XD4 with you.
At first sight, this model looks like a regular adventure helmet. It has a robust sun peak and an enlarged shield, so the headgear promises to deliver outstanding performance off-road. But the most pleasant thing about the Arai XD4 is that you can remove the peak and turn this helmet into an ordinary full-face model suitable for highway trips. Besides, you can remove the shield, grab your goggles, and start your motocross fun.
But this helmet model is not only notable for its versatility. Arai goes the extra mile to make it as safe as possible. XD4 is DOT, ECE, and SNELL certified, all of which sound enticing, especially when you purchase a head accessory based on protection concerns. Arai made a shell of a so-called complex laminate construction to achieve these regalia, which is nothing but high-grade fiberglass layers. This eventually leads to a more rigid shell, which riders appreciate because of its ability to absorb and dissipate energy during an accident.
You can remove internal foam in different places for better facial support in XD4, making it more customizable than Shark EVO One 2. Also, Arai's headgear is undoubtedly much lighter than its rival, weighing only 3.66 lbs compared to 4.03 lbs.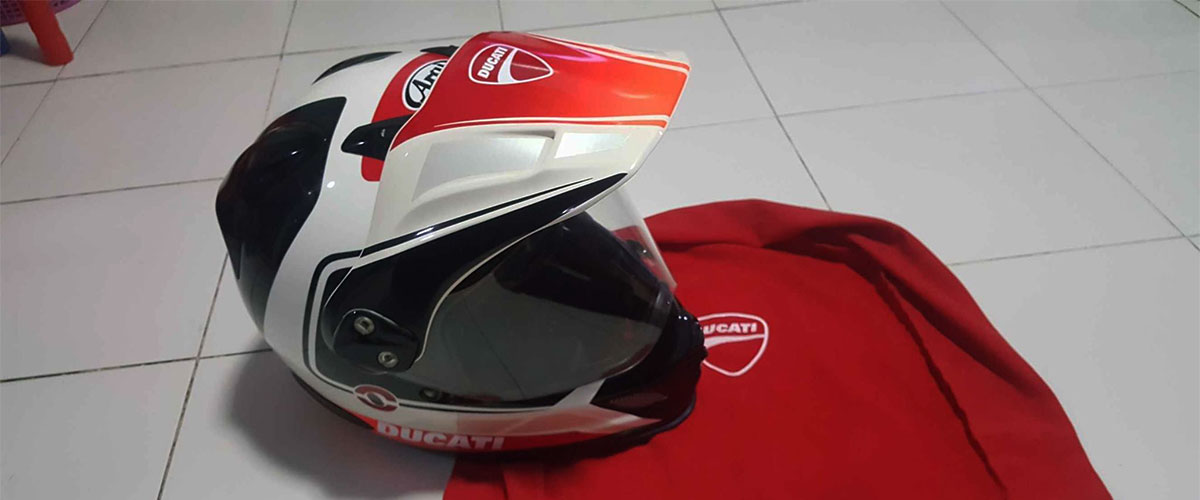 Arai XD4 is a nice helmet for riding in places where it never rains, with temperatures above 65°F. However, you may have issues with the visor when it's cold and rainy. The original anti-fog coating does little to maintain the visor clear. What makes things worse is that no Pinlock options are available for this model.
The ventilation in Arai XD4 is above average thanks to numerous vents (three in the chin, two in the shield itself, and several large ones at the top) and four exhaust vents. Unfortunately, more vents mean more noise, so I can hardly say it is quiet.
As always happens with Arai helmets, XD4 is safe enough to protect you on your trips. Moreover, with a removable peak and shield, you will undoubtedly gain the adaptability you expect to see in headgear apt for adventure.
Key specs
Helmet type: dual sport.
Head shape: intermediate oval.
Safety certification: DOT, ECE.
Shell sizes: SM-MD, LG-3XL.
Shell material: carbon.
Weight, g/lbs: 1474/3.25.
Pros
A removable peak and shield for advanced versatility.
A large shield with integrated vents.
A rigid shell made of fiberglass layers.
Great ventilation owing to the well-thought-out venting system.
Cons
The lining is not as comfortable as you may expect.
Not compatible with Pinlock, so it may be challenging to ride in rainy or cold weather.
Gets noisy at high speeds.
Shark EVO One 2 – modular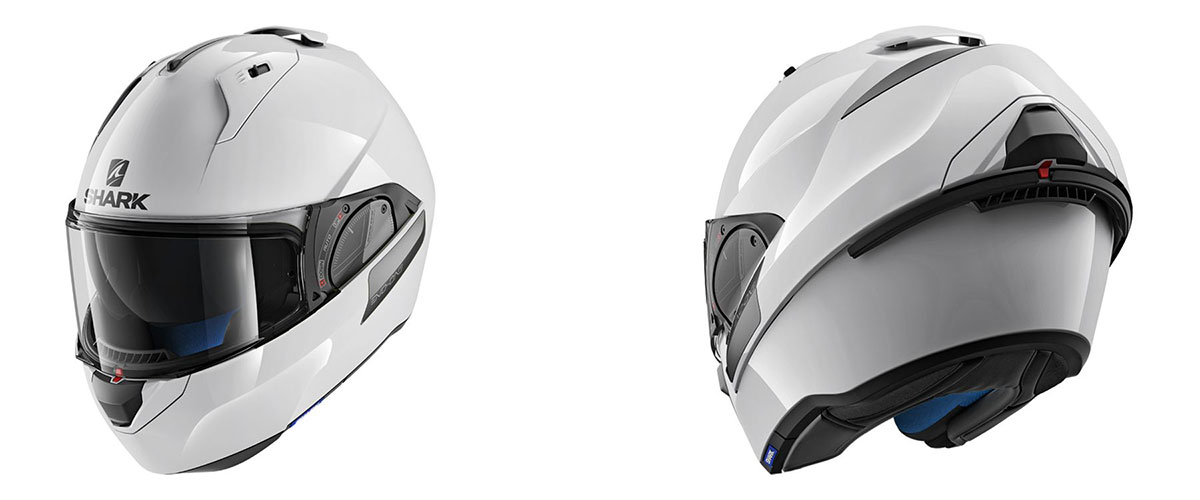 Meet one of the Shark brand's most famous modular products from the Evoline series. EVO One 2 is a new word in this lineup created to be more compact and add comfort to your rides. So, let's see what's extraordinary in this helmet.
First, it has DOT, ECE, and SHARP security certificates. But, most importantly, it is dual-homologated, so you can use it safely in both full- and open-face configurations. Mostly, these ratings are possible due to the injected thermoplastic resin shell, which has flawless rigidity and sturdiness.
You can use EVO One 2 as a full-face and open-face helmet, depending on your needs. To switch to a different modification, you've got to flip the chin bar to the back of the helmet – that easy! Make sure you hear the clicking sound, as it will mean that the chin guard nestles appropriately and doesn't affect balance. I especially enjoy the auto up/auto down system, which automatically lifts the shield when you open the chin bar.
Speaking about the shield, it looks like the Shark company has done its homework. This is a Pinlock Max Vision-ready shield, giving this helmet a massive advantage over Arai XD4. The negative side to the Pinlock shield is that it rubs the top of the helmet and damages the helmet dye and the shield itself. Additionally, Evoline helmet users complained about sun visors in previous models. EVO One 2 fixed those issues. It offers a 23% larger visor, perfect for covering the eye area.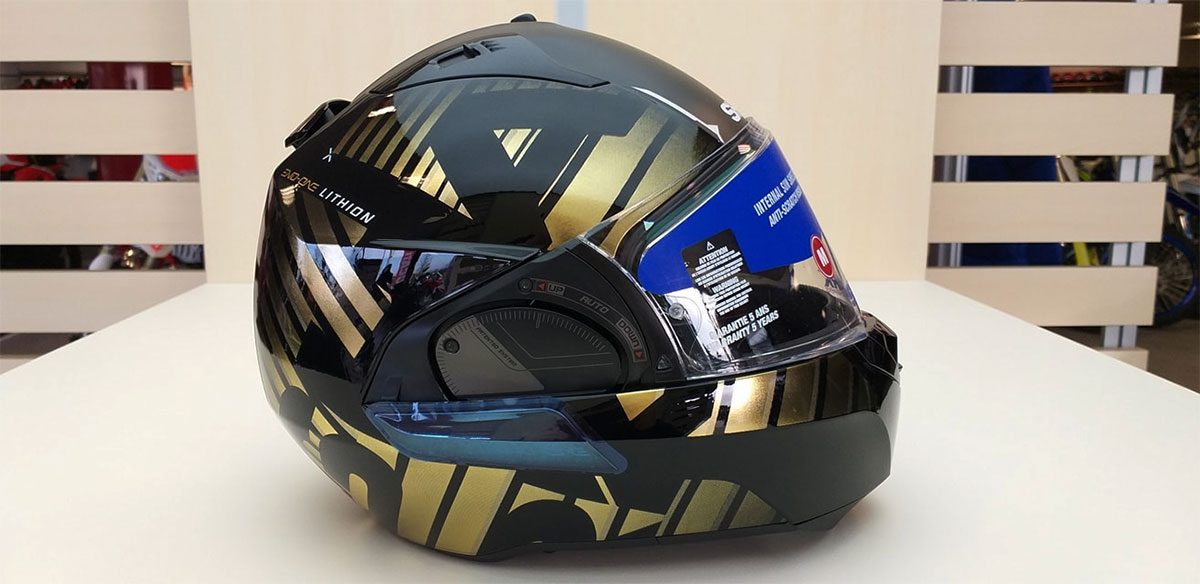 The lining quality is average in this helmet. The internals are plush, but you may lack customization, especially considering that the fit is slightly snugger than in other brands' same size.
Ventilation is a plus point in Shark EVO One 2. First, you can use this helmet in an open-face modification to catch fresh air. Second, there are several vents in the chin and crown areas. Unfortunately, these openings reduce noise isolation, so I recommend wearing earplugs to avoid a negative riding experience because of strong wind noise.
A modified chin bar opening mechanism, improved visor, and good ventilation make Shark EVO One 2 a decent women's modular motorcycle helmet. In addition, you don't need special tools to turn a full-face helmet into an open-face one, which is always a significant advantage for ladies.
Key specs
Helmet type: modular.
Head shape: intermediate oval.
Safety certification: DOT, ECE.
Shell sizes: XS-MD, LG-XL.
Shell material: polycarbonate.
Weight, g/lbs: 1827/4.03.
Pros
A smooth chin bar opening mechanism.
Certificates from DOT, ECE, and SHARP.
A large visor for better vision in sunny weather.
An included Pinlock Max Vision-ready shield for fog-free rides.
Cons
The Pinlock shield scratches the top of the helmet and damages its dye.
You may want to get one size bigger because of the sizing.
The wind noise is intense.
Bell Mag 9 – open-face (3/4)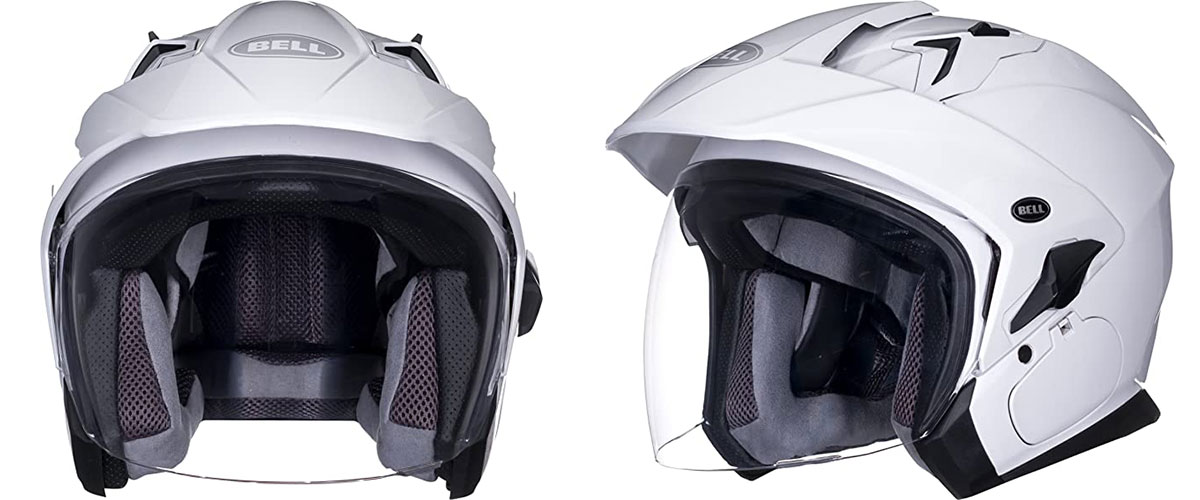 Do you think that ¾ helmets look awkward? Then glance at Bell Mag 9, which doesn't look any worse than flashy motocross headgear. A combination of an open-face design with an off-road peak doesn't look typical, so it will jazz up your motorcycle outfit. Even though ladies may be satisfied with this peculiarity, I still want to give you more detail on this product.
This women's motorcycle helmet is DOT-approved, so it complies with the standards of the safe head accessory in the USA. In addition, a tough and lightweight (only 3.38 lbs.) polycarbonate shell will do its job when it needs to absorb the impact.
The interior of Bell Mag 9 surprised me. Usually, open-face helmets in this price range do not have a removable lining, but this one has. Also, there are slots for a Sena SMH10 Bluetooth stereo headset and intercom to let you communicate with your fellows or listen to music on the go. This feature may be handy since this helmet is way too noisy.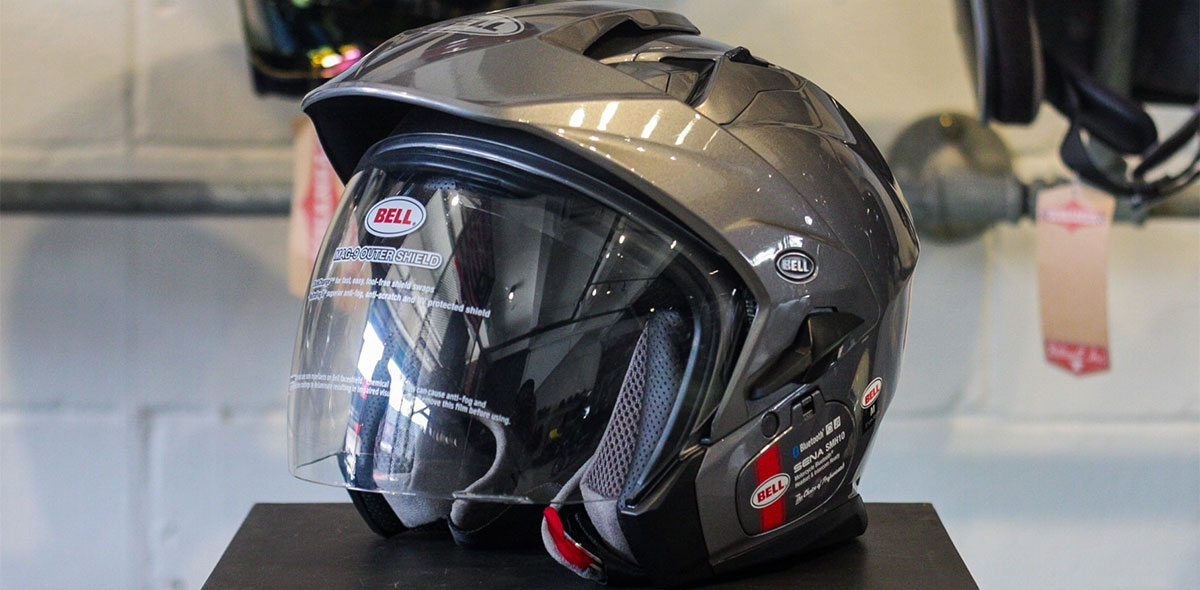 Since this is an open-face helmet, you will get virtually unlimited visibility. In addition, you will get a lot of air from underneath the face shield, so ventilation is not an issue in Bell Mag 9. Moreover, I like the option of removing the visor and shield, which is not inherent to Shark EVO One 2. Thus, you can run it in multiple configurations. You can also flip them up or down, but riding with an uplifted shield and visor is not the wisest idea, as they won't stay up at the speed of 45 mph.
Still, I have complaints about the visor itself. First, it is small enough to protect you when objects reflect the sun and blind you. Second, the visor's lever is stiff, especially when you try to raise the visor.
And when putting all the features together, this helmet can be a basic head accessory for ladies commuting across the city on their motorbikes. It's reliable, comfortable, and, most importantly, looks gorgeous.
Key specs
Helmet type: open-face(3/4).
Head shape: intermediate oval.
Safety certification: DOT.
Shell sizes: XS-SM, MD, LG, XL-2XL.
Shell material: polycarbonate.
Weight, g/lbs: 1533/3.38.
Pros
A removable and washable lining.
Compatible with a Sena SMH10 Bluetooth stereo headset and intercom.
A removable sun visor and face shield.
A peak on the top adds some character to this helmet.
Cons
The helmet is too noisy.
The uplifted shield and visor do not stay in place at the speed of 45 mph.
The sun visor doesn't go too far to protect your eyes and has a stiff lever.
How to choose a motorcycle helmet for women?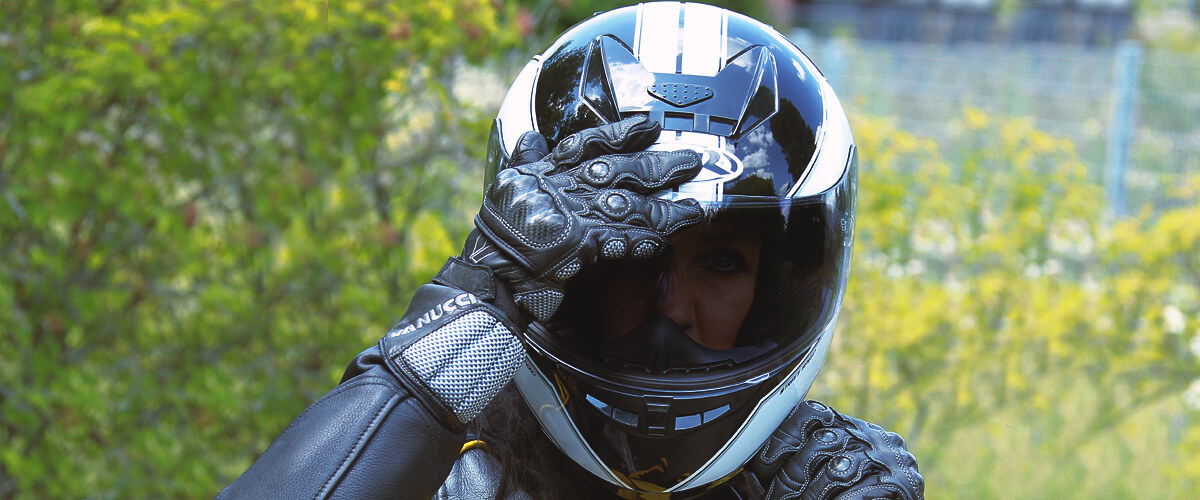 Not all helmets are created equal, so it's better to figure out which will serve your needs to the fullest. You came here for a reason, after all, to choose the best ladies motorcycle helmet. For this purpose, I recommend considering the following characteristicss.
Types of helmets
Different types of helmets are flooding the market these days. There are no good or bad helmet types. They are all different and meant to serve various needs and preferences.
For example, a full-face motorcycle helmet delivers maximum protection to the rider because its design covers the whole head. Therefore, it's a better choice for highway riders crazy about speed. However, the lack of natural ventilation may limit your comfort in urban conditions. In addition, in such models, it will not be easy for you to wear a helmet without messing up your hair. So, keep this in mind. To protect hair from helmet, think about your hairstyle beforehand, or you may have to change your image and hair length.
You may also find 3/4 motorcycle helmets, known as open-face helmets, that cover the whole head except your face, letting you catch the breeze on your way. It may not be suitable for freeways, but it will allow you to commute across the city comfortably.
Also, you may want to consider a women's half helmet for a motorcycle. If you have long enough hair, you can simply let it down in this type of helmet. And when you get there, using a little "feminine tricks," you can create a beautiful hairstyle in a few minutes.
Other helmet types include modular, half, off-road, and dual-sport helmets, each having a specific range of pros and cons.
The correct size and shape of a helmet is critical
Choosing the proper size of the girls' motorcycle helmet is not hard when you do the homework and take measurements of your head. This step will ensure you get headgear that fits just right and ensures your comfort while you wear it. As I said earlier, there are no specialized female motorcycle helmets, so be sure to take the necessary measurements to avoid wearing a big round fishbowl on your head instead of a helmet.
At the same time, the helmet shape is also crucial. It eliminates the risk of hot spots or, on the contrary, pressing points that may occur because of improper fit. There are oval, round, and intermediate helmets that correspond to common head shapes.
Safety certifications
Certifications by DOT, ECE, SNELL and other independent organizations testify that the helmet has successfully passed rigorous crash tests and can protect your head in case of an accident.
Helmet shell and inner lining materials
The material of the helmet shell defines how lightweight and sturdy the product is. Carbon fiber and its blends with kevlar, fiberglass, or resin are the winners in this race. However, these helmets are costly, so you may consider thermoplastic, polycarbonate, or fiberglass models, which are also good but are more budget-friendly.
The interior should be made of materials that breathe, wick moisture, and dry quickly. For example, nylon is a basic fabric, while premium helmets have a lining formulated for advanced comfort. Once again, let me remind you that motorcycle helmet is quite a big problem for women's hair. Therefore, try to choose not only safe and stylish models but also quality inner materials. This will not only help your hair, but in some cases, it will even save it.
How to protect hair from a helmet?
To safeguard your hair while donning a helmet, there are various measures you can adopt:
Preparing your hair: In order to prevent damage to your hair caused by wearing a helmet, it is important to ensure that your hair is clean and dry. You can also use a leave-in conditioner or protective serum to minimize friction.
Style your hair wisely: Opt for hairstyles that keep your hair contained and prevent tangles. Braids, low buns, or ponytails are great options. Avoid loose hairstyles that can get caught in the helmet's straps or ventilation.
Wear a hair cap: Consider wearing a thin, breathable hair cap underneath your helmet. It can provide additional protection and minimize friction between your hair and the helmet.
Adjust the fit: To avoid unnecessary pressure on your hair and scalp, make sure your helmet fits properly without being too tight.
Clean your helmet: Regularly following the manufacturer's instructions for cleaning will help prevent any hair problems and ensure proper hygiene. Accumulation of sweat and dirt inside the helmet can have a negative effect on your hair.
Remember, while these measures can help minimize damage, you should prioritize your safety. So always wear a helmet even if it messes up your hair a bit.