Some motorcycle riders avoid using helmets with low price tags. There is an unjustified opinion that this headgear doesn't protect you much and can be uncomfortable to wear. But here is a thing. Once you get one of the best motorcycle helmets under $200, you will see by yourself that they were badly wrong.
I won't deny that it may take more time to filter decent products in a budget-friendly segment. Still, the faith they exist will help come across worthy inexpensive headgear, one day or another. And this moment may come even sooner than you expect. For example, right now, as I have compiled reviews of affordable helmets that won't disappoint you. So stick with me, and you will learn what low-cost motorcycle accessories can replace premium ones.
Our pick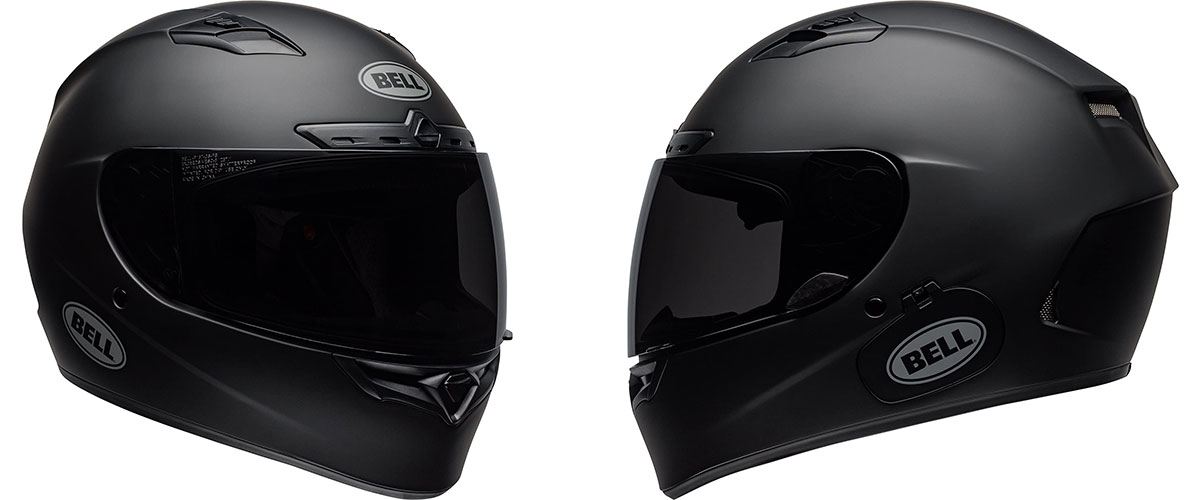 Bell Qualifier DLX
Best motorcycle helmets under $200
The ProTint™ photochromic face shield adjusts to any light conditions you'll encounter, plus integrated audio compartments give your electronics a tidy hideout.
Best motorcycle helmets under $200 review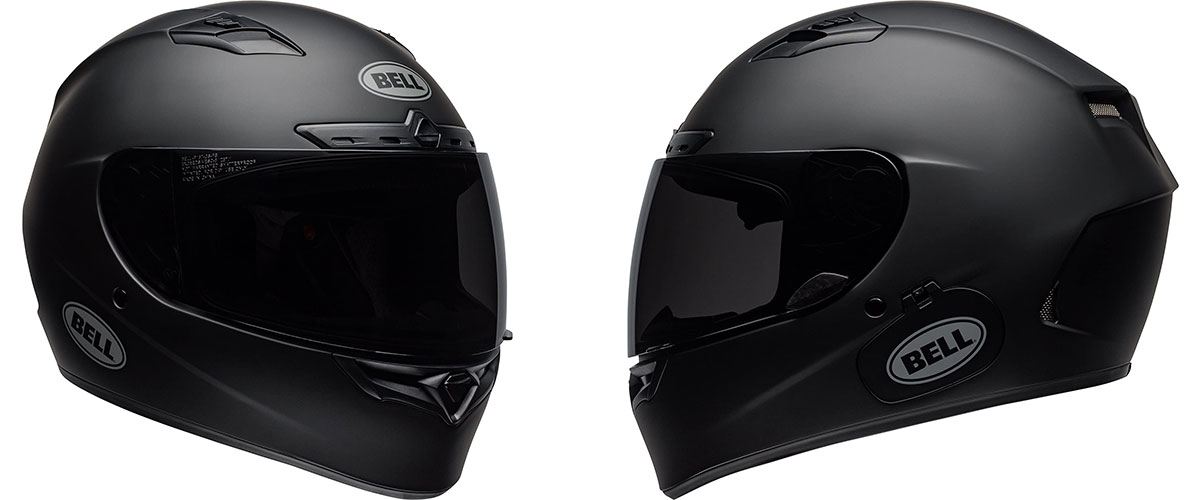 With the Qualifier DLX model, fans of Bell Qualifier helmets can now get nearly the same performance at a better value. This helmet is packed with velocity-flow ventilation, integrated speaker pockets, a padded wind collar, and other stuff that doesn't make you feel that this is a budget-friendly headgear option. Let's look at this product closely and see how it keeps the brand.
There is nothing impressive about this helmet's build – just polycarbonate that makes it pretty lightweight (3.36 lbs). However, this headgear holds DOT and ECE security ratings despite its lightness, so it will keep you safe during your rides. Also, the aerodynamic shell profile prevents lift and buffeting, but it may be insignificant at high speeds.
The helmet's fit is pretty snug because of the added padding. So, perhaps, you will want to order one size up to feel more comfortable. And now about great things. The lining is not bad – it wicks moisture pretty fast. You can also remove it for proper maintenance. The included chin curtain and breath deflector are handy, as they help reduce the wind noise and shield fogging. Moreover, a padded neck collar makes this model the quietest motorcycle helmet and ensures longer-ride comfort. Finally, in case you want to connect your communication system, this helmet has pockets to mount a Bluetooth headset.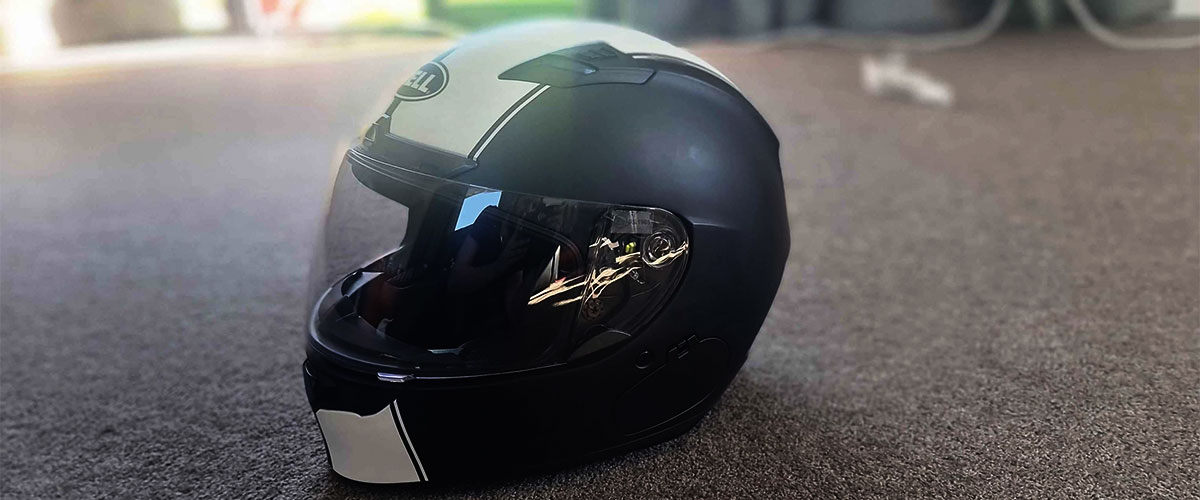 If you ride a lot in the daytime, you will appreciate the included dark smoke face shield. In this aspect, Bell Qualifier DLX outperforms AGV K1, another helmet from this review that doesn't have this option. You can change the clear and tinted shields without any tools in around 2-3 seconds. Furthermore, the shield has NutraFog II, anti-scratch, and UV protection.
This is a full-face helmet, so you should not expect much in terms of ventilation. Bell Qualifier DLX has adjustable vents that support optimal air circulation, but they work when you move. So, it can get really hot inside as you stop at the traffic light.
When you aim to find the best motorcycle helmet under $200, you can stop your search right now. This Bell Qualifier DLX helmet brings the biggest value for its money: decent ventilation, utmost head protection, compatibility with Bluetooth speakers, clear and tinted shield, and other perks that make it a worthy choice for your rides.
Key specs
Helmet type: full-face.
Head shape: intermediate oval.
Safety certification: DOT, ECE.
Shell sizes: XS-SM, MD-LG, XL-2XL.
Shell material: polycarbonate.
Weight, g/lbs: 1619/3.57.
Pros
The polycarbonate shell makes the collar lightweight – 3.36 lbs.
Speaker pockets allow you to connect Bluetooth speakers.
Clean and tinted shields included.
Certified by DOT and ECE.
Cons
There may be some lifting and dragging at high speeds.
The filament is too snug.
Bell MX-9 Adventure MIPS – great for adventure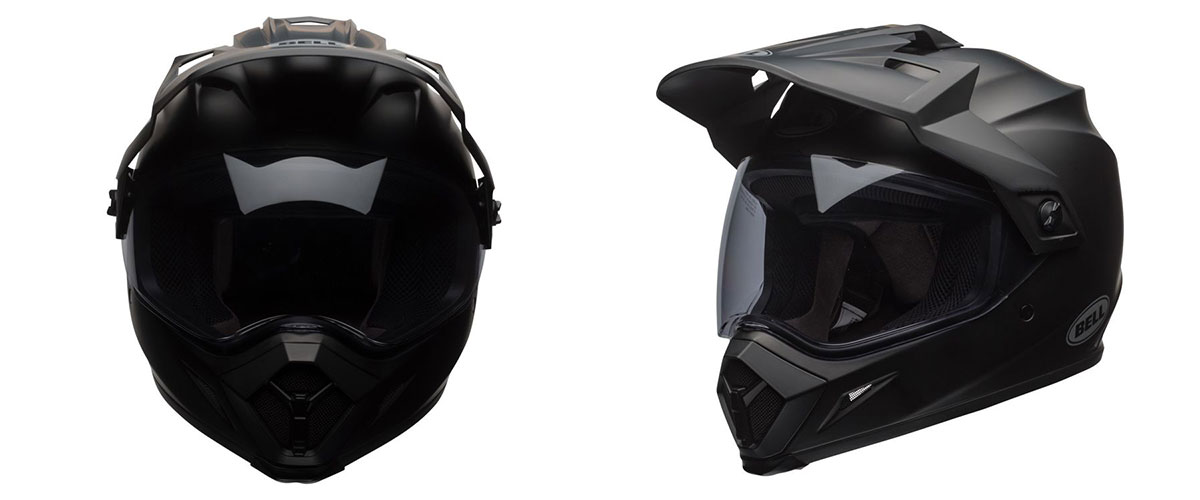 When adventures are calling, grab your motorbike, put the Bell MX-9 Adventure MIPS helmet on, and start a new undertaking. This helmet carries all you need to stay safe when testing yourself with new experiences.
The aggressive helmet's look finely complements its protective properties. It provides more advanced security than HJC C91 due to the MIPS (Multi-Directional Impact Protection System) technology, which reduces the rotational impact energy. The MIPS system rests under the polycarbonate shell, a sturdy and reliable material. However, extra layers of protection add to the weight of the helmet, so it is not a lightweight one (the weight is around 3.74 lbs).
The air-channeled comfort lining is something. It improves air circulation inside the helmet, so you are more likely to stay dry and cool. However, it won't help you much in summer. Luckily, you can remove and wash the lining to keep it fresh and clean.
Unfortunately, there is no space for glasses inside the helmet, so this may be an issue if you wear prescription ones. If you want to wear goggles to protect your face from dirt, I recommend removing the shield, which is pretty easy to do.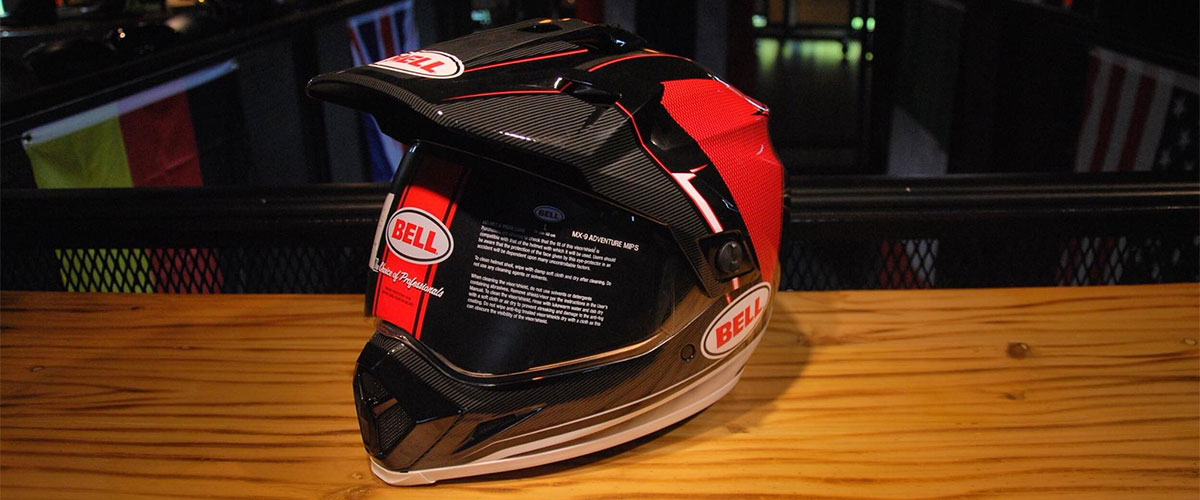 Bell MX-9 Adventure MIPS comes with a peak for holding dirt when you ride on rough terrain. Removing it is not a big deal if you want to turn this headgear into a more street-friendly helmet.
The final argument that may prove that Bell MX-9 Adventure MIPS is an optimal choice for adventures is the integration with Bluetooth speaker systems. So start your favorite soundtrack to ride toward adventure.
Key specs
Helmet type: full-face.
Head shape: intermediate oval.
Safety certification: DOT, ECE.
Shell sizes: XS-SM, MD-LG, XL-3XL.
Shell material: polycarbonate.
Weight, g/lbs: 1696/3.74.
Pros
Advanced impact protection due to MIPS technology.
Removable air-channeled lining for better ventilation.
Comes with a top peak you can remove.
Suitable for operation with Bluetooth speakers.
Cons
It can be too hot inside in summer.
Wearing glasses can be challenging with this helmet.
Not a light helmet – 3.74 lbs.
AGV K1 – great for race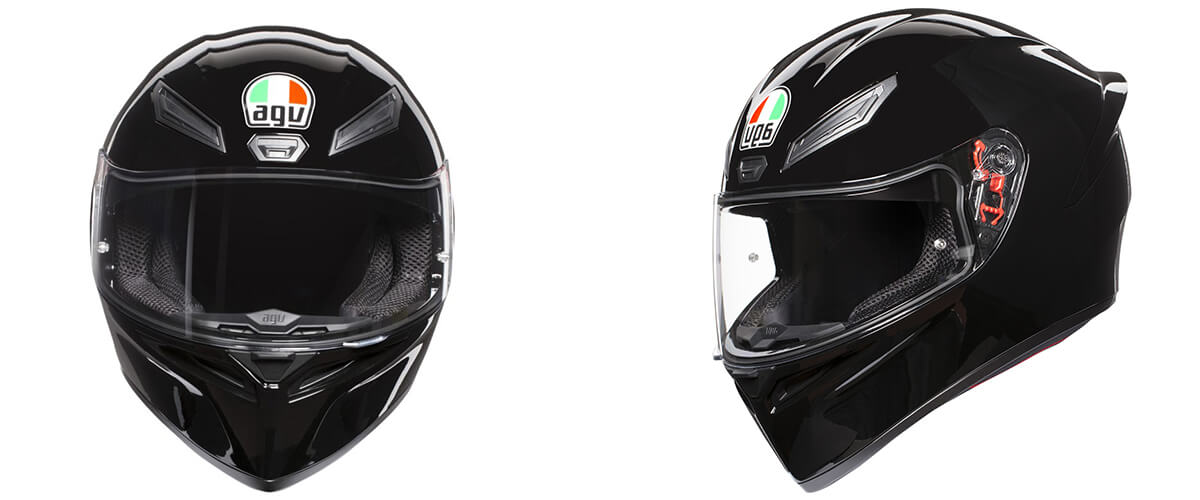 If calm, measured rides are not about you, and you constantly challenge your two-wheeled friend, I recommend considering this AGV K1 helmet. It comes at an attractive price, and you will get the performance expected from other sports helmets with a higher price tag.
The shell is made of thermoplastic resin, which is more flexible than in Bell Qualifier DLX. Thus, it takes more energy from the impact to provide a higher level of head protection. Similarly, AGV K1 is DOT-certified, so the American Department of Transportation approves it. At the same time, this model is slightly heavier than Bell Qualifier DLX – it weighs 3.64 lbs.
The most prominent peculiarity of the AGV K1 helmet is its shell shape optimized for high speeds. The sleek lines, racing-developed front air vents, and wind-tunnel aero spoiler provide stability at high speeds, so there is no dragging or lifting when you roar down the highway. However, despite the race-optimized shell shape, I have a complaint about its fit. It's a little bit uncomfortable for me because it presses on my forehead.
The lining of this helmet is removable and washable. The cheek pads are made of Dry-Lex fabric to keep your face cool and dry when adrenaline runs through your veins. Moreover, AGV K1 boasts an integrated ventilation system with wind tunnels distributed along the interior for better airflow.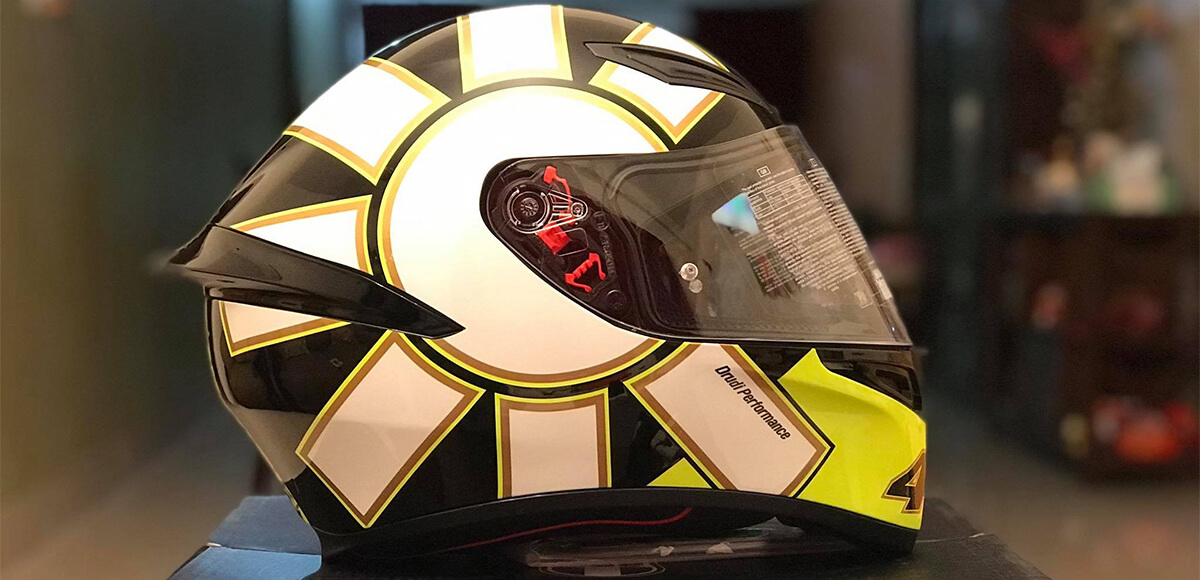 The visor mechanism is of average quality. But I had an issue with the vertical view. It seems to me that the visor is too low, and I can't see the full picture of the road in front of me.
AGV K1 is a good cheap motorcycle helmet for races and high-speed journeys. Its integrated ventilation system, aerodynamic shell design, and comfy interior will allow you to experience unforgettable emotions on the road.
Key specs
Helmet type: half.
Head shape: intermediate oval.
Safety certification: DOT.
Shell sizes: SM, MD, LG, XL-2XL.
Shell material:Ultra-TCT (fiberglass, aramid ,poly-resin).
Weight, g/lbs: 1501/3.31.
Pros
A thermoplastic resin shell with an aerodynamic shape for safe, speedy rides.
DOT approves safety properties.
An integrated ventilation system will keep you cool.
An easy visor locking mechanism.
Cons
The fit is not perfect for me – the shell presses on my forehead.
It is on the heavier side – can be not suitable for long rides.
The visor is too low, which hinders vertical vision.
Scorpion EXO Covert – open-face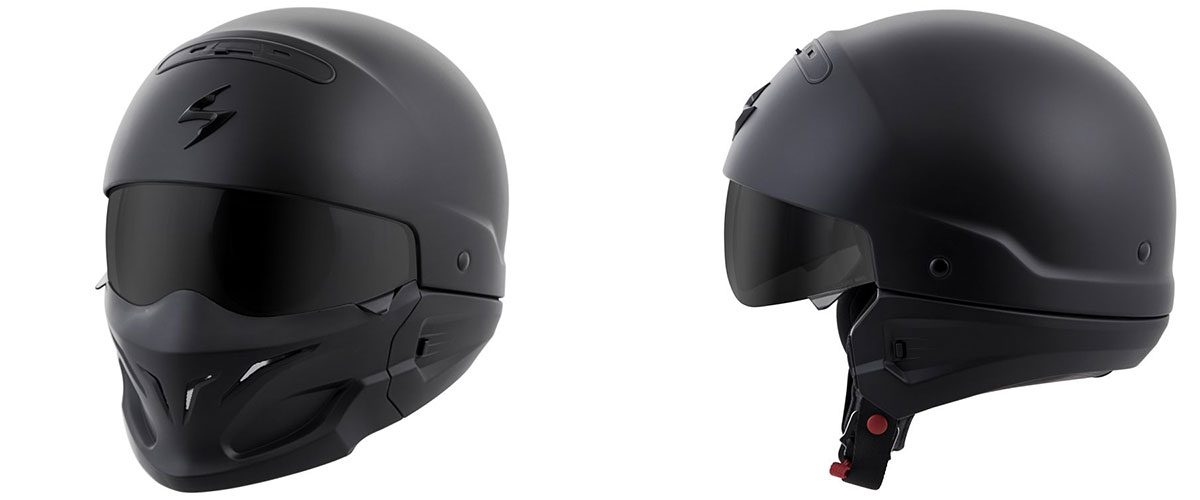 Do you want to get an open-face helmet to feel the wind on your face but still need some protection for your eyes and chin from time to time? Then, it looks like Scorpion EXO Covert was designed especially for you. So, let me show you why you will love it.
Compared to the LS2 Rebellion half helmet that features a sun visor, this model looks more advanced thanks to a removable shield, rear comfort sleeve, and front mask. In fact, it allows you to convert Scorpion EXO Covert into three helmet types – half, open-face, and full-face, so it's pretty versatile. But mind that a mask is not the same as the chin bar in a full-face helmet. So it won't do much to save your chin in case of an accident but will protect against dust, mud, insects, and other stuff that may get into your mouth.
The polycarbonate shell is sturdy and lightweight (the helmet weighs 2.95 lbs). A dual-density EPS adds to the head protection by removing the impact from your head. So, it's reliable, which is proved by a DOT certificate. Moreover, the helmet is comfortable. A Kwikwick 2 antimicrobial lining is soft, breathable, and removable so that you can take it away for washing.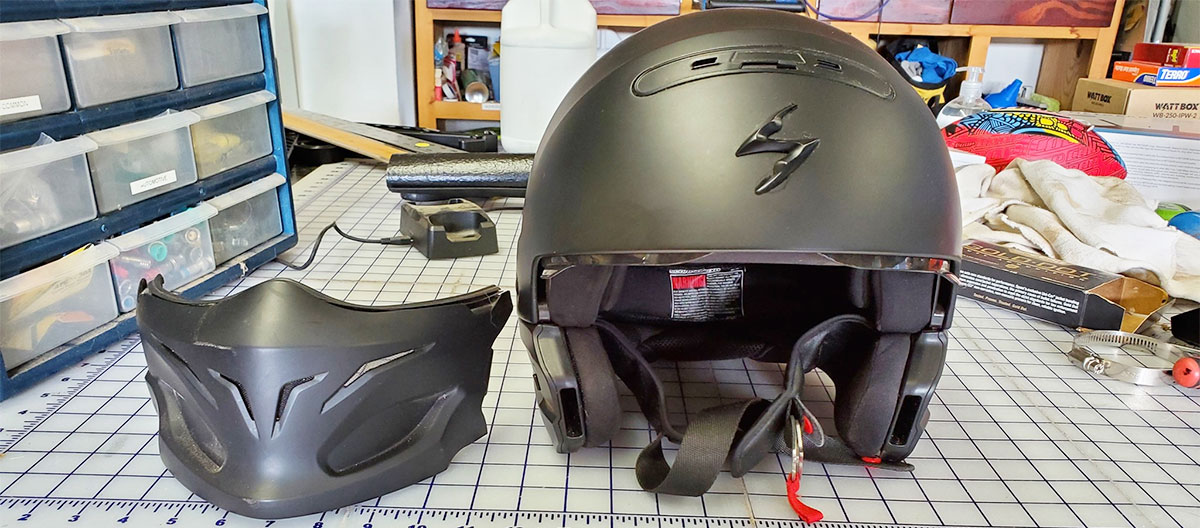 A few more words about the shield system. Scorpion EXO Covert has clear and tinted visors, so you can use the helmet at night and during the daytime. By the way, a tinted sun visor comes with EverClear no-fog coating to let you see clearly, no matter the weather. The only issue I had with these shields was that they were hard to pull down.
Those looking for versatility and comfort during their rides should consider Scorpion EXO Covert. Add or remove a sun visor, rear comfort sleeve, and front mask to get the helmet modification that meets your riding needs.
Key specs
Helmet type: open-face.
Head shape: intermediate oval.
Safety certification: DOT.
Shell sizes: SM, MD, LG, XL-2XL.
Shell material:Ultra-TCT (fiberglass, aramid ,poly-resin).
Weight, g/lbs: 1501/3.31.
Pros
A removable sun visor, rear comfort sleeve, and front mask for versatile use.
Super lightweight due to the design.
A comfortable and breathable lining.
Two visors included: clear and tinted.
Cons
The face mask doesn't protect your chin much.
The sun visor is hard to manipulate.
HJC C91 – modular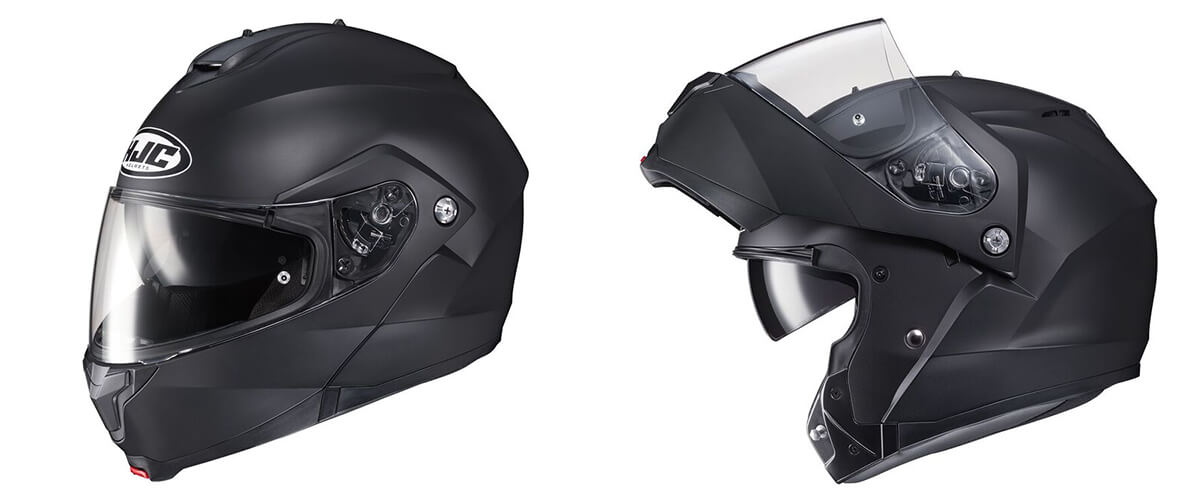 Let's view an HJC C91 modular helmet, which I also added to this list for its performance and budget-friendly price. The distinctive attribute of this product is its versatility. For example, you can remove the chin bar using a single lever to turn it into an open-face helmet to let more air in. But this is not the only characteristic that may rivet your attention.
I'll start with the polycarbonate composite shell built to last. To prove the reliability of this headgear, I would like to say that it is DOT-approved, so its ability to protect your head in an accident has been verified during the crash tests. A light and breathable SuperCool lining is hidden under the shell to deliver a pleasant wearing experience. However, I am concerned about the sizing. I recommend getting the helmet one size bigger than other helmets, as the sizing chart is slightly off.
The ventilation leaves much to be desired. Even though there are large top vents, they are not enough to keep you cool, especially on hot days. Also, the noise isolation didn't impress me. The wind noise gets intense when you ride at a speed higher than 50 mph.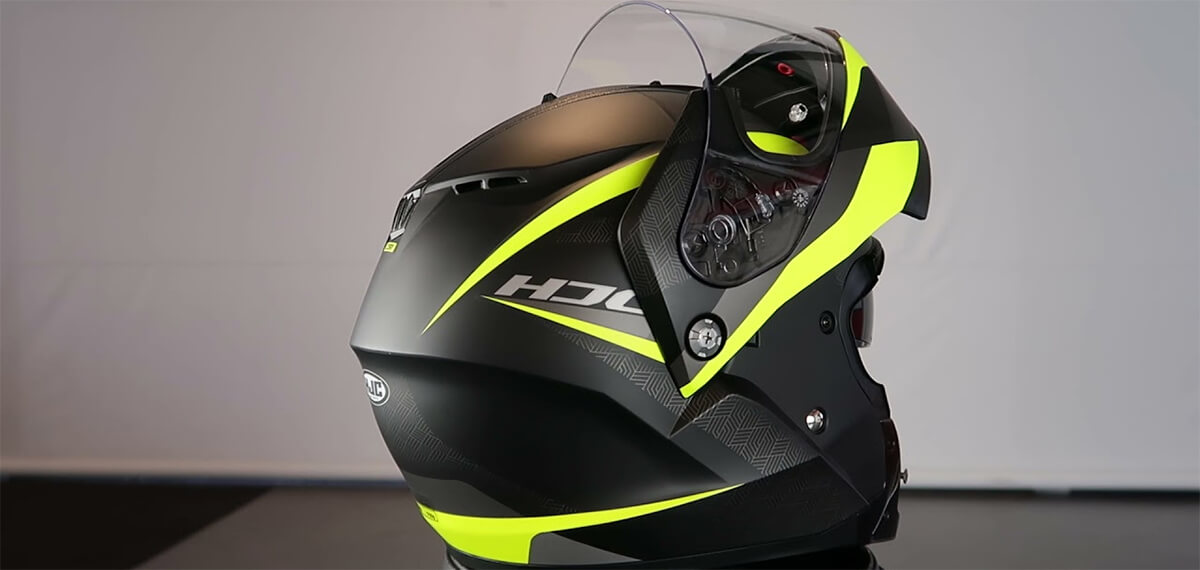 I like the internal sun shield with a Pinlock-ready mechanism, but you should operate it manually. Unfortunately, Picklock technology is not available in Bell MX-9 Adventure MIPS, so HJC C91 can be a better choice for you if you struggle with fog on the road from time to time. Moreover, it is ready to accept 10B or 20B Bluetooth systems to let you listen to music as you are on your way.
Everything you may be looking for in the best modular helmet under $200 is available in HJC C91. I rate it highly despite minor flaws, which are offset by its versatility, compatibility with Bluetooth speakers, and acceptable protection level.
Key specs
Helmet type: modular.
Head shape: intermediate oval.
Safety certification: DOT, ECE.
Shell sizes: XS-SM, MD-LG, XL-5XL.
Shell material: polycarbonate.
Weight, g/lbs: 1650/3.63.
Pros
You can add or remove the chin bar easily.
Allows connecting 10B or 20B Bluetooth systems.
The sun visor is Pinlock-ready.
Approved by DOT.
Cons
Sizing is not accurate, so you may need to buy a larger size.
You will feel hot in summer because of poor ventilation.
It may be too noisy for highway rides.
LS2 Rebellion – half helmet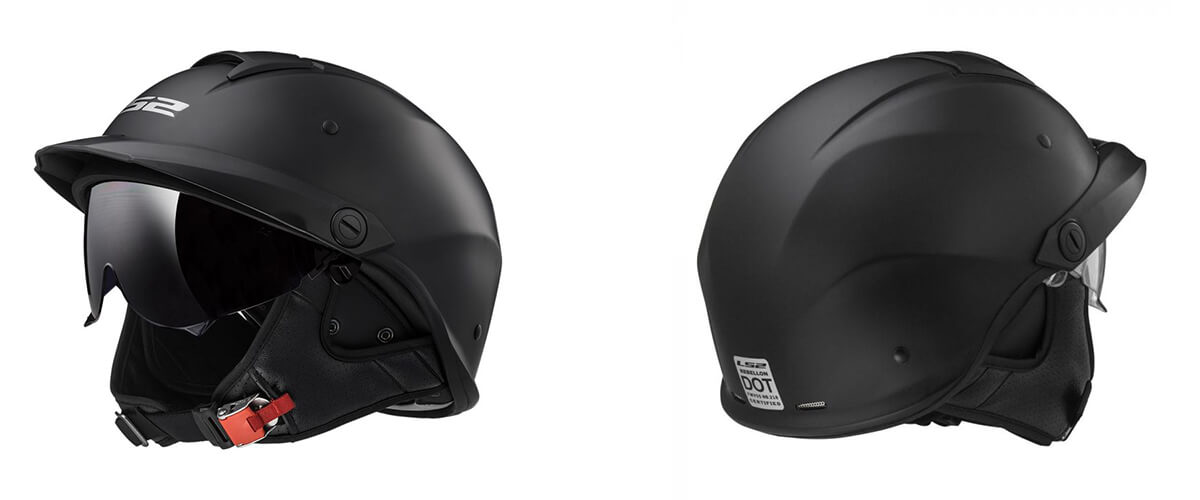 It is lightweight and comfortable, breathes very well, and provides plenty of air – these are the advantages of the LS2 Rebellion half helmet. Thrilled to know more about it? Then read further.
The most significant peculiarity of this helmet is its half-helmet design. Unlike Scorpion EXO Covert, which covers your ears, this product leaves them unobstructed. This feature has some pros and cons. The good news is that your face will never get too sweaty, even when you are stuck in stop-and-go traffic. The drawback is the lack of noise isolation – all you will hear is the bike and the road.
Nevertheless, you will love the LS2 Rebellion for its comfortable fit. It sits perfectly due to its ergonomic shell shape. By the way, the shell is made of high-performance and lightweight kinetic polymer alloy. It stood the DOT test, so the American Department of Transportation approved the helmet. Moreover, the technical fabric lining is hypoallergenic and moisture-wicking, so the top of your head will always stay dry, even in hot weather.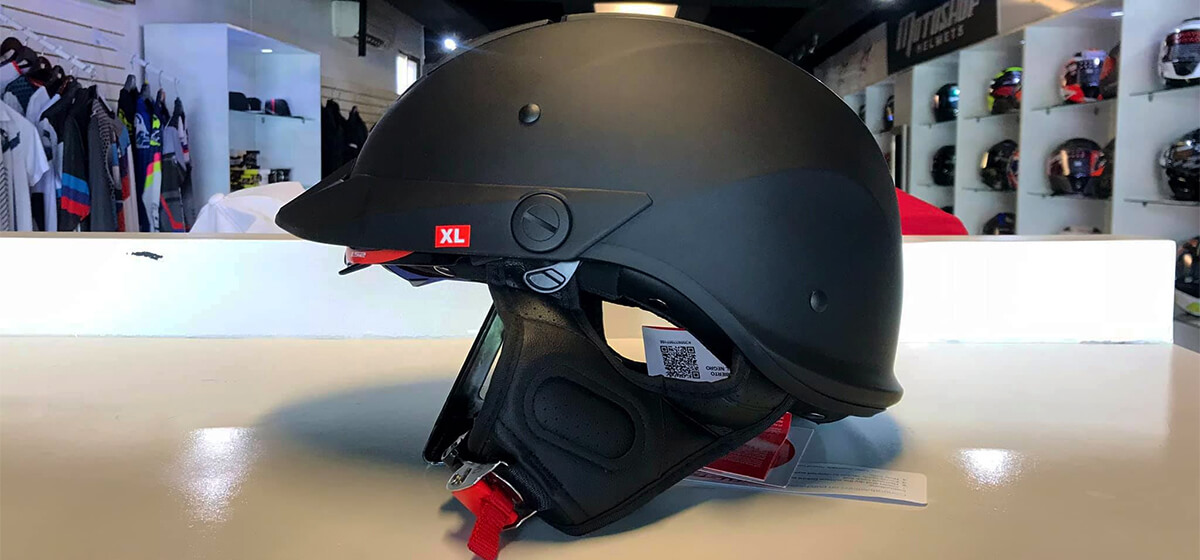 The tinted drop-down visor is up to the mark, but I had issues using it with my prescription glasses. So let me pardon this helmet's inconvenience and give you another reason to enjoy it – it is compatible with LinkIn Ride Pal by Sena.
When you do not plan to make sharp moves or ride at a light speed, the LS2 Rebellion half helmet is a bargain for you. It fulfills its primary mission – to protect your head from impacts. As a pleasant bonus, its light weight and design will make you feel as if you are wearing no helmet at all.
Key specs
Helmet type: half.
Head shape: intermediate oval.
Safety certification: DOT.
Shell sizes: XS-LG, XL-2XL.
Shell material: KPA (Kinetic Polymer Alloy).
Weight, g/lbs: 948/2.08.
Pros
Comes with a tinted sun visor.
Compatible with Sena ​​LinkIn Ride Pal system.
Exposes your face to natural airflow.
Cons
No noise isolation at all due to the half helmet design.
It may be hard to use the visor with prescription or sun glasses.
Motorcycle helmets under $200 buying guide
As a proverb says, the devil is in the detail. So, you can expect a well-thought-out design with plenty of customization and comfort-adding features in more expensive helmets. But, of course, a lower price comes at a cost, so an affordable motorcycle helmet is less likely to be lightweight, well-ventilated, and quiet. Despite this, a good head accessory will still carry the core features that allow you to ride your motorbike safely, regardless of the cost. So, here are the things I recommend you consider when browsing cost-effective helmets on the market.
Helmet type
There are full-face, open-face, modular, half, off-road, dual-sport, and other types of helmets. The choice of the suitable type will depend on your riding style, the routes you take, and the level of head coverage you would like to get.
Shell size and shape
You can find oval, intermediate, and round shells. It should correspond to your head shape to increase comfort and safety as you wear the helmet. The same goes for the shell size. Carefully measure your head circumference, then compare the measurements with the helmet's sizing chart to pick a suitable size.
Materials
You will hardly find an inexpensive motorcycle helmet made of carbon fiber or similar high-end materials. Most likely, you will be choosing between thermoplastic options. The interior parts, like the lining and cheek pads, should be removable and be made of breathable and moisture-wicking fabric.
Safety
Even a cheap helmet should do its primary job – protect your head from impacts. So select the product that has a DOT, ECE, or SNELL certificate that testifies its ability to absorb the energy originating from a hit.
FAQ
How much should a good motorcycle helmet cost?
A good motorcycle helmet should cost about $200 or more. Anything less than that is probably not going to be a safety helmet, and anything more is just overkill. You don't need to spend a fortune on a helmet, but make sure you're getting a good one!
Are expensive helmets worth it?
When it comes to safety, premium helmets offer features that lower-priced models don't. For example, they often have better ventilation to keep your head cool, and they're usually made with higher-quality materials.
Are heavier helmets safer?
In fact, the weight of a helmet has very little to do with its ability to protect your head in a crash. The most important factor in helmet safety is fit. A properly fitted helmet should be snug but not too tight, and it should sit level on your head (not tilted back) with the front edge just above your eyebrows. You should be able to look up and down without the helmet shifting or sliding, and you should be able to breathe easily.
How much does a motorcycle helmet weigh?
A motorcycle helmet generally weighs between three and four pounds. The
weight of the helmet
is determined by the materials used in its construction. Helmets made with Kevlar or carbon fiber are usually lighter than those made with other materials.
Is a more expensive helmet safer?
The premium price tag of some helmets can be off-putting, but is it worth spending the extra money for a safer helmet? In general, yes. premium helmets are made with higher quality materials and better safety features than their budget counterparts. If you're serious about safety, it's worth investing in a premium helmet.