If you wear glasses, you know better than anyone else how inconvenient it can be trying to clad the head with a helmet. However, you don't need to go through all of these discomforts. With one of the best motorcycle helmets for glasses that I've collected in this review, riding a bike and wearing glasses will be the easiest thing ever.
Can you wear glasses with a motorcycle helmet?
Any glass wearer knows that helmets are not created equal. So, to answer the question if you can wear glasses with a motorcycle helmet — "yes, you definitely can!" All you need is to choose the helmet that will offer a snug fit and won't get in the way of your glasses, causing you to niggle over the shield every other minute.
What type of helmet is better to wear with glasses?
In general, there's no special helmet type designed to be worn specifically with glasses. In fact, most any design style has a few glasses-friendly motorcycle helmets.
So, first and foremost, you should pay attention to the design of the glasses you wear. Ideally, they should have thin and straight arms to smoothly fit under the helmet and do not bend behind your ears so as not to cause pain while in use. After that, consider the design of the helmet itself. Go for a model that offers enough space inside to allow you to wear glasses comfortably while ensuring there won't be any pressure on your brows or nose.
Now, though I've said that you can find a suitable helmet in any design style available on the market, some types fit this purpose better than others. Full-face helmets, for example, offer the largest head coverage, protecting your head from the sides, front, and back. However, compared to half-face helmets, they rarely offer the same amount of space inside, making it less convenient to adjust the position of your spectacles.
So, if you seek ultimate comfort, it will be way easier to fit glasses under half or open-face helmets. Besides, these helmets are easier to take off, too, eliminating the discomforts of having to fiddle with your glasses every time you make a stop to go to the shop.
To help you make the right choice, I've scanned the market for the best motorcycle helmets for glasses. Check the list below and choose the one that speaks to you the most.
Best motorcycle helmets for glasses reviews
HJC i90 – full-face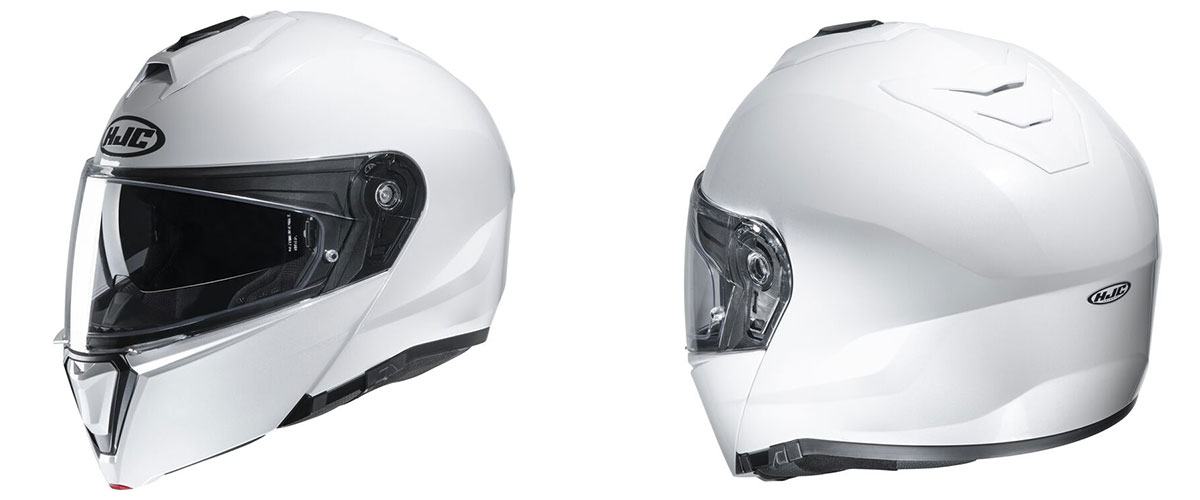 If you're a fan of a full-face helmet type of helmet, the HJC i90 may be the one you need. Produced by a manufacturer boasting over 50 years of experience behind their back, this helmet incorporates some of the best features and materials to ensure as comfortable a ride as possible for all types of wearers, including those wearing prescription glasses. Let's see in detail.
To start off, the HJC i90 boasts a high-quality assembly build, featuring an advanced composite shell with CAD technology and an improved channeling ventilation system. The ventilation of the helmet is one of its highlights for sure. With seven intake vests and two exhaust vents at the rear and a vent on the chin bar, the helmet allows enough air to flow in while also preventing the build-up of fog on rainy days.
What's not less important is that it has a breath deflector, ensuring that exhaled air goes down rather than directly towards the visor. Speaking of which, the helmet utilizes a larger HJ-V9 drop-down sun visor that can be adjusted in three different positions and is Pinlock ready. Thanks to that, it can effortlessly accommodate just about any glasses without creating any pressure spots. To that end, many users find the helmet's modular style particularly convenient for stops, as it makes it easy to take the helmet off without the bother of having to adjust spectacles.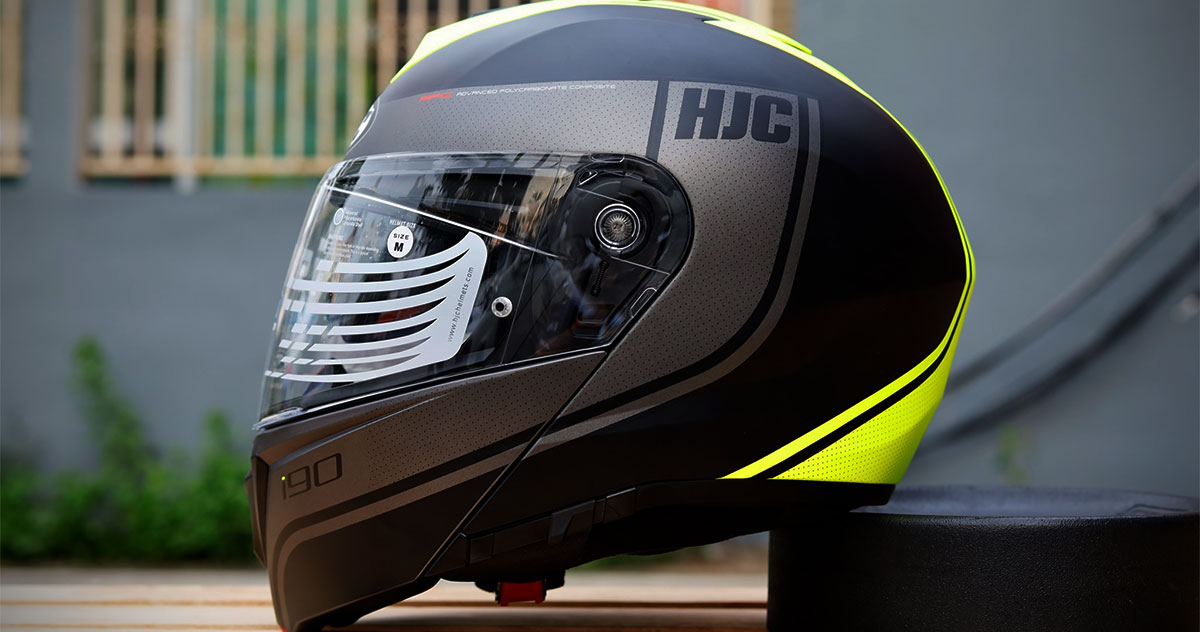 Other highlights of the HJC i90 include a high-quality antibacterial interior with moisture-wicking properties, a no-hassle, one-touch locking mechanism with a D-ring chin bar strap closure, and Bluetooth compatibility with SmartHJC and 20B Bluetooth communicators. So, if you love riding a bike and listening to your music, with this helmet, you will be able to do it.
As an added bonus, this helmet comes in a range of color options, allowing you to choose the one that best matches your bike.
To cut to the chase, if you're looking for a full-face motorcycle helmet for glasses wearers, the HJC i90 should pique your interest. Made of quality materials and with a large drop-down internal visor, it offers plenty of space inside to let you comfortably wear it with goggles, prescription glasses, and sunglasses.
Key specs
Helmet type: full-face
Head shape: intermediate oval
Safety certification: DOT, ECE
Shell sizes: SM, MD, LG, XL-5XL
Shell material: polycarbonate composite
Weight, g/lbs: 1719/3.8
Pros
The helmet has a Bluetooth-ready design.
Highly adjustable drop-down sun visor.
Pinlock-ready.
Available in a slew of bright, stylish color options.
Cons
It's on the louder side compared to some other helmets.
Some riders might find it heavy.
Shoei Neotec II – modular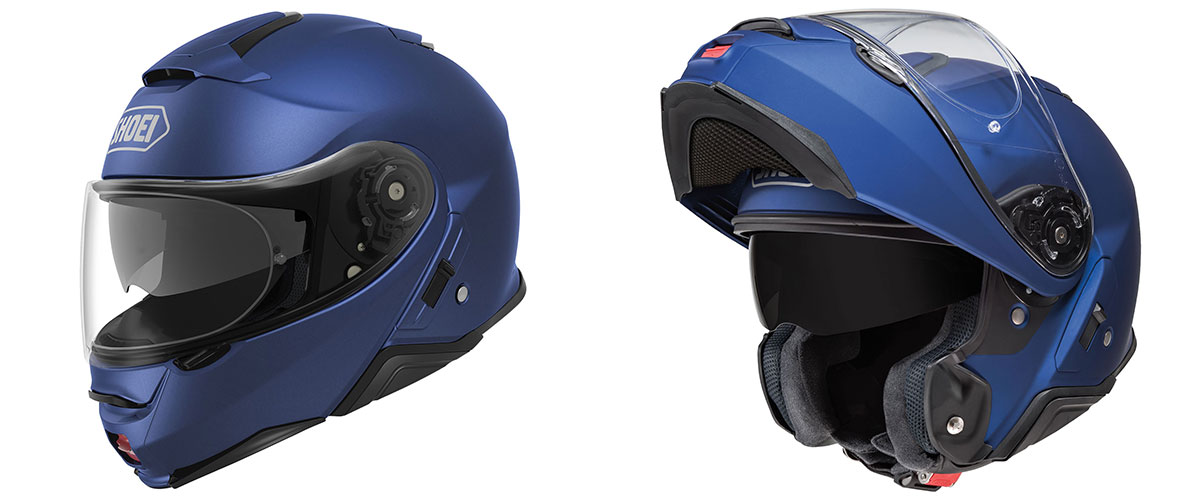 The strength of modular helmets is their versatility combined with ease of use. If these are the features you are looking for, and money is not an issue for you, the Neotec 2 can be the right way forward.
Casting a quick look at the exterior of the Neotec 2, it is easy to see that this model combines the features of a full-face and open-face helmet, giving you a product that is both safe and extremely versatile. Many design advances that the manufacturer has introduced in this helmet allowed not only improving its aerodynamics but also reducing wind noises and making adjustments for various riding positions a lot easier. As a result, this helmet perfectly works for riding both at high speeds and off the road. Also included is a drop-down tinted inner visor. It meets the ANSI Z80.3-2010 standard, meaning it can be easily worn over your glasses without getting in the way. To add to that, this visor effectively works to block harmful UV rays and sun glare, providing you with clear vision when riding in sunny weather.
Contributing to the comfort features is a multi-layer EPS liner. Unlike cheaper helmets, this model is made out of varying densities of foam. What this means is that it better absorbs impact energy and provides a better fit overall. On top of that, this helps muffle outside noises, giving you a quiet helmet suitable for highway speeds.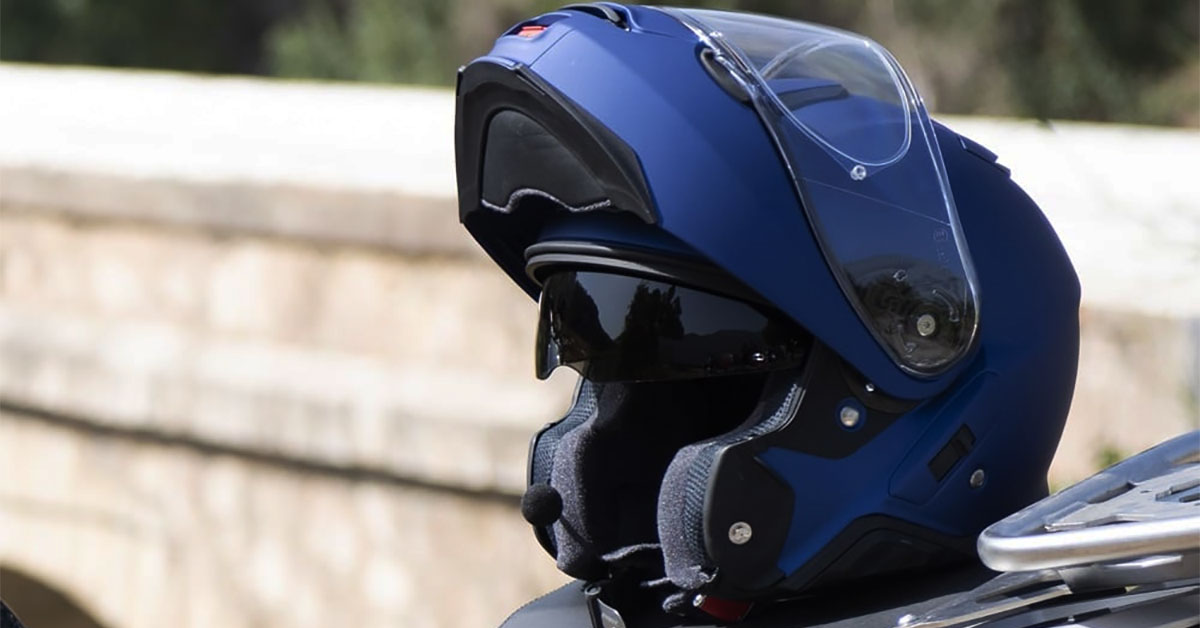 Sure, the ventilation system of this helmet is just as good as all the other features. Featured with all-new exhaust outlets located on the sides of the adjustable upper air intake, the Neotec 2 allows just enough airflow in to keep you pleasantly cool while not getting loud.
Of course, you'd not drop this kind of money on a helmet void of smart features. In this regard, however, the Neotec 2 doesn't disappoint. In addition to the premier design advances ensuring ultimate comfort, this helmet offers the ability to integrate with the SENA SRL Communication System so that you can stay in touch with your friends on the road.
To sum up, although the Neotec 2 isn't a cheap helmet, it's worth every penny spent. Anyone looking for a top-notch motorcycle helmet for sunglasses and prescription glasses with a modular function will find a lot to love about this model.
Key specs
Helmet type: modular
Head shape: intermediate oval
Safety certification: DOT,ECE
Shell sizes: XS-SM, MD, LG, XL-2XL
Shell material: multi-ply matrix
Weight, g/lbs: 1869/4.1
Pros
Multi-layer EPS liner perfectly distributes the impact energy as well as allows for a tailored fit.
Quiet and fits like a glove.
Improved aerodynamics.
Ability to integrate with the SENA SRL Communication System.
Cons
Replacement shields are quite costly.
Getting the chromatic ones outside the helmet can be difficult.
LS2 OF569 – open face (3/4)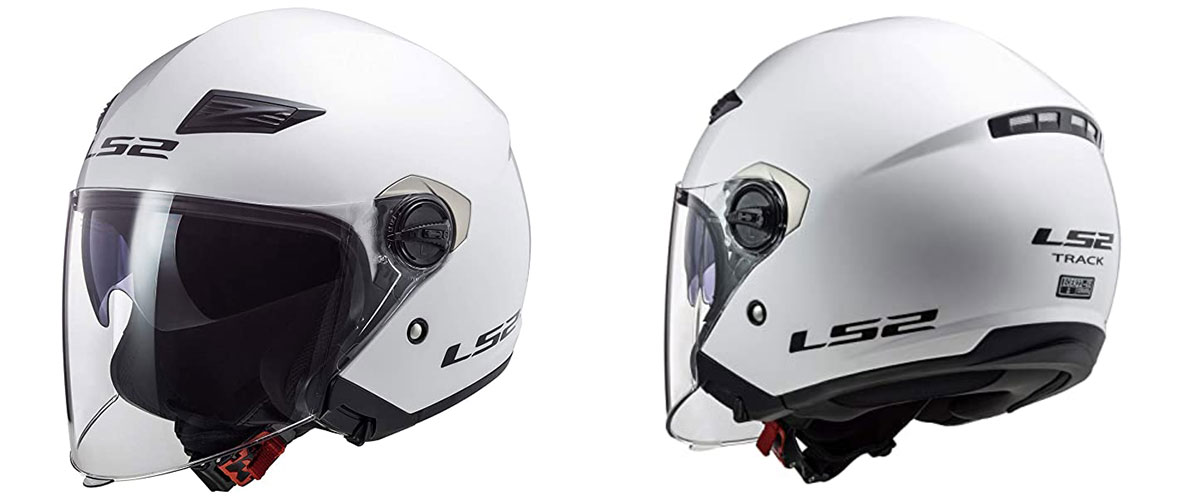 Whether you live in a hot climate or it's just that you prefer an open-face design style on the whole, the LS2 OF569 can be a good option to consider. Actually, it's one of the most popular models in LS2's line, and I can definitely see why. While this helmet doesn't cost as much as other reviewed helmets, it's not short of features and offers you an optimal balance between comfort, aerodynamics, and protection.
To start with, the LS2 OF569 is made out of 50% of Nylon and 50% of Spandex. Thanks to that, it weighs just 2.95 pounds (1.34 kg), which is much less than many of its competitors. On the other hand, the sturdiness of the helmet has not been compromised. As proof, this helmet is backed with a 5-year manufacturer's warranty and meets both DOT and ECE standards, meaning it's been rigorously tested for safety features.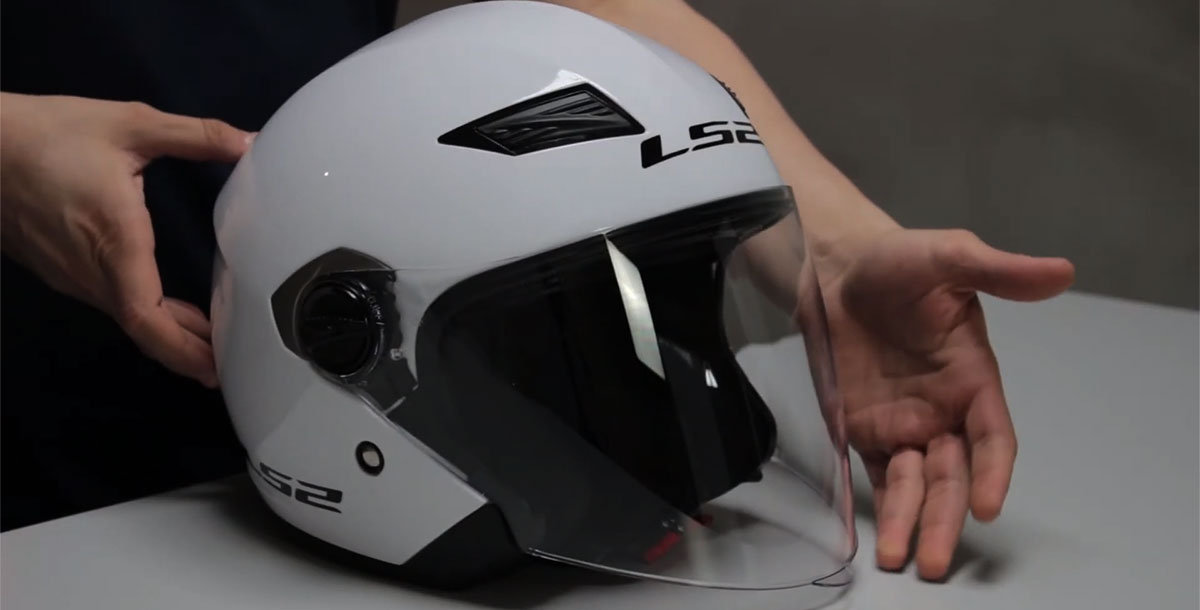 Speaking of the face shield, it has a handy flip-up design, allowing you to easily lift it when needed. Plus, it features the patented ShortShift Tool-Less Quick Release Mechanism, so you can easily replace it once you notice the first signs of wear. The Sun Shield has a slide-down design. It offers ample space to accommodate glasses and easily retracts for quick stops.
When it comes to padding, the liner of the OF569 is made out of a breathable fabric that perfectly absorbs moisture and keeps sweat at bay. Moreover, there is enough room to fit speakers inside, allowing you to suppress outside noises when riding at high speeds.
To conclude, if you are in the market for a good open-face helmet for glasses wearers that won't cost a premium but will have a decent set of features, the OF569 from LS2 can be just what you need.
Key specs
Helmet type: open-face(3/4)
Head shape: intermediate oval
Safety certification: DOT
Shell sizes: XS-SM, MD, LG, XL-2XL
Shell material: high pressure thermoplastic
Weight, g/lbs: 1347/3
Pros
The inner sun shield perfectly blocks UV rays and the sun without being too dark.
Meets both DOT and ECE safety standards.
The cutouts in the liner allow for installing speakers.
Cons
Available in a single color option.
Runs small.
Arai XD4 – dual sport/ADV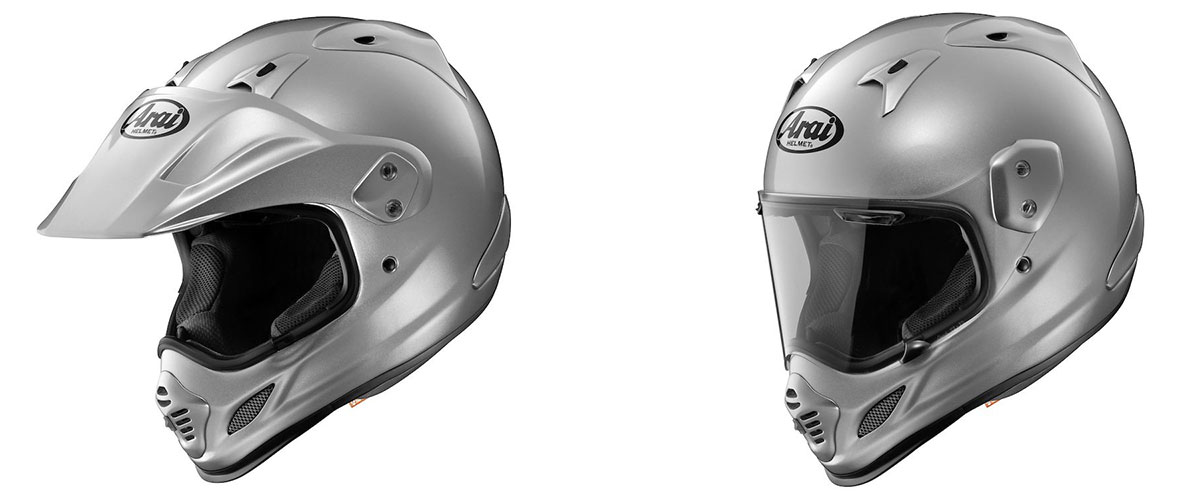 Should you be looking for an ADV touring helmet, I recommend you turn to the Arai XD4. Not only does this model have some of the best features found in Arai's helmets, but it is also one of the few that has achieved Snell certification. Sure, it's not inexpensive, but given all the benefits that this helmet offers, it's well worth the purchase. See for yourself.
The Arai XD4 is made with a fiberglass composite shell. This allowed the manufacturer to fit the helmet with less dense inner materials while not compromising its strength. At the same time, the helmet interior is quite cushy and can be personalized to fit various head dimensions. Besides that, it incorporates Dry-Cool technology, which allows keeping you dry on hot days.
Ventilation is another merit of the Arai XD4. Fitted with dual TDF3 intake vents, Double Delta bridged exhaust vents, and a Chin vent, it allows a significant amount of air from the interior of the helmet while preventing the wind from getting inside.
Finally, the helmet has a great visor. It is easy to close and open with gloves on, and it offers plenty of room on the inside for wearing it with glasses. In addition to that, due to its design peculiarities, it doesn't tend to get fogged even in the rain, making it a safe option for riding all day long, no matter the weather conditions.
All in all, the Arai XD4 is another great option in the ADV touring range for glasses wearers. Versatile, nice-looking, and very comfy, it's a sound choice for many hardcore ADV enthusiasts.
Key specs
Helmet type: dual sport
Head shape: intermediate oval
Safety certification: DOT, ECE
Shell sizes: SM-MD, LG-3XL
Shell material: carbon
Weight, g/lbs: 1474/3.25
Pros
The helmet has Snell certification.
The Dry-Cool technology helps keep sweat at bay.
The fiberglass composite shell makes the helmet lightweight while not compromising its strength.
Cons
Not Pinlock ready
On the heavy side
Scorpion EXO-C110 – half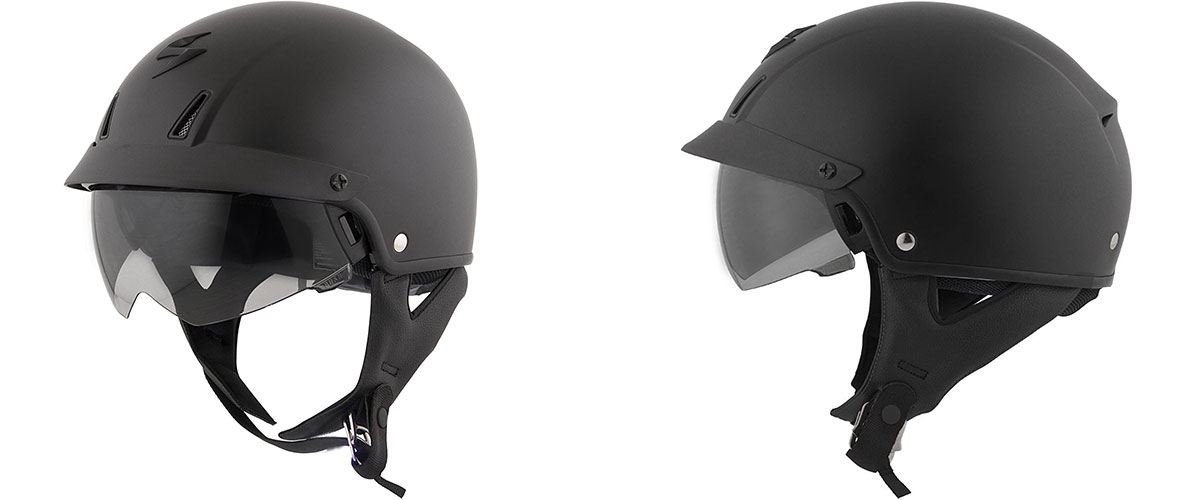 If you're looking for comfort and style, you are sure to find it all in the Scorpion EXO-C110. This model boasts an innovative design and has many high-end features while coming at a fraction of the price of helmets with similar specs.
To kick things off, you can't help but like the Scorpion EXO-C110 design. Featuring white graphic flowers and paisleys on a glossy black finish, this model looks both classic and modern, making it a good match for just about any bike.
However, it is not only the looks that sell the EXO-C110. Adding to the selling points of this helmet are an advanced ventilation system and an improved SpeedView sun visor mechanism. It is not very often when manufacturers pay a lot of attention to the ventilation of half-face helmets, but the Scorpion EXO-C110 is different. It provides a premium feel, while keeping your head cool, making it an ideal companion for long rides.
The liner inside the helmet is made out of a dual-density EPS, which extends down to ensure protection for the lower part of your skull. Also included is a sun visor mechanism and an improved chin strap retention system, all of which can be comfortably adjusted to stay securely in place and not get in the way of your glasses.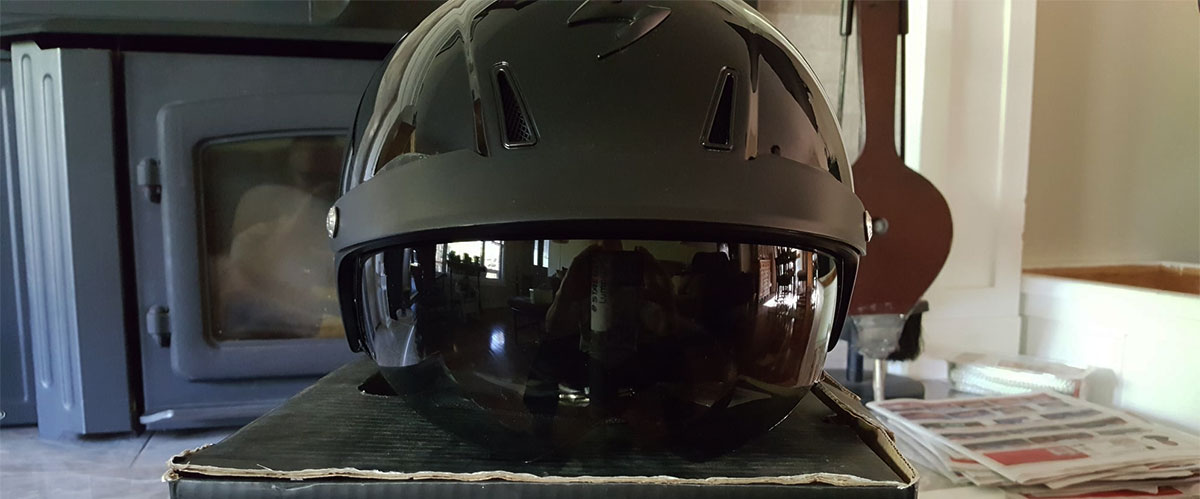 In addition, the EXO-C110 has pockets for installing speakers or any other communication device of your choice, something you rarely get with helmets at this price tag.
Take note, however, that this helmet runs the size small. That's why when choosing the right size on the size chart, it's best to go up one size, especially if you wear glasses. One other niggle some users have over the EXO-C110 is that the included face shield is not very dark, which means you might need to wear sunglasses additionally. Other than that, though, you have nothing to complain about.
The bottom line, the combo of all the mentioned features makes the Scorpion EXO-C110 a great alternative for those looking for an inexpensive half-face, glasses-friendly helmet.
Key specs
Helmet type: dual sport
Head shape: intermediate oval
Safety certification: DOT, ECE
Shell sizes: SM-MD, LG-2XL
Shell material: polycarbonate
Weight, g/lbs: 1120/2.5
Pros
Low profile visor peak.
Pockets in the EPS liner allow you to install speakers or communication devices.
Surprisingly great ventilation for the helmet of this style.
Cons
Some users note that it runs the size small, which is why it's best to go up one size.
The face shield that comes included is not very dark, so you are likely to need to wear your sunglasses as well.
What to look for when choosing motorcycle helmets for glasses wearers?
It can be quite difficult to find a great helmet for glasses wearers if you don't know what features to look for. Luckily for you, I've outlined the key parameters that should be paid attention to when scanning the market for the best helmet.
Fit and comfort features
About the most important thing defining how long you will be wearing your headgear is your helmet's comfort features. They may come in many different forms, including straps and padding to tailor the fit of the helmet to your exact head dimensions. The ventilation system also contributes to comfort, ensuring no beads of sweat are going to roll down your face, even if you go on a ride on a hot summer day. Besides these features, some motorcycle helmets may have special internal padding shaped to fit glasses.
Weight and the right size are important
You also want to spend a bit of time comparing the weights of different helmets. Even though most of them weigh about 3 to 5 lbs, that one extra pound can make a big difference, especially on long-distance rides. At the same time, you do not want to go for the lightest helmet. Not only will it fail to provide the required stability, but also it's more likely to fly off your head at highway speeds. The ideal solution is a helmet that is correctly sized for your head and has some weight to it to stay securely in place.
Helmet safety ratings
Do I even need to say that in order for a helmet to provide head protection, it is necessary that it meets the safety regulations? Always pay attention to the safety rating. In the United States, helmets must have a DOT certification, while if you buy a helmet in Europe, it should meet ECE standard requirements. There are also Snell-certified helmets as well as those coming with two certifications. Which one to choose mostly comes down to the requirements of your location, however, as with anything, it is always best to opt for the one that goes beyond them.
FAQs
How to wear goggles with a motorcycle helmet?
To ensure that goggles can't hamper your comfort, it is essential that you choose the right goggles and wear them the right way using the strap. Don't know whether to wear the strap inside the helmet or outside? Try both options and see which one works best. If you choose to wear the goggle strap inside, I recommend you opt for the one made of natural materials to eliminate chafing and skin rashes. That said, if you find wearing the strap on the outside more comfortable, the choice of material won't be that critical.
Aside from regular goggles, the market offers specialized OTG (over the glasses) goggles. The unique thing about them is that they are made wide and large, allowing you to snugly fit them into your spectacles. In addition to that, they feature foam padding, which helps protect the glass in case of impact, and an antifogging feature preventing fog build-up.
Other than that, choose a helmet with special grooves inside to fit your glasses. More often than not, they can be found in open-face and flip-up models. However, you can also find other types of glasses-friendly helmets, including full-face, touring ADV, and dual-sport helmets, with reviewed models being great examples.
How to protect my motorcycle helmet from fogging up?
Riding in the cold, wet weather with your face shield steamed up is not only irritating, it is quite dangerous, as it makes your vision blurred. That's where the following solutions can come in handy, allowing you to quickly defog the road before you.
One of the most effective solutions to avoid the mist in your helmet is to install a Pinlock visor. It's an awesome piece that effectively prevents fogging in all temperature extremes while requiring no special manipulations on your side.
If your helmet is not Pinlock ready, you can try controlling the amount of mist getting inside your helmet by opening the vents. No result? Then open the visor. By doing so, you will release all exhaled air and get rid of condensation.