In the realm of motorcycle gear, head protection is paramount. That's why motorcycle helmets are so important. With a growing wave of helmet thefts, investing in the best motorcycle helmet lock has become an essential safeguard for bikers everywhere. After all, your protective headwear is not only a costly accessory but also a life-saving component that merits stringent protection.
Understanding this, I delve into the vast world of helmet locks, highlighting various options available to you, so you can secure your gear reliably and keep the thrill of the ride intact.
Our pick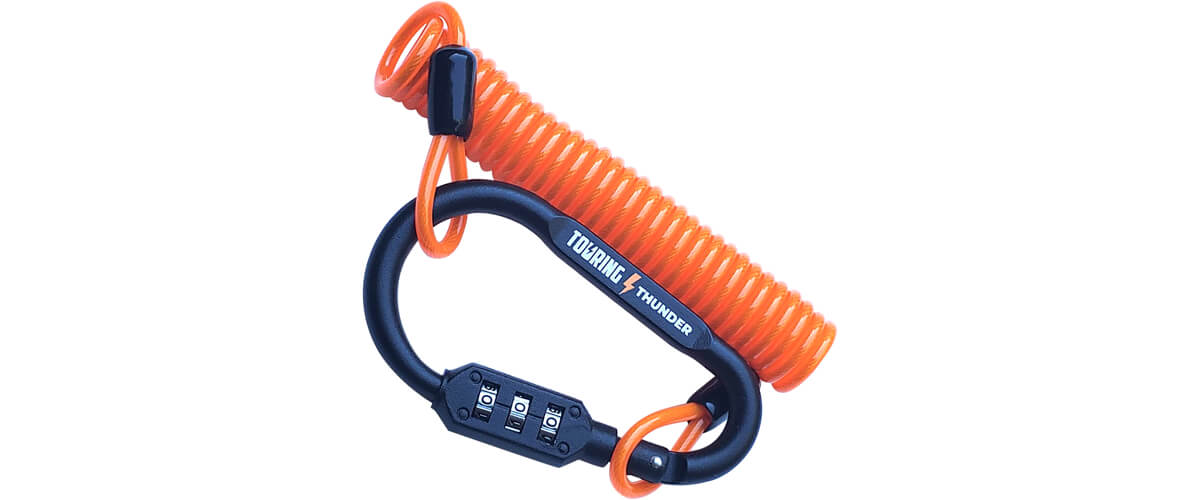 Touring Thunder Helmet Lock
Best motorcycle helmet lock
The Motorcycle Helmet Lock is a high-security pin combination carabiner lock for motorbikes with bright theft deterrent cable, which is tough enough to secure virtually anything.
Read the full review
.
Types of motorcycle helmet locks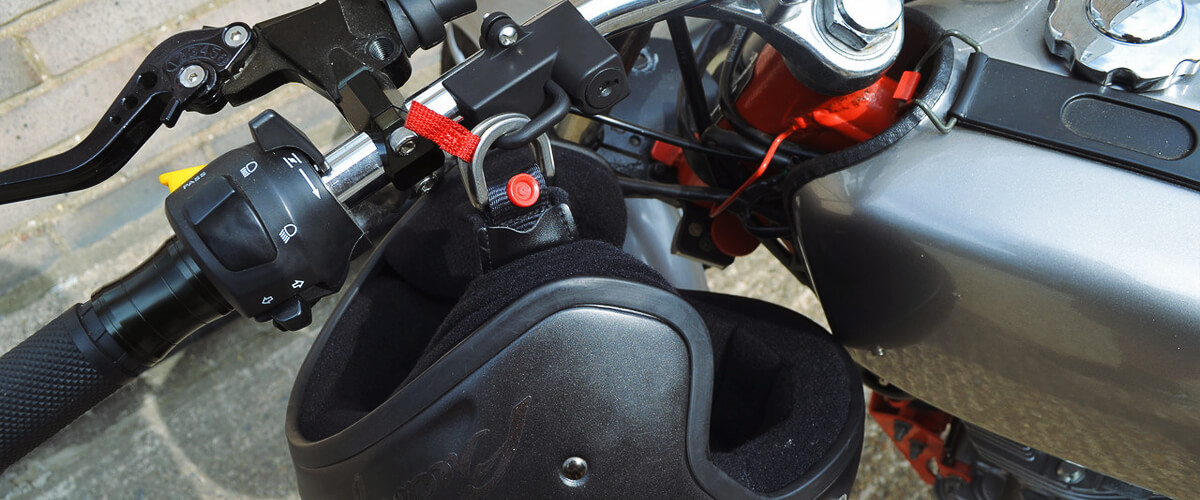 Navigating the maze of motorcycle accessories and choosing the safest locks for helmet protection can be challenging. The following section will dissect the various types of locks, giving you a clear roadmap to selecting your ideal gear.
Types of motorcycle helmet locks
Navigating the maze of motorcycle accessories and choosing the safest locks for helmet protection can be challenging. The following section will dissect the various types of locks, giving you a clear roadmap to selecting your ideal gear.
Helmet lock cables
Leading the charge in helmet protection solutions are lock cables – versatile options that have become popular among riders. Consisting of a robust yet flexible cable attached to a locking mechanism, these devices provide a convenient way to lock up a motorcycle helmet. You can effortlessly thread the cable through the chin bar or the headwear's D-ring and fasten it to a fixed attachment point on the motorcycle, forming a safe link against potential thieves. In addition, some designs feature a combination lock for ease of use, while others employ a traditional key lock, offering an extra layer of security.
Carabiner-style locks
Next in line are carabiner-style locks, celebrated for their compactness and ease of use. Resembling a carabiner or a similar clip, these locks are designed to be effortlessly hooked to a helmet's D-ring or chin bar. The other end of the lock can be fastened to a special attachment point on the motorcycle, offering reliable helmet security. Despite their modest size, these locks pack a punch when it comes to protection, equipped with either a combination or key mechanism. Lightweight yet tough, carabiner helmet locks are an excellent choice for riders seeking convenience without compromising security.
U-locks
U-locks, a powerhouse in helmet protection, are renowned for their steadfast reliability. These locks often feature robust steel construction, exhibiting hardened durability that scoffs at tampering. The U-shaped design allows easy attachment to the motorcycle's handlebars or frame. Typically, this gear employs a keyed locking mechanism, significantly elevating security.
Plate helmet lock
For those motorcyclists seeking a robust, permanent stop-my-helmet-from-theft solution, the Plate lock emerges as a compelling option. This design incorporates a mounting plate affixed to your motorcycle, furnishing a consistent point of attachment for your helmet. Once fastened directly to this plate, your helmet remains firmly in place. The unchanging nature of such a lock renders it a practical blend of convenience and protective assurance. Though less portable than some other types, the Plate lock's presence on your bike makes it a strong contender in the eyes of many riders.
Best motorcycle helmet lock reviews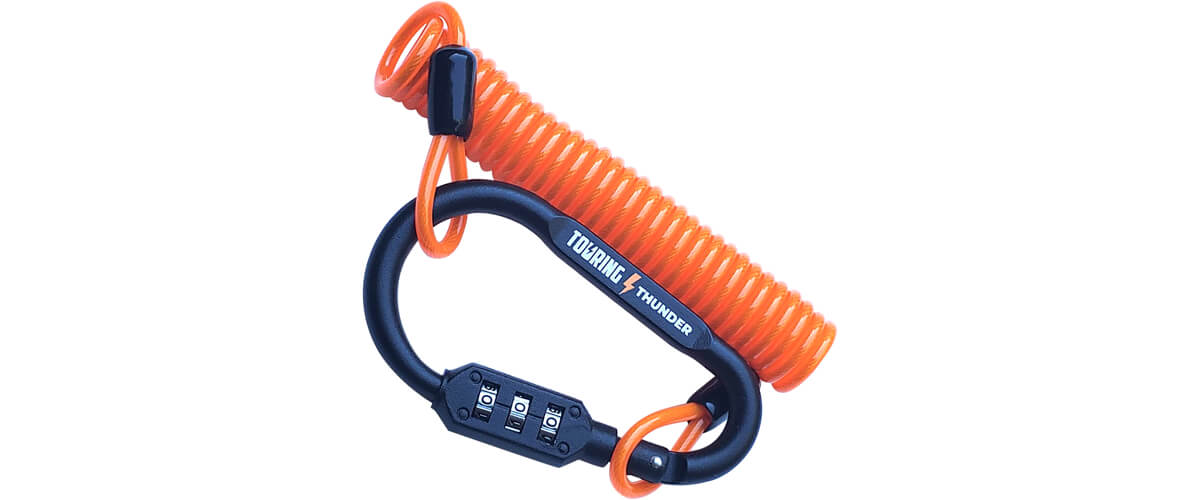 The Touring Thunder helmet lock for a motorcycle effortlessly combines high-security features with practical design. Sporting a high-visibility orange cable, this gear is immediately noticeable, deterring potential thieves while offering the convenience of easy location for users. I found the combination-code lock handy since it eliminates the hassle of keeping track of yet another key. But remember, a lost code means a locked helmet – so be sure to memorize it well. The highlight, however, is the 6-foot extendable cable. Picture this: you're touring, and in one sweep, you secure your helmet, bag, and jacket all in one place. Yes, it's that spacious and flexible. A possible downside is the bright orange cable might attract unwanted attention, but its sturdy build should withstand typical attempts at compromise.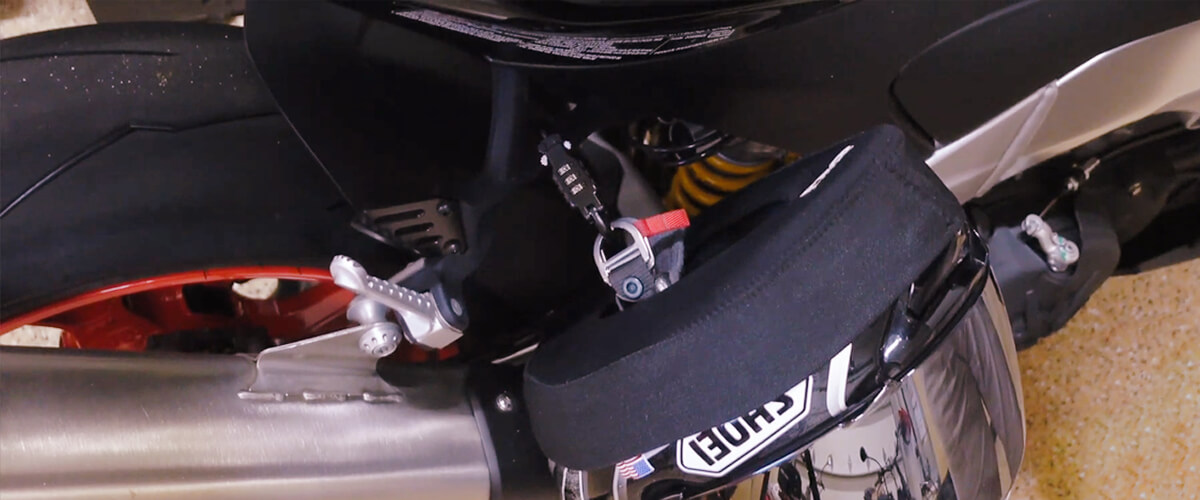 Touring Thunder helmet lock is your ultimate travel safety companion. Its bold appearance, combination lock, and versatile 6-foot extendable cable make security seamless and smart. Remember your code, and let Touring Thunder do the rest!
Key specs
Lock type: carabiner-lock.
Material: zinc.
Dimensions (LxWxH), inches/cm: 3.9×2.3×0.3/10×5.9×0.9.
Weight, lbs/kg: 4.1/1.8.
Pros
Looks bright and cool!.
Versatile – you can secure additional stuff.
Easy to use.
Portable – fits easily in a big pocket or a toolbox.
Great price/quality ratio.
Cons
Hard to see the numbers if it's dark.
Kuryakyn 4248 – the safest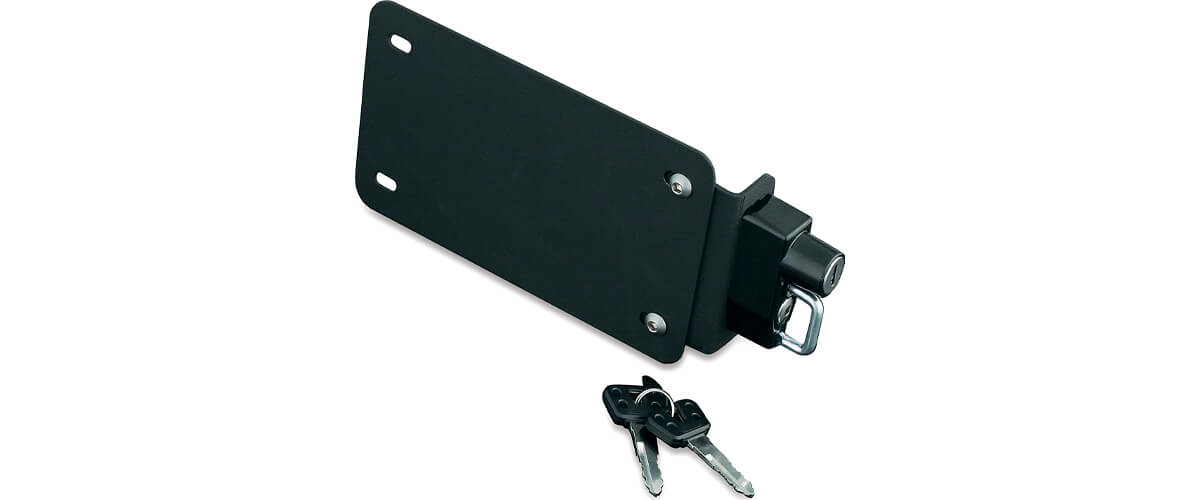 Kuryakyn 4248 ranks highly among the best motorcycle helmet locks and really emphasizes security. Its tamper-proof screws and included key set promise a robust defense against any would-be thieves. This lock gives you a sense of solidity – you know your helmet is secure. What really charmed me about this gear was its universal fit and easy installation on most flat license plate brackets. Just a few tweaks and voila, your helmet is safe and secure, right there on the back of your bike. But remember, those keys need to be kept safe. Losing them could be quite an inconvenience. However, an extra set stashed away in a safe location can quickly solve that problem.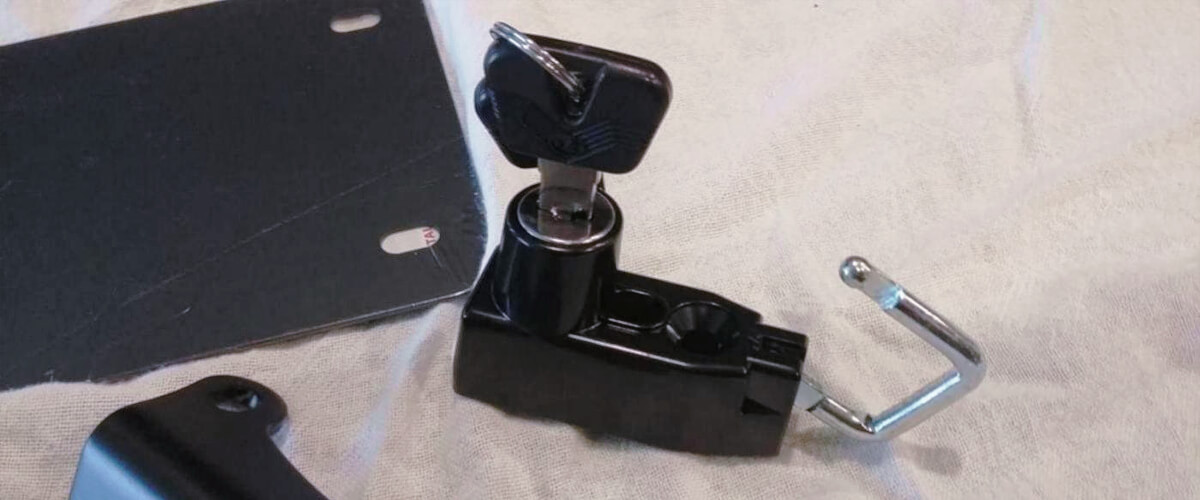 If you need the safest lock to protect your helmet, do consider Kuryakyn 4248. It'll definitely give you peace of mind thanks to its reliable construction and ease of use.
Key specs
Lock type: plate-lock.
Material: metal.
Dimensions (LxWxH), inches/cm: 11.5×1.4×0.3/29.2×3.5×0.9.
Weight, lbs/kg: 1.5/0.6.
Pros
Durable materials.
Looks discrete on the bike.
Do not need the key to lock the latch.
Cons
You'll need a 7/16-inch ratcheting box screwdriver; otherwise, installation may be quite tricky.
ROCKBROS Motorcycle Helmet Lock – budget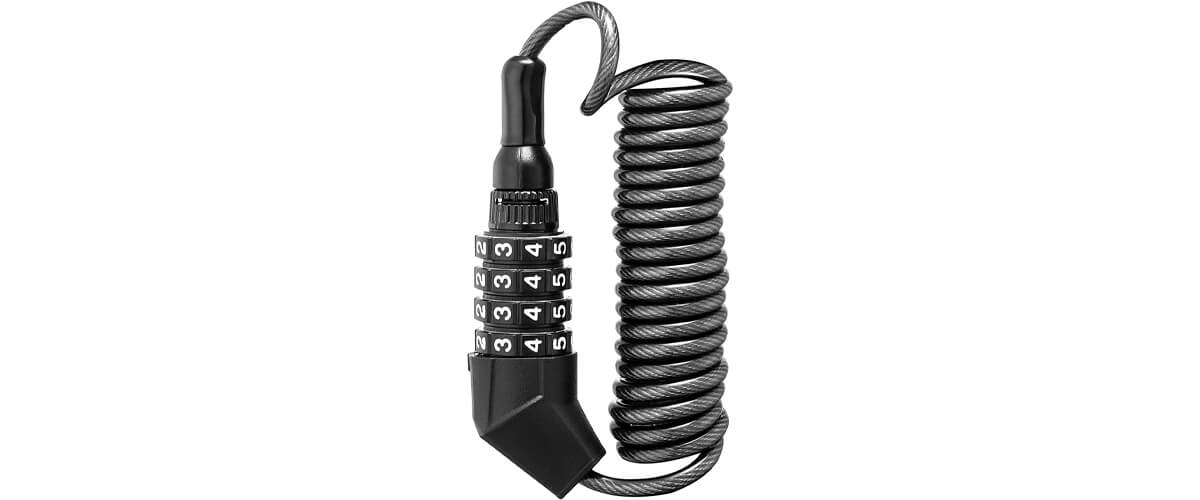 Look no further than the ROCKBROS motorcycle helmet lock for a potent blend of economy and practicality. This gem offers strength and tenacity. Well, it may not stop somebody with cutters, but it'll definitely stop a grab-and-run. Encased in a PVC coating, this gear ensures that your bike remains scratch-free, even with regular use. The lock's versatility won't disappoint you – from securing helmets to bicycle wheels, or even ladders, its uses extend beyond what meets the eye. Plus, the lock is so lightweight that portability becomes a non-issue.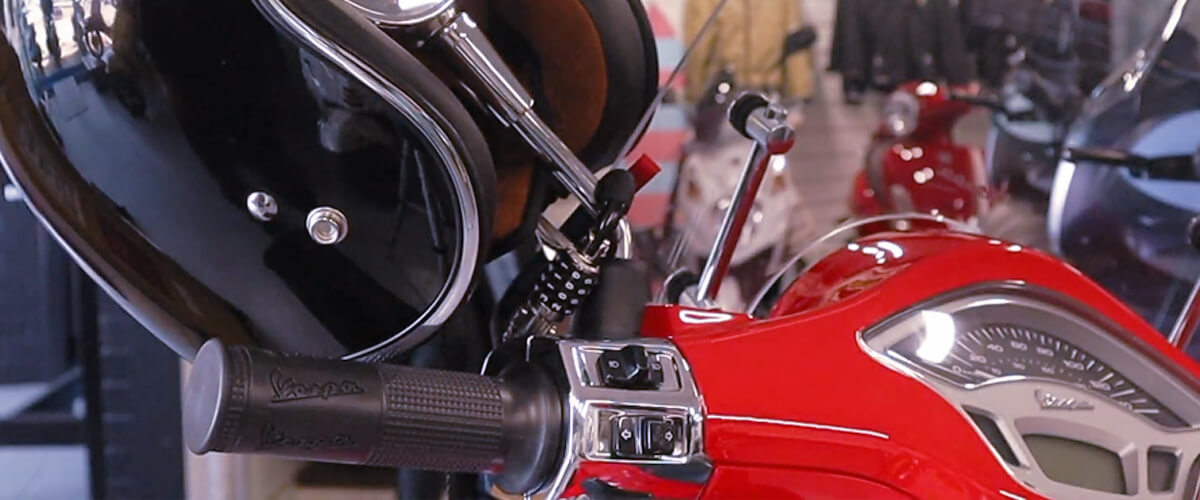 Setting your desired 4-digit code is straightforward, offering quick security without the fuss of keys. But remember to capture that code in a safe place – we don't want a forgetful moment to turn into a locked-out debacle.
ROCKBROS motorcycle helmet cable lock is a lightweight yet sturdy guardian that secures your gear without breaking the bank. The champion of versatile and hassle-free security!
Key specs
Lock type: cable-lock.
Material: steel, polyvinyl chloride, zinc.
Dimensions (LxWxH), inches/cm: 5.7×4.3×1.1/14.7x11x2.9.
Weight, lbs/kg: 3.5/1.5.
Pros
Secure & flexible.
Easy to set the combination.
Compact – does not take up too much space.
Cons
Dence curl that cuts off the length.
HELMETLOK Helmet Lock II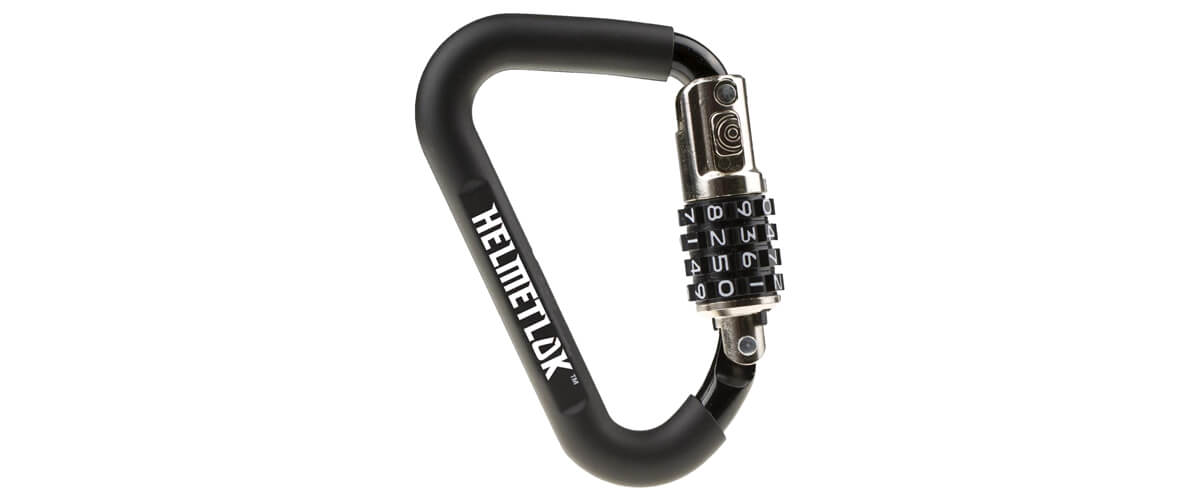 Having spent some time with the HELMETLOK motorbike helmet lock II, I found much to appreciate in this mid-range model. The 4-digit combination system was the star of the show. The tactile feel of turning the dials – that satisfying click – was music to my fingers, and to my delight, the large numbers were a dream come true for my not-so-eagle-eyed vision.
Bundled with a T-bar extension, the gear provides added versatility. This feature opens up more possibilities for attaching your helmet to different parts of the bike, enhancing convenience.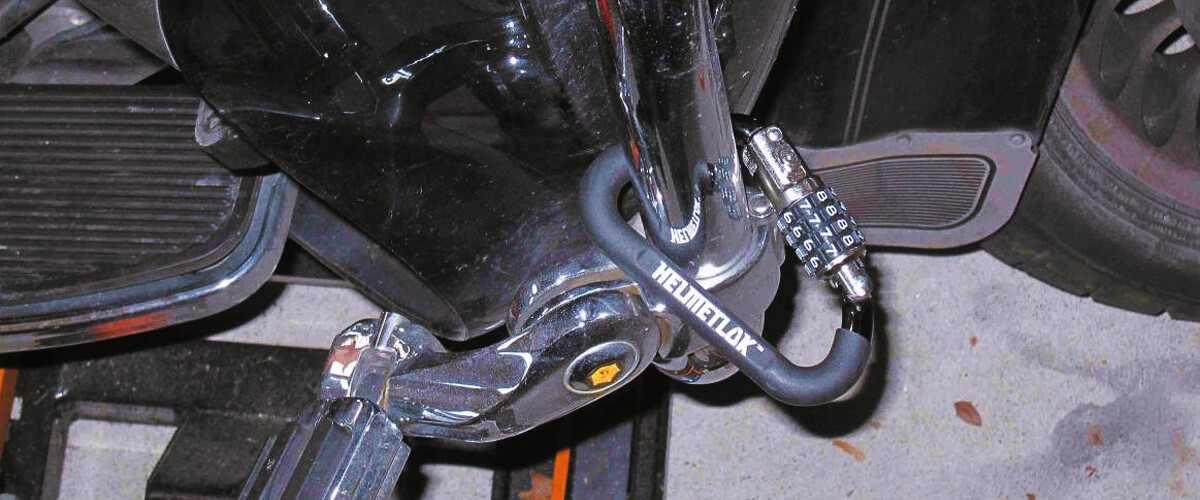 While it's not the most unbreakable lock out there, it does serve its purpose as a deterrent. Remember, a wise selection of parking spots can further amplify your security level.
The HELMETLOK Helmet Lock II is a compelling choice for any motorbike rider seeking practical and reliable security solutions.
Key specs
Lock type: combination-lock.
Material: zinc.
Dimensions (LxWxH), inches/cm: 4×2.5×1/10×6.3×2.5.
Weight, lbs/kg: 0.15/0.06.
Pros
Small size, big utility.
Lightweight.
Easy to set up the code.
Cons
The diminutive pin located in the hinge appears flimsy.
FAQ
Are there any legal requirements or regulations for using helmet locks?
At the time of writing, there are no widespread legal requirements or regulations specifically for using lock mechanisms. However, helmet use while riding is mandated by law in many regions. Helmet locks are considered an accessory used to protect your gear when parked, but the regulations can vary depending on your local jurisdiction. Always consult local laws or motorcycle clubs to stay informed.
Are motorcycle helmet locks effective?
Yes, these locks are indeed effective at deterring theft. By providing an additional layer of protection, they make the act of stealing helmets significantly more difficult. While no lock can guarantee absolute security, a quality helmet lock certainly makes your gear a less appealing target to
potential thieves
.
How should I care for a helmet lock?
Caring for a helmet lock mainly involves regular cleaning and lubricating the locking mechanism. This helps ensure its smooth operation and prolongs its lifespan. If your lock is exposed to harsh weather conditions, make sure to clean and dry it thoroughly to prevent corrosion. Always check the manufacturer's guidelines for specific care instructions.
Can helmet locks be used for securing helmets while riding?
Helmet locks are primarily designed to secure your helmet when you're not using it. While riding, your helmet should be on your head, securely fastened. Some riders might use helmet locks to carry spare helmets, but this depends on the specific type of lock and motorcycle design. However, caution should be taken as a poorly secured helmet may pose a safety risk if it comes loose while riding.