An open road – it's where we bikers truly belong. But even the most passionate riders know that sometimes, transporting your motorcycle from point A to point B isn't as simple as hopping on and throttling up. That's where the best motorcycle hitch carrier comes into play.
I remember a trip years back, setting off on a week-long motorcycle adventure. My buddy and I planned to ride some epic trails in Colorado, but first, we needed to get our dirt bikes there from California. The solution was hitch carriers – a real game changer. By securely mounting our motorcycles on these platforms, we made the 1000-mile journey without a hiccup.
Choosing the best hitch rack isn't just about convenience; it's about the safety and security of your two-wheeled partner. Trust me, you don't want to risk your bike's well-being on some rickety, sub-par rack. Let's dive into some top-notch options.
Our pick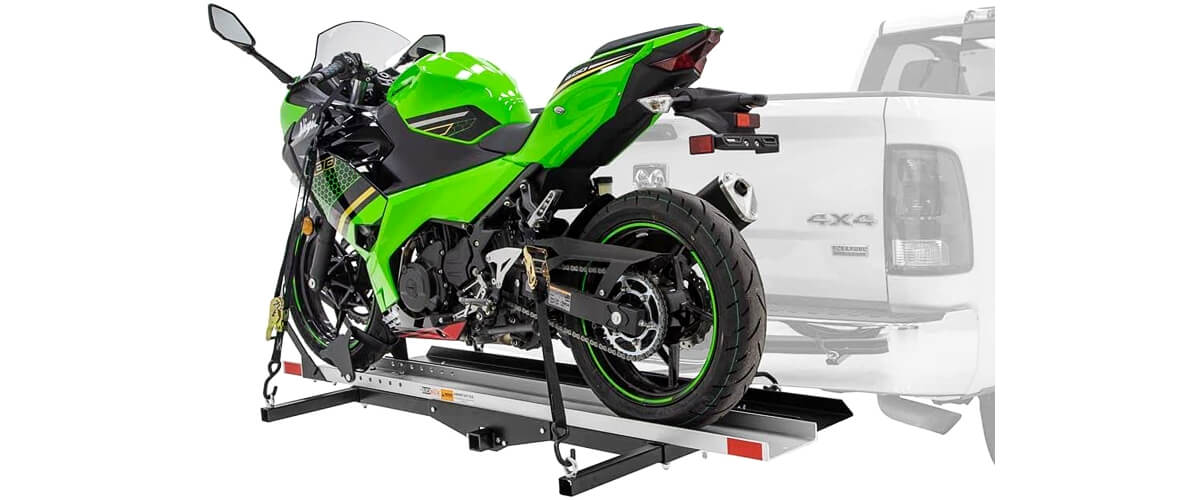 Black Widow SMC-600R
Best motorcycle hitch carrier
The Black Widow SMC-600R Deluxe Steel Motorcycle Carrier works with 2″ Class III or IV hitch receivers, wheels up to 7.5″, and a maximum 600 lbs weight capacity.
Read the full review
.
Best motorcycle hitch carrier reviews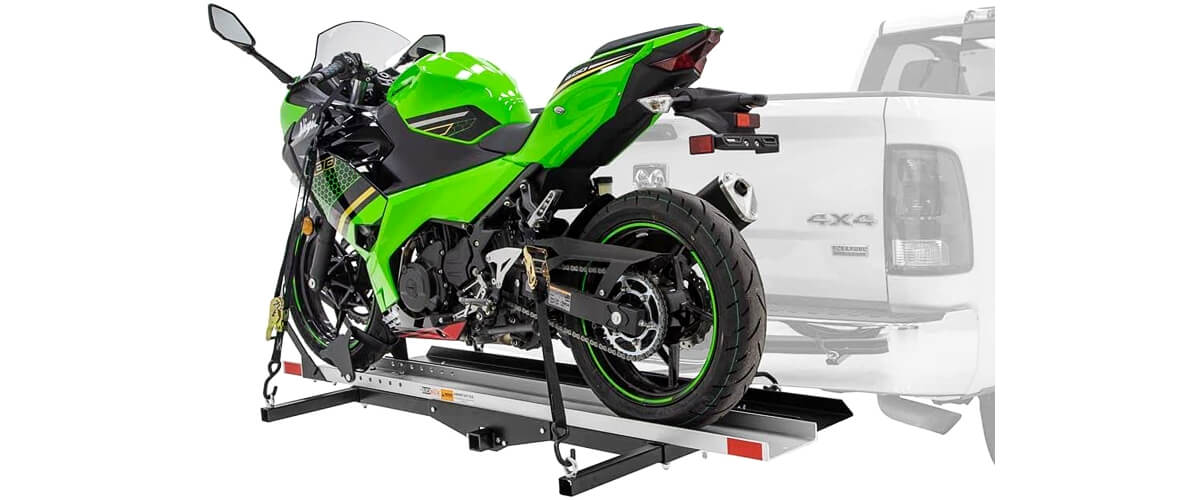 After a few weeks on the road with the Black Widow SMC-600R, I can honestly say it's a workhorse among motorcycle carriers. From the get-go, you notice its robust steel frame, contrasted with a high-strength, lightweight aluminum track. It's sturdy enough to handle your beastly Harley or any other model, given its beefy 600 lb weight capacity.
One feature that's really struck a chord with me is the adjustable wheel chock. On a recent trip, I switched between my heavyweight cruiser and a lighter scrambler. The chock made it a breeze to secure each one – a true 'fit and forget' experience.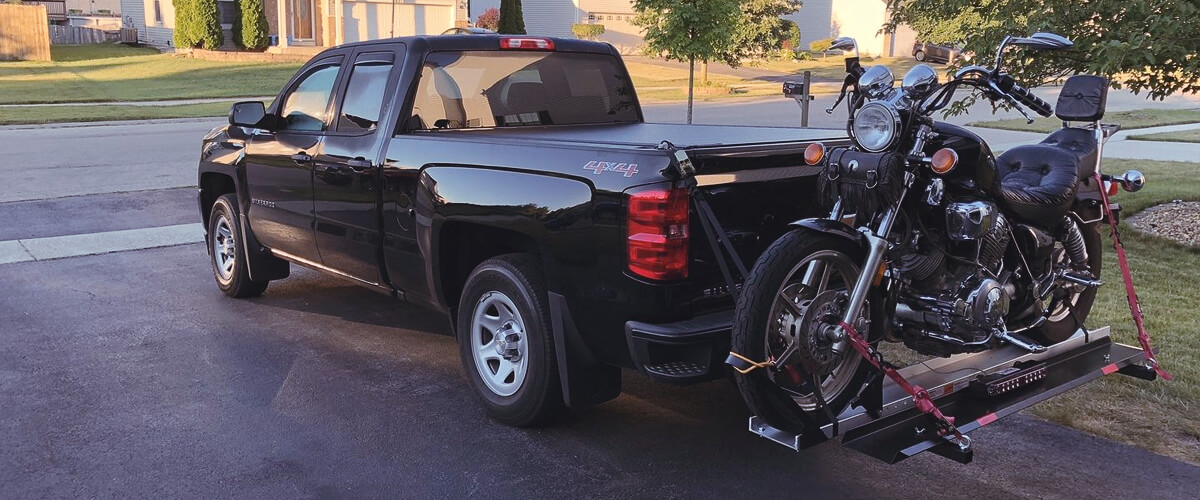 Now, its 7.5″ wide loading ramp isn't the most generous, but it's competent enough to handle most bikes. And that built-in anti-rattle device is a game-changer – a quiet cabin means a peaceful journey.
Let's be clear – the SMC-600R won't win any beauty pageants. It's more of a 'function over form' kind of carrier, but it does its job and does it well. This platform is a smart choice for anyone seeking a solid, reliable solution for transporting their two-wheeled partner.
As we hit the brakes on this review, remember that finding the best motorcycle hitch carriers is about pairing your needs with the right features. The Black Widow SMC-600R might not be the cream of the crop, but it's sure to steer most riders in the right direction.
Key specs
Vehicle service type: trailer.
Material: aluminum.
Dimensions LxWxH,inches/cm: 78.7x8x5/200×20.3×12.7.
Item weight, lbs/kg: 98/44.4.
Maximum weight capacity, lbs/kg: 600/272.
Pros
Easy to assemble, and the instructions were clear.
The heavy-duty and solid construction – especially appreciated for long journeys.
Low loading height.
Generous dimensions – accommodate a variety of motorcycles.
Comes with four solid anchor points, allowing for secure fastening of the bike.
Cons
The hitch only goes into the receiver about four inches, which can potentially affect the load's stability.
The ramp can be slippery – it's better to add grip tape for safety.
MotoTote m3 – premium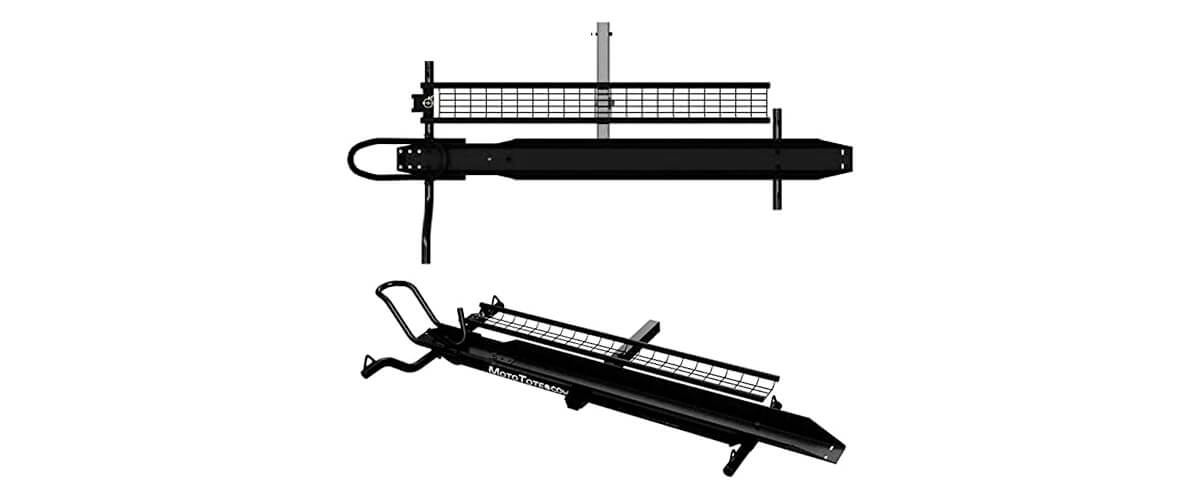 Taking the MotoTote m3 for a spin was an enlightening experience. This hitch carrier isn't just a tool – it's a testament to intelligent design and quality craftsmanship.
Its heavy-duty credentials are shared with the Black Widow SMC-600R, but the m3 takes the cake with its immaculate assembly. Set up was a cinch and the rock-solid structure feels like a fortress on the move.
One jewel in the m3's crown is the adjustable platform. Swapping between my nimble enduro and the hefty cruiser was a breeze, thanks to the versatile tire track and wide tie-down arms. Plus, the included webbed steel ramp with excellent traction and a gentle loading slope makes it a winner.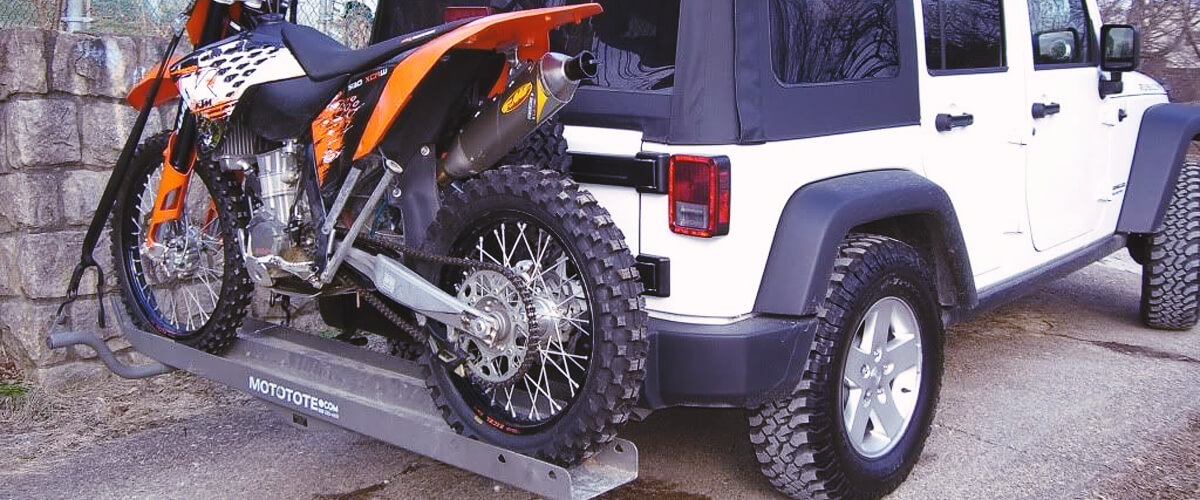 Where the m3 really pulls ahead is its exceptional finish. However, keep in mind that this superior quality comes with a premium price tag.
Putting the MotoTote m3 head-to-head with the Black Widow SMC-600R, it's all about what you're after. The SMC-600R packs a punch with its straightforward functionality, whereas the m3 scores big with its blend of high-end features and polished design.
If you're on the hunt for the best premium hitch-mounted motorcycle carrier, the MotoTote m3 rises to the occasion, merging high-end features, steadfast construction, and user-friendly design into one solid package.
Key specs
Vehicle service type: motorcycle.
Material: alloy steel.
Dimensions LxWxH,inches/cm: 60x12x9/152.4×30.4×22.8.
Item weight, lbs/kg: 60/27.2.
Maximum weight capacity, lbs/kg: 500/226.
Pros
Well-built and sturdy – can handle a significant load without any problems.
Straightforward to use.
Comes with the option of an LED light kit.
Cons
The hardware is prone to rust.
Black Widow AMC-400L – dirt bike hitch carrier with load ramp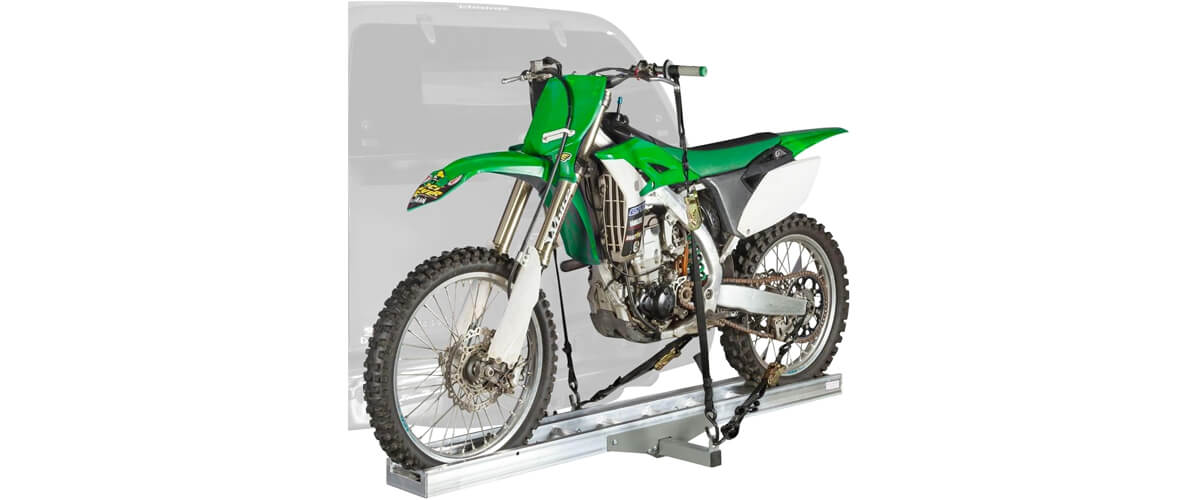 The Black Widow AMC-400L, built from high-strength aluminum, promises both durability and manageable weight. With its respectable 400 lbs capacity, it comfortably accommodates most dirt bikes and motorcycles, easily fitting into 2″ Class III or IV hitch receivers.
When put head-to-head with its older counterpart, the Black Widow AMC-400, the AMC-400L demonstrates notable improvements. While a ramp may not be a unique feature in the world of motorcycle hitch carriers, the AMC-400L's self-storing ramp offers a practical advantage over the AMC-400, which lacks this feature. The convenience of having a secure and space-saving ramp is undeniable.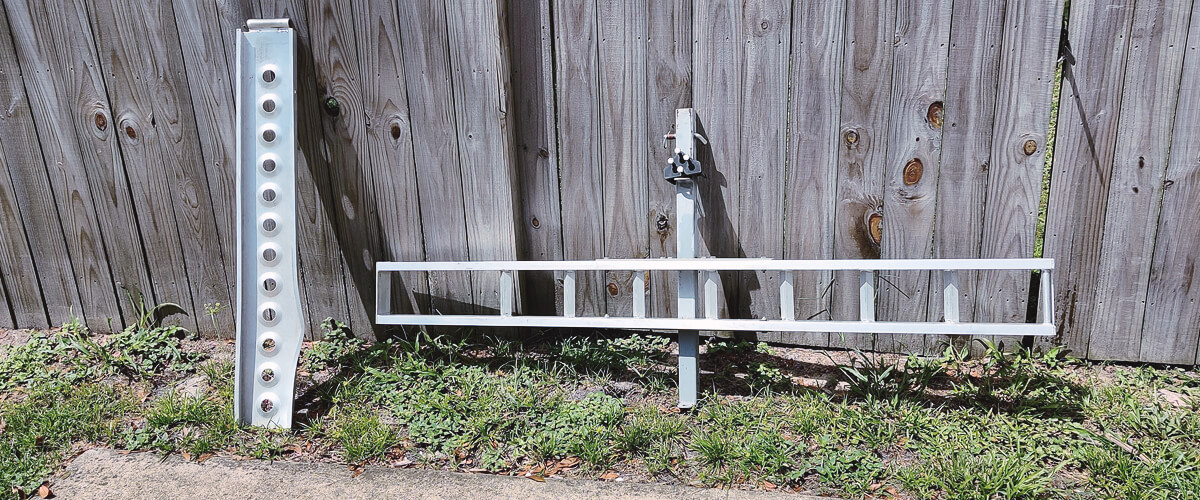 The anti-tilt bracket, another excellent addition, minimizes instability during fast highway runs, providing secure transport for your treasured two-wheeler. And let's not forget the youth dirt bike adapter – a clear nod towards user versatility, making it suitable for the whole family's biking needs.
For those seeking the best dirt bike hitch carrier, I confidently recommend the Black Widow AMC-400L. Its impressive performance offers a reliable, user-friendly transport solution for your beloved dirt bike and other two-wheelers.
Key specs
Vehicle service type: dirt motorcycle.
Material: aluminum.
Dimensions LxWxH,inches/cm: 75.2×5.5×7/152.4×30.4×22.8.
Item weight, lbs/kg: 38/17.2.
Maximum weight capacity, lbs/kg: 400/181.
Pros
Lightweight.
Easy to assemble and disassemble, even for single-person use.
Additional side D-rings are useful for secure attachment.
Cons
While its weight capacity is sufficient for most dirt bikes and motorcycles, those with heavier bikes might find it restrictive.
Its maximum tire width capacity is 5.5″, which might not accommodate wider wheels.
Trackside Motorcycle Carrier – budget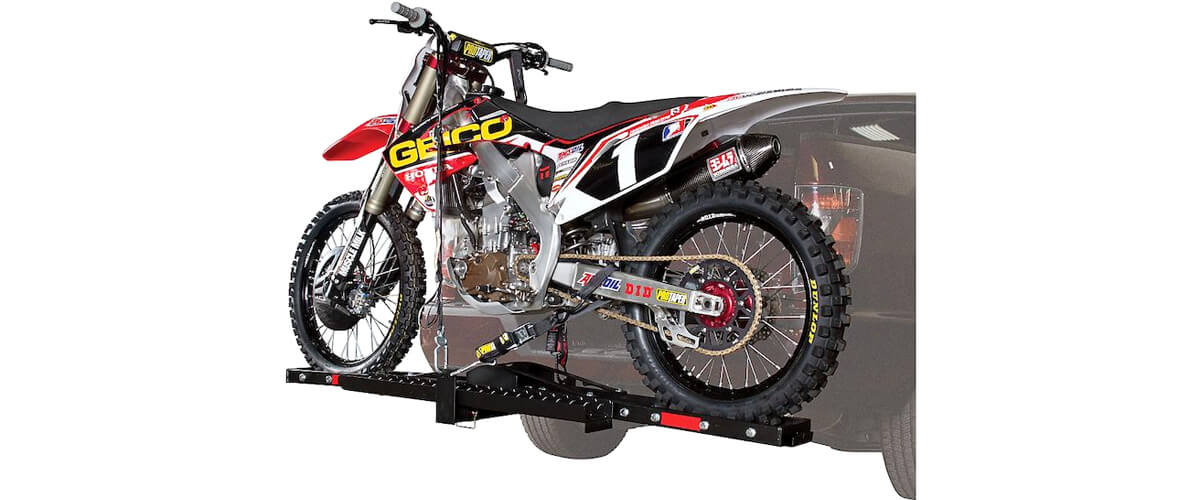 I added this model to my review for a reason. The Trackside Motorcycle Carrier is a great example of how price doesn't always dictate performance. It shines as the best trailer hitch motorcycle carrier for those on a budget, combining affordability with functionality.
Boasting an all-steel construction and a robust powder-coated finish, this platform ensures years of rust-free service. Its 500 lbs load rating surpasses many pricier competitors, catering to heavier rides. Even loading and unloading is a breeze, thanks to the ramp that attaches to either side of the carrier.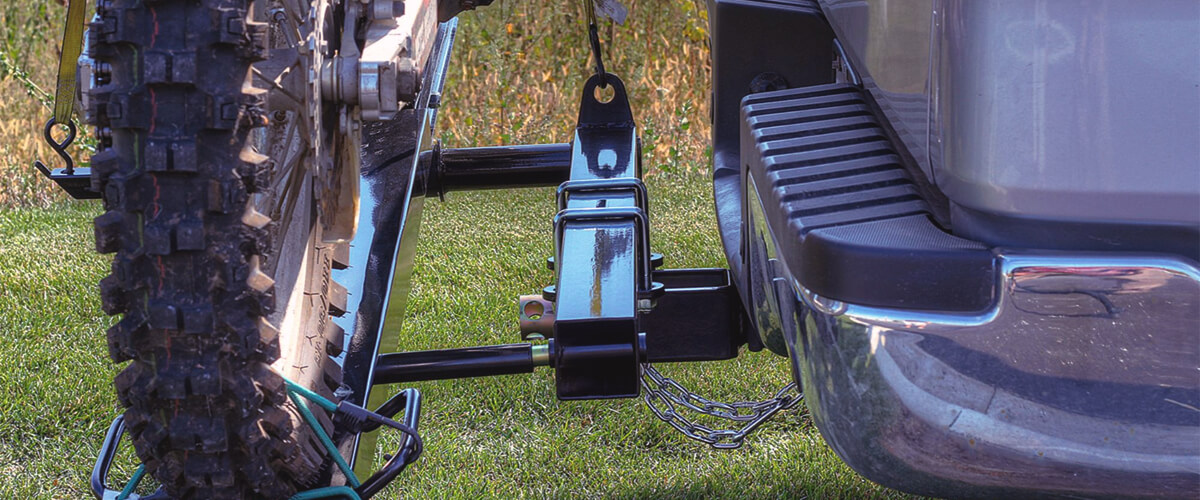 Though its maximum tire width of 4.75″ might seem restrictive for wider wheels, simply adjust the wheel track bolts to accommodate your bike.
The anti-tilt device is another noteworthy feature. It curbs excessive movement during transit, ensuring a smoother journey and fewer heart-stopping moments. Sure, the steel construction may add to the weight, but remember, it's a trade-off for unrivaled durability.
In summary, the Trackside Motorcycle Carrier provides an excellent solution for those who want reliable and adaptable motorcycle transportation without breaking the bank. A real winner in the budget category!
Key specs
Vehicle service type: vehicle with 2″ receiver.
Material: steel.
Dimensions LxWxH,inches/cm: 79x31x13/200×78.4×33.
Item weight, lbs/kg: 50/22.6.
Maximum weight capacity, lbs/kg: 600/272.
Pros
Fits a variety of bike sizes.
Good build quality.
Easy to assemble and attach to the hitch.
Can perform well during long trips (over 1,000 miles).
Can securely hold the bike even under sudden shocks or impacts.
Cons
The ramp may be too steep for some users, making it challenging to load the bike single-handedly.
The carrier may sit low on some vehicles, causing potential ground clearance issues.
The carrier requires different socket sizes for the hitch secure bolt, which might necessitate buying additional tools.
Goplus Motorcycle Carrier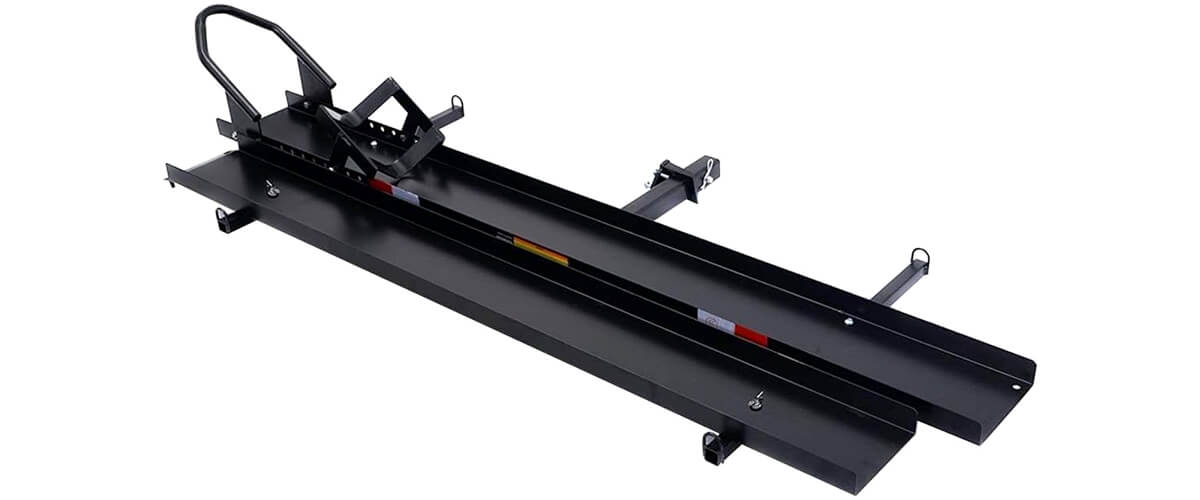 My next guest is also a reliable companion, able to bear the weight of my biking dreams. Let's get to know him in more detail.
The Goplus carrier stands out for its remarkable load-bearing capacity. At 600 lbs, it can comfortably shoulder light bikes and also caters to those hefty motorcycles that others struggle to support. The steel construction of this carrier means high strength, excellent toughness, and incredible durability – you won't be left worrying about rust or wear during those rainy rides.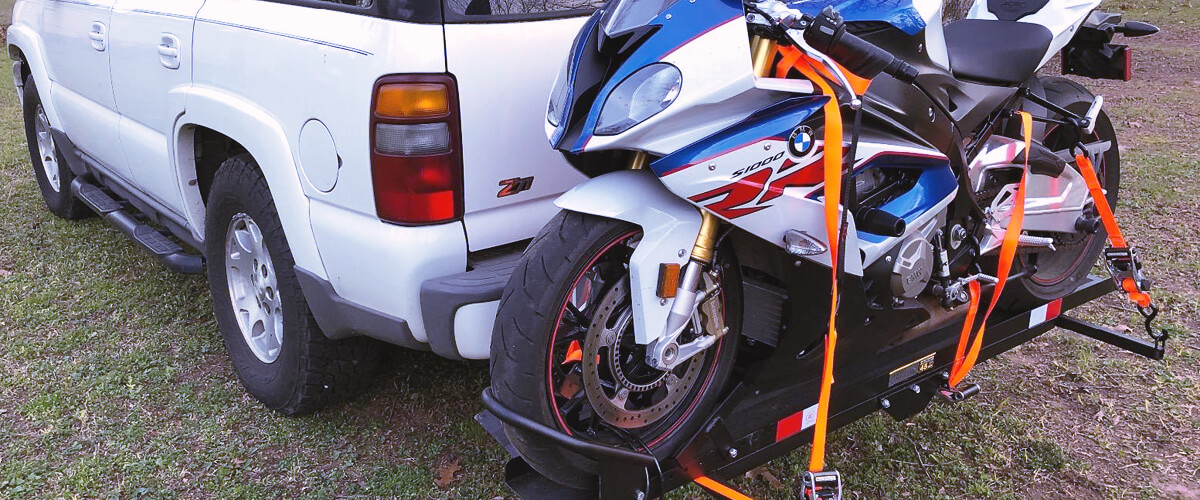 A particularly interesting feature is the quick-release lock system. These locks secure your bike effectively, even when tackling bumpy hillside paths. However, the manufacturer's speed recommendation of 55MPH might seem restrictive for some, but remember, the speed should always be adjusted according to your motorcycle's weight to ensure safety.
The carrier's compatibility with any vehicle sporting a 2″ receiver and the inclusion of a raised adjustable wheel stop makes it versatile and suitable for a range of bikes.
Conclusively, if you're looking for the best motorcycle carrier in terms of heavy-duty carrying capacity, dependability, and safety, the Goplus Motorcycle Carrier checks all those boxes. While it might require you to watch your speed, its sturdy and reliable performance makes it a worthwhile consideration for any biker.
Key specs
Vehicle service type: dirt motorcycle.
Material: alloy steel.
Dimensions LxWxH,inches/cm: 75.2×5.5×7/152.4×30.4×22.8.
Item weight, lbs/kg: 98/44.4.
Maximum weight capacity, lbs/kg: 400/181.
Pros
Sturdy construction and high load capacity.
Includes a well-built and reinforced wheel chock.
The ramp is long, making loading easier and reducing the physical strain on the user.
Can be used for different motorcycle models and sizes.
Cons
May obscure the vehicle's tail lights.
The speed limit when using the carrier is lower than typical highway speeds.
May scratch the motorcycle if not properly padded.
Benefits of motorcycle hitch carriers
Convenience at its finest: The motorcycle carrier hitch offers unmatched comfort. They are designed to effortlessly attach to your vehicle's hitch receiver, eliminating the need for additional equipment. No more struggling with complicated setups or worrying about storage space. Simply load your bike onto the carrier, secure it, and you're ready to hit the road!.
Effortless loading and unloading: These motorcycle haulers feature ramps that make loading and unloading a breeze. Just roll your motorcycle onto the carrier, secure it with straps or wheel chocks, and you're ready. It's quick, efficient, and saves you precious time and energy.
Tow behind with confidence: Heavy-duty motorcycle hitch carrier allows you to tow your motorcycle behind your vehicle. This means you can bring your bike along while still having the flexibility to transport other gear or vehicles, like trailers or boats. You'll have the best of both worlds: the freedom to explore on two wheels and the practicality of towing.
Versatility for every ride: Whether you ride a sleek sports bike, a rugged adventure motorcycle, or a classic cruiser, the motorcycle tow hitch has got you covered. You can securely transport your two-wheeled companion without worry with adjustable wheel cradles and tie-down points.
Factors to consider when choosing a motorcycle hitch carrier
Weight capacity and compatibility
For a smart purchase, I recommend selecting a hitch carrier capable of securely bearing your motorcycle's weight. Always verify the weight limit provided by the carrier manufacturer and ensure it meets or surpasses your motorcycle's weight.
Hitch carriers come in different classes, and you should choose one that matches the hitch class of your vehicle. Additionally, pay attention to the drawbar weight limits provided by your vehicle's manufacturer.
Moreover, consider the receiver hitch carrier size requirements. Hitch carriers are designed for specific sizes, typically 1.25-inch or 2-inch. Check your motorcycle's weight, including any accessories or luggage you may carry. Then, find a hitch carrier with a weight capacity accommodating this total weight.
Lastly, consult your vehicle's owner manual to identify the hitch class and drawbar weight limits.
Security and stability
Look for features like anti-sway devices, which minimize any unwanted movement or wobbling during transit. These devices provide an extra layer of stability, ensuring your motorcycle stays firmly in place. Additionally, locking mechanisms are essential to prevent theft or accidental detachment of your bike from the carrier.
Adjustable attachment points are another important consideration. They allow you to customize the carrier's configuration, enabling a secure fit for your specific motorcycle. This adjustable feature ensures that your bike won't shift or sway during the journey, giving you peace of mind.
Loading and unloading
When selecting a carrier, it's really important to consider the ease of maneuvering your bike onto it. Look for carriers with built-in ramps – they make loading a breeze. Just roll your motorcycle up the ramp, and you're ready. Additionally, adjustable wheel chocks are a game-changer. They secure your bike in place, preventing any unwanted movement during transportation.
Another fantastic feature to look out for is assistive devices. They can include loading systems that lower the carrier to the ground, making pushing your bike onto it easier. These devices ensure safe and efficient loading, saving you time and effort.
Durability and construction
As an experienced rider, I can't stress enough how important it is to invest in a carrier made from sturdy materials like aluminum. Steel motorcycle carriers can also withstand regular use and exposure to the elements.
Consider factors like rust resistance, as it plays a significant role in the longevity of your carrier. Opt for carriers with proper rust-resistant coatings, such as powder coating.
Additionally, pay attention to the overall build quality of the motorcycle bumper carrier. Look for sturdy welds, strong joints, and reinforced construction. These features contribute to the carrier's ability to handle the weight of your motorcycle and provide reliable support.
FAQ
Are motorcycle hitch carriers compatible with all types of motorcycles?
Generally, motorcycle hitch carriers are created to accommodate many bikes. However, I always check the specifications and weight capacity of the carrier to ensure it can handle my bike's size and weight.
Can a hitch carrier accommodate multiple motorcycles at once?
Absolutely! If you want to transport multiple motorcycles simultaneously, I recommend choosing a double-platform hitch carrier. This type of carrier provides the space and support needed for two bikes. Check out this dual-platform carrier here:
Black Widow AMC-600-2 Aluminum Double Motorcycle Carrier
.
Can hitch carriers be used for long-distance trips or off-road adventures?
Yes, definitely. Many hitch carriers are designed to withstand long-distance trips and even off-road adventures. However, consider the carrier's weight capacity, stability, and durability. Choose a carrier specifically built for heavy-duty use and ensure it can handle the demands of your intended journey.
Are there any legal regulations or restrictions regarding the use of hitch carriers for motorcycles?
Yes, there may be legal regulations and restrictions depending on your location. Some areas might have restrictions on the maximum weight or dimensions allowed for towing, so comply with the rules to ensure a safe and legal ride. Always check with local authorities or consult the relevant traffic regulations to ensure compliance with the law when using a motorcycle hitch carrier or motorcycle car rack for a hitch.