Today, we're shifting gears to talk about the unsung hero of motorcycle transportation and storage – the best motorcycle tie-down straps! Many of you probably remember the fear of transporting your favorite two-wheeled friend. As seasoned riders, we've all had that heart-stopping moment when we've peeked into the rearview mirror of our vehicle only to find our precious iron steed teetering dangerously. That is a biker's nightmare we'd all prefer to avoid.
Why do these incidents happen? Often, the culprit is the lack of proper motorcycle security. Just as we depend on our helmets for safety on the road, our motorcycles lean on high-quality, specifically-designed tie-down straps for safety during transportation or storage.
I still remember a close call years ago with my beloved vintage Harley. It was the sharp reminder I needed about the importance of investing in reliable tie-down straps. This incident transformed my approach, and since then, I've made it my mission to share this wisdom with my fellow riders. So, buckle up as we dive into the world of motorcycle harness – your bike's bestie when off the road!
Our pick
Rhino USA Tie Down Straps
Best tie down straps for motorcycle
The Rhino USA Tie Down Straps include four premium 1″x 15″ ratchet tie downs, padded handles, and guaranteed 1,823 lbs max break strength for your motorcycle and equipment.
Read the full review
.
Key factors to consider when choosing motorcycle tie-down straps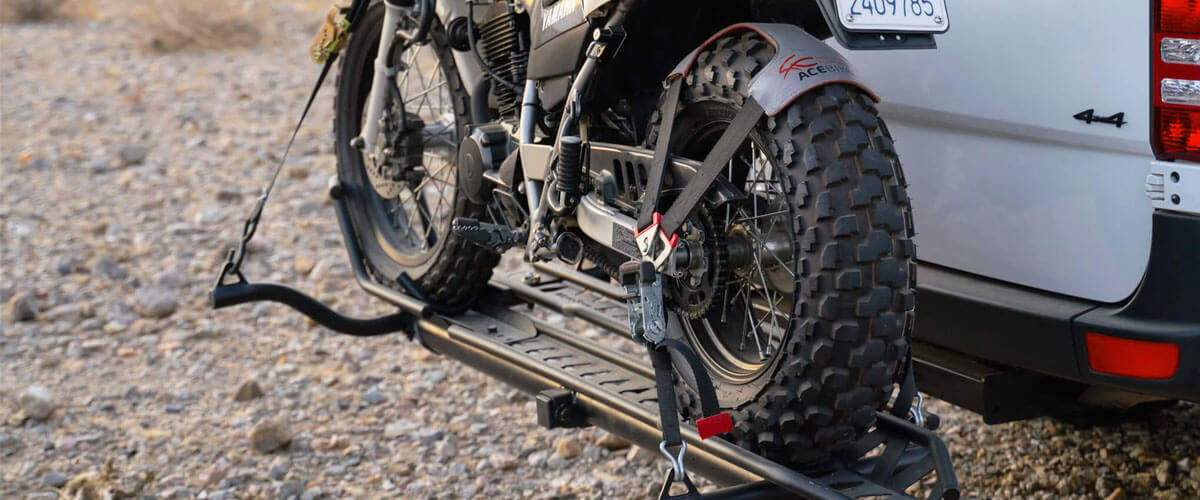 Now, I want to shed light on the importance of understanding certain factors when selecting tie-down straps. Trust me, it's important for a safe and worry-free ride!
Strength and load capacity
Load capacity refers to the maximum weight the motorcycle's soft straps can support without compromising integrity. I highly recommend choosing straps with a sufficient weight capacity to securely hold your motorcycle during transportation.
Consider your motorcycle's weight and any additional accessories or luggage that will be secured. Add up the weights of these items to determine the total load the straps need to support.
Strength ratings are often expressed as the working load limit (WLL) or breaking strength. The WLL represents the maximum load the straps can safely support in normal use, while the breaking strength indicates the point at which the straps can fail.
The breaking strength, also known as the maximum breaking strength (MBS), refers to the force required to break the tie-down straps. It's a critical safety factor that measures the straps' ultimate strength under extreme conditions. Opt for straps with a high breaking strength to withstand unexpected stresses and maintain their integrity.
Hooks and attachment mechanisms
To make your decision easier, I've prepared a short table:
| Hook/Attachment Mechanism | Benefits | Considerations |
| --- | --- | --- |
| S-hooks | Simplicity and ease of use | Potential for scratches or damage |
| J-hooks | Secure attachment, reduce risk of detachment | Potential for scratches or damage |
| Soft Loops | Minimize risk of scratching or damage | Requires additional steps for attachment |
| Carabiner Hooks | Convenience and versatility | Potential for scratches or damage |
| Ratchet Straps | Excellent tension control, reliability | May come with hooks that require caution |
Remember, regardless of the attachment mechanism you choose, always prioritize the protection of your motorcycle's surfaces. Utilize protective measures like soft loops or padded sleeves to minimize the risk of scratches or damage during transportation.
Best tie down straps for motorcycle review
As an avid biker and gear tester, I've run my fair share of securing belts through the gauntlet. Among them, the Rhino USA stands head and shoulders above the rest! These straps aren't just dependable – they've shown me what it means to be the best tie-down straps for motorcycles.
Their impressive 1,823lb max break strength let me rest easy, knowing my trusty ride was securely fastened for the haul. The anodized ratchet and ergonomic padded handles were a blessing, turning what's usually a muscle-cramping chore into a smooth operation. I found the coated full-bend S hooks to be a stroke of genius, providing a secure grip on my cargo without threatening to scratch or damage my gear.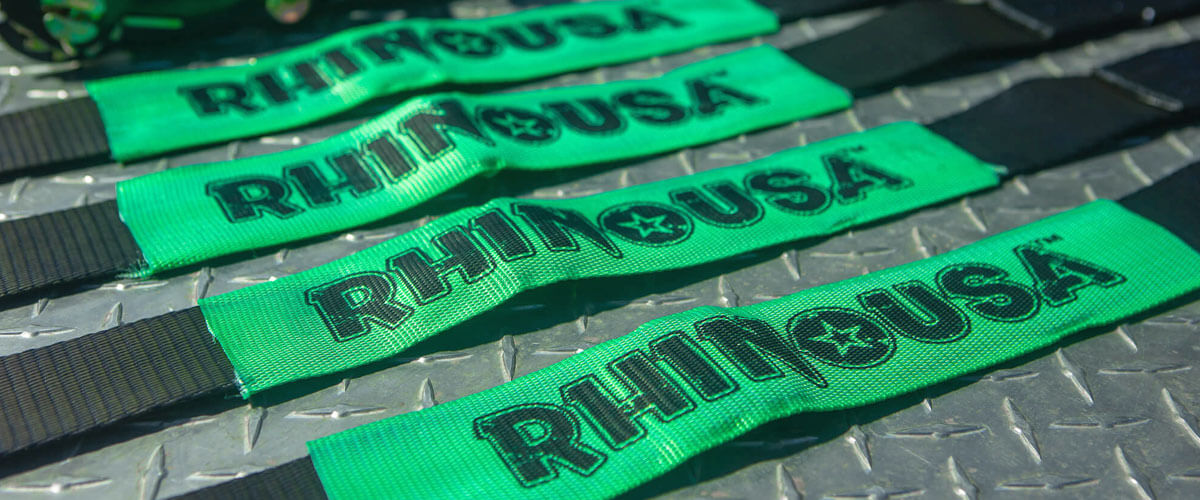 The straps' superiority comes not just from their robust construction but from the peace of mind they offer. I had to navigate some seriously sketchy back roads once, but my motorcycle didn't budge an inch, sitting tight like a champ.
Rhino USA is a family-run business, and you can feel the touch of care and dedication in their products. There's a lot to love about these tie-down straps, and their quality speaks volumes about why they're my top pick. In a sea of tie-down options, the Rhino securing belts aren't just floating – they're surfing the waves.
Key specs
Material: alloy steel, polypropylene, rubber.
Vehicle type: motorcycle, ATV, kayak, lawn equipment, general cargo, furniture, boxes.
Load capacity, lbs/kg: 607/275.
Tensile strength, lbs/kg: 1823/826.
Pros
Sturdy and reliable.
Come with Velcro fasteners, useful for preventing fraying and keeping additional strap lengths organized.
Offer versatility with options to use either hoops or hooks.
The kit has everything needed for strapping down motorcycles or other cargo and includes a case for easy storage.
Cons
No convenient method is included for securing the loose ends of the straps from flapping in the wind.
Rhino Soft Loop Tie-Down Straps – for sport bike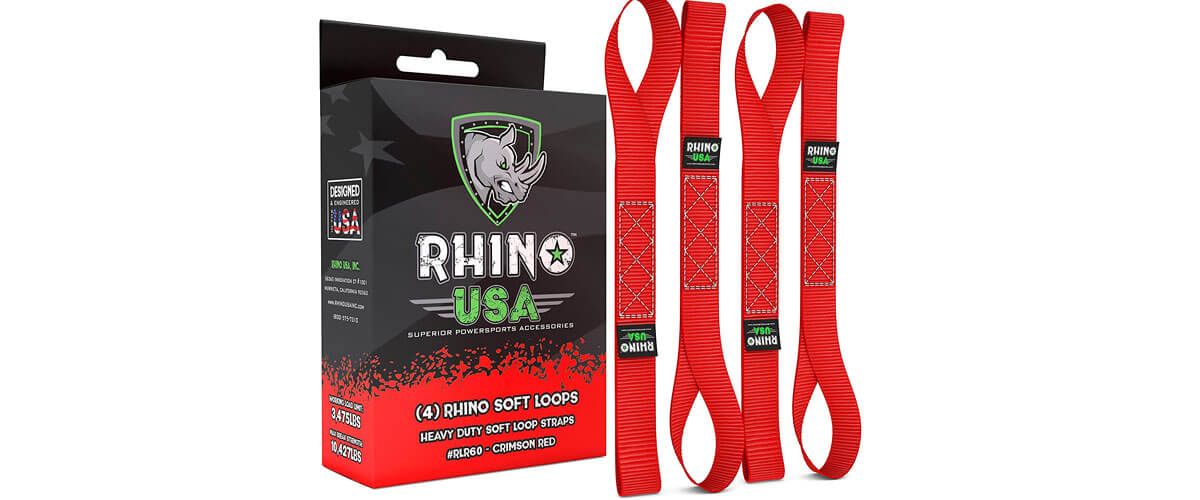 When it comes to securing a sport bike, you don't want to mess around with just any old harness. That's where Rhino struts onto the stage again! With an eye-popping 10,427lb max break strength, they're undoubtedly the sport bike tie-down straps you need in your toolkit.
As a sport bike enthusiast myself, I've got a special appreciation for these beauties. They're made from exclusive Poly/Silk webbing, making them the softest yet toughest straps around. No more worrying about scratches or dings on your pristine machine – these soft loop tie-down straps treat your bike with the respect it deserves.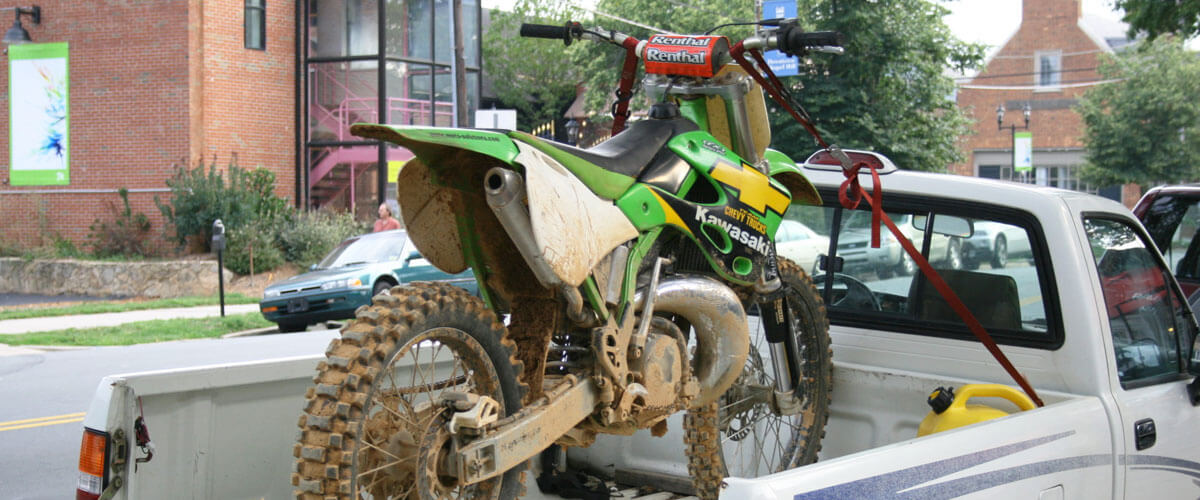 Now, the straps do need existing tie-down points, which could be a hiccup for some setups. But with a little creativity, you can find ways around it. For instance, using an extra pair of soft loops can expand your anchoring options.
To wrap things up, these Rhino straps are the best motorcycle straps for sport bike owners who need a heavy-duty, paint-friendly solution for securing their precious rides during transportation.
Key specs
Material: stainless steel, poly/silk webbing.
Vehicle type: motorcycle, ATV, UTV.
Load capacity, lbs/kg: 3475/1576.
Tensile strength, lbs/kg: 10427/4729.
Pros
Durable and well made, capable of holding substantial loads.
Safe for use with delicate items, as the soft loops don't cause scratching like some hook systems.
Aesthetically pleasing and easy to use.
Have a handy and functional storage bag for easy organization.
Cons
The straps might loosen over time.
Augo Ratchet Tie Down Straps – heavy duty motorcycle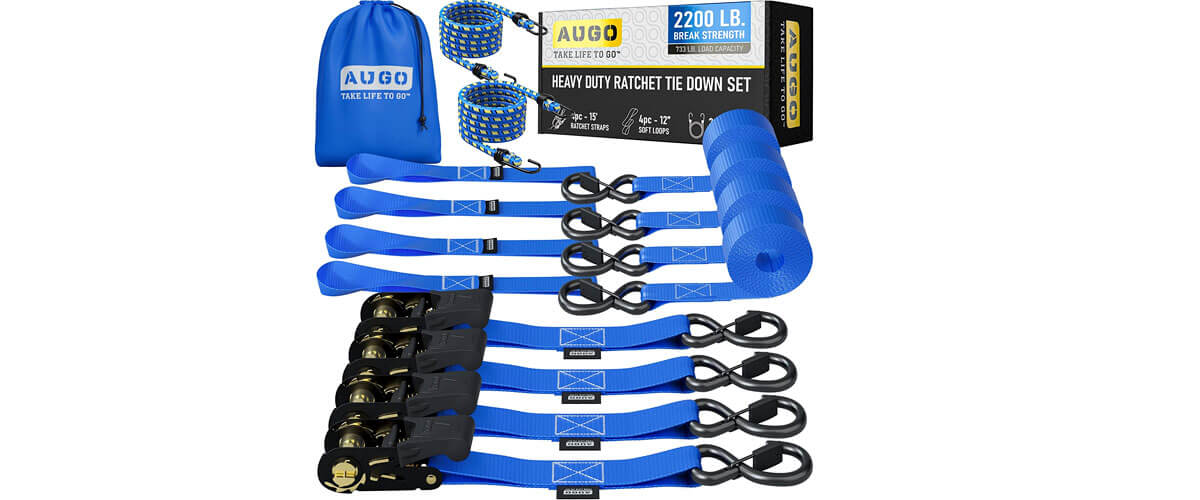 Have you got a heavy-duty motorcycle that's giving lesser straps a run for their money? The Augo Ratchet Tie Down Straps are your answer! When I tested them, they really pleasantly surprised me and even exceeded my expectations.
The straps offer a formidable 2,200-pound break strength, confidently securing even the heaviest motorcycle. Their rubber-coated S hooks, equipped with a safety lock, held my bike in place, and even when I gave it a shake test, the Augo straps didn't flinch.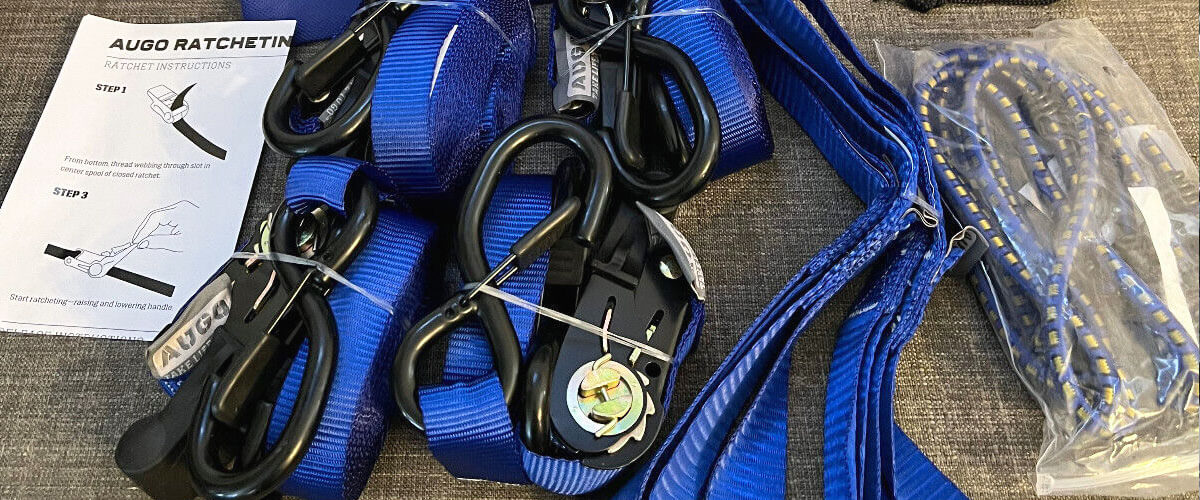 Now, I must mention while the S hooks are designed to protect against damage, they can potentially scratch surfaces if not positioned correctly. But a bit of mindful placement and perhaps adding some soft loops to the mix can easily combat this minor hitch.
As for versatility, the Augo proved itself as a multi-talented addition to my gear. Included bungee cords and soft loops are perfect for securing additional stuff or creating alternative tie-down points.
So, if you've got a heavy-duty motorcycle that's been defying your current belts, give Augo straps a whirl. They're not just sturdy – they're the best ratchet straps for heavy-duty motorcycles!
Key specs
Material: steel, rubber.
Vehicle type: motorcycle, canoe, kayak, atv, boxes, boats, furniture, lawn equipment, heavy machinery, other cargo via truck bed, trailer or roof rack.
Load capacity, lbs/kg: 733/332.
Tensile strength, lbs/kg: 2200/997.
Pros
Maintain the tension during transportation and do not require constant retightening.
Equipped with hooks that have security latches, adding a layer of protection and preventing them from coming off the anchor point.
Great visibility of the straps due to bright colors.
Cons
No included Velcro ties to hold the straps after they're wound up for storage.
More suitable for experienced users than beginners.
Pro Taper Tie Down Straps – for dirt bike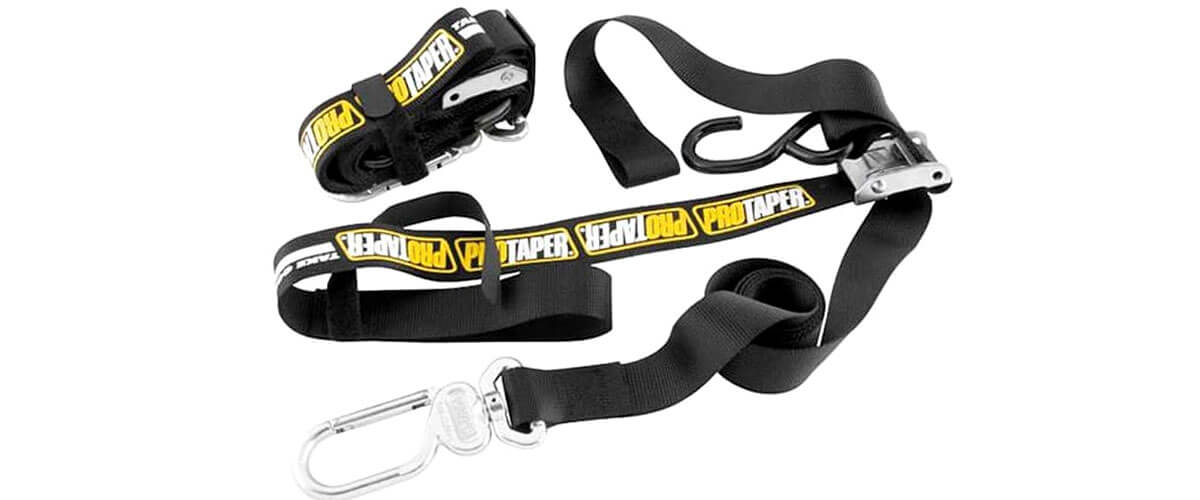 And we move on to the next model, which also happened to be on my list for a reason. These fellas pack a punch with their patented swivel carabiner base hook and a whopping 1200-pound tensile strength.
The buckle fastener type made securing and releasing the straps a breeze. However, it's worth noting that they might not be the right fit if your anchor points are far apart. In such cases, consider adding some extension straps into the mix.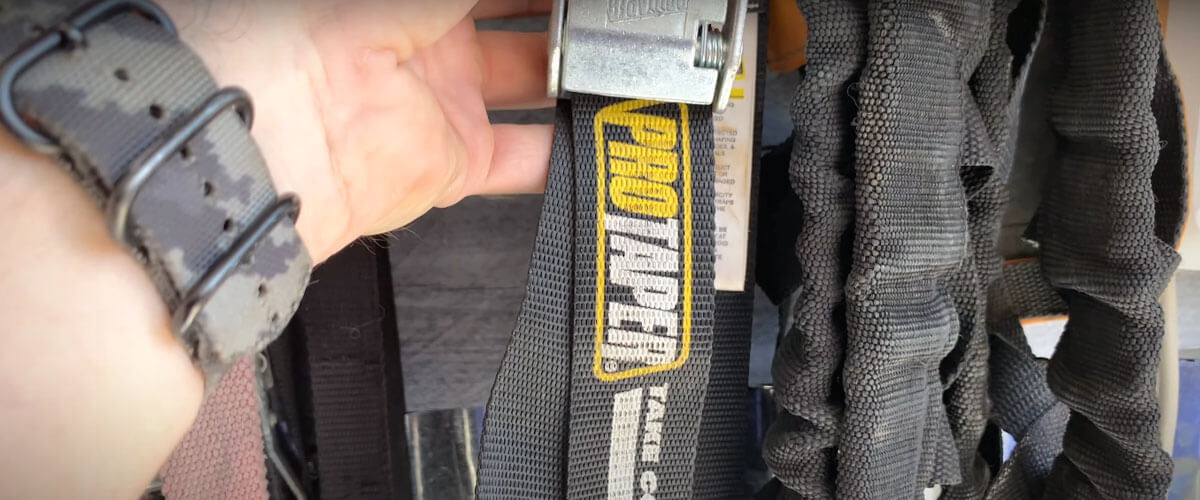 What stood out to me was their stainless steel construction. Rust? Not on their watch.
For dirt bike tie-down straps, these are your reliable trail companions. They hold tight, ride light, and let you focus on nailing those dirt jumps.
Key specs
Material: stainless steel, nylon.
Vehicle type: all terrain vehicles, utility vehicles, street sport motorcycles, off road motorcycles, street cruiser motorcycles, street touring motorcycles, street motor scooters, snowmobiles marine personal craft.
Load capacity, lbs/kg: 600/272.
Tensile strength, lbs/kg: 1200/544.
Pros
Heavy duty and secure.
Easy to use.
You can use a hook or a loop of webbing.
Cons
Somewhat short, which may limit the straps' versatility.
The white/yellow paint on the straps tends to wear off over time.
AceBikes TyreFix – wheel strap
Sometimes it's better to focus where the rubber meets the road. AceBikes TyreFix gets this spot on. With a great design that holds your tires instead of compressing your suspension, these bad boys offer an effective motorcycle wheel strap system.
The special friction material ensures your tires stay put, no matter how rough the road gets. While it's specifically constructed to suit all tire sizes, ensure your tire profile fits well with the straps for an optimal hold.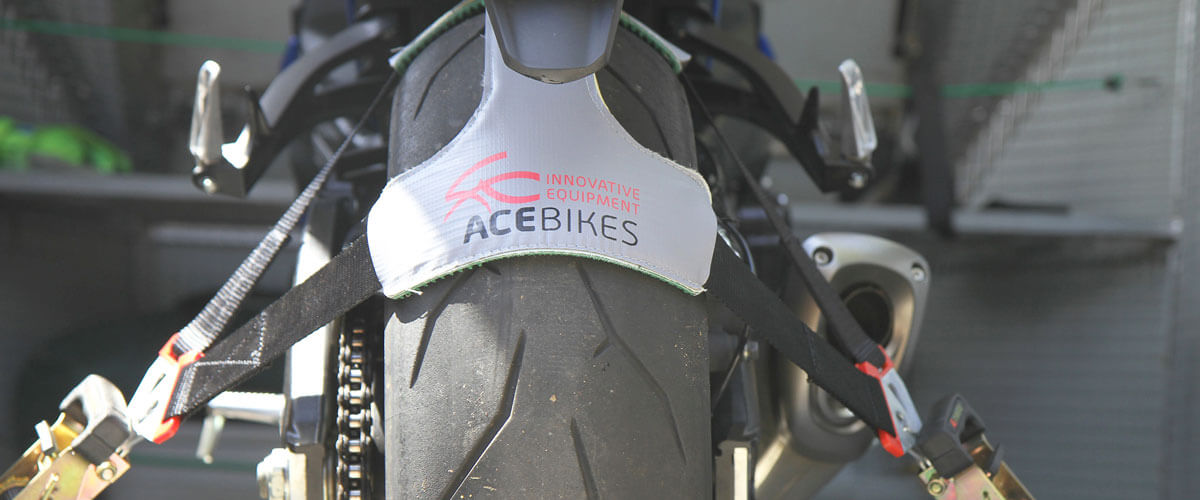 I love the carrying case with a handy zipper and handle – a sweet bonus that makes storage a piece of cake.
The AceBikes TyreFix is a top contender for the best motorcycle tie-down system if you're all about preserving your bike's suspension during transport. Because let's face it, when the journey is just as important as the destination, you need gear that's on your side.
Key specs
Material: stainless steel, kevlar, polyester.
Vehicle type: motorcycle.
Load capacity, lbs/kg: 562/254.
Tensile strength, lbs/kg: 1124/509.
Pros
More solid and reliable than traditional straps.
Helps soak up jarring bumps during transportation, thereby reducing stress on the bike's suspension.
Intuitive and easy to use, with no instructions required.
Cons
May not work as well or fit properly on certain types of bikes, such as those with a specific axle layout or a mono-shock type bike.
May not fit back into the carrying case in the same way after initial use.
More expensive compared to straps.
What to look for in motorcycle tie-down straps?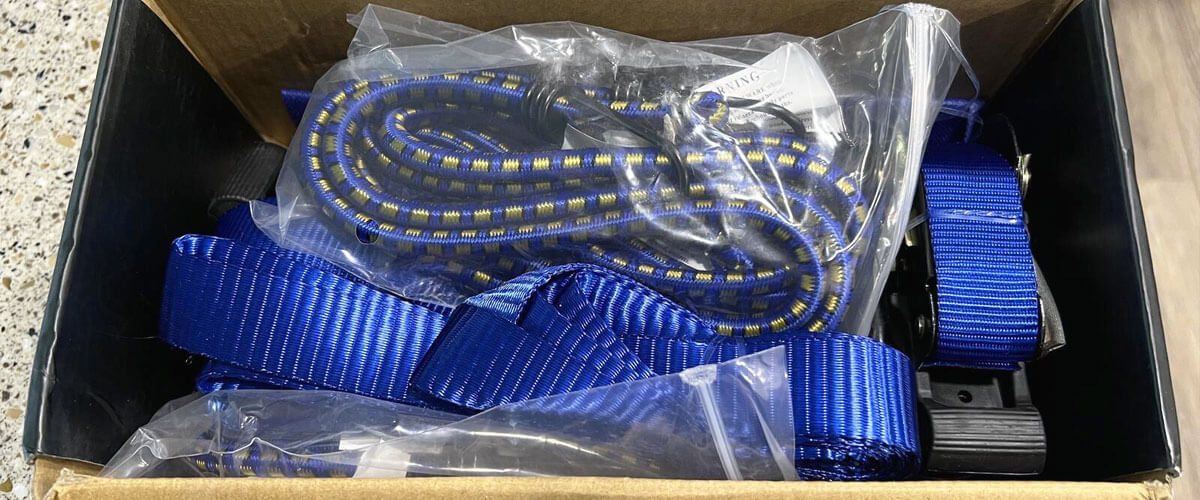 When selecting the straps to tie down your motorcycle, there are a few essential aspects to consider. Let's dive right in and explore what you should look for to ensure a secure and worry-free transportation experience.
Material and construction
Firstly, let's discuss the material. Look for motorcycle tie-downs made from durable and weather-resistant materials like nylon or polyester. These materials offer excellent strength and withstand harsh conditions, ensuring your bike remains securely fastened during transport.
Next, consider the construction of the tie-down straps. Opt for straps with reinforced stitching and sturdy buckles or hooks. Reinforced stitching adds extra strength, preventing any chance of the straps tearing or coming apart under tension. Sturdy buckles or hooks should be made from robust metals such as steel or aluminum, guaranteeing a reliable and long-lasting connection.
Strap design
Now, it's time to consider three main types of belt constructions and their features.
Ratchet straps are a popular choice among riders due to their strong and reliable nature. These motorcycle tie-down systems provide excellent tension control, ensuring your motorcycle stays firmly in place. However, they can be bulky and may take time to set up properly.
Cam buckle motorcycle straps are lightweight and user-friendly. They are ideal for smaller motorcycles or when you need a simple and efficient tie-down solution. However, they may not offer the same level of strength and durability as ratchet straps.
Combination straps offer optimal balance. They typically feature a ratchet mechanism on one end and a cam buckle on the other. Combination motorcycle trailer straps are suitable for a wide range of motorcycles and attachment points.
Each motorcycle towing straps design has pros and cons, and choosing the right one depends on your bike and the type of attachment points you'll be using. I'll give some hints to make it easier for you to choose:
Ratchet straps are great for larger motorcycles and when you need maximum tension control.
Cam buckle straps are perfect for smaller bikes and when you prioritize simplicity and ease of use. They are generally more affordable than ratchet straps.
Combination straps are versatile and suitable for various motorcycle types and attachment points.
Length and adjustability
One key consideration is the length of the tie-down straps. The size of motorcycles varies greatly, and each belt type requires a special approach for proper fixation. But remember that a longer strap allows you to effortlessly accommodate larger bikes and different lashing needs. It ensures that you can reach anchor points without struggling or compromising the integrity of the strap.
But that's not all. Adjustable shoulder straps are another game-changer. These nifty features provide precise tension and a snug fit, allowing you to tailor the strap to your bike's dimensions. With adjustable shoulder straps, you can achieve the perfect amount of tension, preventing any unnecessary movement or slippage during transportation.
Versatility
Did you know that the benefits of tie-down straps extend beyond motorcycles? Yes, you heard it right! Seat belts, which are essentially a form of tie-down straps, can be repurposed to secure various types of cargo and equipment.
Imagine you're planning a camping trip and need to transport a bulky tent or some outdoor gear. A high-quality tie-down kit with adjustable features and adaptable hooks will be your good friend. It can be easily adjusted to accommodate different sizes and shapes, ensuring a secure and stable hold.
With the ratchet tie downs mechanism, you can effortlessly tighten the straps and achieve maximum tension, regardless of the cargo or equipment you're securing. Need to secure a kayak, furniture, or even a lawnmower? Ratchet straps have got you covered!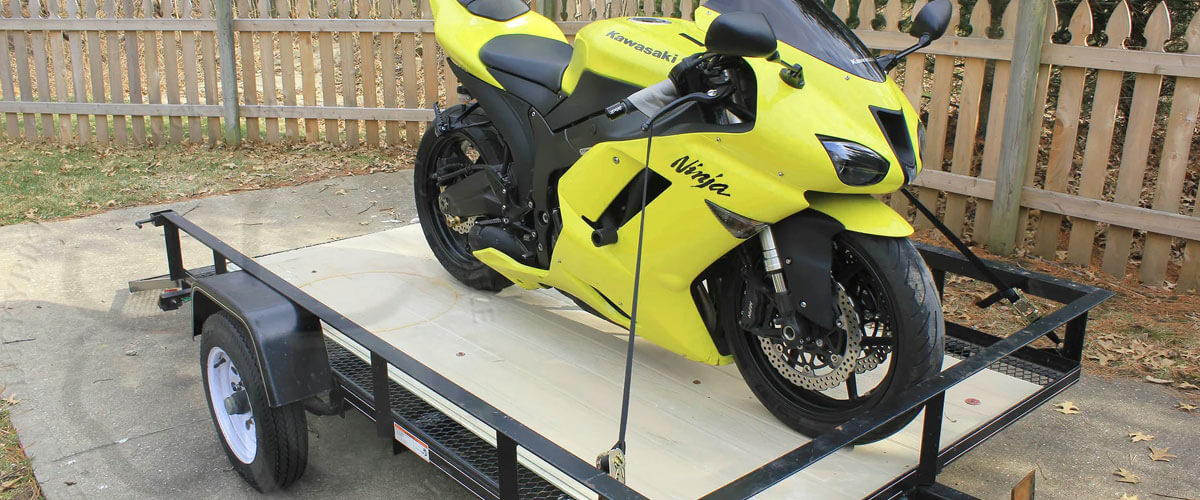 Compatibility with motorcycle types
Sports bikes typically have a more streamlined frame, so you'll want straps with narrow and angled hooks to securely attach to their frame or handlebars. For cruisers with wider frames, hooks with a broader design are preferable.
Adventure bikes and off-road motorcycles require special consideration. These motorcycles often feature additional accessories like crash bars or luggage racks. Look for tie-down hooks with adjustable lengths and versatile attachment points to accommodate these unique features.
Additional security measures
When searching for the perfect option, watch for features like built-in locks or locking mechanisms. These can provide an extra layer of safety by preventing unauthorized access or accidental release.
To further safeguard your bike, look for anti-theft measures or designs that deter tampering or removal. Some straps incorporate reinforced stitching, tamper-resistant buckles, or even integrated alarms to alert you of unauthorized interference.
Maintenance and care tips
Sure! Here's the HTML code for a `div` with the class `table-responsive` that contains a `table` with the class `table table-bordered` and the content you provided:
| Maintenance Task | Frequency | Conditions |
| --- | --- | --- |
| Regular Inspection | Before each use | Check for signs of wear, cuts, abrasions, or damage. Examine seams, hooks, and buckles for tension or looseness. |
| Cleaning | Regularly | Remove dirt, debris, and substances that hinder performance. Use mild soap or strap cleaner, as per the manufacturer's recommendations. Gently scrub with a soft brush or cloth, paying attention to soiled areas. Rinse thoroughly and air dry before storing. |
| Avoid Excessive Exposure | Always | Limit exposure to sunlight, extreme temperatures, and harsh weather conditions. Prolonged exposure can degrade the material and reduce strength. Store in a cool, dry place away from direct sunlight and temperature changes. |
| Lubrication | Periodically | Apply silicone-based lubricant to moving parts of the ratchet or buckle for smooth operation. Avoid petroleum-based lubricants, as they may damage the strap material. |
| Replacement | As needed | Replace straps showing significant wear, damage, or loss of strength. Regularly monitor their condition and follow the manufacturer's recommendations for replacement intervals. |
Remember to refer to the manufacturer's guidelines for more specific recommendations!
FAQ
Why do I need specialized tie-down straps for motorcycles?
Motorcycles have unique shapes and vulnerabilities, and regular straps may not offer support or protection. Motorcycle tie-down straps are equipped with features like soft loops, built-in hooks, and adjustable lengths to ensure a snug fit and prevent damage to your bike.
Are there different types of tie-down straps for different types of motorcycles?
Yes, there are different types of tie-down straps for motorcycles. For example, dirt bikes require specific techniques and straps for proper securement. You can find a
detailed guide on how to tie down a dirt bike here
. It's important to choose straps suitable for your motorcycle's weight, size, and transport conditions to ensure safe and reliable transportation.
How many tie-down straps do I need to secure my motorcycle properly?
The number of tie-down straps you need depends on the size and weight of your motorcycle, as well as the type of transport vehicle. I recommend using at least two tie-down straps to secure the front and rear of the motorcycle. This provides balanced support and prevents unnecessary movement during transit. However, additional straps may be necessary for larger or heavier motorcycles to ensure optimal stability and safety.
What is the difference between ratchet straps and cam buckle straps?
Ratchet straps have a ratcheting mechanism that allows for precise and controlled tightening. They typically have a higher load capacity and are ideal for securing heavy motorcycles. Cam buckle straps use a lever and teeth system to secure the strap in place. They are generally lighter and more compact, making them convenient for storage and transportation. For a more detailed comparison between cam straps and ratchet straps, you can check out
this link
.