As someone who has enjoyed riding motorcycles for a long time, I know how essential it is to have the right gear to keep you protected and comfortable on the road. A motorcycle jacket is one of the most important parts of gear you'll need.
However, nowadays, with so many various types of motorcycle jackets on offer, it can be not only tiring but also very difficult to choose the right one. That's why I'm excited to share with you this overview, which will provide information about motorcycle clothes, as well as tips on selecting the jacket following all your needs.
So, whether you're a seasoned rider or just starting out, this guide will help you find out what a motorcycle jacket is and choose the perfect one for your next adventure!
Riding style
After over 20 years of motorcycle riding, I've realized how much your riding style affects your gear choices. Different riding styles require different motorcycle clothing styles to maximize comfort, protection, and performance.
But before we delve into this topic, let's see which bikes are most suited for each type of riding:
| Type of riding | Suitable motorcycle |
| --- | --- |
| Sport | Supersport, sports standard, sport touring |
| Touring | Touring, sport touring, cruiser, adventure touring |
| Adventure | Dual sport, adventure, enduro |
| Cruiser | Cruiser, chopper, bobber |
Please note the suitability of a particular motorcycle for a specific type of riding may vary depending on various factors such as the rider's skill level, personal preference, and intended use. Additionally, some motorcycles can cross over multiple riding types, and variations within each category may affect suitability.
Sport riding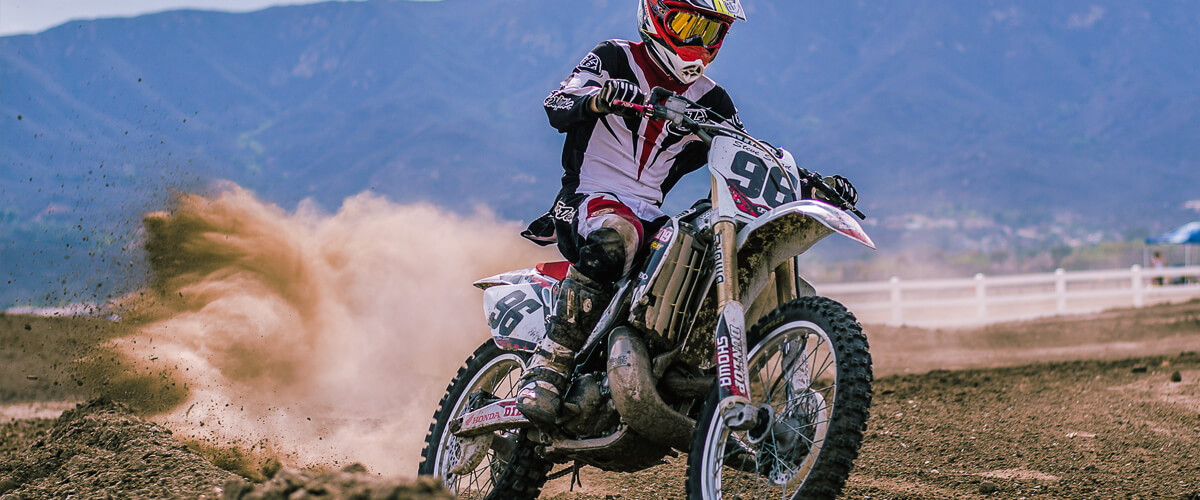 Sport riding pertains to the fast and aggressive use of sportbikes. Athletic riding jackets are typically snug, streamlined, and light, with sleeves and shoulders pre-shaped for maximum flexibility, ventilation to maintain comfort during rigorous riding, and defensive components like shock-resistant armor and sturdy seams.
A one-piece biker suit is often the most optimal choice for sport motorcycle riding. This is because a one-piece suit offers full-body protection and is less likely to shift or move around in case of an accident. Additionally, it can help streamline your body and reduce wind resistance, which can improve your speed and performance.
Here are some examples of other sport riding jacket features:
Race hump: This is a raised section of material located at the base of the neck on the back of the jacket. This feature helps improve aerodynamics and stability when racing.
Perforations: To improve ventilation and airflow during intense riding, many riding jackets feature perforated leather or textile inserts.
Stretch panels: Typically made of spandex or nylon, stretch panels are strategically placed on performance jackets to improve flexibility and range of motion. This allows the rider to move more freely on the bike and maintain a more comfortable, natural riding position.
Removable linings: Some riding jackets may have removable linings, such as thermal or waterproof linings, that allow the rider to adjust the jacket for a variety of weather conditions.
Elastic cuffs: Elastic cuffs are often used on athletic riding jackets to help keep the sleeves securely in place when riding at high speeds.
Touring riding
The tour typically consists of riding a motorcycle for extended periods, sometimes spanning days or weeks. Touring jackets, which are typically comfortable, protective, and functional, are often attributed with additional storage options, longer sleeves, and torso for better coverage. In addition, many of them feature waterproof or water-resistant materials and removable liners for temperature regulation.
Other characteristics that touring jackets may possess include:
Multiple pockets: These models frequently feature several pockets, located both inside and outside, that can be used to keep essentials like cards, wallets, or mobile devices.
Touring linings: In some cases, touring jackets are equipped with special linings that offer additional protection and comfort during long trips. These linings may be thermal or waterproof.
Reflective elements: To enhance visibility and safety while riding in low light conditions or at night, hiking jackets may include reflective materials or details.
Adventure riding
Adventure motorcycle riding can be an exhilarating experience, but it requires proper gear to stay safe and comfortable on the road. Jackets designed for such riding are typically versatile and durable, often incorporating materials such as Cordura or Kevlar for abrasion resistance, ventilation for airflow, and protective features such as armor and impact protection.
In addition to the aforementioned features, adventure riding jackets may have several other additional functions:
Adjustable protection: Some adventure riding jackets have adjustable protection in key impact zones such as shoulders and elbows, allowing the rider to adjust the level of protection based on riding conditions.
Removable sleeves: Some models have removable sleeves, allowing the rider to convert them into a vest for better ventilation and flexibility in hot weather or off-road riding.
Adjustable fit: They may have adjustable straps or zippers that allow the rider to adjust the fit of the jacket for optimal comfort and protection.
Cruiser riding
A cruiser ride is expected to be a calm and unhurried experience. Typically, cruiser jackets exhibit a classic retro style that emphasizes comfort and fashion, utilizing materials such as leather for sturdiness and safeguarding and incorporating custom-fitting features like zip cuffs and waist adjusters, as well as ornamental aspects like fringes or studs.
Moreover, there are other features that cruiser jackets can possess, including:
Distinctive design features: Such models frequently showcase unique design characteristics like fringes, embroidery, or patches that reflect the wearer's individuality and personal style.
Collar and lapels: Many cruiser motorcycle outfits have broad collars and lapels that can be rolled up to provide additional warmth and protection during chilly weather.
Concealed carry pockets: Certain models have interior pockets specially designed to carry concealed firearms or other items such as a wallet or phone.
Zip sleeves: Cruiser moto racing jackets may feature zip sleeves that allow the wearer to easily adjust the jacket's fit and increase ventilation.
Side lacing: Some pieces come with side lacing that enables the wearer to modify the jacket's fit to their body shape and size.
Material
Choosing the right material for your motorcycle suit is crucial for your safety and comfort on the road. So it's important to consider factors like weather conditions, riding style, and personal preference before making a decision. That's why I have prepared a short list of the most used materials in producing motorcycling clothes.
Leather
When it comes to riding gear, there is a constant comparison of "leather vs. textile motorcycle jacket". In most cases, the winner is leather. And for a good reason! Due to its durability and protective properties, leather is a traditional material for motorcycle jackets. These jackets are highly resistant to abrasions and provide dependable protection against harsh weather conditions. Cowhide, goat, or buffalo leather is typically used to construct these jackets. In addition to their resilience, leather jackets have a timeless appearance and mold to the rider's body over time for a comfortable fit.
Nevertheless, leather jackets may have some drawbacks. For example, they can be quite heavy and can become rigid or uncomfortable in hot weather or on extended journeys.
Textile
Many riders favor motorcycle jackets made from textiles like Cordura, Kevlar, or Nylon because of their lightweight and breathable properties. Compared to leather, they are also typically more cost-effective, adaptable to various riding styles, and comfortable to wear in hot temperatures with better ventilation. Although this material is not as durable as leather, textile jackets still provide a degree of abrasion resistance. Moreover, they are often more convenient to maintain and machine washable.
Mesh
Mesh materials are often used in motorcycle jackets due to superior ventilation and breathability. Such models typically feature expansive perforated panels that facilitate maximum airflow, rendering them a suitable option for riding in hot weather conditions. They are often made from lightweight synthetic materials and can be tailored to various riding styles. However, it's important to note that mesh jackets offer less protection than leather or textile products. Therefore, they are not appropriate for riding in cold weather or for providing protection against harsh weather conditions.
Hybrid
A hybrid jacket is a combination of two or more materials, such as leather and textile that integrates the advantages of each. In specific areas, a hybrid jacket can incorporate leather panels for added protection against high-impact collisions and textile or mesh inserts for flexibility and ventilation in other areas.
One of the primary benefits of such a fabric is that it is durable and long-lasting. This is essential for motorcycle gear, which is exposed to the elements and must withstand the wear and tear of riding. Plus, this material offers a great balance between flexibility and rigidity, which is essential for motorcyclists who need to move freely but also require sturdy protection. Some of them are even designed to adapt to the body temperature, meaning they can keep you warm in cold weather and cool in hot weather.
Protective features
When choosing a motorcycle jacket, it is important to consider the level of protection the jacket offers. Make sure it meets your individual safety needs and preferences.
Armor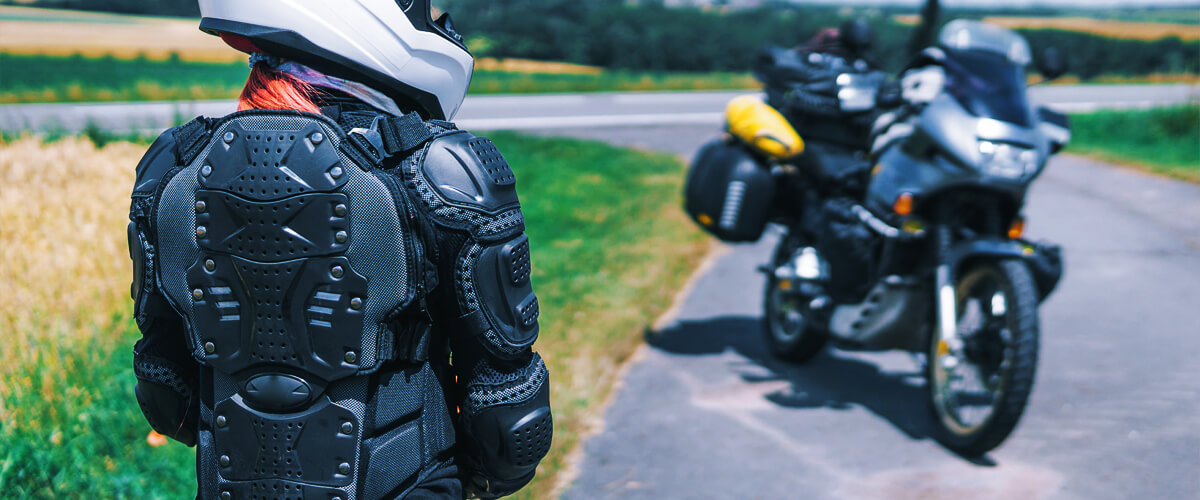 Armor is designed to absorb and dissipate the energy of an impact, reducing the risk of injury in case of an accident. It can come in various forms, including hard armor made from materials like plastic or carbon fiber or soft armor made from foam or other impact-absorbing materials. Some jackets and pants come with built-in options, while others allow you to add armor inserts for additional protection. Make sure the armor fits properly and is placed in the areas where you need it most, such as the shoulders, elbows, back, and knees.
Airbags
Airbag technology is not new, but it's only in recent years that it's become more affordable and accessible to the average rider. Essentially, an airbag system is designed to inflate rapidly in the event of a crash, providing an extra layer of protection for your torso and vital organs. While some airbag systems are standalone units that can be worn over your regular riding gear, others are integrated directly into jackets or suits. And thanks to technological advancements, airbags can now be triggered automatically through sensors that detect sudden changes in velocity or angle, rather than relying on a tether or cable to manually activate them.
Reinforced seams
Reinforced seams are an important aspect of motorcycle clothing because they provide extra strength and durability to garment areas prone to tearing in the event of an accident. With them, I feel more confident that my gear will hold up if I'm ever involved in a crash. It's a small detail, but it can make a big difference in terms of protection. So if you're in the market for new motorcycle clothing, be sure to look for garments with reinforced seams to help keep you safe on the road.
Back protector
One often-overlooked feature is the back protector, which can make a huge difference in protecting your spine in case of an accident. This is a type of armor that is designed to protect your spine and vital organs in case of an accident. It fits securely into a pocket on the back of your jacket and can be made from various materials, including foam, plastic, and even carbon fiber. A back protector offers an extra layer of protection and can also improve your posture and reduce fatigue on long rides. And with many styles and sizes available, there's a back protector out there for every ride.
CE certification
If you're in the market for new motorcycle clothes, you may have encountered the term "CE certification." But what does it actually mean? CE certification is a European standard for protective clothing that measures the garment's ability to absorb and distribute impact energy. This certification is important because it means that the clothing has undergone rigorous testing to ensure it meets certain safety standards. When you're out on the road, you want to be sure that your gear is going to protect you in case of an accident.
FAQ
Can I wear a motorcycle jacket for everyday use?
Absolutely! Motorcycle jackets can be worn for everyday use, even if you're not riding a motorcycle. In fact, many people love the style and functionality of these pieces of clothes and wear them as a fashionable and practical addition to their wardrobe. But not all jackets make sense to use every day. Heavy models with the protection you can wear only when traveling, but decorative ones can be worn daily.
How long do motorcycle jackets typically last?
The lifespan of a motorcycle jacket depends on various factors, like the quality of the material, frequency of use, and maintenance. However, a well-made motorcycle jacket can last for at least 3 years with proper care.
Can I wear a motorcycle jacket in hot weather?
Yes, you can! Many motorcycle jackets come with features like perforations or mesh panels that make them breathable and comfortable to wear in hot weather. But I would definitely not recommend wearing heavy winter models in the summer unless you use them as sun protection, of course.