As an experienced rider, I understand the importance of investing in the best motorcycle jacket with armor for safety and protection. I am sure that you understand how important this accessory is.
Riding a motorcycle is a thrilling experience that excites our hearts. The freedom of the open road, the wind in our hair, and the sheer joy of maneuvering through traffic are all part of the allure. Yet, as riders, we also know that the exhilaration comes with a responsibility to ensure our safety on every ride. That's where the best armored motorcycle jacket becomes an indispensable companion. In this review, I have collected the most exciting options on the market. I hope you find a model according to your taste and budget.
Our pick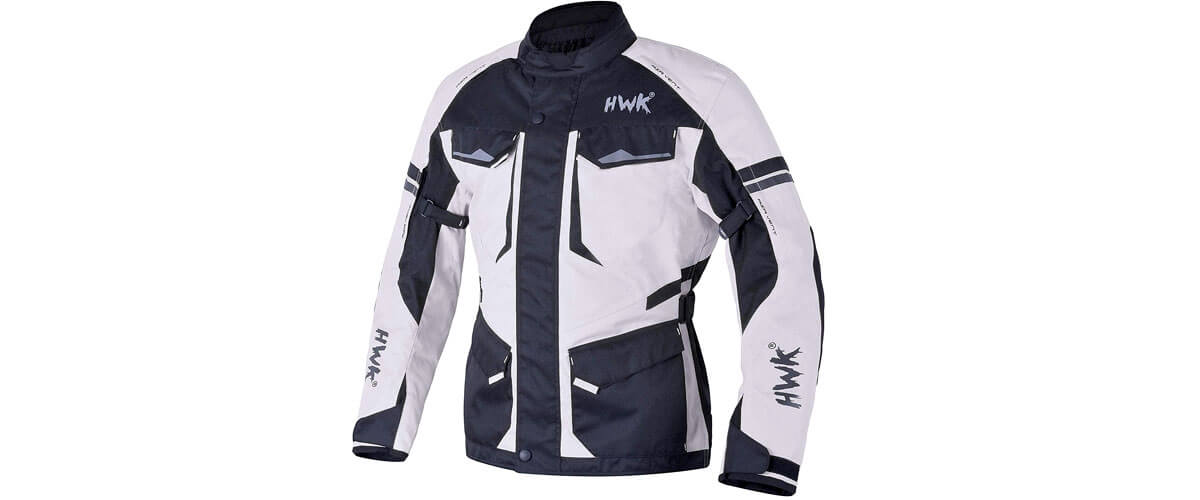 HWK Adventure
Best motorcycle jacket with armor
The HWK Motorcycle Jacket for adventure/touring with 600D Cordura textile fabric for motorbike riding and impact protection armor is great for every weather and season.
Read the full review
.
Best motorcycle jacket with armor reviews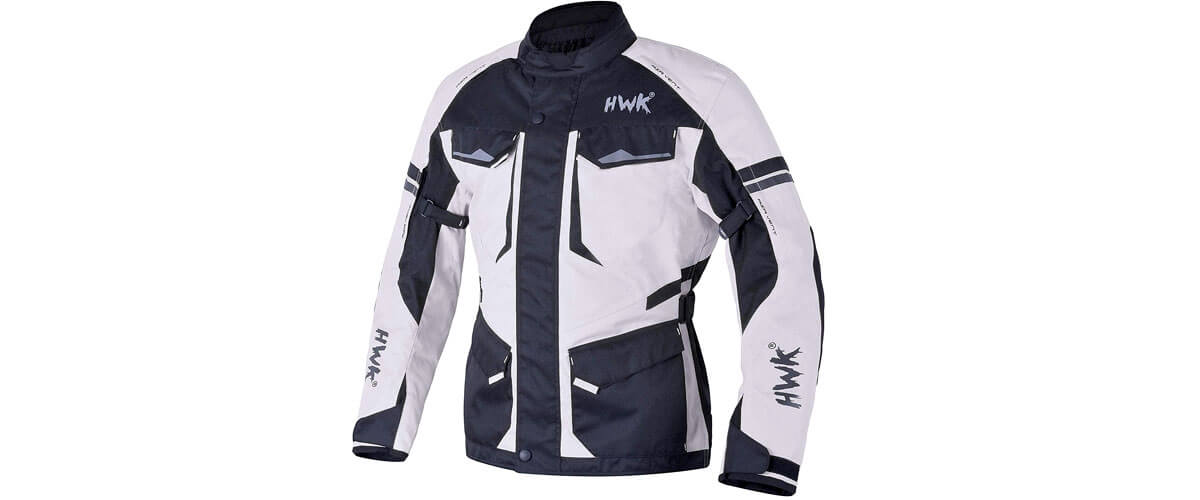 Throughout my experimentation with various armored jackets, I've explored countless terrains, and one constant companion showed itself exceptionally well during my tests—the HWK Adventure Touring Jacket. This motorcycle protective jacket has redefined my riding experiences, providing top-notch features that ensure my safety, comfort, and enjoyment on every journey.
The HWK Adventure Touring Jacket boasts an outer shell made from 600D Cordura, which has proven incredibly durable and abrasion-resistant in my adventures. Whether cruising on back roads or conquering challenging mountain trails, this jacket has held up remarkably well against various elements, providing me with the confidence I need during every ride. The soft neoprene-lined collar, armor at the shoulders, solid back protector, and adjustable waist, arms, and cuffs allow me to tailor the fit to my preference.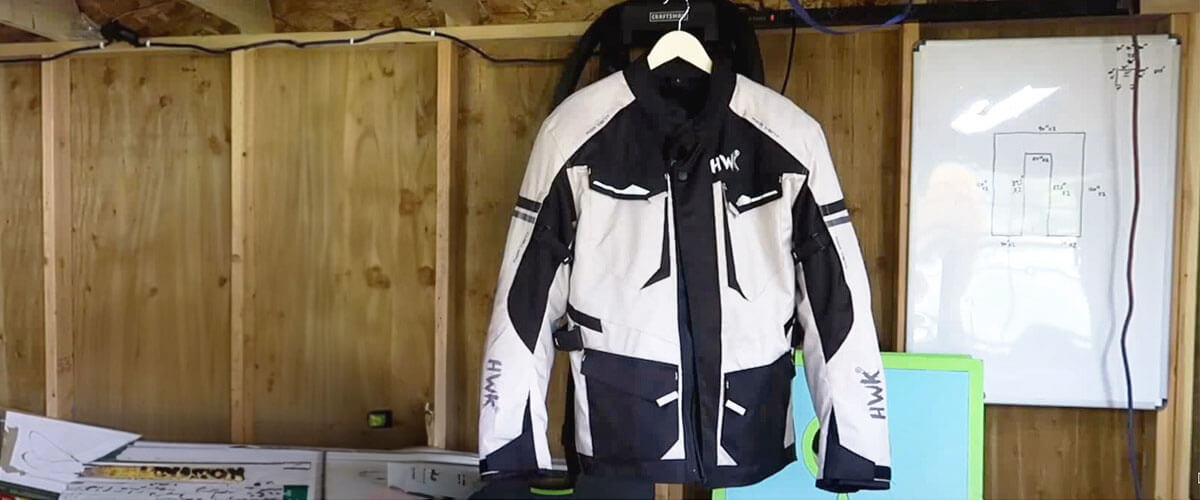 With CE-approved armor at the elbows, shoulders, and back, I feel shielded from potential impacts without compromising mobility. The reflective high-vis logos enhance visibility, especially during low-light conditions, ensuring I stand out on the road.
I've ridden through rain and wind, but this jacket has kept me dry and protected. The Reissa Water-Resistant Breathable Membrane with Insulated Thermal Liner provides an effective barrier against the elements. The jacket's ventilation system, featuring five air zips strategically placed when the temperature rises, keeps me calm and refreshed.
In conclusion, the HWK Adventure Touring Jacket is an excellent solution! It has endured numerous bumps and scrapes during my testing, yet it maintains its structural integrity, safeguarding me throughout my adventures. Its superior material and construction, protective armor, unrivaled comfort, and adaptability to various weather conditions make it a top-notch motorcycle protective jacket.
Key specs
Material: 600D Cordura, Reissa water-resistant breathable membrane with insulated thermal liner(detachable).
Protection: removable CE armor at elbows, shoulders, and back, reflective high-vis logos and design elements.
Pockets: 7-pocket design(5 velcro external, 2 internal).
Fit: adjustable.
Color: light grey, hi-vis green, black.
Size: S-M, L-5XL.
Other features: wind and water resistant.
Pros
Perfect sizing makes the jacket fit well.
The jacket has zippered "air vent" openings allowing adequate airflow during summer rides.
The impact protection armor provides an outstanding level of safety for the rider.
Ample and numerous pockets.
Cons
Wrist cuffs are not very well designed and could offer more security.
Sweltering summer days are too much for the jacket (above 110F).
Alpinestars GP Plus R V3 Rideknit Leather Jacket – for street bike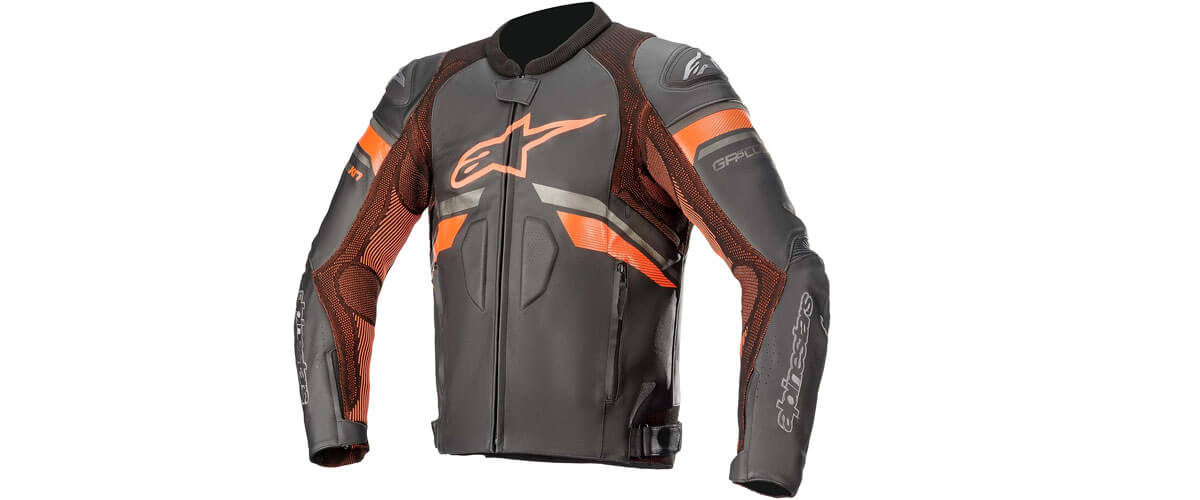 I recently tried the Alpinestars GP Plus R V3 Rideknit Leather Jacket, which has left an indelible mark on my riding journey. This street bike jacket with armor stands out among the most reliable jackets, providing a unique blend of innovation, style, and uncompromising protection.
The GP Plus R V3 Rideknit Leather Jacket feels durable and resilient from the first touch. The knitted design adds protection, a touch of sophistication, and aerodynamic efficiency to the jacket. The shapes of the jacked and carefully placed armor elements stand for fantastic riding performance, making every twist and turn on the road feel natural and effortless.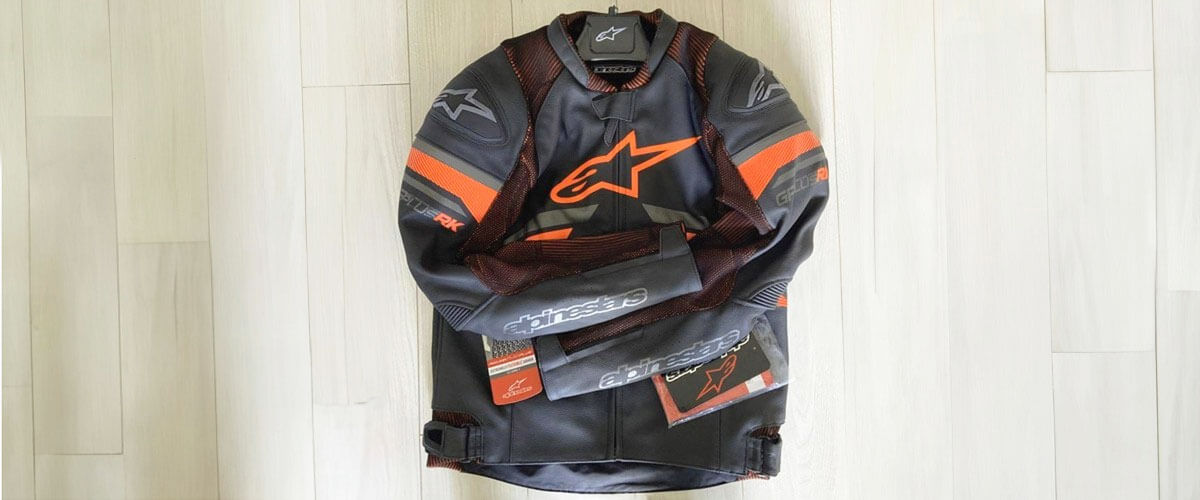 The GP Plus R V3 Rideknit truly stands out and leaves a strong impression regarding safety. It is Tech-Air 5, ready to integrate the upper-body airbag system. The Nucleon Flex Plus protection subtly incorporated within the jacket elevates its protective prowess, providing peace of mind during your adventures.
One of the standout features of this Alpinestars jacket is its well-designed inner structure that brings comfort and a feeling of security. Furthermore, the vest has cleverly placed a large mesh panel on the back of the collar. This feature kept me cool and focused, even during long journeys under the scorching sun.
The Alpinestars GP Plus R V3 Rideknit Leather Jacket offers a blend of innovation, safety, and comfort, making it an indispensable part of my riding gear. Combined with stylish looks and quality materials, this product is one of the safest motorcycle jackets on the market. Hence, I strongly recommend paying close attention to it, as this "iron skin" will provide the utmost protection in any situation.
Key specs
Material: leather, knit panels.
Protection: tech-air 5 ready; tech-air, level 1 nucleon flex plus armor on shoulder and elbow, reflective details.
Pockets: 2 front zippered pockets, 1 inner waterproof document pocket, 2 inner pockets on the liner.
Fit: adjustable.
Color: black/black, black/red fluo, black/white/bright red, black/white/bright red, black/yell fluo.
Size: 48-64.
Other features: low profile collar construction with soft lining.
Pros
Offers exceptional impact resistance and performance.
Pockets offer enough space to secure and carry essentials.
Includes inserts that reflect light, improving nighttime visibility and safety on the road.
Comes with a waterproof pocket on the inside.
Cons
Prone to scratching.
Doesn't have dedicated pockets for chest armor.
HWK Brando Jacket – leather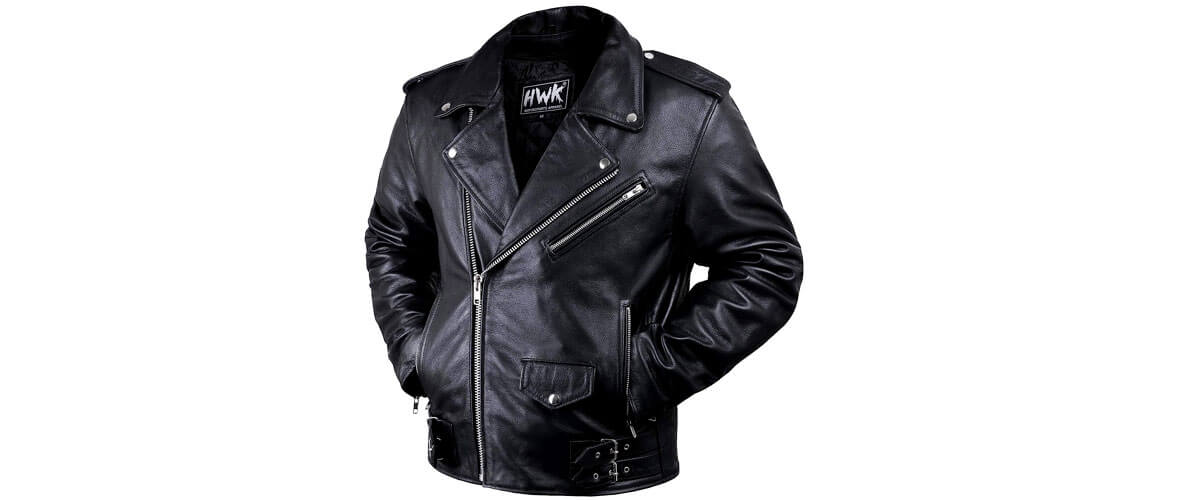 The next product in my review, just like it did in my heart, is the HWK Brando Jacket by HWK Moto. This jacket embodies style, safety, and comfort, making it a top contender among the most interesting motorcycle jackets of 2023.
Consisting of 100% Genuine Buffalo Leather with a thickness of 1.1-1.2mm, the HWK Brando Jacket exudes a rugged charm that only improves with age. The durable outer shell is abrasion resistant and offers a great level of protection from the elements.
The HWK Brando Jacket is equipped with removable CE armor. The Brando Jacket felt very comfy and sturdy when I put it on. The adjustable side waist buckles and zippered cuffs allow for a personalized fit, while the micro-polyester thermal liner keeps me cozy on chilly rides.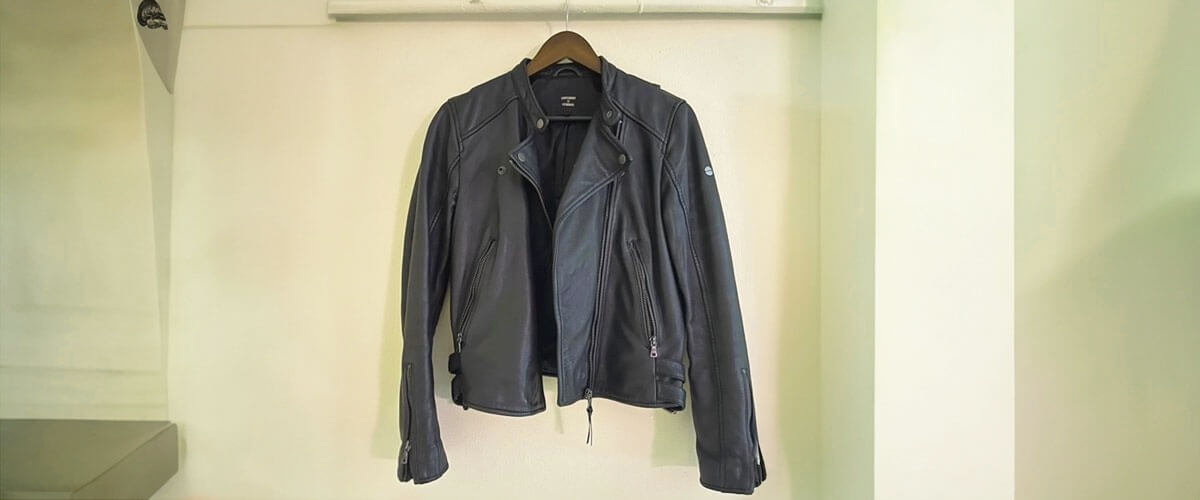 For women riders, there's also an option that doesn't compromise on safety or style – the HWK Women's Brando Jacket. In my opinion, it's the best women's motorcycle jacket with armor, offering the same protective features in a design but tailored for women. This is a real game changer because, way too often, manufacturers neglect female's gear.
I've had my fair share of encounters with unexpected obstacles, and the Brando Jacket's impact resistance has proven its worth. Both male and female versions utilize the same approach to safety and provide reliable protection without sacrificing mobility, giving me the confidence to push my limits.
The HWK Brando Jacket has exceeded my expectations in every aspect, including its attention to diversity and equality. Its timeless design, impeccable protection, and unmatched comfort make it an essential gear for any rider and one of the best leather motorcycle jackets with armor. Its weather-resistant properties keep me dry during unexpected downpours, while the ventilation system ensures I stay cool when the sun is scorching.
Key specs
Material: 100% genuine buffalo leather, micro polyester thermal liner.
Protection: removable CE armor.
Pockets: 6-pocket design(4 external zippered pockets and 2 internal pockets).
Fit: adjustable.
Color: black.
Size: S-M, L-5XL.
Other features: HWK moto pants-compatible with attachment zipper.
Pros
Features very high-quality premium materials.
Removable CE armor provides crucial impact protection to vital areas.
The inner liner made of micro polyester thermal material ensures comfort.
The product range includes HWK Women's Brando Jacket.
Cons
The jacket is currently available in a single color.
Less suitable for riding in a hot climate.
It comes in uncommon sizes.
BILT Blaze 2 Jacket – for summer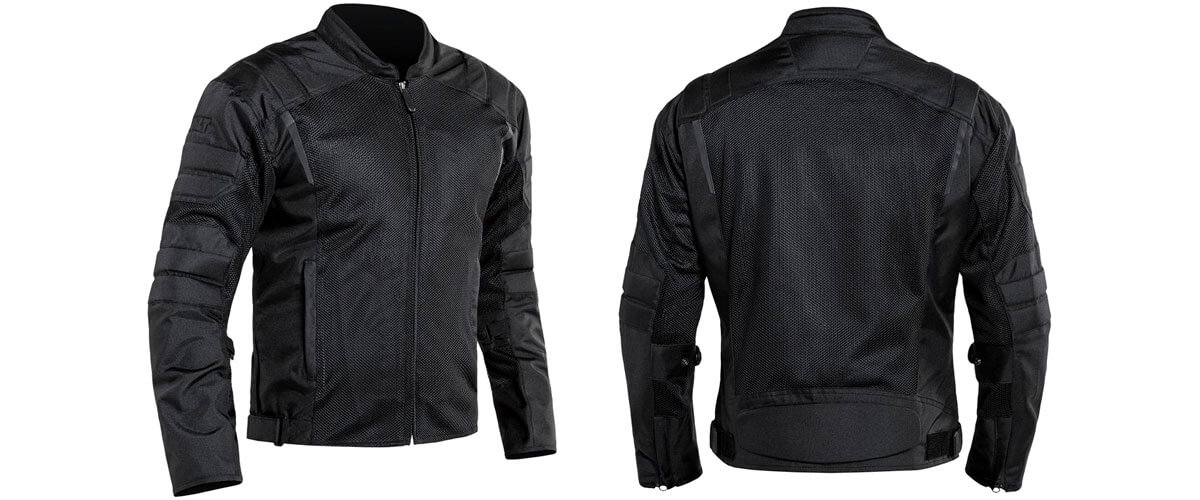 Being on the road is an unparalleled experience, and in my search for safety and comfort, I found the BILT Blaze 2 Jacket. Designed specifically for summer adventures, this model impressed me with its outstanding features and performance to the extent I brought it into this review.
The BILT Blaze 2 Jacket is made using a combination of ultra-flow mesh and 600D textile protection panels, making it an excellent choice for sweltering summer days. The airflow mesh shell allows an uninterrupted breeze. This is what makes this jacked so awesome for hot summer rides. The 600D textile panels reinforce enhanced durability, ensuring this jacket can withstand the rigors of the road.
Equipped with CE-level shoulder and elbow protection, the product offers exceptional impact protection in case of unforeseen incidents. Additionally, it comes with a space for AXIAL back protectors, allowing me to complete your suite of impact protection.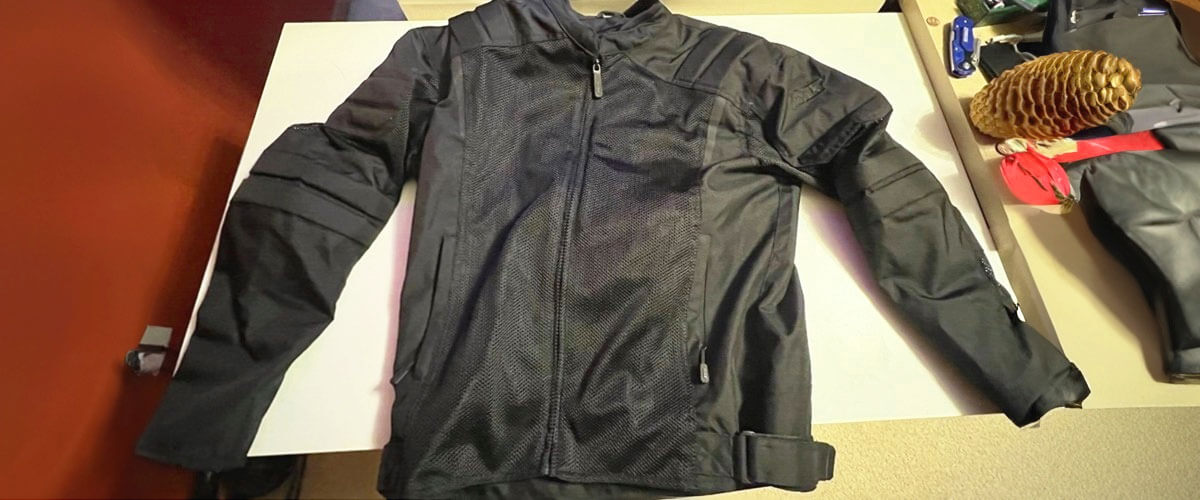 You can fine-tune the fit to suit your preferences with hook and loop waist adjustments and a sleeve adjustment system. The neoprene comfort rolled collar enhances overall comfort, making it a breeze to wear, even on extended journeys. I found the sizing to be proper to fit, but I recommend ordering one size larger if you fall between sizes.
Designed specifically for hot weather, the BILT Blaze 2 Jacket thrives in scorching conditions. The ultra-flow mesh shell enables maximum airflow, keeping you refreshed and focused, even during the hottest rides.
The BILT Blaze 2 Jacket is a great pick for any rider looking to conquer the roads during the blazing summer months. Its well-thought-out design, top-notch protective features, and unparalleled comfort make it a standout choice for warm-weather riding.
Key specs
Material: ultra-flow mesh shell, 600D textile protection panels, airflow mesh inner lining.
Protection: CE approved shoulders and elbow armor, pocket for optional AXIAL back protector (sold separately), 600D textile protection panels, reflective details.
Pockets: 2 zip entry front pockets, 1 inside zipper pocket.
Fit: adjustable.
Color: black, black/orange.
Size: SM-MD, LG-5XL, MD-LG(Tall), XL-2XL(Tall).
Other features: YKK zippers.
Pros
Convenient zip entry front pockets.
Exceptional ventilation and breathability.
Cons
Optional AXIAL back protectors are sold separately.
Loses the bulk of comfort during cold and rainy conditions.
Alpha Cycle Gear Tornado – worthy of mention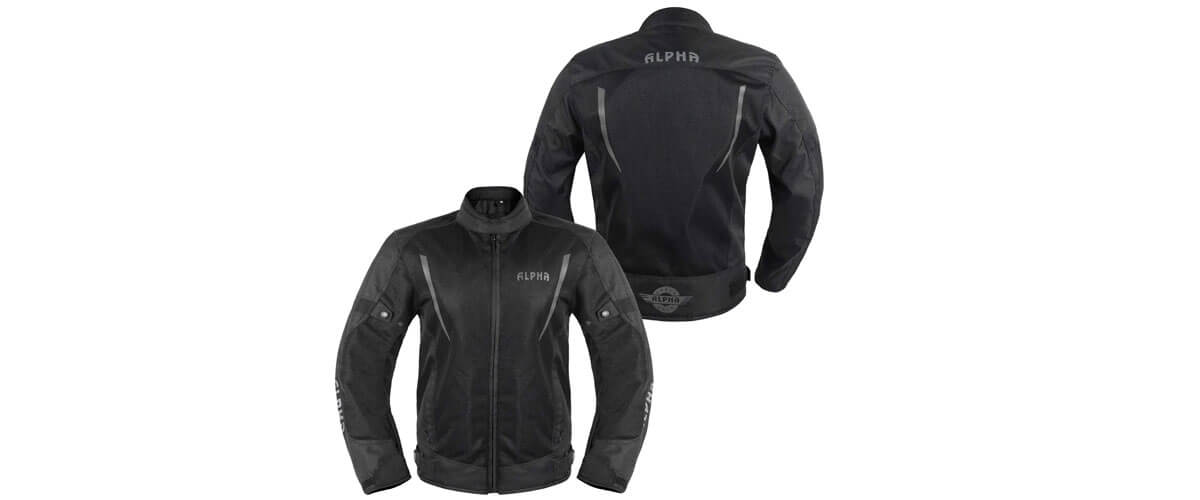 Among the many motorcycle jackets I've tried, I found another one that stands out from the crowd of the rest – the Alpha Cycle Gear Tornado. This jacket is worthy of mention, and I'm thrilled to share my experience with you.
The Alpha Cycle Gear Tornado is constructed with 1000D Cordura fabric in collision areas; this jacket is built to withstand the harshest conditions. From the moment I first wore it, I could sense the durability and sturdiness that exuded confidence in its protective capabilities. The removable CE-approved armor offers superior protection and ensures flexibility and ease of movement.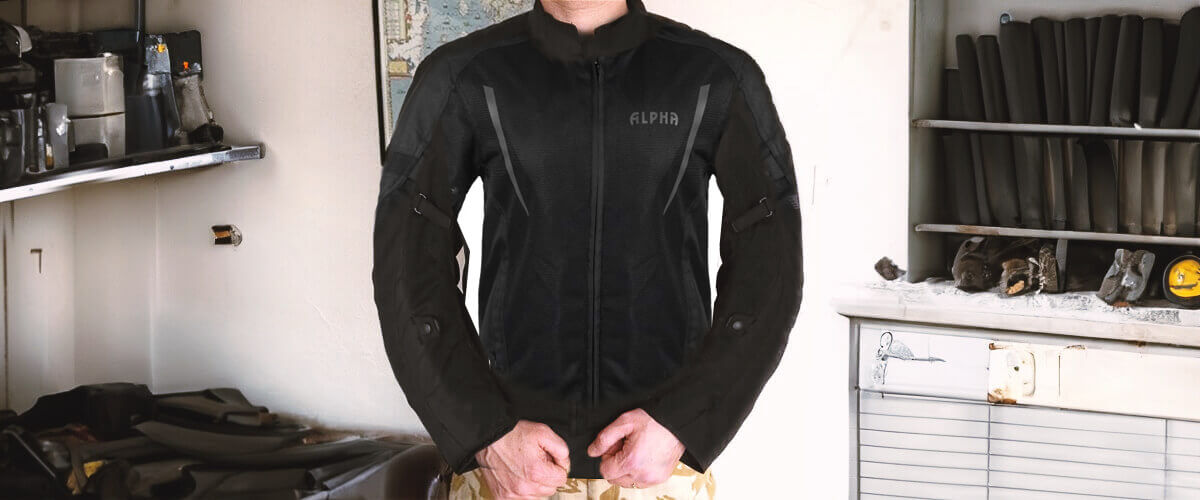 Regarding safety, the Alpha Cycle Gear Tornado doesn't cut any corners. It comes equipped with CE-approved shoulder armor, providing vital protection in the event of an impact. One of the most impressive features of the Tornado is its fully adjustable design, and I appreciate the thoughtful inclusion of a memory foam collar.
The Tornado caters to riders across seasons with its clever mesh front and back design. Scorching summers allow for excellent airflow, keeping me calm and comfortable. During colder months, I can quickly wear something warm underneath, ensuring I stay cozy without compromising safety.
The Alpha Cycle Gear Tornado motorcycle jacket has undoubtedly left a lasting impression on me. Its robust construction, CE-approved armor at the shoulders, unmatched comfort, adaptability to various weather conditions, adherence to safety standards, impressive impact resistance, abundant storage, and excellent ventilation make it a faithful companion for every motorcycle enthusiast.
Key specs
Material: 1000D cordura fabric.
Protection: high visibility reflected logos, semi protection 2 layers' foam padding at back.
Pockets: 1 phone pocket, 1 conceal carry pocket, 2 hand warmer pockets.
Fit: adjustable.
Color: black wind, blue moon, green lane, orange boss, red zone.
Size: S-M, L-4XL.
Other features: memory foam collar.
Pros
Two-layer foam padding makes it feel like a second skin.
Easy to wear and adjust with multiple size options.
Stylish and attractive appearance.
Cons
Limited pocket room and organization options.
Must use zippers with caution.
Not ideal for extreme weather conditions or heavy rain.
Understanding motorcycle jackets with armor
As you may have realized by now, a motorcycle jacket with armor is not your ordinary jacket. It's a specialized gear designed to protect you during your rides. Beyond looking cool and stylish, such a jacket for protection is equipped with various types of armor to provide an extra layer of defense in case of a crash or accident.
Various types of armor
You might wonder, what makes these jackets so special? The answer lies in the armor they contain. There are different types of armor, including CE-certified and D3O:
CE-certified armor: This stands for "Conformité Européene," a European safety standard. CE-certified armor is rigorously tested and graded based on its impact protection capabilities. Look for jackets with CE-rated shoulder, elbows, and back armor for comprehensive protection.
D3O armor: D3O is a cutting-edge, high-tech material that remains soft and flexible under normal conditions. However, upon impact, it instantly hardens to disperse and absorb the energy, reducing the force transmitted to your body. It's like magic!.
How armor improves safety
Now, let's understand how this armor improves your safety during crashes. When you take a fall, the armor absorbs and spreads the impact force over a wider area, lessening the blow on any single point of contact. This significantly reduces the chances of broken bones, bruises, and abrasions.
Areas of influence and reinforcement
Shoulders and elbows: In the event of a slide or fall, these areas often take the brunt of the impact. Reinforced armor in the shoulders and elbows helps shield you from injury.
Back: The back is vital to protect, as it houses your spine. A jacket equipped with back armor safeguards this crucial region.
Chest and torso: Some advanced jackets also feature chest and torso armor, protecting your vital organs.
Optional hip and knee armor: For extra protection, you can find jackets with optional hip and knee armor, especially useful for those riding in risky terrains or engaging in off-road adventures.
Remember, the effectiveness of your armor largely depends on the fit of the jacket. Ensure it fits snugly and comfortably to keep the armor in the right place during a crash.
Factors to consider when buying a motorcycle jacket with armor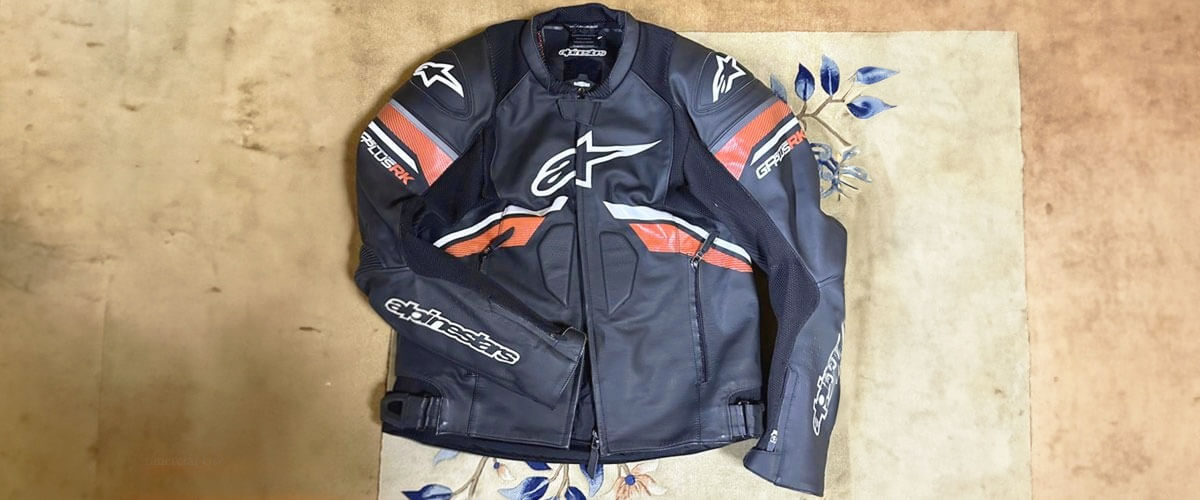 Whether you're a seasoned rider or just starting out, considering the factors I included below will help you make an informed decision when choosing the perfect armored jacket for your needs:
Material and construction
Regarding material, there are several options to consider: leather, textile, or mesh. Leather jackets offer excellent abrasion resistance and a classic look, while textile jackets are often more affordable and versatile. Mesh jackets, on the other hand, are great for hot weather riding, providing good airflow.
Look for sturdy construction and reinforced seams. A well-constructed armored riding jacket will offer better protection and durability during a fall or slide.
Protective armor
Armor is a critical aspect of any motorcycle jacket. Three primary areas to consider are shoulder, elbow, and back protection. Make sure the jacket you choose has CE-certified armor in these areas.
Different armor types offer varying impact resistance. Some jackets may have Level 1 armor, which is lighter and more flexible, while others might have Level 2 armor, offering higher impact protection.
Fit and comfort
Ensuring a proper fit is crucial for optimal protection and comfort during your rides. Wearing a jacket that is either too loose or too tight may not offer sufficient protection in the event of a crash. To adjust the fit, consider jackets with adjustable features like straps or buckles.
Ventilation is crucial, especially during hot weather rides. Jackets with zippered vents or mesh panels allow air circulation, keeping you cool and focused on the road. Additionally, the ergonomic design ensures that the jacket moves with your body, reducing fatigue during long rides.
Weather adaptability
Consider the weather conditions you'll be riding in. If you encounter rain frequently, look for jackets with water-resistant features. Some jackets even come with removable thermal liners for colder climates, making them more versatile throughout the year.
For hot weather riding, ventilation is essential, as mentioned earlier. A jacket that can adapt to various weather conditions will enhance your riding experience.
Style and design
Motorcycle jackets come in various styles and designs, allowing you to express your taste. While style is important, safety and functionality should never be compromised. Look for a jacket that strikes the right balance between aesthetics and safety features.
Storage and pockets
When out on the road, having adequate storage for essentials is essential. Check for motorcycle protective jackets with well-placed pockets or internal compartments to carry your phone, wallet, keys, or other small items securely. However, avoid jackets with excessive pockets as they might add unnecessary bulk.
How to choose the right size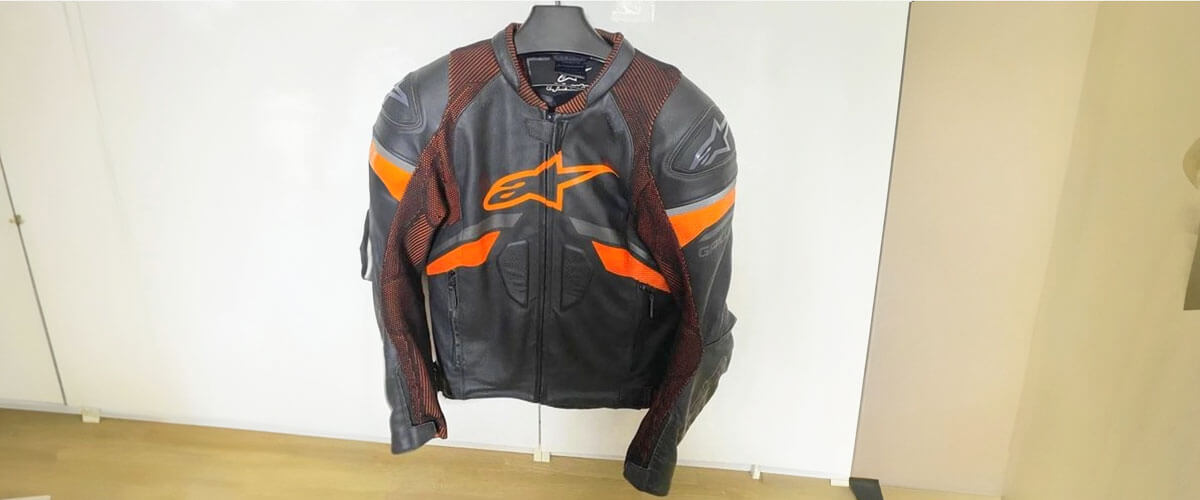 Measurement guide
When shopping for a women's or men's armored motorcycle jacket, ensure it fits correctly by taking the following measurements:
Chest: Wrap a measuring tape around the fullest part of your chest, ensuring it's snug but not too tight. Note down the measurement in inches.
Waist: Measure your natural waistline, just above your belly button. Keep the tape comfortably snug and jot down the measurement.
Sleeve length: Extend your arm and bend it slightly at the elbow. Start measuring from the center of the back of your neck, and take the tape over your shoulder and down to your wrist.
Shoulder width: Measure from the edge of one shoulder to the edge of the other across your upper back. Make sure the tape follows your shoulder's natural curve.
Torso length: This one's easy! Measure from the base of your neck to your waistline, following the contours of your body.
Using size charts
With these measurements in hand, head over to the motorcycle jacket's size chart provided by the manufacturer. Each brand might have slight variations, so don't assume your size based on previous experiences. Match your measurements to the appropriate size range on the chart, and you're on your way to the perfect fit!
The Snug fit is your ally
Remember, a motorcycle jacket with armor should feel snug but not restrictive. Don't be tempted to go a size up for extra room; this might cause the armor to shift during an impact, reducing its effectiveness. Trust me, a proper fit will feel comfortable once you're in your riding position.
FAQ
Can the armor in a motorcycle jacket be removed or replaced?
Yes, many motorcycle jackets have removable or replaceable armor. This feature allows riders to adjust their level of protection or to clean the jacket more easily. However, not all jackets offer this option, so I recommend checking the product specifications before purchasing.
How does the material of the jacket affect its protective capabilities?
The material of the jacket plays a vital role in its protective capabilities. Abrasion-resistant textiles like Cordura or Kevlar offer excellent protection against road rash, while leather jackets provide good abrasion resistance and natural tear strength. For maximum protection, consider jackets with CE-certified armor and sturdy materials designed to withstand impact and abrasion.
Are motorcycle jackets with armor suitable for all types of riding?
If you're looking for a protective motorcycle jacket that works well for street, touring, or adventure riding, consider getting one with armor. These jackets offer essential protection against impacts and are great for everyday commuting or long-distance trips. However, if you plan to do track racing or off-road riding, you may need specialized gear. Whatever type of riding you do, make sure you prioritize safety when choosing your gear.