In the thrilling world of motorcycle riding, safety and style go hand in hand. We must equip ourselves with the best motorcycle vest available as we gear up for another exciting year of two-wheel adventures. Its significance lies not only in its aesthetic appeal but also in its practicality and protective features.
A motorcycle vest, often deemed a rider's second skin, is a garment specially crafted to enhance comfort and safety during rides. Unlike a traditional jacket, a vest offers riders unparalleled freedom of movement, making it a popular choice for motorcyclists across the globe.
In this article, I delve into motorcycle vests, exploring various types, from classic leather options to cutting-edge protective models. By the end of our journey, you'll have a detailed understanding of the key features to look for in a top-notch motorcycle vest, empowering you to make an informed and confident choice. So, let's gear up and hit the road as we unveil the coolest motorcycle tactical vest in 2023, each excelling in its respective category.
Our pick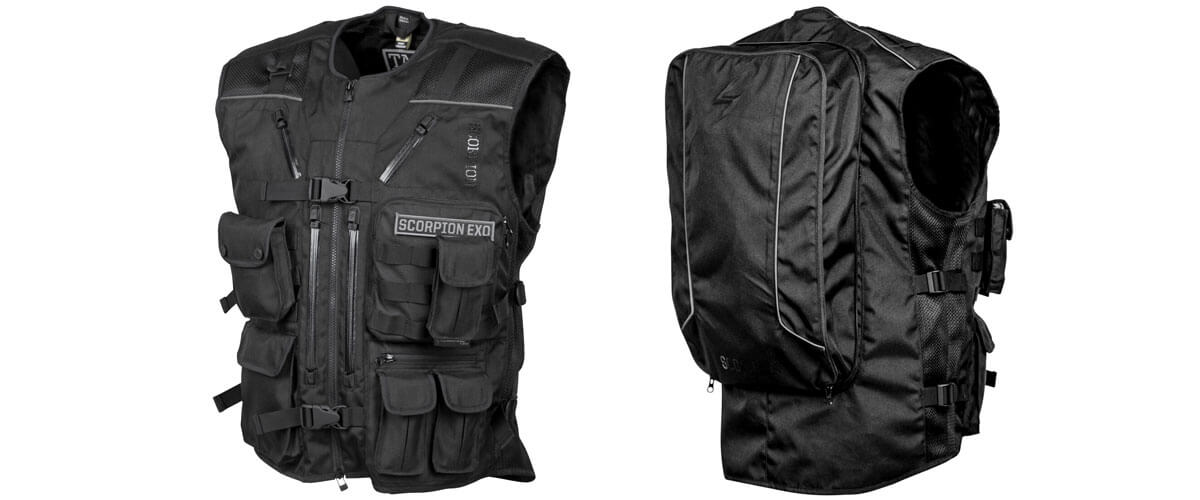 Scorpion EXO Covert Tactical Vest
Best motorcycle vest
The Scorpion Covert tactical vest has abrasion-resistant 600D polyester that makes up the main chassis with Cordura reinforcement so the vest can withstand the pavement and regular wear and tear.
Read the full review
.
Best motorcycle vest reviews
Motorcycle vests come in various materials, catering to every rider's preferences and requirements. Each textile brings unique advantages to the table, from classic leather to durable denim and breathable mesh. For you to better understand which type is right for you, in this part of the review, I will briefly review their features.
Textile vests – leather, denim, mesh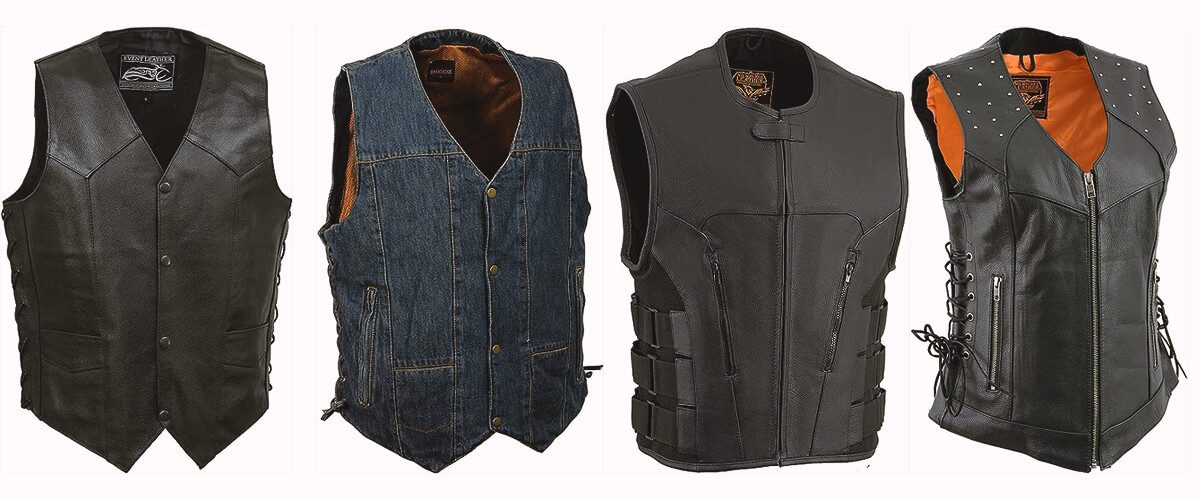 Leather vests: Timeless elegance and durability
Leather vests exude rugged elegance and offer exceptional durability, providing reliable protection against abrasions and the elements. Over time, the material molds to the rider's body, ensuring a comfortable and personalized fit. Conversely, leather vests can be heavier and less breathable than other textiles, making them less suitable for hot weather riding or maximum ventilation.
| Pros | Cons |
| --- | --- |
| Exude a classic and sophisticated look—never going out of style. | Can be heavier compared to other materials. |
| Offer awesome strength and resistance to abrasions. | Generally less breathable. |
| Over time, leather adapts to the rider's body. | Lack the ventilation options available in other materials. |
Denim vests: Casual coolness for urban rides
These vests offer a casual and cool vibe, perfect for urban settings and laid-back journeys. They are lightweight, comfortable, and often feature convenient pockets. A denim motorcycle vest protects against minor scrapes but may not be as abrasion-resistant as leather or heavy-duty textiles. These vests are suitable for urban riders, city cruisers, and motorcyclists seeking style and comfort during short rides.
| Pros | Cons |
| --- | --- |
| Versatile pairing options | Limited breathability in hot weather |
| Durable and long-lasting | Relatively heavier than other materials |
| Suitable for different seasons | Offer poor protection when falling |
| Customizable for personal style | |
Mesh vests: Optimal ventilation for warm weather riding
These models are lightweight and breathable, offering maximum airflow for warm-weather riding. They come with multiple ventilation panels, ensuring optimal breathability. On the other hand, these vests sacrifice some abrasion resistance for superior ventilation, making them less suitable for rugged adventures. Overall, they are great for warm-weather riders, sportbike enthusiasts, and those tackling summer tours or rides in tropical climates.
| Pros | Cons |
| --- | --- |
| Excellent breathability in hot weather | More fragile, prone to tearing |
| Lightweight and comfortable | Limited insulation in colder weather |
| Great for sports and outdoor activities | Less formal appeal |
| Quick-drying properties | |
Women's motorcycle vests: uniting style and functionality
I would like to draw your attention to the fact that lately, manufacturers have offered a wide range of women's motorcycle vests tailored to suit female riders' unique body shapes and style preferences. Women can choose any option, including leather, denim, or mesh, with designs that prioritize protection and comfort while maintaining feminine aesthetics.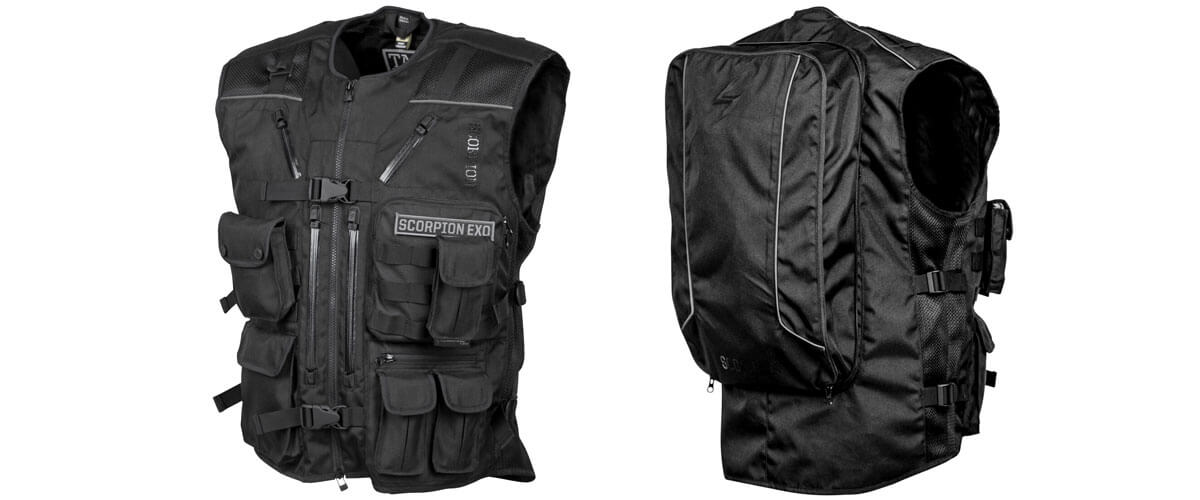 I've recently had the opportunity to test out the Scorpion EXO Covert Tactical Vest, and from the first glance, it became apparent that this vest will take the highest place in my review. Let me tell you, this vest is a game-changer in every sense of the word!
The first thing that struck me was the impeccable craftsmanship of the Covert Tactical Vest. Made from high-quality 600D polyester, accordingly, it exudes durability and resilience. The contrasting polyester pockets are a stylish touch that adds to the overall appeal of the vest.
Safety is my top priority, and the Covert Tactical Vest matched my expectations! The reinforced concealed carry pockets and the holster-ready female hook-and-loop panels provide confidence and easy access to essential items. I was impressed by including a removable high-density back protector, upgradable to C.E. Level 2 Sas-Tec armor.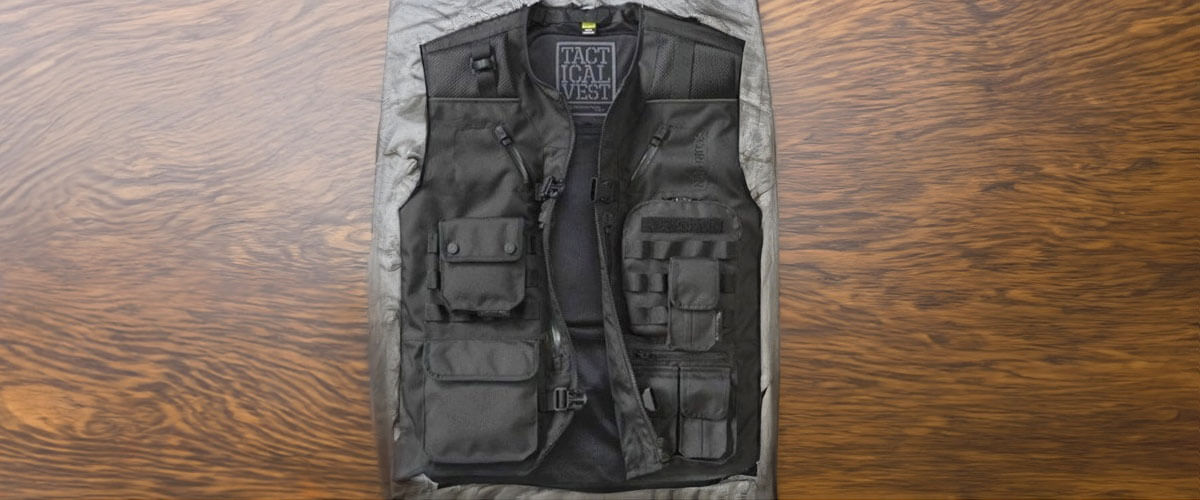 The integrated low-profile backpack with an expandable capacity of up to 1872 cubic inches is very convenient. It even features a dual-purpose internal sleeve, perfect for accommodating a 17″ laptop or optional hydration bladder. However, it's worth noting that Scorpion EXO advises against using both a laptop and a bladder simultaneously to maintain optimal comfort and balance.
The Covert motorcycle tactical vest shines in terms of comfort and doesn't compromise safety. The large gauge mesh panels along the ribs and upper shoulders provide excellent ventilation, keeping me cool even during hot summer rides. The soft neoprene-finished collar added a touch of comfort that I truly appreciated.
In conclusion, the Scorpion EXO Covert Tactical Vest is a must-have for any motorcycle enthusiast. From its sturdy construction and safety features to its practicality and comfortable design, this vest is a true companion for thrilling adventures on two wheels.
Key specs
Material: abrasion resistant 600D polyester.
Protection: removable high density back protector upgradeable to C.E. Level 2 Sas-Tec armor, NightViz 360° reflective.
Pockets: 2 external concealed carry pockets, 1 large waterproof pocket, 1 large, zipper-secured, pocket overlaid with 2 mini-pockets, 1 large access, dual zipper secured pocket with molle webbing overlays, 2 YKK zipper secured utility pockets.
Fit: adjustable.
Color: black.
Size: SM, MD, LG, XL, 2XL, 3XL.
Pros
The vest is very durable and made from quality polyester.
Offers ample space for gear, including laptops and water bags.
Highly customizable and adjustable.
Offers a wide range of sizes.
Cons
The hydration bladder needs to be bought separately.
Reduced breathability in hot weather.
Helite Turtle 2 – motorcycle airbag vest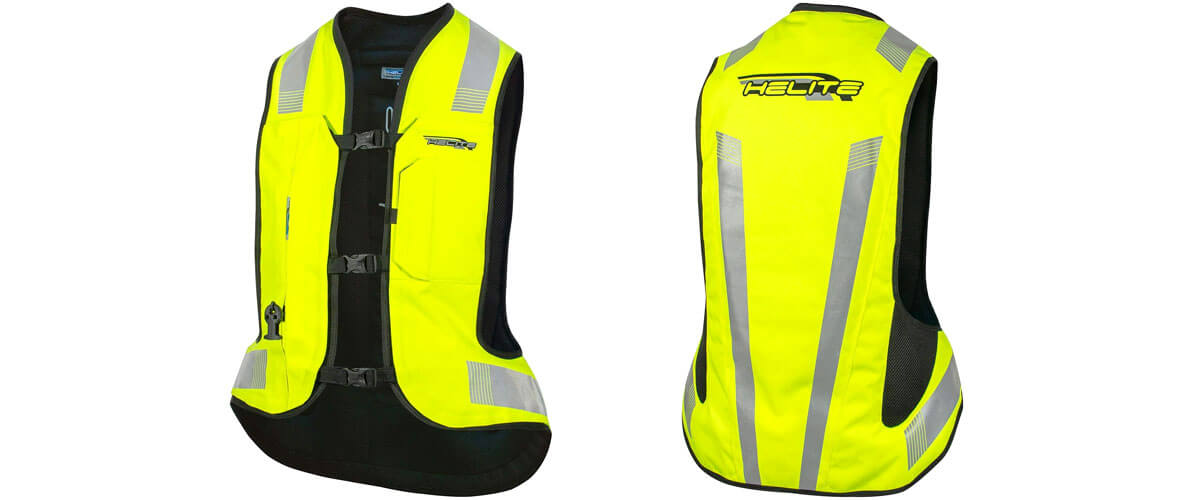 After extensive research, I stumbled upon the Helite Turtle 2 Airbag Vest, and I can confidently say it is the best motorcycle airbag vest out there in 2023. Let me share my experience with this remarkable gear that effortlessly combines safety, style, and functionality.
Crafted with premium materials, the Helite Turtle 2 is a marvel of engineering. The vest exudes durability and sturdiness, instilling confidence in its ability to protect me during any unforeseen impact. The meticulous construction ensures a snug fit, providing a comfortable and secure riding experience. So, Turtle 2 leaves no room for compromise when it comes to safety.
The integrated airbag technology is a game-changer, instantly deploying in the event of a collision to shield vital areas, including the neck, spine, and chest. Luckily I didn't get a chance to test it, but the technology still brings massive confidence.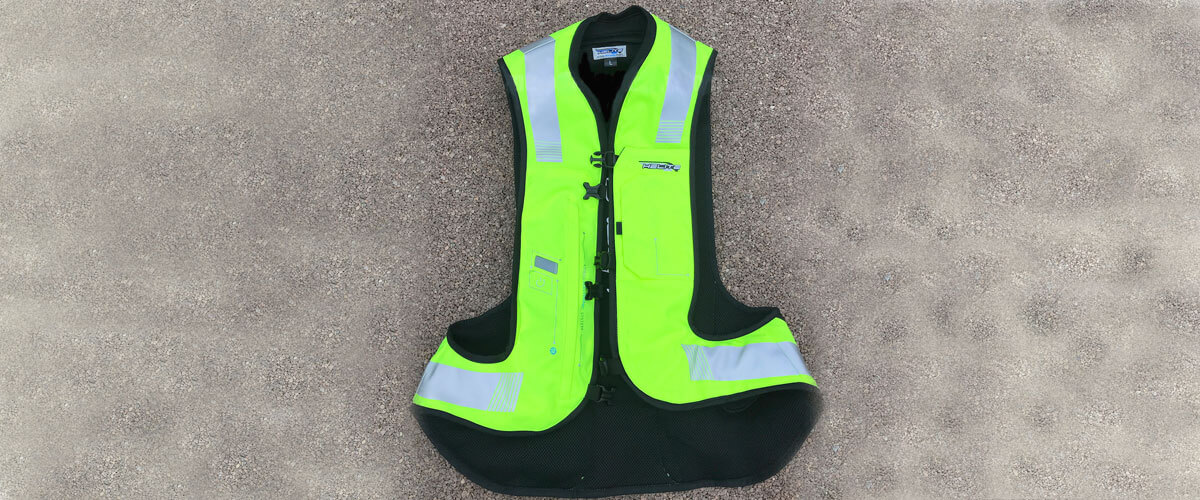 Practicality is not overlooked with this vest. The Helite Turtle 2 features strategically placed surprisingly spacious pockets. They allow me to securely carry essentials like my phone, keys, and documents, eliminating the need for extra bags during shorter rides.
Above all, the Turtle 2 maintains a relaxed demeanor even during scorching rides. Its thoughtfully designed ventilation system allows proper airflow, preventing discomfort and ensuring I stay focused and calm under the hot sun.
In conclusion, the Helite Turtle 2 Airbag Vest is the epitome of excellence, offering unmatched safety features, stylish design, and convenience. As an experienced rider, I can confidently recommend this vest.
Key specs
Material: 600D textile construction with inner 3D mesh.
Protection: tether airbag system, SAS-Tec level 2 back protector included, retro-reflective strips.
Pockets: 1 exterior pocket.
Fit: adjustable.
Color: hi-viz yellow, black.
Size: XS, S, M. L, XL, LL, XLL.
Pros
Excellent safety level, including high visibility.
Comfortable wear and convenient adjustments.
It comes in a complete package.
Cons
Limited mechanical trigger.
Icon Stryker Vest – armor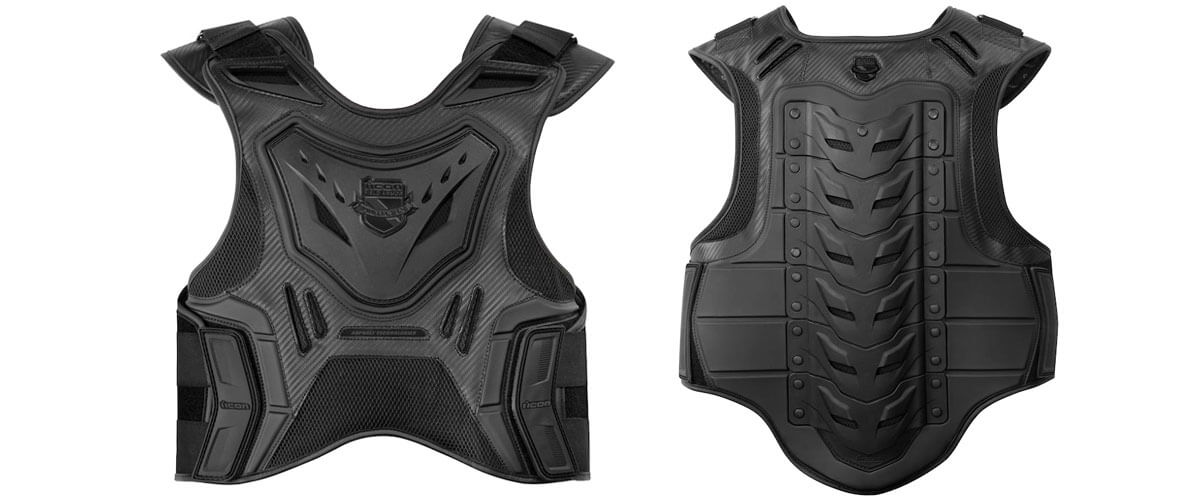 Among the other vests in this review, the Icon Stryker Vest stands out as a real Marvel Colossus in motorcycle gear. Let me take you through my firsthand experience with this exciting piece of equipment.
The Icon Stryker Vest offers a combination of durability and comfort. The external plastic plating exudes strength, ensuring longevity even in demanding riding conditions. The vented bio-foam and air mesh chassis enhance breathability. It managed to keep me cool on scorching summer rides. The thoughtfully integrated air intakes in the injection-molded chest plate contribute to excellent airflow, making it ideal for warm and mild weather.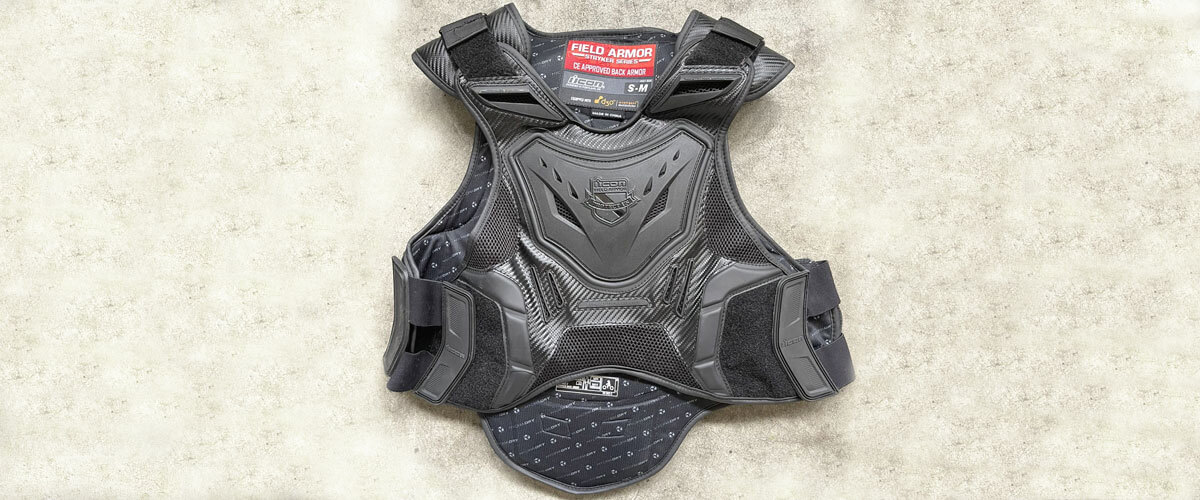 Regarding safety, the Stryker Ves has been rigorously tested and certified according to standard EN1621-2:2014, offering riders the peace of mind they deserve. The custom-molded ICON Stryker D3O back insert provides reliable protection against potential impacts, ensuring you stay safe on every adventure.
Bucking the conventional race derivative dogma, the Stryker Vest is an emblem of rebellious style. While some motorcycle vests lack storage space, the Stryker Vest surprises with its practicality. Elastic and hook & loop straps enable a snug fit for various body sizes while including pockets ensures you have a convenient spot to stash small essentials.
The Icon Stryker Vest is a top-tier choice if you're hunting for the best armor vest motorcycle equipment. Its robust material and construction, extensive safety features, rebellious style, functional design, reliable protection and armor, excellent ventilation, and thoughtful visibility enhancements make it a standout among street bike vests.
Key specs
Material: vented biofoam and airmesh chassis, Injection molded chest plate with integrated air intakes, Articulating injection molded hard back plates with air flow channels.
Protection: custom molded ICON stryker D3O back insert.
Pockets: no.
Fit: adjustable.
Color: black.
Size: S/M, L/XL, 2XL/3XL.
Pros
Innovative and attractive design.
Matches strict certification.
Versatile material blend takes the pros of all materials.
Cons
Limited color options.
The vest has no women's version.
Becomes terribly uncomfortable in cold.
Ororo Classic Heated Vest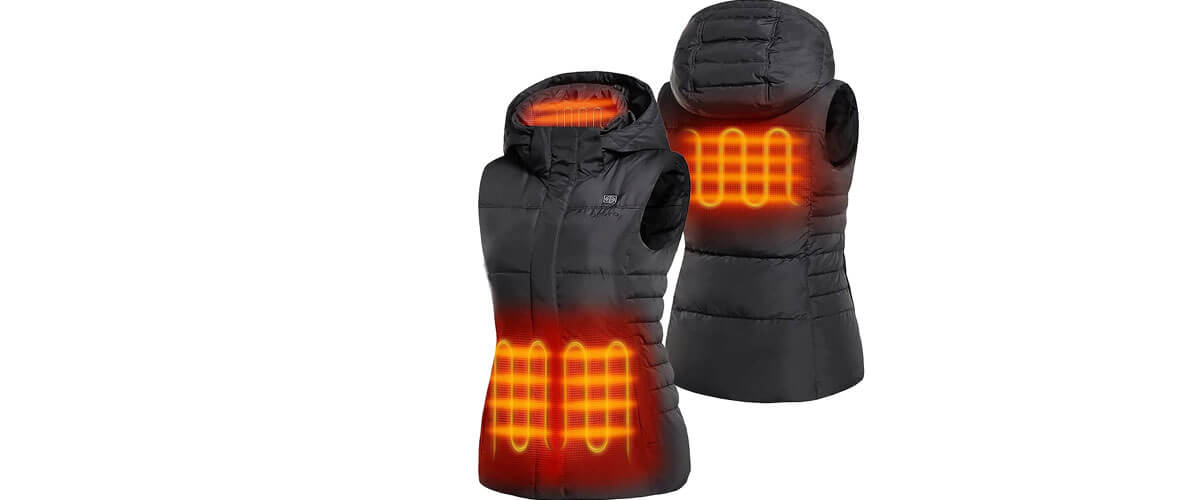 Do you share my passion for new technologies? Does it sound good to have a heating vest? If the answers are yes, then I can confidently say that the Ororo Classic Heated Vest is a game-changer for motorcycle innovators like me. This vest goes beyond its heating function, proving to be a versatile and indispensable addition to any rider's wardrobe.
The Ororo Classic Heated Vest boasts a water and wind-resistant shell, ensuring durability and reliability in various weather conditions. The use of FELLEX insulation, a Bluesign-certified eco-friendly sustainable material, not only enhances its warming capabilities but also aligns with my passion for eco-conscious gear.
The vest is equipped with four carbon fiber heating elements; it provides consistent warmth across core body areas, including the collar, upper back, and left and right pockets. The three adjustable heating settings let me tailor the heat according to my needs.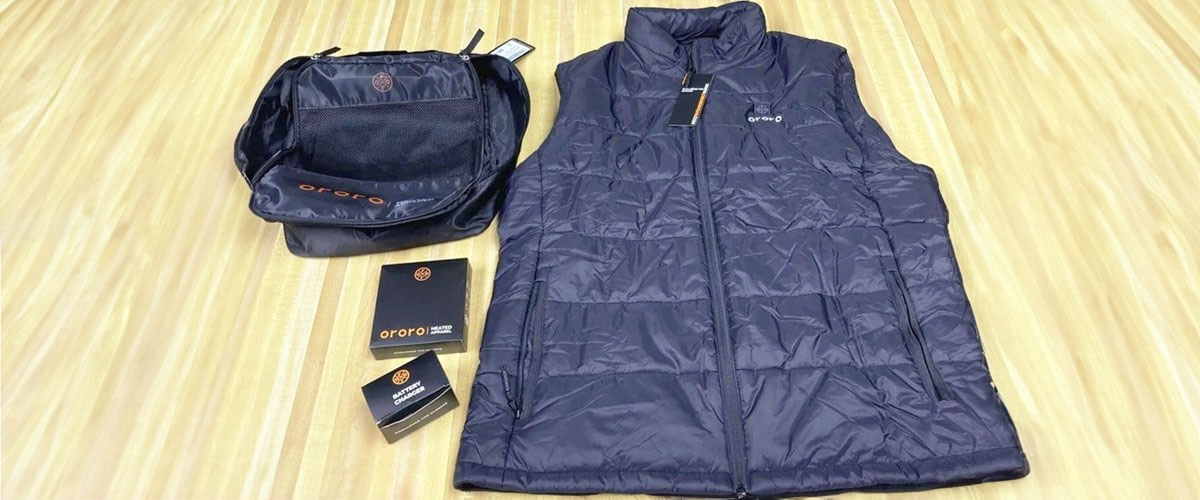 The Ororo Classic Heated Vest is a perfect blend of fashion and functionality. The sleek design and black color make it an easy match with any outfit, whether I'm wearing it under my motorcycle jacket or over a casual flannel. Furthermore, this vest offers the convenience of multiple pockets, providing ample room for carrying essentials like my phone, wallet, or small tools. The heated pockets are a godsend, ensuring my hands stay warm without needing extra gloves.
While the Ororo Classic Heated Vest is not a substitute for protective motorcycle gear, it certainly adds an extra layer of comfort and warmth. Its padding and FELLEX insulation keep my core cozy, allowing me to focus on the road without distraction. At the same time, the vest's thoughtful design doesn't compromise on breathability.
Finally, the Ororo Classic Heated Vest is undeniably the best heated motorcycle vest on the market. From its high-quality construction to its thoughtful features, it delivers unparalleled comfort, versatility, and safety.
Key specs
Material: 100% nylon, FELLEX insulation, bluesign certified eco-friendly sustainable material.
Protection: no.
Pockets: dual pocket heating zones.
Fit: regular.
Color: black.
Size: XS, S, M, L , XL, 2XL, 3XL, 4XL, 5XL.
Pros
Offers exceptional heating system placed across core body areas.
It looks very stylish and doesn't compromise looks for functionality.
The vest's battery doubles as a power bank.
Cons
Limited battery life, mainly when used in a power bank mode.
The additional weight of the battery and heating system.
Ergodyne Chill-Its 6665 Cooling Vest – evaporative cooling vest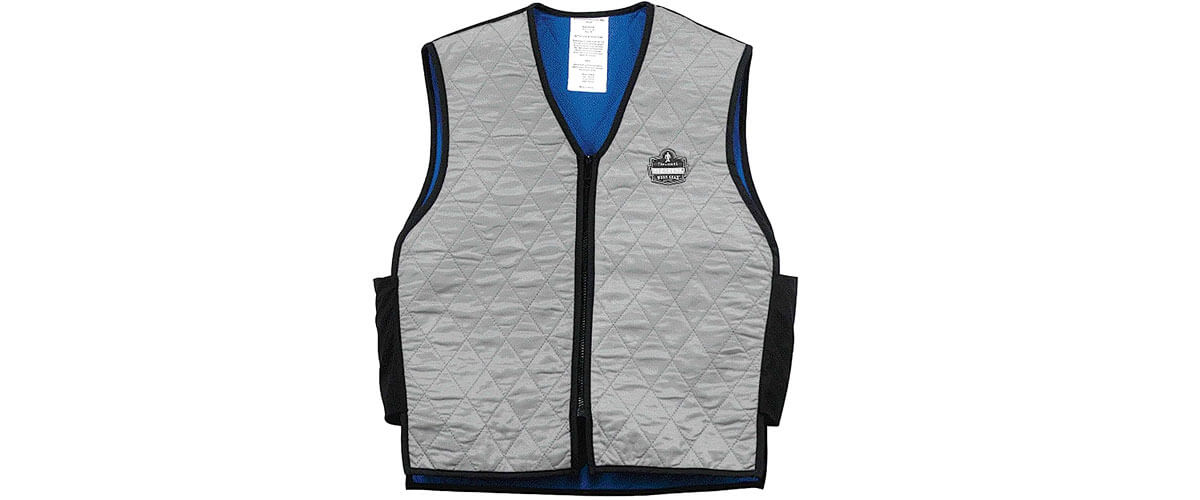 Ergodyne Chill-Its 6665 Evaporative Cooling Vest acts as a body conditioner, providing instant relief from the scorching heat during those long rides under the blazing sun. So, of course, I included it in today's review.
The secret lies in its innovative polymer-embedded cooling technology. With just a quick soak in water, this vest becomes a refreshing oasis, delivering up to four hours of cooling relief. The greatest part? It's incredibly lightweight and breathable, with 100% quilted nylon and mesh side panels for optimal ventilation. As a result, I found myself sweating less, feeling comfortable, and able to focus on the joy of riding.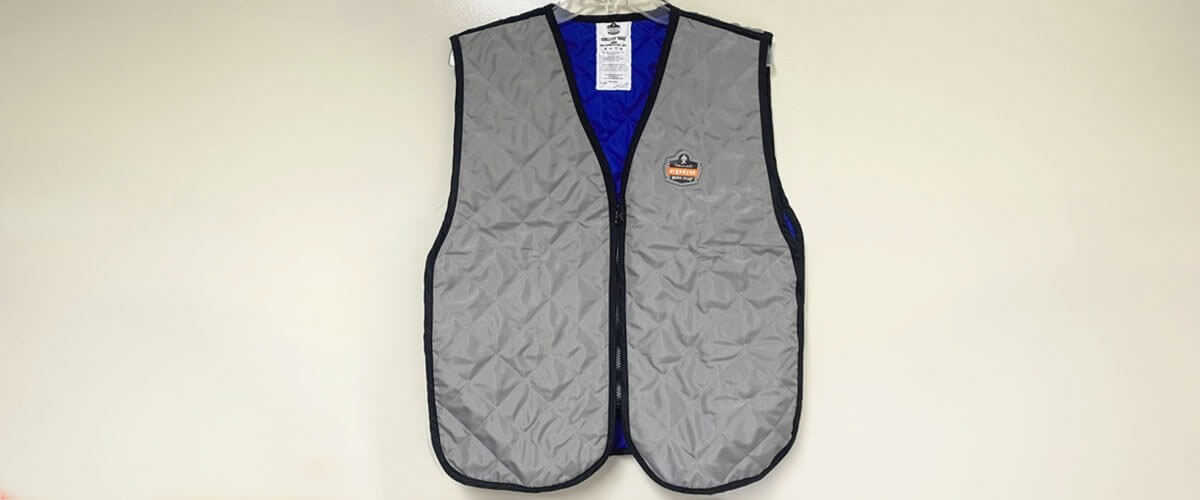 What I especially love about this vest is its versatility. It is perfect for motorcycle riding and comes in handy during various outdoor activities like hiking, gardening, and playing sports. The zippered closure ensures a snug fit, while the choice of multiple colors, including the hi-vis lime for enhanced visibility, adds a touch of personalization to my riding gear.
The Ergodyne Chill-Its 6665 Evaporative Cooling Vest may not be an essential addition to any motorcycle rider's wardrobe, but it is versatile and a great benefit. It's a reliable companion that keeps me calm and refreshed, allowing me to fully enjoy the thrill of the ride without the discomfort of excessive heat. This all makes it the best cooling vest for motorcycle riding during hot summer rides.
Key specs
Material: 100% quilted nylon with mesh side panels.
Protection: N/A.
Pockets: no.
Fit: adjustable.
Color: lime, gray.
Size: M, L, XL, 2XL, 3XL.
Pros
The cooling technology provides immediate and long-lasting relief from the heat.
The vest offers excellent breathability overcoming any leather riding vest.
Suitable for various outdoor activities and professions.
Cons
While the water-repellent liner helps keep the interior relatively dry, wearers should expect to feel damp or wet during use.
The vest must be hand-washed as needed.
Types of motorcycle vests available in the market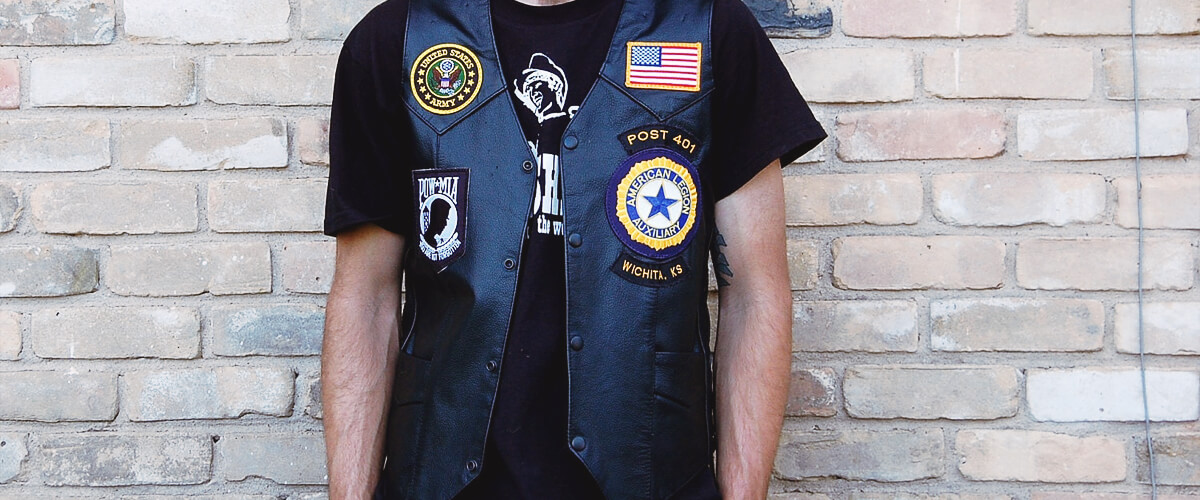 Vests are not only a fashionable accessory but also serve as practical and safety-enhancing gear for riders. So, let's explore the various options and discover the best motorcycle vests.
Leather: Moto leather vests are great for riders seeking a rugged and stylish appearance. The pros include their robust construction, resistance to abrasion, and ability to withstand various weather conditions. However, they can be heavier than other options and may require occasional maintenance to keep the leather in top condition.
Textile: Textile vests often feature multiple pockets for convenient storage and adjustable closures for a customizable fit. They excel in providing breathability, making them suitable for warmer climates. They are generally lighter than leather vests, making them a great choice for riders seeking comfort during long rides. But they may not offer the same level of abrasion resistance as leather vests.
Mesh: A mesh motorcycle vest is constructed using mesh panels that promote ventilation and allow air to pass through, keeping you cool and comfortable. Such models often feature additional armor inserts for added protection. While they excel in warm climates, they may not provide the same level of insulation in colder temperatures.
High visibility: These vests are perfect for riders who frequently ride in low-light conditions or on busy roads where visibility is crucial. The added visibility can significantly reduce the risk of accidents. However, they may not offer the same level of protection as other vests, so it's essential to consider your priorities.
Armored: Summer motorcycle armor vests are particularly popular among riders who engage in off-road or adventure riding. Special armor inserts can offer peace of mind, but they may add some bulk and weight to the vest.
Adventure/touring: They often incorporate features like waterproofing and adjustable closures for a snug fit. Adventure vests are ideal for riders who embark on extended journeys and need a vest that can accommodate their travel essentials. For me, this is the best biker vest option.
Tactical: These vests usually have a rugged appearance and provide ample storage options with various pockets and attachment points. They are great for riders who need quick access to tools, gadgets, or other equipment during their rides. However, tactical vests may not offer the same level of ventilation as other vests due to their focus on functionality.
Retro/cruiser: Retro or cruiser vests complement the aesthetics of these motorcycle styles. However, they may not offer the same level of protection as other vests, so it's crucial to consider your safety requirements.
When choosing bike riding vests, I advise considering your riding style, climate, and personal preferences. Remember, safety should always be a top priority, so select a model that meets all your personal needs.
Factors to consider when buying a motorcycle vest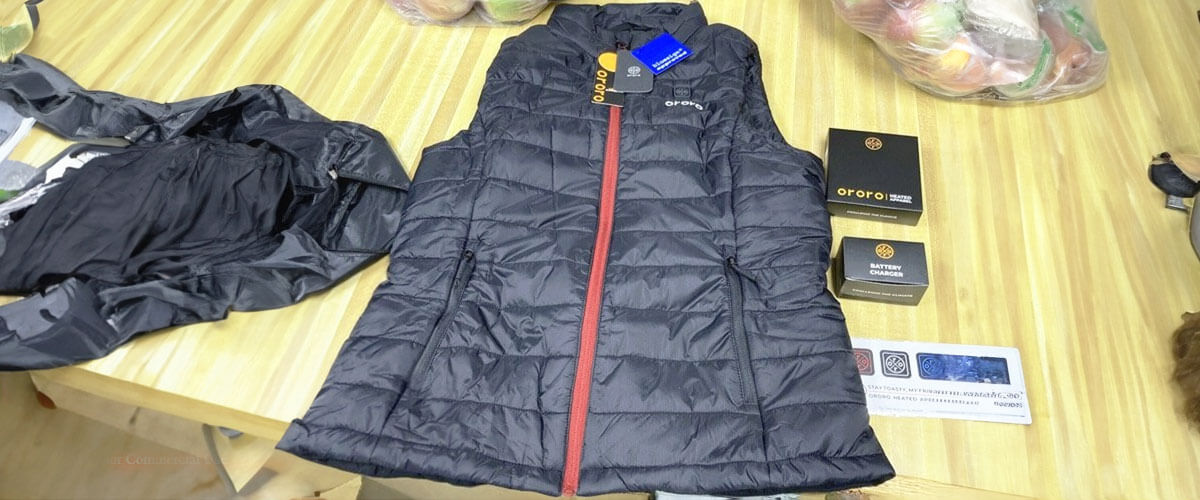 Material and construction
Look for vests made from high-quality materials such as leather or heavy-duty textiles like Cordura or ballistic nylon. These materials offer excellent abrasion resistance, keeping you protected in case of an accident. Additionally, pay attention to the stitching and construction quality to ensure your vest stands the test of time.
Safety features
Protection and armor: Opt for a vest that includes protective elements like armor or padding in key areas such as the back, shoulders, and chest. Motorcycle back protector vests can greatly reduce the risk of injury in case of a fall or collision.
Visibility and reflectivity: Safety on the road should never be compromised. Choose a vest with ample reflective detailing or hi-vis accents, enhancing your visibility to other motorists, especially during low-light conditions.
Fit and comfort
Look for vests with adjustable straps or side laces, allowing you to customize the fit according to your body shape. Ensure the vest fits snugly but doesn't restrict your movement. Additionally, consider ventilation and breathability features like mesh panels or perforations to keep you cool during long rides.
Style and design
Motorcycle gear doesn't have to sacrifice style! Look for a vest that matches your personal taste and complements your overall riding gear. Whether you prefer a classic leather vest or a modern textile design, there are plenty of options available to suit your style.
Storage and pockets
Check for ample storage options, such as inner and outer pockets, allowing you to keep essential items within reach while on the road. Consider the size and accessibility of the pockets based on your specific needs, whether it's carrying your phone, wallet, or small tools.
Take your time, do your research, and consider these factors before making your final decision. And as always, prioritize quality and reliability from reputable companies to ensure your vest can withstand the demands of your riding adventures.
How to choose the right size
First things first, grab a measuring tape. To ensure accurate measurements, wear a thin layer of clothing, just like you would when riding. Stand up straight with your arms relaxed by your sides. Now, let's get those numbers.
Chest measurement: Wrap the measuring tape around the fullest part of your chest, just below the armpits. Make sure it's snug but not too tight. Jot down this measurement.
Waist measurement: Locate the narrowest part of your waist, usually above your belly button. Measure the circumference at this point.
Torso length: Place the measuring tape at the base of your neck and let it run down along your spine. Note down the measurement where you want the vest to end.
Now that you have your measurements, it's time to consult the size chart provided by the manufacturer. Most reputable brands will have detailed size charts on their websites. Compare your measurements with the chart to determine your size.
FAQ
Are motorcycle vests unisex?
Absolutely! Motorcycle vests are designed to be unisex, catering to riders of all genders. Most brands offer a range of sizes and styles that can be worn by anyone looking to add some flair and protection to their riding gear.
Can a motorcycle vest be used for other activities?
While primarily designed for motorcycle riding, motorcycle vests can indeed be versatile. Many riders also use them for activities like outdoor concerts, camping, or even as a fashion statement. Their sturdy construction and practical features make them suitable for various outdoor pursuits.
Can you wear a motorcycle vest casually?
Yes! Motorcycle vests can be worn casually, making them a versatile addition to your wardrobe. Pair them with jeans, a T-shirt, and some boots for a cool and edgy look. However, keep in mind that certain vest styles may have distinct motorcycle-themed patches or logos, which can add a specific aesthetic to your outfit.
Should a motorcycle vest be tight?
A well-fitted motorcycle vest is important for both comfort and safety. It should fit snugly but not be overly tight or restrictive. A proper fit allows for easy movement and accommodates layering if needed. Ensure you follow the manufacturer's size chart and consider your measurements to find the ideal balance between mobility and comfort.