When it comes to hitting the open road on a motorcycle during summer, ensuring proper safety gear is an absolute must. While helmets and jackets often steal the spotlight, one vital piece of equipment that should never be overlooked is a reliable pair of summer motorcycle gloves. As an experienced biker, I understand the significance of finding suitable gloves to strike the perfect balance between comfort and protection.
Summer poses unique challenges for motorcyclists, including scorching heat, excessive sweating, and reduced grip due to slippery palms. That's why investing in gloves that offer exceptional breathability, ventilation, and a firm grip is critical to combat these issues head-on. This article will explore the best summer motorcycle gloves that combine style, comfort, and practicality for an unforgettable riding experience.
Our pick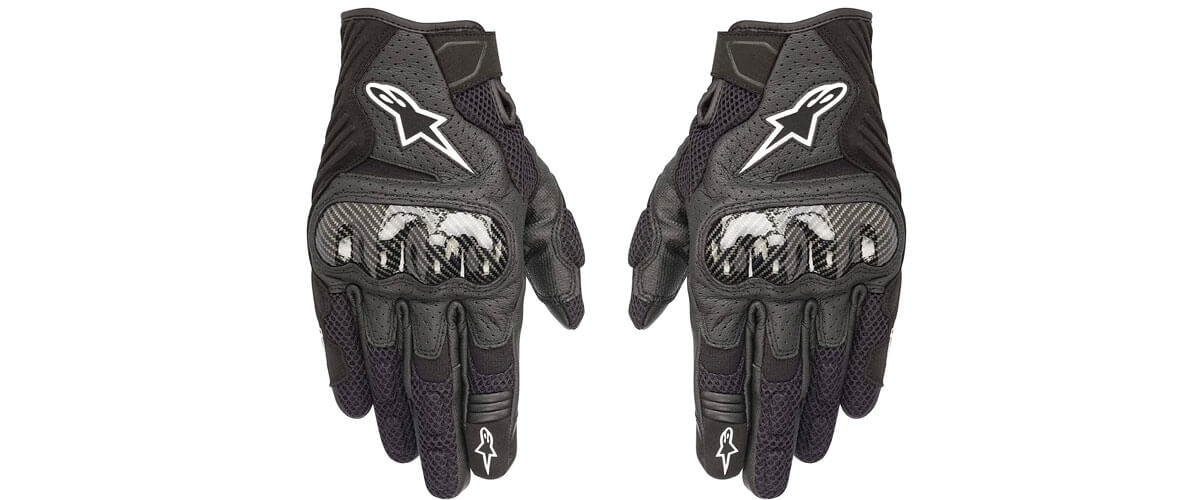 Alpinestars SMX-1 Air v2 Gloves
Best summer motorcycle gloves
The Alpinestars SMX-1 Air v2 Gloves use a new chassis with a redesigned cuff closure, padded fingers, and strategically placed stretch material.
Read the full review
.
Best summer motorcycle gloves review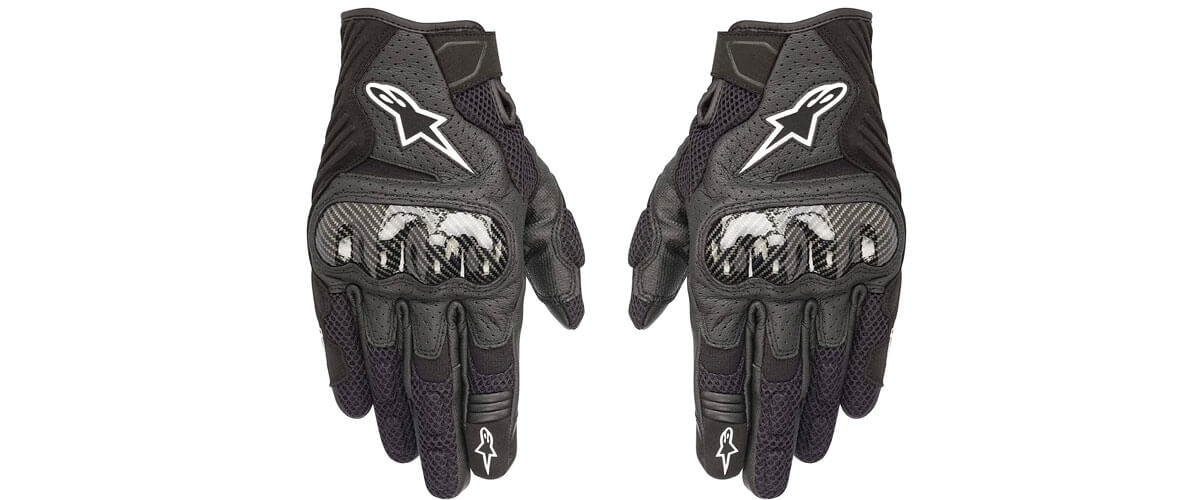 The first moment one touches the Alpinestars SMX-1 Air v2 gloves, it becomes evident that the manufacturer paid particular attention to precision and put their expertise into them. Looking ahead a little, I should say that the balance between comfort and protection is fantastic!
The SMX-1 Air v2 gloves also offer an optimal balance between flexibility and resilience due to a combination of durable materials, including a synthetic suede palm and breathable mesh fabric. The materials used ensure long-lasting performance and allow for superior dexterity while riding.
These gloves feature pre-curved fingers that reduce fatigue and offer a snug, personalized fit. I loved their ergonomic design as synthetic suede palm offers help to enhance grip and control.
One of the standout features of the SMX-1 Air v2 gloves is their ventilation and breathability. The mesh fabric and strategically placed perforations promote airflow, keeping my hands cool and dry even during sweltering summer rides. This thoughtful design helps combat excessive sweating, providing added comfort and reducing the risk of hand fatigue.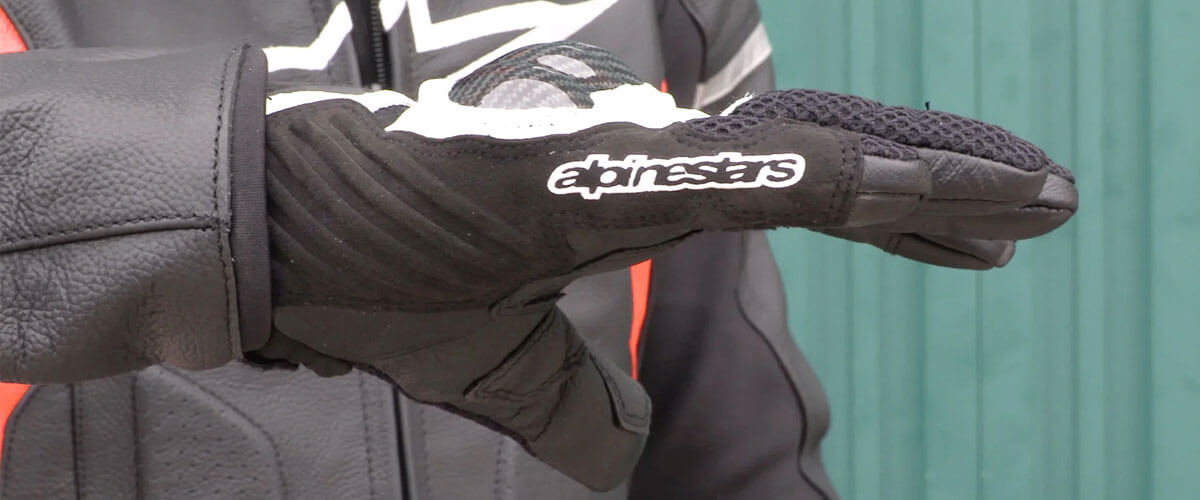 Alpinestars is known for its attention to top-notch safety features. So, SMX-1 Air v2 incorporate reinforced knuckle protection, providing impact resistance without compromising flexibility. Additionally, the synthetic suede palm offers abrasion resistance, enhancing overall durability.
These gloves are designed primarily for summer riding conditions. While they offer some water resistance, they are not intended for heavy rain or extreme weather. So, don't expect a miracle. Your hands will still get pretty wet in case of heavy rain.
Additional features include a hook-and-loop closure system for a secure fit and touchscreen compatibility, enabling riders to operate their gadgets without removing the gloves.
With their optimal combination of materials, comfort, ventilation, protection features, grip, and user feedback, Alpinestars SMX-1 Air v2 are the best motorcycle gloves for summer.
Key specs
Materials: leather, mesh.
Wrist closure: velcro.
Size: SM-LG, XL-3XL.
Pros
Built to last with a robust construction.
Offer a comfortable and pre-shaped fit.
Exceptional ventilation to keep hands cool and dry.
Provide increased safety compared to competitors.
Cons
Don't stand well against rain.
COFIT Motorcycle Gloves – also a great choice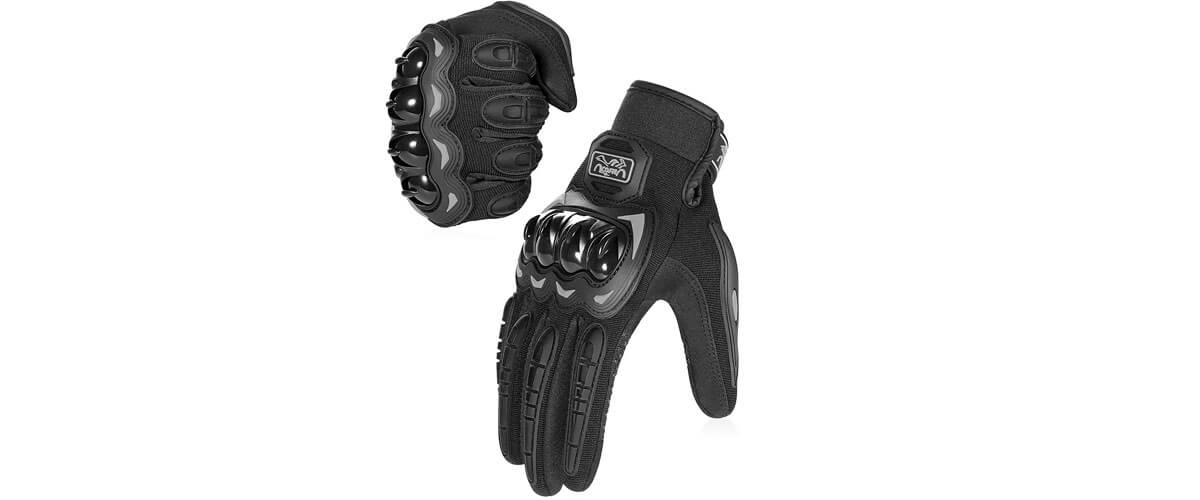 When I got my hands on the COFIT Motorcycle Gloves, I knew they were among the principal applicants for the best motorcycle summer gloves. Still, there are notable differences when comparing this model with the Alpinestars SMX-1 Air v2.
The COFIT Motorcycle Gloves boast durable materials ensuring longevity and resilience. However, compared to the Alpinestars gloves, the COFIT gloves can't match the same level of craftsmanship and reputation for quality.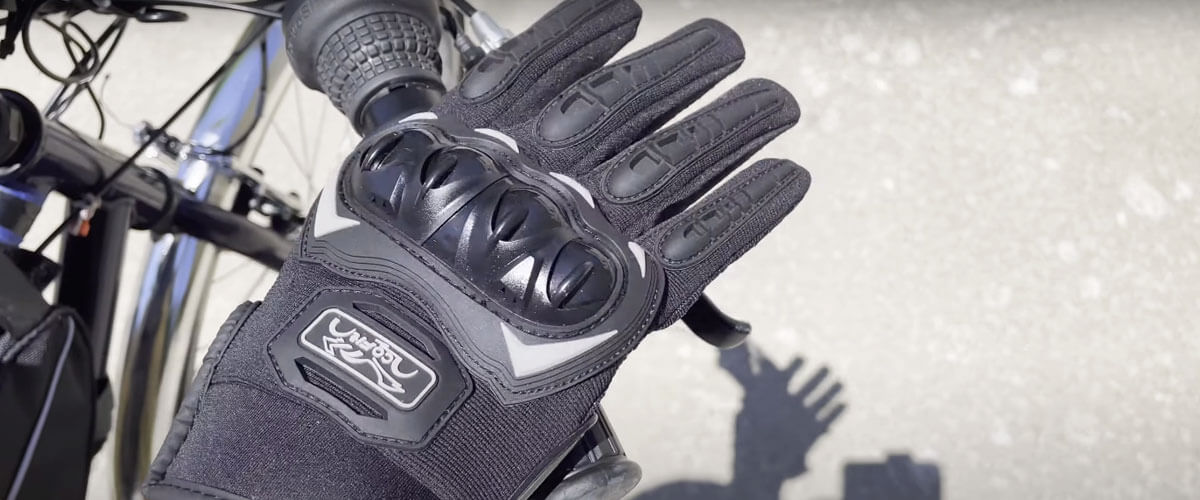 Regarding comfort and fit, the COFIT gloves offer a pre-formed design that makes wearing them pleasant. Yet, the fit is less snug or ergonomic than the Alpinestars SMX-1 Air v2 gloves. At the same time, COFIT gloves excel in ventilation. Like my leader, they offer excellent airflow to prevent excessive sweating and keep the temperature and humidity comfortable. Another important aspect is that they work well with touch screens—a significant bonus for younger generations who tend to be engrossed with smartphones.
Another notable difference lies in the protection features. While the Alpinestars gloves incorporate reinforced knuckle protection, the COFIT gloves utilize plastic protective inserts. However, these inserts are too large, significantly decreasing the usage comfort compared to the Alpinestars SMX-1 Air v2 gloves.
Although the COFIT Motorcycle Gloves have many advantages, they are inferior in some respects to the leader of my review. However, they are a worthy competitor to many models and a good choice for most bikers.
Key specs
Materials: polyester, touch screen support.
Wrist closure: velcro.
Size: SM-LG, XL-3XL.
Pros
Impeccable stitching that seems to withstand the test of time.
Deliver a secure and cozy fit for maximum control.
Seamlessly work with touch screens, allowing for effortless device control.
Cons
Plastic protective inserts are too large and negatively affect comfort.
Dainese Blackjack Gloves – leather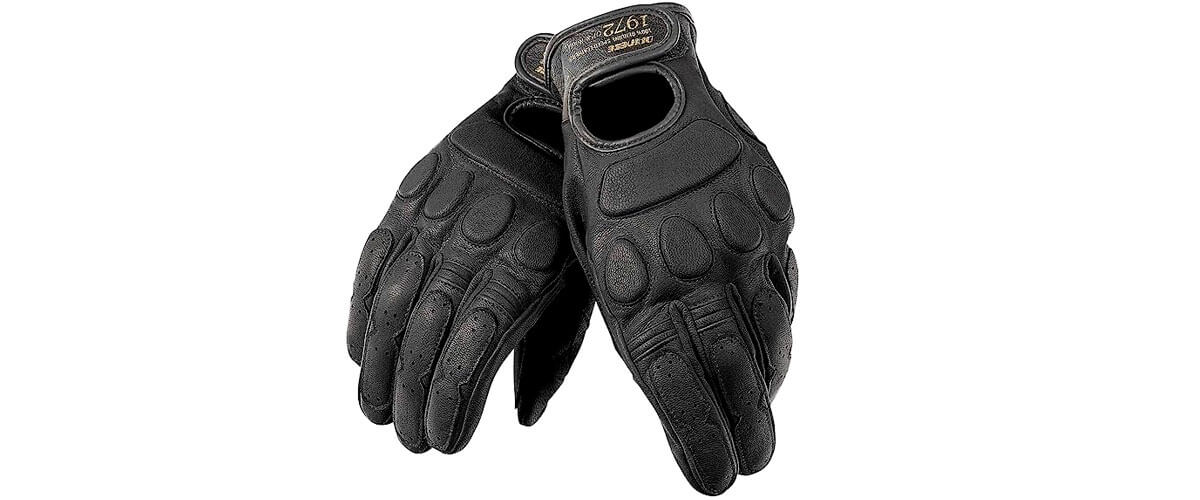 I picked Dainese Blackjack Gloves to my list for a reason. They truly embody the organic combination of classic style and modern comfort. So, let's take a closer look at what they have to offer.
On the material and construction side, the Dainese Blackjack Gloves are top-notch. Made from high-quality leather, they exude a premium feel while ensuring durability and protection. The stitching enhances both aesthetics and longevity. Clearly, the company paid a tremendous effort to make these gloves withstand the rigors of the road, aiming to provide reliable performance ride after ride. And I should say that they pretty much succeeded.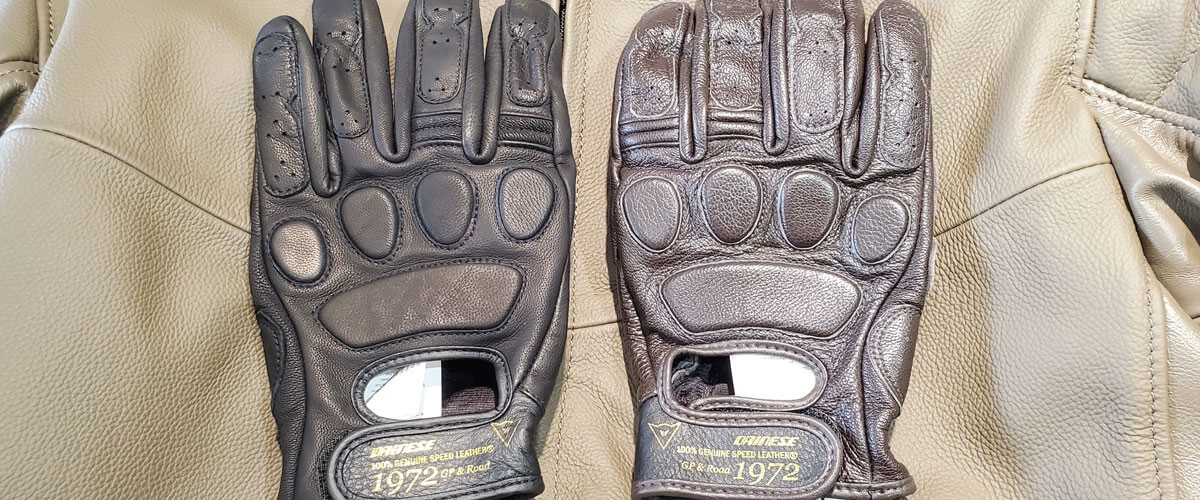 Also, these gloves don't disappoint regarding comfort and fit. They offer a snug and tailored fit that molds to the hand, allowing for exceptional dexterity and freedom of movement. The gloves balance a secure grip and tactile sensitivity, providing a natural feel when operating the controls.
The Blackjack Gloves feature perforated leather panels strategically placed to promote airflow. Considering their materials, they still allow for some sweating. At the same time, they provide more protection against harsh weather. The gloves are equipped with reinforced palms and knuckle protectors, offering impact resistance and added confidence on the road. While they may not have the same level of advanced protection as race-specific gloves, the Blackjack Gloves provide adequate safety for everyday riding.
Altogether, The leather construction of Dainese Blackjack Gloves, combined with anti-slip inserts, ensures a firm grip on the handlebars, even during wet conditions. This feature enhances control and confidence, which, together with its stylish looks, raises these summer leather motorcycle gloves to the top.
Key specs
Materials: leather.
Wrist closure: hook and loop.
Size: SM-LG, XL-3XL.
Pros
The material is truly durable and lasting.
Gloves offer decent weather resistance.
Stunning old-School design.
Cons
Gloves lack touchscreen compatibility.
Can't handle sweating on very hot days.
INBIKE IM902 – breathable mesh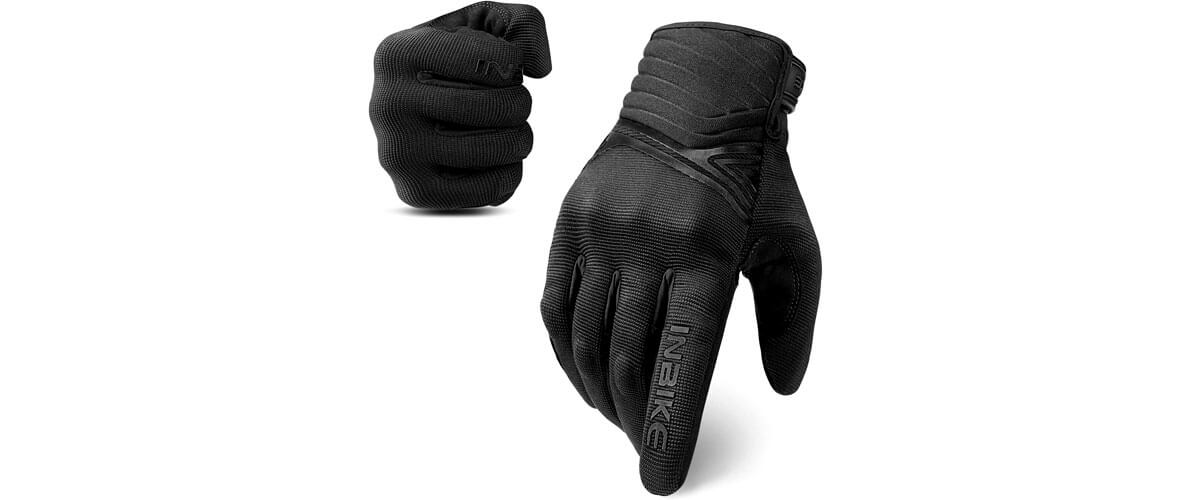 Moving to INBIKE IM 902 gloves, I have already had a positive experience with their mesh motorcycle gloves. So, I already knew that these gloves would have a place in today's review.
The company focuses on pleasant fit and optimal comfort, and these gloves offer a snug and ergonomic feel, allowing for extended wear without fatigue. At the same time, these gloves allow for unrestricted movement, which results in enhancing precision and control.
On the quality side, the company used high-quality materials to make these gloves durable and resilient. Yet, the stitching lacks quality a bit. Conversely, with strategically placed breathable mesh panels, these gloves excel in ventilation and breathability. They managed to keep my hand free from sweat, even during noon.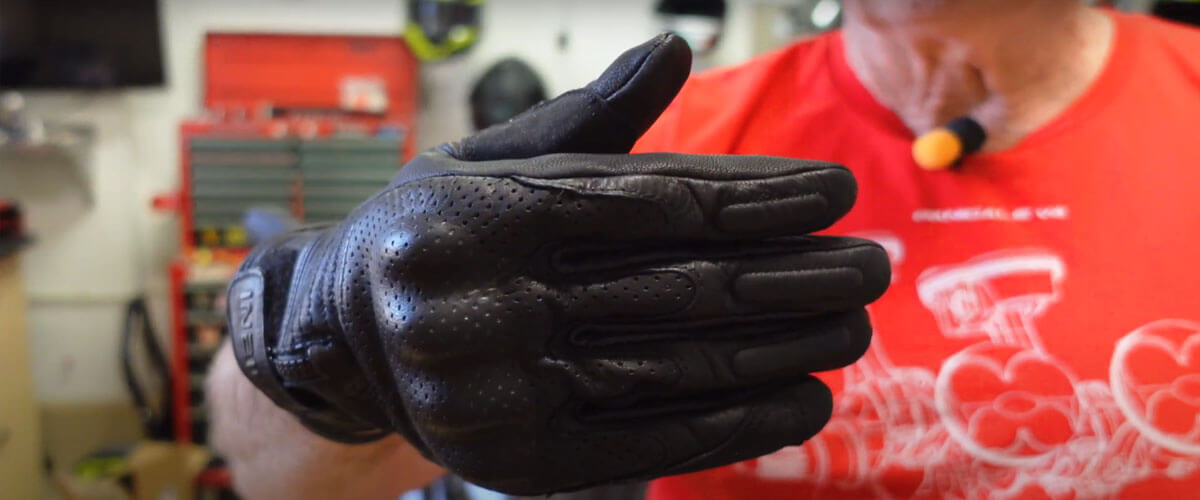 Grip and control are always paramount, and the non-slip palm design provides a secure grasp on the handlebars. Protection is prioritized with reinforced palms and knuckle protectors. While they offer decent weather resistance, additional waterproofing may be necessary for heavy rain.
Noteworthy features include touchscreen compatibility, which is always a good thing. It may not sometimes work as you expect, but this effect disappears when you adapt to controlling your devices in these gloves.
In summary, the INBIKE IM902 vented gloves offer a decent fusion of breathability, comfort, and protection. These gloves are a flexible alternative for riders looking for a practical and performance-driven accessory due to their high-quality construction, comfortable fit, breathability, protective features, and solid grip.
Key specs
Materials: polyester, microfiber, eude foam.
Wrist closure: stretch.
Size: SM-LG, XL-3XL.
Pros
Exceptional breathability with uniquely placed mesh panels for optimal airflow.
Comfortable and ergonomic fit, allowing for extended wear without discomfort.
Reliable grip and control, thanks to the non-slip palm design.
Cons
Limited weather resistance resulting in a need for additional waterproofing in case of a heavy rain.
Advanced protection features may not match those of specialized racing gloves.
Scorpion EXO Skrub Gloves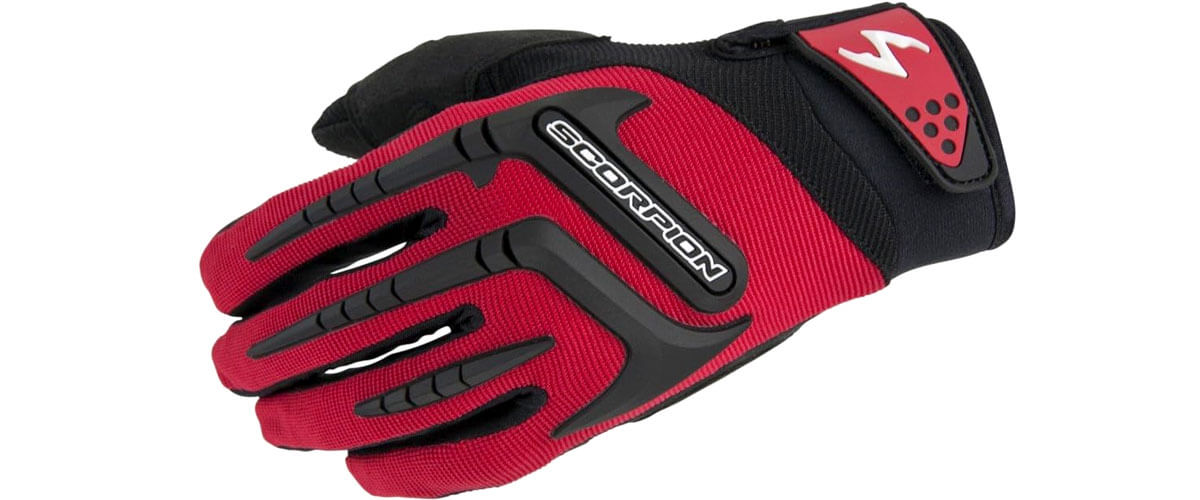 As I reached the final stretch of my review, I couldn't help but feel a sense of anticipation and excitement as I approached the Scorpion EXO Skrub Gloves. Having tested various motorcycle gloves, I was eager to discover what this particular pair had in store for me. To my delight, these gloves met and exceeded my expectations in several aspects, leaving me pleasantly surprised.
These gloves, made of high-quality fabrics and expert stitching, provide durability and dependability for daily riding. They have a tight and comfortable fit that allows for prolonged usage without strain, and the flexible design allows for unfettered movement and increased control.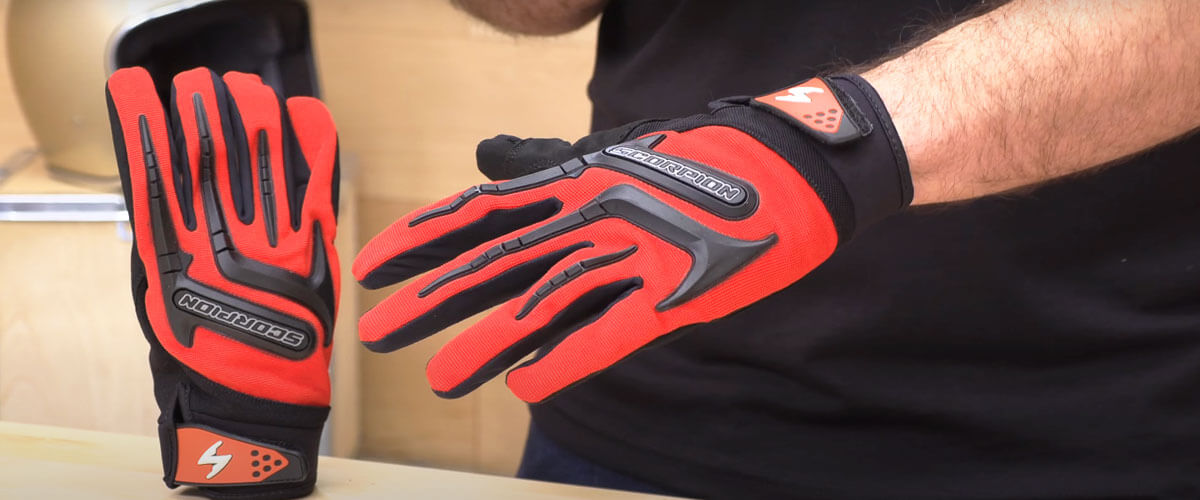 During extended rides in hot weather, the breathable mesh structure efficiently maintains airflow, keeping hands cool and sweat-free. These gloves offer a compromise between protection and adaptability, with reinforced regions and knuckle protectors.
They provide dependable grip and control, allowing you a secure grip on the handlebars. While weather-resistant, extra waterproofing may be necessary for severe rain. The Skrub Gloves are also touchscreen compatible for easy device use. Many wearers (as well as myself) unanimously praised their breathable structure, pleasant fit, dependable grip, and durability.
Regarding extras, the Skrub Gloves include touchscreen compatibility, allowing riders to utilize their devices without removing their gloves.
These gloves are a reliable and adaptable alternative for riders of all abilities due to their high-quality construction, comfy fit, outstanding ventilation and dependable grip. I definitely recommend checking them out!
Key specs
Materials: polyester, lycra, neoprene.
Wrist closure: stretch.
Size: SM-LG, XL-3XL.
Pros
Exceptional breathability with breathable mesh construction, keeping hands cool and sweat-free during summer rides.
Flexible design enables unrestricted movement and enhanced control.
Reinforced areas and knuckle protectors provide a good level of protection.
Cons
May require additional waterproofing for heavy rain.
Fit may not be suitable for individuals with larger hands or different palm shapes.
Factors to consider when choosing summer motorcycle gloves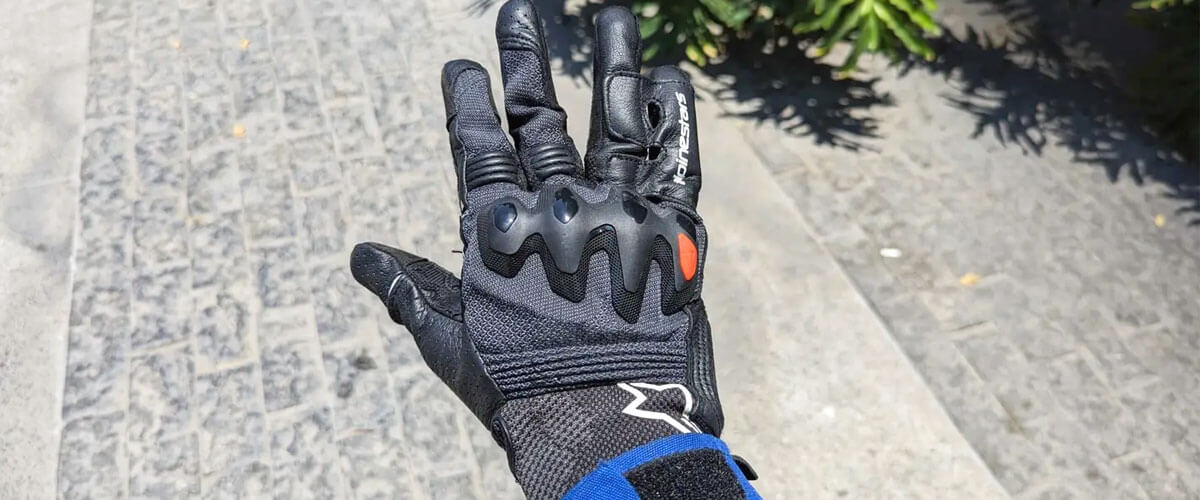 Material and construction
Selecting the appropriate summer motorcycle gloves requires careful consideration of the materials, design, and components used to provide both comfort and safety. Here are some variants and their advantages to think about.
Leather gloves
Leather riding gloves are renowned for their impressive abrasion resistance. They deliver a reliable layer of protection in case of an accident or a slide. Leather is a sturdy material that can withstand the rigors of the road, making it a perfect choice for riders seeking long-lasting gear.
Did you know that top-grain leather is highly durable? It has a smooth and supple texture that adjusts to the shape of your hands over time, ensuring a comfortable fit. Alternatively, you can opt for full-grain leather, which includes the outer protective layer. This type of leather maintains its natural grain, making it extremely tough and resistant to abrasion.
Textile gloves
During summer rides, I prefer wearing textile gloves. They are highly breathable, allowing air to circulate even on the hottest days, which helps prevent excessive sweating and discomfort during long rides. Additionally, textile gloves are made of materials like nylon, polyester, or a blend of both, which offer excellent flexibility, allowing for precise control over the throttle and brakes.
Mesh gloves
When the sun is blazing, and the temperatures rise, having cool motorcycle gloves is paramount. Mesh models are designed with breathable fabrics, allowing air to flow through the glove and reach your hands. This ventilation is crucial for preventing excessive sweating and discomfort, keeping you focused on the road ahead.
Choosing the right gloves is an important decision, and I understand that you are searching for a balance between ventilation and protection. Mesh gloves are great for airflow, but keep in mind that they may not offer as much protection as solid gloves. Please remember that mesh fabrics can be more susceptible to abrasions and impacts, so it's important to find a balance that fits your personal preferences and riding style.
Hybrid gloves
Hybrid gloves are a great option if you're looking for gloves to wear while riding in the summer. They're made with a mix of leather and mesh or synthetic fabrics, delivering safety and ventilation. Leather provides remarkable abrasion resistance, guaranteeing your hands stay secure if something occurs. Meanwhile, the mesh or synthetic materials offer enhanced breathability, allowing air to flow through and cool your hands during hot weather.
Fit and comfort
It's super important to make sure the gloves fit just right. To figure out your size, measure your hand accurately. You want the gloves to be snug but not too tight, so you can move your fingers naturally. Loose gloves can mess with your grip and control, so keep that in mind.
To enhance comfort, look for pre-curved toes, stretch panels, and adjustable closures. These design elements ensure a glove that conforms to the shape of your hand and provides flexibility for a comfortable fit. Also, it would help if you decided which gloves are right for you – full-fingered or fingerless.
Protection features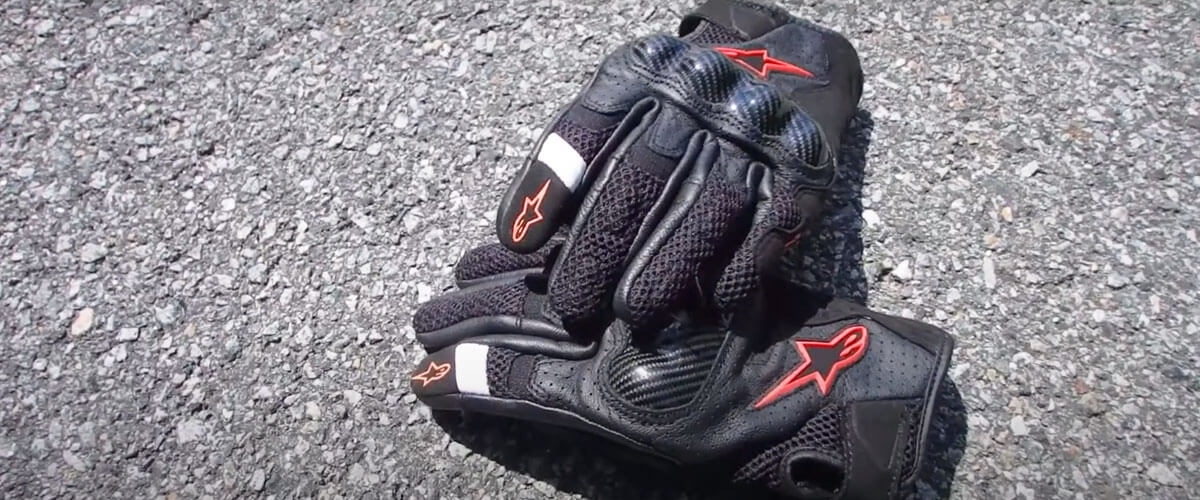 Impact protection
Imagine this: you're engaged in an adrenaline-pumping adventure, and suddenly, an unexpected impact occurs. That's where the reinforced areas come into play, acting as a shield against potential injuries. By reinforcing the knuckles, palms, and fingers with durable materials, such as high-quality leather or sturdy synthetic materials, these areas become less susceptible to bruises, abrasions, and fractures.
But what about protective inserts like carbon fiber? Well, these inserts take impact resistance to the next level. When strategically placed within the gloves, they absorb and disperse the force of impacts, significantly reducing the risk of fractures or other serious injuries.
Abrasion resistance
When you use reinforced materials like strong fabrics or panels, your gear becomes a tough shield that can withstand scrapes, scratches, and tears. And that's not all! With double stitching, your gear is even more durable, keeping seams intact even under extreme stress.
Now, let's dive deeper. High-wear areas, such as knees, elbows, or shoulders, often require additional layers of protection. They can be made of specialized materials or thicker fabrics, providing an extra barrier against the elements and prolonged wear.
Weather protection
Water-repellent gloves are designed to keep your hands dry and comfortable, even in wet conditions. But let's also not forget about the wind! Those gusts can be bone-chilling, making your fingers feel like icicles. That's where gloves with built-in wind protection come to the rescue. They shield your hands from those biting winds, maintaining warmth and allowing you to enjoy your outdoor pursuits fully.
Maintenance and care tips
First things first, cleaning your motorcycle gloves regularly is crucial. Depending on the material, you may either hand wash them with a mild detergent or use a specialized glove cleaner. Gently scrub the surface, paying extra attention to areas with dirt and grime buildup. Rinse thoroughly and allow them to air dry naturally. Avoid direct heat sources like a hairdryer, as they can damage the material.
When it comes to storage, it's important to protect your gloves from unnecessary wear and tear. Find a cool, dry place away from direct sunlight. Hanging them on a hook or placing them in a dedicated glove compartment will help maintain their shape. Avoid folding them, as it can lead to creases or permanent damage.
If your gloves have additional protective features like armor or sliders, inspect them regularly for any signs of wear or damage. Replace them if needed to ensure optimal protection.
By following these simple maintenance and care tips, you'll not only extend the lifespan of your motorcycle gloves but also ensure they continue to provide the comfort and protection you rely on. Stay safe out there, and enjoy the ride!
FAQ
Can I use winter gloves during summer rides?
While it's tempting to use winter gloves for their warmth, I do not recommend them during summer rides. Winter gloves are designed to provide insulation and may be too heavy and hot for warm weather conditions. Opt for summer-specific thin gloves that offer breathability and airflow to keep your hands cool and comfortable.
Are mesh gloves safe for protection?
If you're seeking a pleasant motorcycle ride in warm weather, mesh gloves could be an ideal choice. They offer fantastic airflow, keeping your hands cool and comfy. Nevertheless, it's crucial to prioritize protection. I recommend opting for mesh gloves that feature extra safeguards to ensure your safety on the road.
Are there any specific safety standards or certifications for motorcycle gloves?
Yes, there are safety standards and certifications for motorcycle gloves. One of the most recognized standards is the CE certification. Gloves that meet the CE standard will have a CE label or marking. Additionally, some gloves may comply with specific standards for impact protection, such as EN13594. When shopping for motorcycle gloves, look for these certifications to indicate their safety features.
Can I use touchscreen devices while wearing summer motorcycle gloves?
Of course! These days, you can find gloves with touchscreen-friendly fingertips that make it super easy to use your smartphone or GPS tracker while wearing your handwear. Just look for gloves that are advertised as touchscreen-friendly or those that have conductive materials integrated into the fingertips.