In the spirit of two-wheel adventures, I'll kick things off by saying that finding the best winter motorcycle gloves can be a game-changer when it comes to braving icy open roads. As bikers, we know that nothing dampens a ride faster than a pair of freezing hands that can barely grip the throttle.
A couple of winters back, on a frosty morning, I found myself cruising down the route. My fingers, clad in an average pair of gloves, began to feel more like icicles. The experience was anything but fun; it was a cold reminder of the importance of proper gear. Warmth, comfort, and a solid grip are three cornerstones of a great winter motorcycle glove. While the style might get you the nods at a local meetup, believe me, in the throes of a snowfall, functionality takes the lead. So, let's delve into some top picks to keep your hands toasty and your grip secure this winter.
Our pick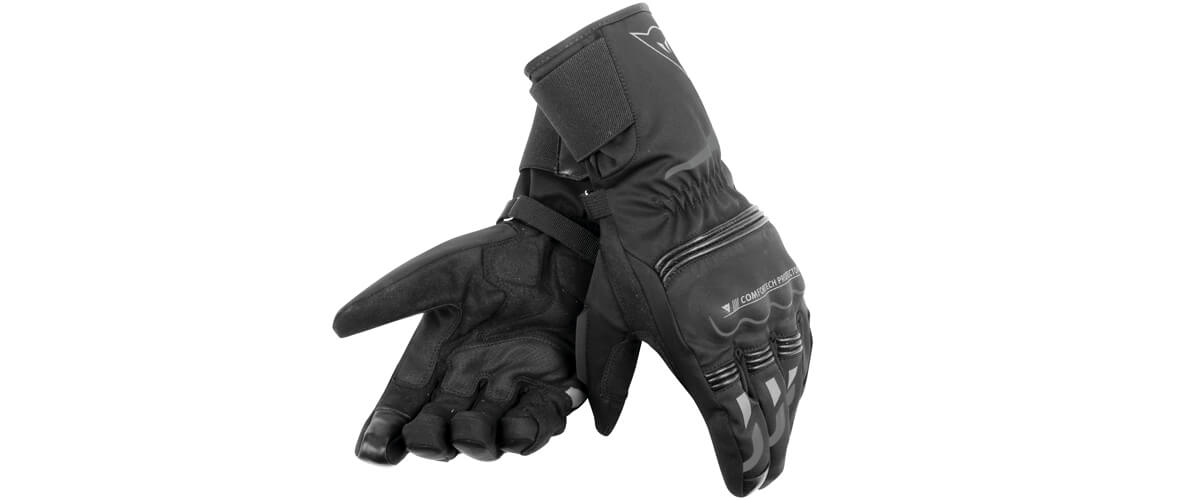 Dainese Tempest D-Dry Long Gloves
Best winter motorcycle gloves
The Dainese Tempest D-Dry Long Gloves combine Amica suede, Digital suede, and elasticated fabric, giving you protection and skillful manipulation over the fate of your bike and electronic devices.
Read the full review
.
Best winter motorcycle gloves review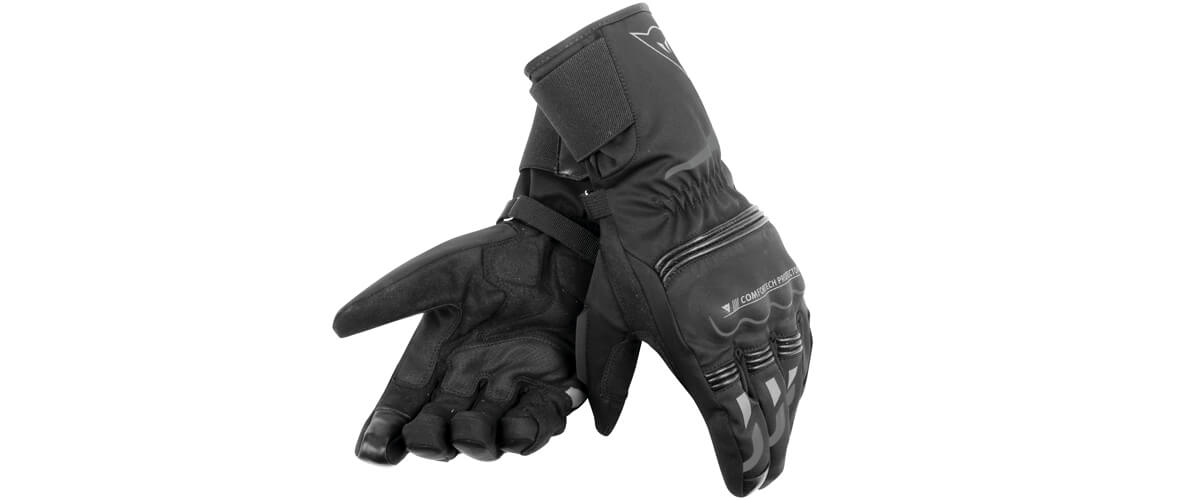 The Dainese Tempest D-Dry Long Gloves aren't just gloves – they're your trusty winter ride buddies, ready to roll no matter what Mother Nature throws your way.
What sets these gloves apart is their sheer adaptability. I put them through their paces on a chilly dawn ride, and my mitts felt cozy as can be while maintaining a responsive feel on the controls. This is thanks to the soft inserts that provide an extra layer of comfort, allowing you to easily maneuver the bike even when the mercury drops.
And let's talk about the Dainese Smart Touch. This feature is a real godsend when you're out on the road. You can use your GPS or answer urgent calls without exposing your fingers to harsh elements.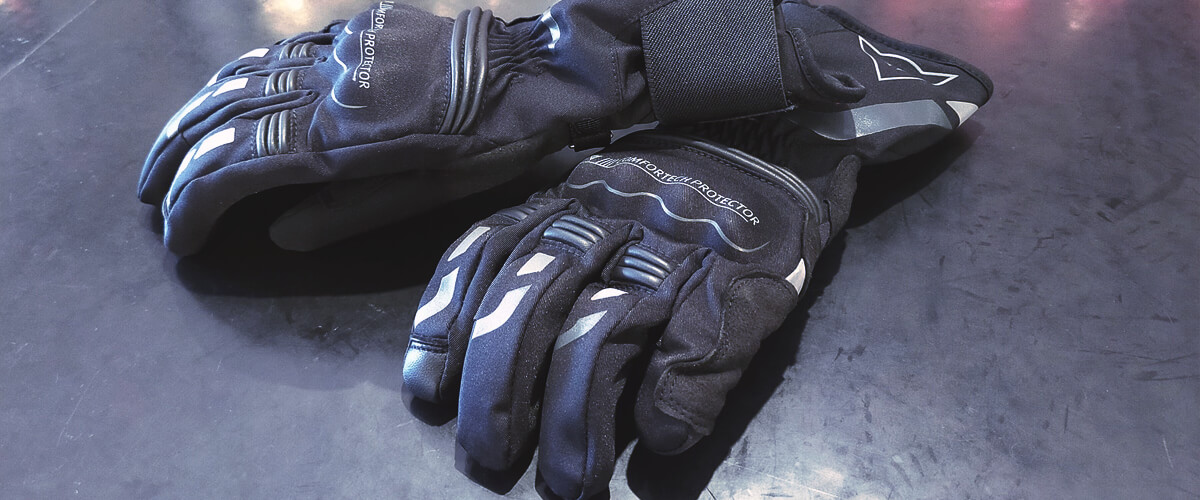 The reflective inserts are also a solid addition, especially on those foggy winter mornings. I've had a couple of cars on the commute give me a wide berth, thanks to these visibility boosters.
You might wonder how these stack up against the Alpinestars GP Pro R3 Gloves. Well, the Alpinestars are a top-tier pair, no doubt about it, but they're geared more toward track performance. On the other hand, the Dainese gloves nail the balance between performance, comfort, and practicality, making them an ideal choice for everyday riders and adventure seekers alike.
So, to wrap this up, the Dainese Tempest D-Dry Long are the overall best motorcycle gloves for winter out there, with a versatility that's as vast as the open road itself.
Key specs
Materials: amica suede, digital suede, elasticated fabric.
Wrist closure: adjustable cuff strap.
Size: 3XS-LG, XL-2XL.
Pros
Sturdy.
A waterproof D-Dry membrane adds to breathability – important for longer rides.
Gadget-friendly.
Cons
Size runs small.
Made of leather – can be a bit stiff in very cold weather.
Alpinestars GP Pro R3 Gloves – premium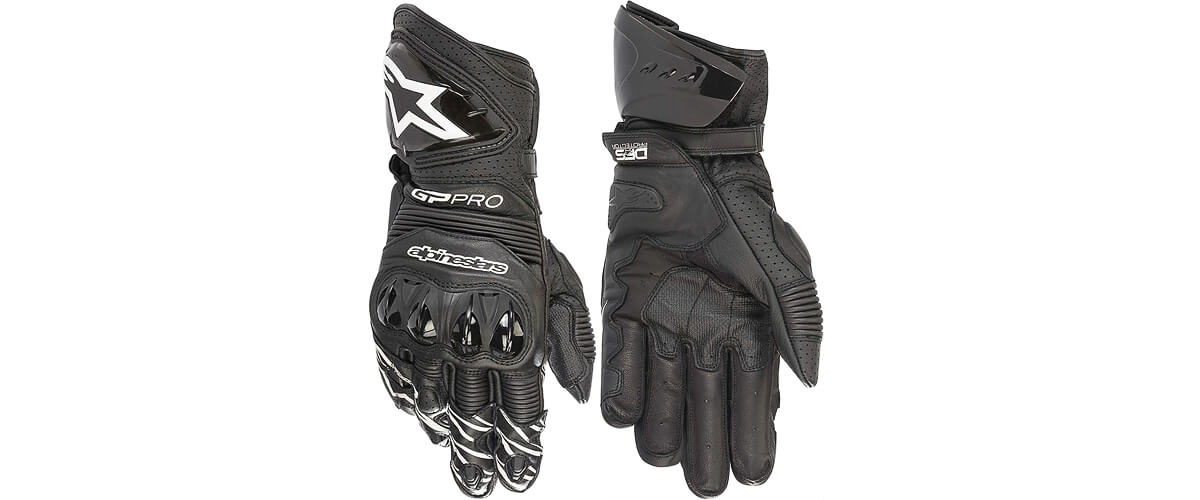 Revving up for a thrilling ride on a nippy day, you will want the Alpinestars GP Pro R3 Gloves on your handlebars. These bad boys are some of the best cold-weather motorcycle gloves in the high-performance category.
I took these gloves out for a spin on a brisk track day, and they handled like a dream! The enhanced ergonomic shaping melds with your hand contours, providing a level of comfort that's on par with sipping hot cocoa by a fireplace.
And it's not just comfort. We're talking about a glove tested on MotoGP and WSBK circuits. The Dynamic Friction Shield protectors are a testament to that. During my test ride, a minor scrape with the asphalt saw the DFS take the brunt, leaving my hand unscathed.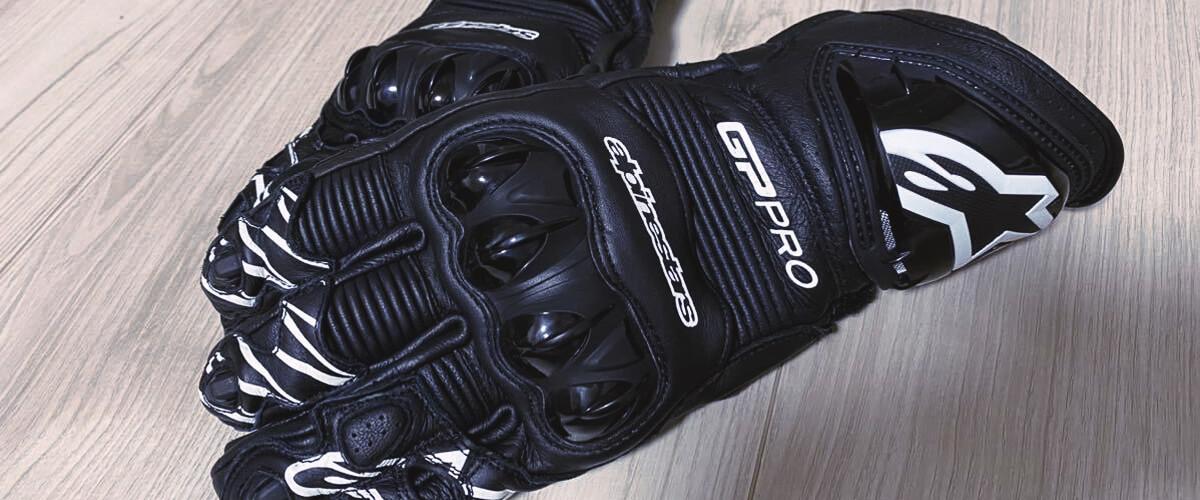 But what about the average Joe who commutes in the city, you ask? Well, the GP Pro R3 may feel a bit over-engineered. Its racing features might be a tad excessive for a quick hop to the grocery store.
I also noticed that the outer seam palm construction, while fantastic for grip and comfort, could be a bit cool in freezing temperatures. However, a pair of heated grips or handlebar muffs could easily remedy this.
So here's the deal. The Alpinestars GP Pro R3 are the gloves that'll make you feel like a pro on every ride. They've got your back – or should I say, hand – when the cold weather hits, proving once and for all that performance doesn't always need to hibernate for winter.
Key specs
Materials: cow, goat, kangaroo leather.
Wrist closure: adjustable cuff strap.
Size: SM-LG, XL-3XL.
Pros
The aesthetically pleasing design and solid construction.
High comfort levels – suitable for long rides.
Sizing is consistent with other Alpinestars gloves.
Cons
Might need a break-in period.
REV'IT! Stratos 2 GTX Gloves – leather winter motorcycle gloves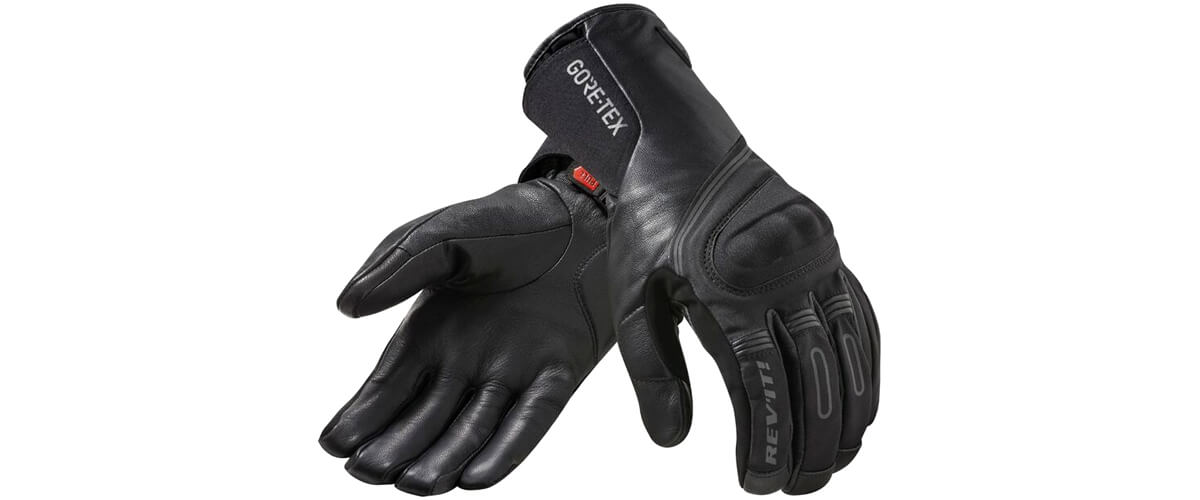 If you're after the best leather motorcycle gloves for cold weather, the REV'IT! Stratos 2 GTX will warm your hearts – and your hands.
Taking these gloves for a spin, the goatskin exterior struck me first. Tough as nails yet supple, it was like strapping a protective beast onto my hands. The Gore-Tex membrane gave me that windproof and waterproof shield, a true godsend on those wet and blustery rides.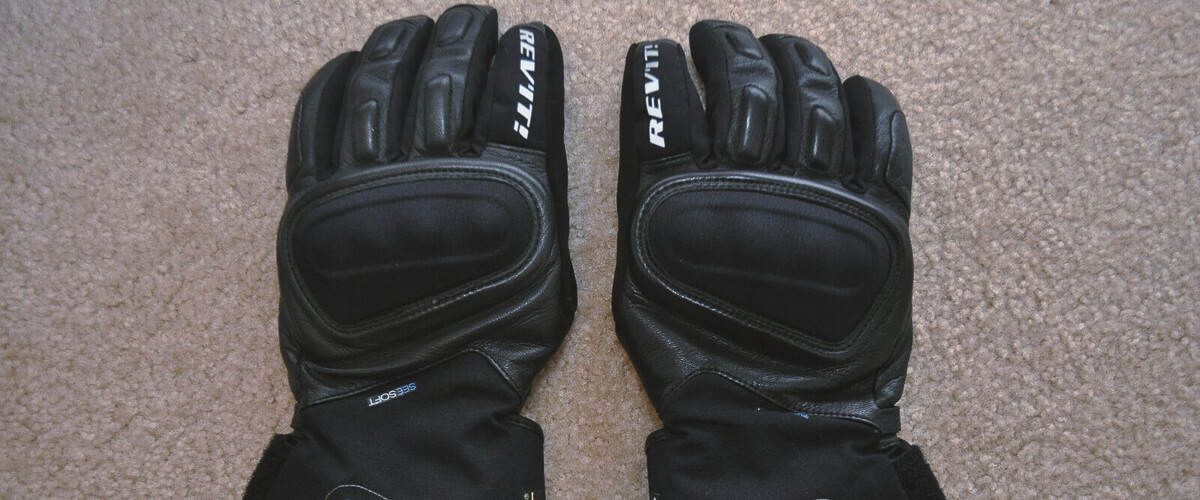 Now, let's not forget the Thinsulate G and tri-fleece liner. Even on a bitter-cold ride up the frosty mountain pass, it felt like my hands were at a tropical retreat – toasty and happy.
These leather winter motorcycle gloves do lean towards the bulkier side, so if you're all about that ultra-sleek feel, they might take some getting used to. But remember, a little extra bulk is a small price for the fortress of warmth these gloves provide.
The bottom line? The REV'IT! Stratos 2 GTX Gloves are your ultimate winter companions. They're not just gloves, they're a cozy embrace for your hands when the winter chill tries to play spoilsport.
Key specs
Materials: goat leather, polyamide, polyester, Gore-Tex membrane.
Wrist closure: elastic fabric.
Size: SM-LG, XL-3XL.
Pros
Well-made.
Warm even in really low temperatures.
Gore-Tex waterproofing is effective in cold weather rain.
Allow for ease of control while riding without being too thick.
Cons
Sizing issues – even the smallest size may be a little too large.
Despite the overall warmth, some users have complained of cold fingers in extremely cold temperatures. I have not had this problem, but I have not tested them in extremely cold climates.
ILM Motorcycle Gloves GRC01L – winter dirt bike gloves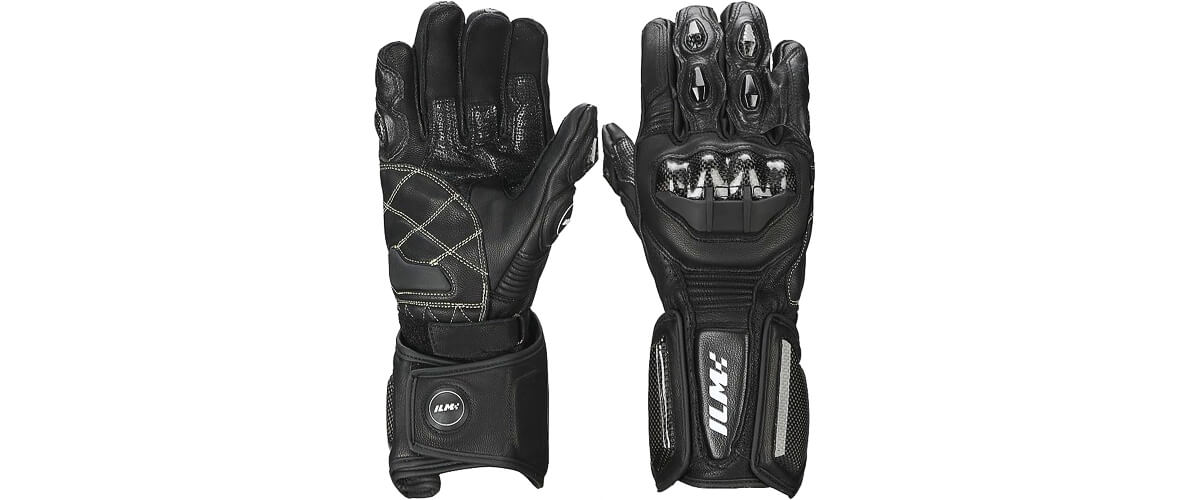 The ILM GRC01L winter dirt bike gloves hit a home run when it comes to providing 360° protection. Your hands are given full armor with their external shell safeguarding from scaphoid to fingers. Moreover, the goat leather construction and effective airflow system offer breathability without compromising durability. These gloves have double-layered leather and extra foam in high-impact areas, which means your mitts have a fighting chance in a slide.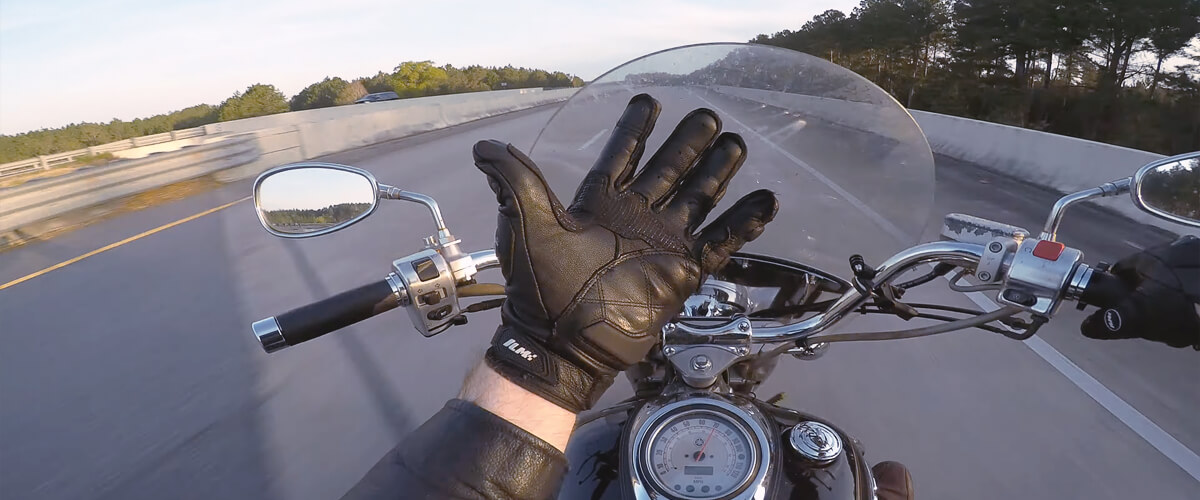 However, the GRC01L might be a bit overkill for casual riders. The amount of protection they provide can make them feel a bit bulky and restrict movement somewhat.
In a nutshell, the ILM GRC01L is the best model for hardcore dirt bikers who need a robust pair of winter gloves for motorcycle riding. If you're tearing up trails and aren't afraid of a spill, they should be up your alley.
Key specs
Materials: leather.
Wrist closure: hook and loop.
Size: M-LG, XL-2XL.
Pros
Durable with high-quality leather and robust sliders.
Excellent protection.
Offer good grip, comfort, and dexterity, allowing for easy handling of controls.
Cons
The touchscreen capability isn't consistently effective.
Don't provide sufficient warmth for very cold weather.
There may be pressure points due to hard plastic parts that may cause discomfort until the gloves are broken in.
Kemimoto Motorcycle Carbon Fiber Winter Gloves – budget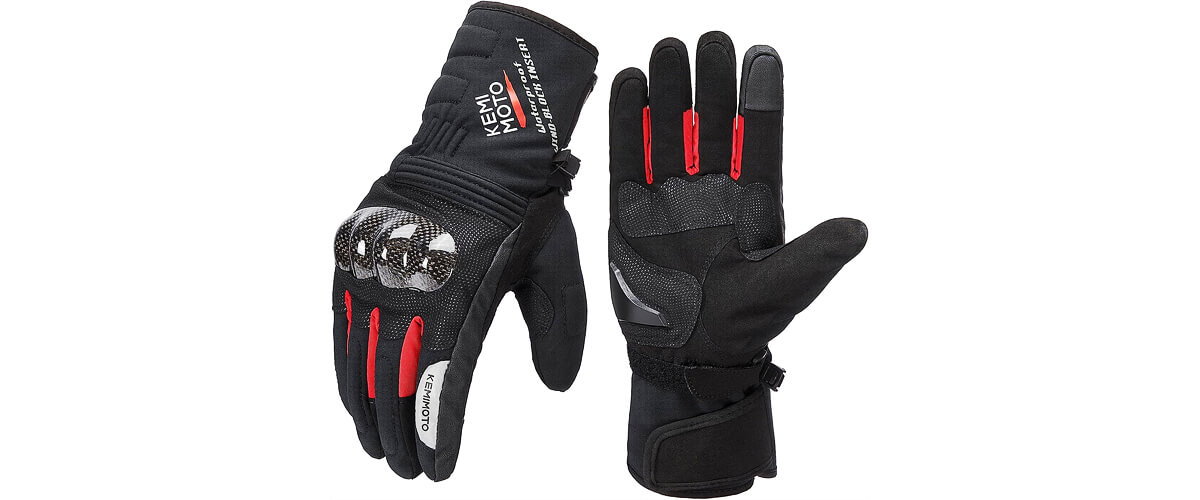 Kemimoto gloves are a knockout contender for the market's best budget winter motorcycle gloves. Their strong suit is definitely the value-to-price ratio. With carbon fiber knuckle protection, touch screen functionality, and stellar waterproofing, the Kemimoto doesn't skimp on essential features. The 3M Thinsulate cotton lining is a godsend in sub-zero temperatures, keeping your hands cozy on frosty rides. Despite their modest price tag, these gloves don't trade off functionality for affordability.
So, gear up this winter with Kemimoto – high-quality, low-cost gloves that are warmer than a cup of joe.
Key specs
Materials: carbon fiber, ethylene vinyl acetate, cotton, polyvinyl chloride, thermoplastic polyurethane.
Wrist closure: velcro.
Size: M-L, XL-2XL.
Pros
Effective in keeping hands dry during storms.
Have touchscreen capability.
Pair well with glove liners for additional insulation and ease of removal.
Good value for the price point – offer a balance between affordability and performance.
Cons
May not provide sufficient warmth for very cold temperatures (below 40 degrees Fahrenheit).
Gloves run small.
The importance of winter motorcycle gloves
The cold temperatures while riding can be bone-chilling, and the wind chill factor can make it feel even colder! That's where winter motorcycle gloves come to the rescue. These gloves are designed to provide insulation, keeping your hands warm and protected from the icy winds. But it's not just about warmth; these gloves also offer excellent weather protection. They are typically constructed with waterproof and windproof materials, shielding your hands from rain, sleet, and wind gusts.
Moreover, winter motorcycle gloves are equipped with special palm materials or textures that enhance your grip on the handlebars, even in wet or snowy conditions. This means you can confidently navigate through winter roads without worrying about your hands slipping off the controls.
The styles of motorcycle winter gloves
As you may have guessed, when it comes to riding in colder weather, it's important to protect your hands from the elements while maintaining comfort and dexterity. I have prepared a useful table for you, where I indicated the features of a particular type, its advantages, and disadvantages. Let's explore the various options:
| Type | Design | Pros | Cons | Scope |
| --- | --- | --- | --- | --- |
| Gauntlet | These gloves have an extended cuff that covers the wrists, providing excellent protection and insulation. | Effective in cold weather, offer superior wind and water resistance, and provide good impact protection. | May be bulkier than other styles, limiting finger dexterity. | Ideal for long trips, touring, and sport riding in cold conditions. |
| Short cuff | These gloves have a shorter cuff that ends near the wrist, allowing for greater flexibility. | Lightweight and more dexterous, suitable for milder winter temperatures or shorter rides. | May not offer as much insulation or weather protection as gauntlet gloves. | Well-suited for urban commuting, shorter rides, or riders who prefer greater flexibility. |
| Adventure/Touring | These gloves combine elements of the gauntlet and short cuff gloves, offering a balance of protection and flexibility. | Provide good insulation, weather resistance, and impact protection, with added features like touchscreen compatibility. | Can be bulkier than short cuff gloves, limiting finger mobility to some extent. | Perfect for adventure riding, touring, and long trips in various weather conditions. |
| Heated | These gloves incorporate heating elements powered by batteries or motorcycle electrical systems. | Deliver exceptional warmth, keeping your hands toasty in extremely cold temperatures. | Limited battery life (for battery-powered gloves), and some may find the wires or batteries slightly cumbersome. | Recommended for any winter riding, especially in freezing temperatures. |
| Dual-sport | These gloves are designed for off-road riding, featuring rugged materials and reinforced protection. | Offer a good balance between protection and flexibility, suitable for varying terrains and weather conditions. | May not provide as much insulation as other styles, so extra layering might be necessary in colder climates. | Geared towards off-road enthusiasts, adventure riders, and those who prefer a versatile glove for mixed terrain. |
| Modular/Mittens | These gloves have a convertible design, allowing you to switch between full coverage and open fingers. | Versatile and adaptable, providing options for dexterity or added warmth when needed. | In mitten mode, finger mobility is limited, reducing fine motor control. | Suitable for riders who desire flexibility in various weather conditions, offering the best of both worlds. |
As you can see, there are quite a few options. Depending on your needs, riding style, and climate, choose the model you need. But I recommend having 2-3 types of different gloves, which will allow you to adapt to any weather and be the most versatile rider.
Key features to consider in winter motorcycle gloves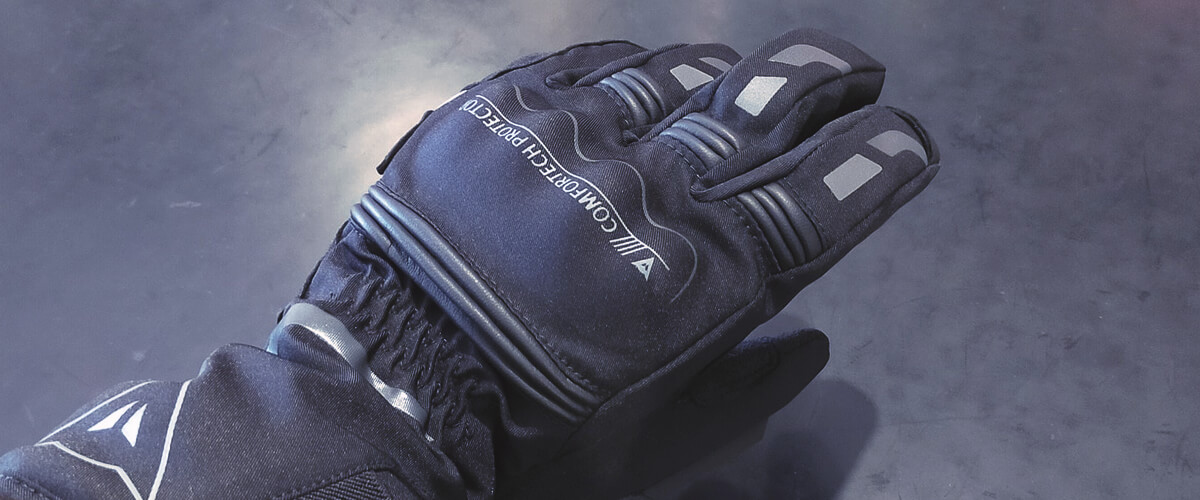 Insulation and warmth
When it comes to keeping your hands warm while riding in cold weather, the insulating material in your gloves matters. Thinsulate is lightweight, and traps heat while allowing moisture to escape. Fleece has air pockets that retain heat and is soft. Thermal linings reflect your body heat. Winter motorcycle gloves need to balance warmth, flexibility, and breathability.
Layering gloves maximize insulation, and a proper fit is crucial for trapping heat close to your skin. Additionally, a proper fit is crucial for trapping heat close to your skin. Too loose gloves will allow cold air to seep in, while excessively tight gloves can hinder circulation, leading to discomfort and reduced warmth.
Waterproofing and windproofing
I highly recommend looking for gloves with advanced waterproof membranes like Gore-Tex, which provide excellent protection against moisture. These membranes create a barrier that prevents water from seeping through while allowing sweat to escape, keeping your hands dry and comfortable. Durable water-repellent (DWR) coatings are also essential. They enhance the glove's ability to repel water, ensuring it beads up and rolls off instead of soaking in.
Consider opting for gloves that specifically mention windproofing as a feature. They are designed with materials that block the chilling wind, providing extra insulation for your hands. To further enhance the glove's protective capabilities, sealed seams are crucial. They allow you to tighten the glove around your wrist, creating a secure seal that prevents water ingress.
Grip and dexterity
When the temperatures drop and the roads get slippery, having a firm grip on your bike's throttle becomes paramount. Look for gloves with reinforced palms and textured grip materials. You also need handwear that provides flexibility and allows for precise movements. Consider gloves with pre-curved fingers, which conform to the natural shape of your hand, offering improved control and feel while riding.
We live in a connected world, and using your smartphone or navigation device without removing your gloves is a huge convenience. Look for gloves with touchscreen compatibility, allowing you to interact with your devices effortlessly.
Protection and durability
Regarding protection, two aspects stand out: abrasion resistance and impact protection. Winter riding can be challenging, and you need gloves that withstand harsh conditions. Look for gloves with reinforced knuckles that provide an extra layer of defense. Finger guards and palm sliders are also worth considering, as they offer added protection against impacts during an unfortunate spill.
Durability is equally important. You want gloves that will last you for many seasons to come. Opt for gloves made from durable materials like leather or synthetic textiles. Leather provides excellent abrasion resistance and is known for its long-lasting quality. Alternatively, modern synthetic textiles offer durability without compromising on flexibility and comfort.
Finding the right fit
To measure your hand size accurately, grab a measuring tape and wrap it around your dominant hand just below the knuckles. Note down the measurement in inches or centimeters. Now, check the sizing chart provided by the glove manufacturer. Match your measurement with the corresponding glove size. It's better to go for the larger size if you're in between sizes. Remember, a snug fit is ideal, allowing flexibility and dexterity without being too tight.
FAQ
Can I use touchscreen devices while wearing winter motorcycle gloves?
Yes, you can! Many winter motorcycle gloves now come with touchscreen-compatible fingertips.
Can I use winter motorcycle gloves for other winter activities?
Absolutely! While designed for motorcycle riding, winter motorcycle gloves can be versatile for various winter activities like skiing, snowboarding, or hiking. Their insulation and weather-resistant features suit different outdoor pursuits in cold conditions. Just ensure they offer the necessary protection and grip for your specific activity.