If you have ever had a chance to ride your motorbike in chilly conditions, you know that it's not a pleasant process. While you can hide your face under the helmet and protect your body with a warm jacket, your hands may be exposed to cold, which can affect the motorcycle's driving. That is why it's essential to pick the best heated motorcycle gloves that will ensure your hands don't freeze.
The right pair of heated gloves will help you forget about frozen and stiff hands, but how do you select one? Indeed, there are hundreds if not thousands of offers on the market, which makes a choice somewhat complicated. But there is nothing for you to worry about as I've compiled a list of heated gloves worth your attention (with my personal impressions). So, read on, and you will figure out which accessory will meet your needs better.
Our pick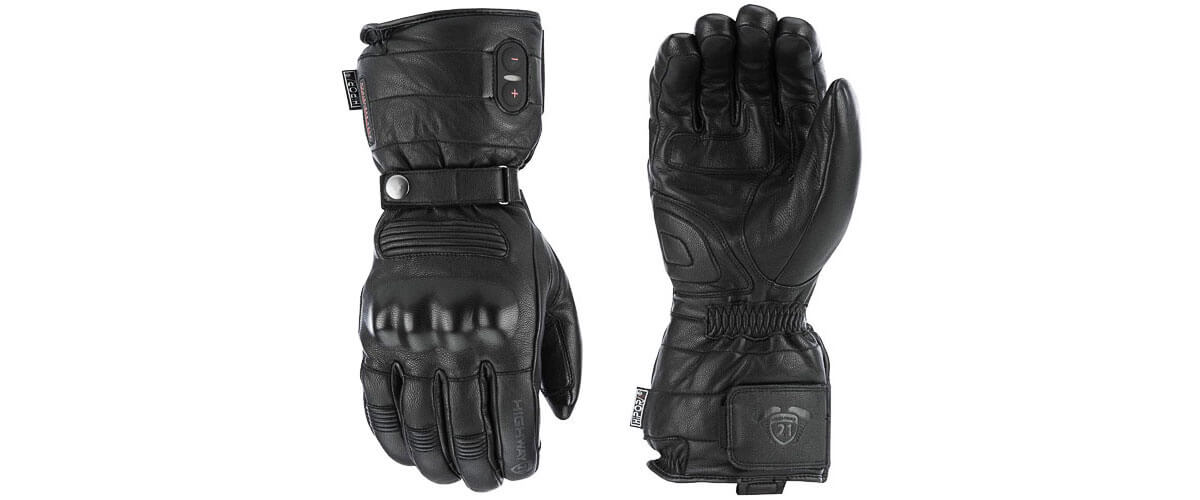 Highway 21 Radiant
Best heated motorcycle gloves
Highway 21 Radiant with genuine leather construction has a lithium-ion battery and controller with 3 heat settings, an adjustable gauntlet, and armored knuckles for added protection.
Read the full review.
Best heated motorcycle gloves review
Highway 21 Radiant – best overall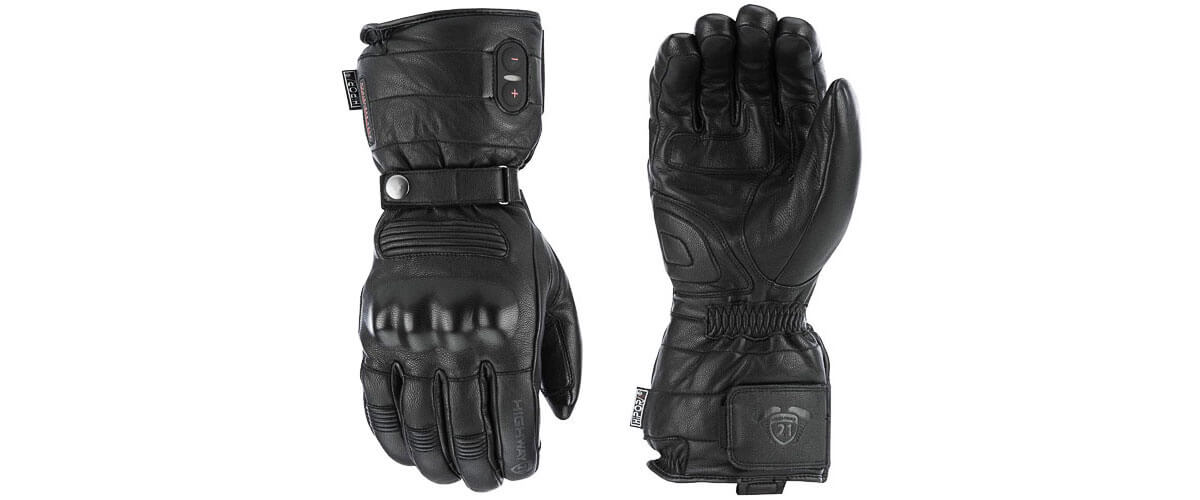 These well-made heated gloves by Highway 21 will keep your hands warm and deliver the desired comfort during your rides in cold weather. The Radiant model is constructed of genuine leather, a sturdier material than in Savior. The Hipora liner is waterproof and windproof yet doesn't affect the breathability. Also, these gloves are compatible with touch screens, so you can use your phone or tablet without putting the gloves off.
This pair of gloves has three heat settings, which allow you to set the optimal temperature. The temperature control buttons are easy to reach and operate. Mind that the operating time will depend on what temperature setting to choose, as the lithium-ion battery ensures 4 hours on low heat, 3 hours on medium heat, and 2.5 hours on high heat modes.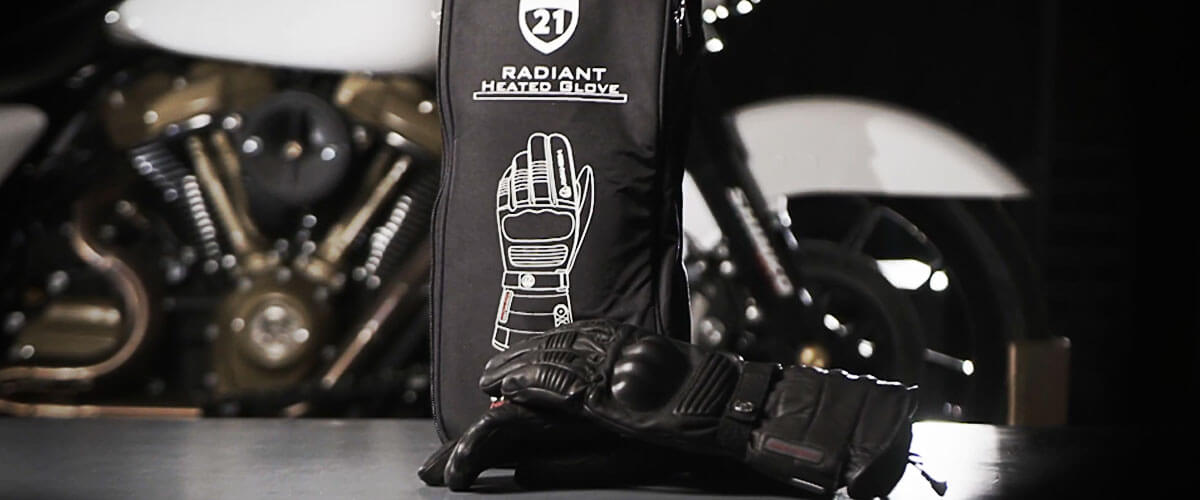 Highway 21 Radiant may feel bulky at first if you got used to ordinary riding gloves, but that's not a big deal. Such comfort and protection features as Thinsulate insulation, armored knuckles, and pre-curved fingers provide the necessary level of protection, control, and comfort.
I have worn them in temperatures ranging from 30 to 40 degrees Fahrenheit, and my hands remained warm and toasty during the whole ride. I especially liked that my fingertips were warm too, and I had no rider fatigue in my hands. Considering this, I will say that Highway 21 Radiant are the best heated motorcycle gloves.
Key specs
Power source: lithium ion battery.
Materials: leather, HiPora.
Pros
Durable and breathable leather construction with the Hipora liner.
Three temperature settings with easy-to-reach control buttons.
A lithium-ion battery ensures from 4 to 2.5 hours of work depending on the mode.
Feature armored knuckles and pre-curved fingers for better protection and comfort.
Cons
They may be a little bit bulky.
Savior – budget choice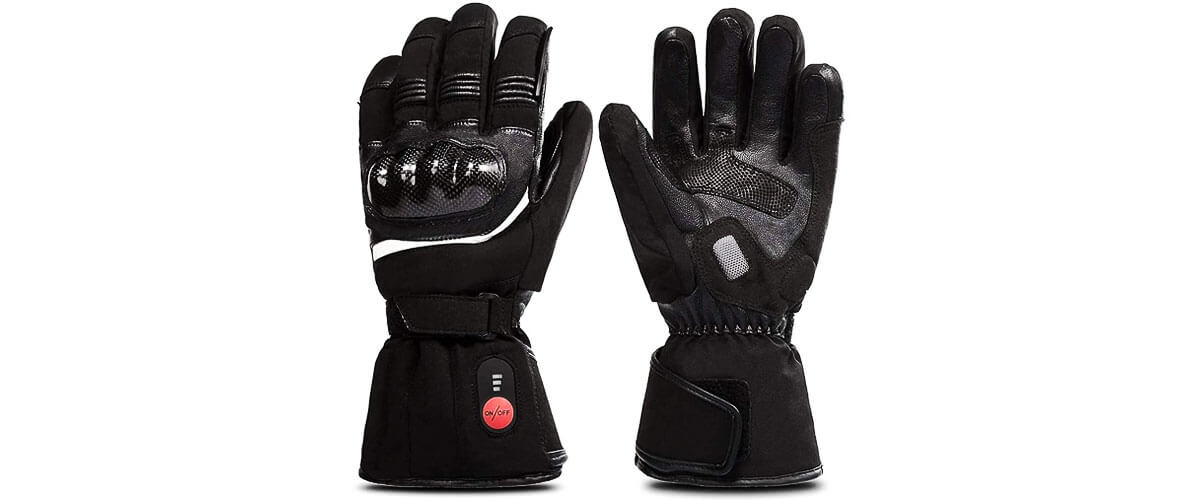 When you are not ready to spend an overwhelming sum of money on heated gloves, here is a solution for you – Savior motorcycle gloves. Similar to Highway 21 Radiant, this is a battery-operated type, giving you plenty of mobility.
These gloves combine leather and fabric materials to deliver functionality, comfort, and durability. Fabric inserts improve breathability, while leather protects your hands from wind and water. At the same time, Savior gloves are insulated, so you do not feel cold when the battery dies.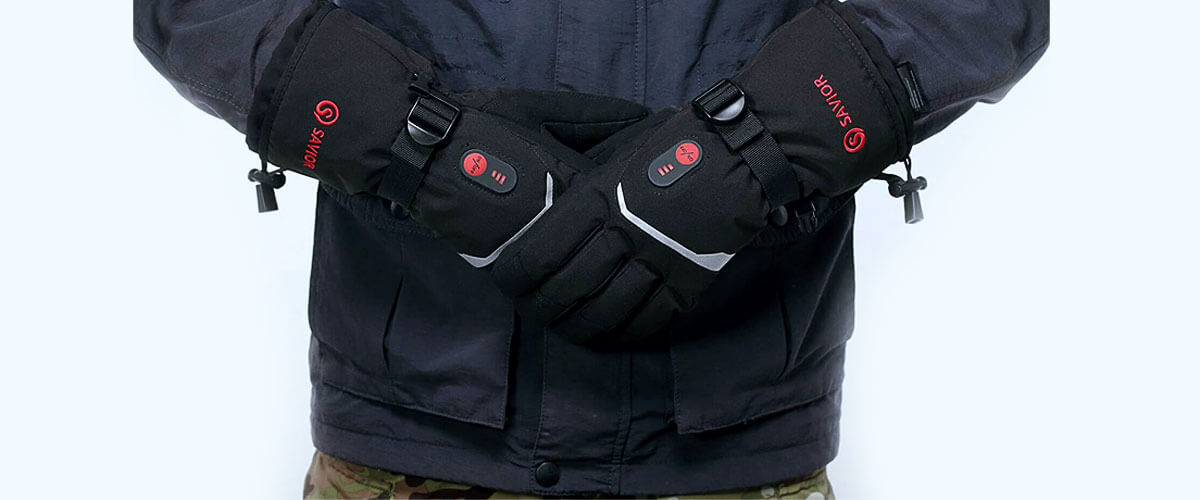 The 7.4 battery ensures up to 6 hours of work on a low heat setting (there are three heat modes in general). However, some heated motorcycle gloves reviews say that these batteries are faulty and do not work correctly. Luckily, I didn't have this issue. But I would like to admit that this product works great for heating fingertips rather than the whole hand. I lacked heat in the palm and pinky finger edge.
Savior gloves do not get overwhelmingly hot. They are warm, which is enough for subzero temperatures. I use them both during the rides and off the bike. These are cost-effective rechargeable heated motorcycle gloves that will keep your hands toasty when you ride your bike.
Key specs
Power source: lithium ion battery.
Materials: leather, polyester.
Battery life: 3-6 hours.
Pros
The combination of leather and fabric improves breathability and durability.
Three heat modes for you to choose from.
The highest temperature is pleasantly warm.
A battery-operated design gives you the flexibility of use.
Cons
You may want to have more heat in the whole hand.
Some batteries come defective and fail to work for a long time.
Day Wolf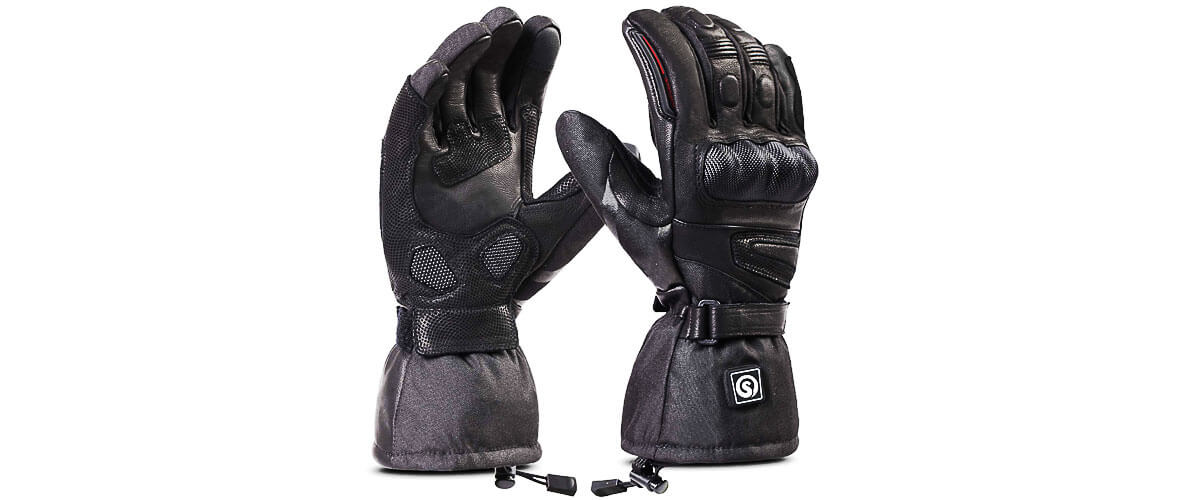 Day Wolf heated gloves are made of leather with index sewing, rubber padding for palm protection, and feature a carbon fiber knuckle protection shell to ensure you always stay warm and comfortable during your rides. They are resistant to odors and wick moisture, so your hands will always stay dry.
If you do not want to be tied to the bike when you wear heated gloves, you will prefer Day Wolf to Gerbing G4 since they come with a pack of batteries instead of wires. By the way, they are pretty warm, even without a heating function. The gloves are flexible enough to let you flawlessly operate the motorcycle as well as temperature controls.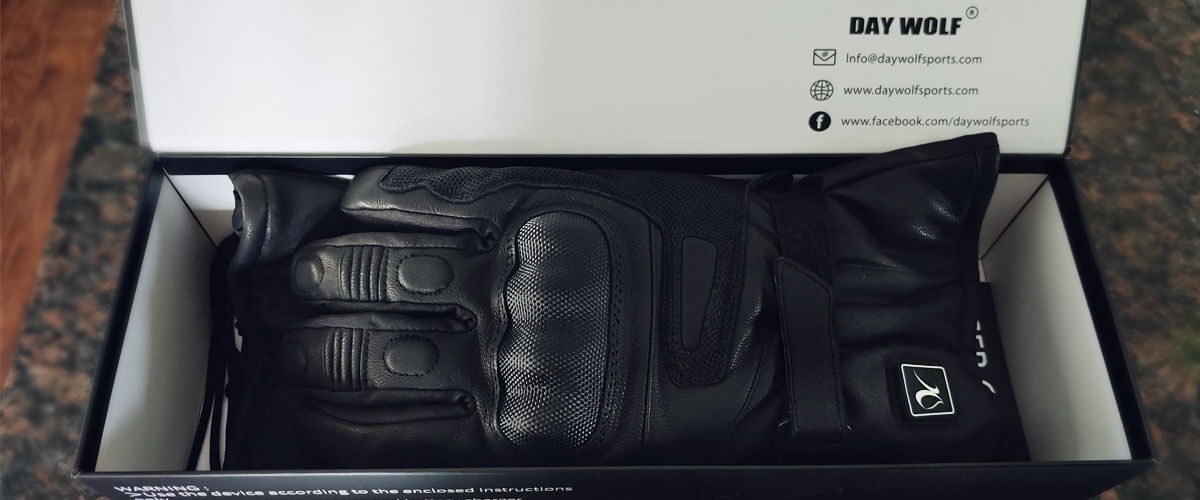 I personally found no difference between low and high temperature settings, so I usually use Day Wolf gloves in the low mode to get more battery life. Also, I noticed that they heat only the back of your hand, which I totally tolerate as this part gets most of the wind.
When you want to warm up a little bit in cold weather as you ride your motorbike, these Day Wolf gloves will ensure your hands stay in a warm place. They securely hold on your hands and allow you to use or phone or switch the temperature, all without removing the gloves.
Key specs
Power source: lithium ion battery.
Materials: sheep leather, polyester.
Battery life: 100% heat: 2.5 – 3 hours, 66% heat: 3 – 5 hours, 33% heat: 4 – 6.5 hours.
Pros
They are resistant to odors and keep your hand dry.
Feature a touchscreen sewing to let you use your phone with gloved hands.
A battery-operated model allows more flexibility in use.
Cons
There is not much difference between the low and high temp modes.
Heat only the back of your hand.
Fly Racing Ignitor Pro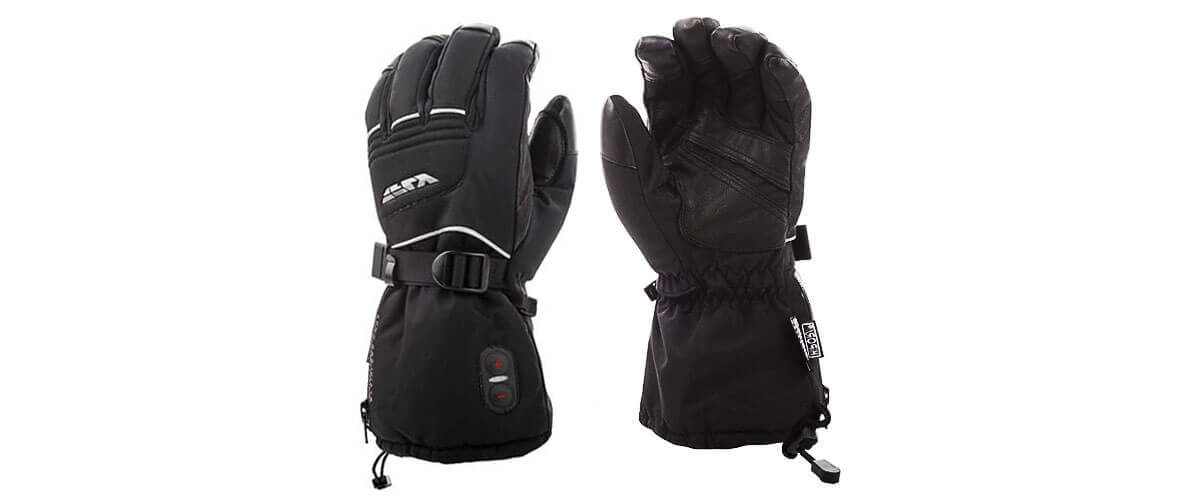 Do not let cold or rain stop you from a ride on your motorcycle. Instead, wear the Fly Racing Ignitor Pro and start your adventures. These accessories protect your hands from elements and keep you warm as you choose among three temp settings.
The Ignitor Pro model combines leather, fabric, and silicon-printed materials to let you easily operate the controls, reach great hand breathability, and get a firm grip. Similar to Highway 21 Radiant, these gloves have a layer of insulation to ensure you stay warm even when the heating element is off.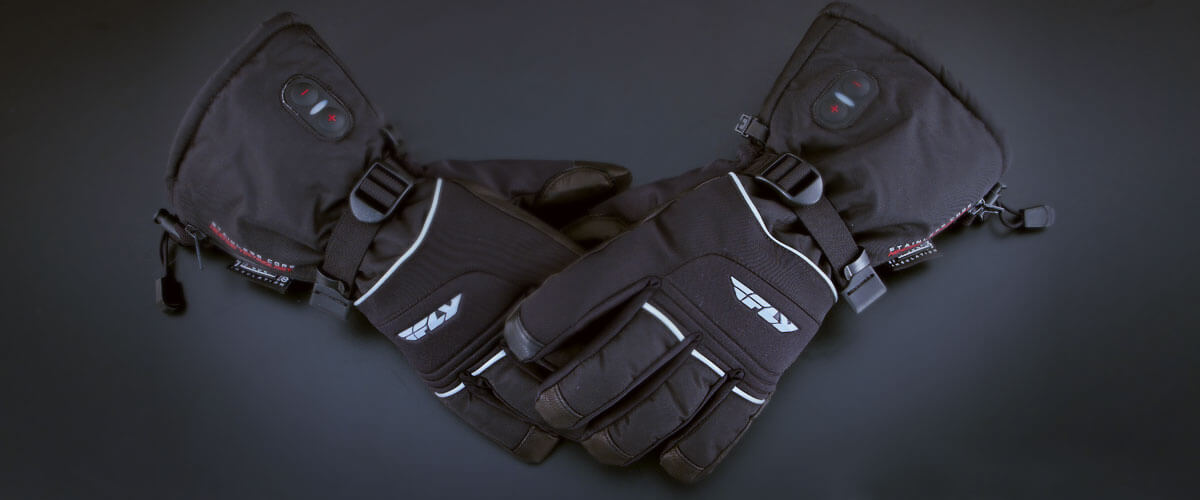 These gloves come with two lithium-ion batteries, which operate without issues. They will last for around 4 hours, and then you will need to recharge them. Also, Fly Racing Ignitor Pro gloves are warm enough for 1-2 hour rides, but you will start getting cold when you take longer trips.
Regarding how they fit, I will say they are moderately comfortable. I find them a little bit snug, but only for a while. These gloves are thick, so it may be harder to handle throttle and clutch, but I got used to that quickly.
The Fly Racing Ignitor Pro gloves will not let your hands freeze when you ride a bike in cold weather. They combine functionality and comfort you will want to see in average heated gloves.
Key specs
Power source: lithium ion battery.
Materials: leather, HiPora.
Pros
Made of leather and fabric with silicone palm for better breathability and grip.
Insulated to keep you warm even when the heating element is off.
Flawless operation of batteries.
Cons
They may be too snug at first.
The gloves are thick, so you may not feel how to handle the throttle and clutch.
Gerbing G4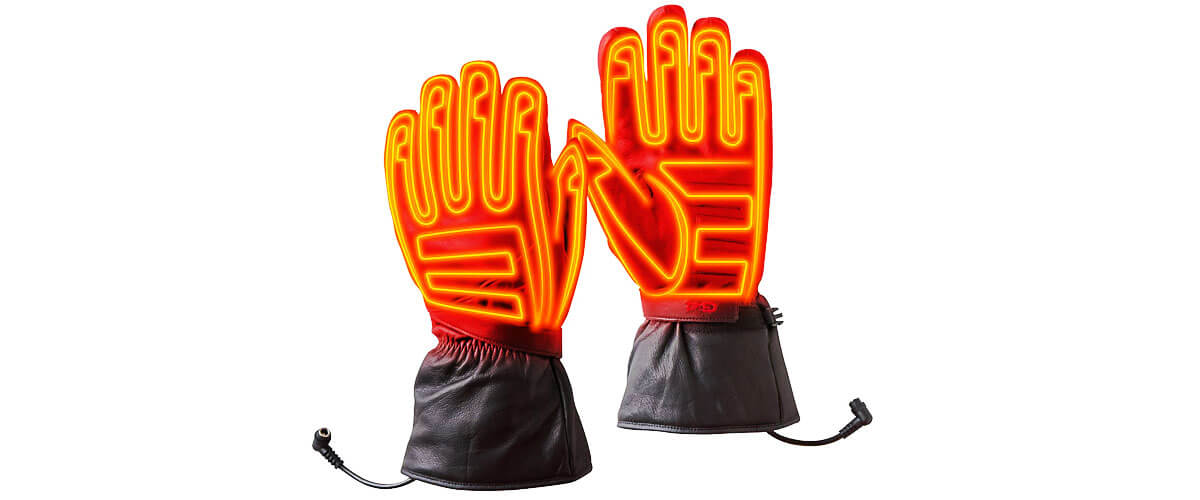 Forget about cold hands when you ride your bike with Gerbing G4. These heated gloves are insulated and water resistant to ensure your hands are always dry and warm, no matter the weather.
Unlike battery-powered Fly Racing Ignitor Pro, these gloves connect to the electrical system of your bike to deliver never-ending heat. So, you will never find yourself in an awkward situation when the battery can no longer produce power. The greatest benefit of Gerbing G4 is that the microwire is mounted throughout the glove, including the tip of every finger.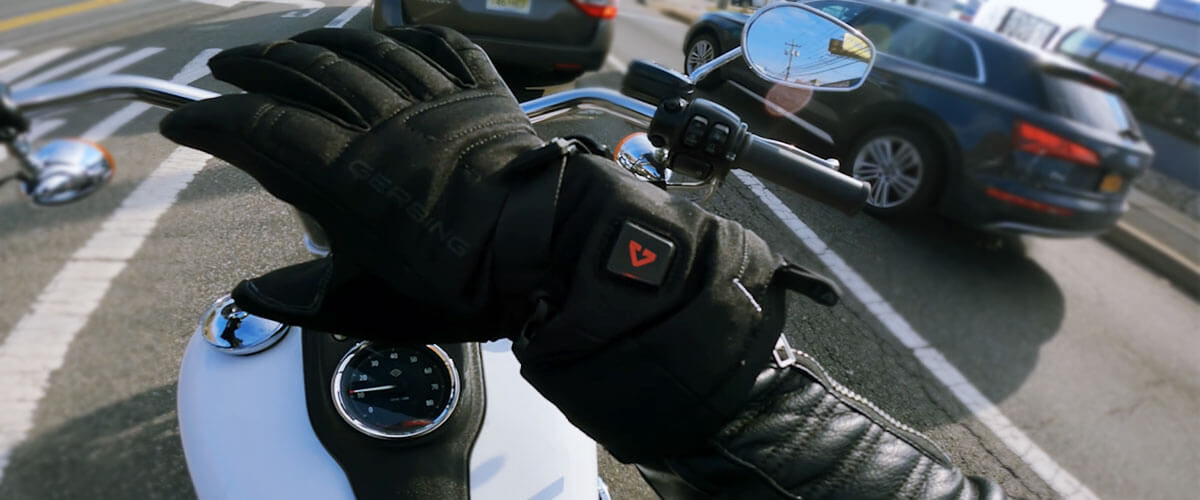 These 12V heated motorcycle gloves are made of leather, which breaks wind pretty well. They are not bulky at all but do need to be broken in for some time for more comfortable use.
The manufacturer says that Gerbing G4 gloves are touchscreen compatible, but they do not work with the digital media receiver on my bike. I was also disappointed by how these gloves fit. They are undersized and do not fit over my touring jacket. In addition, they are a hassle to adjust as you've got to un-velcro the glove and then re-velcro it after you tighten the strap.
The Gerbing heated gloves are great when you want to avoid surprises of discharged batteries or get a stable source of warmth. You will always stay warm wearing these accessories.
Key specs
Power source: wired.
Materials: cowhide leather.
Pros
A wired design ensures long-lasting and constant heat.
Heats the whole hand, even fingertips.
Insulated and water resistant to ensure comfortable wear in all weather conditions.
Sit well on your hands when they break in.
Cons
The touchscreen compatibility does not always work.
It may be hard to fit the gloves over the touring jacket.
Adjusting the gloves is a hassle.
Heated bike gloves buying guide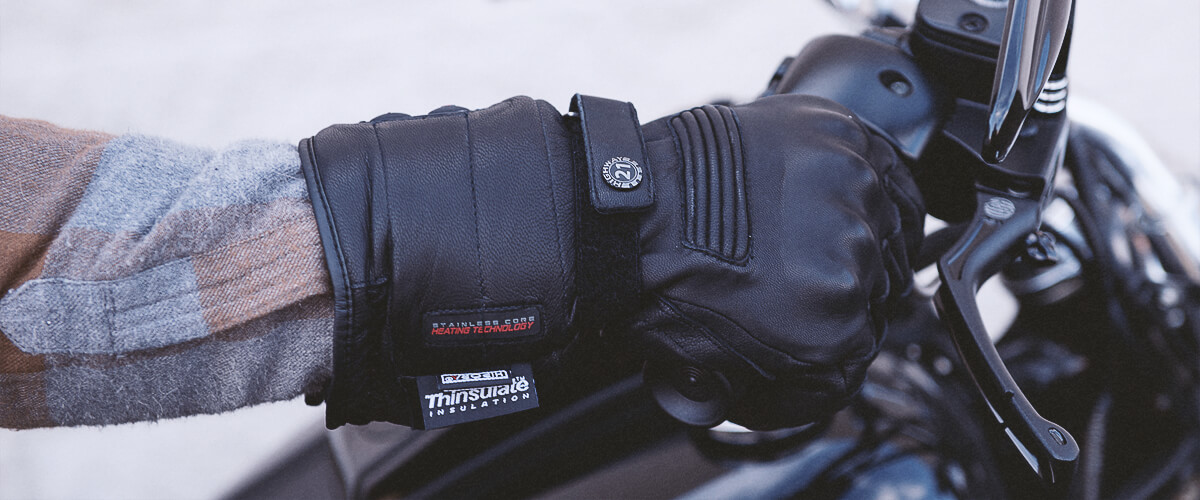 Picking heated bike gloves can be a cakewalk when you know what things to look for and what features to avoid. So, here is what I recommend you to consider when you decide on a matching pair of heated gloves.
Glove power source
There are two basic types of heated gloves depending on the power source – battery-operated and wired.
Battery operated
This type of heated gloves is powered by rechargeable batteries that you can easily get back to life via a USB port. However, older models may not support recharging, so you will have to change batteries when they die.
A battery is probably the most convenient power source since there are no wires that limit your motions. However, if you forget to charge the batteries, they may run flat during the ride, leaving you with cold hands.
Wired
Aside from battery heated motorcycle gloves, you can also find wired ones on the market. These gloves are connected to the motorcycle's electrical system, which produces heat and delivers it through the wires. The good thing about this heating mechanism is that it delivers intense and constant power to keep you warm. However, you will be tied to the bike, so these gloves are not as portable as battery-operated ones.
Choose the right glove size
Selecting the proper size of heated gloves is important for your comfort and safety. When you wear too tight gloves, your hands will swell over time. In addition, they will reduce the blood flow, so you may be unable to respond to situations on the road because of the constricting feeling. Loose gloves are also a problem since they will slip or move around, distracting you from riding.
So, heated riding gloves should be snug but not tight on your hands. To make sure you've chosen the right size when you shop online, measure your hand around the palm and the length of your hand from wrist to fingertip. Match your measurements with the sizes offered by the manufacturer since the sizing can vary depending on the brand.
Materials and protection
It's better to choose heated gloves made of abrasion-resistant materials like leather or textile. This way, they will last longer and will save your budget. Also, consider the protection features like palm reinforcement, hardshell knuckle guard, or wrist attachment that will ensure you feel comfortable and safe during your ride. In addition, you will find rolled fingertips and reinforced stitching helpful if you want your gloves to last.
Temperature сontrols
I recommend paying particular attention to the temp control parameter when you choose heated gloves. There are a few things to consider, so I will mention them one by one.
Usually, heated gloves for motorcycles have three temperature control settings: low, medium, and high. However, the hottest mode does not necessarily work better for your hands. Some models may have too high temperatures, so there may be a risk of sweating or even burns. Also, the option to choose temperature can be crucial in battery operated heated motorcycle gloves when the hotter setting will cut the battery life, so you may want to get the freedom to select the mode based on your needs.
At the same time, the temperature control location matters. Perhaps you will be switching between the modes on the go, so this function should be easily accessible.
FAQ
Are heated gloves worth it?
Yes, heated gloves are worth it. They can keep your hands warm during rides in cold weather.
How long do heated gloves stay warm?
The time heated gloves stay warm varies depending on the model. Some heated gloves will stay warm for up to six hours, while others may only last for an hour or two. It is important to read the product specifications before purchasing in order to determine which model is right for you.
Which are better, heated gloves or heated grips?
There is
no simple answer
to this question. Heated gloves can keep your hands warm for a longer period of time, but heated grips can provide more heat to your hands. Ultimately, it depends on what you are looking for and what you think will suit you.
Should heated motorcycle gloves be tight or loose?
Battery-powered heated motorcycle gloves should fit snugly but not too tight. A proper fit ensures the heating elements make good contact with your skin for efficient warmth. Too loose, and the heat may not distribute evenly, while overly tight gloves can be uncomfortable and restrict circulation. Opt for a size that allows flexibility while maintaining contact with your hands.
Are heated gloves safe?
Yes, women's and men's heated motorcycle gloves are generally safe when used as intended. They have built-in safety features like temperature controls and auto-shutoff to prevent overheating. Following the manufacturer's guidelines, you can enjoy cozy, safe rides even in chilly weather.
How long do the batteries in heated motorcycle gloves typically last?
Battery life varies depending on the gloves and heat settings. On average, you can expect heated gloves to last anywhere from 2 to 8 hours on a single charge. Lower heat settings extend battery life, while higher settings provide more warmth but drain the battery faster.
Can I use heated gloves in rainy or wet conditions?
There are specially designed heated waterproof motorcycle gloves. They are water-resistant and reliable, but not all are suitable for heavy rain. Always check the manufacturer's specifications. If your gloves are not specifically rated for wet conditions, consider using waterproof covers or rainproof over-gloves to protect your hands and the heating elements.