As the frigid winds of winter will soon start to set in, riders like us know that hitting the open road requires more than skill and courage. It demands the right motorcycle gear to brave the elements and keep us comfortable and safe throughout the journey. In motorcycle apparel, nothing holds as much significance during the chilly season as specialized winter gear. But how to choose the best winter motorcycle jacket among the incredible number of options? This is where my review will help you.
Today, we embark on a thrilling quest to explore windproof and breathable motorcycle gear, unveiling a selection that combines cutting-edge technology, style, and, most importantly, the power to make every winter ride an adventure to remember.
Our pick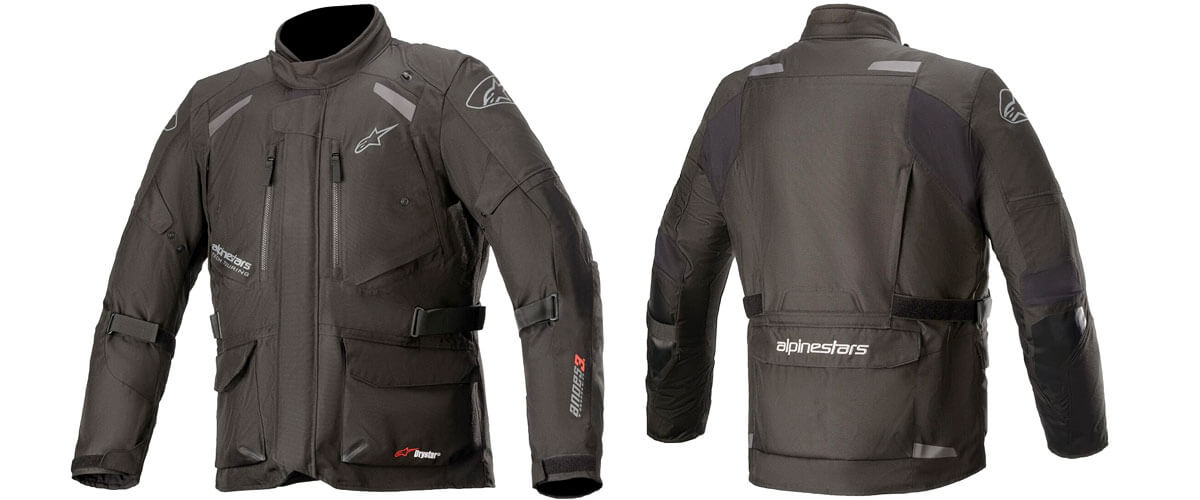 Alpinestars Andes V3 Drystar Jacket
Best winter motorcycle jacket
The Alpinestars Andes V3 Drystar Jacket offers 100% waterproofing, high breathability, protection, and abrasion resistance, even in difficult riding conditions.
Read the full review
.
Best winter motorcycle jacket reviews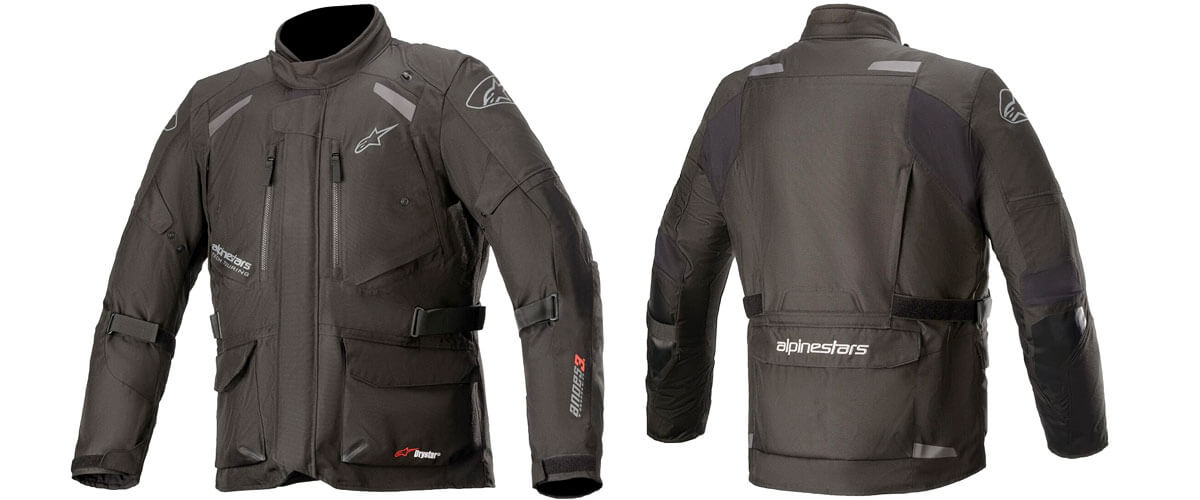 I want to start my review with a model that pleasantly surprised me in all respects — the Alpinestars Andes V3 Drystar Jacket. This masterpiece has become an essential part of my gear collection, and I can't recommend it enough for those seeking the best winter motorcycle jackets.
The Andes V3 jacket boasts an advanced abrasion-resistant poly-fabric textile construction. Its rugged build is enhanced by polymer-printed panels at the elbows and forearms, ensuring both durability and protection in any on- or off-road conditions. The jacket's quality YKK zippers and reinforced polymer-textured areas further enhance its robustness and safety. Moreover, it's compatible with Nucleon chest and back inserts, making it a CE Class A certified garment.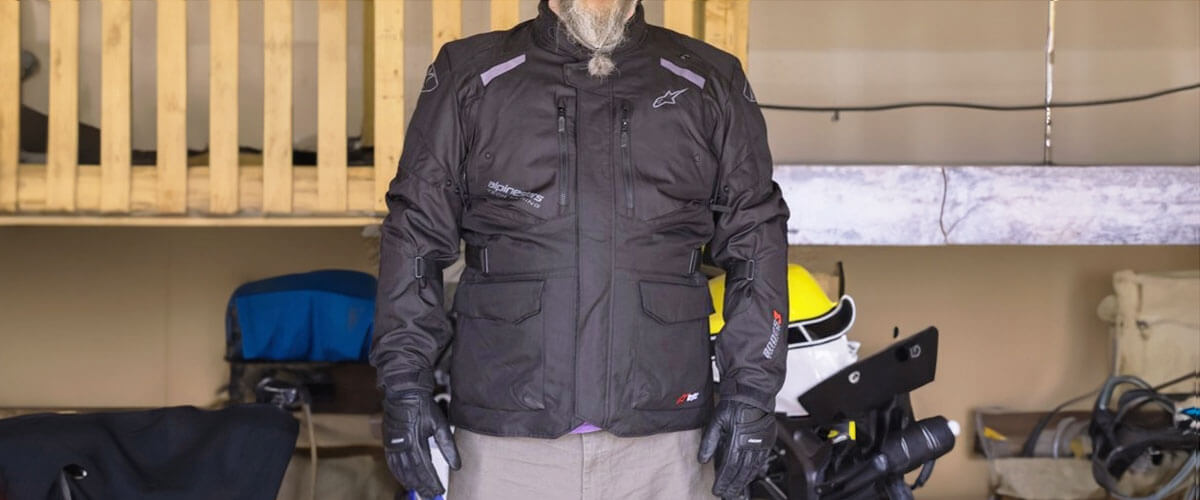 Winter rides demand exceptional warmth, and the Andes V3 jacket delivers a removable long-sleeve thermal liner. This cozy thermal layer ensures I stay comfortably toasty even in the coldest weather, making every journey enjoyable. The Drystar waterproof breathable membrane integrated into the jacket showed itself exceptionally well in rain and snow.
Despite its impressive waterproofing capabilities, the Andes V3 also surprised me with its excellent breathability. The direct ventilation system with zippered chest air intakes and back exhaust ports allows sufficient airflow, preventing discomfort from perspiration buildup. Altogether, the Andes V3 jacket offers a comfortable fit, but I recommend sizing up one size from the chart's recommendation.
Yes, indeed, among the best winter motorcycle jackets, the Alpinestars Andes V3 jacket takes the highest place. This is the undisputed leader of my top! Its outstanding design, top-notch insulation, reliable waterproofing, excellent ventilation, and safety features make it a must-have for any rider braving the winter chill.
Key specs
Material: polyfabric.
Protection: removable elbow and shoulder impact protectors, reinforced polymer-printed texturing in elbow and lower arm areas, reflective details.
Pockets: front waterproof cargo pockets, large, external stash pocket on lower back, waterproof interior wallet pocket.
Color: black, grey, green, blue/black, camo.
Size: S-M, L-4XL.
Other features: waterproof drystar​ breathable membrane.
Pros
The membrane ensures 100% waterproofing while maintaining good breathability.
The direct ventilation system with zippered chest air intakes and back exhaust ports allows for efficient airflow.
Includes removable elbow and shoulder protectors, providing indispensable impact protection.
Cons
Picking the right size can be pretty tricky.
Gerbing 12V Heated Jacket Liner – heated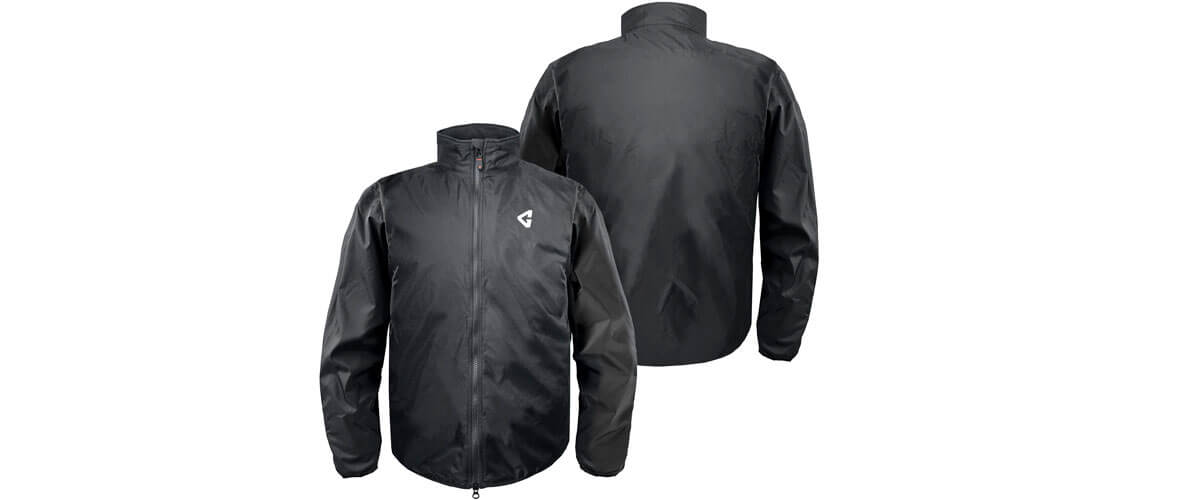 I am a pretty conservative person, and I always love to start my reviews with the coolest models listed in my thinking. And today's review follows this approach but also adds nominations, as the Gerbing 12V Heated Jacket Liner is the best motorcycle jacket for cold weather, with heating capabilities to conquer the chilly winds and embrace the open road during the colder months, and here is why.
Crafted with meticulous attention to detail, the Gerbing 12V Heated Jacket Liner has a robust construction that can withstand the harshest riding conditions. The jacket is thoughtfully engineered to fit snugly under my outer gear, and the intelligent design ensures maximum flexibility without compromising on style.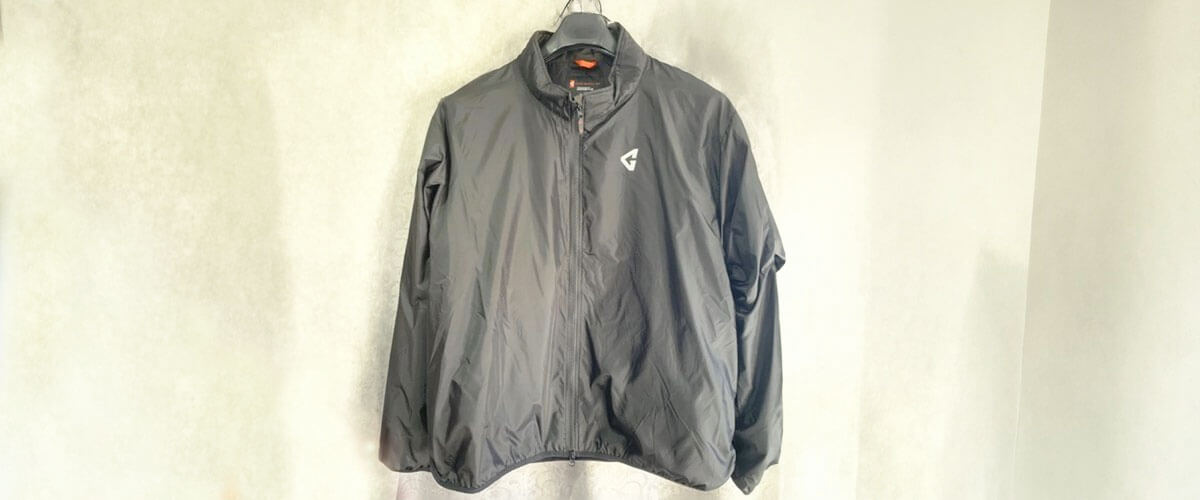 The most exciting aspect is that the jacket ensures uniform heat distribution with advanced Microwire technology, wrapping me in a cocoon of warmth throughout every ride. For me, it's one of the best winter motorcycle jackets for battling the cold.
No matter how unpredictable the weather, the Gerbing 12V Heated Jacket Liner shields me from rain and wind. The waterproof coating repels moisture, while the windproof exterior is a reliable barrier against chilly gusts, allowing me to focus on the road ahead.
The Gerbing 12V Heated Jacket Liner has surpassed my expectations. With its exceptional design, reliable insulation, waterproofing, breathability, and safety features, this jacket can be a trusted companion for every winter ride. It literally lacked a few steps to be on top, but in any case, this is really a worthy option.
Key specs
Material: mini-rip shell, taffeta lining.
Protection: N/A.
Pockets: no.
Color: black.
Size: XS, S-M, S-M/long, L-XL/long, L-4XL.
Other features: 7 microwire heating zones(collar, chest(2), sleeves(2) and back(2)).
Pros
Offers a tailored fit that feels like a second skin.
Delivers optimal even heating.
Great not only against the cold but also against rain and wind.
Cons
Must be worn close to the body or maximum over a thin polyester base layer.
Requires the connection to the motorcycle's electrical system.
Joe Rocket Atomic 5.0 Jacket – for cold weather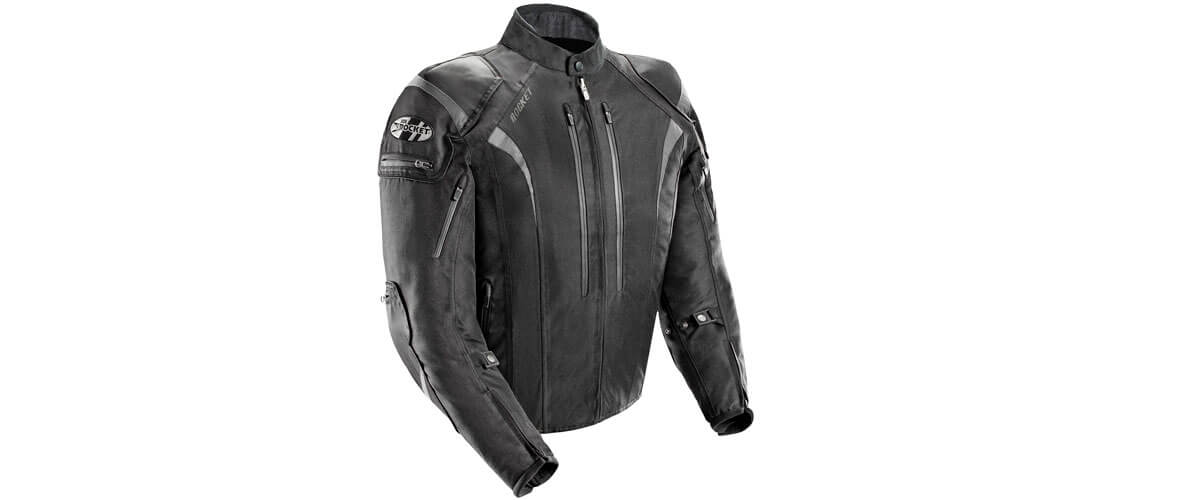 As the icy winds of winter beckon, a seasoned rider like me knows the importance of having the best cold-weather motorcycle jacket. Poor quality products can not only ruin the trip experience but also do not provide proper protection, which is fraught with colds or even pneumonia. In my quest for the perfect winter companion, I stumbled upon the Joe Rocket Atomic 5.0 Jacket, and let me tell you. It's a fusion of elements that creates a nucleus of protection, comfort, and versatility.
The Joe Rocket Atomic 5.0 Jacket boasts a combined waterproof treated Rock Tex and Hitena outer shell. The jacket's sturdiness gives me the confidence to tackle any weather condition that comes my way, whether it's a drizzle or a sudden downpour. The external C.E.-approved shoulder and elbow armor provide an added security layer without compromising style.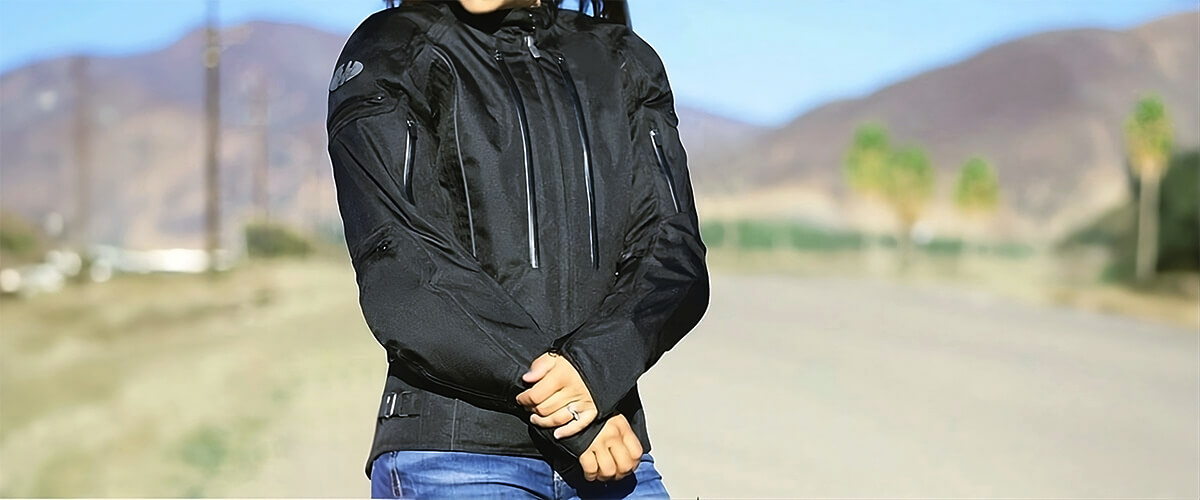 It's a removable insulated full-sleeve liner, complete with an internal pocket, wraps me in warmth and coziness, making the bitter cold a thing of the past. I've ridden through frosty mornings and chilly evenings, and the jacket's insulation has never let me down. The waterproof zippers and smartly designed ventilation hold the temperature comfortably and controllably.
The Joe Rocket Atomic 5.0 Jacket is a really wonderful product! Its impeccable design, top-notch insulation, and unbeatable safety features make it the ultimate winter companion.
Key specs
Material: 100% cotton, combined waterproof treated Rock Tex and Hitena.
Protection: approved armor in shoulders and elbows, removable spine armor.
Pockets: 2 outside pockets, 1 internal chest pocket, 1 large padded lower back storage pocket.
Color: black/red, black/blue, black/silver, black/hi-viz, black/orange.
Size: S-M, L-5XL.
Other features: variable flow ventilation system with waterproof zippers.
Pros
Reliable removable spine armor and exceptional impact resistance.
It can easily be tailored to the rider.
Offers convenient and protected inside and outside pockets.
Cons
Large sizes come with limited color options.
A questionable solution to use belt loops for jacket-to-pant attachment.
HWK Spyder Motorcycle Jacket – all weather, removable inner insulation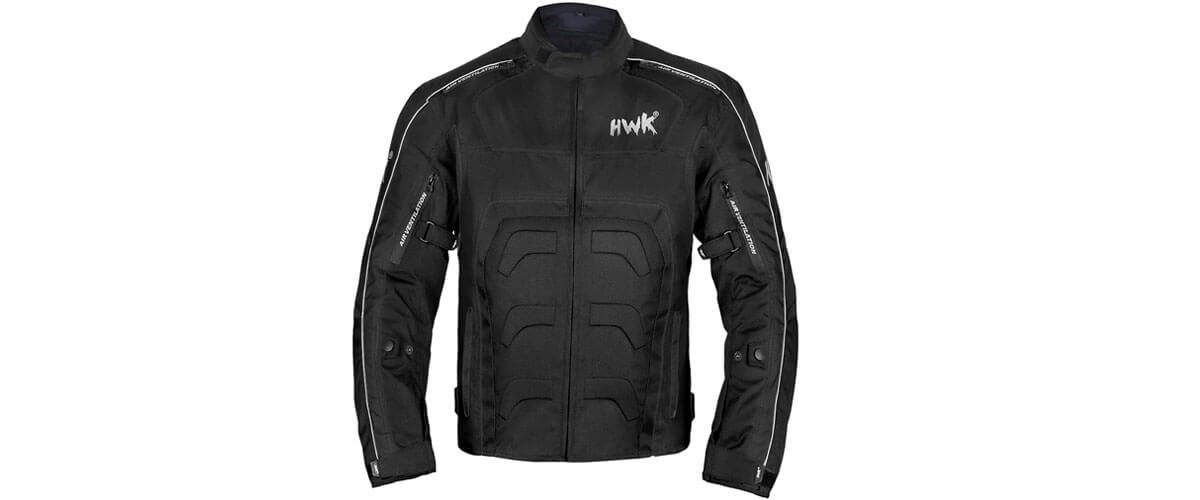 Moving through the review, I also wanted to try something more versatile and suitable for cold and those super-warm days. So, here we have an interesting model of the HWK Spyder Motorcycle Jacket, a real gem in the field of gear for motorcyclists, but with certain limitations and peculiarities that you must take into account.
The jacket's outer shall radiate robustness, is very weather resistant, and offers high protection. The stitchwork and attention to detail reflect a fusion of style and function that the manufacturer wanted to give us.
Including a Reissa Water-Resistant Breathable Membrane, complemented by an insulated thermal liner, ensures excellent warmth retention. This worked well during my testing, even when the temperature decreased far lower than I usually consider comfortable.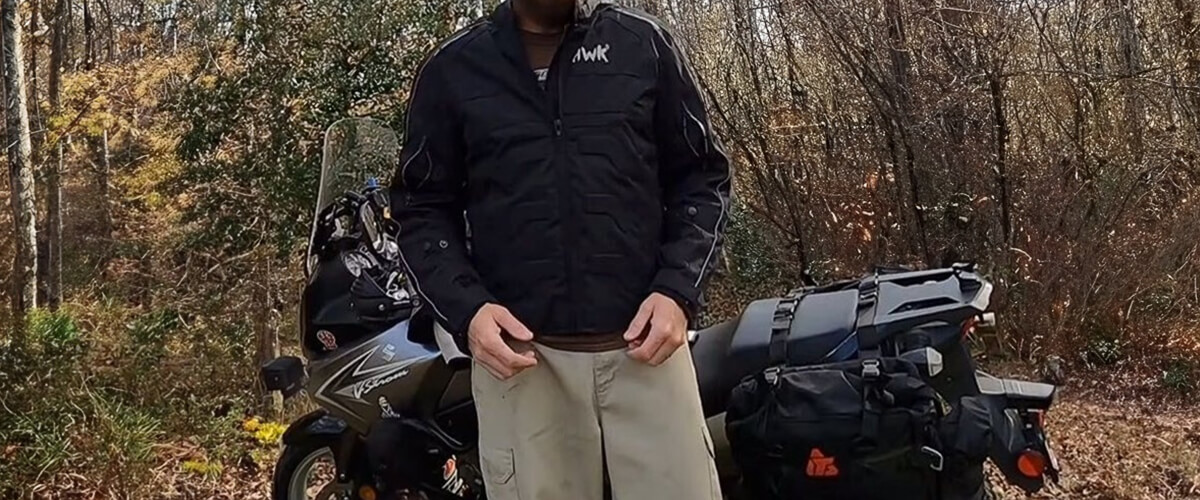 With its water-resistant outer shell, the HWK Spyder Motorcycle Jacket effectively wards off raindrops. Furthermore, its windproof nature thwarts gusts of icy air. Altogether it does an outstanding job of safeguarding from the elements but has excessive ventilation channels that make it less suitable for long rides in cold weather.
At the same time, four strategically placed ventilation zips, thoughtfully positioned at the shoulders and arms, ensure a steady airflow that keeps sweat at bay, even during intense rides when the weather becomes too warm for other jackets in this review.
The HWK Spyder Motorcycle Jacket has shown itself exceptionally well in my adventurous test. Yes, it is not as excellent for extremely icy conditions as the Gerbing 12V Heated Jacket Liner, but it works awesomely for rapidly changing weather conditions.
Key specs
Material: 600D cordura, reissa water-resistant breathable membrane with insulated thermal liner (detachable).
Protection: removable CE armor at elbows, shoulders, and back with decorative "ab" foam front and back, reflective high-vis logos and piping.
Pockets: 2 external pockets, 2 internal pockets.
Color: black, blue, grey, red.
Size: S-M, L-5XL.
Other features: 4 ventilation zips (2 at shoulders and 2 at arms).
Pros
Feels very comfortable and easily adjusts.
Offers quality protection level with removable CE armor.
Amazingly withstands changing weather conditions.
Cons
The jacket is available in a single color option — blue.
Limited(compared to the other jackets in my review) customization.
BILT Shadow Waterproof Jacket – lightweight winter jacket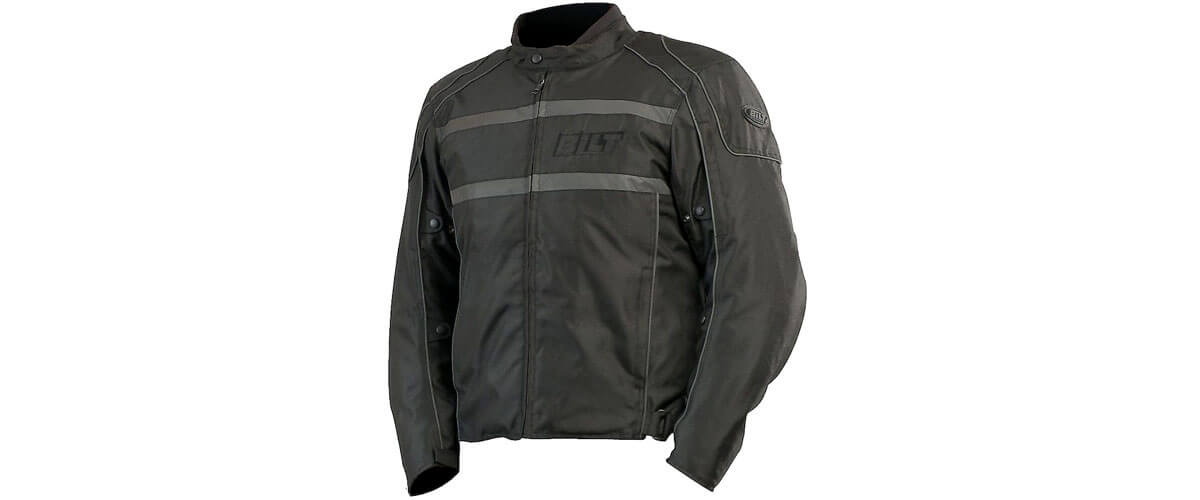 As I hit the open road during Winter 2023, I found another exciting option – BILT Shadow Waterproof Jacket to keep me warm, dry, and stylish. This lightweight winter jacket proved to be a reliable companion on my chilly rides, offering a range of features that every seasoned rider craves.
The design and construction of the BILT Shadow Jacket impressed me from the start. Its 600D durable outer shell material provided great abrasion resistance, especially considering its weight. The non-removable waterproof lining kept me dry even during heavy downpours. The jacket's sleek black color added a touch of sophistication to my riding gear. As the temperature rose, the zip entry air-flow vents on the upper arms and back provided much-needed ventilation, preventing me from feeling stuffy.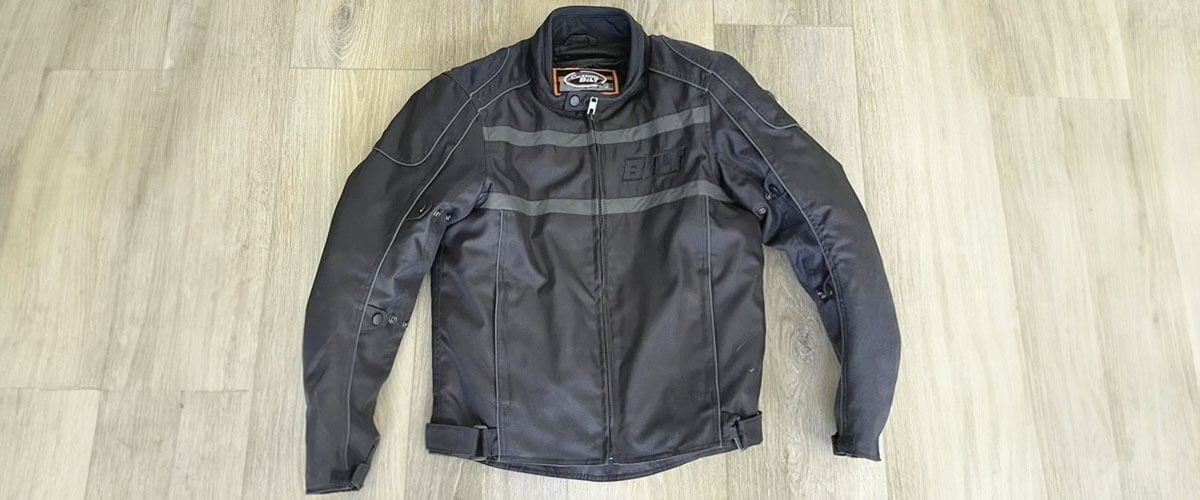 The CE-approved armor at the shoulders and elbows offers added protection in case of an accident. The dark reflective bands and piping on the jacket also enhanced my visibility, ensuring I remained visible to other motorists. Yeah, it's not as sturdy as the one offered by the heavier jackets.
Overall, the fit and comfort of this jacket were exceptional. The tab adjustment at the hips allowed me to customize the fit to my liking, while the neoprene comfort padding on the collar's top line prevented any discomfort during long rides. Combined with great protection and a lightweight build, this jacked is a very valuable option.
Key specs
Material: 600 denier durable outer shell material, quilted detachable lining, waterproof lining.
Protection: CE approved armor at shoulders and elbows, dark reflective bands and piping.
Pockets: N/A.
Color: black.
Size: S-M, L-5XL.
Other features: zip entry air-flow vents on upper arms and back.
Pros
100% waterproof shell with a removable quilted liner.
CE-approved armor and memory foam offers great protection.
Detachable quilted lining for versatile wear in various conditions.
Cons
XIAL back protector is sold separately, increasing the overall cost.
Struggles to maintain comfort at lower temperatures.
Features of winter motorcycle jackets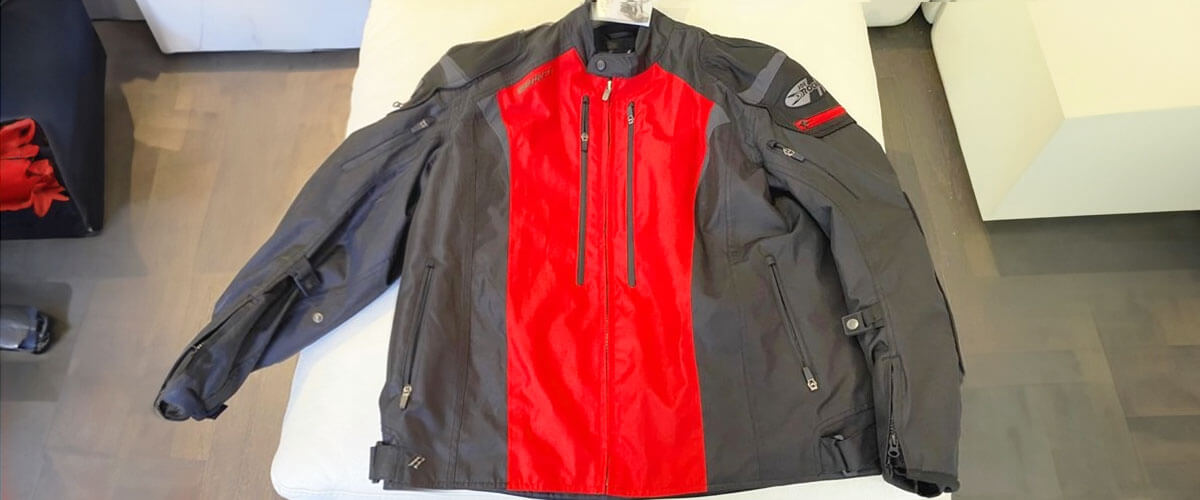 Regular jackets may keep you warm during a stroll, but when it comes to riding in chilly conditions, specialized winter motorcycle jackets are a game-changer. These models are designed to battle the elements and keep you snug on the road.
So, what sets them apart, and how to choose the best motorcycle jacket for winter? Let's break it down.
Insulation
Insulation plays a vital role in keeping you warm and cozy during those frosty rides. There are various types of insulating materials used in winter riding jackets.
Down insulation, sourced from bird feathers, provides an excellent warmth-to-weight ratio, making it a popular choice for premium jackets. A synthetic insulated motorcycle jacket, on the other hand, offers reliable warmth even when wet and is often more budget-friendly. Additionally, insulating linings, like fleece or Thinsulate, add another layer of warmth and comfort.
Waterproofing and windproofing
The best winter riding jacket must be waterproof. Picture yourself riding through unexpected rain showers or slushy snowfall – without proper waterproofing, you'll end up soaked and miserable. That's where advanced technologies like Gore-Tex come to the rescue! Gore-Tex is a top-notch waterproof material that keeps water out while still allowing sweat to escape, keeping you comfortably dry all ride long.
But staying dry is only half the battle! Windproofing is equally important. Riding at high speeds exposes you to biting cold winds, leading to discomfort and even frostbite. A windproof cold weather riding jacket creates a protective barrier, keeping those icy gusts at bay, so you can focus on enjoying the journey.
Breathability
Breathability in winter biker jackets allows your body to regulate its temperature naturally, preventing that dreaded sweat build-up. And let's face it, sweating in the cold is no fun! But fear not, there's a solution.
As I've said before, Gore-Tex is a magical material that strikes the perfect balance between breathability and waterproof performance. Gore-tex motorcycle jacket for winter lets moisture escape while keeping external moisture out. So you stay dry, cozy, and comfortable throughout your winter adventures.
Armor and safety features
Now, let's talk about armor. Investing in a quality motorcycle cold weather suit equipped with CE-approved armor is non-negotiable. However, this armor is specifically designed to safeguard you during high-impact situations. Look for reinforced protection in vital areas such as the shoulders, elbows, and back. Ensuring these vulnerable points have CE-approved armor will give you peace of mind while riding in the cold, knowing you're well-guarded in case of an accident.
But that's not all! Another critical safety feature to consider in men's winter motorcycle jackets is reflective panels. Winter days can bring limited daylight, and visibility becomes a concern. Jackets with strategically placed reflective panels greatly improve your visibility to other motorists, reducing the risk of accidents in low-light conditions.
FAQ
What makes a winter motorcycle jacket different from a regular jacket?
Unlike regular jackets, these specialized garments offer a combination of features that prioritize safety and comfort on the road in cold weather. Winter motorcycle jackets notably incorporate CE-approved armor in crucial areas like shoulders, elbows, and back, providing optimal impact protection. They also have additional insulation and thermal lining to keep riders warm during chilly rides.
Can I use a regular winter jacket for motorcycle riding?
While using a regular winter jacket for motorcycle riding is better than not wearing any protective gear, I do not recommend it. Regular winter jackets lack the necessary safety features found in dedicated motorcycle jackets. They usually lack abrasion resistance and impact protection, which are crucial for protecting riders in the event of accidents.
Are there any specific cleaning instructions for winter motorcycle jackets with Gore-Tex or other waterproof membranes?
Yes, there are specific cleaning instructions for winter motorcycle jackets with waterproof membranes like Gore-Tex. Generally, it is better to hand wash the winter waterproof motorcycle jackets with a mild detergent and avoid using harsh chemicals or fabric softeners. It's essential to rinse the jacket thoroughly and ensure all detergent is removed. Machine washing and dry-cleaning should be avoided unless explicitly stated as safe in the manufacturer's instructions.
Are leather motorcycle jackets warm for winter?
Leather motorcycle jackets can provide some level of warmth during winter, but their insulating properties may not match those of dedicated winter motorcycle jackets. While leather models are excellent for protection against abrasion and provide a classic style, they are definitely not the warmest motorcycle jackets. They might not have the removable thermal liner and insulation that can be found in winter-specific jackets.