If you take a regular road helmet and combine it with an off-road helmet, you will get an extremely versatile adventure helmet ideally suited for various riding conditions. And even though these helmets may have many features in common, they are not created equal. To help you pick the best adventure helmet for your needs, I've compiled the list of the key features that need to be considered when choosing from a myriad of options available.
Our pick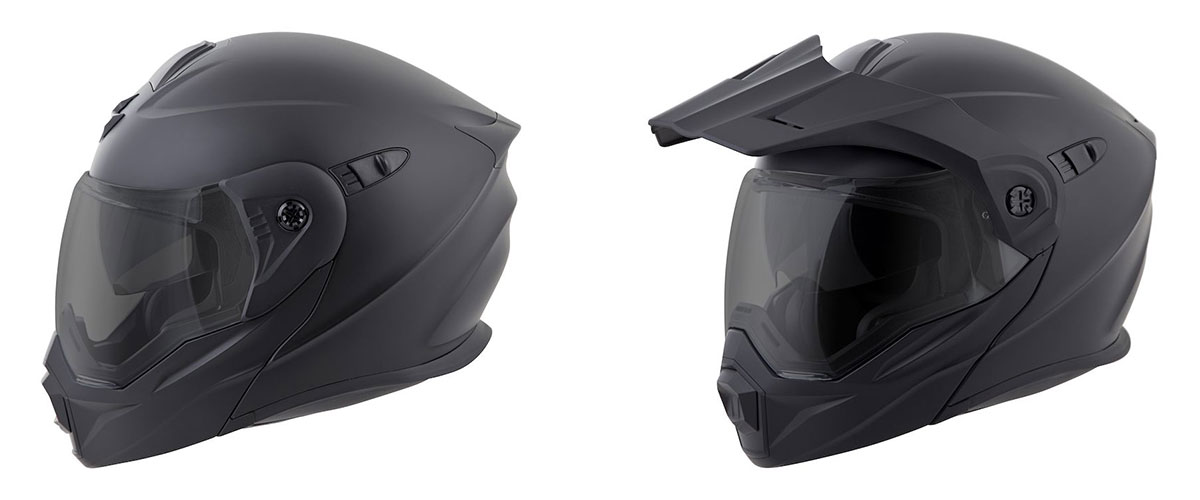 Scorpion EXO-AT950
Best adventure motorcycle helmet
The EXO-AT950 can be used as a full face ADV helmet with external peak visor attached, or the peak visor can be removed and you have an aerodynamic touring helmet.
Read the full review
.
What is an adventure motorcycle helmet?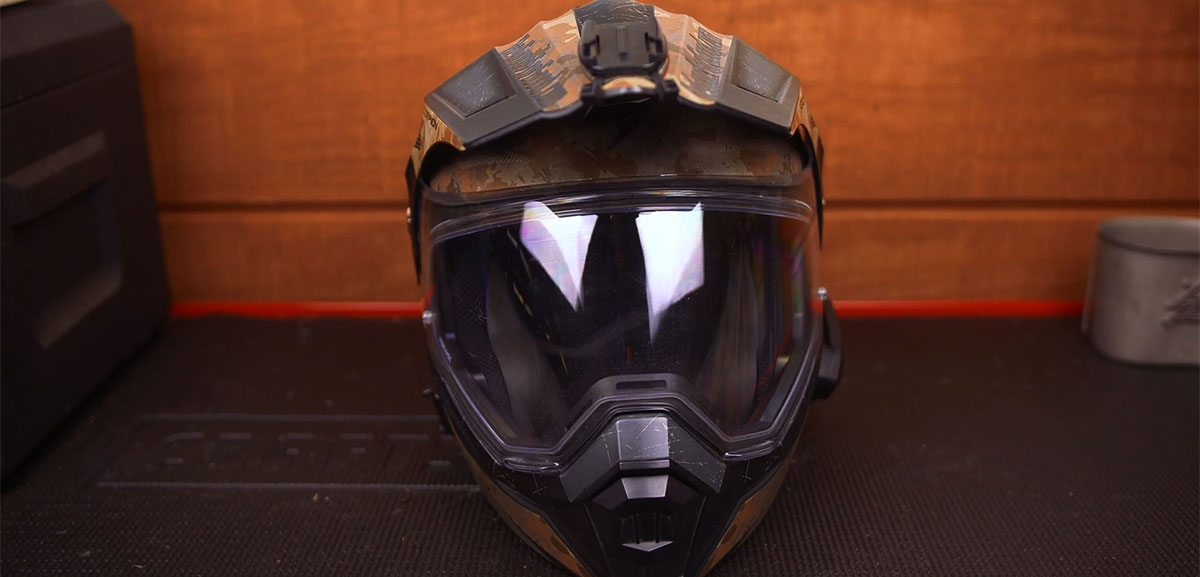 As we've just figured out, an adventure helmet is a hybrid of the usual road and off-road helmets. However, even among adventure helmets, you can find lots of varieties. With that in mind, I recommend you pay attention to the weight of a helmet. More often than not, more expensive models will be lighter and less bulky than cheaper models, which while it might seem not very important at first, can make a big difference in the long run. On top of that, unlike less expensive helmets, they will be quieter overall and have better aerodynamic properties, enabling you to spend more hours on the road without any sort of discomfort.
Another important feature to look for in your adventure helmet is whether it is equipped with a visor. Not all helmets have it, but if you want to protect your eyes from the wind, rain, and dirt thrown from the bike's wheel, you want an adventure riding helmet with a visor. Admittedly, the availability of all those little perks often adds up to the price, however, the comfort they offer makes that extra money well worth it.
What is the difference between a street helmet and an adventure helmet?
In general, it's enough to cast a quick look at the two to see that they look different. Adventure helmets have many features of street helmets but unlike them, they also have the features of road-style helmets such as a chin bar, large viewpoint, and the peak.
Best Adventure Motorcycle Helmet Reviews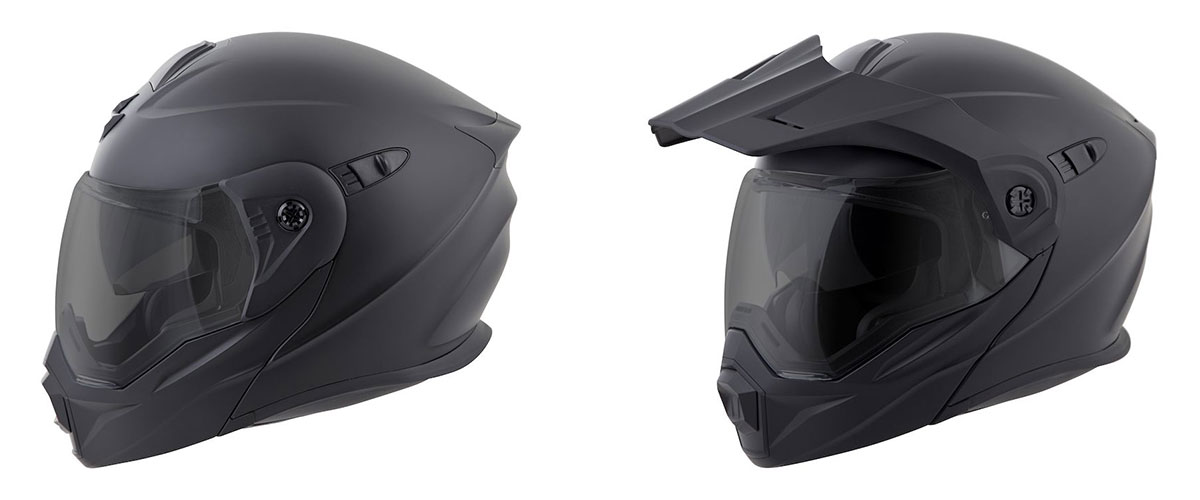 The Scorpion EXO-AT950 is a DOT-approved modular adventure helmet that boasts an excellent field of view, well-made construction, and great looks. However, the highlight of the model is that it can be used in three configuration modes. Thus, depending on your riding style and conditions, you can wear it as a full-face adventure helmet with a peak visor attached, or you can remove it if you want to let more airflow blow into your face. On top of that, you have an option to remove the EverClear shield and use it as an off-road helmet with glasses or goggles underneath. Just so you can compare, most other modular helmets at this price tag, including the HJC DS-X1, which I describe a bit further, offer only dual performance.
Other convenience features of the Scorpion EXO-AT950 include an internal drop-down sun visor. It does an excellent job blocking the glare from the sun and protecting your face from the roost, allowing you to spend all day long riding no matter lighting and weather conditions.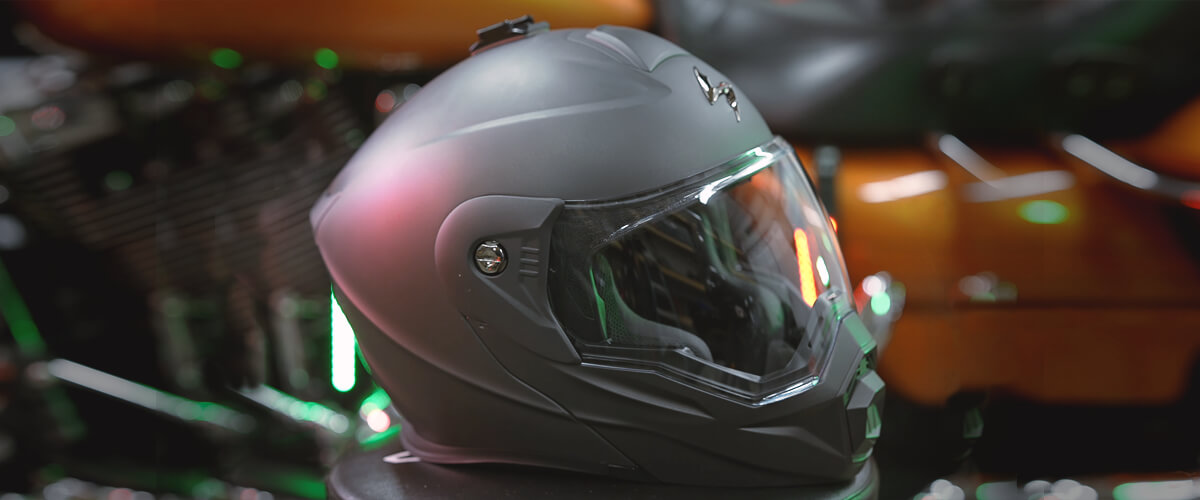 Speaking of the helmet itself, it has an intermediate oval shape and comes in a variety of sizes ranging from X-Small up to 3X-Large. The choice of colorways is also available, with all of them perfectly working for both male and female riders. However, what users particularly like about this helmet is how tight it sits around the front of the cheeks. It might feel even a bit too tight at first, but just after a couple of uses the helmet nicely breaks in, ensuring a snug fit for traveling down windy roads.
Finally, it's also worth mentioning that this helmet has special cutouts for audio, thus if you decide to install a headset, doing it will be easy, and there will be no pressure on your ears.
To wrap up, same as most helmets from Scorpion, the EXO-AT950 can meet and even exceed the expectations of the most demanding riders, while not costing you a fortune. If you're looking for the best ADV helmet packed with features and suitable for all sorts of riding, this one is a great offering.
Key specs
Helmet type: dual sport/ADV.
Head shape: intermediate oval.
Safety certification: DOT
Shell sizes: XS-SM, MD, LG, XL-3XL.
Shell material: polycarbonate.
Weight, g/lbs: 1710/3.77.
Pros
Includes special cutouts for audio, allowing you to install speakers or a headset.
Can be used in three configuration modes.
The included EverClear shield makes it suitable for use in a rainy climate.
Cons
It might feel tight at first.
Some users find it a tad bit loud when hitting the highway.
Shoei Hornet X2 – premium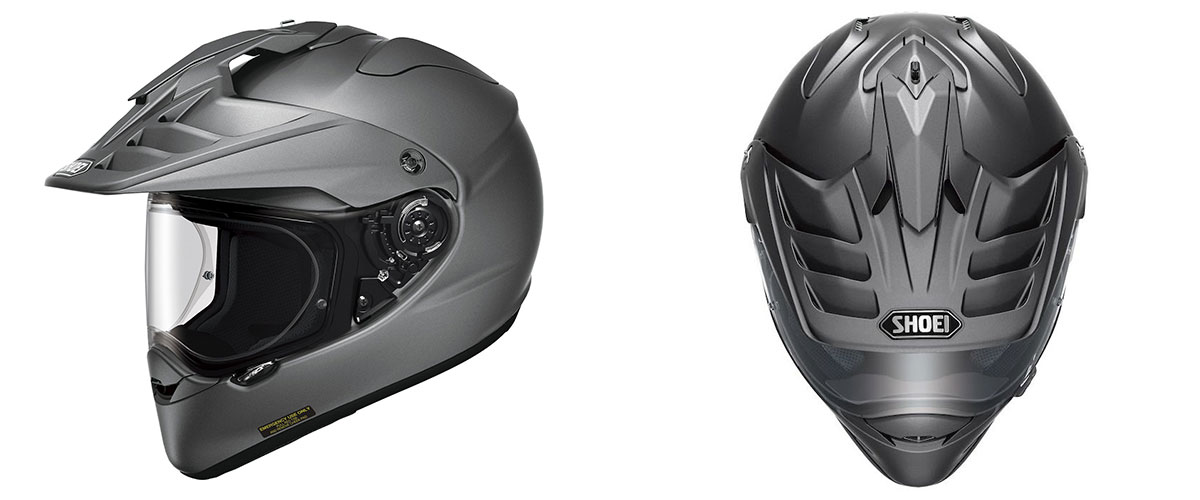 Right off the bat, this helmet is not inexpensive – it belongs to the top-tier range. But if you are looking for a real thing that can offer you premium performance, you'd be hard-pressed to find a better helmet than the Shoei Hornet X2. The folk behind this model didn't cut corners and made sure to implement in it all the сoolest features, so it can cater to the needs of avid dual-sport enthusiasts.
The shell is made of the proprietary AIM+system, which ensures a secure fit and gives it excellent aerodynamics. On the inside, there is a dual-layer multi-density EPS liner. Thanks to it, not only does it perfectly absorb the impact, but also it boasts great breathability, allowing it to keep you cool on hot summer days.
The ventilation in this helmet is quite impressive too. Featuring a large vest intake, it allows for significant airflow while also giving you control with regard to how much current of air you want to be passed through the tube. At the same time, this helmet is very quiet. Fitted with sound-deadening ear pads, it perfectly blocks out all outside noises, ensuring maximum comfort for riding.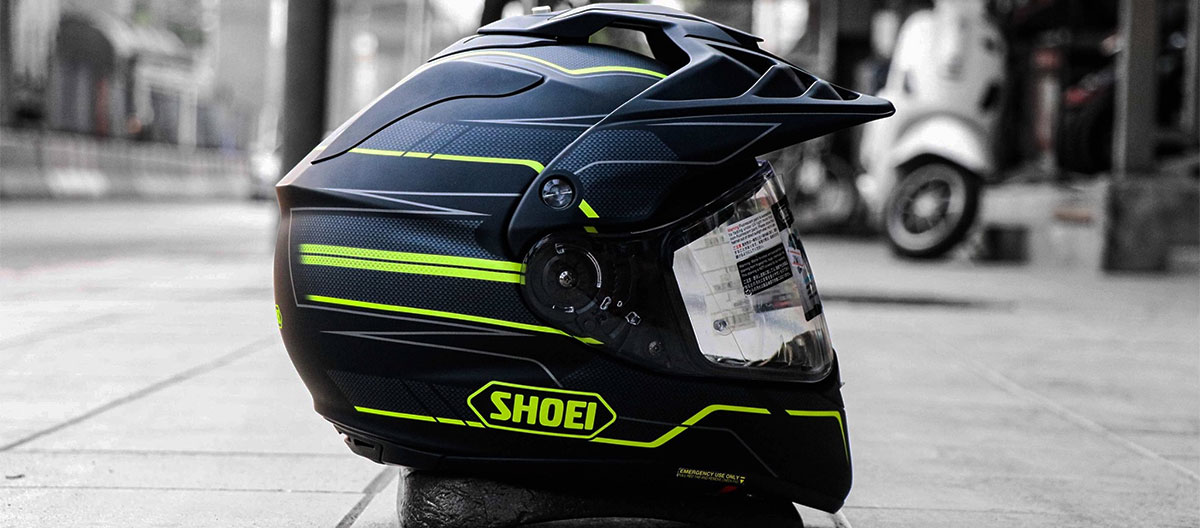 You will also find an enhanced visor with 3D injection molding, which will provide you with a distortion-free view when on the road. The visor can be easily removed to let you convert it into an off-road helmet, but it is not adjustable. That said, most users find its position just right, so, more likely than not, you won't even feel like there's a need to make any adjustments at all.
When it comes to the safety department, this helmet lives up to Shoei's reputation. The model has both DOT and Snell certifications, so you can be sure it can take quite some beating while providing you with a high level of protection on the road.
In the end, if you're on the hunt for premium adventure touring helmets with a large field of view, excellent versatility, reliable build quality, and fantastic ventilation, the Hornet X2 from Shoei is your bro.
Key specs
Helmet type: dual sport/ADV.
Head shape: intermediate oval.
Safety certification: DOT.
Shell sizes: XS-SM, MD, LG, XL-2XL.
Shell material: AIM+ (Advanced Integrated Matrix Plus Multi Fiber).
Weight, g/lbs: 1778/3.92.
Pros
This helmet is DOT and Snell certified.
Boasts improved ventilation, featuring a large vest intake that allows for a significant amount of airflow to travel through the tube.
Sound-deadening ear pads make it ultra-quiet.
Cons
The visor is removable but not adjustable.
LS2 Blaze – entry-level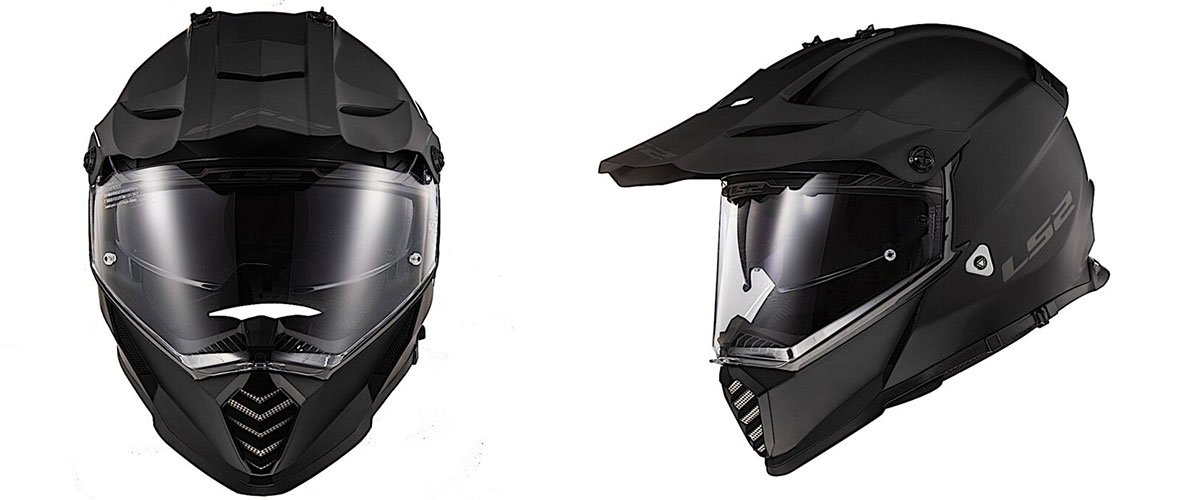 Although the LS2 Blaze is marketed as entry-level, it's a great adventure motorcycle helmet that can appeal to both novice and experienced riders. To start off, let's talk about its build quality. The shell of the helmet is made out of heavy-duty Kinetic Polymer Alloy, which makes it quite lightweight without compromising the helmet's strength.
Similar to other helmets reviewed here, the safety liner of the LS2 Blaze is made with multi-density EPS material, so its impact absorption properties are just as remarkable. Plus, it uses interior comfort padding with moisture-wicking technology, allowing it to remain dry and keep sweat at bay in hot weather conditions. What adds to the comfort is that this padding can be easily removed and washed, thus making it possible to eliminate bacteria growth.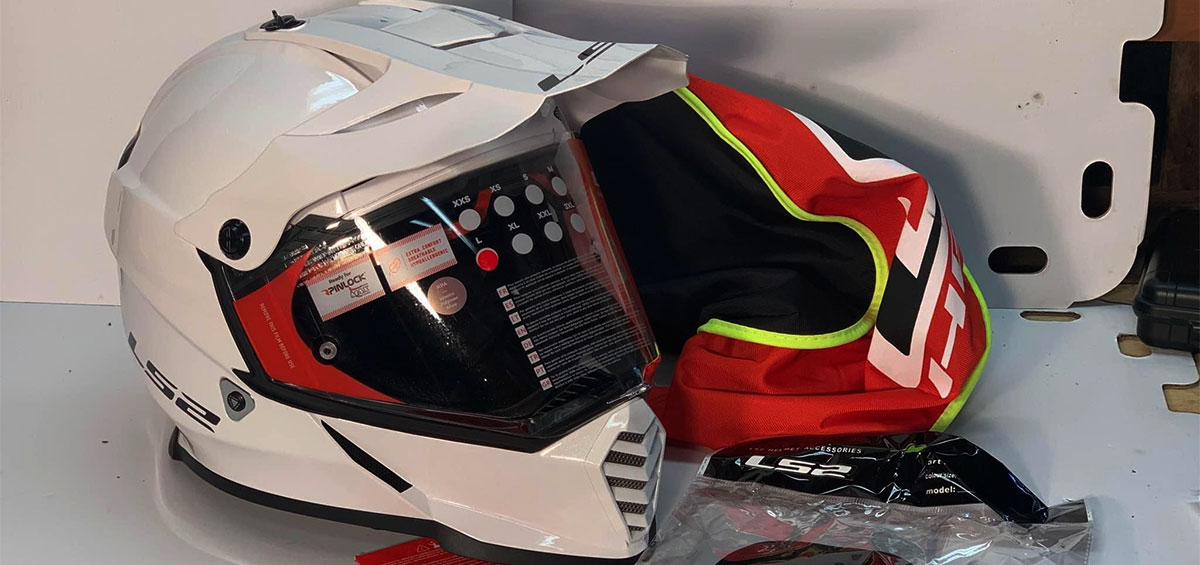 Of course, it'd be a stretch to compare LS2 Blaze's ventilation with that of Shoei's helmets, but it's not bad at all. With multiple intake and exhaust ports placed throughout the inner liner, it allows for a significant airflow to travel through the helmet. Plus, it's not void of practical add-ons.
Fitted with an internal sun visor and face shield made of optically correct Class A polycarbonate, it does an excellent job keeping the sun and rain out of your eyes. In addition to that, it helps deflect branches and other debris that might fly into your face while riding in the woods. A quick-connect chin strap adds to the advantages of the helmet, making it one of the most versatile in its class. To top it all up, the LS2 Blaze uses three shell sizes and is DOT certified.
All told, the LS2 Blaze is a great entry-level helmet for an adventure-style motorcycle. It is light, fits well, and has many nice features, offering excellent value for the price.
Key specs
Helmet type: dual sport/ADV.
Head shape: intermediate oval.
Safety certification: DOT.
Shell sizes: XS-SM, MD, LG, XL-3XL.
Shell material: KPA (Kinetic Polymer Alloy).
Weight, g/lbs: 1569/3.46.
Pros
Has an optically correct Class A polycarbonate face shield to ensure a distortion-free view of the road.
Beautiful, lightweight, and sleek.
Offers great visibility and a snug fit.
Cons
Only three shell sizes are available.
The quick-release system is a bit flimsy, so it's best not to pull it too hard.
O'Neal Sierra II – good airflow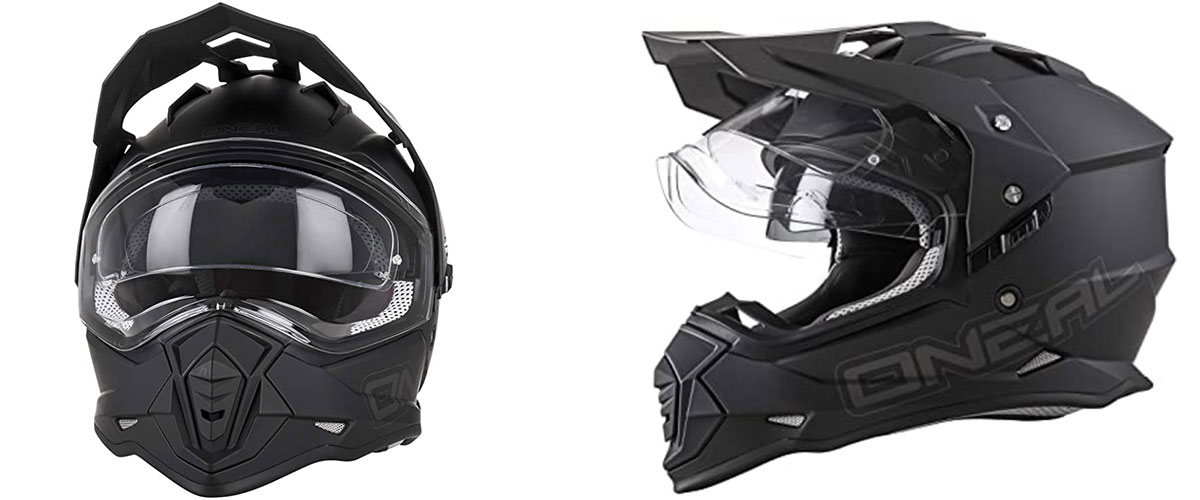 The next product that I would like to share with you is the O'Neal Sierra II Helmet. This adventure touring helmet has become a faithful guardian of my test journeys. I was surprised by the fusion of innovation and protection that comes with this product, which paints a vivid portrait of riding freedom.
The O'Neal Sierra II Helmet is no mere headgear as its shell is meticulously crafted from robust ABS. It strikes a harmonious balance between durability and weight. This helmet understands the art of safeguarding without burdening.
Beyond the surface, within its core, lies a secret – a moisture-wicking, air-channeling comfort liner that dances with every motion. Hot weather is no longer a problem as this helmet keeps sweat at bay. And when the ride is over, the liner bids farewell, as it's easily detachable and washable, ensuring a fresh start for every adventure.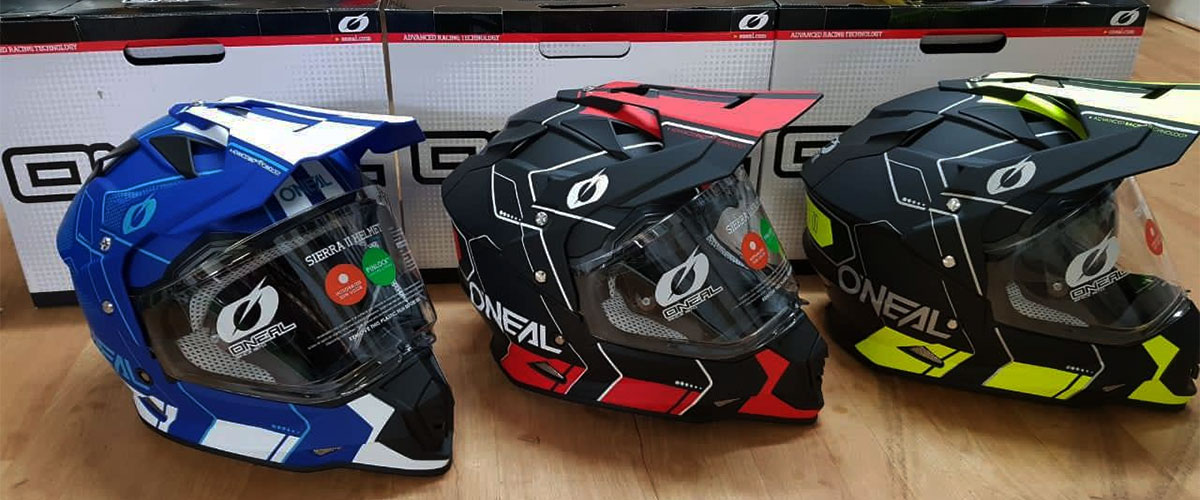 While it may not match the gale-defying prowess of legends, the Sierra II holds its own in the realm of ventilation. Its inner sanctum boasts an intricate network of intake and exhaust portals, a lifeline for a river of refreshing airflow.
Safety marries clarity with the integrated face shield featuring UV protection, shielding your gaze from the harshness of the elements. The Sierra II's visor is a natural guardian, deflecting branches and debris, allowing one to focus solely on the thrill of the ride. The Sierra II meets DOT and ECE 22.05 safety standards. Its design embraces the spirit of street, enduro, and adventure, a versatile companion for wherever the road takes you.
Regarding my search for great adventure motorcycle helmets, the O'Neal Sierra II Helmet stands out as one of the best adv helmets. Its innovative features, including the best modular ADV helmet design, make it an exceptional choice for riders seeking protection and comfort on their daring journeys.
Key specs
Helmet type: dual sport/ADV.
Head shape: intermediate oval.
Safety certification: DOT, ECE 22.05.
Shell sizes: XS-SM, MD, LG, XL-3XL.
Shell material: polycarbonate/ABS.
Weight, g/lbs: 1360/3.
Pros
Includes special well-designed cutouts for audio.
Can be used in three configuration modes.
The included EverClear shield makes it suitable for use in a rainy climate.
Can be used for different service types (Enduro, bike, UTV, Water Scooter, etc.).
Cons
The absence of cutouts for speakers.
Limited Gale-Defying Performance.
HJC DS-X1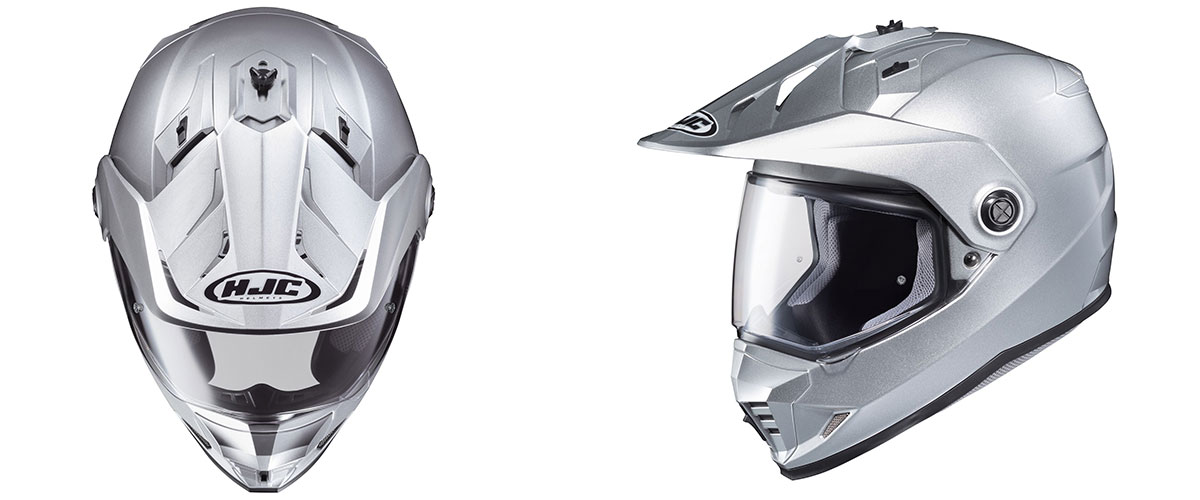 A fracture more expensive than the LS2 Blaze, the HJC DSX1 helmet is a nice street and dual sport helmet that has many useful features, making it suitable for both new riders and a more experienced crowd.
To start the ball rolling, the HJC DS-X1 has a lightweight shell made out of advanced polycarbonate composite. Compared to the Kinetic Polymer Alloy, it is a bit sturdier and more resilient and can better resist scratches and cracks, which justified its higher price. What also adds to the merits of the HJC DS-X1 is its SuperCool moisture-wicking interior. Fitted with an antibacterial, removable, and washable multi-density EPS liner, the helmet sits nicely around your cheeks and won't shift or fly off your face no matter how vigorous your journey will be. Also, you get a sleek shell and a visor that improves the aerodynamics of your helmet while also diminishing the glare from the sun, offering you the ultimate ride feel.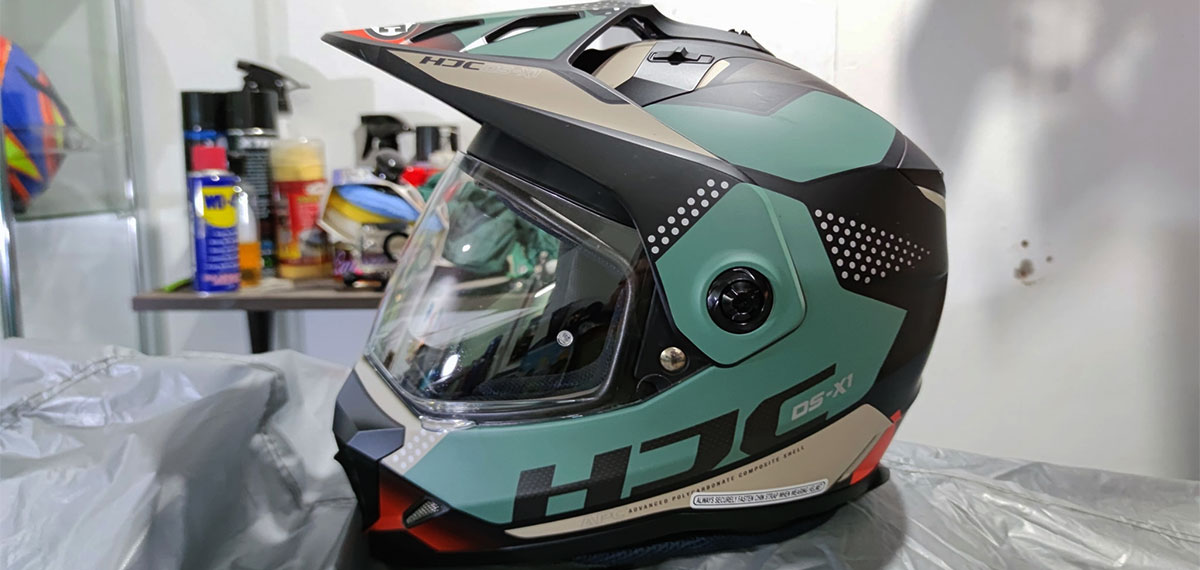 Other comfort features that make the HJC DS-X1 an attractive option are a large eye-port, compatibility with a Pinlock visor, grooves for glasses, and a chin curtain. So, you can comfortably wear it with prescription glasses and use it safely throughout the day, no matter the weather conditions. Also included is a designated spot for ear pads, making them a good fit for all of your everyday activities.
I'm more than sure that you will also like the design of the shell. It is available in a variety of colorways to appeal to both male and female riders. Moreover, it comes in a slew of size options, ranging from the smallest 2XS up to the 5XL, ensuring a personalized fit for everyone.
To conclude, the HJC DS-X1 is arguably one of the best adventure motorcycle helmets within this price range. With its comfy fit and convenience features, it ideally works for both street riding and going off-road. Plus, it looks great!
Key specs
Helmet type: dual sport/ADV.
Head shape: intermediate oval.
Safety certification: DOT.
Shell sizes: XS-SM, MD, LG, XL-3X.L
Shell material: polycarbonate.
Weight, g/lbs: 1710/3.77.
Pros
Advanced polycarbonate composite shell.
Pinlock-compatible.
Available in as many as 10 size options to provide a personalized fit for everyone.
Cons
An insert lens is not included.
Cheek pads are a bit snug.
What to look for when choosing an adventure motorcycle helmet?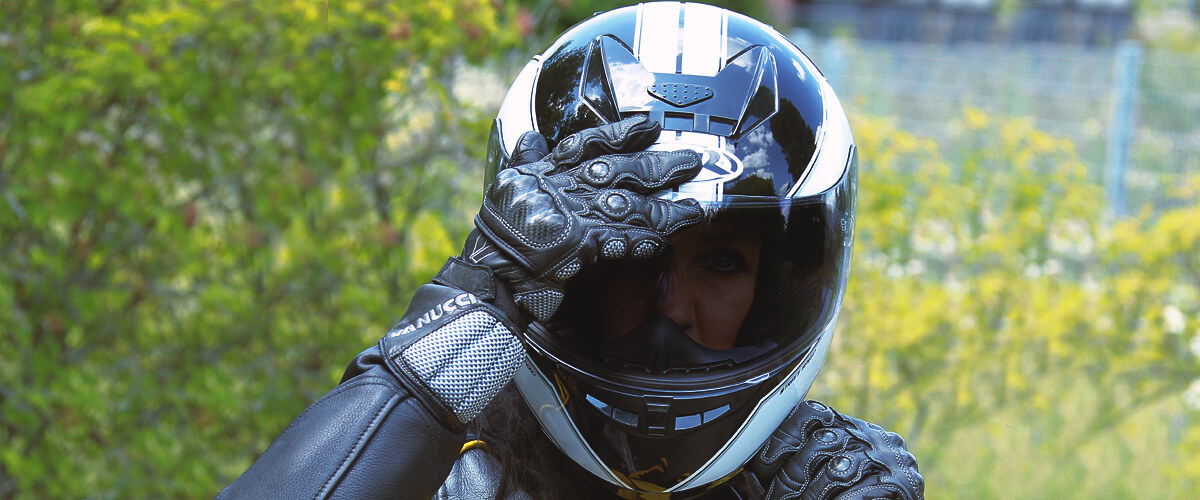 Safety certifications
No matter what type of helmet you choose to buy, it must pass safety regulations. As a rule, all helmets produced in the USA are DOT certified, however, you can also find models with two certifications.
Shell materials
Motorcycle helmets can be made of polycarbonate, carbon fiber, or fiberglass. Polycarbonate is strong, flexible, and relatively affordable, but if you want a helmet that will serve you for a long while, it's better to go either with carbon fiber or fiberglass.
Good ventilation system
Whether you live in a hot climate or vice versa, rains are more common for your area, you need to ensure your ADV helmet has good ventilation. Ideally, you want a helmet with a separate sun visor to keep the sun out of your eyes. Likewise, you may want to choose a helmet that can be used with a Pinlock shield, which will help eliminate fogging issues.
Helmet weight
Since modular helmets are a bit heavier than most other motorcycle helmet styles, weight is an important point to consider. Therefore, if you don't want to end up straining your neck, opt for models made out of lightweight materials, especially if you're planning long rides.
FAQ
Are adventure helmets compatible with goggles for better eye protection during off-road adventures?
Adventure helmets are designed with versatility in mind, and many models, including the quiet adventure helmet, are indeed compatible with goggles. These helmets often feature goggle straps or goggles-compatible visor designs that allow riders to secure goggles effectively.
Are adventure helmets equipped with Bluetooth communication systems or provisions for installing one?
Top ADV motorcycle helmets usually come equipped with built-in Bluetooth communication systems or have installation provisions. These communication systems enable riders to stay connected, make calls, listen to music, and communicate with fellow riders while on the go.
Can I replace the visor or peak of an adventure helmet for different riding conditions?
In many cases, yes. A typical helmet for adventure bike often features interchangeable visors or peaks to adapt to various riding conditions. A clear visor might be suitable for night or low-light rides, while a tinted or sun visor can be useful in bright sunlight. Peaks can be adjusted or replaced to minimize glare and shield against different weather elements.
Are adventure helmets suitable for all weather conditions, including extreme heat or cold?
Adventure helmets are designed to handle various weather conditions, but their performance can vary. Many offer effective ventilation systems for hot weather, allowing airflow to cool the rider. For cold conditions, some helmets, like the enduro motorcycle helmet from the review, come with removable liners and provisions for attaching breath guards and chin curtains to keep warmth in. However, choosing a helmet that aligns with the specific weather conditions you'll be riding in is essential, as well as considering additional accessories for extreme heat or cold protection.