Not all motorcycle helmets are created equal, even though most of them seem to be well-thought-out and offer a substantial level of protection. The industry represents different motorcycle helmet ratings and understanding those ratings is quite important in order to get equipped with safe headgear.
Motorcycle helmet ratings and how they are tested
Anyone who's ever held a motorcycle helmet in their hands should have noticed a label on one of its sides. This label, depending on the chosen model, represents a particular motorcycle helmet certification and tells you under what conditions a motorcycle helmet had been tested before it was released into the market.
In brief, DOT certification sets a minimum set of standards, whereas Snell certification is known for its rigorous and extensive testing. For more information, keep on reading and discover what motorcycle helmet safety ratings you can come across today.
DOT FMVSS 218 rating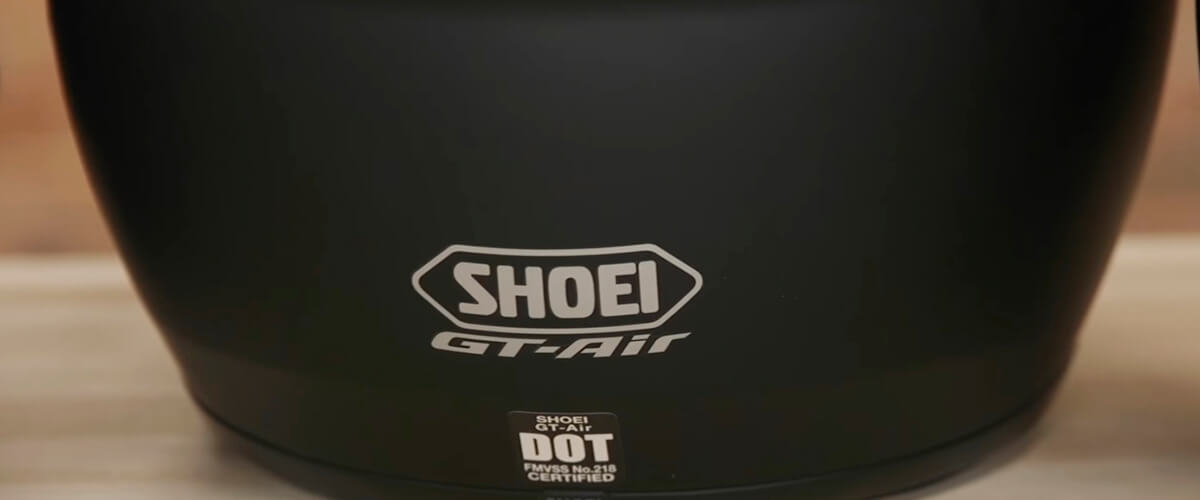 You might find it surprising but the Department of Transportation, which is abbreviated as DOT, is not an organization that tests helmets. It is a U.S. government body, which sets safety guidelines and obliges manufacturers of the USA to test their own helmets so that they meet the standards for safe riding.
In general, compared to other certification types, DOT sets a minimum set of safety standards. To get approval with DOT, helmets must be tested on things like penetration resistance, the field of vision, and the distribution of energy upon impact. If there are any battery-operated components integrated into a helmet, producers will test them as well. As a rule, motorcycle helmets are tested on a moderate crash impact.
All helmets, which are sold in the USA and DOT certified, receive a specific standard known as FMVSS 218. Of course, you can find some novelty motorcycle helmets, too, but if you don't want to run the risk of serious injuries, make sure that your helmet has a DOT label.
ECE 22.05 rating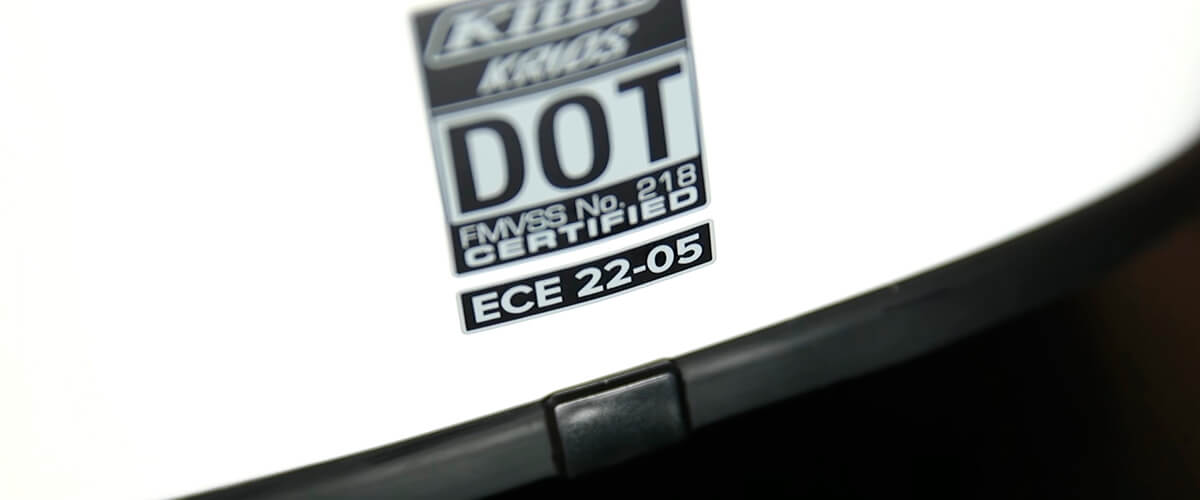 If you've not heard of the ECE 22.05 safety rating, chances are, you're not a resident of the EU. The name that this rating's been given stands for the Economic Commission for Europe and is used throughout Europe (in over 50 countries!). Helmets that have ECE 22.05 rating undergo extensive testing and are considered very safe.
So, how does the testing go? Just like DOT, an ECE test measures the overall quality of the product as well as such things as optics, materials used, and other integrated components. What differs them, though, is that the latter performs cross-testing. To specify, unlike its counterpart, ECE certification can be given only to those helmets that have been tested by several accredited third-party companies, whereas DOT-certified helmets are usually tested only by their producers. Such an approach ensures better quality and gives you peace of mind about your safety on the road.
That said, there are a few pitfalls, too. Firstly, it's the crash speeds. Even though the testing method of ECE is considered to be more rigorous, you should know that in Europe, the average crash speeds are lower than in the USA, which gives us roughly the same impact test result. And secondly, an ECE test implies hitting a helmet only once and at a fixed point, which doesn't exclude the risk of the test being rigged by manufacturers.
SNELL M2020 rating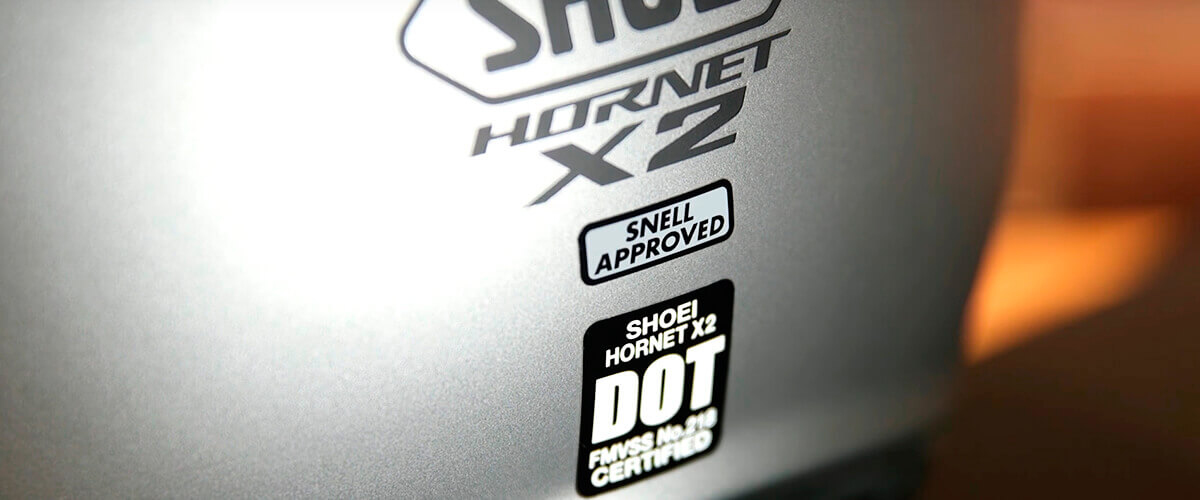 When it comes to Snell, the story is completely different. What makes it unique is that it's a non-profit foundation. The folk behind Snell believe that helmets have to be tested extensively and repeatedly and that the tests should involve real-life situations analogous to those that a rider can encounter when on a road, not just define a certain set of requirements like most other foundations do. This way, they conduct a whole range of tests that assess such things as impact energy, dynamic retention, positional stability, the rigidity of integrated components, shell and face shield penetration, chin bar impact, flame resistance, and frontal head restraint test.
At Snell, not only do they test the helmet's performance in different conditions, but also they require to check the response of the wearer's body and neck in the event of a crash. This allows them to determine the slightest flaws in the design and reject a helmet. Thus, when you see a helmet with a Snell M2020 rating, you know it's a product you can rely on.
SHARP rating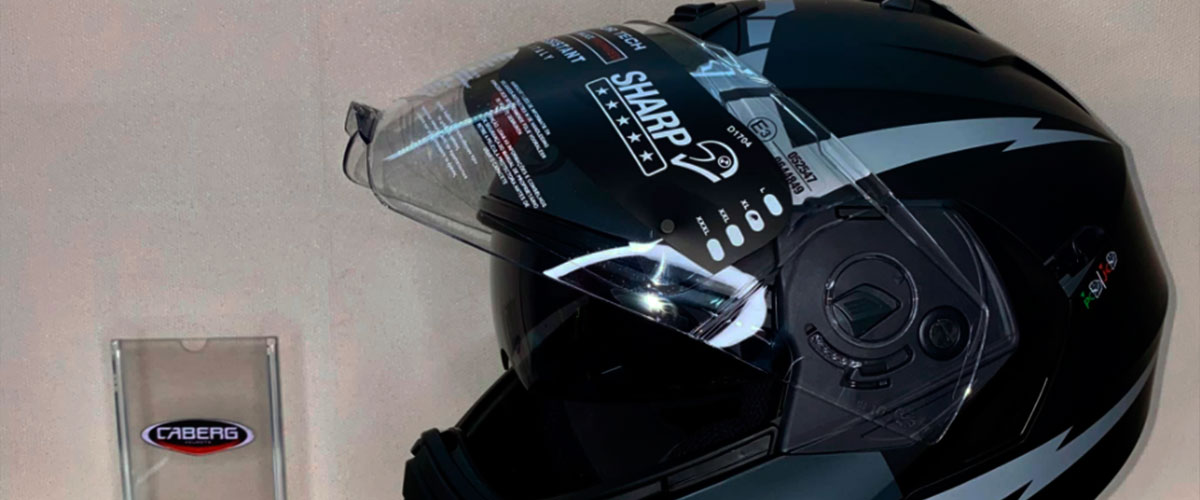 Speaking about SHARP, it is an independent British foundation that was launched back in 2007 with the objective to improve the helmet's performance and design and reduce the number of casualties from crashes and accidents on UK roads. SHARP creates real-life conditions and conducts extra tests, putting ECE22.05 approved helmets through a wide range of safety tests.
In general, SHAPR conducts 32 impact tests at three different speeds – 19ft, 24ft, and 27ft per second (6.5m, 7.5m, and 8.5m). As a result, they can see how the helmet reacts to both low and high impacts and supply only those helmets that provide a high level of protection, making your survival during road collisions practically feasible.
Helmets with a SHARP rating are considered downright safe. It's a rating that can be seen on over 400 helmets, with 30-40 new helmets being tried and tested every year. Though Sharp is funded by the UK government, a lot of countries around the world including America and Australia now have their own version of SHARP and apply a very similar approach to test motorcycle helmets.
How do I know if my motorcycle helmet is safe?
At this point, you should already know that in order for a helmet to provide substantial protection, it's supposed to have the technical safety standard, which testing facilities place as a sticker on the side or back of the helmet (DOT, ECE, SNELL or SHARP, depending on your location). Some producers can put their helmets through several safety tests, so you can find motorcycle helmets dot and snell approved. Which certification is more reliable is up to debate, because there are a lot of factors affecting the assessment (location, crash speeds, methods used, etc.), but what is for sure is that these ratings are not given for nothing and mean that a helmet is safe.
Perhaps, it'd be easier to answer when you know that your helmet is not safe. Many manufacturers today produce so-called helmet-look like models or novelties. As a rule, they are made from lighter and thinner materials and designed mostly with the appearance in mind. You can find some really stylish models designed to look like the model worn by your favorite hero in a movie. That said, while these helmets might feel comfortable and look so cute, they haven't been put through the proper testing conducted by the legal authorities and therefore, cannot be regarded as safe.
ECE vs. Snell vs. DOT: Which standard is the best?
Like I said before, knowing what standard safety ratings are the best can be confusing because there are a lot of things that should be factored in. So, to answer this question, let me make an assumption that you've got all three before you and you are wondering which one to choose.
Starting with the DOT standards, it's the legal minimum standard in the USA. Surely, helmets pass a number of tests to see how they will resist impact and adhere to different conditions, but in general, compared to some other tests, this standard is less strict.
The peculiarity of the ECE test is that it stimulates real-life situations. To add to that, they also expose their helmets to ultraviolet light and various solvents. The result of the test shows if there are any weaknesses in the design of a helmet. Besides that, ECE also tests the size of each helmet, which allows them to see how well it stands up to the impact.
As for Snell, their tests are known as the strictest. They conduct multiple tests and strike a helmet over the whole surface against both flat and curved surfaces. They also check the rigidity of components to ensure the helmet will stay in place and won't fail in the event of a collision. If you see a Snell sticker, you can rest assured it's a helmet you can rely on.
Is DOT certified enough?
Now, you might wonder if DOT certified helmets are safe enough, given that they set a minimum set of standards. The short answer is, yes, they are. A long answer is, in many cases, they prove to be even safer than others. How is that possible? It is because, with DOT tests, a helmet either gets approval or fails, tertium non datur. Besides, there are situations where wearing a bulky and thick helmet can be even awkward.
Are different standards better for different situations?
Speaking of these situations, if all you want is a basic helmet for street motorcycle use, you don't need to go for heavy, bulky and expensive helmets. Those are designed for race and off-road riding. And vice versa, if you're planning to ride intricate routes, it's best to not put yourself in danger and get equipped with a helmet that meets the highest safety standards, rather than saving money and then regretting it.