There is hardly a better choice to protect your head when you ride your motorbike than a full-face helmet. In virtue of finer structural integrity, this headgear boasts enhanced protective properties so that you can feel secure even performing sharp turns. But not all helmets on the market are made equal. The best full face motorcycle helmets provide better protection than low-quality ones, so you have to be sure you have chosen the highest quality, most reliable, and modern helmet model.
But the truth is that picking a quality full-face helmet can be tricky. By good luck, you have stumbled on this article that will guide you through this delicate process. You will learn what to look for in robust headgear. As a bonus, you will get a list of full-face helmets I find noteworthy with a detailed review of each model. My list includes entry-level models, mid-range models, and of course the best rated motorcycle helmets.
Our pick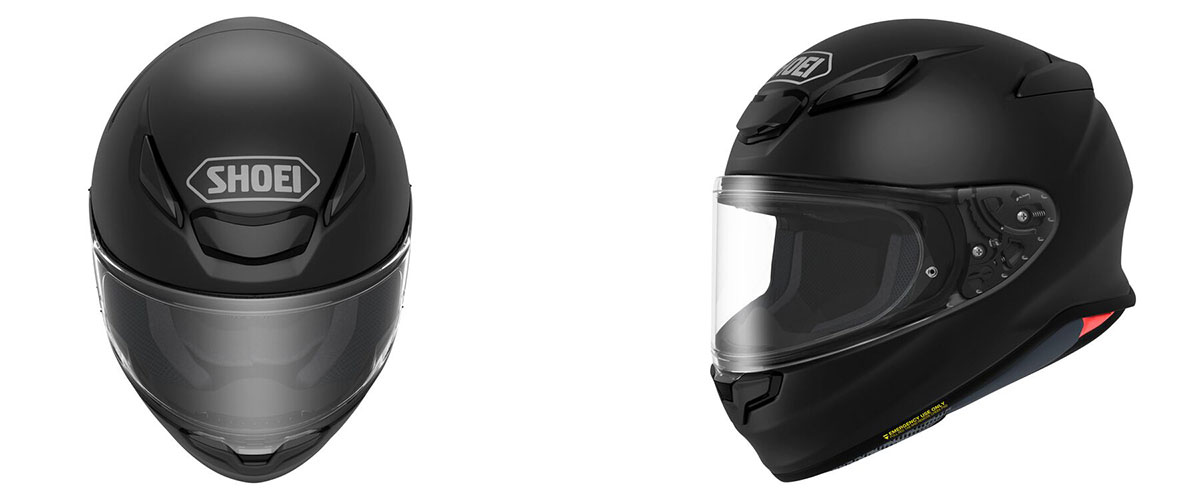 Shoei RF-1400
Best full face helmet
SHOEI's lightest and most compact SNELL-approved full-face helmet model, the RF-1400 has evolved the pursuit of perfection to the next level.
Read the full review
.
Best full face helmet reviews
Mid-price full face helmets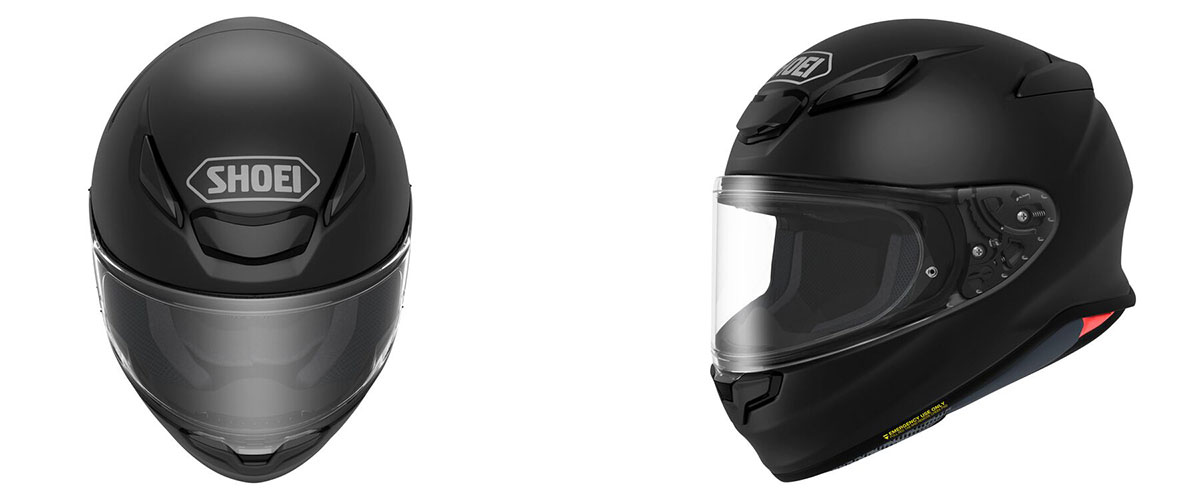 Being the most tech-advanced iteration of the iconic Shoei RF lineup, the RF-1400 helmet carries noticeable features of the previous product version and adds more sophisticated characteristics inspired by technology.
Shoei RF-1400 scores the SNELL safety rating, making it one of a few lucky products that own this status. There are a few reasons for that high-security score. First, this helmet boasts the strongest and the most elastic shell. Unlike AGV K6 with a carbon-aramid shell (which is also fine), Shoei RF-1400 leverages proprietary technology that integrates a matrix of hand-laid interwoven layers of fiberglass and lightweight organic fibers. This material ensures advanced impact absorption in case of an accident. Second, a dual layer of a multi-density EPS foam liner enhances the energy soaking properties of the shell, making an excellent combo for advanced protection.
Shoei RF-1400 will dispel the myth that safe helmets are heavy and bulky. Because of the precise placement of the EPS layer, this model is compact and has an average weight (3.62 lbs). Mind that the fit may be slightly snug but not compressing. However, since the interior parts in Shoei RF-1400 are customizable, you can easily avoid this discomfort by changing them to a different size.
The quietness is another prominent feature of this helmet. I can clearly hear my Bluetooth speakers (which you can use due to the speaker pockets, by the way) at the speed of 100 mph. Besides, the airtight window beading system seals the helmet so tight that neither water nor wind will get inside to disturb you during the ride.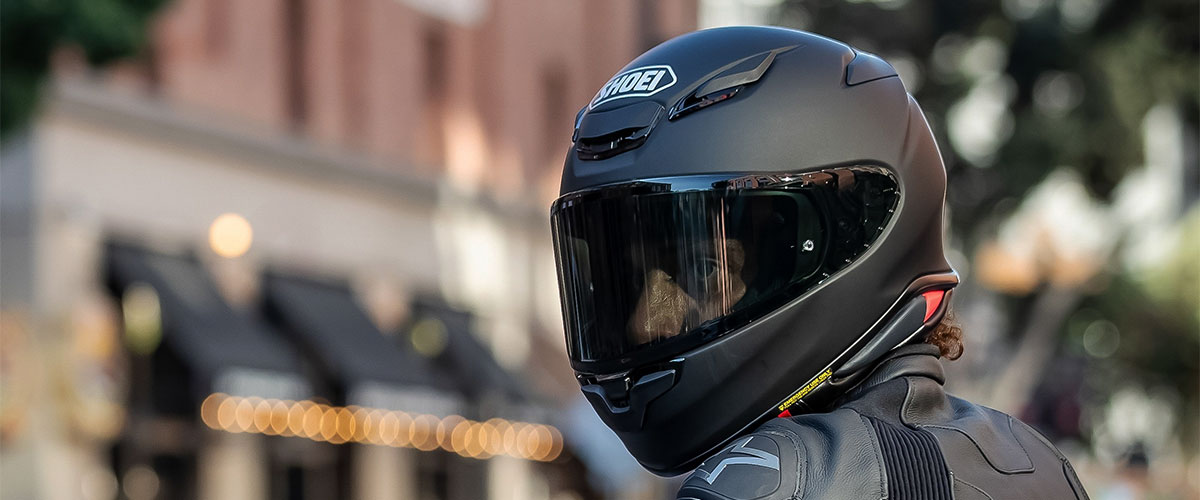 The visor system is crystal clear. Furthermore, CWR-F2 base plate and shield adjustment systems make replacing and adjusting the shield a breeze. In addition, you will find the Pinlock EVO lens in a box, which is a great thing for foggy weather.
The Shoei RF-1400 ventilation is something. I like the vents that let the right amount of fresh air in, but the in-house wind tunnel system should be in the spotlight for its ability to ensure flawless air circulation. A max-dry interior material also adds to your comfort. It quickly absorbs sweat, so you do not become the victim of unbearable heat.
The status of the best full face helmet undoubtedly goes to Shoei RF-1400. This model outperforms other helmets in terms of ventilation, sound isolation, and safety, so you will always stay comfortable and secure with this headgear.
Key specs
Head shape: intermediate oval.
Safety certification: DOT, ECE, Snell M2020D.
Shell sizes: 2XS-XS, SM, MD, LG, XL-3XL.
Shell material: Matrix AIM+ fiberglass.
Weight, g/lbs: 1642/3.62.
Pros
Complies with SNELL security standards.
An advanced ventilation system with larger vents and tunnels.
A crystal clear visor with a Pinlock EVO lens.
You will barely hear the wind noise even at high speeds.
Cons
You may need to change the interior parts for a more comfy fit.
AGV K6 – also a great choice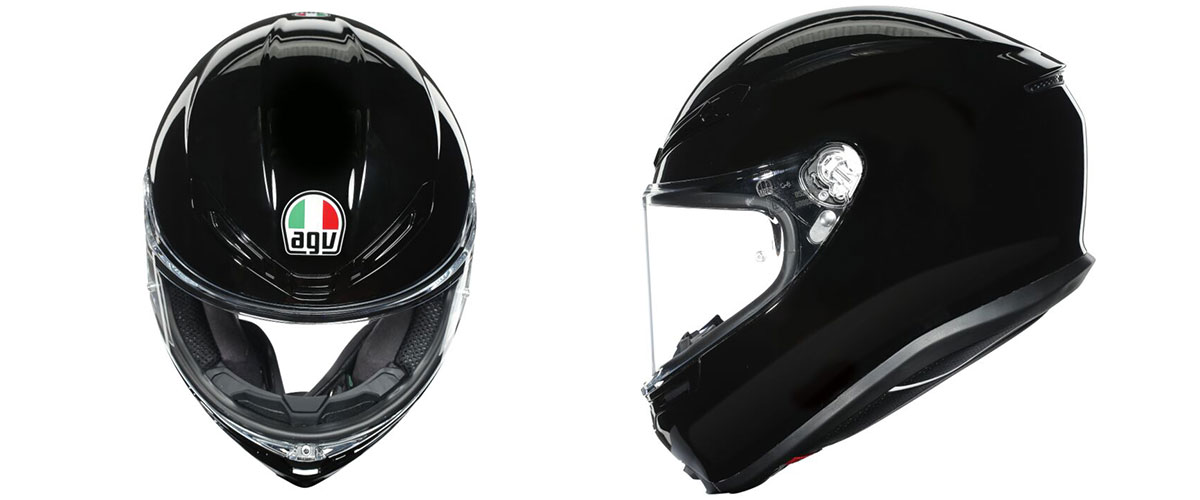 The headgear that helps world champions enjoy the moments of triumph is now available to you, thanks to AGV K6. This closed face helmet is suitable for any use and rider, so let's consider what makes it so unique.
Carbon and aramid fibers make the shell of this helmet. The combination delivers weight savings – this light full face helmet is only 2.95 lbs. But its weight doesn't reduce the level of safety you get on the road. On the contrary, AGV K6 boasts decent protection properties due to the sturdy shell material. Besides, while Shoei RF-1400 has two layers of EPS, this model features five EPS densities, making the protective capacity 48% higher than the law requires. DOT and ECE certificates prove this statement and ensure you will be protected even in extreme conditions. However, based on this fact alone, one cannot determine a clear winner Shoei RF 1400 vs. AGV K6. Therefore, it is necessary to consider other aspects of these undoubtedly excellent models.
A light, breathable, and wear-proof fabric of the lining keeps moisture out, while the 2Dry moisture wicking system enhances these properties. The cheek pads are made of Ritmo and Shalimar fabric for optimal comfort. Moreover, you can attach a removable breath guard to avoid shield fogging.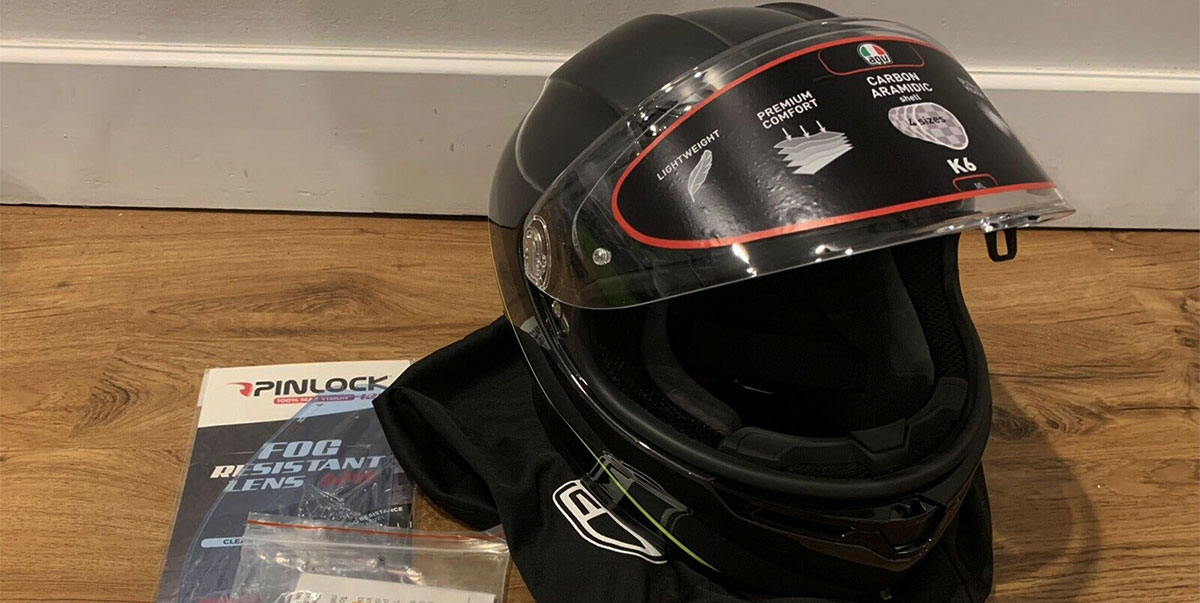 The Ultravision system delivers a 190° horizontal field of vision to let you better see the road, corners, and other elements. In addition, the Optical Class 1 visor is clear, and it is enhanced with the Max Vision Pinlock 120 anti-fog system for a distortion-free view in fog conditions. Finally, the micro-lock system allows you to open the shield to let more air in without unfastening the chin bar. Even though the idea behind this locking system is nice, I find it slightly inconvenient to operate.
There is nothing special about ventilation in AGV K6. Five adjustable front vents let fresh air inside the helmet, but they are not enough for summer. As a result, the back of my head was too warm, as the front vents do little to provide air circulation to other areas.
In other respects, I have no complaints about this helmet. It is one of the lightest head accessories I've ever had and is pretty comfortable. Considering this, I will say that AGV K6 is a good choice if you appreciate safety, comfort, and versatility.
Key specs
Head shape: intermediate oval.
Safety certification: DOT, ECE.
Shell sizes: XS-SM, MS, ML-LG, XL-2XL.
Shell material: carbon-aramid.
Weight, g/lbs: 1338/2.95.
Pros
Comfortable fit because of light weight (only 2.95 lbs).
Five EPS densities and sturdy shell increase security parameters.
Ultravision system with an Optical Class 1 visor and a Max Vision Pinlock system.
Quality interior with a breathable and wear-proof lining.
Cons
It may not be suitable for summer.
The face shield locking system is sometimes hard to operate.
Premium full face helmets
AGV Pista GP RR – premium choice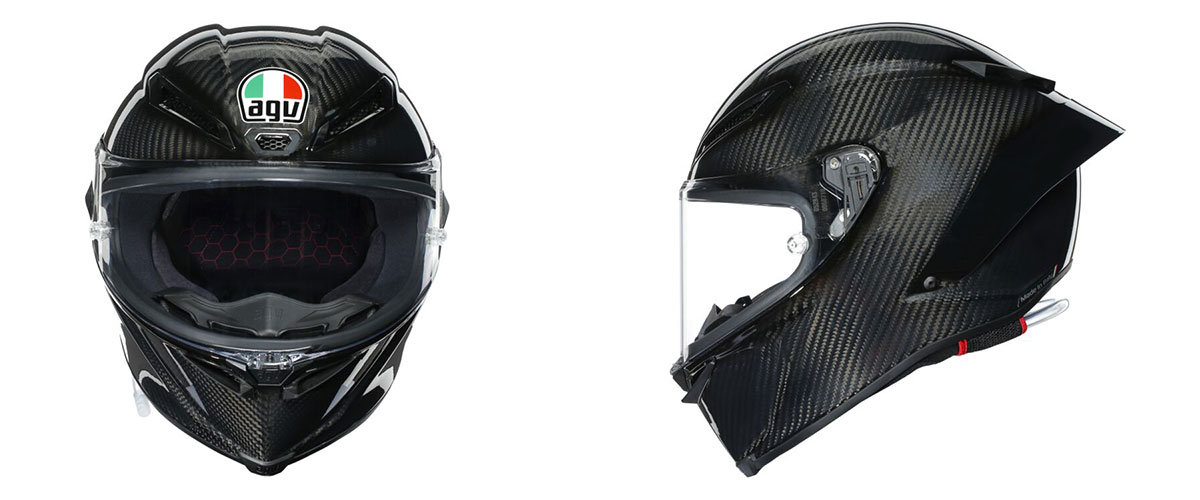 The AGV Pista GP RR helmet is a vivid example of how the secure, versatile, and comfortable headgear should look like. It meets the stringent FIM Racing Homologation standards, testifying to the advanced safety performance evaluation. Let's check other features that make this helmet prominent.
I will get things started with the overview of the helmet's shell. Using 100% carbon fiber as a shell material contributes to the sturdiness and light weight of the helmet. It weighs only 3.36 lbs but, as you already know, complies with the FIM safety standards. To be totally clear, the five-density EPS liner boosts the protection properties of AGV Pista GP RR, primarily, it works great at minimizing rotational accelerations.
What struck me most in this helmet is the removable MotoGP hydration system integrated into the shell. You won't find this feature in most helmets like Shoei X-15. With this system, you can drink water even during your ride through a drinking valve.
The removable, washable interior padding is pleasant to the skin. It features antibacterial protection, 2Dry moisture wicking, and Microsense treatment properties to ensure nothing brings discomfort when you wear this helmet. With a peculiar crown structure, you can optimize the fit and height of the helmet. A neck roll is supposed to reduce the wind noise, but it does little to fulfill this mission.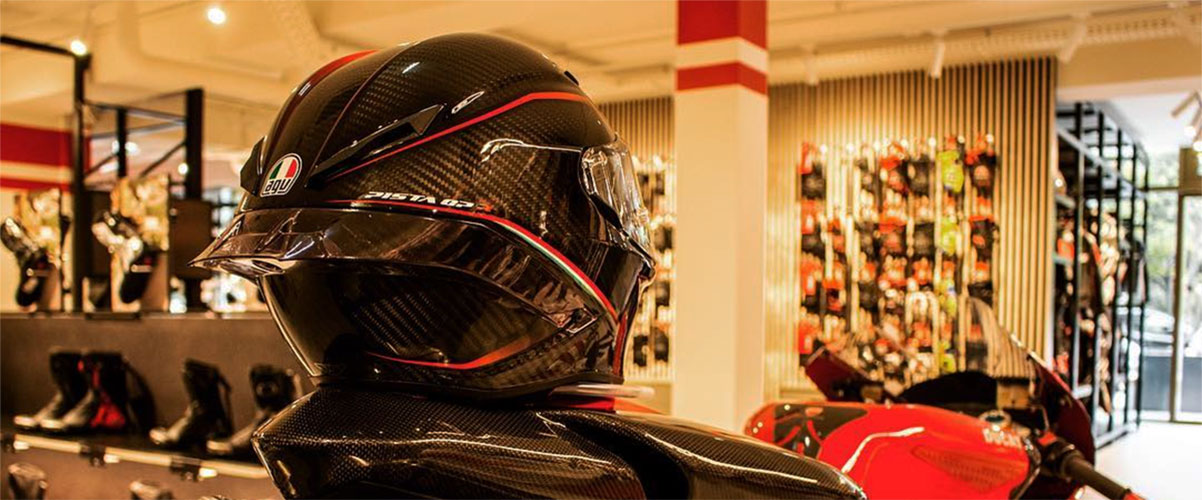 An anti-scratch, tear-off-ready Race 3 face shield enhances the face and eye protection. I like the range of vision with this helmet – 190° horizontal view and 85° in the racing position. Moreover, the Max Vision Pinlock technology will improve the clarity in foggy conditions.
The ventilation in the AGV Pista GP RR helmet won't disappoint you. Thanks to an integrated system including five large front vents and two rear extractors, there will be an optimal level of air circulation to keep you cool even in hot weather.
AGV Pista GP RR is the best full face motorcycle helmet in the premium segment. It will stand the most challenging riding conditions and deliver security and comfort, no matter where and how you ride.
Key specs
Head shape: intermediate oval.
Safety certification: DOT, ECE, FIM.
Shell sizes: XS, SM, MD, LG, XL, 2XL.
Shell material: carbon fiber.
Weight, g/lbs: 1542/3.4.
Pros
An integrated hydration system to let you drink on the go.
You can regulate the top of the helmet due to a particular crown structure.
Recognized by an FIM Racing Homologation program.
Shoei X-15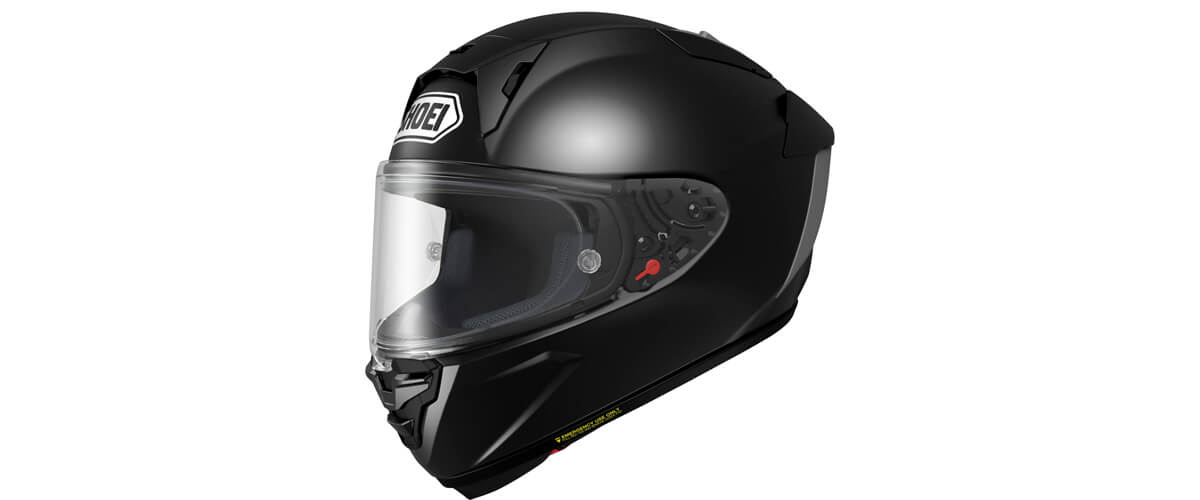 Shoei is a highly reputable brand in the motorcycle helmet industry, known for delivering exceptional quality and performance. Its latest release, the Shoei X-15, is no different, as it boasts advanced technology, innovative design, and uncompromising safety features. Its shell is constructed with premium materials, ensuring excellent durability and impact resistance. The outer shell is crafted using advanced composite fibers, such as fiberglass and organic fibers, resulting in a lightweight yet sturdy construction. The aerodynamic design of the X-15 enhances stability and reduces wind noise, making it ideal for high-speed rides.
The X-15 helmet has a clear, UV-protected face shield that resists scratches and fogging. Its quick-release base plate makes it easy to replace the shield. The helmet's interior has a multi-density EPS liner for safety and a plush, washable liner for comfort.
Plus, this model features adjustable intake vents on the chin bar and forehead and exhaust vents at the rear, allowing for excellent air circulation and temperature control.
This headgear features an expanded horizontal field of view, allowing me to see more of their surroundings without having to turn their heads excessively. Such an enhanced perspective gives riders better situational awareness, crucial for anticipating potential hazards and making split-second decisions on the road. The Shoei X-15 also boasts a wider vertical field of view compared to many other helmets on the market. This means you can see more of the road ahead, giving them a better view of traffic, traffic lights, and potential obstacles, whether they're in an upright or aggressive riding position.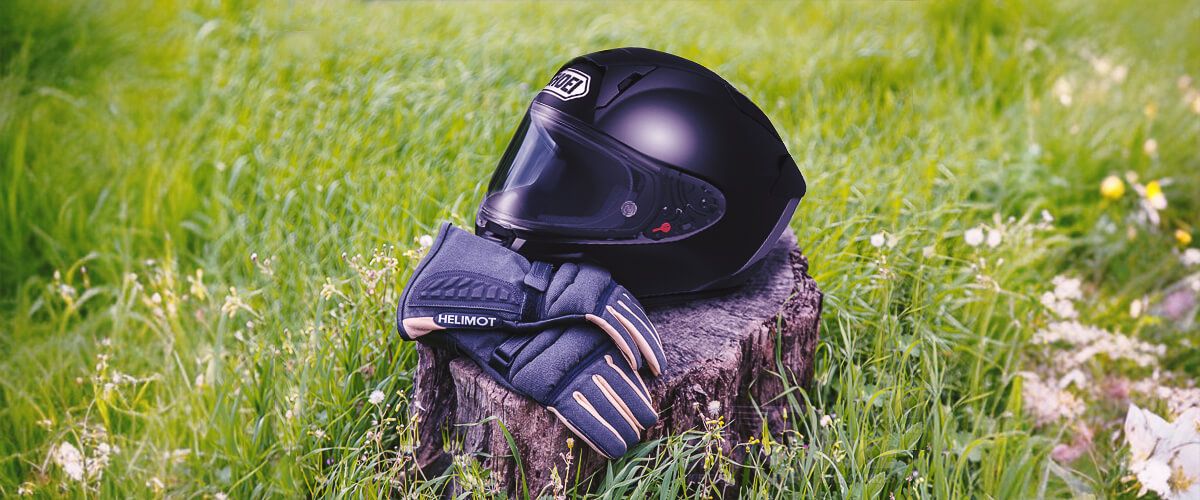 The Shoei X-15 helmet puts safety first, exceeding DOT and ECE certifications for superior impact protection. Riders can feel confident on the road with the added peace of mind that this helmet provides.
In addition to its safety features, the Shoei X-15 offers convenient capabilities. An emergency quick-release system is pre-installed for easy removal in case of an accident. This model also accommodates Bluetooth communication systems, allowing for hands-free communication and audio streaming while riding.
When you compare the X-15 to other popular helmets like the RF-1400 or AGV K6, the X-15 certainly doesn't get lost among them. It also offers unrivaled quality and reliability. Therefore, it will be a great choice if its styling appeals to you!
Key specs
Head shape: intermediate oval.
Safety certification: DOT, ECE, Snell M2020D.
Shell sizes: 2XS-XS, SM, MD, LG, XL-3XL.
Shell material: Matrix AIM+ fiberglass.
Weight, g/lbs: 1623/3.58.
Pros
Premium materials and durable construction.
Guarantees a really high level of security.
Comfortable and removable inner liner.
Lightweight design for reduced fatigue.
Cons
Definitely not the least expensive helmet.
Limited color options.
Bell Race Star Flex DLX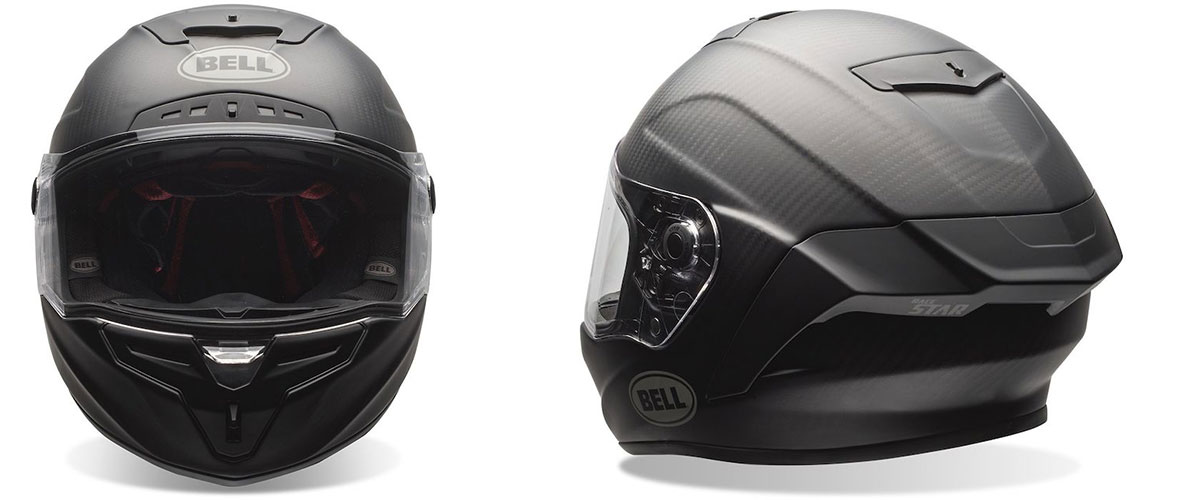 The Bell Race Star Flex DLX helmet is made of lightweight and durable carbon fiber material that enhances its strength and overall lightness. Its sleek and aerodynamic design reduces wind resistance, giving riders a smoother experience. The helmet also has a high-quality face shield that provides excellent clarity and visibility. It has an anti-scratch and anti-fog coating, ensuring optimal performance in different weather conditions. Additionally, it has a tinted visor option for riders who prefer additional sun protection.
The interior of the helmet features a comfortable and moisture-wicking liner. Bell has incorporated their X-Static XT2 silver liner, which provides antimicrobial properties to keep the helmet fresh and odor-free. Moreover, this headwear model boasts an advanced ventilation system with strategically placed intake and exhaust vents. This design facilitates optimal airflow, which helps to keep me cool and comfortable during long rides or hot weather conditions.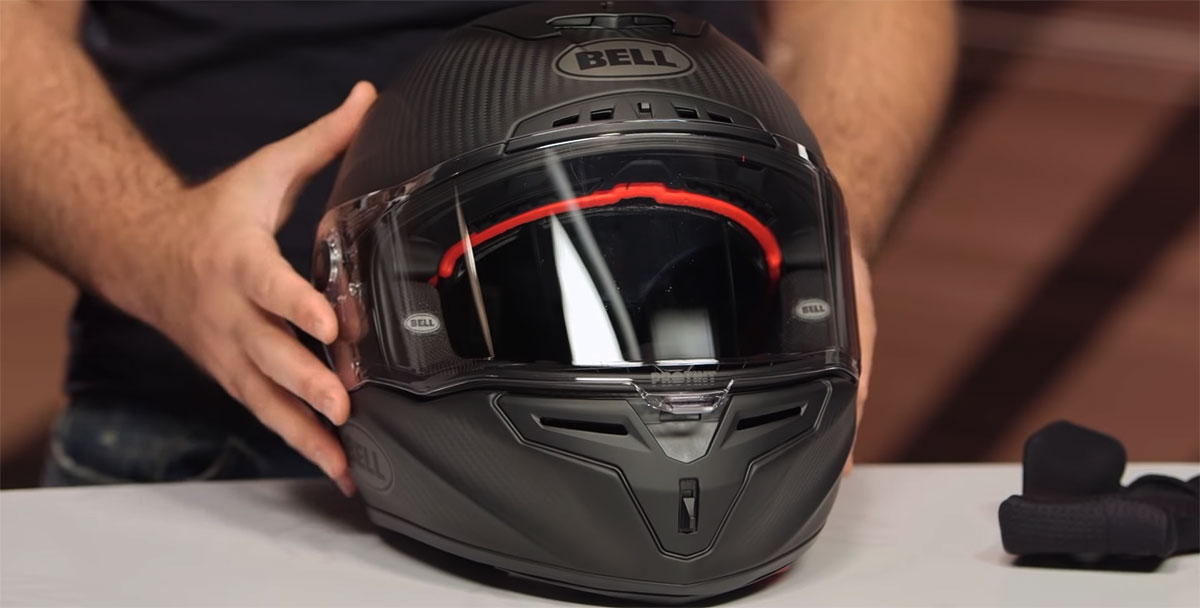 Regarding safety, the Bell Race Star Flex DLX meets stringent industry standards. It has obtained the necessary certifications, such as DOT (Department of Transportation) and ECE (Economic Commission for Europe), ensuring it complies with the highest safety regulations. The helmet's construction and features contribute to its impressive impact protection capabilities.
The Bell Race Star Flex DLX offers a range of additional features and capabilities. It has built-in speaker pockets, allowing riders to easily integrate Bluetooth communication systems for a seamless and connected riding experience. This model also accommodates eyewear, allowing riders to wear their preferred glasses or sunglasses.
The Bell Race Star Flex DLX helmet offers top-notch safety and comfort for serious riders. Its innovative design, superior materials, and exceptional safety features make it a worthwhile investment. The lightweight construction, advanced face shield, and excellent ventilation system provide a comfortable and secure riding experience.
Key specs
Head shape: intermediate oval.
Safety certification: DOT, Snell M2015.
Shell sizes: XS-SM, MD-LG, XL-2XL.
Shell material: 3K carbon.
Weight, g/lbs: 1619/3.57.
Pros
Lightweight and aerodynamic shell design.
X-Static XT2 silver liner for comfort and antimicrobial benefits.
Ability to integrate Bluetooth communication systems.
Accommodates eyewear for added convenience.
Cons
Limited color and graphic options may not suit all riders' preferences.
Budget full face helmets
Sedici Strada II – budget helmet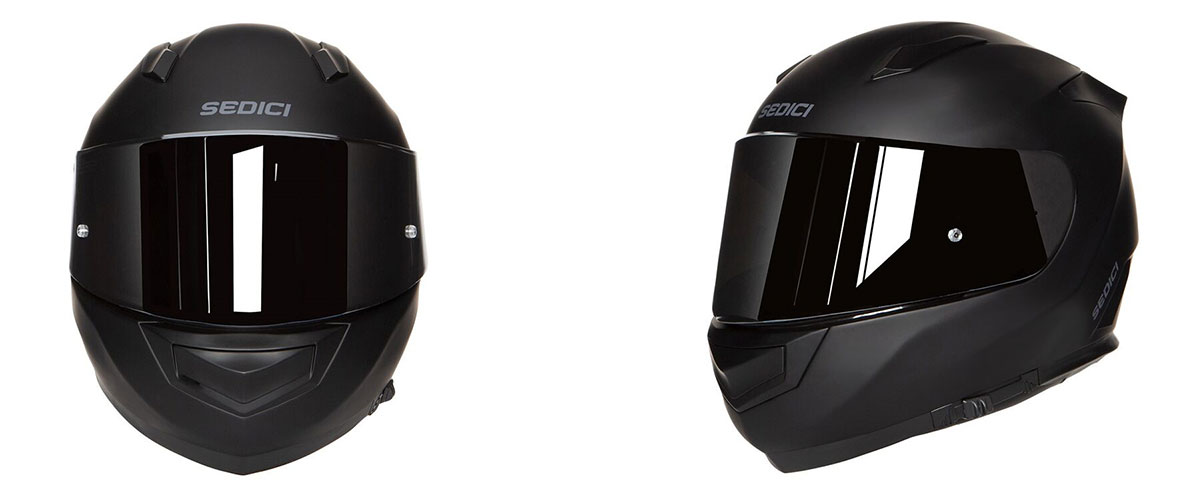 If you search for cheap full face helmets that won't dissatisfy you with functionality, protection, and comfort, look no further than Sedici Strada II. However, don't let the lower price tag misguide you – this product is high quality and can work great for many motorcyclists. Yes, Sedici vs. Shoei is quite a long story, but in this case, I will not compare these models as they are in different price segments. That would just be incorrect. So I will continue the review of the Strada II.
A blend of fiberglass and aramid fiber produces a strong, lightweight shell (only 3.3 lbs). Furthermore, a dual-density EPS liner promotes better impact absorption and ventilation. You can ride safely with this helmet – the DOT and ECE ratings have already checked whether this helmet does a good job protecting your head in case of an accident.
The lining quality is not the ultimate dream. It doesn't breathe to the extent you may want it to, so you may find that you will want to use a different helmet for summer. However, you can remove the cheek pads and a chin skirt to maintain them in neat condition. You won't find adjustable padding in the forehead and temple areas in Bell Qualifier DLX MIPS, so the Sedici Strada II is a better option in terms of interior customization.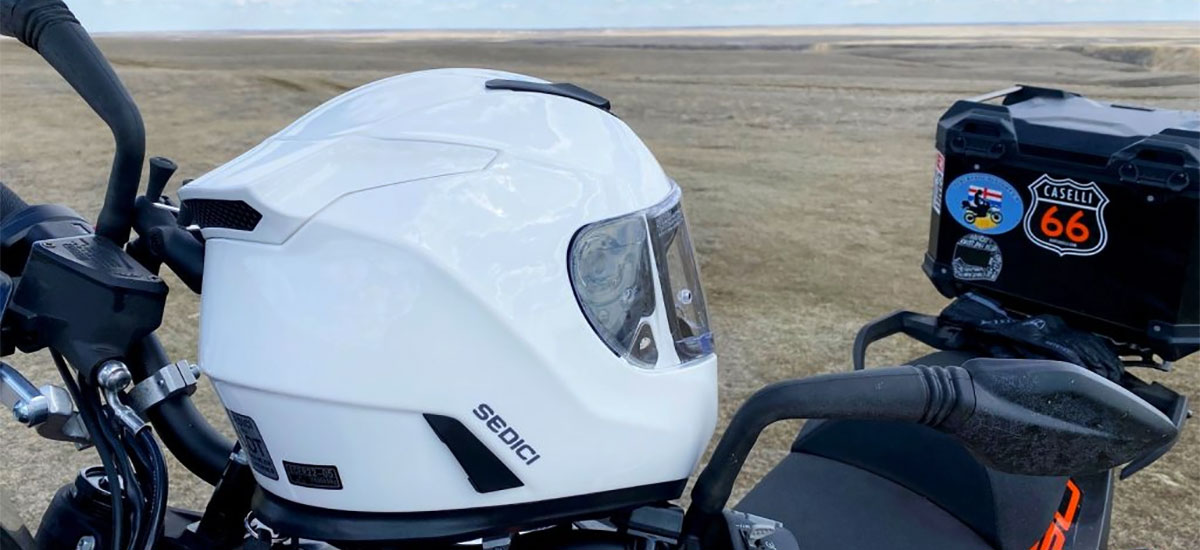 I purchased this helmet thinking that the windscreen was blackened. As it turned out, it is not. Luckily, there is a dark internal drop-down sun visor that protects eyes from sun glares. This helmet is Pinlock-ready, but you should buy the insert separately.
Speaking of ventilation in Sedici Strada II, there is nothing to astonish you. This is an average helmet with an ordinary ventilation system featuring three vents and three exhaust vents. You can regulate the amount of air you want to let inside with three vent settings. A chin vent lets you open it in two positions to channel fresh air across the inner shield and your face.
If you do not want to break the bank when purchasing a full-face helmet, the Sedici Strada II will offer you a reasonable compromise between the price and quality. Of course, it has some minor flaws, but you can still protect your head during your journeys without sacrificing comfort.
Key specs
Head shape: intermediate oval.
Safety certification: DOT, ECE.
Shell sizes: XS-SM, MD-LG, XL-3XL.
Shell material: DuPont kevlar fiber, fiberglass.
Weight, g/lbs: 1497/3.3.
Pros
Adjustable padding to regulate the size in the forehead and temple areas.
The shell of fiberglass and aramid fiber is lightweight and durable.
Regulated vents for more customized air circulation.
An integrated sun visor to protect your eyes from the sun.
Cons
The lining doesn't breathe much, so it can be too hot for summer.
Doesn't come with a blackened windscreen.
The Pinlock anti-fog system is not included.
Bell Qualifier DLX MIPS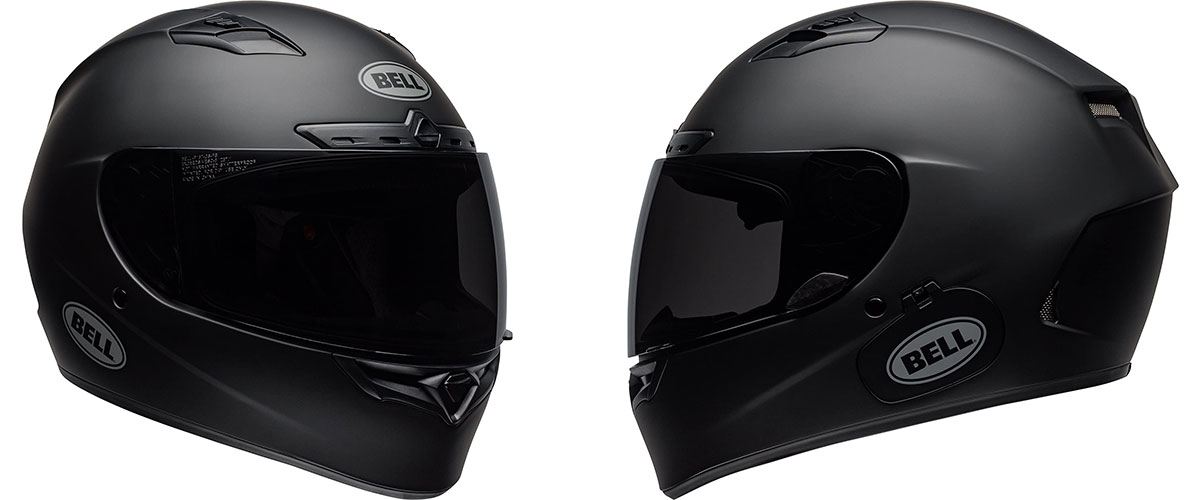 When you mainly ride across the streets, you should cast your glance at Bell Qualifier DLX MIPS. It is packed with the features that will turn your trips into a pleasant adventure, so stick a little bit more to figure out all the benefits of this helmet.
You will be thrilled to know that the Bell Qualifier DLX MIPS boasts advanced security features like MIPS technology, which protects your head from rotational impacts. In addition, this helmet is approved by DOT and ECE for safe rides as it has passed numerous security tests. A lightweight polycarbonate shell also stays in charge of your security by absorbing the energy from impacts.
Bell Qualifier DLX MIPS doesn't have a prominent interior – just an average lining with contoured cheek pads. Unfortunately, I wouldn't say I liked the fit – the helmet is too tight on the forehead. But a shield system may rivet your attention in this helmet, which is better than in Sedici Strada II.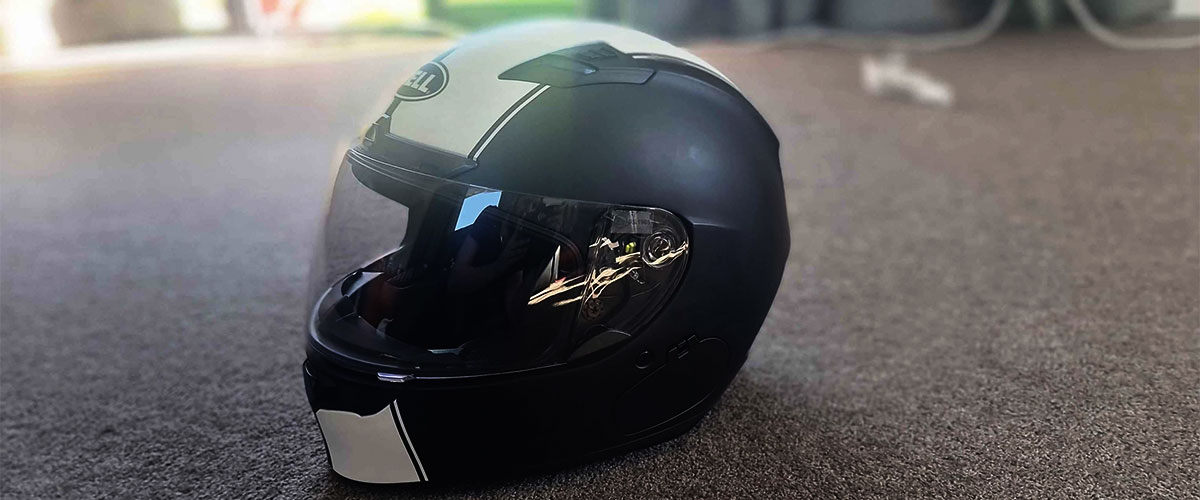 What I have appreciated about Bell Qualifier DLX is a ProTint photochromic face shield, which adjusts to light conditions. You will also find a NutraFog II shield in a pack to let you see clearly when it's misty outside.
The wind noise is pretty high in Bell Qualifier DLX MIPS. Besides, the vents do their job as you move, but if you stop or get caught in stop-and-go traffic, you won't be happy with the ventilation much.
If visibility is critical, you should consider the Bell Qualifier DLX MIPS. Its adaptive shield with anti-fog properties will ensure you see clearly on your way, no matter the conditions. Otherwise, this is a good-quality model of the budget level.
Key specs
Head shape: intermediate oval.
Safety certification: DOT, ECE.
Shell sizes: XS-SM, MD-LG, XL-2XL.
Shell material: polycarbonate.
Weight, g/lbs: 1619/3.57.
Pros
MIPS technology boosts protection properties.
Approved by DOT and ECE.
A ProTint photochromic face shield adjusts to the light level.
Comes with a NutraFog II shield.
Cons
You may not like how the helmet fits.
The noise is pretty intense.
Poor ventilation in stop-and-go traffic.
What to look for when choosing a full face helmet?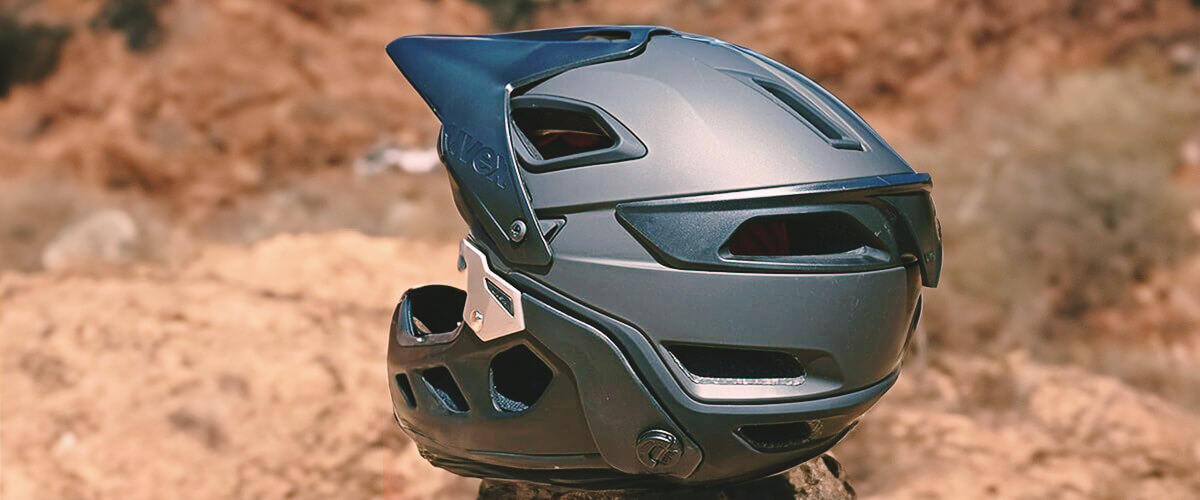 When you aim to find a good full face helmet, I recommend looking for the following features.
Shell size and shape
Helmets are available in three common shell shapes: oval, intermediate, and round. Remember that the aerodynamic shape of a helmet determines not only its resistance to air masses but also how snugly the helmet fits against the face. When you choose the right shell shape, you minimize the risk of increased pressure or no-contact zones, which affect your comfort and safety.
At the same time, the shell size also matters. Measure your head circumference, and match your measurements with the helmet's sizing chart.
Interior
The quality of the interior parts of the helmet will impact your wearing experience and safety. Look for models with removable and washable interior elements. In addition, it will be wise of you to get a helmet with a lining that breathes, absorbs moisture easily, and dries quickly. Also, if you prefer sporty riding, I recommend you check out the best dual sport helmet.
Shell
Full-face helmets are available in numerous materials. However, I will suggest picking a shell material that is lightweight and sturdy at the same time. In this aspect, carbon helmets are the winners.
Furthermore, carefully consider the inner shell material. Most manufacturers use expanded polystyrene (EPS) to soak the impact that would otherwise go to the head. However, other modelsб, like Simpson modular helmet, may add foam of different thicknesses to enhance impact distribution.
Safety
Even though full-face helmets are considered the most secure ones, never neglect the helmet's safety parameters. Even if you have heard from friends or colleagues that it is the safest motorcycle helmet, be sure to check whether such a model has special certifications.
To ensure the chosen model can stand the crash and protect your head, select only SNELL, ECE, or DOT approved full face helmets.
More advanced helmets will include a multi-directional impact protection system (MIPS). This system includes a layer that rotates inside the helmet, slowing or reducing the amount of energy that may go to the head under a strong impact.
How to measure your head for a motorcycle helmet?
To do it right, grab a flexible measuring tape and wrap it around the widest part of your head, just above your eyebrows and ears. Take note of the circumference in centimeters and refer to the size chart provided by the helmet manufacturer. For more detailed instructions and tips, check out my blog post: How do I know what size motorcycle helmet to buy?