The best dual sport helmet should have everything you expect from an off-road and street headgear. In other words, whether you ride the streets or start your adventures in a natural environment with plenty of rocks, mud, dust, and other obstacles, you should feel comfortable and safe wearing such head protection.
This read will ponder upon features to look for in a dual-sport helmet. You will also check dual sport helmet reviews of popular products worth your attention.
Our pick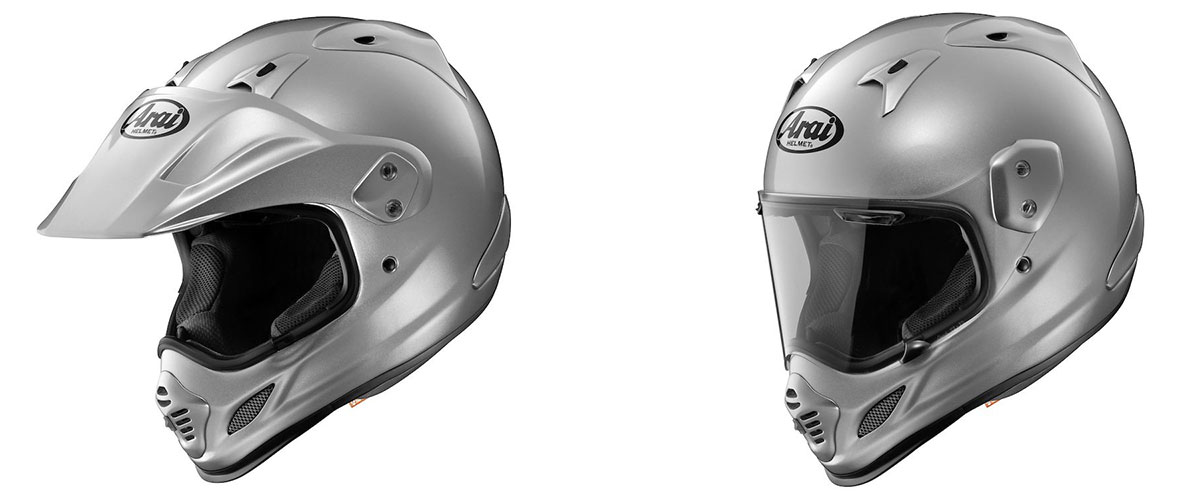 Arai XD4
Best dual sport helmet
The XD-4 offers three distinct confi gurations depending on rider preference or riding conditions. Change the look every time you ride — or even during the same ride.
Read the full review
.
What is a dual-sport motorcycle helmet?
A dual purpose helmet is a modification of a dust and full-face helmet, combining the most prominent features of these headgear types for unforgettable on-road and off-road journeys. This head protection type delivers improved ventilation and enhanced durability for extra protection from impacts in natural environments. At the same time, it retains a street-style face shield you can flip up and down to catch your breath or talk to your fellow. Hence, the best helmet for dual sport riding is really a unique symbiosis of comfort and safety.
But there are other dual-sport helmet peculiarities you should know to ensure you get good performance, no matter where your route lies. First, these helmets have more interior padding to protect your head from many bumps you may encounter off-road. Second, the helmet has more space inside, thanks to a low chin bar. Third, a large visor gives you a better peripheral view of the situation on the road. The visor is also movable, allowing you to wear goggles for improved sun protection. Finally, you may wear this lightweight dual sport helmet for long rides between road and rugged terrain because it won't strain your neck.
Advantages of dual sport helmets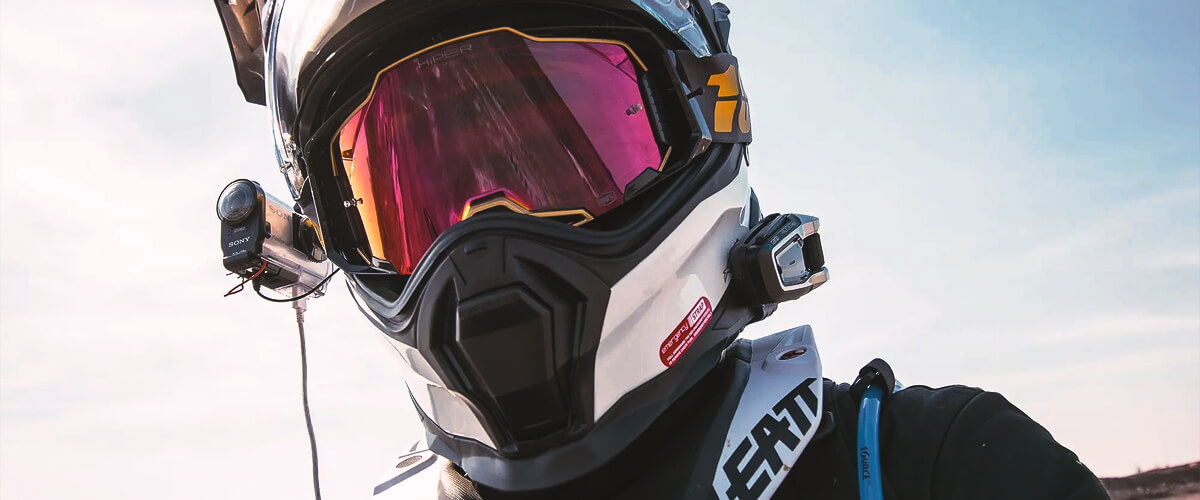 Whether you ride on paved roads or rugged terrain, you will have an equal level of comfort wearing a dual-sport helmet. It allows you to adjust airflow depending on weather conditions, varying speeds, and levels of physical exertion via advanced ventilation systems.
As we make a dual sport helmet comparison with dirt models, the former helmet type is lighter. Undoubtedly, you will feel more comfortable with a lightweight helmet on, even during long rides. Ladies will also benefit from not-that-heavy headgear, so dual sport helmets can perfectly match for their motorcycle adventures.
Besides lightness, these helmets have a prolonged chin, providing more space inside. There is a visor that will block the mud and sun glare off your eyes, but you can remove it for high-speed trips on your motorbike.
Another advantage of this headgear type is that it provides more protection. Thicker padding and multiple shell layers are ready to absorb impacts of different origins, be it a crash or a hit with a rock.
As you can see, the benefits of such models are quite substantial and relevant. Well, we pass directly to my reviews, which will help you choose the most optimal option. Let's go!
Best dual sport helmet reviews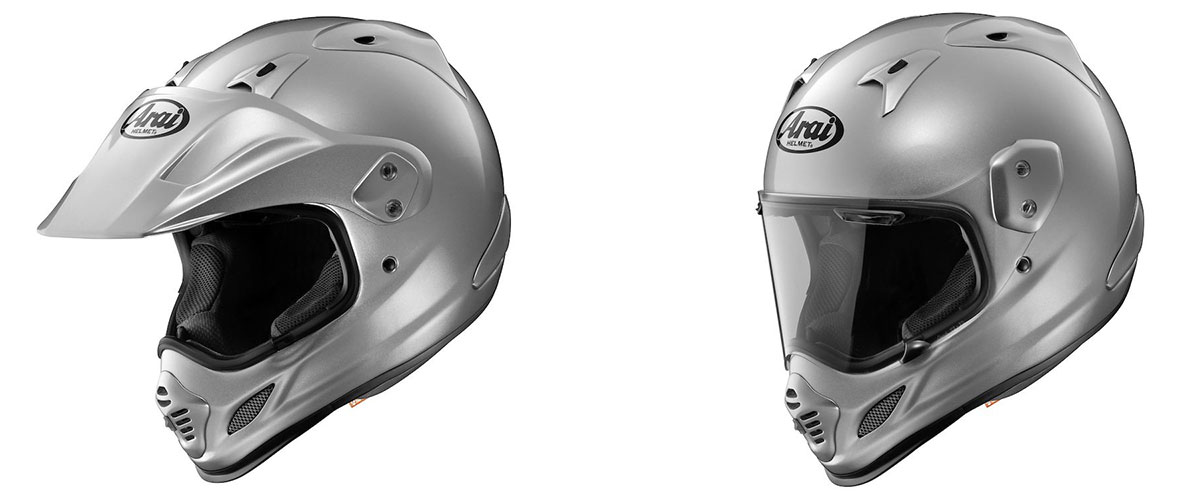 Those motorcycle riders appreciating brands with a world-renowned reputation should look no further than Arai XD4. It is one of a few helmets that has gained a safety rating from ​​SNELL, one of the most unbiased private organizations. And, frankly speaking, this headwear has a lot of great things to surprise you.
One of the Arai XD4's peculiarities is its interior – you will love it from the first wear. Dry-Cool technology helps maintain an optimal climate inside the helmet to ensure you stay comfortable, even at high temperatures. Many lining fabrics prove to work great for absorbing sweat, but this one is yet the most effective one I've ever tried.
The most significant advantage of Arai XD4 over KLIM Krios, another helmet from this review, is the ability to tailor the interior parts (temple and cheek pads) to your wearing preferences or face shape. Each piece has a 0,2 inch (5 mm) peel-away layer to deliver facial contour support. I find it more comfortable to wear the helmet without the layers during urban and off-road trips. Additionally, all the elements are removable, washable, and replaceable.
The XD4 ventilation is higher than in average helmets. The air flawlessly circulates inside the helmet, thanks to the exhaust ports at the top of diffuser vents, an enlarged chin vent, and sculpted side cowl vents. At the same time, very little wind is buffeting even without a windshield, making it one of the quietest dual sport helmets on the market.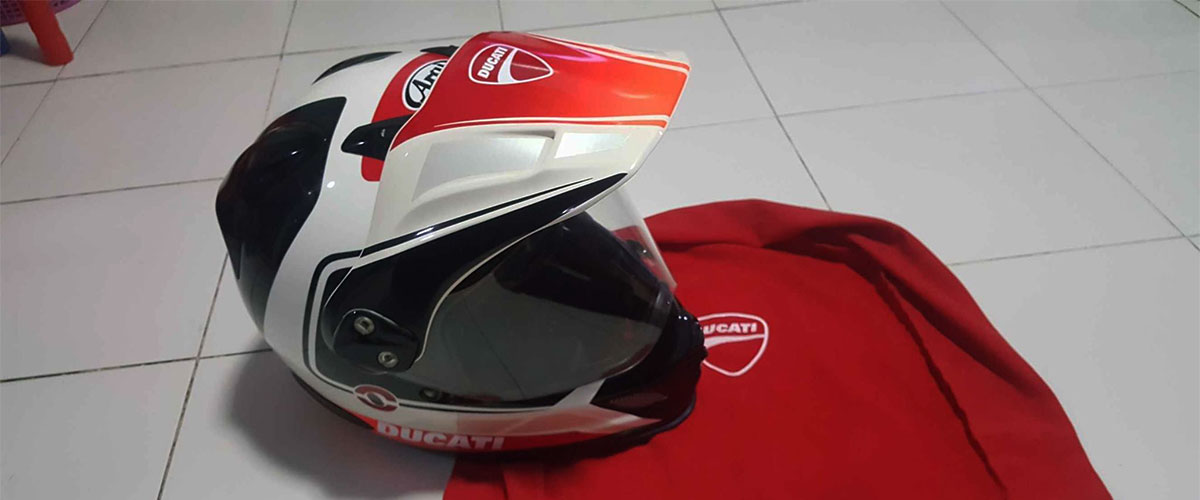 The optimized shell shape delivers better aerodynamic stability thanks to the high-flow peak and side cowl vents. But you may still find it insufficient at high speeds. The XD4 model allows you to configure the helmet in three ways to meet your riding needs. Note that you may need additional tools to remove the peak and a visor. The weight of this product may differ depending on the configuration, but generally, it is around 3.66 lbs. This is an optimal weight both for quick and long trips.
Once you try the Arai XD4 in action, it will win your heart as the best dual sport motorcycle helmet due to its well-thought-out design and the comfort it delivers through interior customization. In addition, it's quiet and well-ventilated, so neither wind nor road noise will distract you from enjoying all the turns and curves you make on your motorbike.
Key specs
Head shape: intermediate oval.
Safety certification: DOT, ECE.
Shell sizes: SM-MD, LG-3XL.
Shell material: carbon.
Weight, g/lbs: 1474/3.25.
Pros
Approved by the SNELL organization.
A customizable interior delivers more comfort.
Decent ventilation with minimal noise.
A removable peak and visor for different uses.
Cons
An optimal level of stability, which yet may be insufficient for high speeds.
You may need extra tools for setting up different helmet configurations.
O'Neal Sierra II – best budget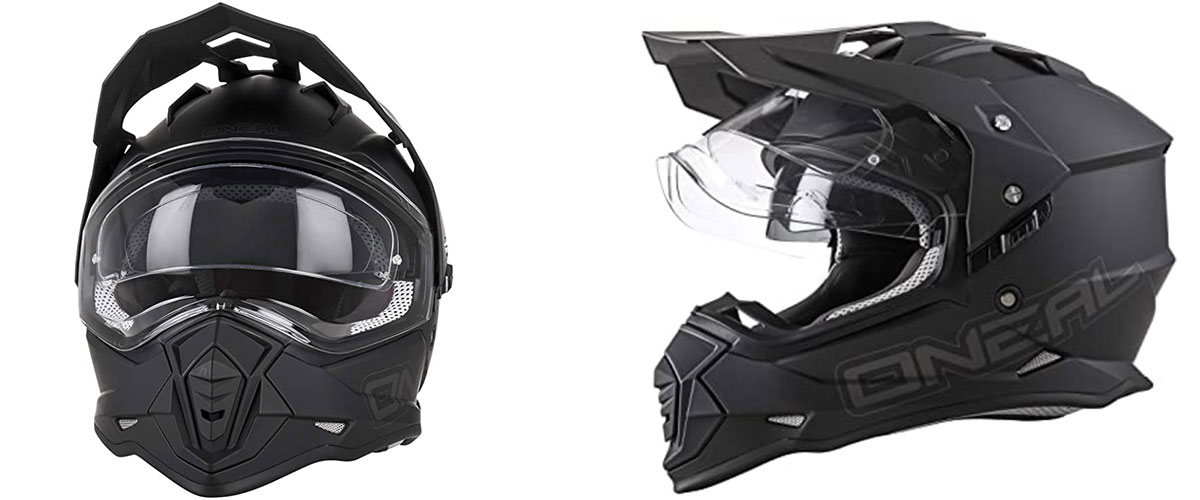 Meet the next entry on my list – the O'Neal Sierra II helmet. This accessory for two-wheeled adventures surprised me with its protection properties (it meets DOT and ECE security standards) and an attractive price.
The shell is constructed with ABS (acrylonitrile butadiene styrene, a thermoplastic polymer) to deliver protection even during aggressive adventures. A padded chin strap with a double-D safety lock keeps the helmet on your head, even at high speeds. It fits perfectly without any stress, but I find that it has a large profile because of its sharp contours, making my head look three times bigger. Nevertheless, it's light (3.50 lbs), so I had no headache or fatigue even after 9 hours of the ride over highways and mountains.
You may prefer O'Neal Sierra II to Bell MX-9 Adventure MIPS because its adjustable height gives you plenty of customization. O'Neal Sierra II is one of a few models that boast of this feature, so it can be a good choice for situations when multiple people use the same helmet.
This dual sport helmet with sun visor boasts a full windscreen and a visor with a drop-down tinted shield to deliver nice protection from UV rays, wind, and dust. A side traction pad inside keeps a goggle strap securely in place when you remove the visor.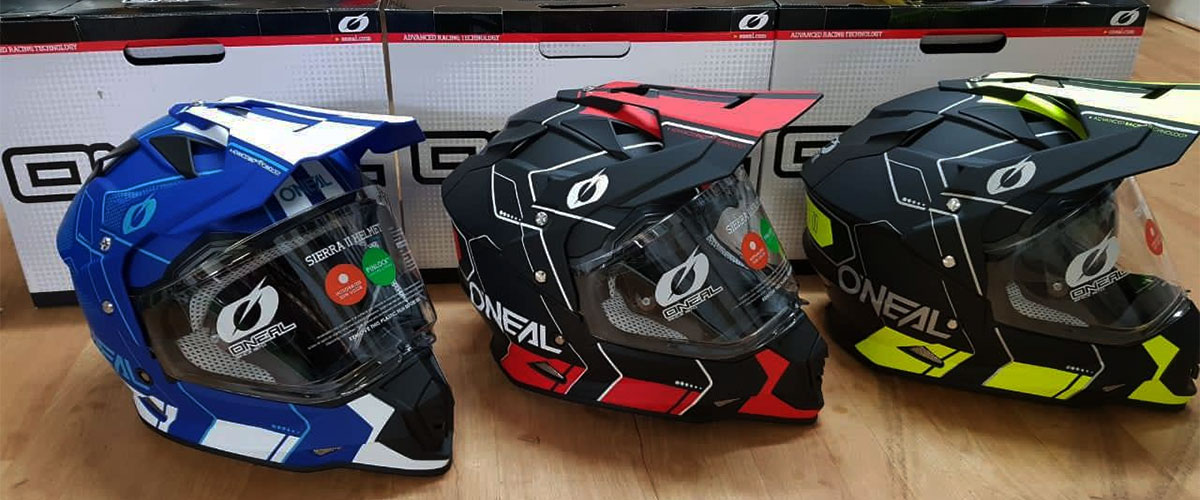 An air-channeled comfort liner lets your skin breathe and wicks moisture to ensure you feel comfy even during long adventures. You can remove the lining to wash or replace it. However, tabs on the padding don't sit flush with the helmet lines, so it may be hard to put the lining back once you remove it. Vent holes also add comfort, ensuring optimal ventilation. Especially an intake mouth vent with a screen, which lets heated air out and prevents the shield from fogging up.
O'Neal Sierra II is the best dual sport helmet under 200, combining functionality with an attractive price. It does its primary job – protecting your head from impacts and ensuring you drive with comfort.
Key specs
Head shape: intermediate oval.
Safety certification: DOT, ECE.
Shell sizes: XS-SM, MD, LG, XL-2XL.
Shell material: polycarbonate.
Weight, g/lbs: 1590/3.50.
Pros
Approved in the USA and Europe by DOT/ECE ratings.
Perfect fit without any discomfort or stress.
Breathable and removable lining.
You can adjust the height.
Cons
Looks too bulky.
It may be challenging to put the lining back after you remove it.
A wind guard is not helpful.
Bell MX-9 Adventure MIPS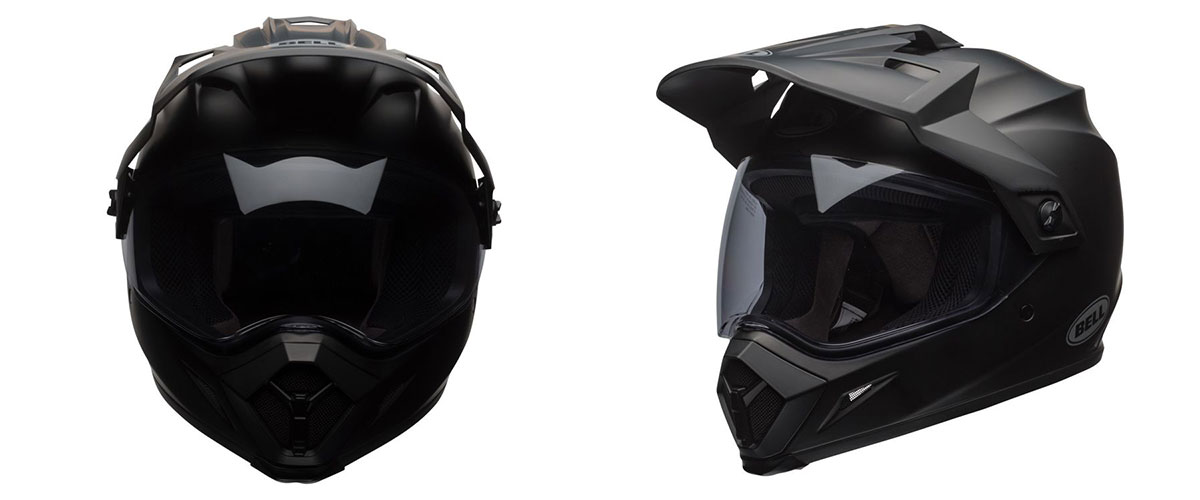 No matter how you imagine your adventures to run – on a paved road or rough terrain – Bell MX-9 Adventure MIPS will adapt to any journey. You will always feel comfy thanks to the soft liner that quickly dries and wicks moisture while inhibiting the growth of odor- and fungi-provoking bacteria. In addition, just like most helmets of the same class, this one is pretty lightweight (3.74 lbs). So, you won't endure neck strain even while taking longer rides.
The protective properties of Bell MX-9 Adventure MIPS were tested and approved by DOC and ECE. In terms of safety, this model is more reliable than O'Neal Sierra II because of MIPS technology. It is a multi-directional impact protection system that reduces the rotational forces resulting from specific impacts.
It may be a minor flaw for other riders, but I find the lack of space for glasses inside the helmet slightly disturbing. Perhaps you won't need to use sunglasses because of the integrated shield with UV protection and a Nutrafog II anti-fog layer. But if you use prescription glasses, this may be a problem. Besides, the visor has a bulky bottom edge, which doesn't look appealing.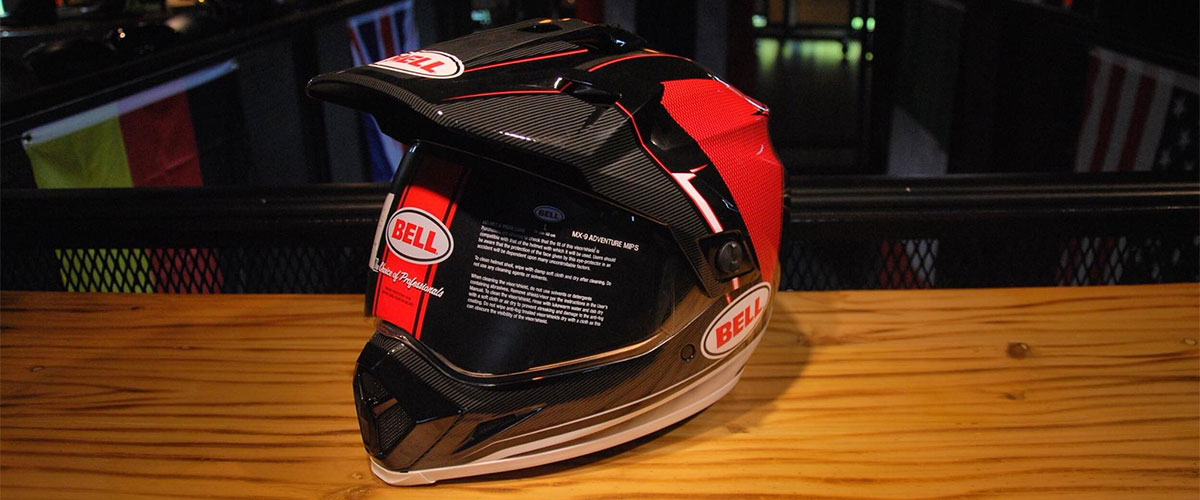 The velocity flow ventilation system ensures fresh air gets through vents and pushes out heat. However, it may get too noisy inside, especially when hitting the road at more than 60 mph. The peak on the top of the helmet can be the reason for poor aerodynamics, but you can remove it (you may need tools for that). Sure, this product has minor flaws, but let's give some credit to it – it's a budget helmet, not the premium-quality one, so we can accept some imperfections.
Bell MX-9 Adventure MIPS is a great dual sport helmet for the money. It is well-built and doesn't feel too bulky. On top of that, it provides decent protection in emergency situations.
Key specs
Head shape: intermediate oval.
Safety certification: DOT, ECE.
Shell sizes: XS-SM, MD, LG, XL-2XL.
Shell material: polycarbonate.
Weight, g/lbs: 1696/3.74.
Pros
A sophisticated MIPS technology for an added level of security.
An antibacterial lining that dries and absorbs moisture quickly.
An integrated scratch-free shield with UV protection and a Nutrafog II anti-fog layer.
A removable peak for stabilizing aerodynamics.
Cons
No space for sunglasses.
The bottom of the visor is bulky.
The noise level may get too intense at high speeds.
KLIM Krios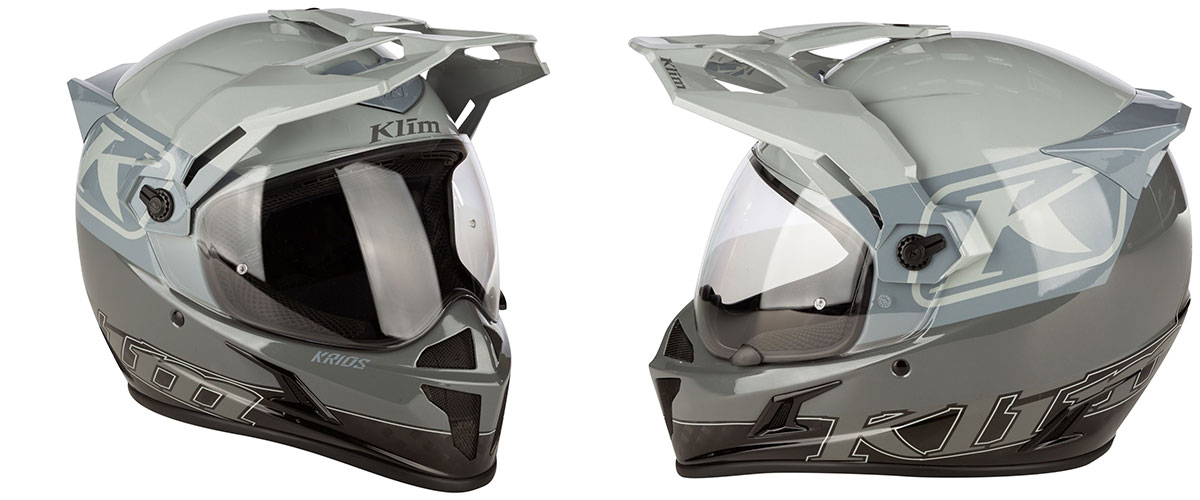 A KLIM Krios helmet is very light – 3.25 lbs, so it's probably the lightest dual sport helmet. Yet its light weight doesn't make this product less safe, as it boasts DOT/ECE security certification. It is possible thanks to the high-performance carbon-fiber construction that brings durability and responsiveness to impacts in a lightweight package.
What I like about KLIM Krios is the option to use it in four modes, making me ready for literally any situation on the road. This model outperforms Arai XD4 with a quick-release shield and visor system, so you do not need any tools to add or remove them.
Thanks to the Klimatek liner system with smart foam technology, the interior adapts to your face contours. So, even though it may feel tight at first, just give some time to let the lining get adjusted to your head shape. Also, it has anti-microbial and bacterial fast-wicking properties to prevent the spread of fungi and odor.
You will never get too hot with an intelligent ventilation system, which enables adequate airflow through the vents. Moreover, the helmet doesn't get buffeted by the wind, which is great. Unfortunately, the front vent doesn't close. As a result, it's getting cold inside the helmet in frosty weather.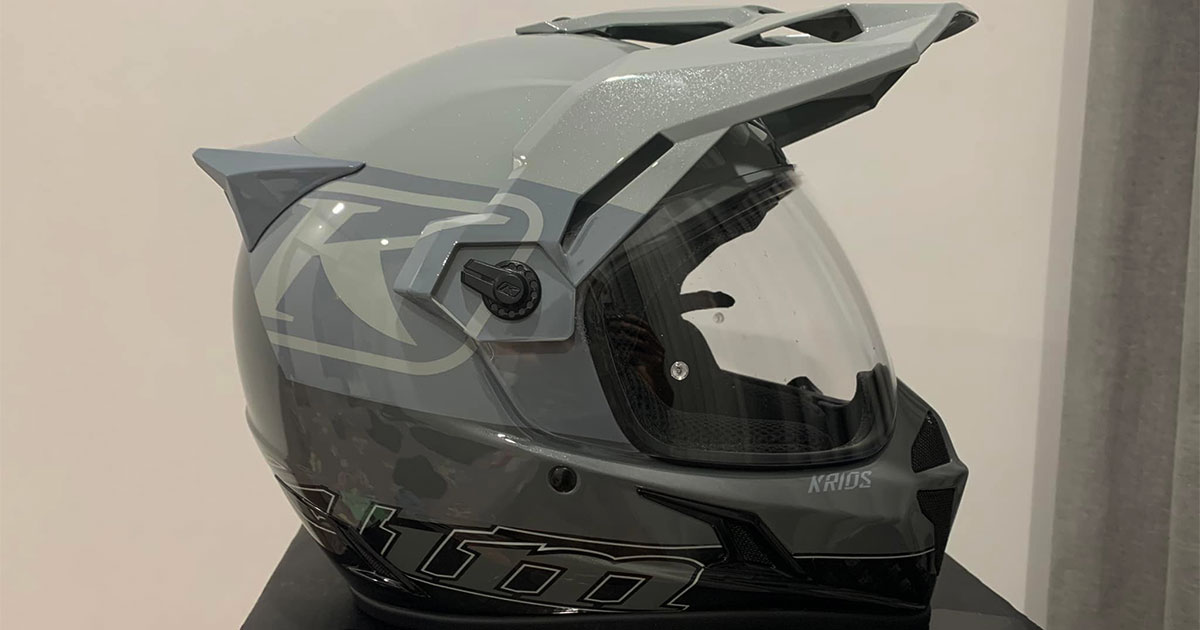 A polycarbonate anti-scratch shield with a Pinlock-ready mechanism ensures you see a clear road ahead, no matter the weather. As I said above, you can easily remove the visor, but you can't make a small crack to let a little bit more air on the go – it opens too far on a first click.
KLIM Krios will quickly become your go-to helmet because of its ease of use, especially if you frequently change your riding modes. In addition, a pleasant interior and a lightweight, durable shell make an excellent combo to turn your rides into a relaxing experience.
Key specs
Head shape: intermediate oval.
Safety certification: DOT, ECE, Snell.
Shell sizes: XS-SM, MD, LG, XL-3XL.
Shell material: superfibers (high-grade fiberglass) shell.
Weight, g/lbs: 1660/3.66.
Pros
Recognized by DOT and ECE.
Lining wicks moisture fast and prevents the spread of odor and fungi.
A ventilation system works great.
An anti-scratch shield with a Pinlock-ready mechanism for clear vision in different conditions.
Cons
It may be too tight at first.
Maybe not unsuitable for cold weather because of an open front vent.
Poor adjustment for opening a visor.
Shoei Hornet X2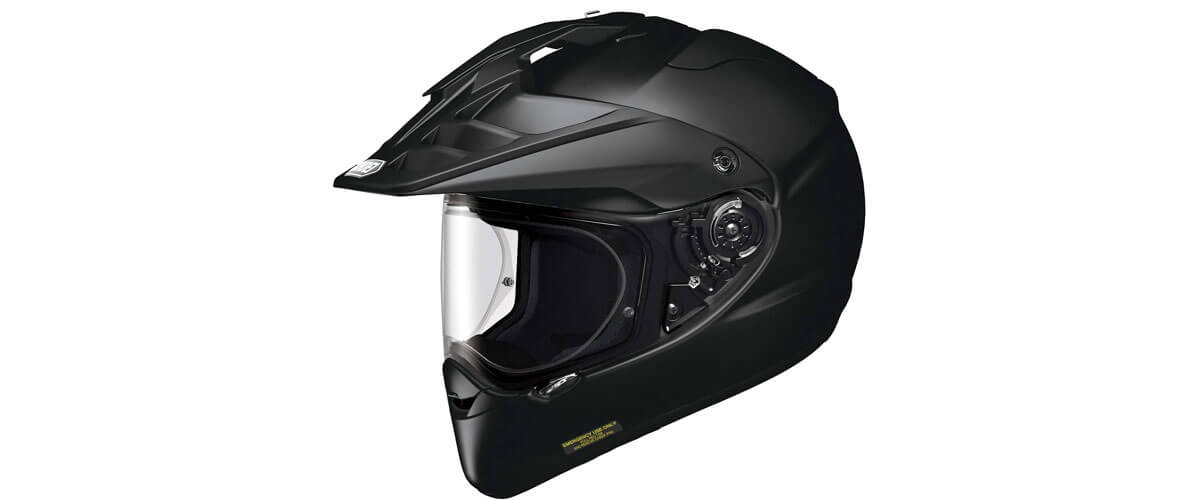 The Shoei Hornet X2 motorcycle helmet is developed to deliver style and protection for riders facing tough terrains. The helmet has an Advanced Integrated Matrix (AIM+) shell that's made up of a mixture of fiberglass and organic fibers, ensuring optimal strength, impact resistance, and durability. The helmet's aerodynamic shape helps minimize wind noise and provides stability during high-speed riding.
This headgear comes equipped with a CNS-2 face shield that provides clear visibility while preventing fogging. Additionally, its 3D Max-Dry interior system ensures that riders stay cool and dry. For easy maintenance, the interior lining is removable and washable. The face shield is also adjustable and can be locked into various positions.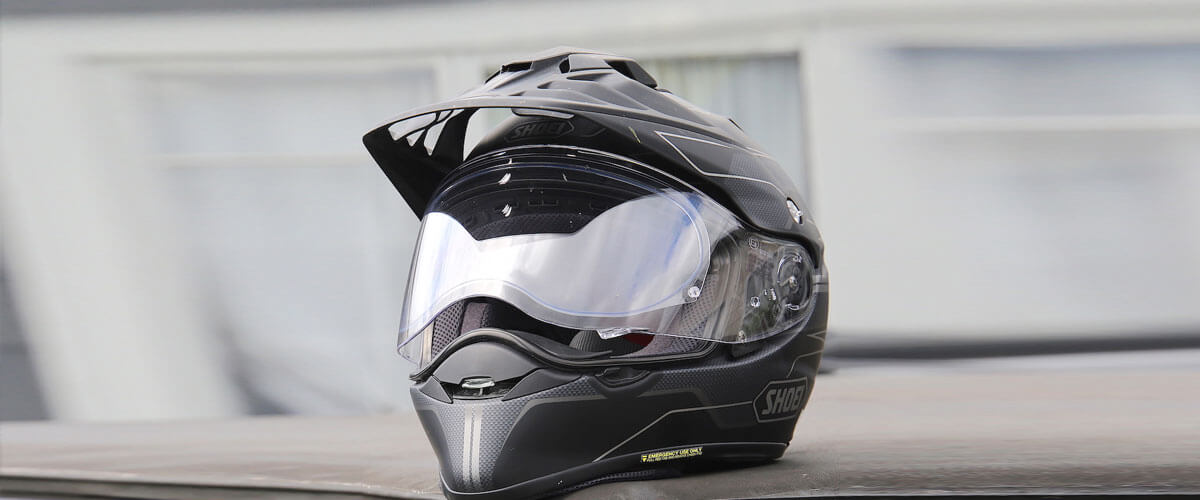 The presented dual sport bike helmet also has a ventilation system with multiple intake and exhaust vents for efficient cooling. It also meets DOT and SNELL safety standards with a strong shell construction and effective impact absorption.
For a size medium, the Shoei Hornet X2 weighs approximately 3.53 lbs. This lightweight design reduces fatigue during long rides, allowing you to stay comfortable and focused.
Unleash your adventurous spirit with the Shoei Hornet X2 that blends unmatched performance, sleek design, and cutting-edge technology, ensuring both your safety and style on every ride.
Key specs
Head shape: intermediate oval.
Safety certification: DOT, Snell 2015.
Shell sizes: XS-SM, MD-LG, XL-2XL.
Shell material: advanced integrated matrix plus multi fiber(AIM+), polycarbonate.
Weight, kg/lbs: 1.7/3.9.
Pros
Visually appealing design with aerodynamic properties.
Comfortable and moisture-wicking interior liner.
Ability to integrate Bluetooth communication systems.
Cons
The price point might be higher than other adventure helmets on the market.
Some riders with non-intermediate oval head shapes may find the fit less comfortable.
Dual sport motorcycle helmets buying guide
Here are the tips on picking the best dual sport helmets to get the utmost riding experience.
Your selection should start with a proper shell size and shape. Carefully study the sizing chart of every model you are considering and compare what size caters to your head measurements.
Make some time to learn more about shell materials. The perfect option should be lightweight yet with solid rigidity and impact absorption.
The interior should wick moisture and dry quickly. Besides, you may want to remove the lining or cheek pads to wash or replace them, so these parts should be removable.
Check the chosen model for DOT (America), ECE (Europe), and SNELL certifications testifying to its protective properties.
Should you buy a dual-sport helmet: dual sport vs full-face helmet
Riding on the highway
If you are a highway biker passionate about riding at high speeds, you should think twice before purchasing a dual-sport helmet. Because of a prolonged peak, this model can decrease the aerodynamic properties at the speed of 60 mph and higher. As a result, you will never get the same smooth and drag-free riding experience as with the full-face helmet. It may not be a big deal for short bursts, but you will have a severe neck strain and headache because of constant drags when taking long miles.
Some products, especially cheap dual sport helmets, do not have a reliable visor locking mechanism. This can be dangerous at high speeds as airflow can accidentally open the shield and confuse you. As you lose concentration, you may create an emergency situation on the road, which is not good for you and other road users.
Considering these facts, a full-face helmet is a more suitable model for frequent highway trips on your motorcycle.
Urban/suburban street riding
Those whose motorcycle routes lie mainly off-road yet still spend a decent amount of time on the street should look at modular dual sport helmets.
A dual sport helmet provides enhanced visibility due to a large and broad visor. So, you will have more control over the situation on the road, which may be especially handy in urban areas. Thanks to the peak, you will hide your eyes from direct sunlight on late morning or early afternoon rides. A flip-up face shield will protect you from the dust off-road, yet you will be able to use your prescription glasses or goggles. Dual helmets are also well-ventilated, so they help you avoid overheating even on hot days.
How long can you use a dual-sport motorcycle helmet?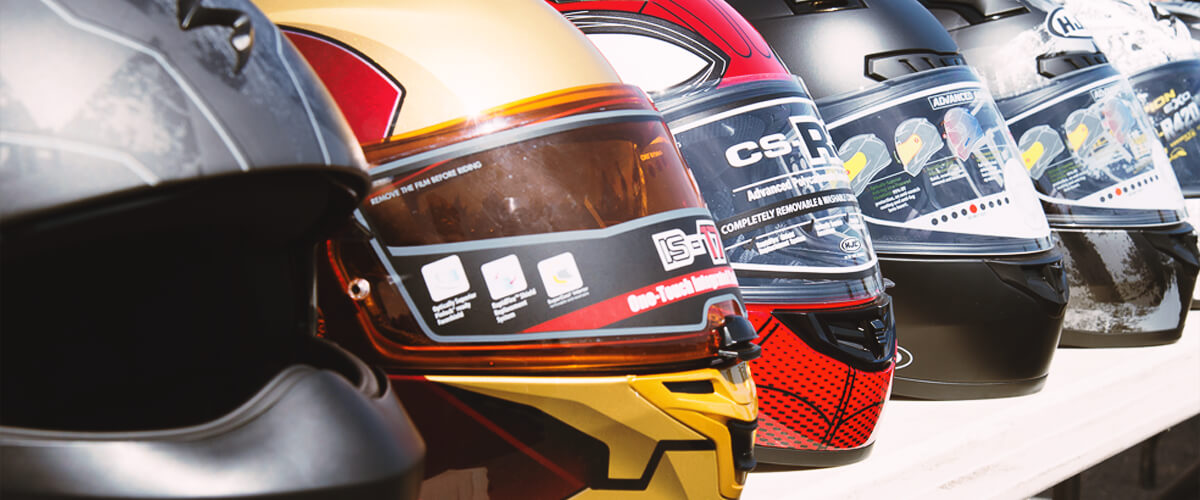 The rule of thumb says that you should replace your dual sport helmet after five years of use. But this is a preliminary answer, as you've got to consider many factors before replacing your headgear with a new one.
Does dropping a motorcycle helmet make it worthless?
When you drop a helmet, some areas of EPS liner collapse. The more times the helmet falls, the more EPS beads break, reducing its ability to absorb impacts. The height from which your head accessory falls also makes a difference. So it's good to know whether the helmet is fully intact before using it.
Can I use a dual sport helmet with different types of motorcycles, such as adventure bikes or dirt bikes?
Yes, dual sport helmets are designed to be versatile and suitable for various types of motorcycles, including adventure bikes and dirt bikes. They offer a blend of features from street and off-road helmets, making them a good choice for riders who enjoy both on- and off-road riding.
Can I use a dual sport helmet for long-distance touring or multi-day rides?
If you plan on taking long trips or multi-day rides, it's better to choose a touring helmet specifically designed for comfort and aerodynamics on the road. While dual sport helmets are great for a mix of on-road and off-road use, they may not be the most comfortable option for extended periods of riding. Look for helmets that offer additional features to keep you comfortable during long hours on the road.