Off-road motorcycling, with its unpredictable terrain and exhilarating twists, brings a unique set of challenges – it's rough, vibrant, and full of surprises. Among all the equipment you need, one of the most important is a pair of motorcycle riding gloves. But not all models are the same, and only the best dirt bike gloves really increase riding comfort and protect your hands from potential hazards.
Off-road gloves must deliver optimal grip to counteract the heavy vibrations, provide durability to withstand harsh conditions, and offer protection from the countless debris you're bound to encounter. Moreover, they should improve control over your bike, help reduce fatigue during long rides, and protect against injuries. A well-made glove absorbs shocks, ensures a firm hold, and minimizes the risk of blisters or more severe damage.
I think that now you understand how important this accessory is. It only remains to choose the finest model for you, and I will help with this task.
Our pick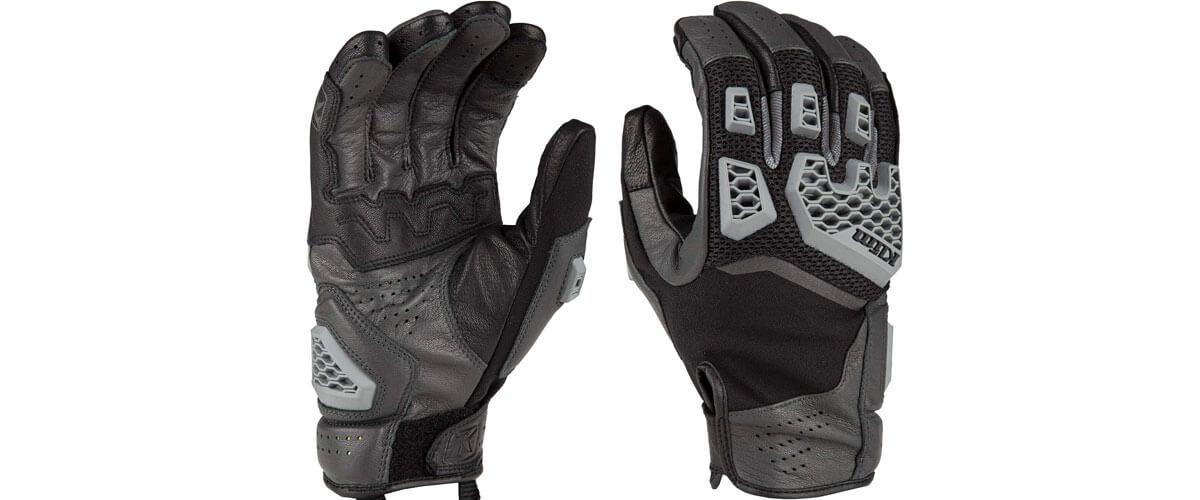 Klim Baja S4 Gloves
Best dirt bike gloves
Klim Baja S4 Gloves are made with materials for flexibility, and nylon stretch panels improve bar feel. A perforation helps with airflow and keeps the sweaty palm demons at bay.
Read the full review
.
Best dirt bike gloves review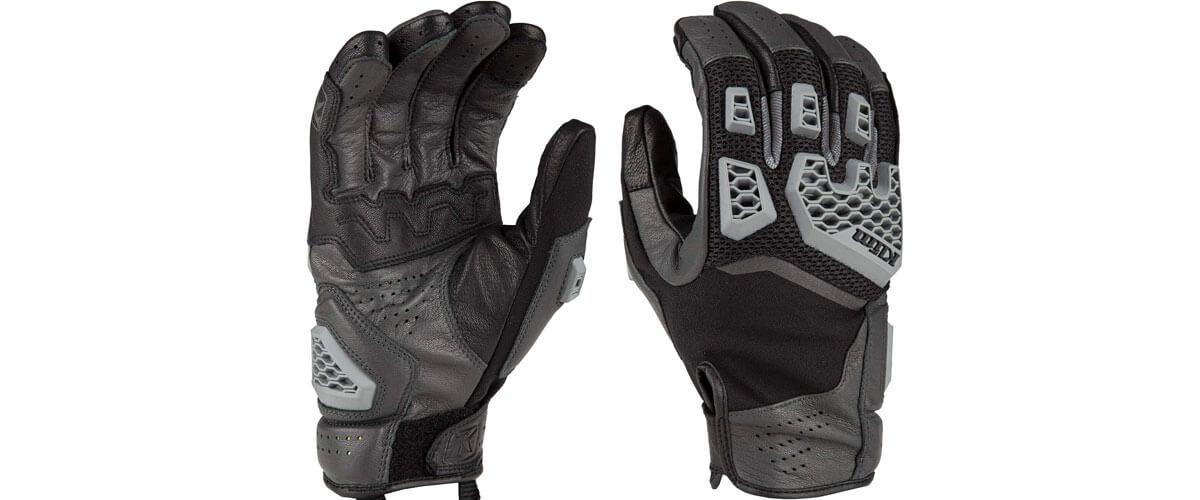 As an avid motorbike enthusiast, I've tested countless gloves, but few, like the Klim Baja S4 Gloves, have left a mark. This gear transforms motorcycling into an even more exhilarating experience, seamlessly combining comfort, durability, and cutting-edge technology.
Crafted meticulously, the gloves feature a perforated leather palm and fingers. Such a construction enhances control and promises exceptional breathability – a true blessing during those intense off-road excursions. Due to the KARBONITE Micromesh 500D Cordura chassis, the gloves can withstand the rigors of the most challenging trails, making them a perfect companion for your adventurous rides.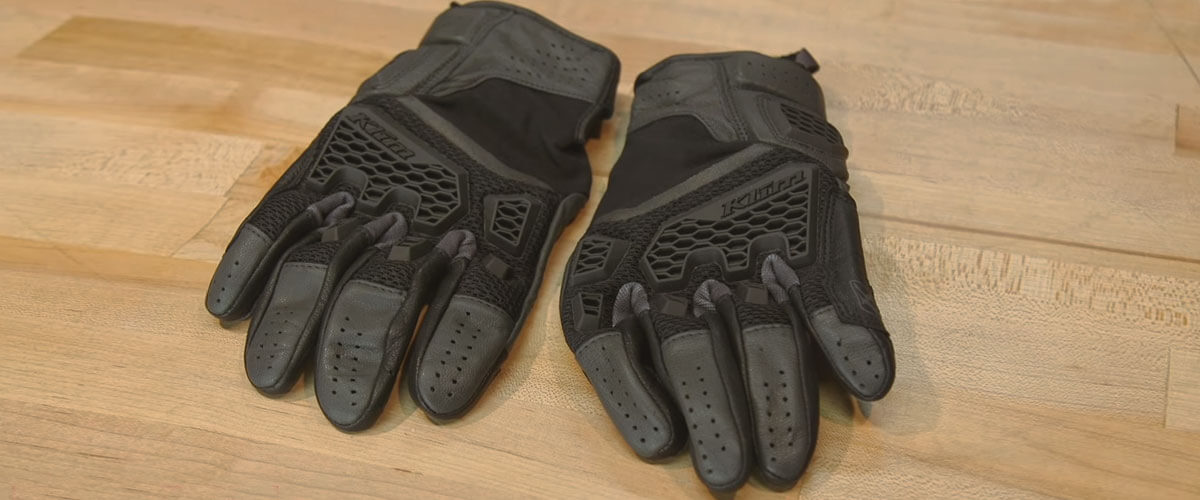 One aspect that may catch new users off guard is the snug fit around the wrist. But fear not, as the adjustable Velcro wrist closure provides a customizable fit, allowing for both comfort and security.
Finally, the Klim Baja S4's touchscreen-friendly fingertips allow easy on-the-go communication, offering easy access to your devices without removing the gloves.
Klim Baja S4 are the overall best dirt bike gloves for trail riding, ticking all the boxes for safety, durability, comfort, and utility. They're designed for the modern rider who craves a blend of traditional appeal and high-tech functionality. You won't be disappointed!
Key specs
Materials: KARBONITE micromesh 500D cordura chassis with 4-way stretch.
Wrist closure: velcro.
Size: SM-LG, XL-3XL.
Pros
Excellent fit and comfort.
High-quality materials – durable yet comfortable.
Good hand protection.
Super convenient touch-screen compatibility.
CE level 1 prEN 13594 certified.
Cons
The wrist cuff is shorter compared to some other gloves.
Klim Dakar Gloves – also a great choice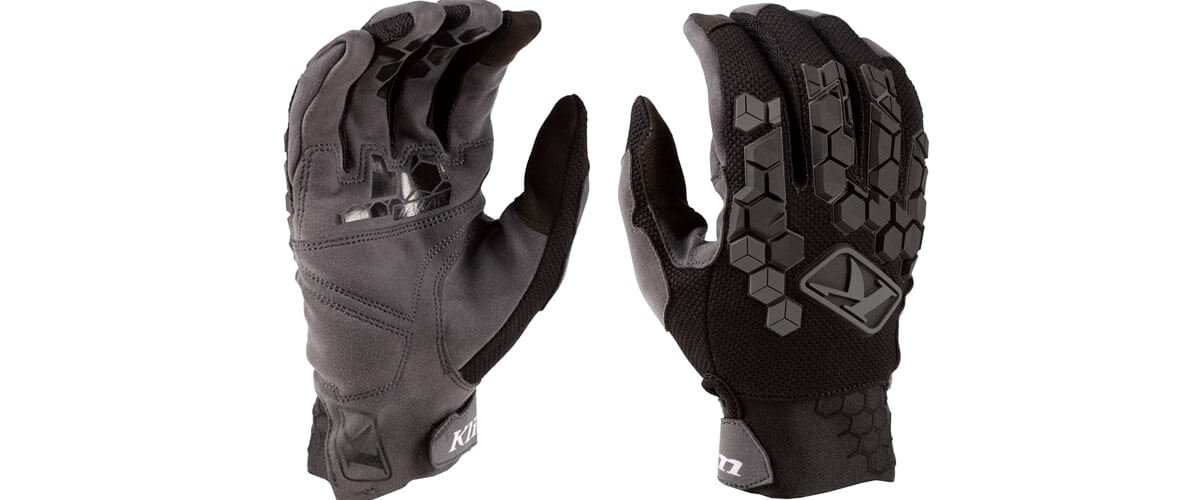 Exemplifying style, comfort, and practicality, the Klim Dakar Gloves offer a complete package for riders. These gloves boast an Ax Suede palm, an innovative feature that effortlessly marries durability and comfort. This unique material is luxuriously soft yet robust, standing up to frequent use.
The gloves' design incorporates a breathable stretch corded nylon backhand. This thoughtful addition ensures your hands remain cool during those hot summer rides.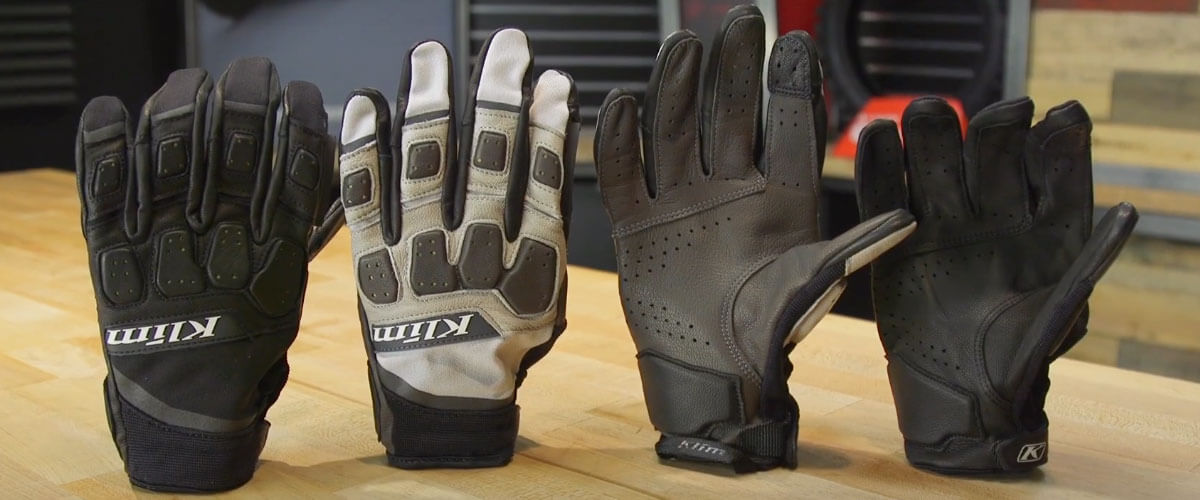 Comparing these gloves with our top pick, the Klim Baja S4, both have their unique strengths. The Baja S4 excels as the finest dirt bike gloves with tech-friendly fingertips, ideal for riders who need to stay in touch while navigating unfamiliar terrains. In contrast, the Dakar are arguably the best MX gloves in terms of balancing comfort and durability, making them perfect for riders valuing these aspects.
To sum up, The Klim Dakar Gloves are certainly a rider's ally, particularly for those looking for comfort without compromising on functionality.
Key specs
Materials: Ax Suede, nylon, silicone.
Wrist closure: velcro.
Size: SM-LG, XL-3XL.
Pros
Look stylish – come in various colors.
Super comfortable and well-ventilated.
E-touch on the thumb and index fingertip.
Cons
Tricky wrist strap; however, a little practice makes the gloves second nature.
Fox Racing Bomber Gloves – most protective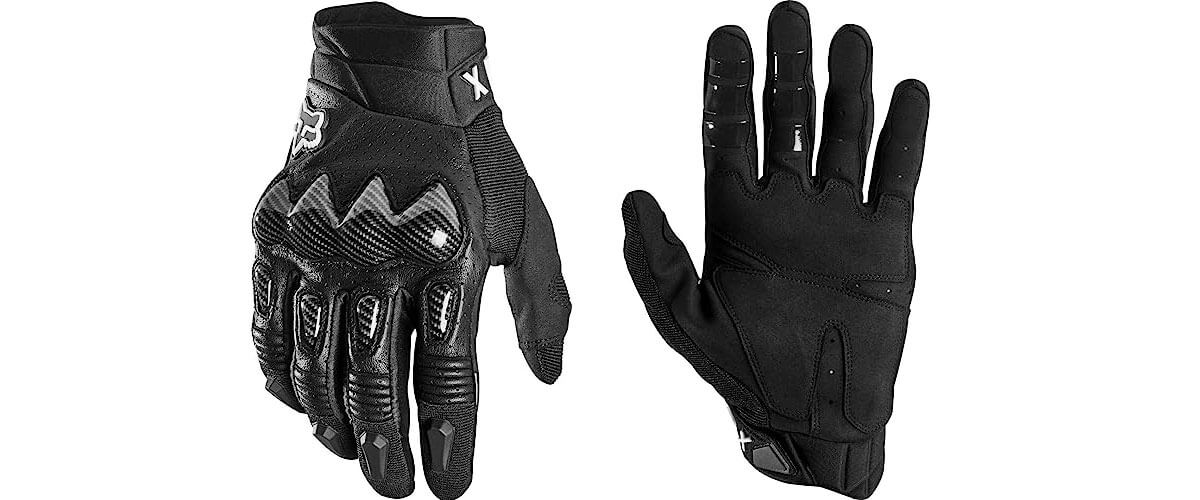 The Fox Racing Bomber Gloves are a revelation in the world of motorbike accessories. The first thing I noticed was the uncompromising protection. With a compression-molded neoprene cuff and molded TPU knuckle protector, these gloves are a fortress for your hands. Furthermore, the double-layer conductive Clarino palm provides an excellent combination of comfort and responsiveness. However, I found the goatskin leather backhand a bit stiff initially, but it softened with use. One feature worth highlighting is the silicone print at the fingertips. It considerably improves lever grip, enhancing overall control.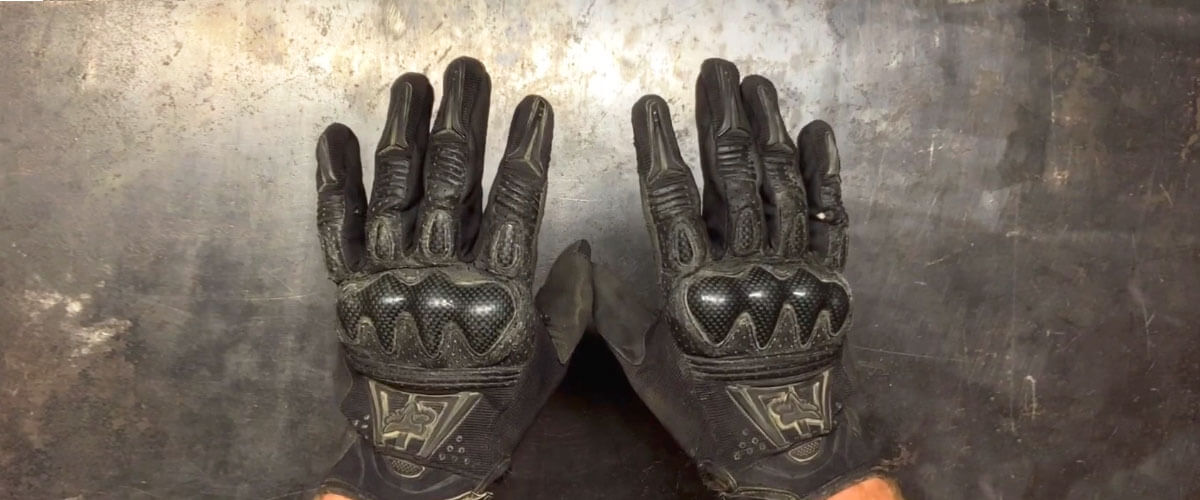 If safety is your topmost concern, you can't go wrong with the Fox Racing Bomber Gloves. They are ultimately the best motocross gloves in terms of protection in today's market.
Key specs
Materials: neoprene, goatskin leather, nylon, touch screen compatible fingertip and thumb.
Wrist closure: compression-molded neoprene cuff with hook and loop closure.
Size: SM-LG, XL-3XL.
Pros
Look and feel durable.
Work well with a phone.
Have much airflow.
Come in three colors.
Cons
The Velcro strap may lose its stick before you wear the glove out.
Size runs small.
REV'IT! Kinetic – leather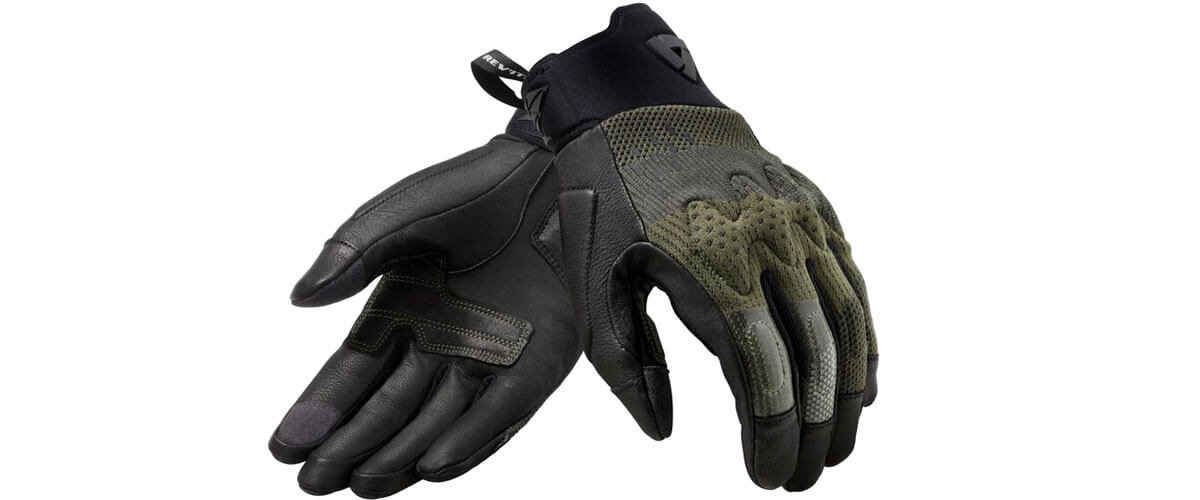 Unleashing a classic allure with their genuine goatskin exterior, the REV'IT! Kinetic Gloves blend the charm of yesteryears with the magnetism of modernity.
In my opinion, the coolest feature of these gloves is the injected ventilated flex knuckle and Temperfoam protections, infusing an incredible blend of safety and comfort. These advanced features ensure your knuckles remain safeguarded, cool, and comfortable, even during those long, intense rides.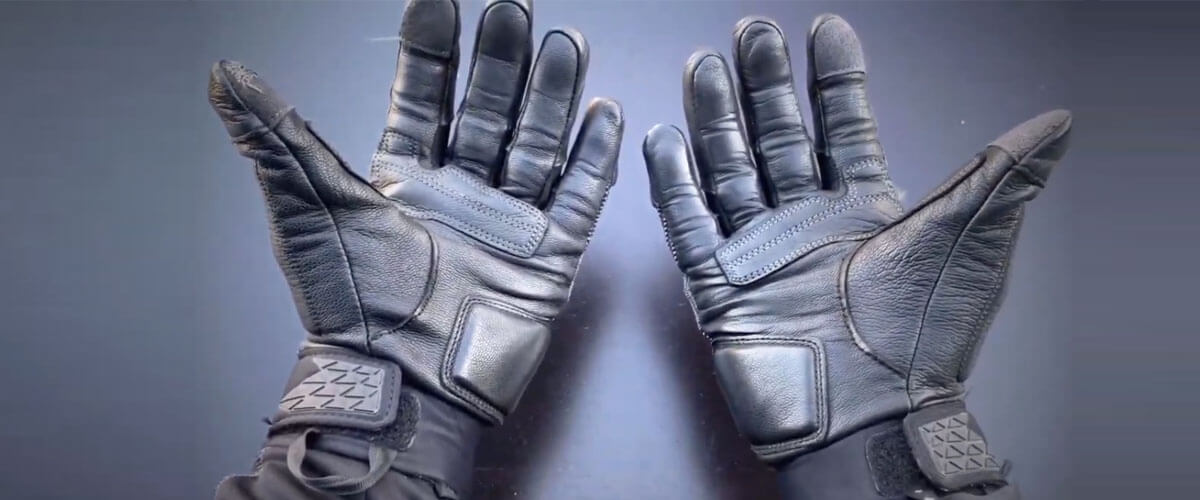 Another modern twist is the touch-screen-friendly fingertips. However, the gloves could certainly benefit from a design adjustment in the positioning of the touch-screen-compatible fabric on the index finger and thumb. Presently, it's located only on the inner sides, missing out on the very tips of your fingers. This makes it notably challenging to interact accurately with gadgets.
The REV'IT! Kinetic has a snug tour fit that may take a ride or two to get used to. But once acclimatized, the fit delivers a secure grip and unmatched control – two critical components to a safe and enjoyable ride.
All in all, these leather motocross gloves strike a commendable balance between tradition and innovation, a perfect choice for riders seeking a classic aesthetic without sacrificing modern functionality.
Key specs
Materials: goatskin leather, polyamide, elastane, polyurethane, polyester.
Wrist closure: velcro.
Size: SM-LG, XL-3XL.
Pros
Sufficient protection.
Look neat.
Stylish knitted top.
True to the sizing guide.
Available in 5 colors.
Cons
Touch screen capability needs improvement.
Feel tight in the beginning.
Fox Racing Dirtpaw Gloves – budget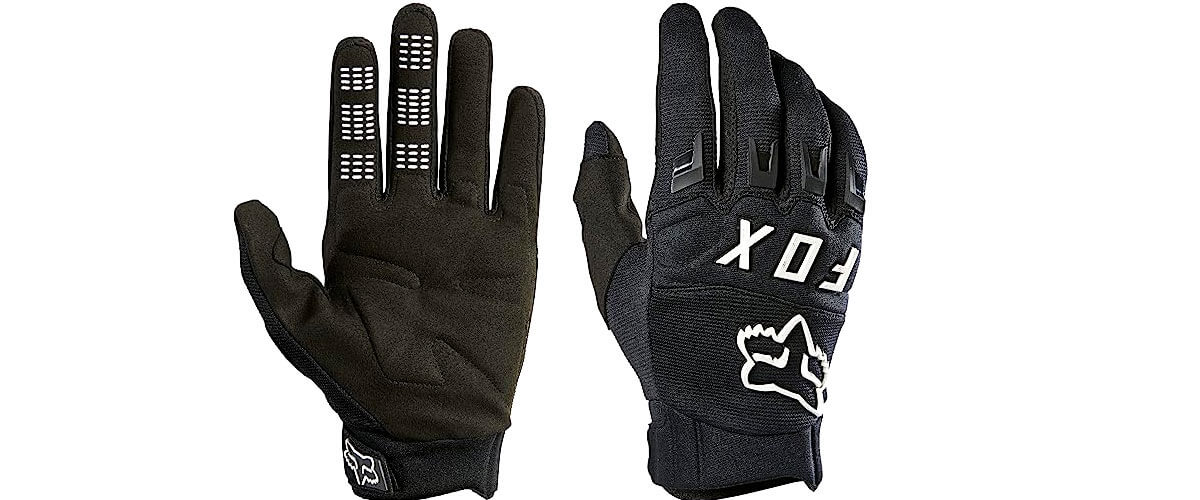 The Fox Racing Dirtpaw Gloves stand as proof that being budget-friendly doesn't mean being of low quality. These gloves offer an excellent balance of durability, comfort, and affordability. I appreciated the padded single-layer Clarino palm for its impressive wear resistance and touch-screen compatibility. The stretch mesh finger gussets contribute to mobility, albeit they could limit intricate controls. However, with a minor adjustment in handling, it's smooth sailing. The silicone print at the fingertips is a significant plus, providing a solid grip at all times.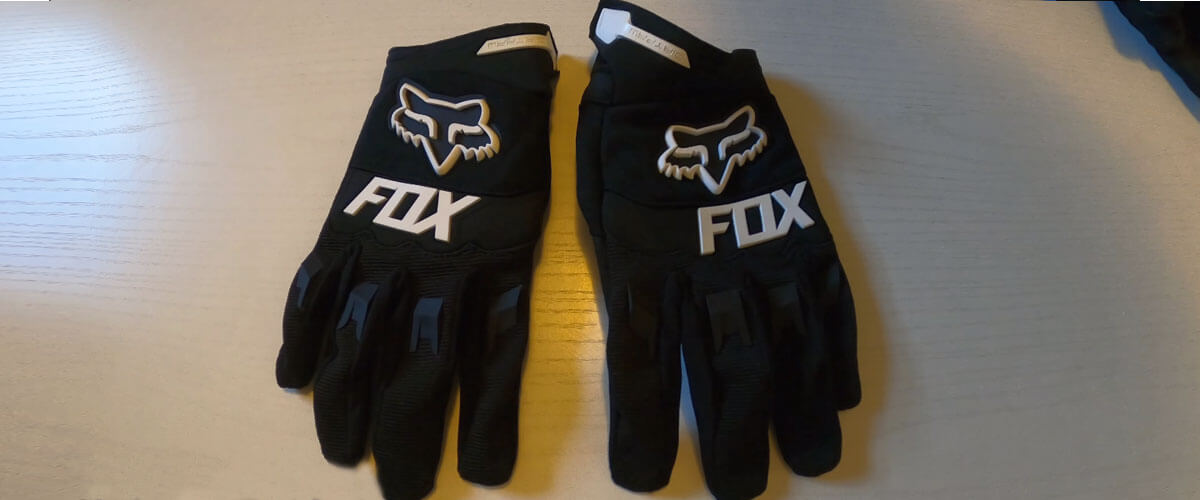 After testing this model, I was once again convinced that these dirt bike riding gloves are a testament to Fox Racing's commitment to providing top-tier products at affordable prices.
So, if you're a new rider or need a reliable pair of gloves without breaking the bank, this gear is definitely worth considering. The Fox Racing Dirtpaw Gloves are your gateway to high-quality motorcycling gear without the hefty price tag.
Key specs
Materials: polyurethane, polyester, silicone, neoprene.
Wrist closure: hook and loop.
Size: SM-LG, XL-4XL.
Pros
Comfortable, lightweight, and functional.
Look good even after several years of use and washing.
Huge selection of colors.
Cons
Doesn't have the same level of protection as our more expensive models.
Factors to consider when choosing dirt bike gloves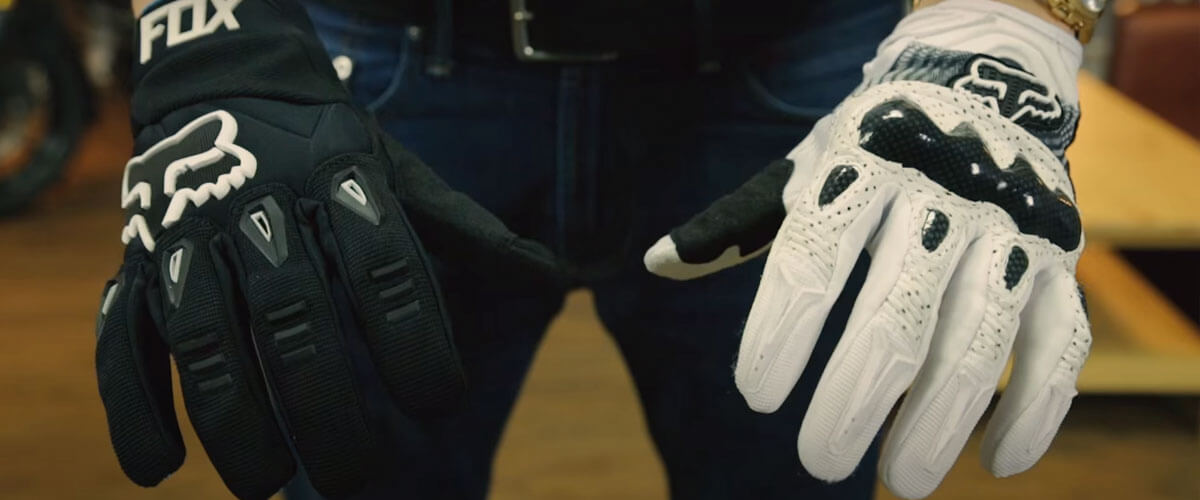 As an avid dirt bike rider, I understand the importance of choosing the right motocross gear to enhance comfort and safety. There are several factors to consider, so let's dive into the key points:
Material and construction
Off-road specific materials: Off-road dirt bike gear is commonly made from synthetic leather, neoprene, or mesh. Synthetic leather offers excellent durability, ensuring your gloves withstand rugged terrains. Neoprene options provide flexibility and a snug fit, allowing for precise control. Meanwhile, mesh gloves excel in breathability, keeping your hands cool during intense rides.
Reinforced construction: Reinforced seams, double layers, and protective inserts are important for long-lasting handwear. Strong seams prevent premature tearing, while double layers enhance durability in high-wear areas. Look for hand protection with TPR (thermoplastic rubber) or carbon fiber knuckle protection to shield against impacts and abrasions.
Impact protection: Additionally, consider gloves with extra padding or armor in the palm area to absorb vibrations, reducing the risk of hand injuries.
Fit and comfort
The importance of proper posture: A proper riding posture is essential as it provides optimal control and agility while tearing up those trails. Ensure your gloves allow your hands to maintain a natural grip position, enabling you to maneuver with ease.
Measuring your hand size: To find the right size of motocross riding gloves, measure the circumference of your hand around the knuckles. Most manufacturers provide sizing charts to guide you, ensuring a snug yet comfortable fit.
Comfort features: Look for dirt bike gloves with pre-curved fingers or toes. This design helps reduce fatigue by mimicking the natural shape of your hand while gripping the handlebars.
Adjustable closures: Choose variants with adjustable closures, such as Velcro straps or elastic bands. These allow you to customize the fit according to your preference and keep the gloves securely in place.
Soft palms and gel inserts: Riding off-road can be bumpy, and vibrations can take a toll on your hands. Pay attention to models with soft palms and gel inserts to provide cushioning and dampen vibrations, reducing discomfort and fatigue during long rides.
Grip and control
When it comes to grip, you want gloves that provide superior traction on the handlebars. This ensures your hands stay firmly in place, even in challenging off-road conditions. One key feature to watch out for is a silicone or textured palm material. These specialized materials create friction between your hands and the handlebars, enhancing your grip and control. Whether you're maneuvering through tight corners or tackling rough terrains, these gloves will keep you in command.
Apart from the grip, finger mobility is important for precise finger movement, especially when operating the clutch and brake. It would help if you had gloves that allow your fingers to move naturally and comfortably without any restrictions. Opt for variants that are designed with flexible materials and pre-curved finger construction. This ensures maximum dexterity and responsiveness, enabling you to effectively operate your bike's controls.
Weather and terrain considerations
As for weather and terrain, it's essential to think about the conditions you'll be riding in. For muddy or wet environments, investing in waterproof gloves is a smart move. They offer excellent water resistance, keeping your hands dry and maintaining a good grip on the handlebars. Choose products specifically labeled as waterproof to ensure maximum comfort.
Additionally, if you frequently ride in colder climates, consider gloves with extra insulation. They will keep your hands warm and prevent numbness, allowing you to maintain control and focus on the ride. Look for terms like "extra insulation" or "thermal lining" when searching for suitable options for chilly weather.
Now let's talk about ventilation and breathability. Sweaty hands can be uncomfortable and affect your grip. That's why it's essential to choose gloves with sufficient airflow and ventilation. I advise buying handwear with perforated materials or mesh inserts. These features allow air to circulate, keeping your hands cool and reducing sweat buildup. Ventilated gloves are especially beneficial in hot and humid riding conditions.
Additional features
The fastening system is not obvious, but a very important component for comfort. Look for gloves with adjustable closures, such as hook-and-loop straps or wrist closures. These allow for a secure and personalized fit, keeping dirt and debris out and preventing slipping off during intense riding sessions.
Another handy feature to keep an eye out for is touchscreen compatibility. Some gloves come with touchscreen-compatible fingertips, enabling you to use your smartphone or GPS without removing your gloves. This way, you can stay connected and navigate while protecting your hands.
When riding in low light conditions or at night, safety is paramount. That's why I always recommend models with reflective elements or high visibility accents. These features improve visibility and make you more noticeable to others on the trail, enhancing overall safety.
Maintenance and care tips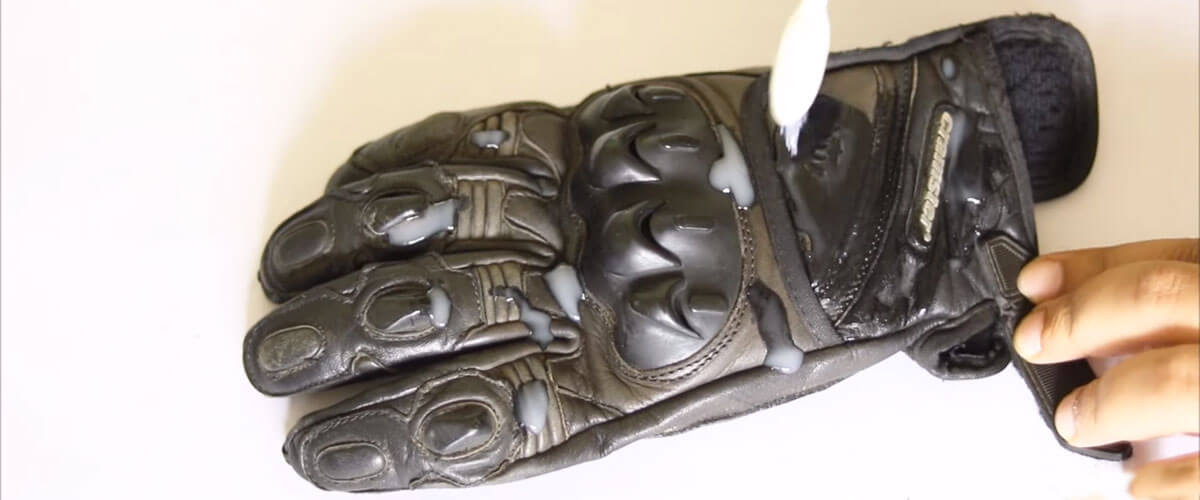 Gloves, like any other accessory, require care and use. So I will give you some tips on how to properly care for them:
Cleaning: After each ride, it's important to clean your motocross riding gloves to remove dirt, sweat, and grime. Avoid machine washing, as it can damage the materials.
Drying: After washing, pat the dual sport gloves dry with a clean towel. Let them air dry in a well-ventilated area, away from direct sunlight or heat sources.
Odor control: Over time, off-road gloves can develop unpleasant odors. To combat this, sprinkle some baking soda inside the gloves and let it sit overnight.
Protection: To extend the lifespan of your enduro gloves, consider using protectors or guards for the palm and knuckle areas.
Storage: When not in use, store your finger guards in a cool and dry place. Avoid leaving them exposed to extreme temperatures or direct sunlight, as it can deteriorate the materials.
Regular inspection: Before each ride, inspect your handwear for any signs of damage, such as torn seams or worn-out areas. I recommend replacing damaged gloves with new ones immediately. Don't ignore the little things when it comes to your safety.
FAQ
How do I choose the right size of dirt bike gloves?
To choose the right size of dirt bike gloves, you should measure the circumference of your hand around the widest part, usually just below the knuckles. Use a measuring tape and refer to the sizing chart provided by the glove manufacturer to find the appropriate size.
Are there specific gloves suitable for different seasons and weather conditions?
Yes, there are gloves designed for different seasons and weather conditions. For summer riding, you may want to consider lightweight and well-ventilated gloves to keep your hands cool. Similarly, for colder weather, you can opt for insulated finger guards that offer warmth and protection against wind and moisture. For a list of
the best summer motorcycle options
, you can check out this article.
Are dirt bike gloves necessary for off-road riding?
Yes, dirt bike gloves are highly recommended for off-road riding. They provide essential protection for your hands against impacts, abrasions, and debris you may encounter on the trail. Additionally, they offer improved grip and control, which is crucial when navigating rough terrains.
Can I wear dirt bike gloves with additional hand protection gear, such as wrist braces or guards?
Yes, it is generally possible to wear dirt bike gloves and additional hand protection gear like wrist braces or guards. However, it's important to ensure that the gloves and the additional gear fit comfortably together without restricting your movement or compromising their effectiveness. Consider trying them on together to ensure a proper fit and functionality.