Welcome, riders and enthusiasts, to my comprehensive guide on the best helmets for Harley-Davidson motorcycles! When it comes to hitting the open road on your iconic Harley, ensuring your safety and style are of utmost importance. That's why I've gathered an assortment of top-notch helmets that cater to Harley-Davidson riders' diverse needs and preferences.
Throughout this review, I explore a wide range of helmet types, including full-face helmets that provide maximum protection, modular helmets that offer versatility, open-face helmets that give a classic feel, and half helmets for those seeking a minimalist yet protective option. From sleek and aerodynamic full-face helmets to traditional open-face designs, I aim to provide you with a curated selection of models that offer exceptional protection and reflect the spirit and heritage of the legendary Harley-Davidson brand.
Whether you're a seasoned rider or are embarking on your first adventure on two wheels, I've covered you with a carefully selected range of helmets. You'll learn about their unique features, pros, and cons, and provide you with all the essential information you need to make an informed decision.
Our pick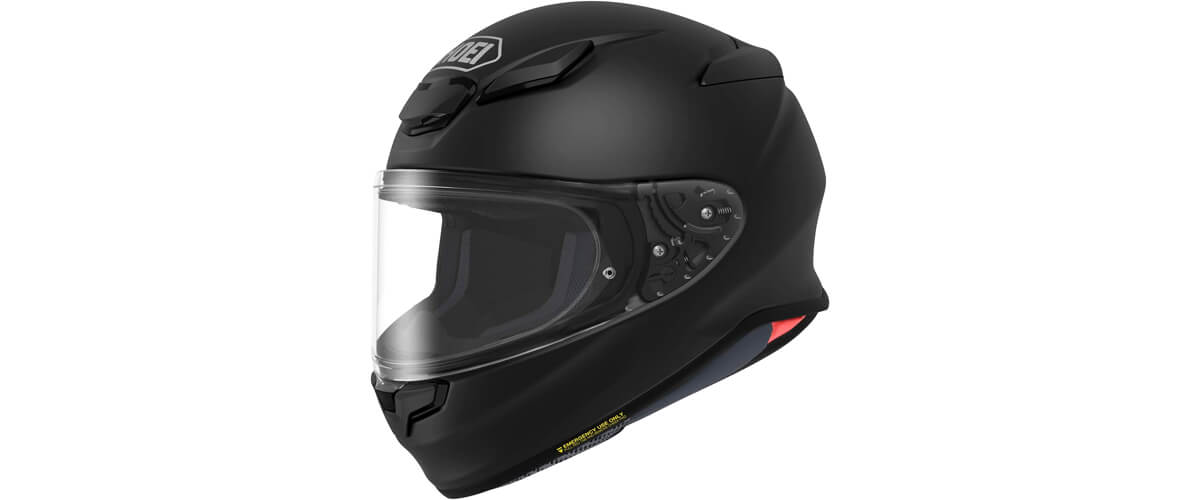 Shoei RF-1400
Best helmets for Harley riders
The Shoei RF-1400 Helmet has a compact, aerodynamic shell shape that maximizes ventilation as air flows over you, doubling as the lightest SNELL-approved full-face helmet in Shoei's new offerings.
Read the full review
.
Best helmets for Harley riders reviews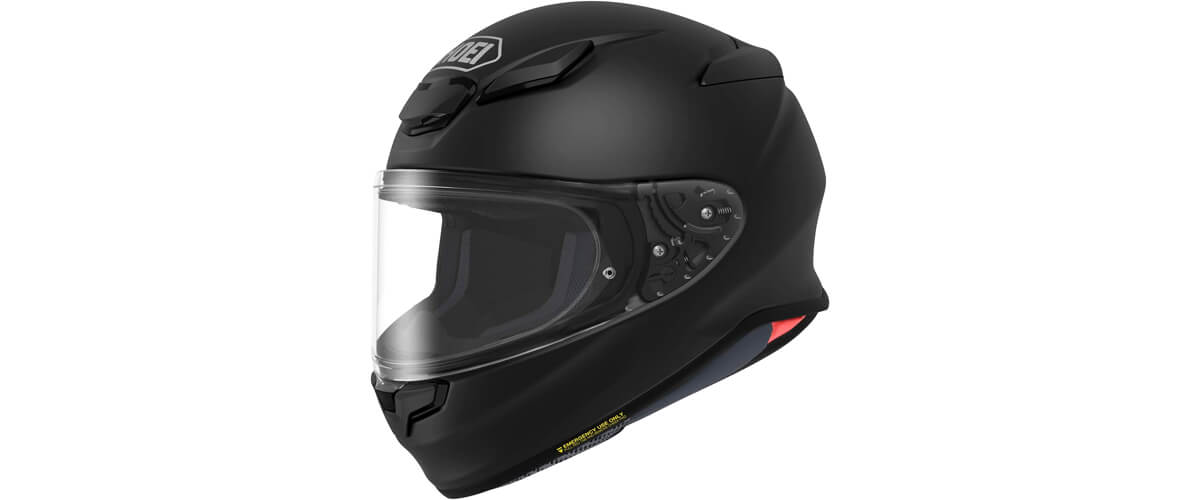 Picture yourself cruising down the highway, the wind rushing against your face, and the distinctive rumble of your Harley-Davidson resonating in your ears. As you embark on your next adventure, one thing you can't afford to compromise on is your safety, and that's where the Shoei RF-1400 comes into play. Strap in, fellow riders, as I explore why this helmet has earned its place as the best Harley helmet.
The Shoei RF-1400 brags a helmet shell design that effortlessly blends style and function. Constructed from a high-quality mix of fiberglass and organic fibers, this shell perfectly balances lightweight (mere 3lbs 11.2oz for a medium-sized) comfort and uncompromising durability. During my rides, I found the aerodynamic shape of the helmet shell to be very efficient. With an integrated spoiler at the rear, this helmet offers enhanced stability and aerodynamics, ensuring a smooth and comfortable ride on highways.
Regarding visibility and clarity, the face shield and visor of the RF-1400 leave nothing to be desired. The shield is scratch-resistant and offers 99% protection against harmful UV rays. Considering that I had spent the whole day on the road, my uncovered hands got a hell of a tan while my face remained untouched by the sun. Additionally, Shoei's clever Pinlock Evo fog-resistant system ensures a clear line of sight, even in challenging weather conditions, providing great convenience and safety.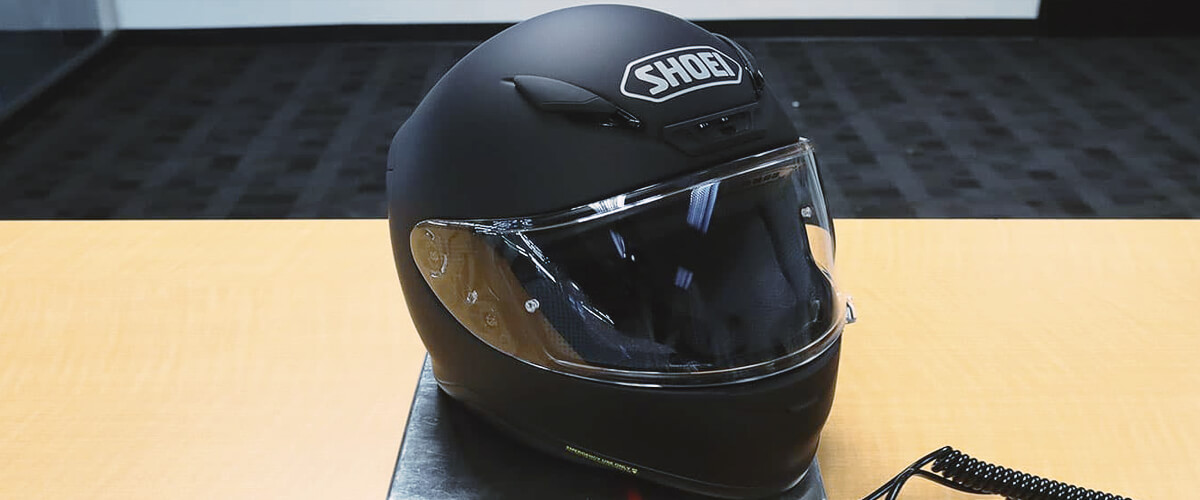 As we delve into the interior of the RF-1400, the comfort and attention to detail become evident. The inner liner, crafted from a special EPS foam, offers a snug yet plush fit that makes those long rides a breeze. The strategically placed ventilation channels work harmoniously with the dual-layer liner to ensure optimal airflow.
In terms of safety, Shoei has left no stone unturned. The RF-1400 meets and exceeds the rigorous safety standards set by both DOT and Snell. And for those who enjoy the convenience of staying connected, the RF-1400 is designed to integrate with Bluetooth communication systems seamlessly.
To conclude, the Shoei RF-1400 is the ultimate companion for Harley-Davidson riders. During my personal experience, I appreciated the materials' lightweight design, quality, and durability. That's definitely the best full-face helmet for Harley riders!
Key specs
Head shape: intermediate oval.
Safety certification: DOT, Snell M2020.
Shell sizes: XS-SM, MD-LG, XL-2XL.
Shell material: polycarbonate.
Weight, kg/lbs: 1.6/3.6.
Pros
Exceptional fit and finish that showcases Shoei's premium craftsmanship.
Enhanced aerodynamics without compromising the iconic family resemblance.
Minimized face shield noise for a quieter and more enjoyable ride.
UV protection allows you to ride confidently under the blazing sun.
Cons
Explicitly designed for long-to-medium oval head shapes, round heads won't find an ideal fit with this helmet.
HJC Helmets RPHA 11 Pro – also great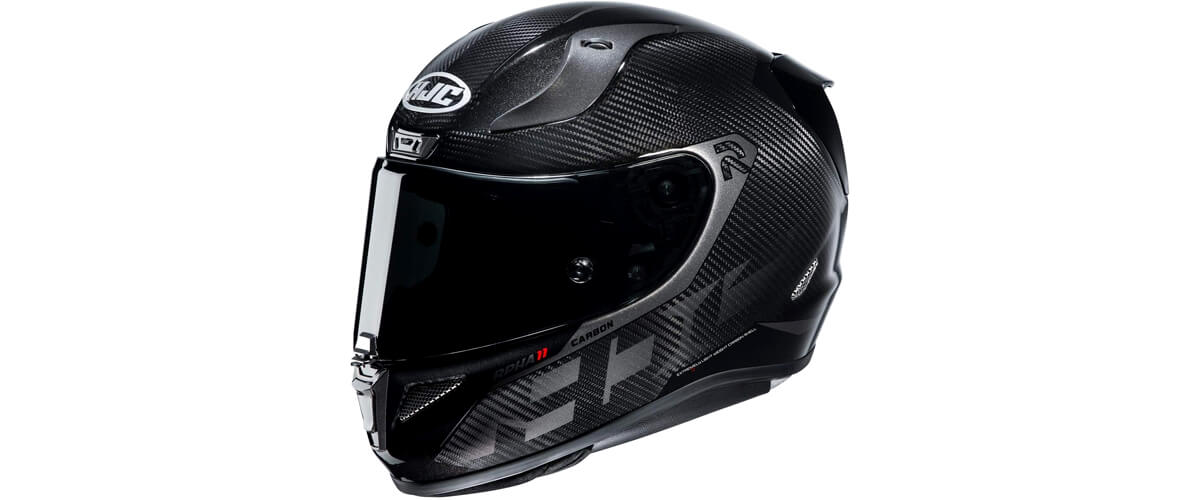 When finding the perfect blend of performance, style, and affordability in a helmet, the HJC Helmets RPHA 11 Pro stands out as a worthy contender. I've had the pleasure of experiencing firsthand the impressive features and quality that make this helmet a great choice for Harley-Davidson enthusiasts like us.
Crafted with meticulous attention to detail, the helmet shell of the RPHA 11 Pro is a testament to HJC's commitment to quality. This helmet gives everything a rider needs on the road thanks to the combination of advanced composite materials. During my exhilarating rides, I appreciated the sturdy yet elegant feel of the shell, which provided a sense of security without compromising agility.
Regarding visibility and protection, the face shield and visor of the RPHA 11 Pro genuinely excel. The face shield offers good clarity and is equipped with an antifog coating, and it works well. You can also rapidly swap securities, but the procedure requires some skill.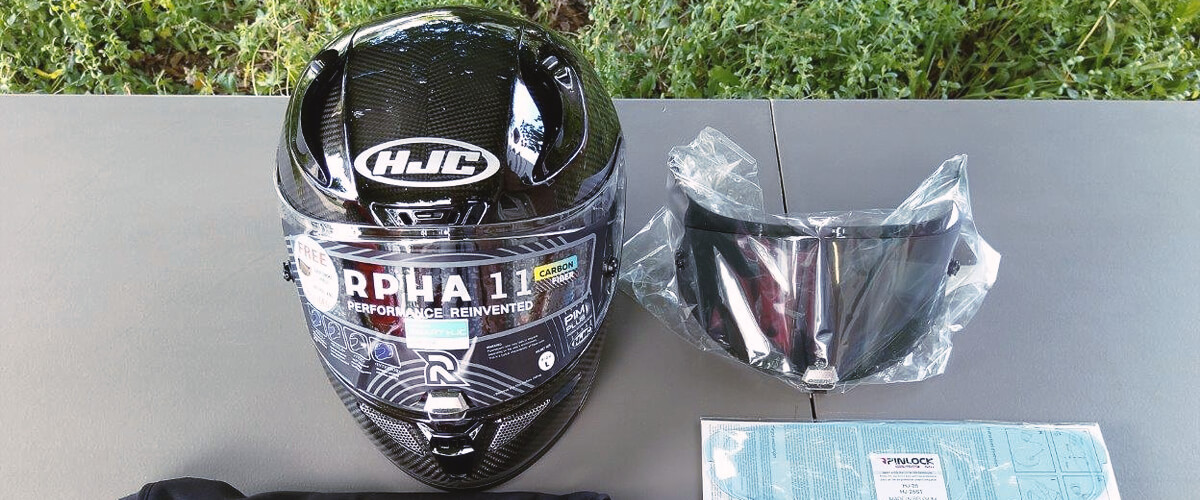 The inner liner embraces comfort and functionality. The moisture-wicking and antibacterial interior materials keep you fresh and dry during long rides. I also enjoyed a snug and secured fit. HJC's advanced CAD technology ensures that the helmet's interior is ergonomically designed, reducing pressure points and enhancing overall comfort.
Ventilation is crucial to any helmet, and the RPHA 11 Pro doesn't disappoint. My low and high-speed rides under the summer sun proved that they could keep the rider cool and sound. The RPHA 11 Pro meets and exceeds the necessary standards. The same goes for the DOT certification.
While the RPHA 11 Pro may not have built-in Bluetooth communication capabilities. I integrated it with Sena 10S, and everything worked fine with zero interference. During the ride, I stayed in touch with my friends and occasionally had GPS guidance. In terms of weight, the RPHA 11 Pro proves to be pleasantly lightweight. With a medium-sized helmet weighing in at 3 pounds, 3.5 ounces, it didn't weigh me down during those long journeys.
In conclusion, the HJC Helmets RPHA 11 Pro offers an enticing combination of performance, style, and affordability. Its quality materials, excellent visibility, and thoughtful features make it an excellent helmet for Harley.
Key specs
Head shape: intermediate oval.
Safety certification: DOT.
Shell sizes: XS-SM, MD-LG, XL-2XL.
Shell material: carbon fiber, carbon-glass hybrid fabric, polycarbonate.
Weight, kg/lbs: 1.3/3.
Pros
The clear face shield is equipped with quality antifog coating.
High Eyeport excellent for highway riding.
Cons
Communication unit integration turns off chin bar vents as ventilation.
Tight fit may not provide optimal comfort for all individuals.
Scorpion EXO Covert – open-face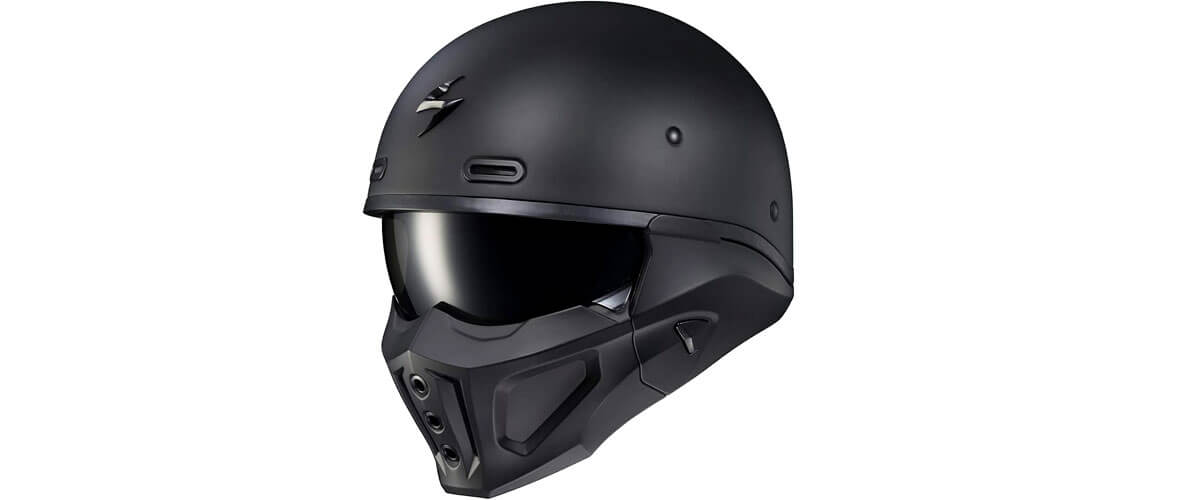 For those riders who crave the exhilarating sensation of the wind on their face and the unobstructed view of the open road as I do, the Scorpion EXO Covert open-face helmet offers a perfect balance of qualities. As an enthusiast of open riding, I've had the pleasure of exploring the features and performance of the Covert firsthand.
Crafted with quality materials and innovative design, the helmet shell of the Scorpion EXO Covert is a testament to durability and reliability. Additionally, the elegant and streamlined design of the shell embodies the essence of open-face riding — freedom!
It has a retractable tinted sun visor, and the Scorpion EXO Covert allows it to adapt effortlessly to varying light conditions on the fly. The visor provides decent UV protection, yet, it could be better with the case of the Shoei RF-1400. The inside layer of the helmet is made from moisture-wicking fabric that wicks away sweat. So, it is suitable for intense rides. The liner is also removable and washable.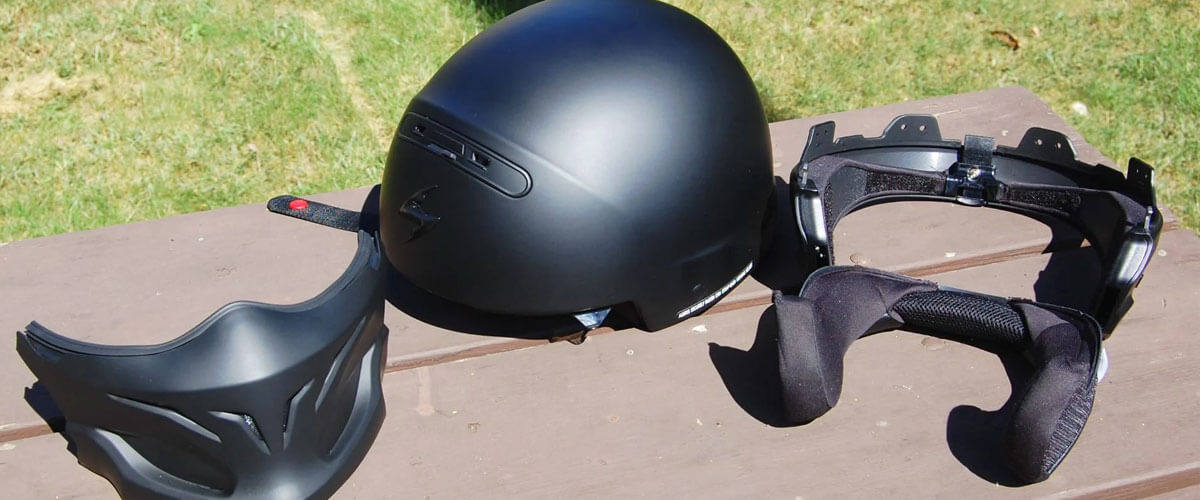 While the Covert doesn't feature extensive ventilation systems, typically found in full-face helmets, it still effectively circulates air, offering a refreshing breeze that helps regulate temperature during rides.
In terms of safety, the Scorpion EXO Covert is DOT certified. While open-face helmets may not provide the same level of coverage as full-face options, the Covert still delivers excellent rider safety while embracing the freedom and spirit of open-face riding.
Regarding weight, the Scorpion EXO Covert is impressively lightweight — 2.95 lbs for the M-size. I can't say that I barely noticed its presence, but it makes the rides comfy and far more emotional than with the counterparts listed in my review.
The Scorpion EXO Covert is a fantastic choice for those seeking the thrill and freedom of open-face riding. Its quality materials, reliable visibility, and design allow it to balance style and practicality.
Key specs
Head shape: intermediate oval.
Safety certification: DOT.
Shell sizes: XS-SM, MD-LG, XL-3XL.
Shell material: polycarbonate.
Weight, kg/lbs: 1.3/2.9.
Pros
Great attention to detail from the manufacturer.
Polycarbonate materials feel lightweight and sturdy.
Cons
Riding on the highway, the wind noise is just too loud.
Bell Rogue – half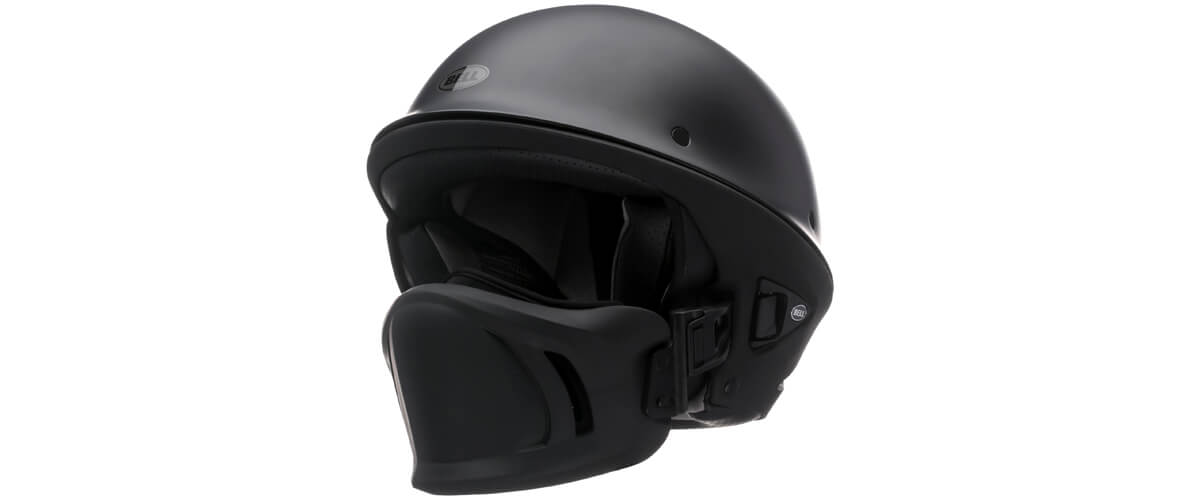 As a rider who values freedom and individuality, I've had the pleasure of exploring the features and performance of the Bell Rogue firsthand. Join me as we dive into the details and uncover what makes this helmet a standout option for those seeking an unconventional riding experience.
The helmet shell of the Bell Rogue is built to last, crafted with premium materials and an innovative design. The unique design of the surface exudes a rugged and edgy aesthetic, perfect for riders who want to stand out from the crowd. With its distinct look and quality craftsmanship, the Rogue shell combines both form and function.
The Bell Rogue is equipped with a detachable and adjustable muzzle. TBH, I like its intriguing style elements a lot. The muzzle adds to the helmet's overall aesthetics and protects against debris and wind while riding. The integrated face shield provides clear visibility. I had to flip it up and down due to changing weather conditions during my ride. The adjustments were quick and convenient, and I had no problems doing that on the go.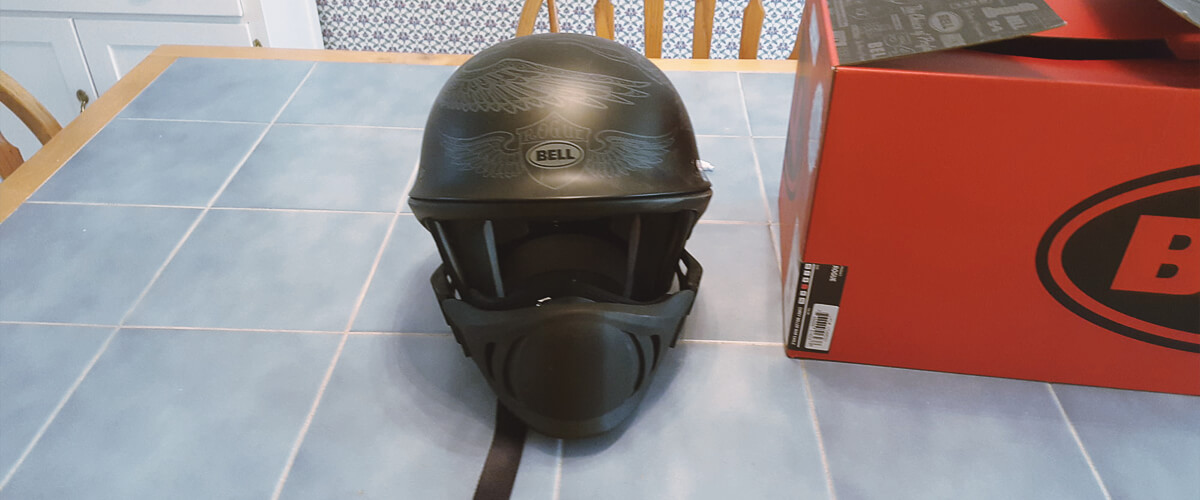 During my tests, I found the Bell Rogue's interior expertly crafted with moisture-wicking and antimicrobial properties. The ergonomic design and secure fit of the inner liner provided unparalleled comfort, keeping me focused and fully immersing myself in the ride's joy. The vents effectively circulate air, preventing overheating and maintaining a refreshing breeze regardless of the moving speed.
Since I am a person who prioritizes safety, the Bell Rogue would only be here if it met DOT safety certification. While it may not provide the same level of protection as full-face helmets, it still gets the job done. The M-size helmet is also pretty light — 2 lbs 8 oz.
The Bell Rogue half helmet is superb for riders who value individuality and crave a unique riding experience. Its rugged design, comfortable interior, and distinctive features, such as the detachable muzzle, offer a combination of style and functionality.
Key specs
Head shape: intermediate oval.
Safety certification: DOT.
Shell sizes: XS-SM, MD-LG, XL-2XL.
Shell material: polycarbonate.
Weight, kg/lbs: 1.3/3.
Pros
Lightweight construction.
Crafted with premium materials, ensuring durability and long-lasting performance.
Integrated face shield offers clear visibility and can be easily adjusted on the go.
Cons
Limited face shield options compared to full-face helmets.
The detachable muzzle may not be preferred by riders who prefer a simpler helmet design.
Arai Ram-X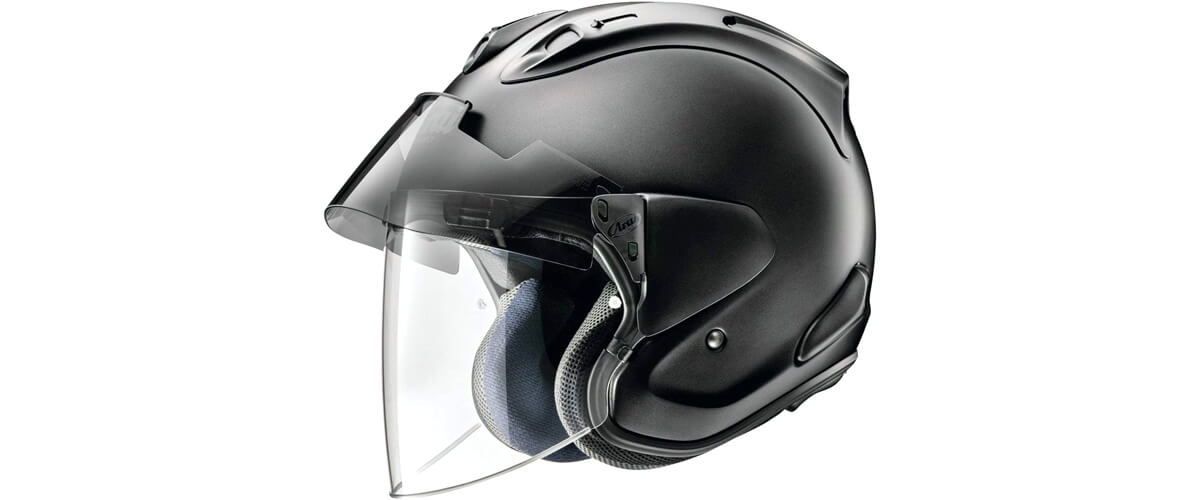 In the final part, we are diving into the Arai Ram-X, a helmet that promises exceptional performance and comfort for riders like you and me. As you have guessed, I am sharing the remarkable features and design of the Ram-X, sharing insights and experiences gathered during exhilarating rides.
Starting with the foundation of any great helmet, the Arai Ram-X boasts a shell constructed with high-quality materials and meticulous design. The Ram-X shell wist-handed the demands of all my rides. The helmet comes with an advanced shield system and offers stunning optical clarity. Despite the shield being designed to fight fog, it still happened to me during my mountain road ride — nothing horrible, but unpleasant.
The interior of the Arai Ram-X is a haven of comfort and innovation. The inner liner is crafted with excellent materials, offering a plush and ergonomic fit that contours to the shape of one's head. The liner also incorporates moisture-wicking properties and ventilation channels, and it did the job just fine, keeping me cool and dry throughout my rides. It's like having a custom-made cushion that hugs your head and enhances the overall riding experience.
When it comes to protection, Arai never compromises. The Ram-X meets stringent safety standards and certifications. This helmet is designed to accommodate Bluetooth communication systems. I integrated my Sena 10S into the helmet and enjoyed the communication capabilities and convenient GPS instructions for my rides. Talking about weight, the helmet weighs 3 pounds 6.7 ounces, which is not a record, but still allows for comfortable riding.
Finally, the Arai Ram-X is a great helmet that combines performance, comfort, and safety. With its superior materials, advanced design, and meticulous attention to detail, this helmet offers a genuinely immersive riding experience.
Key specs
Head shape: intermediate oval.
Safety certification: DOT, Snell M2020.
Shell sizes: XS-SM, MD-LG, XL-2XL.
Shell material: fiber laminate, polycarbonate.
Weight, kg/lbs: 1.3/3.
Pros
Delivers ultimate riding comfort.
Fantastic and efficient ventilation for rides under the sun.
Cons
The shield has a hard time resisting fogging in challenging weather conditions.
What makes a good Harley Davidson helmet?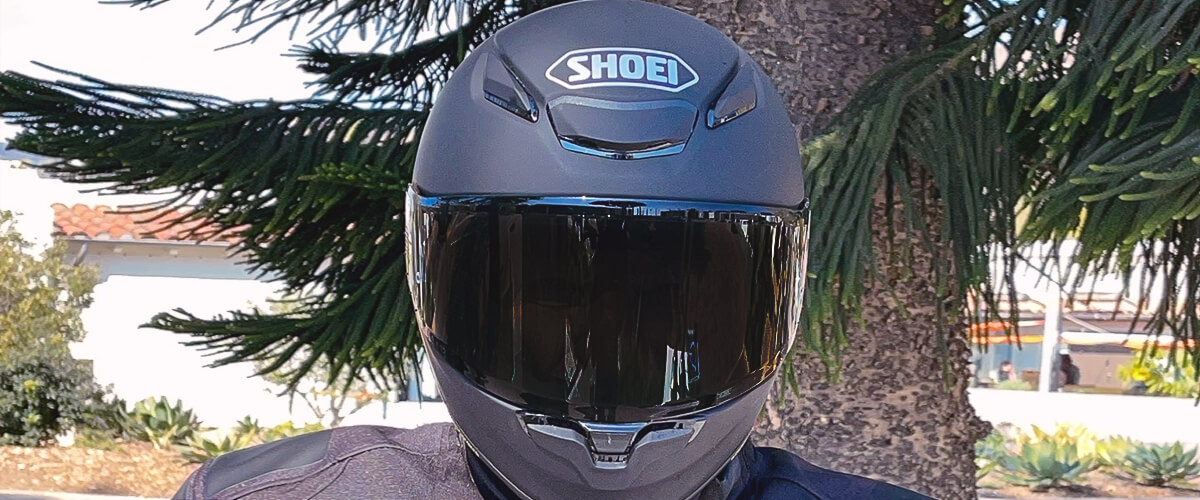 Now it is time to discuss what makes a cool Harley helmet. Here are the key factors to consider:
Comfort and fit: Look for interior padding that provides a snug yet comfortable fit. The best Harley-Davidson helmets should neither wobble nor squeeze too tight. Consider adjustable features like chin straps and interior pads to customize the fit.
Weight: Opt for a lighter helmet to reduce neck strain and fatigue, especially during long rides. A lighter option can make a notable contrast in your general riding adventure.
Protection and safety: Reviewing safety ratings like DOT, ECE, and SNELL will never be bad advice. All DOT helmets are pleasingly durable.
Additionally, pay attention to the construction materials. Models made from polycarbonate, fiberglass composite, or carbon fiber offer varying levels of protection and weight.
Aesthetic and design: Helmets for Harley riders are known for their distinctive style, and many prefer their headgear to match. Choose a helmet that complements the Harley aesthetic with its design, colors, and graphics.
Noise reduction: Harley motorcycles can be loud, especially those with modified exhaust systems. I recommend a helmet with noise-reduction features to protect your hearing.
Ventilation features: Good ventilation is essential for comfort and preventing visor fogging. Look for helmets with adjustable vents that can be opened or closed according to weather conditions and your preference.
Optimal visibility: A wide field of vision is crucial for maintaining awareness of the road and your surroundings. Ensure your helmet provides a clear view, allowing you to ride safely.
Bluetooth and communication capabilities: Many modern helmets have integrated communication systems or installation options. These systems allow you to listen to music, receive GPS instructions, take phone calls, and communicate with other riders. Explore popular helmet models with Bluetooth and communication capabilities for added convenience and connectivity.
Remember, your helmet is not just a style statement; it's a critical piece of safety gear. Consider these factors when choosing your Harley Davidson helmet to ensure you ride in comfort, style, and with peace of mind.
FAQ
What kind of helmet should you wear on a Harley?
When choosing a helmet for your Harley, prioritize safety and preference. Full-face helmets provide the highest level of protection, covering the entire face, including the chin. They are recommended for riders seeking maximum safety. If you prefer a more open feel and enjoy the wind in your face, you can opt for a half helmet or open-face model. These options offer less protection, particularly for the face and chin.
Why do Harley riders wear half helmets?
Many riders often choose to wear Harley Davidson half helmets for a few reasons. Firstly, half helmets provide a sense of freedom and a more open "riding a Harley" experience. They offer minimal coverage, typically only protecting the top of the head, exposing the face and ears. This allows riders to feel the wind and enjoy the sensory experience of riding. Secondly, half helmets are generally lighter and less restrictive than full-face helmets, allowing for increased comfort on long rides.
Should a helmet be light or heavy?
Ideally, a helmet should strike a balance between being lightweight and providing adequate protection. Comfortable helmets should be lighter to wear, especially on longer rides, as they exert less strain on the neck and shoulders. However, the helmet's weight should not compromise its safety features. It's vital to pick a helmet that meets safety standards and offers appropriate protection for your riding style and preferences. Remember, the primary purpose of a helmet is to protect your head in case of an accident, so prioritize safety over weight when making your selection.