The market throws at us thousands of different models of helmets every day, making choosing the right one quite a daunting task. Hopefully, though, this best half helmet review and guides that I've compiled for you will help you find that perfect one that will not only provide a snug fit but will also better highlight your personal style.
The models I have selected will not only help to protect your head but will also provide a sufficient level of comfort. As you already know from my previous reviews, I pay a lot of attention to safety, and this time I'm not changing the tradition either. The best half-helmets dot approved are already waiting for you! So without wasting any time, let's go on a fascinating virtual journey.
Our pick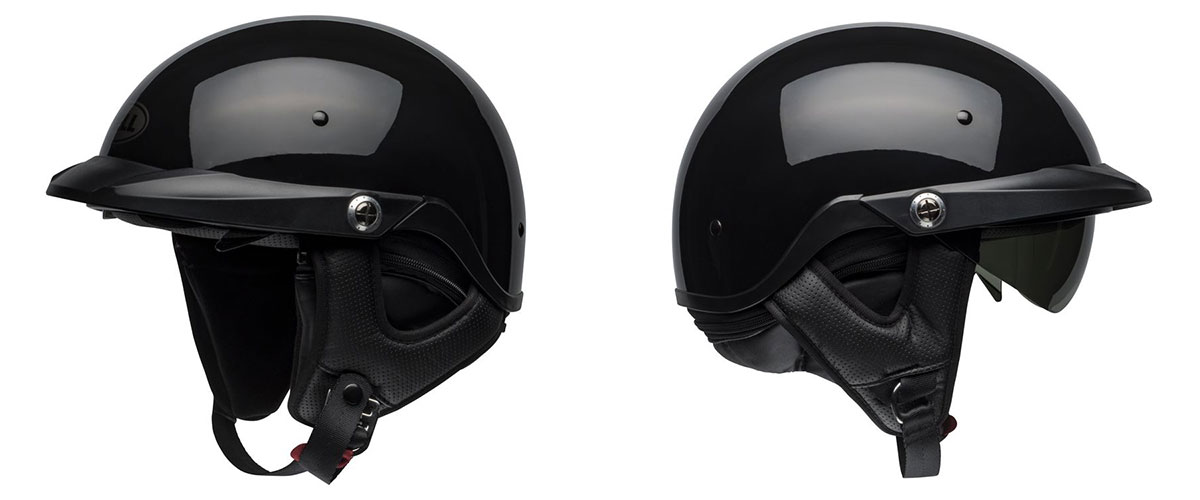 Bell Pit Boss
Best motorcycle half helmet
There is a new kind of helmet. It is made with carbon, Kevlar, and fiberglass materials. There are many improvements to the helmet. For instance, it has a Speed Dial fit system that prevents lift and slippage.
Read the full review
.
What is a motorcycle half helmet?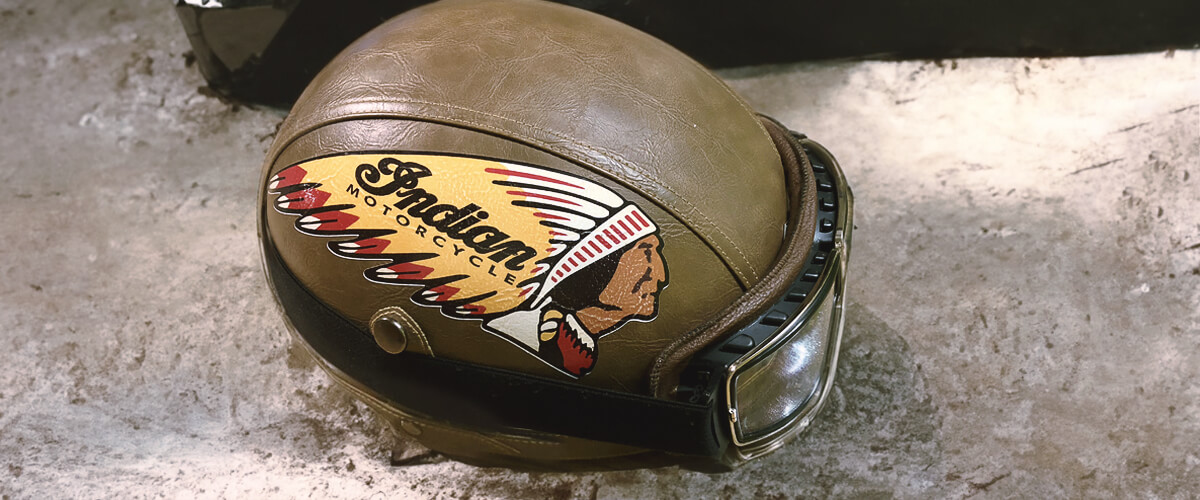 What distinguishes half helmets is that they come without a face shield and cover only the top of your head, leaving the rest of your face, as well as the neck and ears, exposed to the potential impact. That being said, many riders still prefer them over other models. Why?
Because, unlike many other helmets, half-face helmets provide unmatched ventilation, great view, and have cool aesthetics, allowing you to not only perfectly match it with your bike but also express your personal style. Besides, you can always wear your favorite sunglasses, goggles, a headband, or a bandanna for a swankier look while also ensuring additional eye protection. I would like to note that the chin strap does not spoil the overall impression. Remember how stylish T1000 looked in such a helmet in the second part of Terminator?
How safe are motorcycle half helmets?
Although a lot of riders prefer half-face helmets, calling them safe would be a far cry from the truth. For one, it covers only the top part of your forehead, leaving the area below exposed to the crashes.
And for two, it has no eye protection, so if you head for a ride on a rainy day, all the dirt, bugs, and wet will likely end up in your face and blur your view. Not only will this cause a lot of discomfort, but it will also most likely put you at the risk of running into an accident due to poor vision.
Actually, according to the statistics, a half-helmet can protect only from 36.8% of serious head injuries, which is not even half of all situations that might happen on the road. Therefore, if you are not a seasoned rider with years of riding experience behind your back, I'd recommend you start your riding journey with a full-face helmet. On the other hand, even if you've spent years on a bike, you still need to exercise caution and wear additional protective gear to minimize the risk of facial traumas. In any case, try to choose a dot-approved half helmet, as this will definitely not be redundant.
Now that you are more familiar with the benefits and features of such models, let's move on to my list that will help you choose the best 1/2 motorcycle helmet.
Why do motorcyclists choose half helmets?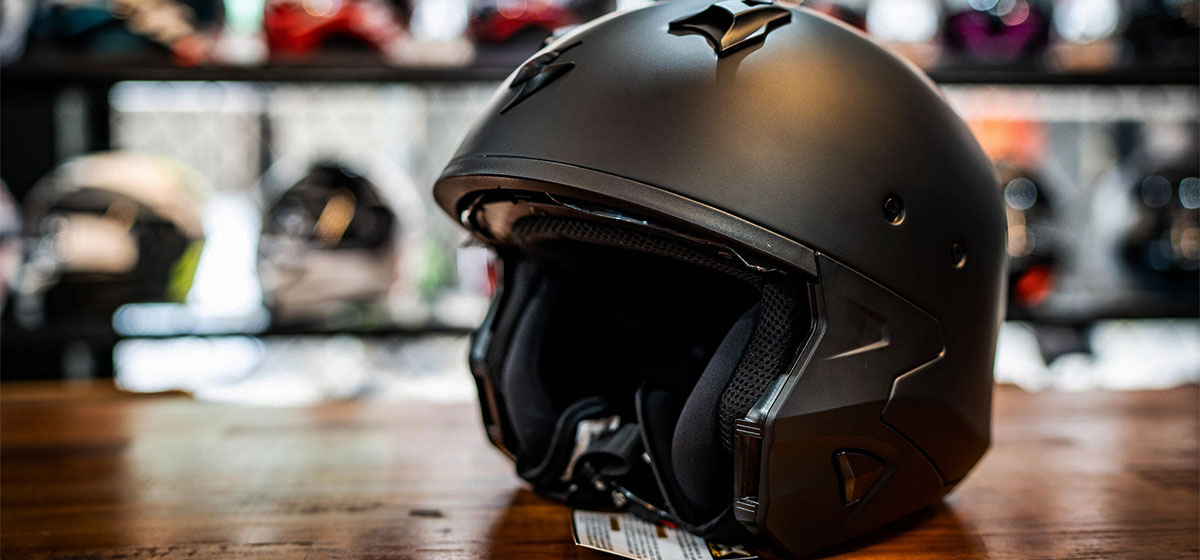 Advantages of motorcycle half helmets
Even though half helmets aren't the safest among all available options, they continue to rise in popularity nevertheless. Partly, this is due to the vast assortment of stylish designs these helmets come in and, partly, due to the freedom they afford you. Wearing a half-face helmet, you can better see and hear the world around you. Besides that, you get a nice feeling of wind blowing right into your face, which keeps you pleasantly chilled and invigorated when riding under the sweltering sun.
On top of the mentioned advantages, half-face helmets excel in breathability. Made using only half the material typically used to produce full-face helmets, they are light and allow plenty of free airflow inside, making them ideal for all-day wear.
Finally, the looks. Compared to most other types of motorcycle helmets, these usually have the coolest exterior. So, if you want to make a statement and catch the attention of others while riding your motorcycle, then there is a high probability that you will opt for one of these cool half helmets.
Disadvantages of half-face helmets
Speaking of disadvantages, the most obvious one is its low protection level. If you are new to riding a bike and/or your skills are far from being perfect, it'd be better to consider opting for a full-face helmet. Aside from that, these helmets are quite noisy. If you are someone who easily gets irritated by outside noises, wearing a half helmet is likely to cause headaches. It's also worth adding that because these helmets offer less coverage, they have little to no advanced features. Yes, even the top-rated half-helmets on the market are not without flaws. But you already know about them, and that's a big advantage. Well, we'll move on and familiarize ourselves with my rankings.
Best Motorcycle Half Helmet Reviews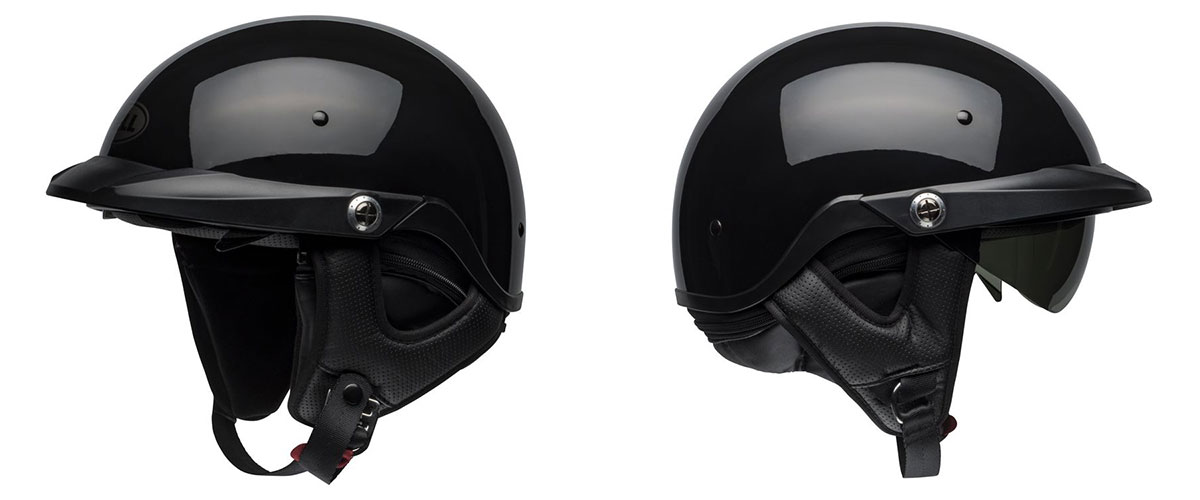 While the Bell Pit Boss might look like most other half-helmets on the market, an excellent quality build that is hidden under its surface brings it far ahead of the competition. See for yourself.
To start with, this half shell motorcycle helmet features a TriMatrix shell. This kind of shell gives it a glorious look as well as makes it lightweight, which allows you to wear it for prolonged periods of time without experiencing any discomfort. Also, it features an innovative Speed Dial Fit system that gives you a snug fit and a neck curtain that prevents the cold wind from getting inside your jacket and hitting your bare skin.
All of these features already make the Bell Pit Boss worth the look, but its strengths do not end here. Also of note is the fact that it's a motorcycle half helmet with a retractable visor, meaning you won't need to wear any other eye protection to protect your eyes from the sun. On top of that, it features speaker pockets for wearing a headset, making it a perfect choice for riders who can't imagine their life without music.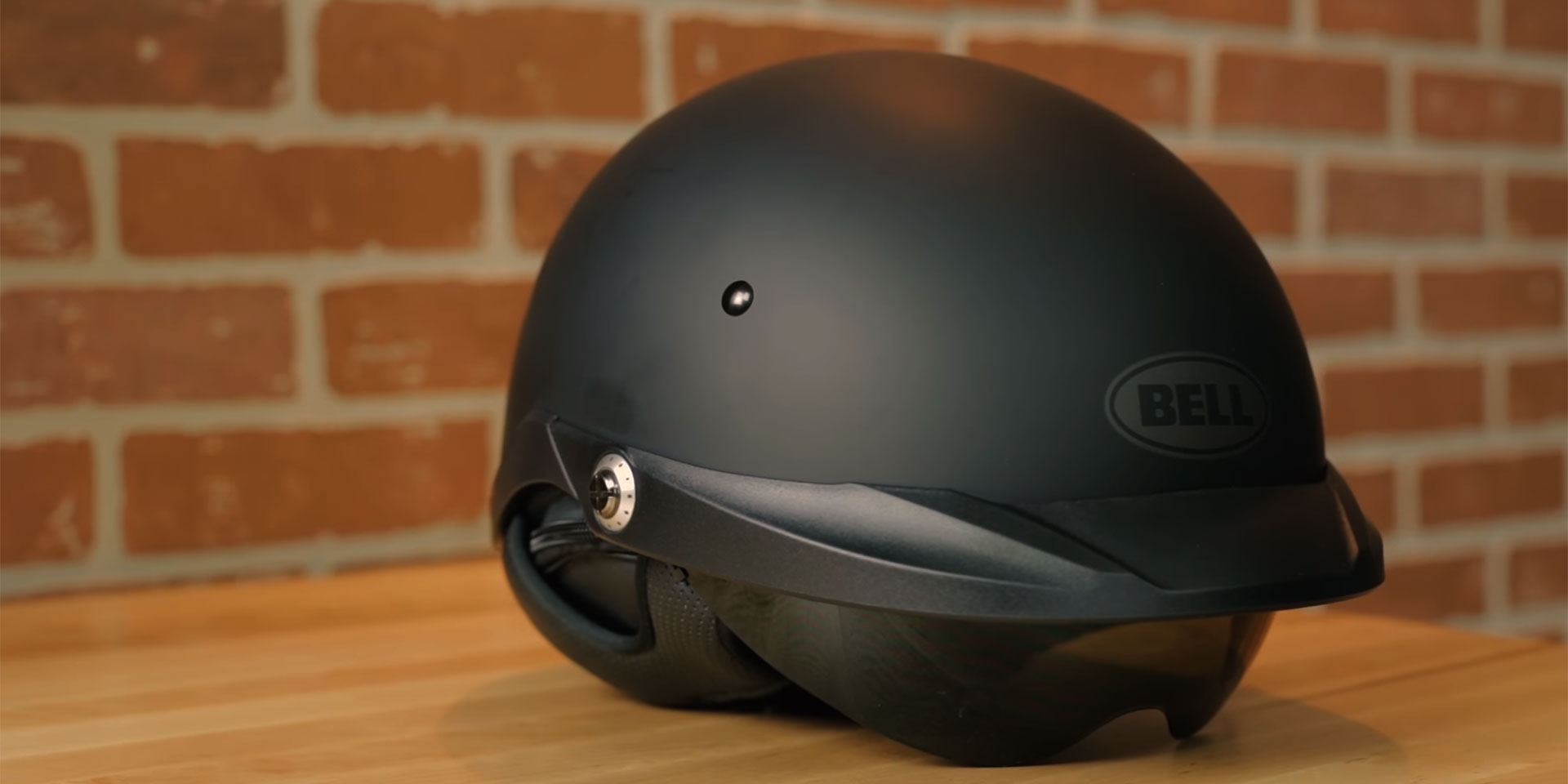 Speaking of the sizing, the Pit Boss comes in a wide range, starting from X-Small up to the XX-Large, which gives everyone an option to find a helmet that will sit nicely on their head. The adjustment system enables by a quick touch, eliminating the effect of "lift and slippage".
The only area where it somewhat drops the proverbial ball is the finish. Due to its matte coating, all the dirt, grit, bugs, and everything else that might fly into your face at high speeds will chip it off easily, leaving unsightly marks and dents. That being said, since this issue is typical of all helmets with a matte coating, this doesn't actually detract from the good points of the Pit Boss.
Overall, the Bell Pit Boss offers a mix of convenience and features that are difficult to pass up. So, if you're looking for the best motorcycle half helmet that is durable, quality, has a stark appearance, and doesn't cost a fortune, look no further!
Key specs
Helmet type: half.
Head shape: intermediate oval.
Safety certification: DOT.
Shell sizes: SM, MD, LG, XL-2XL.
Shell material: TriMatrix (Kevlar/Carbon/Fiberglass blend).
Weight, g/lbs: 1106/2.44.
Pros
The helmet features a composite shell made out of carbon, Kevlar, and fiberglass, which makes it strong yet lightweight.
The innovative Speed Dial Fit system prevents the effect of slippage while giving you a comfy and snug fit.
The helmet looks really cool. So, if appearance is important to you, this helmet can give you exactly what you need.
Cons
The matte coating gets easily scratched.
The helmet looks somewhat incomplete without a retractable visor.
Scorpion EXO Covert X – premium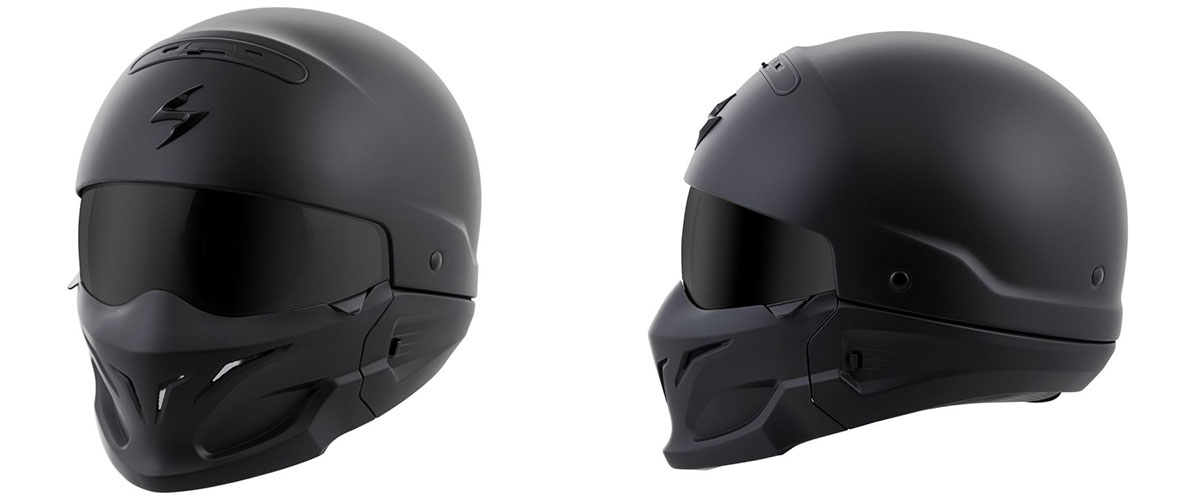 As much as motorcycle helmets are about safety first and foremost, the Scorpion EXO Covert X makes a striking first impression even without looking at its specs. This helmet touts a redefined design made out of advanced multi-layer EPS, which gives it the ability to better absorb the energy of the impact as well as increase the airflow. Sure, it's also a dot-approved half helmet that meets and exceeds the FMVSS 218 standard, giving you a product that is both stylish and safe.
However, what sells this helmet is its high-end specs. Featuring the shell combining fiberglass, aramid, and poly-resin fibers, the Scorpion EXO Covert X offers the optimum comfort level while also being lightweight to let you wear it all day long. To specify, this helmet weighs around 4.64 and measures 16 x 12 x 12 inches.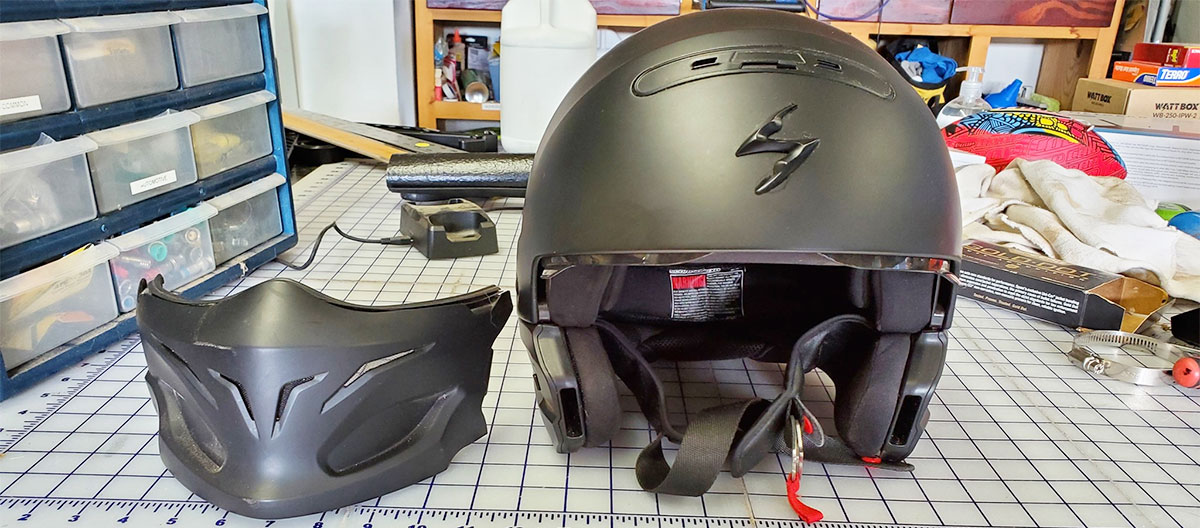 On top of that, it can be worn in three distinct riding configurations, which is exactly what stands it out from most of the other similar helmets, including the famous Bell Rogue! This way, you can effortlessly convert it to a full-face mode when you want to hit the highway or wear it as a ¾ helmet for an open feeling when riding around the town.
Along with the great looks and excellent quality build, the Scorpion EXO Covert comes with extras, including a removable front mask and cold wear ear covers with integrated speaker pockets. The former eliminates the bother of having to purchase goggles additionally, while the latter allows you to connect your helmet with a Bluetooth communication system for hassle-free communication on the go.
Key specs
Helmet type: half.
Head shape: intermediate oval.
Safety certification: DOT.
Shell sizes: SM, MD, LG, XL-2XL.
Shell material:Ultra-TCT (fiberglass, aramid ,poly-resin).
Weight, g/lbs: 1501/3.31.
Pros
The internal visor perfectly blocks the wind while giving you a clear view of the road before you.
You get a wide range of sizing to choose from.
The helmet offers plenty of room to accommodate a headset as well as wide prescription glasses without putting any pressure on your temples.
It can be used in three riding configurations, which makes it highly versatile.
Cons
The paint could be a bit more resilient.
The tinted screen doesn't lock down.
Bell Rogue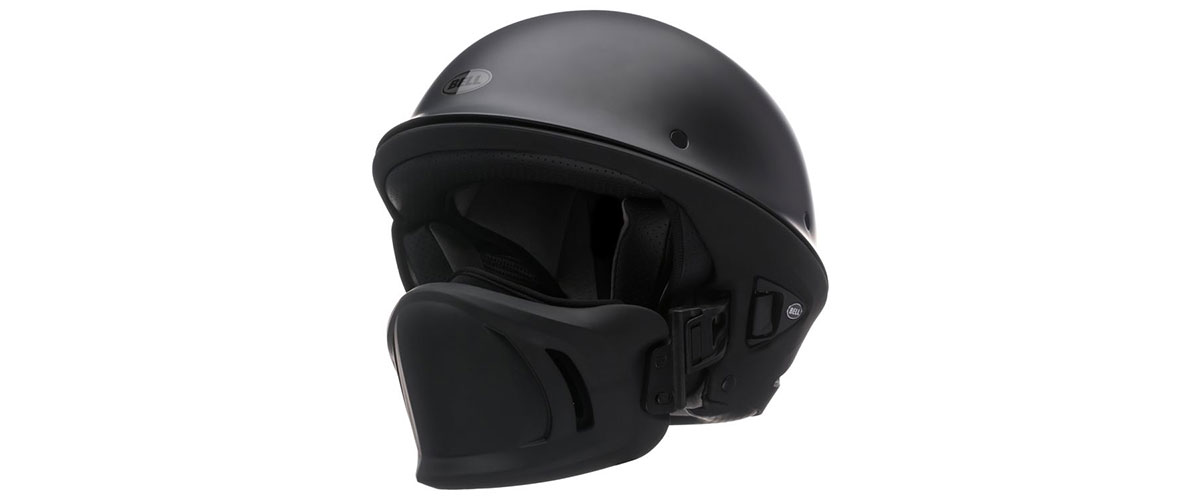 The Bell Rogue is an excellent half helmet that is sure to please any motorcycle rider. Featuring a carbon composite shell construction and Flex Energy Management interior liner, this helmet offers a mix of convenience, lightweight design, and perfect energy absorption, which gives you a badass helmet ideal for all styles of riding. Also included is an adjustable and removable muzzle. On top of giving the helmet an edgy look, it also helps protect your eyes and face from the dirt and weather and saves you the need to buy any other equipment.
Next up, the Bell Rogue features a removable interior. Soft yet supportive, it can be easily taken off for washing. There are also Magnefusion Emergency Removal System magnetic cheek pads included that contribute to the rider's comfort.
The distinct feature of the Bell Rogue is its stylish looks, though it's not the only strength of the model indeed. With this helmet, you also get all of the features of similar helmets in this category, including durability, moisture-wicking properties, and outstanding aerodynamics. Should you be willing to connect it with a headset for listening to music or communicating with your buddies, the helmet has convenient speaker pockets as well. Meanwhile, compared to EXO Covert X, this one can be worn only in one mode, which makes it good mostly for cruising.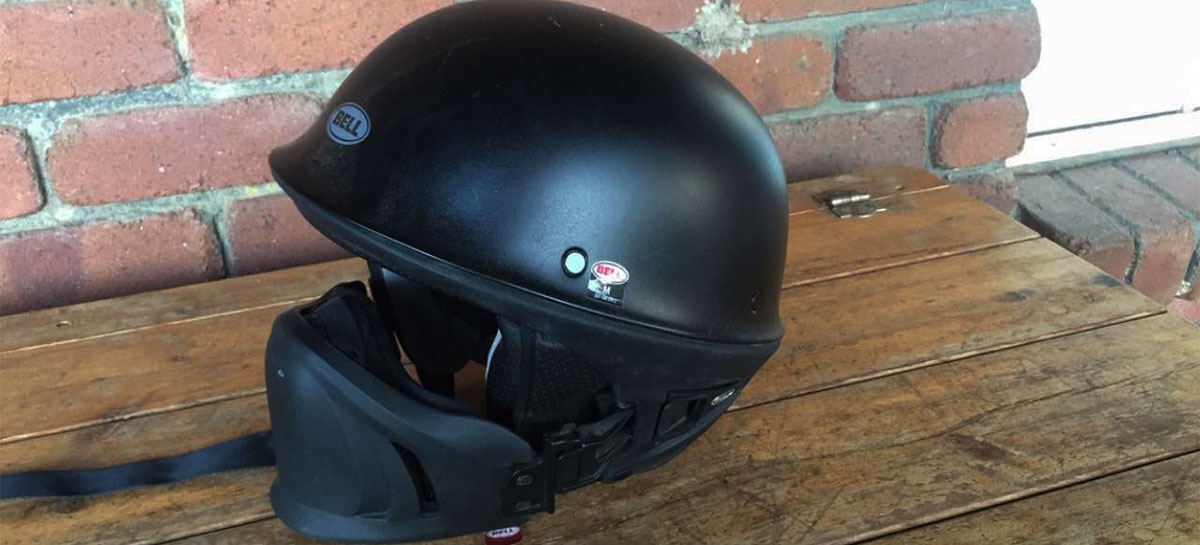 Before wrapping up, let's say a few words about sizes. The helmet under review comes in a Medium size, however other sizes are also available, so those with smaller or larger heads won't feel left out. Regardless of the size that you choose, wearing a helmet is going to be extremely comfortable. What is also handy is that the fit here is true to the size, meaning there's little to no risk of getting a helmet that won't suit you.
A bit less costly than the Scorpion EXO Covert X, the Bell Rogue will appeal to all those who are looking for a high-quality half helmet. It does lack riding configurations, but when it comes to its performance, it's about the best half helmet you can find.
Key specs
Helmet type: half.
Head shape: intermediate oval.
Safety certification: DOT.
Shell sizes: SM, MD, LG, XL-2XL.
Shell material: composite.
Weight, g/lbs: 1374/3.03.
Pros
Lightweight and extremely comfortable.
Includes a face mask for added protection on the go.
Comes with speaker pockets, providing ample room for a headset or Bluetooth speakers.
Cons
No riding configurations.
It looks quite big when worn without a muzzle.
LS2 Rebellion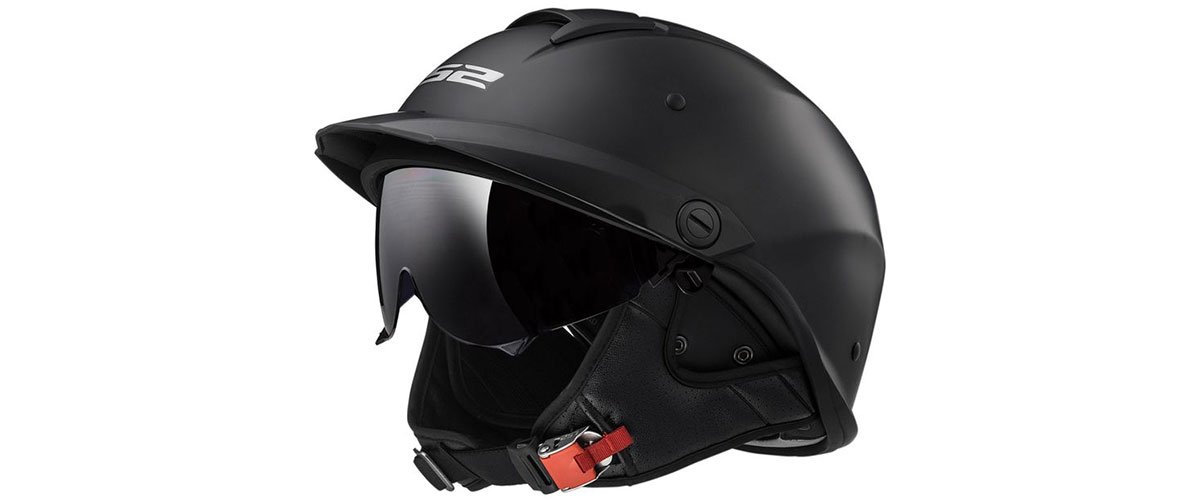 Although the price tag that comes attached to this helmet may suggest otherwise, this model has quite a lot to offer. Let's start with its looks.
The LS2 Rebellion comes in a sleek, stylish shell crafted of the Kinetic Polymer alloy. This gives it a nice retro-cool look, while also giving you a lightweight half helmet that you can comfortably wear for hours on end without fatiguing the neck muscles. Along with that, it also has a comfy fabric liner that is moisture-wicking, hypoallergenic, and removable, so whenever you want to clean it, taking it off is going to be a breeze.
Plenty of other convenient features can be found in this helmet as well, including improved flow-through ventilation and an adjustable twin shield system drop-down sun shield. What I find particularly convenient is that the sun shield can be adjusted in two ways. Thus, depending on the environment and road conditions, you can either lock it halfway down to allow more airflow in or wear it in a full-face mode.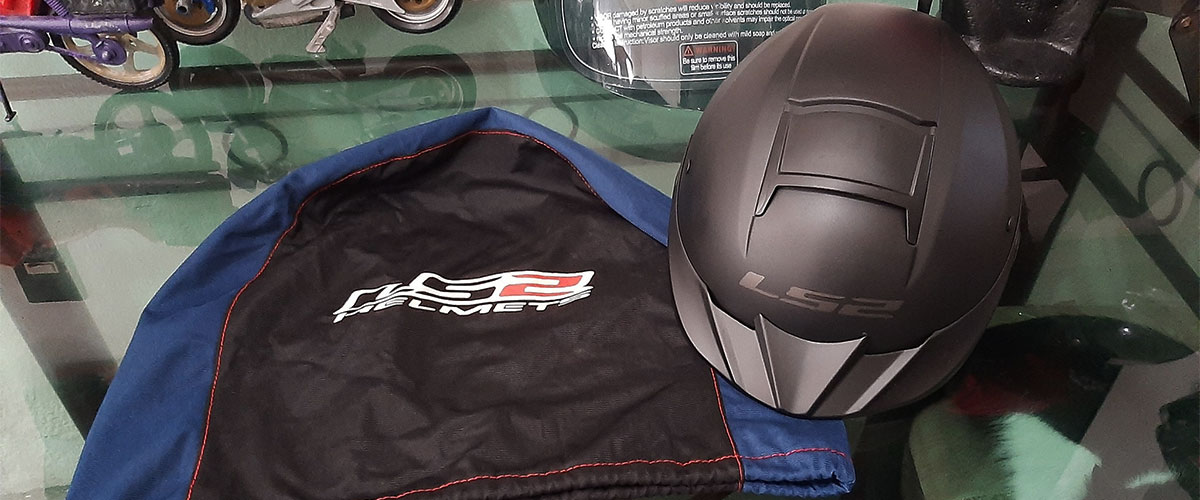 Further down the list of handy features comes the ability to integrate it with the LinkIn Communication System, encouraging effective communication between riders or riders and passengers. Finish it off with the fact that this helmet is DOT-approved and you get a decent model that offers you all the convenience while coming at an affordable price.
Compared to the Bell Pit Boss that costs about the same, the Rebellion has a more lightweight construction, which essentially makes it the thinnest DOT-approved helmet. Although this makes it less stable at high speeds, it doesn't diminish its protective features, which, I suppose, is what matters the most for most riders.
All told, if you are in the market for a budget-friendly half helmet that has a stylish appearance along with decent performance, the LS2 Rebellion was designed for you. For your choice, it comes in two sizes (XS-LG and XL-2XL).
Key specs
Helmet type: half.
Head shape: intermediate oval.
Safety certification: DOT.
Shell sizes: XS-LG, XL-2XL.
Shell material: KPA (Kinetic Polymer Alloy).
Weight, g/lbs: 948/2.08.
Pros
The model is LinkIn Ride Pal by Sena ready.
The option to lock the sun shield in two ways is a nice bonus.
Cons
The shell is quite thin.
The sun shield may interfere with wearing sunglasses.
Scorpion EXO-C110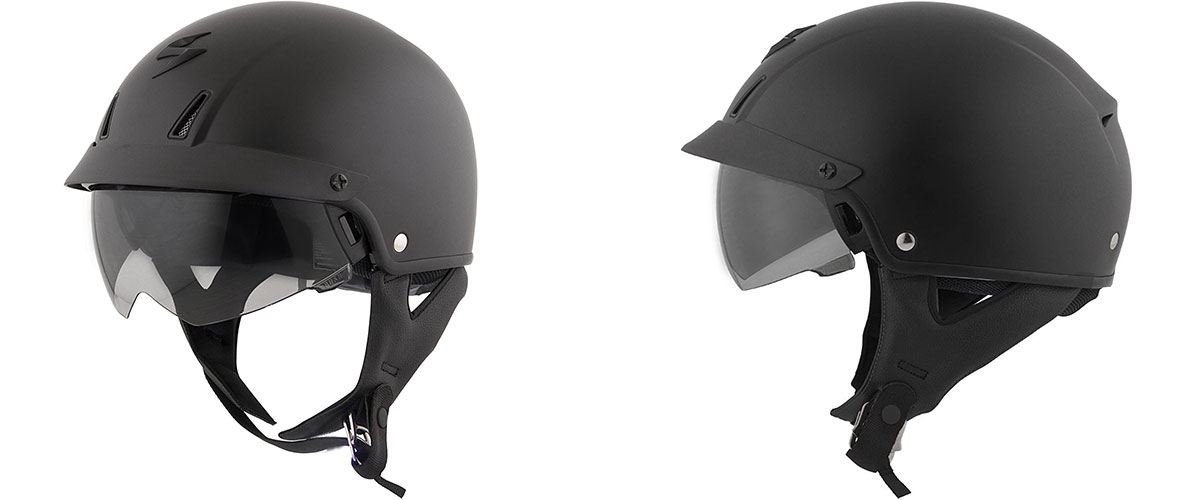 This premium half face motorcycle helmet offers riders a top-tier riding adventure by seamlessly combining style, convenience, and security elements. The helmet's shell is crafted from refined polycarbonate material, ensuring optimal durability and unparalleled impact resistance. The helmet's compact and lightweight design provides a sleek profile while also providing ample protection and safety. With this model, riders can rest assured that they are equipped with a stylish, modern, high-quality, and, most importantly, safe accessory.
The EXO-C110 comes with a retractable sun visor that offers great eye protection, eliminating the need for separate sunglasses. Its face shield provides a wide field of vision and can be easily replaced or swapped for different tints. The inner liner is made of anti-microbial, moisture-wicking fabric to ensure maximum comfort during long rides. Additionally, the KwikWick II liner is easily removable, washable, and designed to provide superior ventilation and a perfect fit. It may not be the most comfortable half-helmet, but it's definitely one of a kind!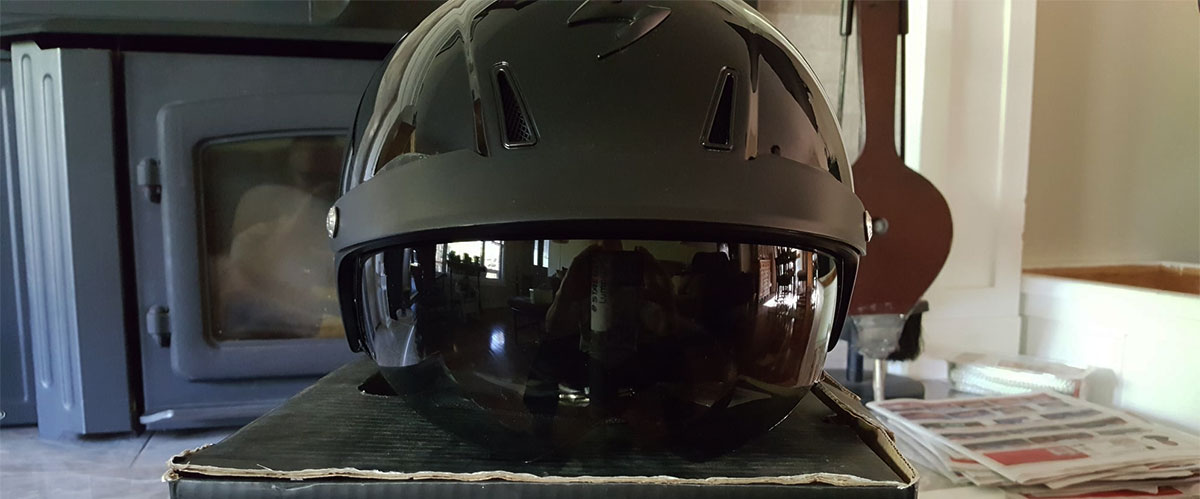 The Scorpion EXO-C110 features an adjustable front vent and rear exhaust vents that create optimal airflow, keeping you cool and comfortable even on hot days. The ventilation system helps minimize fogging and ensures fresh air during your ride. This headgear, which meets DOT safety standards, also allows the integration of a Bluetooth communication system, enabling hands-free calling and music streaming while on the road. This feature enhances connectivity and convenience for riders who prefer to stay connected.
When it comes to choosing between the Scorpion EXO-C110 and EXO Covert X helmets, I should note that both are top-quality options. However, if you're a female rider looking for a model that puts comfort and style at the forefront without sacrificing safety, the EXO-C110 may be the better choice for you. Its sleek and streamlined design offers a more compact fit compared to the Covert X, which can be especially beneficial for those with smaller head sizes. Additionally, the EXO-C110 is built with Scorpion's premium safety features, including a lightweight polycarbonate shell and a dual-density EPS liner, making it a trustworthy choice for any rider.
Experience the optimal blend of style and safety with the Scorpion EXO-C110, the perfect example of women's half helmets! From its smart design and light structure to its advanced ventilation system and convenient features, this helmet provides performance and fashion-forward charm.
Key specs
Helmet type: dual sport.
Head shape: intermediate oval.
Safety certification: DOT, ECE.
Shell sizes: SM-MD, LG-2XL.
Shell material: polycarbonate.
Weight, g/lbs: 1120/2.5.
Pros
Excellent workmanship and modernized polycarbonate casing.
Features an integrated, easily retractable/unfoldable interchangeable face shield.
Incredibly comfortable due to the padding and clever aerodynamically tuned ventilation system.
Cons
Be careful, as this model runs small. Therefore, it is always better to order a slightly larger size.
Some users report problems with the ratchet system connector. As a consequence, it is difficult to tighten the helmet enough, but I did not face such a problem.
Motorcycle half helmets buying guide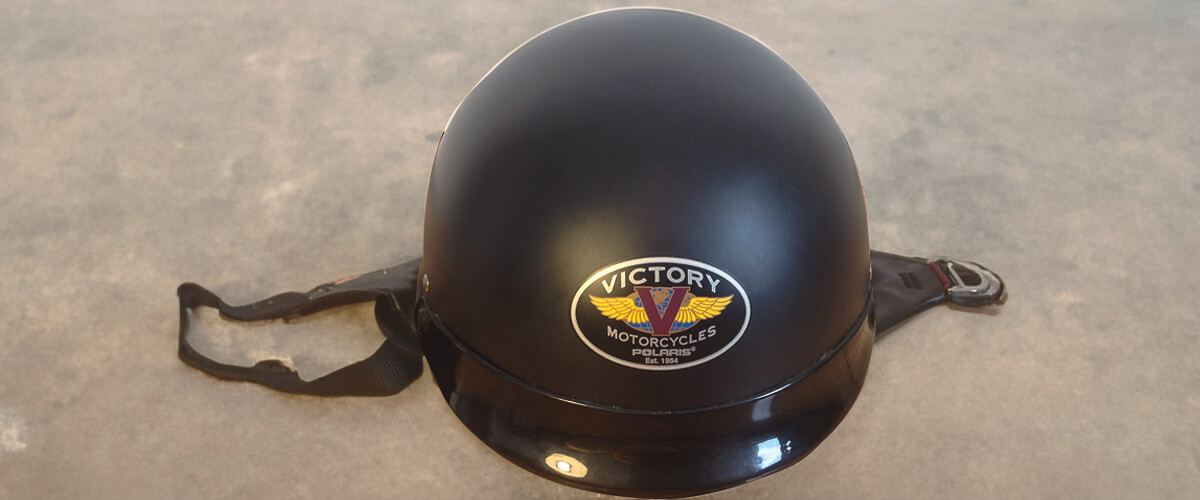 When it comes to selecting a helmet, especially a half-helmet, which is distinguished with more complex construction, it is vital to pay attention to its safety features. One of the first things that are necessary to consider is certifications. The safest half-helmet doesn't have to be the most expensive one, but it certainly does have to meet DOT/ECE standards.
Along with that, you should also make sure that the helmet you opt for provides a comfy fit. Ideally, you want a helmet that has a lightweight composite shell, so you can wear it for hours on end without straining your head and neck. Such parameters as the size and shape cannot be overlooked as well, as they directly affect the rider's comfort.
Last but not least, pay attention to the quality of materials. Like all helmet styles, low-profile half helmets must employ a high-quality, soft, and moisture-wicking liner to make them suitable for long rides.
Does dropping a half-face helmet ruin it?
It is important to highlight that the primary purpose of the EPS liner is to collapse, which helps protect the rider's head in case of an accident. Therefore, dropping your helmet may actually result in spending the liner and rendering it useless. Yes, even the best motorcycle half-helmets can break and deteriorate, but the most important thing is that they keep your head safe. And if you need to buy a new helmet, it's no big deal.
When to replace your motorcycle helmet
In general, the average lifespan of a motorcycle helmet is five years. However, take note that such factors as an accident or falls cut down the life of the helmet, requiring replacement ahead of the term stated by the manufacturer. Besides that, you should also pay attention to the liner. Once you notice the first signs of wear, you should be ready that you will need to throw it away soon.