Roaring down open roads, exploring breathtaking landscapes, and embracing the freedom only a motorcycle can provide — touring is an exhilarating adventure that feeds the soul of every rider. So, a fellow rider, get ready to embark on an exciting journey as I introduce you to my list of products created in an attempt to find the best touring helmets in the market.
Picture this: a scenic route, wind rushing through your hair, and unparalleled freedom. I know from my experience that while the allure of the open road may be irresistible, safety should never be compromised. A quality motorcycle helmet becomes a steadfast guardian, shielding you from potential hazards and offering unparalleled protection in the event of an accident. With that in mind, selecting the fitting helmet is not merely a choice — it's a commitment to safeguarding my well-being throughout my thrilling escapades. Stay tuned because I am sharing genuine life-saving insights on the available products today.
Our pick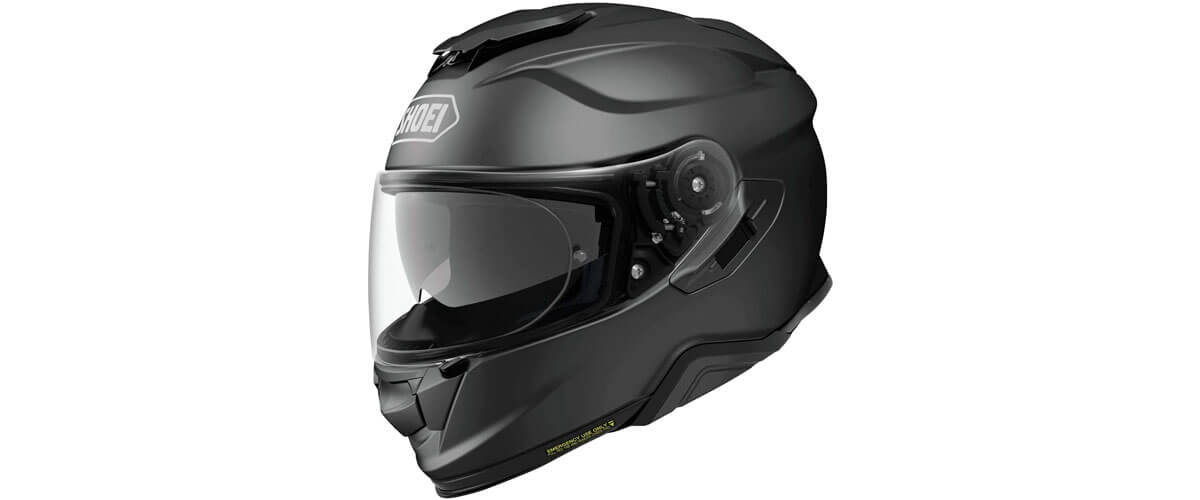 Shoei GT-Air II
Best touring motorcycle helmet
The Shoei GT-Air II Helmet has improved aerodynamics and ventilation, plus the integrated SRL 2 Comm System takes the ultimate all-rounder to the next level of riding comfort.
Read the full review
.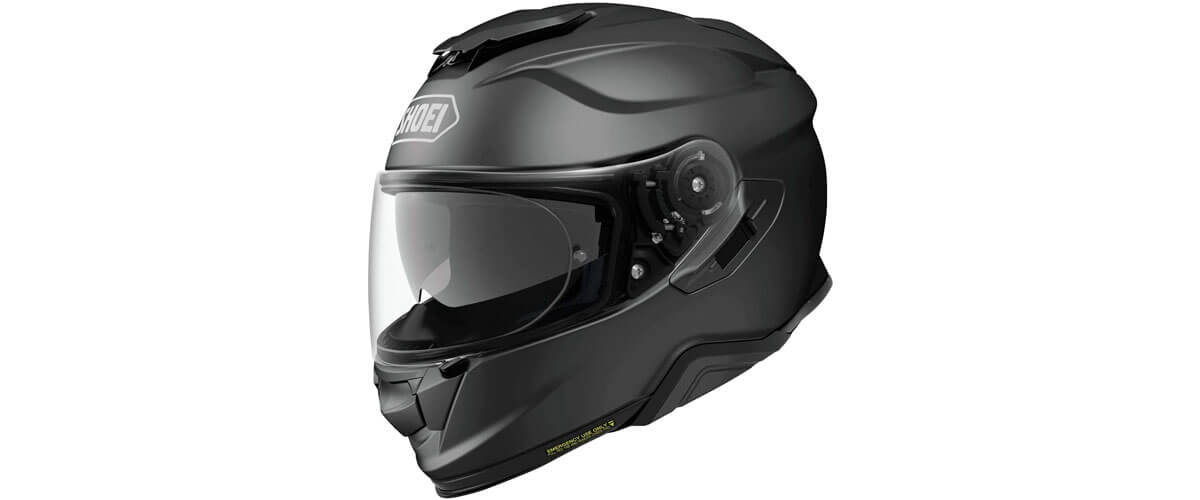 When touring helmets, the Shoei GT-Air II is a true standout! As a seasoned rider who has explored countless miles on the open road, I can confidently say that this helmet delivers unparalleled comfort and safety. Let's dive into the features that make the GT-Air II the best touring motorcycle helmet.
The GT-Air II boasts a shell constructed from Shoei's Advanced Integrated Matrix (AIM+). This advanced composite material provides exceptional strength while maintaining a lightweight profile. After getting on a road for almost 5 hours in a row with no stops, I appreciated its aerodynamic design. Minimal wind resistance is the key to comfort and helmet stability, especially if you share my penchant for pushing the speed limits.
The GT-Air II comes equipped with a distortion-free CWR-1 face shield that offers a wide field of vision. The visor stayed clean when I was traversing winding roads and enjoying sweeping vistas. The QR-N baseplate system also allows swift and toolless shield changes. It is just priceless, especially when it is done so quickly.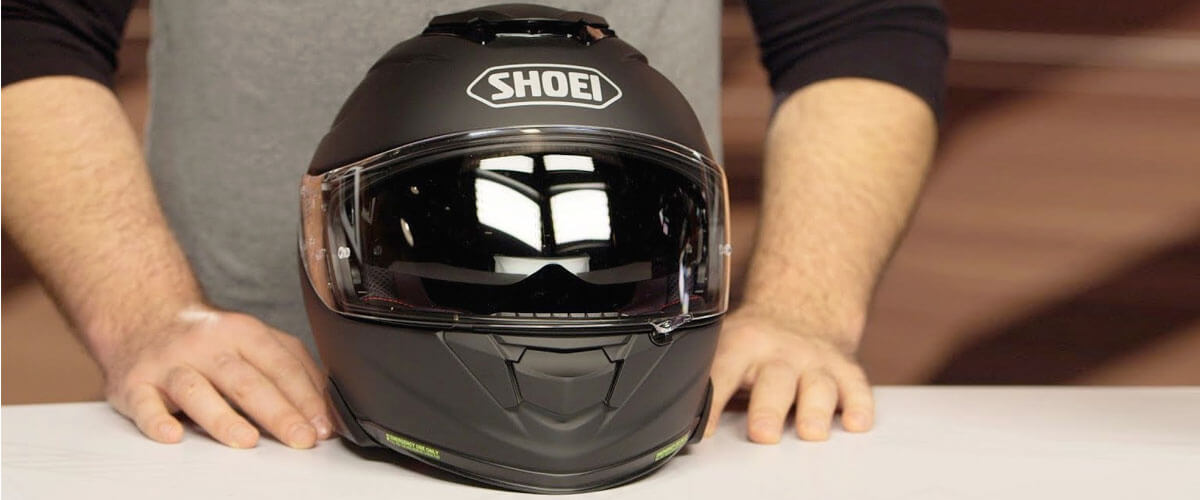 Its luxurious and ergonomic interior is one aspect that truly sets the GT-Air II apart. The multi-density EPS liner provides optimal impact absorption. The 3D Max-Dry system is moisture-wicking, antibacterial, and adjustable, allowing a customized fit. Furthermore, it is fully removable and washable, an irreplaceable feature.
The GT-Air II's ventilation system truly shines when touring under the scorching sun or in humid conditions. The helmet features a three-position upper intake vent and a uniquely designed lower intake vent that enhances airflow while reducing wind noise. The four exhaust vents at the rear efficiently expel hot air, creating a refreshing and comfortable environment inside the helmet.
For riders who value lightweight gear like me, the GT-Air II is a dream come true with its 3 lbs (M size) — I didn't feel weighed down during long rides.
In conclusion, the Shoei GT-Air II is a testament to the brand's commitment to excellence in every detail. This helmet offers an unbeatable package for touring enthusiasts like myself, from its advanced materials and aerodynamic design to its exceptional ventilation and luxurious comfort.
Key specs
Head shape: intermediate oval.
Safety certification: DOT.
Shell sizes: XS-SM, MD-LG, XL-2XL.
Shell material: elastic organic fibers, polycarbonate.
Weight, kg/lbs: 1.6/3.7.
Pros
Face shield with excellent visibility and easy, toolless shield changes.
An effective ventilation system with multiple intake and exhaust vents offers optimal airflow and temperature regulation.
Lightweight design that doesn't compromise on durability or protection.
Cons
Limited color and graphic options are available, limiting customization choices for individual style preferences.
The integrated sun visor may not fully extend down, potentially allowing some sunlight to enter from the top.
HJC i90 – budget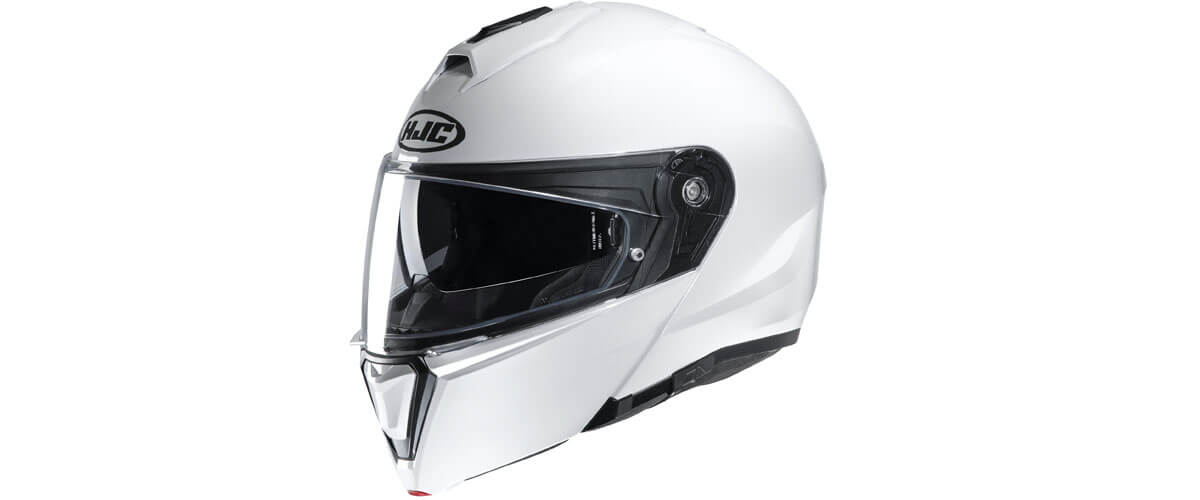 More than once, I have found myself where my desires overwhelm my purse's capabilities. Let's explore the HJC i90 and its features that make the i90 an excellent choice for riders seeking a budget-friendly option.
The i90 features a lightweight and durable polycarbonate shell, providing reliable protection without compromising comfort. HJC's expertise in helmet construction is evident in the sleek and aerodynamic design of the i90, which helps reduce wind resistance and enhances stability, even at higher speeds.
The i90 offers an expansive field of vision equipped with a large face shield. The view of the road ahead has always been clear during my test. The helmet also features a shield replacement system with a quick replacement option despite the lower price.
And again, despite its budget-friendly nature, the i90 doesn't compromise on rider comfort. The advanced CAD technology HJC employs allows for a superior fit and optimal comfort. It also incorporates advanced antibacterial properties. During extensive usage, I am sure one won't have any problems with a hygienic environment inside the helmet.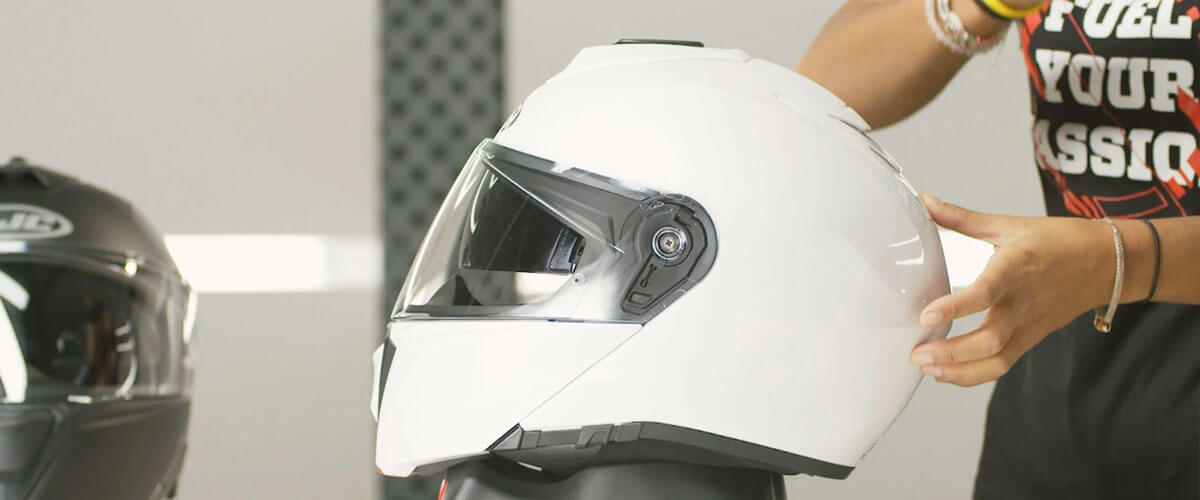 I was wearing it for both the highway rides and navigated the city—with an advanced ACS, the i90 always kept me cool and prevented the build-up of excessive heat and moisture. Yet, during speedy rides, the helmet begins to produce noise.
The i90 meets the DOT safety standards. While it may not possess the same comprehensive safety certifications as higher-end models, the i90 offers solid protection.
Although the i90 focuses primarily on delivering core helmet functionality, it offers additional features worth noting. The helmet is prepared for HJC's SmartHJC Bluetooth communication system, enabling seamless integration for riders wishing to stay connected. Also, the i90 impresses with its lightweight design, weighing approximately 3.79 lbs (M size).
The HJC i90 is a testament to the brand's ability to deliver a budget-friendly helmet without compromising essential features. With its reliable protection, comfortable fit, and thoughtful design, the i90 offers excellent value for riders who seek affordability without sacrificing performance.
Key specs
Head shape: intermediate oval.
Safety certification: DOT, ECE(3XL-5XL DOT only).
Shell sizes: XS-SM, MD-LG, XL-5XL.
Shell material: polycarbonate.
Weight, kg/lbs: 1.6/3.7.
Pros
The overall structure instills confidence and reassurance.
Great antibacterial properties of the internal material.
Large face shield with excellent visibility.
Cons
Produces noise at higher speeds.
Arai Regent-X – also great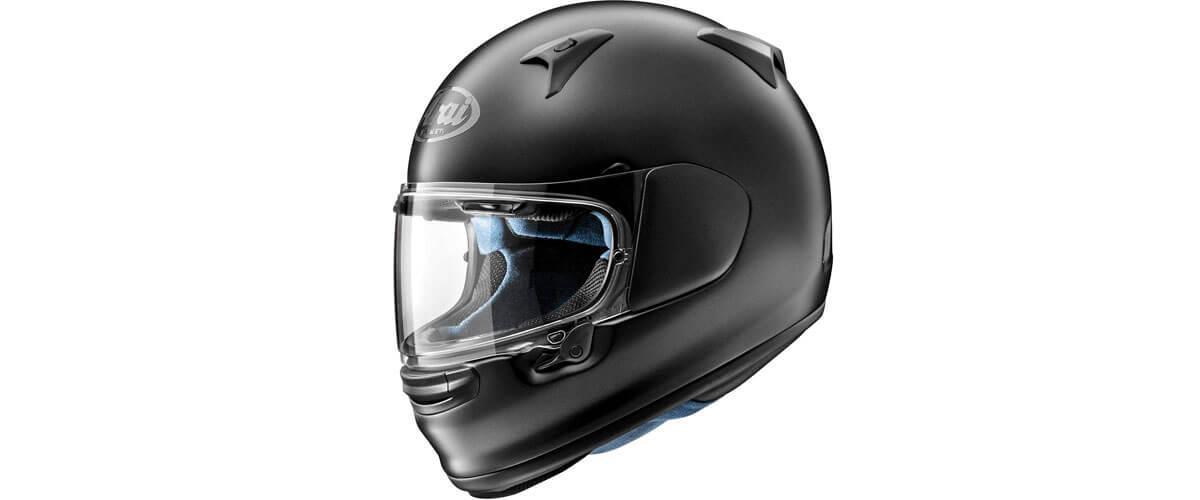 Undoubtedly, you appreciate the perfect blend of style, performance, and safety no less than I do. Thus, I'm thrilled to introduce you to the Arai Regent-X. This helmet is a testament to Arai's commitment to excellence and unwavering dedication to rider satisfaction. This great helmet for touring motorcycles is only a step away from the first place.
I should praise Arai for paying attention to details. Their proprietary PB-CLC technology provides exceptional strength while maintaining a lightweight profile (the M-size one weighs only about 3 lbs 6.6oz). I also enjoyed its excellent shape, specially designed with aerodynamics in mind.
The Regent-X features an optically outstanding VAS-Z shield. It is equipped with Arai's Variable Axis System (VAS). The VAS-Z shield provides excellent protection against UV rays and is Pinlock compatible. As a result, I had a clear view and fog-free visibility even in challenging weather conditions.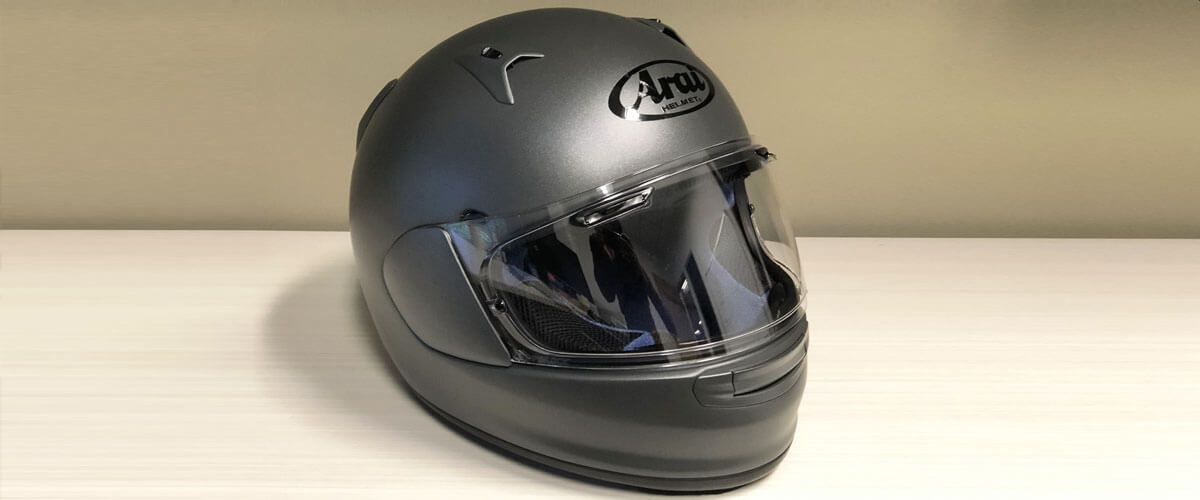 And again, Arai's commitment to rider comfort is evident in the Regent-X's interior design. The plush internal liner is constructed using Arai's Eco Pure material, which is soft, luxurious but also antibacterial and hypoallergenic. The interior is fully removable, washable, and customizable. I managed to adjust it to my face precisely.
The helmet features an efficient ventilation system with an adjustable chin vent, brow vent, and multiple exhaust vents. It completely prevented heat build-up and ensured a refreshing ride in various weather conditions, even on the hottest days.
When it comes to safety, the Regent-X leaves no room for compromise. This helmet meets or exceeds the stringent safety standards set by DOT and Snell, which is a sign of quality for me.
The helmet is prepared for integrating Arai's Pro Shade System, allowing for effortless installation of a tinted visor that provides added sun protection without compromising visibility. Honestly, I didn't use this visor much – built-in AV protection is more than enough. The Regent-X can also accommodate Arai's ACR-4 Communication System and work with Bluetooth devices.
With its advanced materials, superior design, and meticulous attention to detail, the Regent-X offers riders a truly exceptional helmet experience. Yes, it is not the best touring helmet, but definitely a great one!
Key specs
Head shape: long oval.
Safety certification: DOT, Snell 2020.
Shell sizes: XS-SM, MD-LG, XL-2XL.
Shell material: laminate, polycarbonate.
Weight, kg/lbs: 1.5/3.5.
Pros
Awesomely stands against noise and turbulence at higher speeds.
Provides strong UV ray protection.
Cons
The additional anti-sun visor is pretty much useless.
Shoei Hornet X2 – dual-sport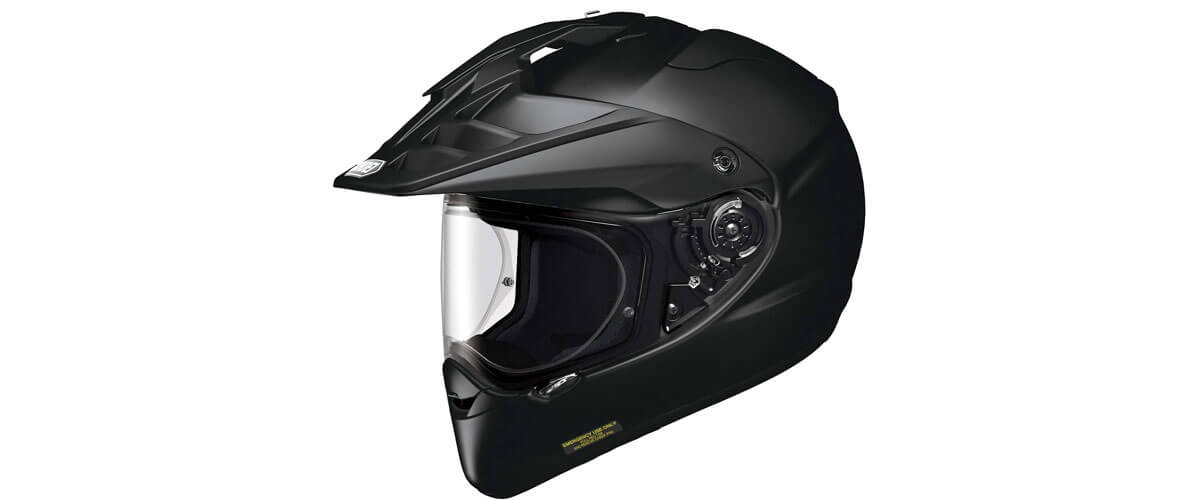 I hope you didn't get bored, but even if so, here is a refreshment. I have a special passion for off-road riding, and when I told my wife I needed a new bike for that – she wasn't pleased about it. Thus, I didn't get it. Luckily, one wouldn't have the same problems with the Shoei Hornet X2 because it suits diverse styles and terrains. So, I'm so excited to introduce you to the Shoei Hornet X2.
The Hornet X2 features a multi-ply matrix AIM+ shell construction combining organic and fiberglass materials. It feels solid and impact-resilient. This helmet is aerodynamic, but it doesn't like high speeds much. It shares the same weight with previous helmets in the review— 3lbs 13.3oz for M-size.
Equipped with a clear, distortion-free CNS-2 face shield, the Hornet X2 offers excellent optical clearness. The face shield didn't spoil my fun rides even for a bit, offering a clear view ensuring I never missed a moment of the thrilling scenery around.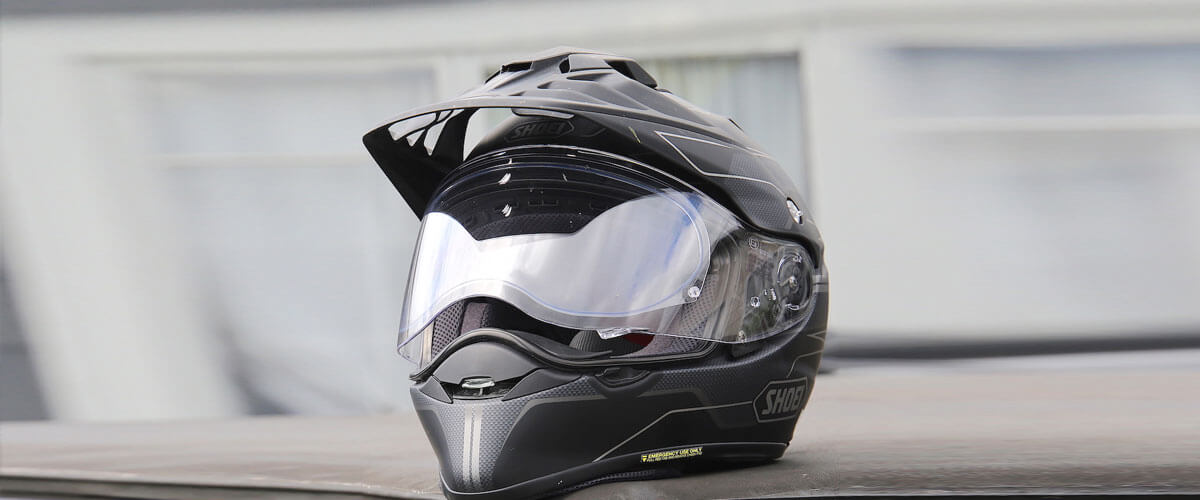 The Hornet X2's interior liner is constructed with moisture-wicking, quick-drying fabric. Off-road adventures can generate intense heat and exertion, and the Hornet X2 is equipped with a good ventilation system.
The helmet meets DOT and Snell standards – which is not surprising.
In addition to its core features, the Hornet X2 offers several notable capabilities. It accommodates the SENA SRL Communication System(using Bluetooth). I used it to get GPS directions, and it functions very well.
In conclusion, the Shoei Hornet X2 is a reliable companion for dual-sport riders seeking a versatile and high-performing helmet. While it may produce some wind noise at high speeds, the Hornet X2 excels in safeguarding and enhancing the dual-sport riding experience.
Key specs
Head shape: intermediate oval.
Safety certification: DOT, Snell 2015.
Shell sizes: XS-SM, MD-LG, XL-2XL.
Shell material: advanced integrated matrix plus multi fiber(AIM+), polycarbonate.
Weight, kg/lbs: 1.7/3.9.
Pros
Strong and impact-resistant multi-ply matrix AIM+ shell construction.
Offers great ventilation even at lower speeds.
Cons
Not as aerodynamically suited for high-speed riding on highways, resulting in some wind noise.
Scorpion EXO-ST1400 – the lightest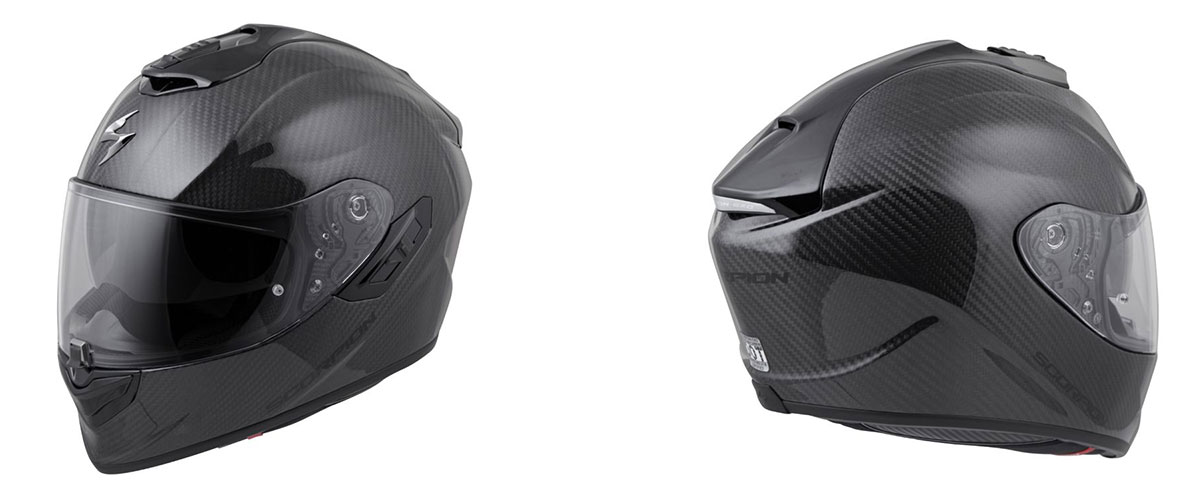 Are you ready to experience the thrill of lightweight riding without compromising safety and comfort? So was I! It's not like the previous helmets were heavy. 3 lbs is a great weight for a quality helmet. Yet, if it can get lighter, then why shouldn't it? Look no further than the EXO-ST1400, a marvel of engineering, a helmet designed by Scorpion.
Scorpion prioritizes safety, and the EXO-ST1400 is no exception. It meets DOT safety standards, assuring riders of its reliable protective capabilities. Also, the helmet boasts a carbon fiber shell construction. It does more than enhance the helmet's durability and also significantly reduces its overall weight. The helmet is also pretty aerodynamic. In combination with its lightweight body, it feels incredibly comfortable and stable.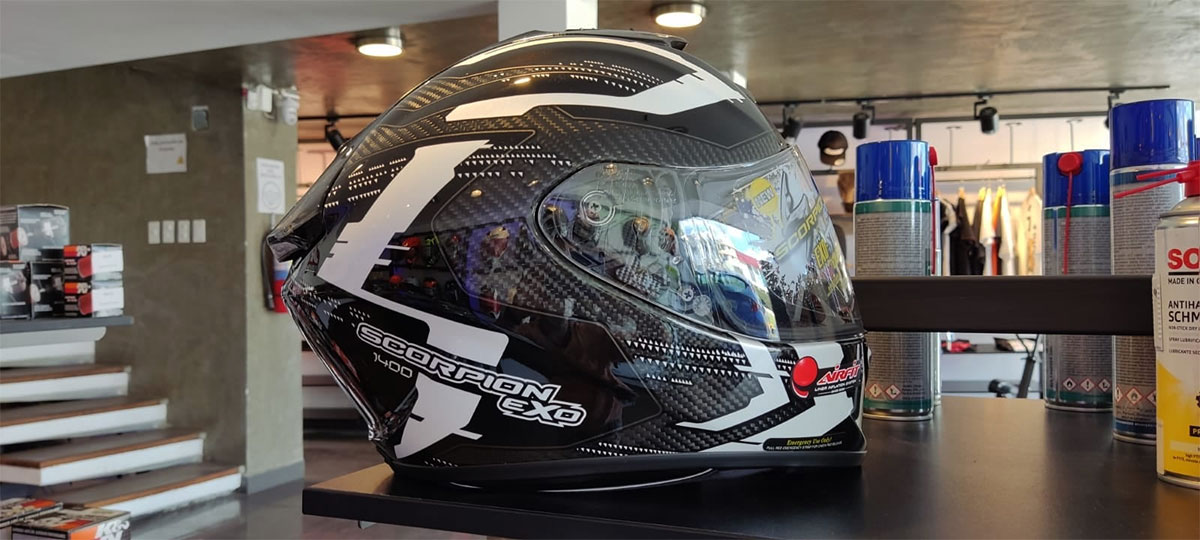 Equipped with an optically clear and distortion-free Everclear face shield, the EXO-ST1400 ensures a crystal-clear view of the road ahead. The face shield protects against wind, debris, and harmful UV rays. It is also Pinlock-ready, allowing for the installation of an anti-fog insert. The easy-to-use and reliable face shield mechanism allows quick and convenient adjustments, ensuring a personalized fit and uninterrupted riding pleasure during my testing rides.
The inner liner of the EXO-ST1400 has antimicrobial fabric, and the KwikWick III liner provides exceptional comfort and is fully removable and washable. The EXO-ST1400 incorporates Scorpion's proprietary AirFit inflation system, allowing it to customize the fit and comfort further. The ventilation is also well-made. Additionally, the EXO-ST1400 has speaker pockets to accommodate communication systems, allowing for seamless integration of Bluetooth devices and intercom systems.
Finally, the EXO-ST1400 by Scorpion impresses with its lightweight design, advanced safety features, and impeccable comfort. The carbon fiber shell ensures outstanding strength without compromising on weight, allowing for effortless maneuverability. With its customizable fit and connectivity options, the EXO-ST1400 caters to the needs of modern riders.
Key specs
Head shape: intermediate oval.
Safety certification: DOT, ECE.
Shell sizes: XS-SM, MD-LG, XL-2XL.
Shell material: carbon fiber, polycarbonate.
Weight, kg/lbs: 1.7/3.9.
Pros
Lightweight carbon fiber shell construction for enhanced comfort and maneuverability.
AirFit inflation system allows for customizable fit and comfort.
Cons
No specific mention of additional safety certifications beyond DOT standards.
What to look for when choosing touring helmets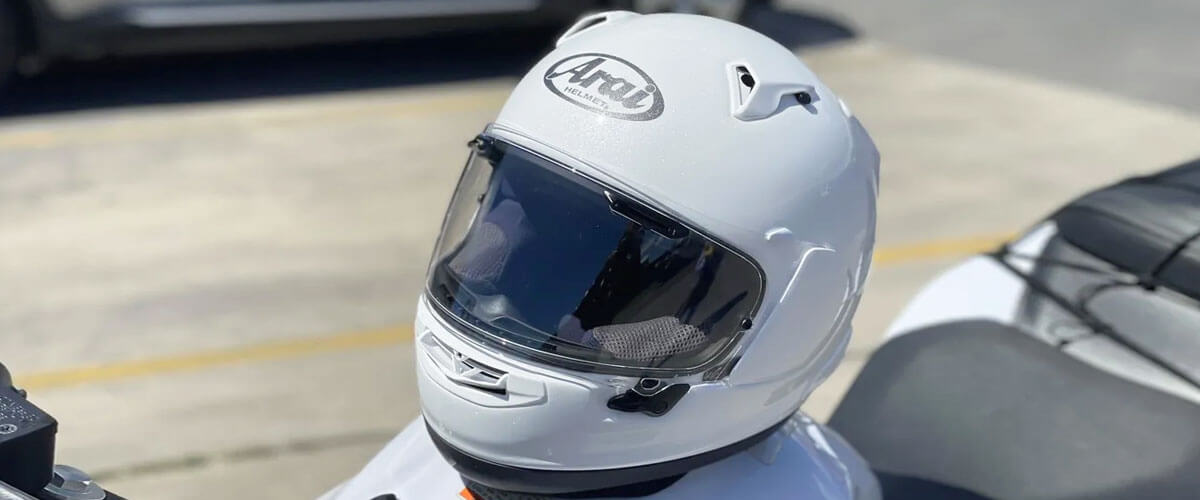 All avid riders know that finding the best motorcycle helmet for touring is paramount for their safety and comfort. Let me walk you through the key factors to consider before making your choice:
Helmet shell material and construction: I advise looking for a touring motorcycle helmet with strong and durable shell material, such as fiberglass composite, carbon fiber, or polycarbonate. They offer excellent impact resistance and durability. Additionally, consider the helmet's construction, as it affects its ability to absorb impacts effectively.
Impact absorption and energy management systems: The inner liner and padding play a vital role in absorbing and distributing the force of an impact. Opt for helmets with multi-density EPS foam or other advanced impact-absorbing technologies. These features enhance your protection in case of a collision.
Ventilation and airflow: Long touring rides can get hot and stuffy, so proper ventilation is essential. Look for helmets with adjustable vents, exhaust ports, and airflow channels that promote efficient airflow, keeping you cool and comfortable throughout your journey.
Visor and face shield options: I always say that a clear and distortion-free visor or face shield is crucial for optimal visibility. Choose helmets with anti-scratch coatings, anti-fog properties, and quick-release mechanisms for easy removal and replacement. These features ensure a clear view of the road ahead.
Weight and overall comfort: A lightweight helmet for touring reduces strain and fatigue during long rides. Consider helmets with ergonomic design, removable, washable liners, and comfortable padding for a snug and comfortable fit.
Noise reduction and wind resistance: Look for helmets with aerodynamic designs, wind deflectors, and effective sealing around the visor and neck area. These features help reduce wind noise and minimize resistance, enhancing your overall riding experience.
Safety certifications: Always prioritize safety by choosing sport-touring helmets that meet or exceed safety standards. Look for certifications such as DOT (Department of Transportation), ECE (Economic Commission for Europe), or Snell. These certifications ensure your helmet has undergone rigorous testing and meets industry safety requirements. Also, I recommend checking Bluetooth motorcycle helmet reviews for safe communication while driving.
Remember, your helmet is your ultimate companion on the open road. Considering these factors, you'll be well-equipped to choose the perfect touring helmet that prioritizes your safety, comfort, and overall enjoyment. Stay safe, and ride on!
FAQ
Why do touring helmets have a peak?
Touring helmets often feature a peak, also known as a visor or sun shield, for several reasons. The peak helps to shield the rider's eyes from direct sunlight, reducing glare and improving visibility. It also offers protection against rain, dust, and debris, enhancing overall comfort and safety during long rides. Additionally, the peak can serve as a mounting point for accessories like action cameras or lights.
Do expensive helmets make a difference?
Generally, more expensive helmets tend to offer additional features and technologies that can enhance safety and comfort. These may include advanced impact absorption materials, better ventilation systems, improved aerodynamics, and increased adjustability. However, it's important to note that all helmets sold on the market must meet safety standards, regardless of their price. Ultimately, choosing a helmet should prioritize proper fit, comfort, and adherence to safety regulations, regardless of the price tag.
What are the advantages of a full-face helmet for touring compared to other helmet types?
Full-face touring helmets provide several advantages for riders. Firstly, they offer the most comprehensive protection by covering the entire head, including the face, chin, and jaw. This design provides increased safety in case of accidents or impacts. Full-face helmets also offer better aerodynamics, reducing wind resistance and noise, which can be beneficial during long rides. Additionally, these helmets provide improved insulation from the elements, such as wind, rain, and cold temperatures, enhancing overall comfort during extended touring trips.