A legend in producing high-quality helmets for professional sportsmen and motor amateurs, Arai has made a new gift for its loyal followers. The company has developed a completely new model, combining traditional Arai product reliability standards with new technologies and capabilities. As a result, Arai XD4 helmet, with its FCS cheek pad design, improved shell shape, innovative exhaust ports, and many other renewed features, is manufactured for unprecedented safety and comfort.
Outer shell and design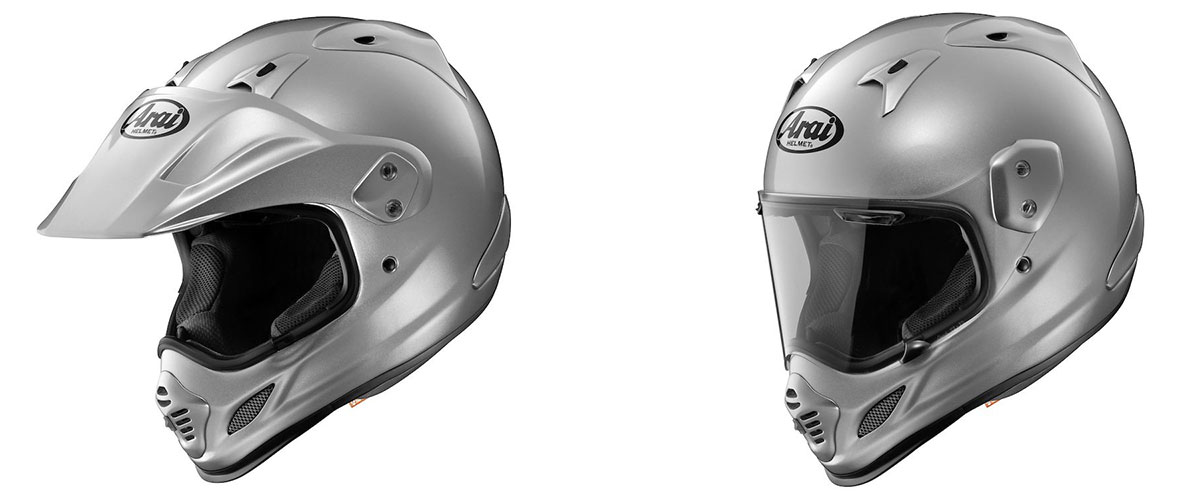 This Arai XD4 review aims to shed light on the benefits of the new model design and its potential. The producer has introduced several refinements to improve aerodynamics and balance the shell even better. The submitted model has an intermediate oval interior fit shape and is available in sizes from XS up to XXL. The helmet has a removable floating peak and removable shield. In total, it offers you three configurations for riding without a shield, without a peak, or both a shield and a peak, depending on the conditions. Also, the manufacturer gives you a wide choice of colors: fluorescent yellow, white, black frost, aluminum silver, and black.
Safety
Typical of Arai's products, the Arai XD4 is a reliable and safe helmet that will work for every motorcycle lover. It is DOT and ECE certified and owes three stars in SHARP certification.
Lining
The new Arai XD4 model is equipped with a comfort headliner. Arai's patented FCS (Facial Contour Support) Cheek Pad design guarantees the rider's absolute comfort and unprecedented support with its unique 5 mm peel-away custom-fit layer. On the other hand, peel-away side/temple crown pads give a way to extend the interior width if needed.
Moreover, the model comes with an emergency cheek pad release system, which facilitates its removal by the medical personnel in case of emergency. The interior of the helmet is fully removable and thus washable and replaceable as required.
Fastening method
Arai XD4 has classical D-ring (Double-ring) fasteners, which are considered among the most popular and reliable types of modern helmet fasteners. The system is relatively low-tech, hence easy to use. At the same time, solid components and several frictions guarantee the safety of both fasteners and a rider.
Visors
The shield of the new Arai Helmet has a transparent anti-fog laminated film coating, which prevents fog from building up and ensures pure vision under any conditions. In addition, the inner sun visor of the shield makes using sunglasses while riding unnecessary. These features provide a biker with total comfort at any time and in all weather conditions regardless of season, rain, fog, or afternoon sun.
Ventilation
XD4 airflow is nearly doubled due to top-diffuser-vet ports. Larger side cowl vents and a chin vent, owning more intake ports than earlier models, improve ventilation efficiency. The chin vent has three positions and an adjustable set of 12 air intake vents. The rider can close the vents while demisting the visor in order not to inhale dust. Two smaller vents in the brow may let extra air through the EPS. The helmet has two exhaust systems: a neck exhaust vent at the bottom and a removable set of exhaust vents at the top rear.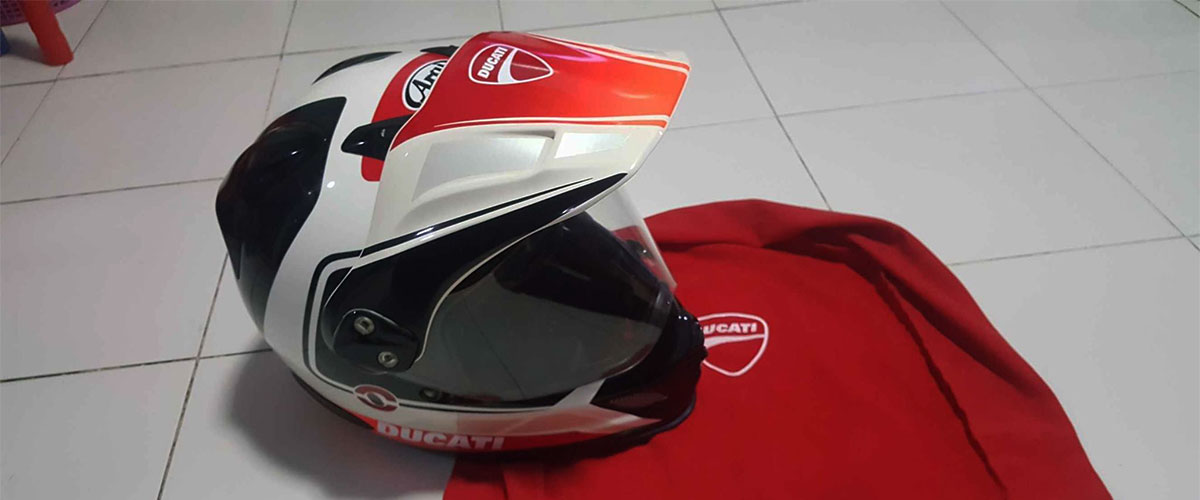 Noise
When it comes to noise control, Arai XD4 is about in the middle of the rung due to its aerodynamic design and tight-fitting face shield. As a result, the noise level might slightly increase when moving head side-to-side and opening top vents, but it doesn't exceed an acceptable noise level and interfere with the rider's comfort.
Arai XD4 has a range of competitors. The helmet is very comfortable, has the most modern ventilation system, and provides as much protection as possible. Those features are among the most sought-after by the majority of users. On the other hand, it is not equipped with a chin strap cushion, and it is also pretty expensive, so if you work on a tight budget, you could choose Dell MX-9 dual sport. It has almost as good ventilation, though it somewhat loses in the design and materials department. Another option is AGV AX-8 Dual Evo, which has an excellent external design. The caveat, there might be issues when using goggles.
Every rider would argue that a perfect helmet has two main characteristics: unrivaled comfort and absolute safety. Arai XD4 provides both. The producers made sure the new model granted the requests of the most demanding consumers. So, make your choice and get ready for a ride.
Features
Pros
Very comfortable
Has the most modern ventilation system
Provides as much protection as possible.
Cons
Not equipped with a chin strap cushion
It is pretty expensive.