Meet a quite impressive full-face helmet of the affordable price category. It's all about the Bell MX-9 Adventure MIPS helmet! This product is mainly chosen because of the innovative ventilation system that provides you with convenience during the ride and allows you to relish it! Moreover, it's lightweight with an unmistakable design due to a wide plethora of colors and helpful options like Bluetooth mode!
Outer shell and design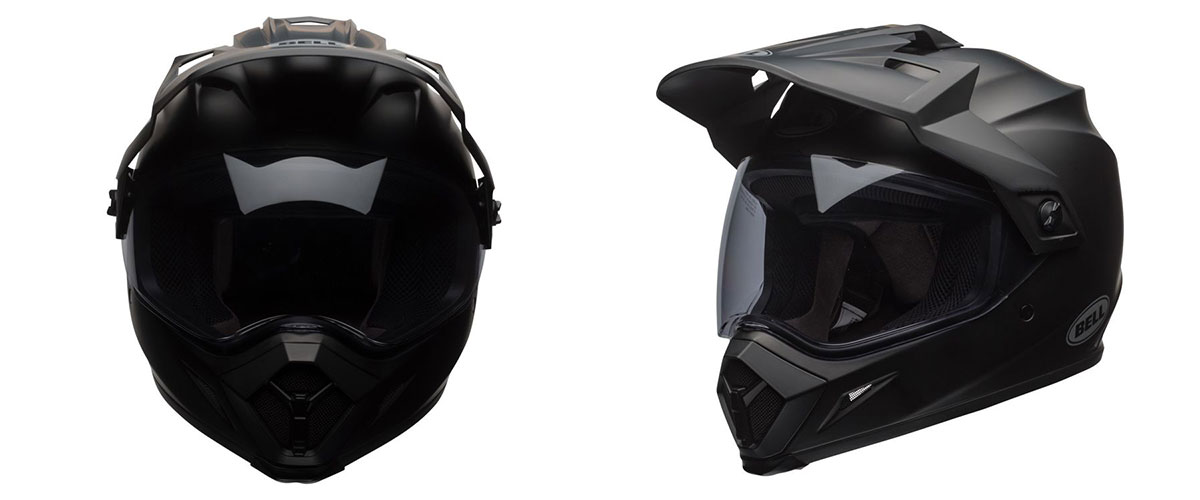 The helmet is made of plastic, metal, and polyester. By the virtue of material resistance, buying once you will wear it for decades! Additionally, this close-faced helmet supplies an anti-scratching shell option.
Bell MX-9 Adventure MIPS dimensions are 15.28 x 11.34 x 11.42 inches. The helmet is available for customers in S, M, L, XL, XXL, and XXXL sizes. It weighs from 3 pounds up to 4.5 pounds (the weight depends on the size of the item) which is optimal for long-term use with no discomfort.
As for me, the true pleasure for extreme lovers is the unlimited range of color variations to choose from. While picking sides with your best-matching Bell MX-9 helmet, you can count on exclusive coloration versions from classic black to bright neon blends!
Safety
The item passed the different tests and proved its high quality. This helmet got DOT and ECE certifications. I know that some people are going to ask me, so I should mention that SNELL and SHARP are still unavailable for Bell MX-9 Adventure MIPS. I recommend keeping track of new tests and certifications in the context of new helmet versions and updates.
Lining
It goes without saying that any helmet requires and demands cleaning. There is good news about this model – it has a removable, washable, and antimicrobial liner. Additionally, I'm loving the quick-drying material of the helmet l I've experienced myself during long-lasting exploitation.
The helmet of our interest is also equipped with a separable skull and cheek cap with a waffle-weave texture. It is not surprising that Bell MX-9 Adventure MIPS is highly estimated by customers. I rate it for the high-quality lining, stylish design, and soft inner texture 10 stars from 5 possible!
Fastening method
Releasing the helmet is similar for me to using seat belts on a plane. You will see the adjusting tab that is applied with no problems. One more perk from my own experience is the perfect fastening of the helmet even wearing bulky winter equipment.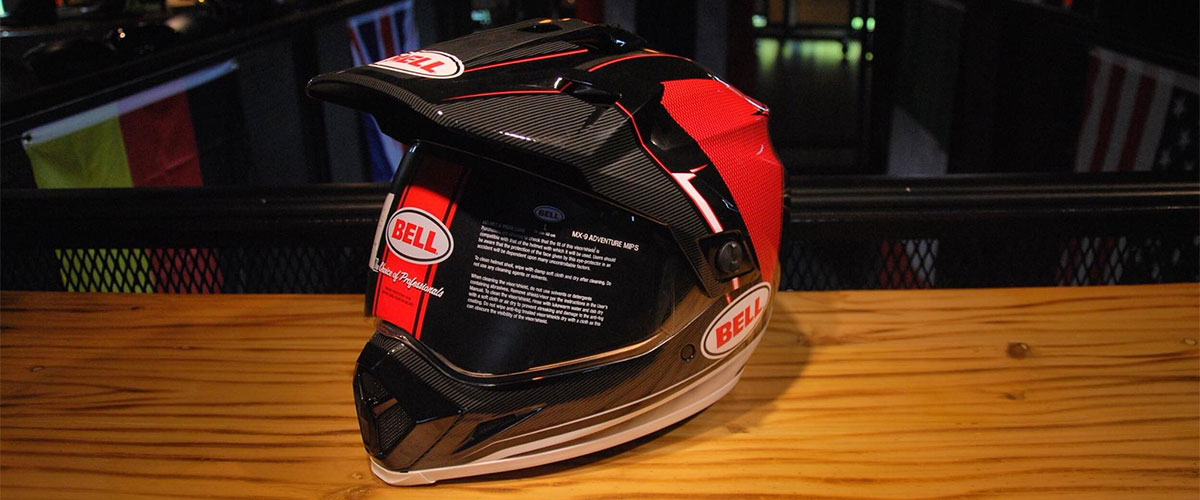 The mechanism on this model seems more sophisticated in setting out than a traditional double D-ring does. But note that once done, you have already simplified the fastening process. I experienced tandem wearing the helmet with:
the buffs
balaclavas
other kits
Additionally, it's possible to adjust the helmet into 3 various positions with a tiny ratchet. What's more (I do know this from my own experience as well), you can regulate it using a typical strep control slide on a chin strap.
Visors
The visor of this item has a pin-lock ready, anti-fog, waterproof, and inner sun options. Additionally, feel free to wear this helmet together with glasses. As for me, it is quite comfortable due to its smart design.
Ventilation
Firstly, the idea of the additional ventilation system seems too much on the open-faced helmet. However, once I've tested this parameter, it makes clear that this mechanism is as vital as on a full-face helmet.
The way the air system works in the context of helmet performance you can also check in my Bell MX-9 Adventure MIPS review:
When you are moving, the microdoses of air start entering the helmet underneath. On hot summer days or cool mornings, it's a pleasure to get the airflows throughout it.
If the weather is cold outside, I recommend closing the visor fully in a moment by using an included pin-lock insert. This way you will stay pleased with the ventilation properties and skip any discomfort like extreme airflows and too much fainting.
Above all, the Bell MX-9 Adventure MIPS helmet has another trick I would like to mention. Besides standard closed and open modes, there is a mid-point one. The strong flows of air are coming to the helmet from the special velocity breathing inserts on the back of your head zone. As for me, this is about extremely adjustable ventilation backgrounds you can count on. Welcome!
Noise
The noise isolation can be total or partial on most of the head equipment. When the visor is closed or in a middle mode, sometimes the wind is heard. I noticed it happens especially when you are curving. That's why I recommend using earplugs for supplementary wind isolation.
One more great idea from my own experience for absolute noise isolation is to set the closed mode of the helmet and use mid-positions of its visor!
Features
You can count on a smart HJC Bluetooth when it comes to this Bell helmet. In my mind, the interconnection feature available will make your ride perfect! It is rather comfortable to listen to music, have conversations, and try other experiences due to the exceptional feature of the helmet I go crazy about.