This new top-of-the-line helmet by Bell suits both urban riders and professional racers. It comes in four different colors with three helmet liners included in the delivery package.
There's no significant price change compared to its predecessors, but you're getting out something dramatically different. As we walk through this Bell Race Star Flex DLX review, I'll dive into the changes that make this particular helmet so exciting.
Outer shell and design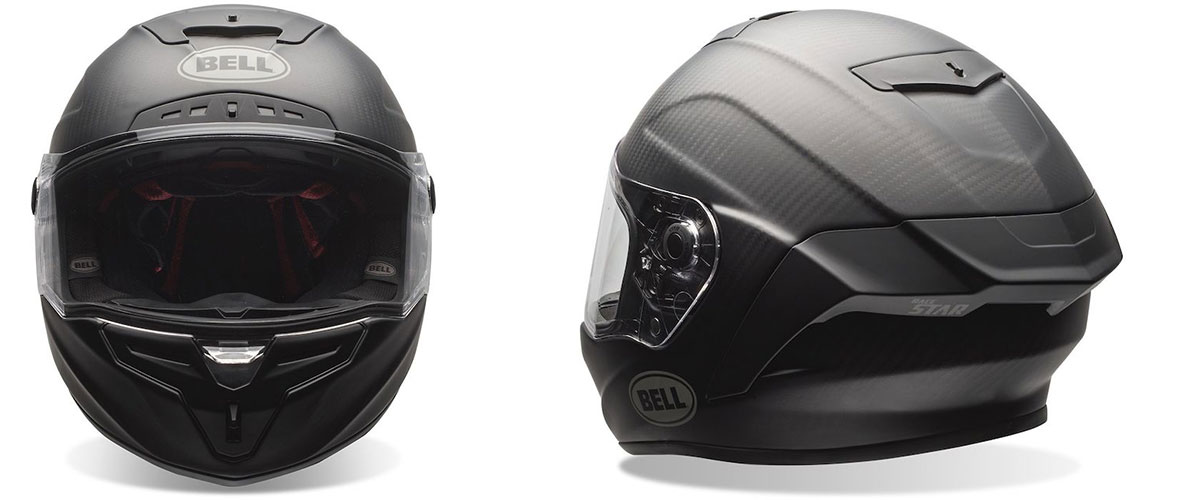 One of my very few complaints about the previous Bell models was that I found them a little bit on the heavier side. In this one, they managed to shave out five ounces by altering the thickness of the shell in some areas (now it's only 3.5 pounds in a medium). Although it might not seem like a lot, you can really tell the difference after wearing it for a while.
Made of a lightweight 3k carbon, the fiber quality is top-notch: normally, you can spot minor imperfections, but that's not the case. The helmet's surface looks and feels extremely smooth and well-made.
This helmet comes at around $700-900 in five shell sizes and four colors: matte black, gloss black, candy red, and gold. I'm positive that a minimalist paint job will come to the taste of most riders! Bell also refined the shape and gave it a much more sporty look: longer front to back and narrow down the side of the head.
Safety
The Bell Race Star Flex DLX helmet features a three-layer safety system that Bell introduced several years ago. The red layer you see poking through in the middle is the EPP polymer for mid-speed collision impact. Similarly, the black ESP polymer is designed for high-speed crash and placed closer to the outer area.
And since most of the concussions actually come from low-speed accidents, Bell addressed that issue by moving a more observant EPO layer closer to your head. You get rotational protection as well.
Lining
Magnetic cheek pads work fantastically and stay in place all the time – it's easy to take them out for cleaning if needed.
In my personal opinion, cheek pads used to be somewhat uncomfortable in the older models, so I was happy to discover that Bell changed their design for good. Now cheek pads have a dual-density softer at the top that's located against the face that makes things much better.
A personal piece of advice: remove a rubber pad for speaker cutouts if you don't use a comm system, or it'll sit very uncomfortably.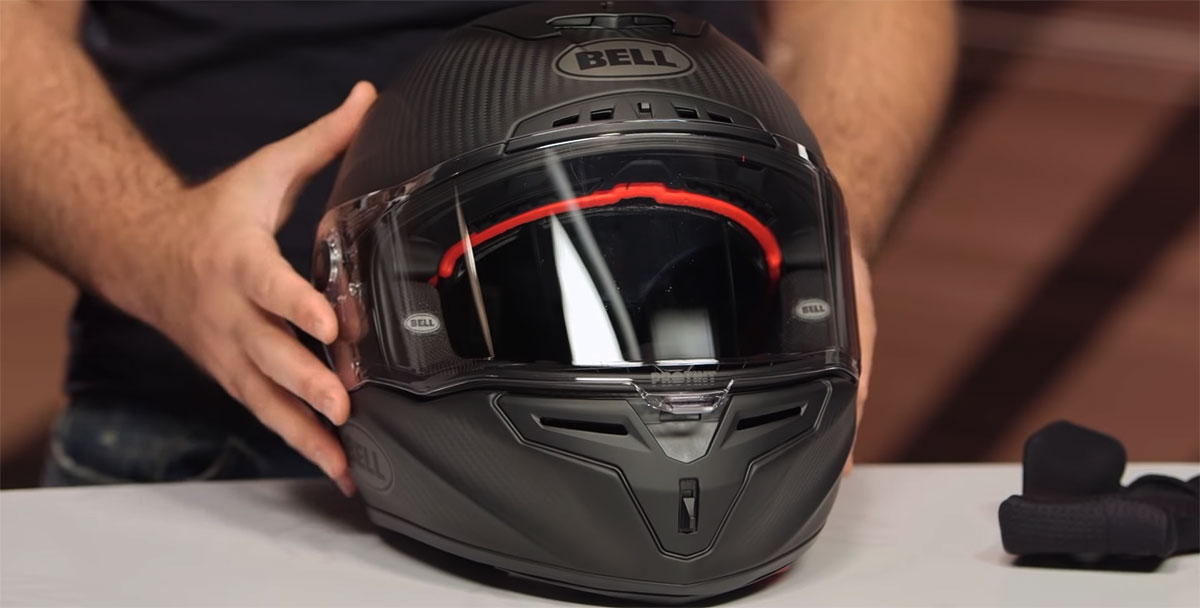 Fastening method
Unlike other helmets with a red snap, the Race Star Flex has a magnetic latch with a double D-ring. I genuinely prefer it that way since it doesn't dangle around awkwardly.
Visors
The helmet is equipped with a Pro Tint shield that adapts to lighting conditions. Although it doesn't come with a pin lock, you can get one for less than a couple of hundred bucks.
The visor has no detents, so that leaves you with two options: wear it completely closed or open.
Ventilation
There's a very clear actuation for the vents with the Race Star Flex: you get a chin vent, a switch for the brow ven, and a top vent at the chimney. But it's not limited to passive ventilation only. There's an active vent at the back that you can open to allow the air to flow through.
Noise
Having checked other customer reviews, I noticed that the rating is rather low (3.3 out of 15). Take it with a grain of salt: different people ride differently – no surprise the reviews are mixed.
COAU tested the Star Flex DLX and got 92.5 dBA at 60 mph and rated 17.5 over 20. I personally found the noise cancelation to be solid. But that's me, riding with my headphones on and blasting Iron Maiden's 1982's album.
My impressions
Overall, the Race Star Flex has so much more room in the front, and it fits much better than the previous models. It feels very natural, the material quality is impressive. According to Bell, it's designed ​​for intermediate-oval head shapes, so it will probably work for the majority of the American riders.
It's ain't cheap: some other helmets like Shoei RF-1200 would cost you half of its price. However, the Race Star Flex has the upper hand when it comes to safety features.
But here's what I think the Race Star Flex tends to do better, compared to some other brands:
Pros
Innovative Flex safety system
Extensive ventilation system
Now here is what could have been improved:
Cons
Add pin lock to the package
No detents