Are you looking for an ideal Adventure helmet that combines outstanding traits of off-road and street-specific helmets? KLIM Krios helmet is exactly what you need.
It is an excellent mixture of on-bike comfort, sleek and solid aerodynamics, and acoustics. The gear is one of the lightest adventure models ever designed. Made from carbon fiber, it weighs only 3¼ pounds but retains its structural integrity. KLIM Krios product complies with ECE and DOT ratings.
Outer shell and design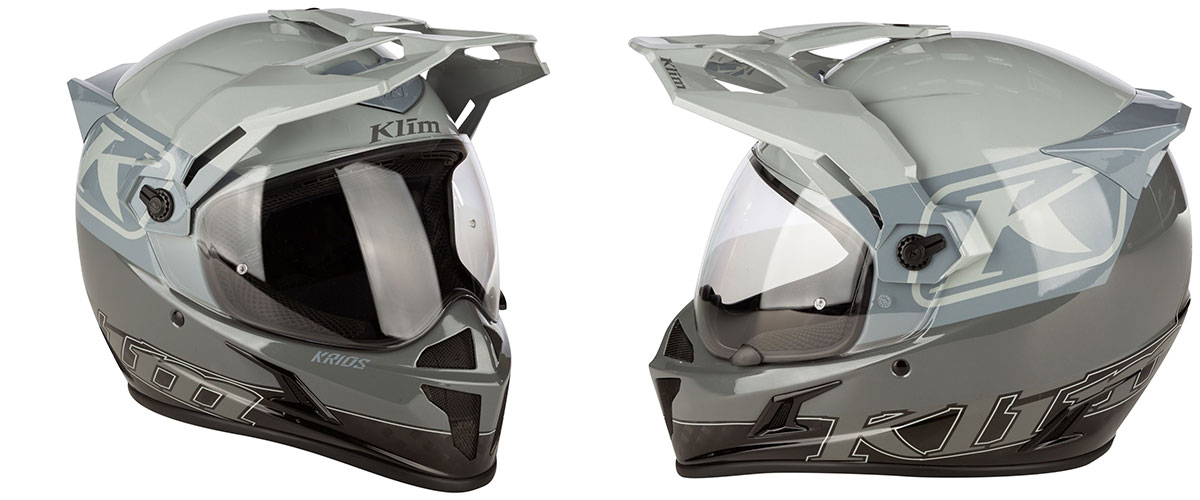 KLIM Krios helmet looks good straight out of the box. The helmet comes standard, and it encompasses one Pinlock-ready clear face shield, one dark smoke face shield, and one Pinlock insert. The gear is produced from high-strength and well-resistant hand-laid carbon fiber. But not the material was what I was surprised with when I took the sample. It was the model's weight – it's only 3¼ pounds, which is significantly lighter than its primary competitors from Shoei and Arai.
There are six available sizes – SM, MD, LG, XL, 2XL, and 3XL. Also, you are to choose between 2 shell sizes – the smaller one fitting XS-M and the larger one L-XXXL. In addition, the model is presented in four colors – Covert Hi-Vis, Cool Gray, Gloss Carbon Black, and Gloss White.
Safety
The KLIM Krios review is impossible without mentioning safety details. The helmet was tested for both ECE and DOT standards. I've received the exemplar with labels and safety warnings. You must not remove them with the exception for the size stickers. They do not affect visibility.
Lining
How is it inside? The top-quality anti-microbial, as well as anti-bacterial fast-wicking textiles, create comfort for riders. In addition, Klimatek™ Fabric plush liner systems apply adaptive intelligent foam techniques and make the lining as soft, practical, and comfortable as possible.
KLIM Krios helmet comes with cheek pads. They are removable and moisture-wicking. I have to do the following steps to remove the pads: I loosen the large strap fastening. Then, I pull the chin strap through the opening in the cheek pad and get the element out of the gear. It's not an easy task for newbies and some training is necessary. Therefore, it is of prime importance to pick up pads of the proper sizes. SM and MD models are interchangeable.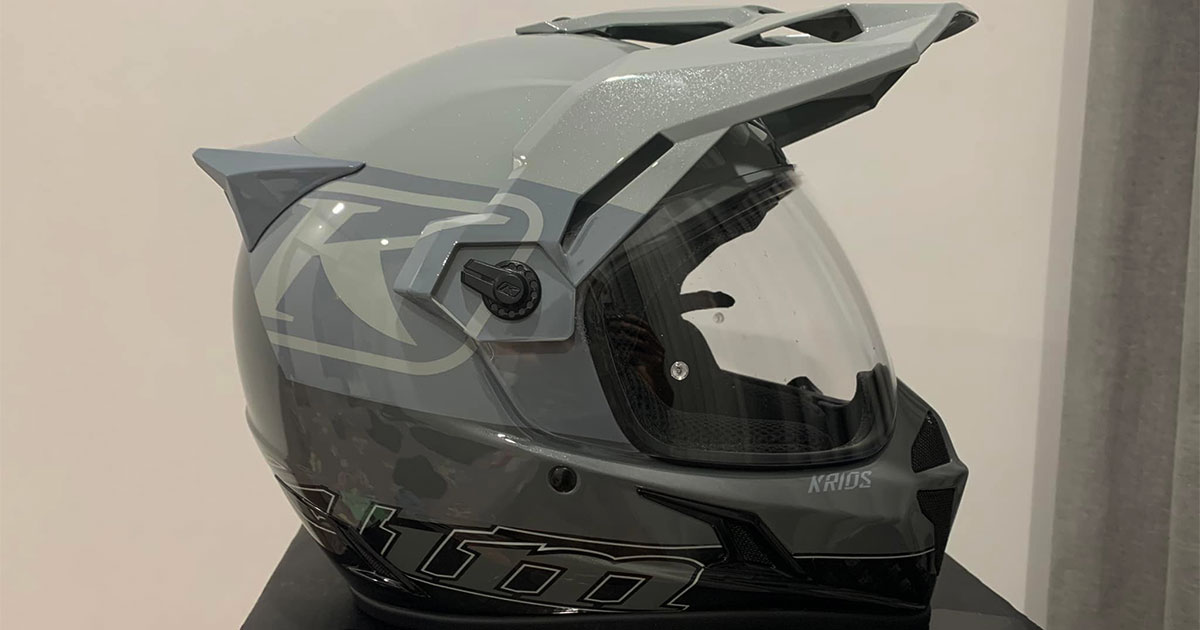 Fastening method
News flash: fastening is not something you are to experience when using the KLIM Krios helmet. I wouldn't believe me either, but I managed to lock the fastener from the first try even without reading the instructions! The model is equipped with a fidlock fastener. It offers an ultimate magnetic fastening method. It takes only a couple of minutes to open or close the buckles.
Visors
The model comes with a dark smoked visor. The polycarbonate anti-scratch shields are Pinlock-ready in both options. The helmet features a broad eye-port good for an ideal peripheral vision. Despite the visor being a strong convex shape, there is no distortion of light or vision.
It's not a good idea to use any dark tinted or mirror shield if you will ride at dawn or night. I noticed that tinted and mirror visors feature a reduced light transmission. It may therefore impair your eyesight. I also try to remove the shield for use with goggles.
Ventilation
I have nothing but positive things to say about the helmet's ventilation. It is designed through a large port in the chin bar. It directs air onto the inside of the face shield. This design allows keeping the shield clear of fog buildup in cold weather.
Noise
Wind noise is less of a factor thanks to the well-thought-out aerodynamics. For example, there's a closable vent in the forehead of the gear. It's done to channel air over your head and then out the rear. But I can't call this helmet an extra quiet one.
Features
One of the most significant features of the KLIMA Krios helmet is that you can use it in four different ride modes – Adventure, Dual Sport, Off-Road, and street. I experienced no difficulties when changing the modes. The helmet possesses a two-way adjustable peak that can easily be tweaked on the fly to adjust different riding styles or the sun's location. The helmet is compatible with Smart HJC Bluetooth. You feel no discomfort when calling just on the ride.
Pros
Extra strong and comfortable carbon-fiber shell
Great field of visions
Surprisingly light but solid.
Cons
It's necessary to pick up the size carefully
In street mode, the noise control is not perfect.