The Scorpion EXO-AT950 helmet is designed with your needs in mind. It boasts a host of impressive specifications and features that make it stand out from the crowd. From the dual-density EPS for maximum protection to the innovative modular design, this helmet offers the best of both worlds – the convenience of a modular helmet and the durability of a full-face helmet.
In this Scorpion EXO-AT950 review, I'll walk you through the main specifications and features of this product, helping you make an informed decision.
Outer shell and design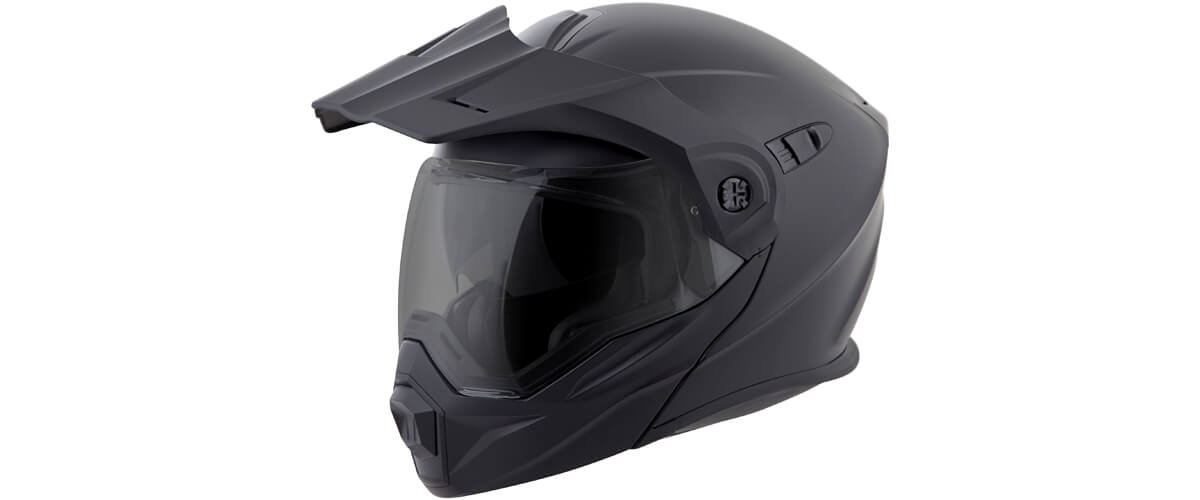 The helmet's Advanced LG Polycarbonate shell is top-notch, giving the confidence that it will withstand any adventure I throw its way. The full-face design allows me to adapt to different riding conditions and preferences. It comes in various weights: small, medium, and XXL, with each size specified to ensure a comfortable fit without feeling overly heavy. This product is available in a diverse color palette: hi-vis, orange, and phantom, making it a stylish companion for any adventure seeker.
Safety
The DOT certification is a must-have for any helmet, and the EXO-AT950 proudly displays this approval. It ensures that the helmet meets or exceeds the safety standards set by the Department of Transportation. This certification guarantees that the helmet has undergone rigorous impact protection and penetration resistance testing. Furthermore, this model also complies with the Federal Motor Vehicle Safety Standard No. 218, which sets the minimum performance requirements for helmets intended for use by motorcyclists on public roads.
Lining
The removable interior is a game-changer, allowing me to easily clean and maintain the helmet's freshness. No more sweaty odors lingering around! The lining materials are top-notch, providing a plush and cozy feel against my skin, even during those long rides. Plus, the padding is well-distributed, relieving pressure points and ensuring a blissful experience.
Fastening method
Adjusting the helmet is a breeze thanks to the easy-to-use double-D ring mechanism. Simply slide the strap through the rings and pull it snugly, ensuring a personalized fit every time. The double-D ring system offers excellent stability, preventing unwanted movement while riding.
Visors
Equipped with pin-lock-ready visors, fogging is a thing of the past. During a morning drive, the defogging works very well, as it ensures crystal-clear vision throughout my ride. The inner sun visor is a game-changer, eliminating the need for sunglasses and allowing me to effortlessly adapt to changing light conditions. It smoothly slides down with a simple flick, providing instant shade without compromising visibility.
Moreover, the visor seal boasts remarkable waterproofing capabilities, keeping raindrops at bay and enhancing my confidence during unpredictable weather.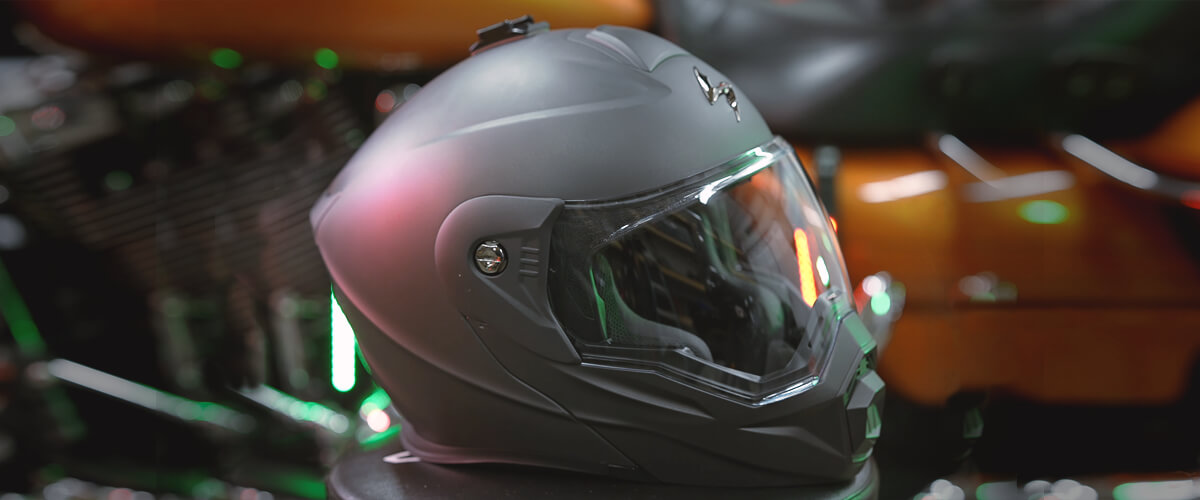 Ventilation
The top intake vents are strategically placed to allow fresh air to flow in, providing a refreshing breeze that prevents any stuffiness inside the helmet. It's a fantastic feature, especially during those scorching summer days. The integrated rear exhaust vents, cleverly built into the spoiler, work like a charm, efficiently expelling warm air and preventing accumulation.
Noise
The noise level of the EXO-AT950 is impressively low. It effectively dampens wind noise, allowing me to enjoy a quieter ride without compromising on safety. Whether cruising on highways or conquering off-road trails, the helmet's noise-reduction technology creates a tranquil environment, enhancing my overall riding experience.
Features
One of the standout features of the EXO-AT950 is its speaker pockets, which are designed to seamlessly integrate with most Bluetooth communication devices. This means you can easily install your Smart HJC Bluetooth system and enjoy a hassle-free riding experience while staying connected to your phone, GPS, or fellow riders.
The ability to effortlessly pair my Bluetooth headset with the helmet's speaker pockets has greatly enhanced my rides. Not only can I enjoy crystal-clear audio for music and phone calls, but I can also receive GPS instructions without any distractions!
Key specs
Head shape: intermediate oval.
Safety certification: DOT.
Shell sizes: XS-SM, MD-LG, XL-3XL.
Shell material: LG polycarbonate.
Weight, kg/lbs: 1.6/3.7.
Pros
Versatile design is suitable for both on-road and off-road adventures.
Removable peak visor and face shield.
The flexibility of both a full-face and an open-face helmet.
Cons
The helmet's weight might feel slightly heavier compared to other models.