The Scorpion EXO Covert helmet is the pioneer of its kind to receive a US patent design! Wearing it, you become one of those "hot peppers" that ladies love, and Scorpion EXO Covert review will assure you of it!
It is unique in that it is allotted to break all boundaries and norms and can be new-made to work with any bicycle. This was originally a half helmet, but now it has an integrated sun visor to keep you out of sunlight and wind. In addition, a comfortable back sleeve allows you to turn your helmet into a 3⁄4 open-face and then attach the included front mask, thus making you a "hot pepper."
Outer shell and design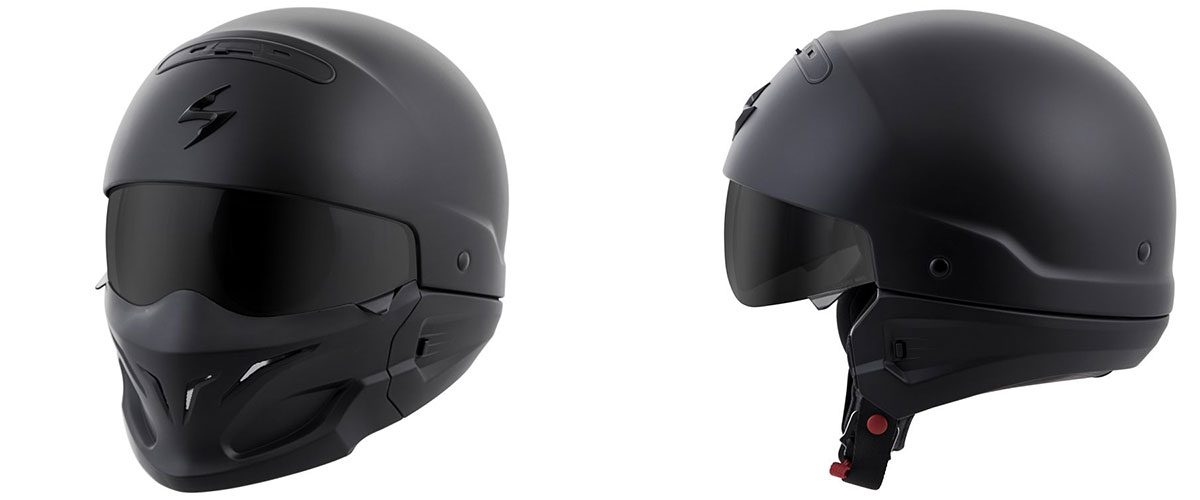 The outer shell of the Scorpion EXO Covert helmet is made from a multi-layer TCT-Ultra shell material, which is a mixture of fiberglass, aramid, and polyresin to decrease weight and increase the solidity of the helmet. This model is available in two colors: high-gloss white and matte black.
Available sizes: XS, SM, MD, LG, XL, 2XL, 3XL
Item weight: + -4 lbs depending on size
Safety
While the Scorpion EXO Covert helmet has not been independently assessed for safety by Snell, looking back at the statistics on how well the ECE Scorpion polycarbonate helmets stand up to safety tests, you can see that out of the seven Scorpion polycarbonate helmets tested in the UK. According to SHARP, they average just over 3 out of 5 stars.
SHARP tested the Scorpion Exo Covert in 2021; it got a pretty good result — 3 stars. But the test results at 8.5 m / s appear to decline in a side and rear impact, although this is only part of the picture.
The helmet has a DOT certificate, but this protective cover doesn't grant much protection. It was certified NP or not protective with the ECE helmet because it protects you only from road dirt, flies, etc., but nothing more. So, if you're in an accident while you're in a natural helmet shell, the Scorpion Covert will not give you enough protection.
The sun visors offer a solid level of eye protection but don't use them after twilight.
Finally, if you think of the Scorpion EXO Covert helmet as an open-faced helmet with some other valuable benefits, consider the risks of riding with an open-face cap. On the other hand, you might be happy with the protection it gives. But if you're looking for more safety, choose the one with more "strong" characteristics.
Lining
The Scorpion EXO Covert helmet has a removable, washable, and moisture-wicking lining. In addition, a micrometric buckle in a helmet is now padded for additional comfort.
Velcro and an extra button for removing the lining are attached to the cheek pads. To take out the comfortable lining, you have two buttons on the back and the forehead.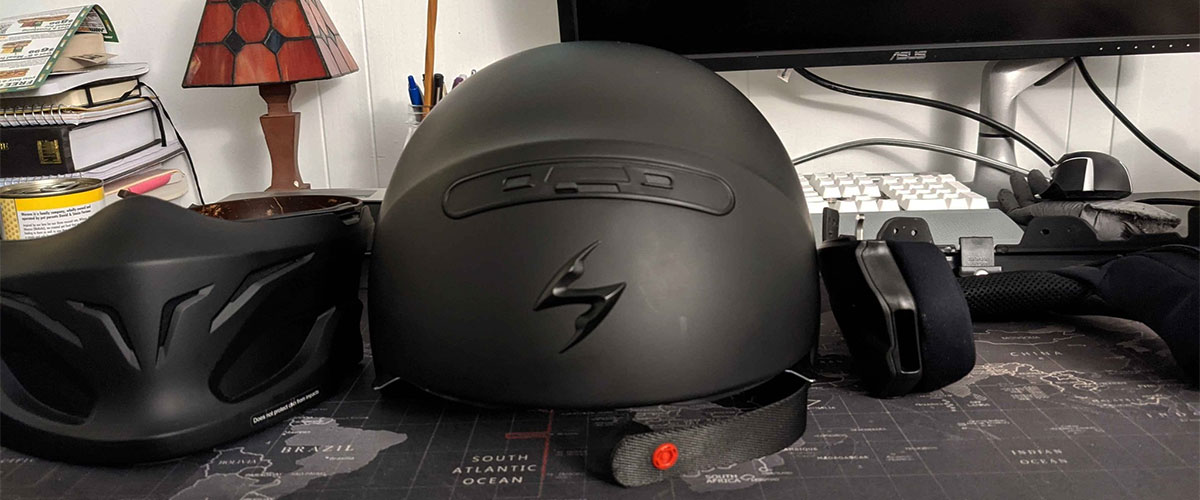 Fastening method
The Scorpion EXO Covert helmet fastens with a micro ratchet with five adjustments. Additional regulation is workable with the standard adjustable chin strap. The snap-on tongue flips up to unfasten the seat belt, just like unfastening an airplane seatbelt, and is quick and easy to use, even with bulky winter gloves. It also has a double D-ring chin strap that gives the head an intermediate oval shape.
Visors
The characteristics of the visor are almost the same as those of its predecessor, the Exo-Combat. In addition, there is a removable flip-up visor with side tabs and an anti-fog coating. And, if you want to look like a "hot pepper" in this helmet, there is also an additional dark smoke visor in the box, making you even more remarkable.
Ventilation
There are two adjustable vent-holes in the Scorpion EXO Covert helmet on either side that you can open with the two straps. They are not big, but you can still have enough air in through the chin area of the helmet. Wearing a face mask, you'll get enough ventilation through the ventilation holes in the mask, which have been covered with an excellent mesh to keep debris out. To let the air out, all you've got is this exhaust here under the neck roll.
Also, a forehead vent is operated by a slider. And when there's no exaltation vent in the rear of the shell, that forehead vent does let air circulate inside the lid through channels in the polystyrene liner. The Scorpion owners say it has a lot of air. It can be a good thing, or it may be a bad thing as well. It depends on what weather you ride.
Noise
This is an open-faced helmet, and such helm models usually allow more noise inside. But if you do not care about noise suppression, use it as a half helmet (USA). Most users think it is a noisy helmet, but they are glad to buy it as it is not as noisy as their regular open-faced helmets without a protective cover. So, if you dream about a silent helmet, the Scorpion EXO Covert helmet is not for you.
Features
A nice good update — the helmet is prepared for the communication system. But Covert's size doesn't allow you to install a Bluetooth kit as there is no free space for speakers inside.
My impressions
To sum up, the Scorpion EXO Covert helmet is an open-face helmet. Yes, the Scorpion EXO Covert review shows it is not enough for reliable protection, but it will keep out light rain and road dirt that flies right in your face. This is a beautiful, affordable polycarbonate helmet with excellent ventilation and low noise transmission. It can be a great budget option for you if you know all the disadvantages of open-face helmets.
Pros
Easy to use
There is no shield rattle at highway or Interstate speed
Comfortable enough and has good airflow, suitable for hot weather.
Cons
Has no detent position for the shield to hold it in a partially open position
Gives not enough protection in case of an accident
There is no Bluetooth headset built in.