The top-of-the-line Scorpion EXO-ST1400 helmet is designed primarily for sport and sport-touring riding. It boasts a great fit because it is one of the most budget full-face helmets with a drop-down inner screen on the U.S. market. The helmet weighs 3 pounds and 3 ounces, so it is incredibly lightweight and has a CAD-designed shell for improved aerodynamics performance. In addition, due to the AirFit cheek pad inflation system, it doesn't press against your head, which ensures comfortable wear.
In this Scorpion EXO-ST1400 review, I will consider the main components of this helmet, its features, advantages, and disadvantages. I'm sure this information will help you decide whether it is suitable for your purposes or maybe you need to look for another model.
Outer shell and design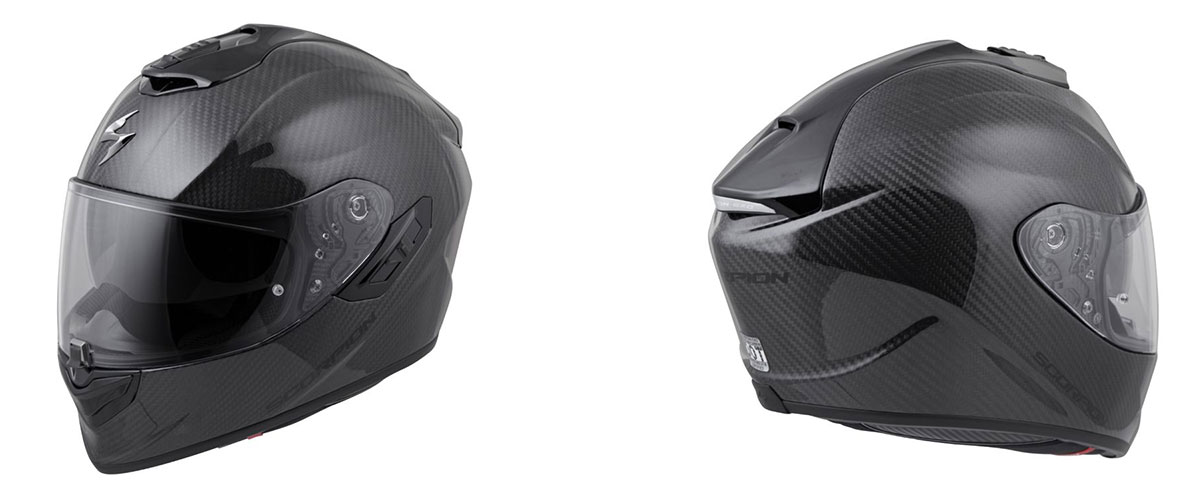 When it comes to the helmet's design, it has a resin-infused 3K carbon shell. You will appreciate its stylish finish and comfortable fit, allowing you to wear it for long hours.
This model comes in 3 main shell sizes. You can choose between SM, MD, LG, XL, and 2XL models. It has an oval head-shaped design so you won't feel any pressure points. This helmet comes in black and matte-black colors.
Safety
After taking a closer look at the particulars, I was impressed to find out that this helmet is DOT certified and ECE approved, the two top safety standards I always rely on. It makes it a clear winner in my book, as I put safety first and foremost.
Lining
The interior antimicrobial lining is easy to remove and wash. It dissipates unpleasant odors and moisture effectively. In addition, the lining feels nice and cool, which adds to the overall pleasant experience and provides top-notch comfort.
The quick-release cheek pads are fitted with handy pull tabs. They help keep sweat away and contour the entire head comfortably.
Fastening method
The helmet is equipped with a double-D fastener, enabling you to keep it securely on your head. The nitpick is that it's impossible to fasten the strap when your hands are gloved.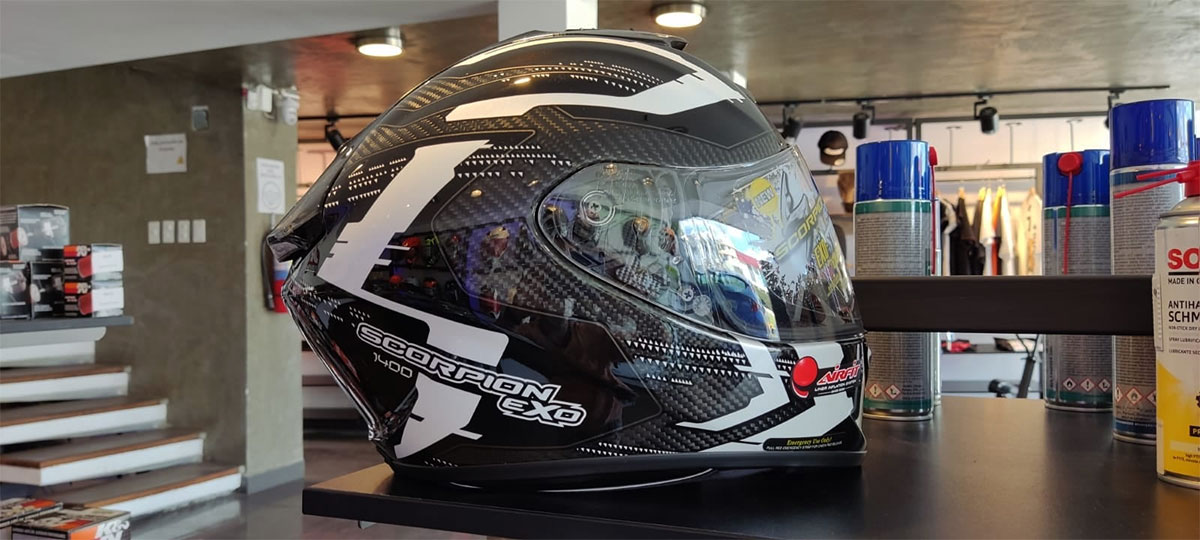 Visors
The Scorpion EXO-ST1400 helmet features a drop-down SpeedView sun visor with an actuator on the left side. However, I would have preferred this tinted visor to be slightly lower to ensure better coverage.
Despite a pinlock, the visor doesn't seem to be fully no-fog. The good thing is that it will protect you against UVA and UVB rays.
Ventilation
The ventilation system comprises a chin vent and a passive exhaust vent. It was challenging for me to open the chin vent with my gloves on. However, other riders didn't seem to find any issue with it. To summarize my impression, I believe this helmet would have benefited from having a larger vent at the top or deeper cutouts.
Noise
If you ride at over 70 miles per hour, you might hear some distracting noise caused by the gap between the visor seal and the visor itself.
Because of the easy-to-adjust bar vent, you can enjoy great airflow, which contributes to the high comfort level.
Features
The key selling point of the helmet is that Scorpion has upgraded this model by adding in-built speaker pockets. As a result, it makes it easier to install Smart HJC Bluetooth speakers.
Pros and Cons
In case you still have some doubts about whether the Scorpion EXO-ST1400 helmet suits your needs, take a look at its advantages and disadvantages below to make the right choice.
Pros
Suitable for the majority of riders.
Two face shields are included in the box.
A sleek model with a cool design and removable logo.
True to its size and has great aerodynamic qualities.
Cons
The in-built visor loosens and drops down a bit after some time.
The back side is poorly designed.
The upper vent doesn't provide decent airflow.
I hope my review will help you make an informed choice, and now you have a complete impression of the Bell Star DLX MIPS helmet and its features.