The Shoei J-Cruise II is the updated version of the J-Cruise helmet. The helmet has a particularly unique design and comes with advanced tech found in Shoe's modular and full-face helmets.
You'll find a better field of view because of the wider visor, which also protects you from the sun. Also, it allows you to fit the Sena SRL2 BT kit, which is almost invisible when installed, offering you great communication. If you need deeper insights, you can check the complete Shoei J-Cruise 2 review below.
Outer shell and design
You'll find the AIM shell construction tech in Shoei's J-Cruise II. The AIM construction comprises organic and glass fiber offering a flexible, strong yet lightweight structure. The Shoei J-Cruise II is an open-face helmet with the benefits of a full-face helmet.
J-Cruise II comes with four shell sizes: MD, LG, XS-SM, XL-2XL, and weighs around 3.76 lbs. So, it'll fit almost every head size and is lightweight too. When it comes to the color options, you're going to get black, matte black, white, anthracite, and blue. So, there are a lot of good options available.
Safety
The fact that the helmet is Snell M2020D approved and DOT certified talks for itself. Both these standards mean a lot when it comes to helmet safety. So, when you buy a J-Cruise II, you can expect supreme safety.
Inner lining
When it comes to lining, Shoei J-Cruise II completely justifies the premium price. The J-Cruise II comes with an easily removable skull cap and cheek pads. Also, you'll find press studs used for positioning and hidden tabs that allow a clean and snug fit around the neck.
Every lining material is a blend of silky fabric, fleece, and waffle weave. The silky fabric helps reduce friction, the fleece offers comfort and warmth, and the waffle-weave helps in better cooling and airflow. Also, the bottom of the check pad comes with a vinyl finishing which keeps the water at bay while driving in the rain.
And if that's not enough, J-Cruise II has a sheathed strap with removable fleece. So, you can wash it whenever you feel like it. However, you won't find any quick-release cheek pads as it's easy to open an open-face helmet. Based on Shoei J-Cruise 2 reviews given by customers, the lining offers decent comfort and protection to the user.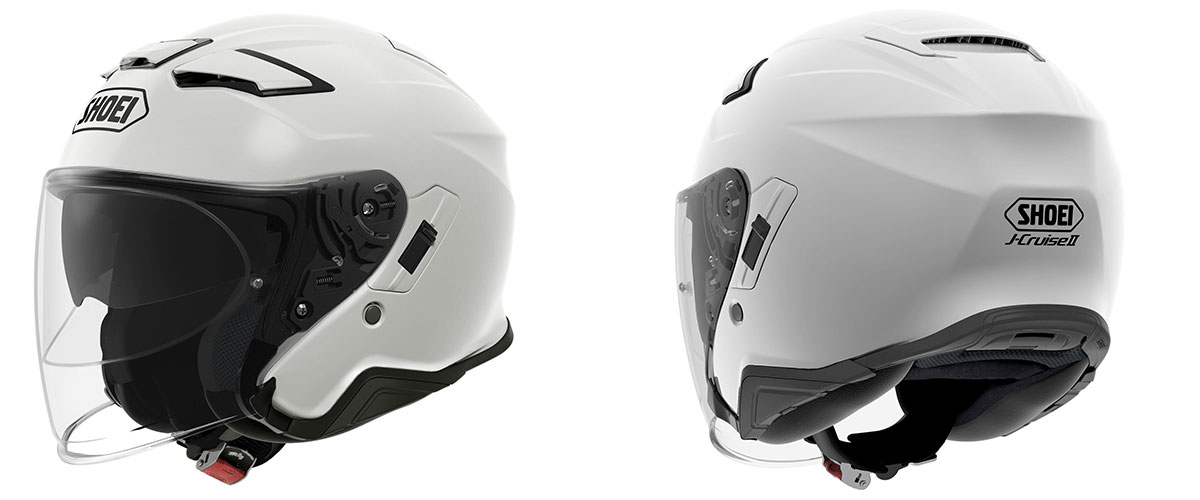 Fastening method
The J-Cruise II comes with a micro ratchet fastener that offers five adjustment positions. You can adjust it further using the standard slide on your chin strap. Now, how can you beat that? You can easily lift the release tab for releasing the strap. It's quite similar to releasing the seat belt in an aircraft.
When compared to the Double D-ring method, this method takes a bit more adjustment. However, once you adjust it, you can easily do the fastening even while wearing those winter gloves. Also, if you wish you wear balaclavas or buffs, there are enough adjustments available.
Visors
The CJ – 2 visor offers three detents:
Fully closed
Four-fifths closed
Fully open
With a J-Cruise II, you'll get pin-lock mounts for CJ-2 Pinlock Evo Insert. However, you need to purchase it separately. Also, there's an inner sun-visor (QSV-2) which is retractable and protects you from the halo effect. So, you can expect decent protection from the sun.
The J-Cruise II features water and windproof visor seal. It's definitely better than the previous variant, as Shoei has redesigned the visor seal in this variant.
Ventilation
You may think, why would an open-face helmet require ventilation. But it's quite important. It's because when you lock the full-face visor, very little air enters the helmet.
However, you'll find ample ventilation with this helmet. Three top vents offer a 3-position slide action: close, open, and midpoint. These vents work pretty well in coordination with the exhaust vent found on the back.
Sometimes, you may find a quick mist buildup on cold mornings. However, a pin-lock insert will help you deal with it easily.
Noise
For an open face variant, J-Cruise II is surprisingly quiet. What's the reason? Well, it's because of the chin spoiler and compound curves. So, if you keep the visor down, you won't experience unnecessarily loud noises.
In case you partially or completely adjust the visor, there'll be quite a lot of noise, obviously. However, if you consider my advice, wearing earplugs while driving will solve this problem. So, in terms of noise, you can rely on this helmet.
Features
One of the most striking features of J-Cruise II is its ability to fit the SRL Bluetooth intercom system by Sena. So, you can stay connected with fellow riders or maybe your wife on the go. However, you'll have to purchase the Bluetooth communication system separately.
Shoei has never disappointed us when it comes to helmets. And Cruise II is enough to prove that fact. It offers everything a bike rider needs, whether you're on a small route or a large one. From safety, comfort, and quality to communication, Shoei J-Cruise II comes with it all.
And this is everything you can expect from a good helmet. So, if you're looking for a premium helmet that protects you from impact, sun, and air and is equipped with the latest tech, you must opt for Shoei J-Cruise II. I hope this Shoei J-Cruise II helmet review was informative enough to help you make the right choice.
Pros
The sun visor offers decent protection from the sun and also allows enough space for you to wear goggles
The helmet offers great ventilation which makes it good for sunny days
Cons
Some users find the helmet quite heavy and bulky
The helmet is not as safe as a full-face helmet.