While all riders understand the importance of wearing a motorcycle helmet, not all of them find wearing one comfortable, especially when riding at high speeds. This is because most helmets do not provide adequate ventilation and are often on the heavy side, making it quite a daunting task to wear one for a long time. However, the good news is, the market has many helmet types to suit various needs. So, if you're looking for cool open face helmets that strike the perfect balance between decent protection, lightweight design, and comfort, you've come to the right place. Below, I've handpicked the best 3/4 motorcycle helmets to cater to the needs of the pickiest crowd.
Our pick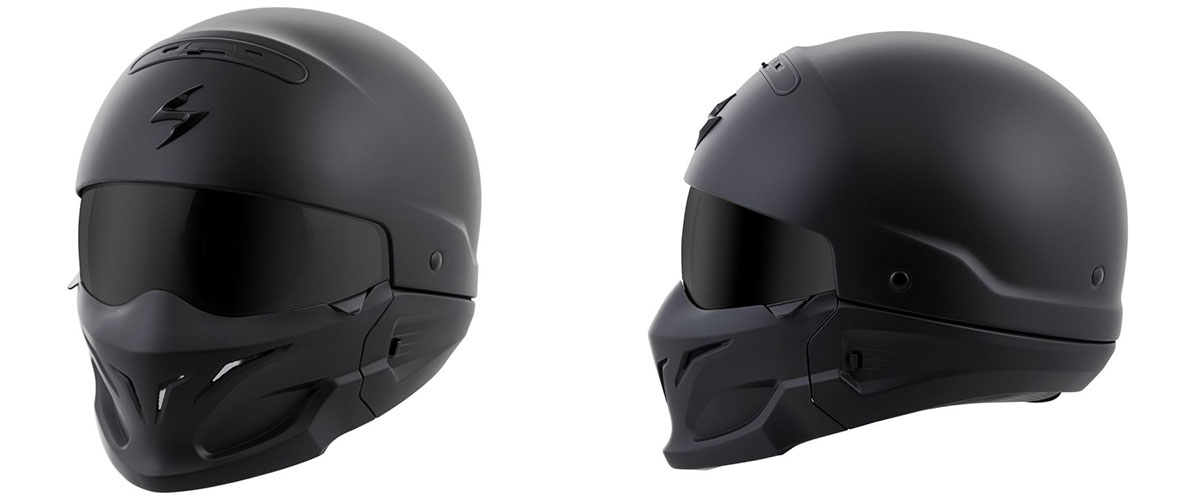 Scorpion EXO Covert
Best open-face motorcycle helmet
The Scorpion EXO Covert Helmet is the first ever to be granted a US Design Patent, making it the only one on the market! This cutting-edge design may be used with any sort of bike.
Read the full review
.
What is a 3/4 motorcycle helmet?
The distinguishing feature of open face helmets, also known as 3/4 helmets, is that they do not cover your entire face. They enclose only the area around the top of your head while leaving your face visible and exposed to the fresh breeze, which makes them a sound option for use in the tropical climate and hot traffic. On top of that, they provide a wide range of view and plenty of ventilation, preventing fogging issues in rainy conditions. However, due to the open design, these helmets feature no chin bar, which somewhat degrades their safety. Therefore, I'd recommend opting for a 3/4 motorcycle helmet only if you feel confident enough about your riding skills.
When can I use the open-face helmet?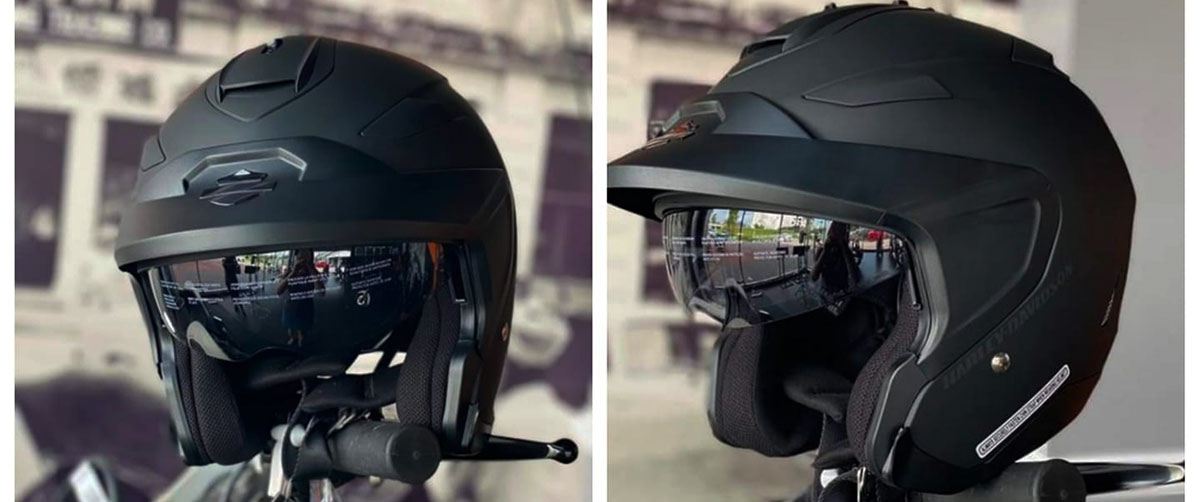 While three-quarter motorcycle helmets are generally more comfortable to wear than most other helmet styles, they are not safe to use for all riding. Therefore, it's necessary to determine how you are going to use it to be sure it's the type of helmet you need. In general, wearing an open-face helmet can be beneficial for such activities as cruising, touring, and commuting around the city, as it provides great airflow and makes it easy to see around you. If that aligns with your goals, the 3/4 motorcycle helmet will be the right choice for you.
The advantages and disadvantages of 3/4 motorcycle helmets
Even though open-face helmets are not as safe as full-face models, they do have a number of advantages, allowing them to remain a favorite choice for thousands of riders. What are they? And what are the main disadvantages? Read on my today's open face motorcycle helmets review to find out the answers to these important questions.
Advantages of open-face helmets
Perhaps, the biggest advantage of a three quarter motorcycle helmet is that it doesn't prevent the airflow from blowing into your face. This makes them a great option for those hot days when it is virtually impossible to stop perspiration, as well as for tropical climate. Open-face helmets are also more comfortable to wear in rainy conditions because, unlike full-face models, they do not tend to fog.
Plus, they provide a wider field of view, making it easier to keep track of the traffic lights and things happening before you on the road. Last but not least, the ability to quickly take them off makes these helmets a preferable option for riders who often travel not alone and may need to communicate with each other during their journey. Surely, making a phone call or eating a burger is also easier done when you wear an open-face helmet. However, they have a number of disadvantages too. Read about them in the section below.
Last but not least, the ability to quickly take them off makes these helmets a preferable option for riders who often travel not alone and may need to communicate with each other during their journey. Surely, making a phone call or eating a burger is also easier done when you wear an open-face helmet. However, they have a number of disadvantages too. Read about them in the section below.
Disadvantages of open-face helmets
The shortcoming of wearing a helmet without a chin bar is that it doesn't protect your face. Thus, if you ever run into an accident and fall on the hard surface, the likelihood of hurting your jaw will be extremely high. On top of that, an open-face helmet design doesn't protect you from bugs and road debris.
So, in most cases, especially if you prefer to ride out of the city, you will need to wear goggles and a mask additionally to shield your face and eyes, which some riders might find uncomfortable. It's also worth mentioning that because open-face helmets have a lighter construction, they do tend to be noisier too, which can be fatiguing when heading for a long ride.
Best 3/4 Motorcycle Helmet Reviews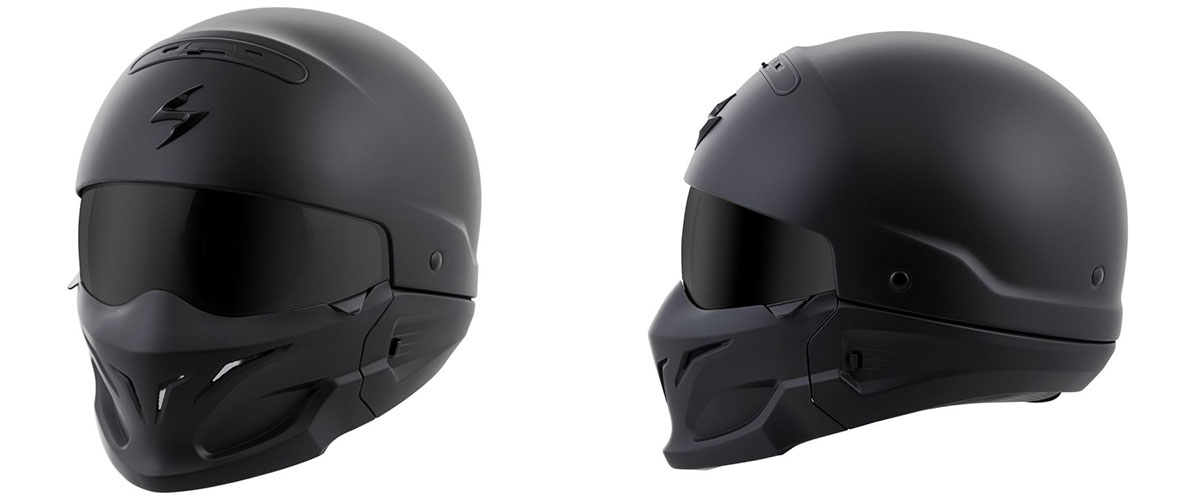 If you are in the market for a cool open-face helmet with multiple configuration options, the Scorpion EXO Covert is the best 3/4 helmet you can find. This model offers strength, comfy fit, great looks, and the ability to easily transform it into a half helmet by simply removing the integrated sun visor, something you rarely get with most other 3/4 helmets.
To start off, you can't help but like the Scorpion EXO Covert design. In fact, it looks really badass, so you can expect to get quite a lot of attention when going for a ride. Not only that. What also sets this helmet apart is its versatility. With a groove for a visor, rear comfort sleeve, and a mask, it can be easily transformed from a half-helmet to a 3/4 helmet with just one quick hand movement. Indeed, these additional parts of the helmet have no padding to offer adequate impact protection, but when it comes to the road filth and flying bugs that are inevitable on a ride, they get the job done.
On top of the cool design, the Scorpion EXO Covert boasts outstanding durability. Crafted using a proprietary formulation, it has a durable polycarbonate shell and a dual-density EPS, which allows it to reduce the impact, and helps better disperse the energy from the shock.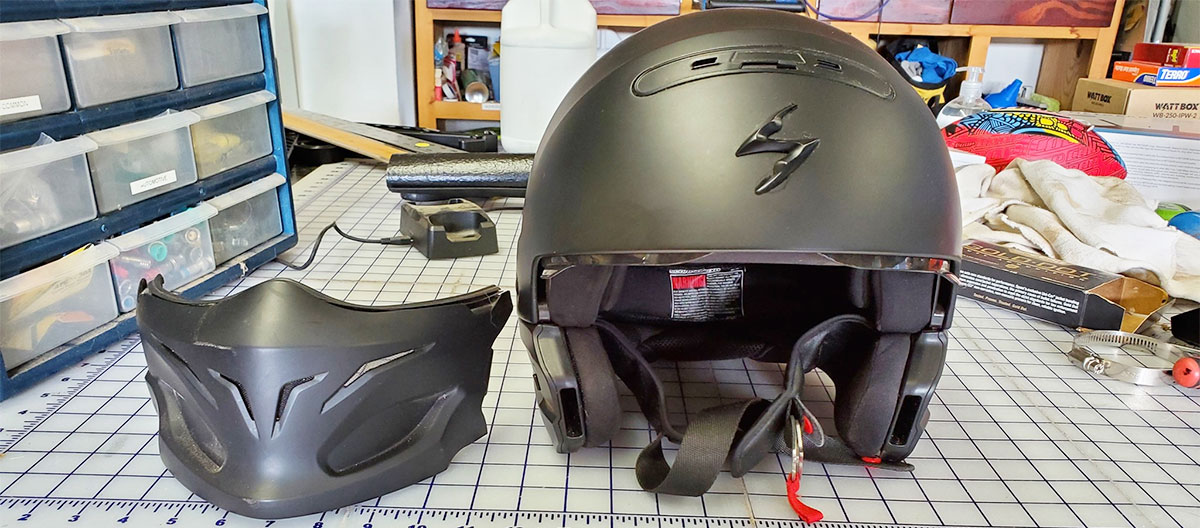 Surely, convenience features are no less important than the build quality of the helmet, as they often define how long you can wear a helmet. With the Scorpion EXO Covert, though, you have nothing to worry about. It has a soft liner and an aero-tuned ventilation system to ensure great breathability and keep you cool on hot days. Besides that, with a weight of just 3.97 pounds (1.8 kg), it is quite lightweight and balanced to let you wear it for hours on end without experiencing any sort of discomfort.
In all, personally, I like the Scorpion EXO Covert quite a lot, but if I had to nitpick, it would be two things. First, the helmet has no pockets to add Bluetooth speakers, and secondly, it tends to collect fingerprints due to its matte black finish. Unless you are a big fan of music, the latter should not deter you from choosing this model because in all other respects this helmet is certainly great.
Bottom line, if you can't decide which type of helmet you need — half-face helmet or 3/4 helmet — the Scorpion EXO Covert is your safe bet. Perfect for touring, street cruising and all-terrain riding, this 3/4 helmet with face shield offers immense versatility.
Key specs
Helmet type: open face (3/4).
Head shape: intermediate oval.
Safety certification: DOT.
Shell sizes: XS-SM, MD, LG, XL-3XL.
Shell material: polycarbonate.
Weight, g/lbs: 1338/2.41.
Pros
It is a very good-looking helmet that is sure to get you noticed.
Lightweight and straightforward to use.
Can be worn as a half-face helmet.
Cons
No room for Bluetooth speakers.
The matte finish tends to collect fingerprints.
Shoei J-Cruise II – best premium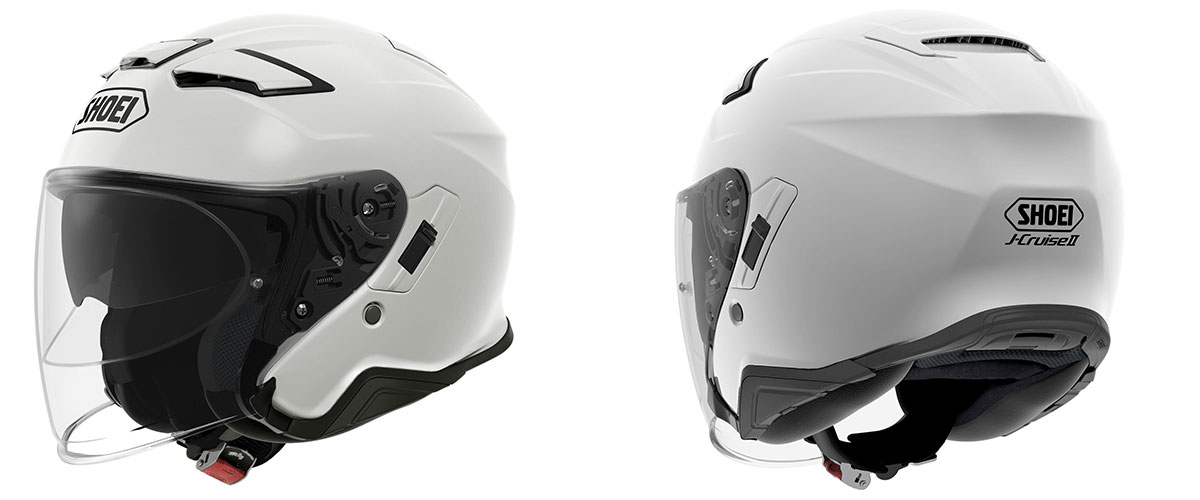 If money is not an issue for you, and you seek the safest open face helmet that the market can offer, you'd be hard-pressed to find a better 3/4 helmet than the Shoei J-Cruise II. Sure, this model isn't inexpensive, but it's the case when you get what you pay for. From an amazing exterior packed full of the latest technological advances to an incredibly functional design with an inner sun visor, this helmet has everything necessary to provide you with the most comfortable riding experience.
The Shoei J-Cruise II offers plenty of comfort and convenience features. In order to block and reflect the sun and help lower the buildup, it comes with an inner sun visor. This visor sits low enough to let you clearly see the road, while also providing ample room for goggles or prescription glasses. The main shield is also well-made. It has a clear, refined design and doesn't catch the wind as cheap helmets do, which helps reduce vibration and noise.
The lining inside the helmet is quite remarkable too. Unlike what you'd typically get with cheaper helmets, this one has a proper multi-density EPS liner to ensure excellent cooling performance for comfortable riding on hot summer days. Adding to its breathability is an extra intake hole and top air outlet design, which all combined increased helmet ventilation by 30% compared to the peers.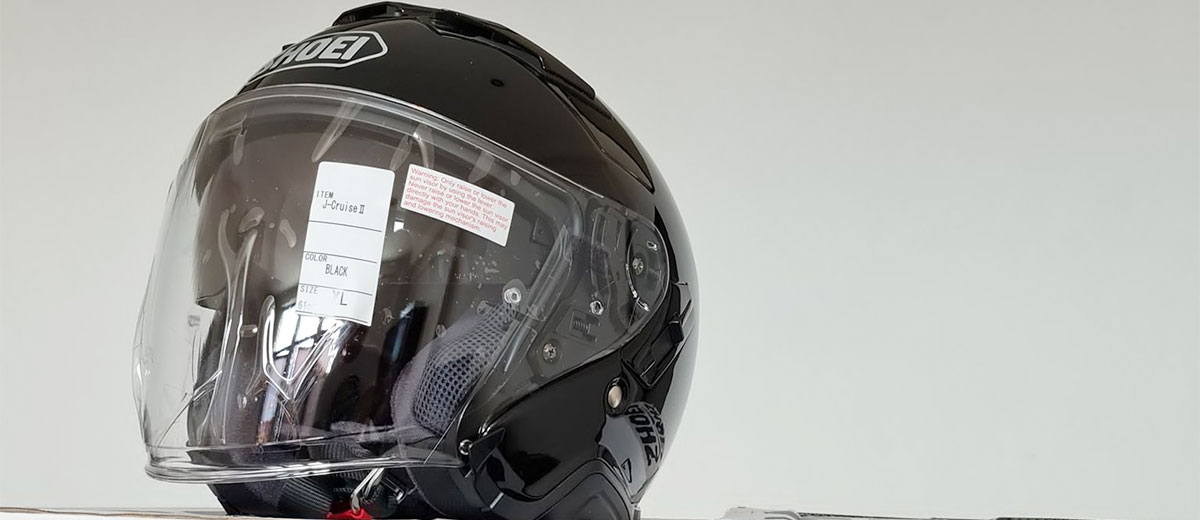 The safety of the Shoei J-Cruise II is also worth a note. In fact, it is easily one of the safest open-face helmets that I've ever come across. It has a reliable ratcheting strap and comes with a 'D' ring, making it possible to lock it on your bike. Plus, it has a very good weight to it, which, unlike in cheap models, feels comfy and doesn't put any pressure on your neck. As a result, you get better protection.
Finally, it'd be remiss of me not to mention the compatibility of the Shoei J-Cruise II with SENA SRL/SRL2 communication systems. Riding a bike is often about communication with other riders, and with the Shoei J-Cruise II, you'll get a chance to stay in touch with your friends.
To bring it to an end, the Shoei J-Cruise II is a premium-quality open-face motorcycle helmet with a retractable sun visor packed full of comfort, safety, and convenience features. If that sounds exactly like the type of helmet you want, you won't be disappointed.
Key specs
Helmet type: open face (3/4).
Head shape: intermediate oval.
Safety certification: DOT.
Shell sizes: XS-SM, MD, LG, XL-2XL.
Shell material: AIM (Advanced Integrated Matrix) shell.
Weight, g/lbs: 1360/3.57.
Pros
The helmet is designed to integrate with SENA SRL/SRL2 communication systems.
Has a lengthened inner sun visor to ensure better protection from the sun.
Cons
The choice of colors is not very big.
It's quite heavy for an open-face helmet.
Bell Broozer – also a great choice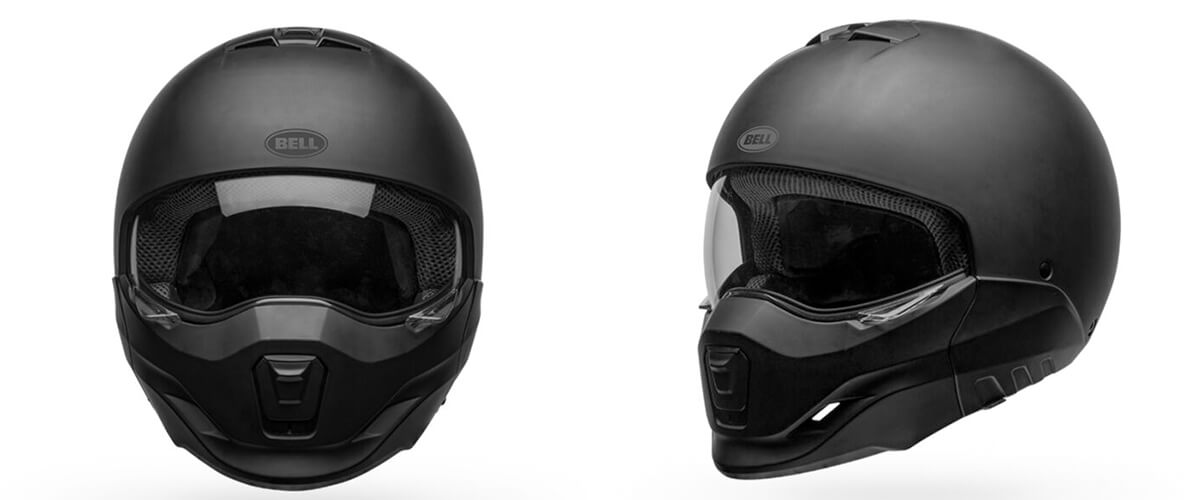 So, you are still here and want to continue your search for the best open-face helmet that combines style and configuration flexibility? I really liked Bell Broozer, and I'm sure many of you will also pay attention to it. During my testing, I've experienced the versatility of this 3/4 open-face helmet firsthand, which undoubtedly lives up to the expectations. This all means that the Scorpion EXO Covert has a powerful rival.
This helmet has an elegant design and radiates a sense of power that turns heads as you hit the road. What truly sets this helmet apart, often compared to the Shoei 3/4 helmet, is its dual certification, making it the best half-face helmet alternative. Moreover, due to its agile construction, it can effortlessly adapt to different riding conditions.
A few more words about safety (trust me, it's important!) Built with a weightless shell, it perfectly balances strength and comfort, solidifying it as one of the lightest 3/4 motorcycle helmets. Weighing just 3 lb, it feels incredible even after long rides. In addition, its structure features adjustable slider vents for optimal ventilation, ensuring a cool ride during hot weather. And as I said before, this model holds the esteemed 3/4 DOT helmet certification (US) and ECE (EU).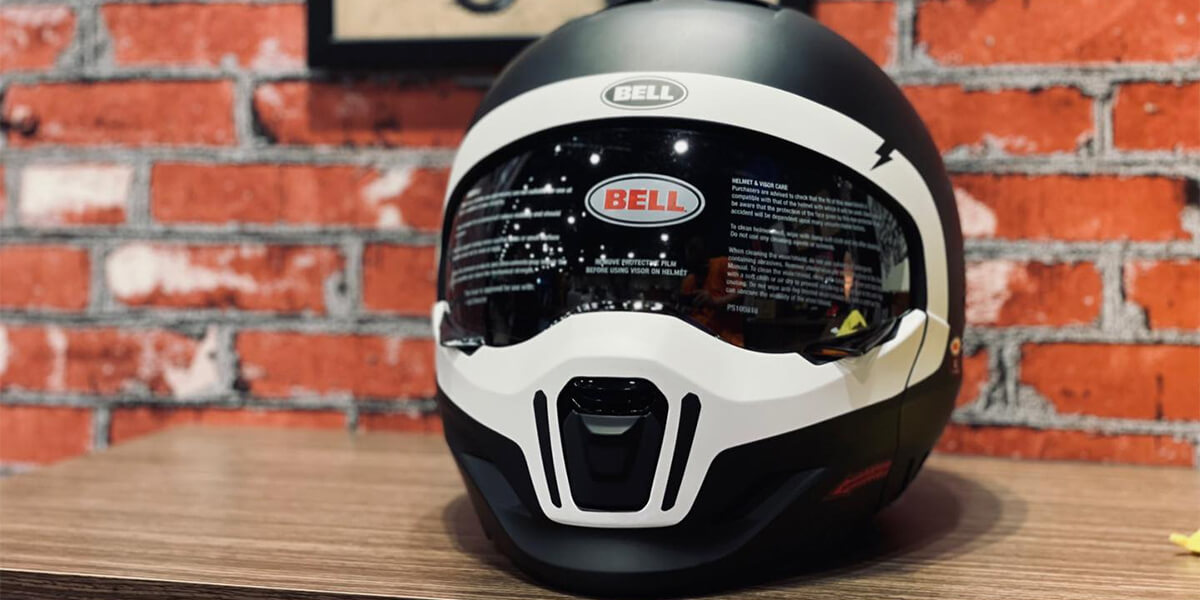 Comfort is another area where the Bell Broozer shines as a top-tier three-quarter helmet. With three EPS sizes, it offers a snug fit suitable for various head sizes. The integrated NutraFog II shield, equipped with fog and scratch-resistant windshield and UV protection features, enhances visibility and grants a clear view of the road ahead.
Regarding practicality, the removable chin bar transforms the Bell Broozer into a game-changer. It adds an extra layer of protection when needed. Yet, by removing it, you use the helmet in open-face design mode — perfect for city cruising.
In conclusion, the Bell Broozer helmet is a formidable contender in three-quarter helmets. Its captivating design, dual certification, and customizable features make it the top choice for riders valuing style, safety, and versatility. The Bell Broozer is one of the coolest open-face helmets and the best three-quarter helmets.
Key specs
Helmet type: full-face.
Head shape: intermediate oval.
Safety certification: DOT, ECE.
Shell sizes: XS-SM, MD-LG, XL-2XL.
Shell material: polycarbonate, ABS.
Weight, g/lbs: 1452/3.2.
Pros
Reliable and sturdy integrated dropdown shield.
Lightweight shell with adjustable slider vents delivers optimal airflow.
Antifog shield works even in the most demanding conditions.
Cons
Noisy airflow and due to lack of noise buffer in open-face mode.
The helmet design leads to shaking and adds pressure on the higher speeds.
Bell Custom 500 – entry-level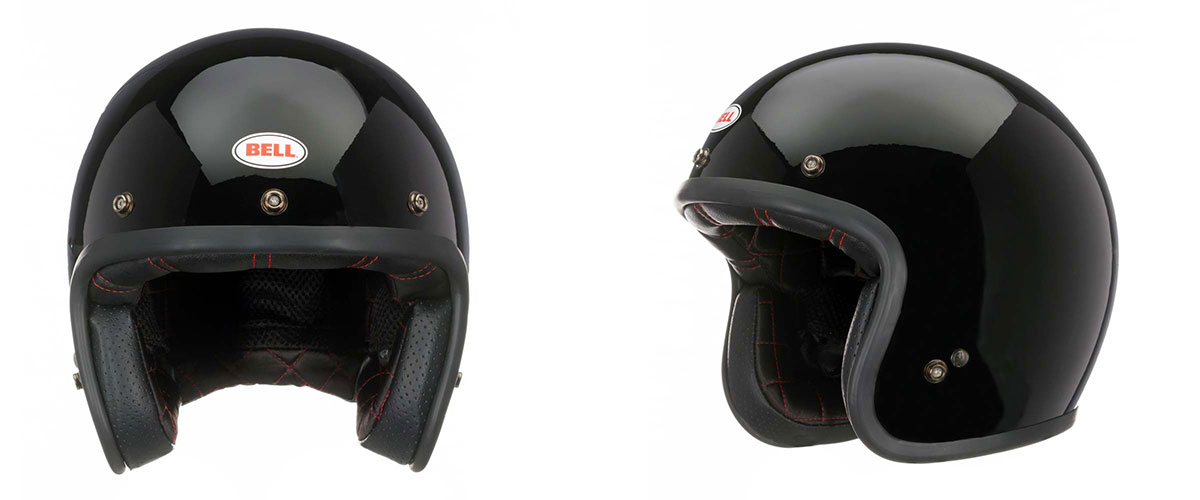 Next on the list comes the Bell Custom 500. Produced by the manufacturer offering the lowest profile open face helmets, this helmet appeals to a lot of riders, including me.
First and foremost, this helmet has a well-thought-out construction. Featuring a low-profile fiberglass composite shell with a multi-dense EPS liner inside, it looks and feels comfortable and can be worn even with prescription glasses without squeezing your head. Plus, it has a top-notch genuine leather interior, which can be removed and washed after each use. Overall, as you would expect from this brand, the interior and the exterior of this helmet were made with care and attention to detail.
While the look of the helmet is the least important factor when it comes to its safety, still, many riders want to know that they look great when riding their bikes. In this regard, the folk behind the company have done everything possible to satisfy aesthetic cravings of different riders. Whether you prefer classic options or want something a bit fancier, you'll find what you need in Bell's range.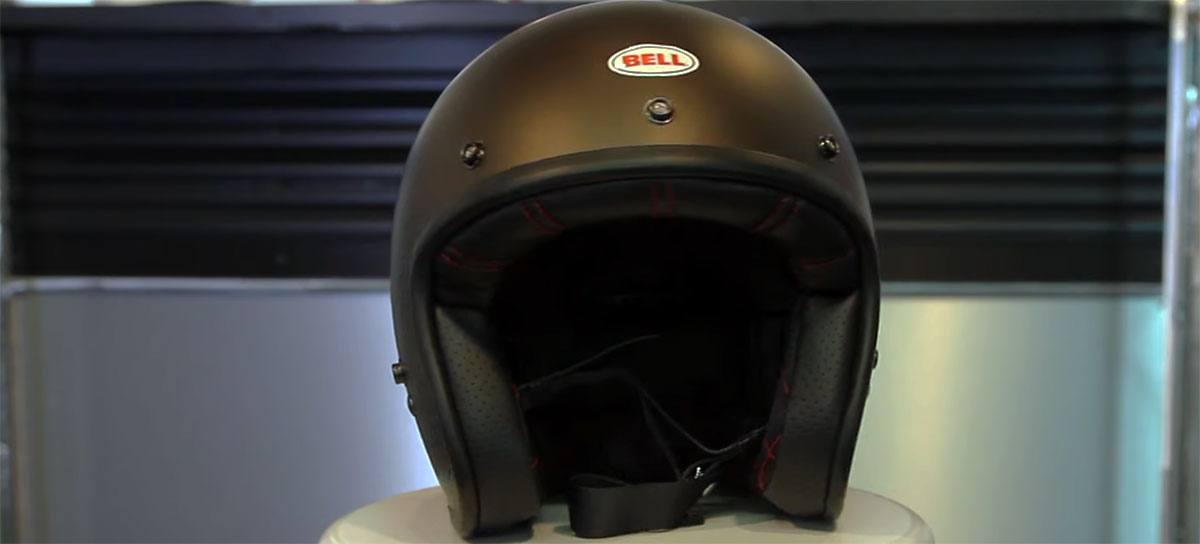 Same as with colors, the choice of shell sizes is vast, ranging from X-small to XX-large. Thus, you'll have no problems finding a helmet that will sit nicely on you.
With regard to convenience, the Bell Custom 500 breathes well and is a fracture lighter than the Scorpion EXO Covert, so you can wear it for an extended period of time without fatiguing your neck. On the flip side of the coin, it is a bit louder than the competitor, though it's the price you are willing to pay for the light shell construction.
Yet, what I find particularly attractive about the Bell Custom 500 is that it allows for customization. With its integrated 5-snap pattern, it allows you to use it with any aftermarket shields and visors to add to it a personalized feel. In addition to that, it has velcro friendly ear pockets. So, if you're someone who can't imagine your trips without music, you'll have an option to use it with speakers.
To wrap up, if you are looking for the lightest 3/4 helmet, I recommend you consider the Bell Custom 500. This model is lightweight and slim and feels exceptionally comfy thanks to its multi-density EPS liner. And even though it might not be the best open-face motorcycle helmet you can find, it's definitely darn close to it, especially if you're just getting into biking.
Key specs
Helmet type: open face (3/4).
Head shape: intermediate oval.
Safety certification: DOT, ECE.
Shell sizes: XS-SM, MD, LG, XL-2XL.
Shell material: fiberglass.
Weight, g/lbs: 1093/2.41.
Pros
Has velcro-friendly ear pockets for audio.
One of the lightest helmets in its range.
Cons
It is a bit bigger than shown in the picture.
When worn for the first time, it might feel a little stiff, but it breaks pretty quick.
What to look for when choosing a 3/4 helmet?
DOT/SNELL/ECE certifications
When choosing a motorcycle helmet to protect your head, the most important aspect to consider is whether it has safety certifications such as DOT, SNELL, or ECE. Wearing a helmet that doesn't meet safety regulations is illegal and as unsafe as wearing no headgear at all.
The right size and shape of the helmet is critical
It is also important that a helmet fits you properly and sits right on your head. Not only does it ensure comfort during rides, but it also contributes to your safety, giving you peace of mind that the helmet won't fly off easily should you accidentally hit the pavement. The good news is, modern manufacturers produce motorcycle helmets in a vast range of sizes and styles to suit the needs of every rider.
Helmet shell materials
Another important aspect to consider is helmet shell materials. In general, motorcycle helmets can be made of polycarbonate, carbon fiber or fiberglass. Surely, all of them are going to do the job as long as they pass the safety regulations, but if you want to get the best of what the market has to offer, I recommend opting for carbon fiber.
Removable inner lining
Furthermore, you want to get a helmet with a removable liner. Being able to remove the lining and wash it after use is important in order to prevent bad odors and inhibit the proliferation of bacteria. All the models from this review come with removable inner linings, boasting antibacterial and antimicrobial properties.
Availability retractable sun visor and face shield
What differs between cheap open-face helmets and more expensive ones is the availability of a face shield and a sun visor. These are very useful additions that ensure greater comfort and safety while riding by keeping the glare from the sun and rain out of your eyes.
Ability to integrate Bluetooth communication systems
If the ability to stream your favorite playlist, have a conversation with your buddies, and get navigation spoken to you is high on your priority list, make sure to go for a helmet equipped with a Bluetooth communication system.
FAQs
Are 3/4 motorcycle helmets safe?
Open-face helmets are safer than half-face helmets but are not as safe as full-face models. They cover only the top, side, and back of your head, leaving your front exposed to the impact.
How fast can I go with an open-face helmet?
To be fair, there's no particular figure or rule to adhere to. As long as you feel comfortable, and the wind doesn't blow too much in your face, you should be able to ride at speeds of 75-80 KPH. That said, according to some open-face motorcycle helmet reviews, riders who had decent eye protection managed to get up to 100 KPH. So, to answer the question of how fast you can go with an open face-face helmet, it totally depends on your tolerance and what kind of eye protection you wear. Riding at high speeds without properly shielding your eyes will cause tears and may lead to the dryness of the sclera and cornea.
Can I use a 3/4 open face helmet for passenger or pillion riders?
Certainly, you can use 3/4 motorcycle helmets for passenger or pillion riders, as long as the helmet meets safety standards in your area. Safety is crucial, so prioritize helmets that offer protection and comfort for both riders. You can also consider an open-face motorcycle helmet with a retractable sun visor to enhance visibility and sun protection.